Calgary Bronchos outright winners, after all.
Calgary and Edmonton were originally declared co-champions of the Class C, eight-team, Western Canada League after some rulings on protested games handed the Eskimos the best record in the second half. Bronchos had handily won the first half title. Then, in late November, the league executives reconsidered and voted to declare Calgary as the sole league champion.
Peter "Hap" Morse of Edmonton was the leading hitter with a .340 mark. Del Manning of Calgary topped the circuit in wins, with 26 (he lost just 7). Phil Deller, with a 22-6 record was next best. Phil Lezie of Calgary was the strikeout king, with 191. Ted Smith of Calgary was tops in home runs, with 10.
At least 13 players from the 1910 Western Canada League either had major league experience or used the loop as a stepping stone to major league play.
Brandon's Henry Hinrichs, who was the league's pitching workhorse with 34 starts and 30 complete games, fired two no-hitters. The left-hander blanked Winnipeg 3-0 May 11th in the Angels home opener and downed Edmonton 2-0 in June. Hinrichs compiled six shutouts and finished with 19 victories.



(Left to right - Truck Hannah, Pete Standridge, Moose Baxter)

The Calgary Bronchos had five major league players,
Wally Smith
, from the 1909 squad, playing manager
Bill Carney,
Truck
Hannah
(above left),
Del
Paddock
(left) and
Pete
Standridge
(above centre), also from the 1909 team.
Edmonton featured Moose Baxter (above right) with major league time and a pair, Wheezer Dell and Peter "Hap" Morse who won jobs in the show.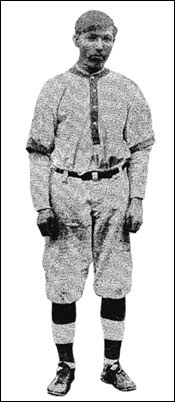 Dave Skeels of Regina and Moose Jaw (left), at age 18, would make it up with the Tigers for one game before the end of the 1910 season. He had posted a 10-14 record in the Western Canada League with 151 strikeouts in 178 innings pitched. On May 21st, Skeels fanned 21 Winnipeg batters in 11 innings as Moose Jaw notched a 4-1 victory.
In his major league trial, he gave up eight runs in six innings. It would be his only game in the majors. He turned in a 10-5 record with Seattle in the Northwestern League in 1911 and, after a 1913 season in Western Canada as an outfielder, he gave up pro ball.
Skeels died young, at age 34, in 1926.
Cy Pieh of Lethbridge Miners graduated to the Yankees in 1913 and Ray Brown of Moose Jaw was in the majors in 1909 with the Cubs. Con Starkel of Moose Jaw had been with the Senators in 1906.
Tom Letcher (right), who had seen major league action in 1891, suited up with Regina and, at age 42, did well hitting .288 in 82 games.
It remains a question mark whether the Hartford who played with Brandon was the future major leaguer, Bruce Hartford. Newspaper reports in 1910 identified the Brandon second baseman as Leo D. Hartford who responded to the nickname Jocko.
Has had experience in the Three-Eye league and with the Spaldings semi-pro team of Chicago, Hartford is regarded as one of the best throwing third baseman in the minor leagues. (Calgary Daily Herald, May 28, 1910)
Hartford the major leaguer turned 18 in May of 1910 and thus the idea of previous pro experience (given the reputation as having a great throwing arm) seems dubious. However, in 1910 there is mention of a Bruce Hartford at Spalding.
Bruce Hartford, playing second base for Spalding, is signed up for a try-out at Pittsburgh. The Spaldings is a great club, and is made up of ball players who know the game and how to play it. (Oak Park Oak Leaves August 20, 1910)
Thus, a connection with Spalding for both Hartfords. Or, just one using different names?
| | | | | | |
| --- | --- | --- | --- | --- | --- |
| | | | | | |
| Wheezer Dell | Hap Morse | Cy Pieh | Ray Brown | Con Starkel | Bruce Hartford |
Winnipeg manager, Clarence Rowland, left, graduated to the majors as a manager (winning the World Series in 1917 with the White Sox) and umpire to various positions in the minor leagues, including the presidency of the Los Angeles Angels of the Pacific Coast League and as President of the entire PCL. He appears to have used some novel ideas as manager :
Rowand won the American league pennant this year with methods that some managers might consider foolhardy and ill-advised. He has consistently regarded his players as human beings and has treated them with kindness and good will. (The La Crosse Tribune And Leader-Press, October 9, 1917).

In a country later recognized for its multi-cultural attitudes and compassion toward different peoples, the case of Dick Brookins (right) is a stark reminder that it hasn't always been so in Canada.
Brookins, a third baseman from the United States, was booted out of the league because of his purported Afro-American roots. Brookins had been released by Vancouver Beavers in 1909 and began the 1910 season with the Regina Bonepilers.
Brookins came under heavy taunting and verbal abuse wherever they appeared on the road. Moose Jaw fans were particularly abrasive toward Brookins in an early season series played in the Mill City. Brookins, however, never seemed to lose his cool and appeared to take it all in stride.
The Regina Morning Leader (May 17, 1910) responded to the continuing attack by commenting as follows: "You ought to hear the epithets hurled at our manager Roxy Walters and also at Dick Brookins, one of the most gentlemanly little ball players that stepped on the field." The report went on to state that the Regina club intended to stand by Brookins, "their Indian third baseman", to the finish.
What was particularly interesting about this column was the writer's strong conviction that the Negro allegations were totally false. The scribe went on to say "in fact, Brookins has in his possession a certificate to show that he is a graduate from a United States College for Indians." Nonetheless, the Moose Jaw club went ahead and entered a formal objection to Regina playing Brookins and, in the end, Brookins was sent packing. Click the link for details on Brookins' short stay north of the border.
---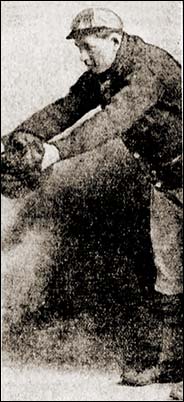 There was a good reason he wasn't in the lineup.
In it's June 6th edition, the Brandon Daily Sun reported on a case of former Brandon catcher Pat Meehan who was released from the Rugby, North Dakota, jail on a $10,000 bond after being held for months on a charge of murder.
The charge followed the death of Ole Rice during an election celebration in which a fight took place between political factions. Meehan and another man named Buoye were held on the murder charge.
Meehan was from Iowa. His father, reported to be quite well to do, came to Rugby to post bail for his son.
The case against Meehan and Buoye, the former Rugby policeman, was to come up before the next term of the district court.
Two others, prominent businessmen in the Pierce county capital, were also facing possible charges in the death of Rice, and faced being called upon to answer the same charge in connection with the death of Rice, a town character in Rugby.
In late July, a jury found Buoye not guilty and the charges against Meehan were dismissed.
Meehan played a few games with Brandon in 1909.