Major League Baseball ... In Western Canada ? In October ?
1934 and 1935 were golden years for Western Canadian baseball fans. In 1934, a team of Major League stars (American only as the National would not allow barnstorming) graced local diamonds in Winnipeg. Regina, Saskatoon, Edmonton, Vancouver, Calgary, Drumheller and Medicine Hat. Bad weather prevented a scheduled game in the BC Interior at Nelson. Two of the biggest celebrities in baseball, Babe Ruth and Lou Gehrig joined Jimmie Foxx and the early tour in Vancouver and would later headline a twenty-three game tour of Asia, including 18 contests in Japan. In the Spring of 1935, the newly formed Tokyo Giants toured Western Canada as part of a 109 game North American tour.
The over-all tour in 1934 was an extensive, demanding and time consuming challenge. Prior to the games in Asia, there would be 19 games (12 in Canada) before sailing from Vancouver. 36 players made the preliminary roster, divided into two units. The high-profile cast with Babe Ruth, Lou Gehrig and Lefty Gomez headed for Vancouver while the other squad toured from Minneapolis, to North Dakota, across the Canadian prairies, with a game in Seattle and another in Portland.
After the All-Stars were upset, probably embarrassed, in losing four of five games (one by an 11-0 score) in American locales, the stars hit their stride playing in Winnipeg and went on to win 10 of 11 with one tie on Canadian soil.
Despite the absence of Ruth, the team that showed up at Sherburn Park in Winnipeg on Thanksgiving Day, October 08, 1934 was impressive indeed, including two future Hall of Famers -- Jimmie Foxx and Heinie Manush. Foxx was the 1933 home run champion and belted out 44 more in 1934, second only to Lou Gehrig. The 33-year-old Manush had just finished an outstanding season in the Washington outfield winning a starting slot on the American League All-Star team. Roger Cramer, the starting center fielder, had accounted for 202 hits for the season, including nine triples. The infield sparkled with Foxx at first base, Ralph "Red" Kress at the keystone sack, "Pinky" Higgins guarding the hot corner and flashy Marty "Red" Hopkins on display at shortstop. The pitching staff was centred around left-hander Earl Whitehill of the Washington Senators. Whitehill had been a 22 game winner in 1933 and followed that performance with 14 more victories in 1934. He would go 6 - 0 on the Asian tour.
While Jimmie Foxx was the main attraction on the Western Canadian barnstormers, there was also considerable interest in Manush, who finished third in the 1934 batting race with a .349 average. While amassing more than 200 hits on four occasions, Manush was considered a hitting machine. He had copped the American League batting title in 1926 and possessed an impressive lifetime batting average of .330.
He was familiar with Winnipeg having played in the city in 1921 when he teamed up with Floyd "Babe" Herman as a powerful one-two punch for Edmonton of the Class B, Western Canada League. It was his first full season in professional ball and the 19-year-old clipped the horsehide for a .321 average, a performance which fast-tracked his ascent to "The Show". Within two years, as a member of the Detroit Tigers, he was patrolling the outfield at Navin Field alongside the immortal Ty Cobb. Looking back, ball fans in the West in 1921 had the opportunity to watch arguably "the greatest player ever to don a Western Canadian ball uniform". Manush is the only such player to be inducted into the Baseball Hall of Fame at Cooperstown.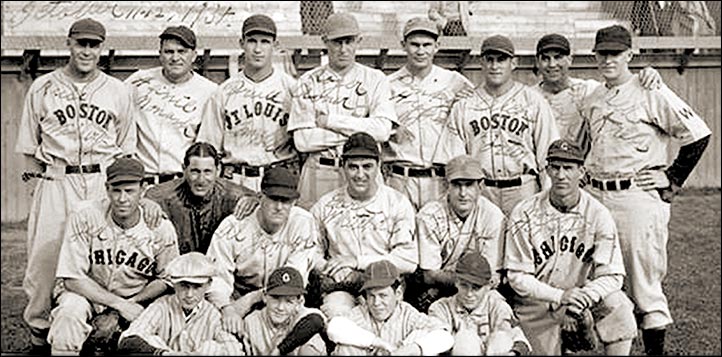 This is the edition which played in Edmonton, October 11 & 12, 1934.
Back row (left to right) - Rube Walberg P, Boston; Heine Manush OF, Washington; Bruce "Doc" Campbell OF, St.Louis Browns; Roger Cramer OF, Philadelphia Athletics; Pinky Higgins 3B, Athletics; Dick Porter OF, Boston; Luke Sewell C, Washington; Ralph "Red" Kress 2B, Washington.
Middle row - Ted Lyons P, Chicago White Sox; Al Schacht Clown Prince of Baseball; Tommy Thomas P, Washington; Earl Whitehill P, Washington; Charlie Moss C, Athletics, Marty Hopkins SS, White Sox.
Front - Batboys, Jack Heffernan, Jim McGuire, Jack McGill, Dan McCormick
SCORES
October 03 All Americans 4, Minneapolis Millers (AA) 5, (at Minneapolis, MN)
October 04 All Americans 5, Northern Leaguers 1, (at Grand Forks, ND)
October 05 All Americans 5, Valley City 6 (at Valley City, ND)
October 06 All Americans 3, Bismarck 11 (at Bismarck, ND)
October 07 All Americans 0, Jamestown 11 (at Jamestown, ND)
October 08 All Americans 9, North Dakota All-Stars 0 (at Winnipeg, MB)
October 08 All Americans 15, North Dakota All-Stars 10 (at Winnipeg, MB)
October 09 All Americans 12, Regina All-Stars 3 (at Regina, SK)
October 09 All Americans 12, Regina All-Stars 1 (at Regina, SK)
October 10 All Americans 10, Saskatoon All-Stars 7 (at Saskatoon, SK)
October 11 All Americans 9, Edmonton All-Stars 7 (at Edmonton, AB)
October 12 All Americans 20, Edmonton All-Stars 2 (at Edmonton, AB)
October 14 All Americans 16, Calgary Pucksters 5 (at Calgary, AB)
October 17 All Americans 7, Coast League All-Stars 9 (at Portland, OR)
October 19 All American "A" 9, All American "B" 7 (at Seattle, WA)
October 20 Ruth's All-Stars 2, Mack's Team 2 (at Vancouver, BC)
October 21 All Americans vs. Kootenay All-Stars (canceled, weather)
October 24 All Americans 9, Calgary Pucksters 5 (at Calgary, AB)
October 26 All Americans 10, Nacmine Athletics 0 (at Drumheller, AB)
October 27 All Americans 4, Medicine Hat Royals 6 (at Medicine Hat, AB)
GAME REPORTS
October 3, 1934
Minneapolis, MN
Nicollet Park
All Americans 4 10 3
Minneapolis Millers 5 10 0
Lyons (L) and Sewell
Marrow (W), Tauscher (7) and Hargrave, Young

The tour began at Nicollet Park in Minneapolis as the All-Stars went up against the Millers of the Double-A (the top minor league ranking at the time) American Association. Combining six doubles with errorless play in the field, the Millers edged the All-Americans 5-4 in the opener of the 20-game tour (one game to be canceled due to inclement weather). Cold and dreary weather held the attendance to about 1,000 (of course, the radio broadcast of the first game of the World Series between the Tigers and the Cardinals likely played a part as well). Catcher Pinkey Hargrave poked a two-bagger in the fifth to knock in the eventual winning run. Each team had ten hits. Ted Lyons (right) of the White Sox went the distance for the major leaguers. Buck Marrow, who pitched into the seventh inning, gained credit for the win. Ernie Smith, the Millers' left fielder led all hitters with a double and a pair of singles. .
October 04, 1934
Grand Forks, ND
All Americans 5 9 1
Grand Forks 1 3 2
Whitehill (W), Thomas and Sewell, Moss
Vanusek, Stratton, Lanier and Treadwell
HR - Higgins (All Americans)
Moving on to North Dakota, the All Americans took on the Grand Forks entry of the Class D, Northern League. John "Lefty" Vanusek held the major leaguers without a hit for three innings, but the Northern Leaguers' 1-0 lead was quickly extinguished as the touring All-Stars plated a pair in the fourth and added three more in the late innings to take a 5-1 decision. Earl Whitehill and Tommy Thomas combined to hold Grand Forks to three hits. Pinky Higgins cracked a home run for the winners.
October 05
Valley City, ND
All Americans 5 7 x
Valley City 6 11 x
Lyons (L), Foxx (7) and xxx
Brown (W), Brewer (6) and xxx
HR - Cramer, Kress (All-Americans)
Still in North Dakota for the next three games, the touring crew faced a strong, integrated club with players from the three top semi-pro cities hosting the games -- Valley City, Bismarck and Jamestown -- which had bolstered their lineups by reaching out to the Negro Leagues for top talent. The home club rapped out 11 hits in five innings off White Sox hurler Ted Lyons for all their scoring in a 6-5 win over the touring All-Stars. Jimmie Foxx made an impressive turn on the mound tossing three innings of no-hit ball in relief of Lyons. He racked up six strikeouts. A pair of Negro League moundsmen, Barney Brown and Chet Brewer held the stars to seven hits.
October 06
Bismarck, ND
All Americans 3 8 4
Bismarck 11 11 0
Whitehill (L), Walberg (4), Cramer (7), Foxx (8) and Sewell, Moss
Radcliffe (W) and Anderson
HR - Hancock (Bismarck), Higgins (All Americans)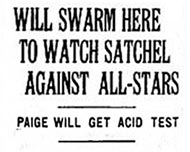 In spite of the headlines, Satchel Paige didn't make it but Bismarck won nonetheless. Paige had pitched for the club in 1933 and had vowed to return for 1934. Just a week before the big game against the major leaguers, the Bismarck Tribune seemed certain Satch would be in the lineup. He made up for it a year later pitching Bismarck to the North American semi-pro championship in the inaugural National Baseball Congress Tournament at Wichita.
Bismarck scored a pair in the first inning off Earl Whitehill and romped to an 11-3 victory. Ted Radcliffe was the story for the winners, hurling an eight-hitter while punching out a double and two singles at the plate. Shortstop Art Hancock ripped a home run and triple and scored three times for Bismarck. Pinky Higgins, the Philadelphia Athletics' slugger, smacked a circuit blow for the losers.
October 07
Jamestown, ND
All Americans 0 4 0
Jamestown 11 16 1
Thomas (L), Sewell, Schacht, Cramer, Foxx and Moss, Sewell
Brewer (W) and Radcliffe

For the second straight day, the Major League All-Stars were humbled by this semi-pro squad representing the three North Dakota cities. Playing in Jamestown, the home team scored seven times in the second inning and coasted to an 11-0 victory behind the four-hit pitching of Negro League star Chet Brewer (left). The locals cracked 16 hits off five hurlers for the All-Stars. Walter "Steel Arm" Davis drove in five runs with a double and two homers, and Art Hancock had a double and a pair of singles. The game drew 2,000 fans to the Jamestown diamond. Al Schacht, the Clown Prince of Baseball, even got a turn on the mound for the visitors in addition to entertaining the fans with his antics and routines.
October 08, 1934
Winnipeg, MB
Sherburn Park
All Americans 9 13 1
North Dakota All-Stars 0 3 4
Walberg (W),Schacht (9) and Sewell
Brown (L), Davis and Wessel
HR - Foxx, Porter (All Americans)
All Americans 16 16 1
North Dakota All-Stars 10 14 5
Lyons (W), Whitehill, Schacht (9) and Sewell, Moss
Radcliffe, Davis and Wessel
HR - Porter (2), Campbell (All Americans)

Local officials in Winnipeg did not believe they had the talent to take on Major League ball players and reached across the border to bring in a North Dakota All-Star aggregation, featuring some of the same players who had beaten the major leaguers at Valley City, Bismarck and Jamestown. The Winnipeg fans who turned out on a crisp holiday morning for a baseball double-dip were not disappointed. In the morning tilt, Boston Red Sox fireballer, Rube Walberg, would hold the highly rated North Dakota All-Stars to but three hits while Jimmie Foxx (left) delighted the fans with a four-bagger. His Crimson Hose teammate Dick Porter also connected for a home run and added two more dingers in the afternoon contest. In total the All Americans exploded for 25 runs off 29 hits in sweeping both ends of the twin-bill. Lost in the shuffle and even game reports was the fact that Jimmie Foxx was beaned in the second game by Barney Brown and was subsequently sent to the hospital. for examination. He did not depart with the team as they headed for Regina. The showcase player of the Western Canadian tour was out and even his future was in doubt. Incidents such as this only emboldened the team owners to ban all barnstorming trips.
Two decades later, Barney Brown suited up for teams in Western Canada to follow by a few years appearances by Chet Brewer, Ted Radcliffe and a host of other Negro League stars.
October 09, 1934
Regina, Saskatchewan
Floodlight Park
Double Header
All Americans 12 11 0
Regina All-Stars 3 6 1
Thomas, Lyons (6), Walberg (8), Schacht (9) and Moss
McLeod, Wilkie (3), Swainson (7) and Kokran
HR - Kress (All Americans)

All Americans 12 15 3
Regina All-Stars 1 5 5
Whitehill, Thomas, Walberg, Schacht, Lyons and Sewell, Moss
Swainson, Wilkie, McLeod and Clayton, Kokran
HR - Higgins (All Americans)

Ralph "Red' Kress had seven hits in the twin bill. He drove one out of the ball park in the matinée event and "Pinky" Higgins sent one soaring over the fence in the nightcap. The outclassed Queen City nine were set down on eleven hits in the two games.
Joe Trapp, Regina Nationals' rookie third baseman, led the locals with three hits, two in the afternoon and one in the evening. Bryan Forster (left) and Johnny Stoyand were the only other Reginans to get more than one hit, Forster getting a pair in the opener and Stoyand one in each game. Regina's Aldon "Lefty" Wilkie, a future Pittsburgh Pirate, struck out six major leaguers in the second affair.
October 10, 1934
Saskatoon, Saskatchewan
Cairns Field
All Americans 15 16 4
Saskatoon All-Stars 7 8 3
Walberg, Lyons (4) Thomas (6)(W) and Moss
Woods (L) Klinck and Chester
HR - Manush, Kress (All Americans); Chester (Saskatoon)
In spite of the absence of Jimmie Foxx, still suffering the effects of a beaning, the All Americans wasted little time in taking command before a Saskatoon crowd of approximately 2,500. They scored six runs in the opening frame. To the delight of the local fans, former Edmonton Eskimo "Heinie' Manush belted a home run which soared over the scoreboard and landed in the nearby CPR yards. "Red" Kress also contributed a four-bagger for the victors while teammates Tommy Thomas, "Pinky" Higgins and Marty Hopkins cracked out triples. The batting star for Saskatoon was Ernie Chester, local "colored" first sacker, who hit an inside-the-park home run and added two singles. He was also solid in the field handling all his chances flawlessly. Interestingly, the major leaguers committed four errors to three for their hosts.
October 11, 1934
Edmonton, Alberta
Renfrew Park
Edmonton All-Stars 2 6 5
All Americans 9 8 0
Lyons (W), Manush (8), Schacht (9) and Moss
Rattlesnake (L), Eaton and Henderson
HR - Manush
October 12, 1934
Edmonton, Alberta
Renfrew Park
Edmonton All-Stars 2 7 1
All Americans 20 18 2
Walberg (W), Whitehill, Thomas, Manush (8), Schacht (9) and Sewell
Lee (L) Loblick, Eaton, Anderson, Rattlesnake and Henderson
As was the case in other Western Canadian cities on the tour, local officials in the Alberta capital struggled to field a competitive team capable of at least avoiding embarrassment. The home squad was chosen from players on senior amateur teams in Edmonton and vicinity.
Chief Jimmy Rattlesnake, off the Hobbema Reserve in southern Alberta, was selected to pitch the opening game. He had been practicing regularly by tossing bundles of wheat into a thrashing machine. Jimmy was hoping to impress Earle Mack to possibly earn a try-out with Portland of the Pacific Coast League, a farm team of the Philadelphia Athletics.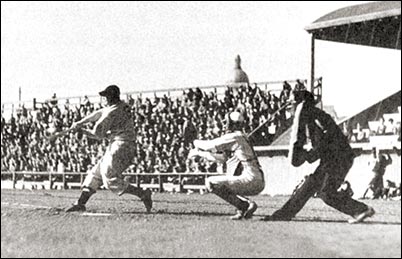 There was also considerable interest in Washington's Heinie Manush. Local fans could remember his 1921 rookie season with the Edmonton Eskimos of the Western Canada League and his quick rise to the majors with Detroit.
He was back in Edmonton as a former American League batting champion. This would be the first occasion in which major leaguers would be playing in the newly built Renfrew Park which Edmontonians viewed as the best playing facility in all the minor leagues. Even without injured home run slugger Jimmie Foxx, there were high expectations that the American leaguers would test the outfield dimensions of the new ball park. The baseball beat writer for the Edmonton Journal speculated that Heinie Manush would park one over the right field fence. Manush did not disappoint the 700 fans, belting a monstrous shot as predicted "over the right field fence" while finishing with three hits, three runs and a pair of RBI's in the first game. Manush even worked a scoreless inning on the mound in each contest. It was not a good day for Jimmy Rattlesnake. He yielded most of the runs in the 9 - 2 drubbing while walking five batters and fanning just one. There was no invitation for a try-out with Portland.
The second game was an embarrassment, 20-2, as Roger Cramer of the Red Sox cracked four hits, drove in three and scored three. Pinky Higgins added three hits and four scores and Manush knocked in a pair. Five Edmonton hurlers were battered for 18 hits while the five major league moundsmen allowed just seven,
October 14, 1934
Calgary, Alberta
Mewata Stadium
All Americans 16 12 2
Calgary Pucksters 5 8 7
Thomas (W) Whitehill (5) Manush (7) Schacht (9) and Moss
Walker (L) Harris (5) Lacey (6) Brooks (8) and McLauglin
HR - Cramer (All Americans)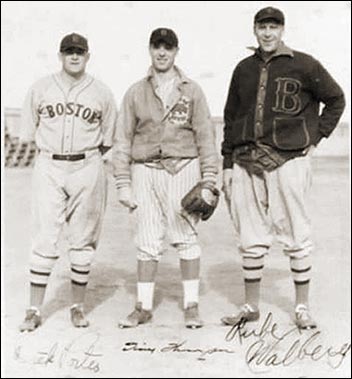 During the 1933 World Series between the New York Giants and Washington, the Senators featured a battery of Earl Whitehill and Luke Sewell. One year later, facing the Calgary Pucksters at aging Mewata Stadium, Whitehill would toss a brace of mid-game rounds for the invading American Leaguers while Sewell would don the pads and mask and takeover as backstop for starting catcher Charlie Moss. The American League All-Stars coasted to an easy 16 - 5 victory before a turnout of about 1,500.
The stars even took the time to pose for photographs with local players. Dick Porter (left) and Rube Walberg of the Red Sox in a snapshot with local first baseman Cecil "Tiny" Thompson (centre).
Again, Jimmie Foxx did not play, but his replacement, Roger Cramer of the Boston Red Sox, cranked out the game's only home run, added two additional hits and scored four times. Frank "Pinky" Higgins blasted a triple and double while Henry "Heinie" Manush doubled and plated three runs. Pete Sande, the diminutive second sacker of the Pucksters, led the Calgarians with two hits including a triple. Winning pitcher Tommy Thomas of the Washington Senators opened the contest on the hillock for the major leaguers and after being staked to an early lead, appeared to ease up. Nevertheless, the Pucksters, as much as they tried, could not overcome the insurmountable lead attained by the visitors. Bill Walker, who started on the knoll for the locals, allowed seven runs off six hits. His defense did not help, committing seven errors. Once again, as he had done throughout the tour, Al Schacht provided the fans with something to cheer about. He broadcast, sold peanuts, performed mock weddings, gave away photos and even pitched the ninth inning. "Its like old times to be playing in Calgary again," said outfielder Heinie Manush who had covered the middle pasture for the Edmonton Eskimos more than a decade previous.
Just two days later, in transit to Vancouver, another unit of the American League All-Stars passed through Calgary. This aggregation included several of the high-profile stars such as Babe Ruth and Lou Gehrig. One can only guess what the attendance would have been had the mighty "Bambino" arrived and made an appearance at Mewata Stadium!
October 17, 1934
Portland, Oregon
All Americans 7 14 1
West Coast League All-Stars 9 11 4
Thomas, Lyons (L), Schacht (9) and Moss
Pilette, Belfus, F. Ruether (W) and Tobin
Walter "Dutch" Ruether's Coast League All-Stars, bolstered by a pair of major leaguers, defeated the touring All Americans 9 - 7 before a crowd of 2,500 at Portland. Cleveland Indian outfielder and one time Snohomish County, WA, resident, Earl Averill, tripled home two runs as part of the Coasters' five-run explosion in the eighth inning. Another pickup from the All Americans, Clint Brown, a pitcher and teammate of Averill's, turned out to be the batting star of the game. Hitting out of the clean-up spot, he contributed a triple and two doubles. Absent from the All Americans' line-up were the terrific trio of Babe Ruth, Charlie Gehringer and Lou Gehrig.
October 18, 1934
Seattle, Washington
Ruth's All-Stars 9 11 1
Mack's All Star's 6 11 5
Brown, Gomez and Berg
Whitehill, Schacht and Sewell

The split squad of All Americans played before a crowd of 7,000, the largest on their Western Canadian and Pacific Coast tour. The attraction was Babe Ruth. This was the first tilt in which he played during the barnstorming jaunt and, not surprisingly, an overflow crowd showed up to see him perform. In this era well before television, the internet and social media, the Babe was known around the world. Another attraction was that it pitted two squads of American Leaguers locking horns with one another. Complaints had been voiced by fans in cities such as Calgary and Edmonton that their local contingents of diamondeers could not adequately compete against this group of elite world-class ball players. The "Sultan of Swat" was held to one measly single. It made no difference. The crowd roared as though he had belted a booming home run. Of course, Ruth's team won, 9-6.
October 19, 1934
Vancouver, B.C.
Athletic Park
Ruth's Team 2 9 3
Mack's Team 2 9 0
Cascarella, Whitehill, Gomez and Berg
Thomas, Walberg, Schacht and Sewell
HR: Averill (All Americans)
In recognition of the success generated in Seattle wherein major leaguers competed against each other in an intra-squad skirmish, this formula was once again utilized in Vancouver. On the afternoon of October 19,1934, the greatest assembly of Major League ball players, outside of the continental United States, gathered on the diamond at beautiful Athletic Park located at Fifth and Hemlock to duke it out in a friendly match. Some fans had traveled long distances and some had to wait hours to purchase a ticket despite the strong possibility that the contest could be canceled due to a heavy rainfall. Such was the attraction of Babe Ruth. In spite of a heavy downpour a crowd of about 3,000 showed up. The umpires seriously considered terminating the game but the Babe intervened, maintaining that if the fans were willing to sit through the rain, the very least the ballplayers could do was to play through the unpleasant conditions. As the rain pelted down, fans witnessed broad-shouldered Charlie Gehringer, hitting star of he Detroit Tigers unsuccessful World Series bid, connect three times in four trips to the plate. They cheered Earl Averill, the pride of Snohomish County in neighboring Washington State, who socked a home run that nearly landed on the roof of a house on Sixth Avenue. Remarkably, they saw the Babe remain in the game until the end of a 2 -2 stalemate.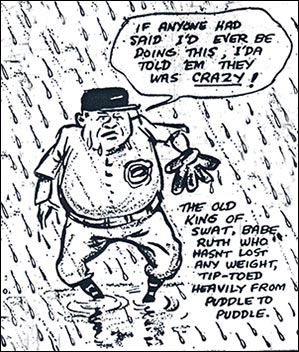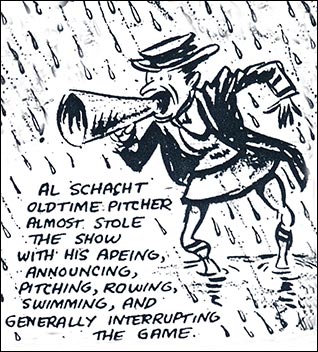 October 20,1934
Vancouver, B.C.
Athletic Park
All Americans 7 11 3
Vancouver Senior "A" All-Stars 0 3 2
Thomas (W) Walberg, Schacht and Moss
Weaver (L) Gray, Holden and Henry
HR: Manush
Babe Ruth and many of the higher profile All-Stars had departed for Japan when this final contest on the Pacific Coast leg of the junket took place. The Vancouverites were pitted against the so-called alternate "B" squad, those who didn't make the cut for the trip to the Orient. This was some "B" squad ! Henry "Heinie" Manush, who had turned down the opportunity to play in Japan, had finished third in the American League batting race. Pinky Higgins batted .330 and was selected to the American League squad that played in the second annual All-Star game at the Polo Grounds in New York. Ted Lyons, Rube Walberg and Tommy Thomas would handle the pitching. Given this dazzling line-up, it was no surprise they would triumph. They opened up a 7 - 0 lead after four innings were in the books and coasted to the win. Again, the hitting star was Manush with a three for five including a four-bagger. Manush was also robbed of an extra base hit when second sacker, Billy Adshead of the Lower Mainland nine pulled down his scorching line drive, destined to be at least a double. Local batting star Charlie "Chubby Cholly" Miron had two of the three hits off Major League pitching. Miron showed the home folks that talk several years ago about sending him to "The Show" had some merit. Bruce Thirsk garnered the other safety for the home side.
October 22, 1934
Nelson, B.C., Recreation Park
The Fall of 1934 was destined to cap off an historic, memorable and cherished year of sport for tiny Nelson, British Columbia. In the Spring, the Detroit Red Wings and the Toronto Maple Leafs played the first ever N.H.L. game in the Lakeside City. Incredibly, on October 22, 1934, the barnstorming American League All-Stars were also scheduled to play an exhibition game in Nelson. Local fans, who up to this day could only read about these superb and talented baseball players would now have the opportunity to see them play. Moreover, Rube Walberg, star chucker for the Washington Senators,would be pitching for the homeside which had assembled a group of baseballers from Trail and Rossland to supplement the Nelson diamondeers. Interest in this contest hit a fever pitch. To handle the expected huge crowd, additional bleachers were being constructed at Recreation Park, swelling the seating capacity to 4,000. Nelson was on the verge of setting an attendance record for Major League baseball in Western Canada. Unfortunately, on October 21, a raging gale hit both the West Coast and the West Kootenays. Vancouver was cut off from the world and heavy rains hit the Nelson region. The "historic" match was canceled. Not only were local fans disappointed but also many major leaguers who had been anticipating a visit to the Kootenays. Nelson sports fans would never again have an opportunity to witness some of the best ball players in the world on their home turf.
Those American Leaguers who were not selected to make the trip to Japan participated in three more exhibition games in Alberta before departing for home. The first of these encounters involved a return trip to Calgary to face the Pucksters. Following this contest, the team would drive to Drumheller to play against the Nacmine Athletics. They would then conclude their 20 games in 24 days with a finale versus the Medicine Hat Royals. A major incentive for many of these ball players to endure such an arduous tour was to have the opportunity to go hunting and fishing in the beautiful forests and crystal clear lakes near many of the game locales.
October 24, 1934
Calgary AB
Mewata Stadium
All Americans 9 16 5
Calgary Pucksters 5 9 4
Harris (W) Walker (5) Schacht (9) and Adams
Walberg (L) Lyons (6) and Moss
In an effort to make their second game in Calgary more competitive, the participants agreed that the teams would switch batteries. Such a move had been banned in Edmonton but, for some inexplicable rationale, this decision was met with acceptance in Calgary without affecting the amateur status of the local ball players. Young Charlie Moss of the Philadelphia Athletics would catch the deliveries of Rube Walberg and Ted Lyons for the Pucksters while Bill Walker and "Smokey" Harris had the privilege of chucking for the American Leaguers. The visitors wasted little time getting to Walberg, scoring four runs in the initial frame on the way to a 9 -5 victory. Pinky Higgins of the Athletics was the hitting star with three safe blows, including a double and a triple. He also drove in two runs as did Red Kress and Marty Hopkins. Moss, on loan to the Pucksters, had three hits and drove in an equal number of counters. Local fan-favorite and clean-up hitter, Joe McGoldrick of the Pucksters, spanked the sphere for a brace of safeties as did fly chaser Brown. There were a total of nine miscues in the game, some of which could be attributed to the mercury hovering somewhere close to the freezing point. Many fans wore parkas! Pinky Higgins left the game after collecting his third hit to catch a train to return home in Dallas, Texas. Hours later, Rube Walberg also ended his tenure with the club, departing for Cleveland.
October 25, 1934
Drumheller, AB
Nacmine Athletic Park
All Americans 10 13 1
Nacmine Athletics 0 3 7
Lyons (W) Thomas, Schacht (9) and Moss
Nelson (L) D. Hackler and McLaughlin
Despite the loss of two key players and a long automobile trip from Calgary to Drumheller, the American League All-Stars still fielded a top-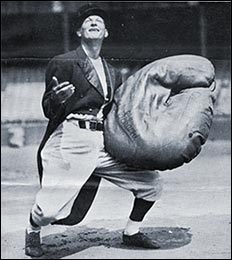 flight line-up. It included Roger Cramer at the initial station, Marty Hopkins at the keystone sack, Red Kress at shortstop and Heinie Manush in the outer pasture. Manush, appreciative of the treatment he had received during his initial minor league campaign in Alberta, had turned down the opportunity to join the Japanese tour so as to attend a smoker and dinner hosted by the Calgary Elks Club in honor of visiting major leaguers. His stay in Cowtown also gave him an opportunity to visit some of his former teammates from the 1921 Edmonton Eskimos.
Never before and never after would baseball fans in Drumheller have an opportunity to watch big league ballplayers on their home diamond. Perhaps it was the chilly October weather with its freezing temperatures that kept attendance low, providing little justification for the time-consuming trip from Calgary. Many of the major leaguers were amazed how long one could travel without seeing another town. It was scheduled as an exhibition match and it turned out to be just that. Despite taking an "easy-come, easy-go" approach, the big leaguers won handily. The Athletics did not help their cause by making seven errors, yet they did complete three double-plays. As usual, Al Schacht (right) put on a great show. He pitched, clowned and staged many hilarious pantomimes.
October 27, 1934
Medicine Hat, AB
Athletic Park
All Americans 4 9 3
Medicine Hat Royals 6 11 1
Lyons, Thomas (L) and Moss
Pennington, Thacker, Riddle (W) and Blaney
HR: Blaney, Long (Medicine Hat), Cramer (All Americans)

Earle Mack and his touring All Americans ended their 19 game barnstorming trip by taking on a tough Royals' nine in Medicine Hat. The official score was 6 - 4 in favor of the Hatters, reigning senior amateur baseball champions of Alberta. The game goes in the record books as the only loss the major leaguers suffered in the Western provinces. However, most observers recognized that being the last game of the trek, both American League chuckers Ted Lyons and Tommy Thomas began to "groove" their pitches allowing the Royals to tee off as in batting practice. Between October 3rd and October 27th, Thomas had appeared in twelve games and Lyons in eleven contests. Pitching in game situations with this frequency and especially in cold weather was a recipe for a sore arm and was another Major League team owners did not support barnstorming tours.
Wilf Pennington, star Royals' southpaw, hurled the first three innings and yielded just one run. Herbie Thacker, colorful young Bow Island portsider, and Kelly Riddle pitched the remaining six innings. Two Medicine Hat swatters, Ken Blaney and Fred Long, connected for circuit-clouts. Roger Cramer of the Philadelphia Athletics also drilled a round tripper. The crowd was reported to be "fair-sized" but no official tab was provided.
EPILOGUE
Despite the fact that Major League ball players participated in a full six-month, 154 game schedule, Connie Mack and his son Earle were able to convince 36 of the best players in the American League to participate in a barnstormng endeavour to the northern states, Western Canada and Asia in late October. There were two prime reasons why such a trip was attractive. First, it provided each player with additional income to offset the often poor salaries paid by stingy team owners. The other reason was the lure of Western Canada's wild, pristine and breathtaking scenery. Many players were enticed by the endless hunting and fishing opportunities.
An interesting enigma of this tour was the role played by Alexander "Al" Schacht. He was a former major leaguer, having played for the Washington Senators between 1921 and 1923. Schacht's ability to mimic other players and his comedy routines earned him the title, "Clown Prince of Baseball". He became an institution on these barnstorming trips. Considering the world class talent of these big league ball players one wonders why it was necessary to employ a comedian. Perhaps it was all those lop-sided scores. His comedy, antics and pantomimes were an abstraction to what was actually happening on the diamond. The fans loved him and he sent everyone home happy, despite the usual one-sided drubbings and the cold weather.
By late October the American League All-Stars tour of Western Canada was over. Still to play, however, was the unit headed for the Orient, led by who else but Babe Ruth. They had set sail for Yokohama to engage in 23 scheduled exhibition games in the Philippines, Japan, Hawaii and China.
AMERICAN LEAGUE ALL-STARS TOUR OF WESTERN CANADA 1934 GAME REPORTS
AMERICAN LEAGUE ALL-STARS TOUR OF JAPAN 1934 GAME REPORTS
TOYKO GIANTS BARNSTORMING TOUR OF WESTERN CANADA 1935 GAME REPORTS