DAI NIPPON BASEBALL CLUB LEGENDARY TOUR OF NORTH AMERICA 1935
By Redeye Ropertz
1. Photo
2. Suzuki Had A Vision
3. Prelude To Tour
4. Scores
5. California Here We Come
6. Crown Jewell of Northern California Baseball
7. San Francisco Colts
8. Oakland Oaks
9. San Jose Asahi
10. Los Angeles Nippon
12. San Diego Whippets
13. Tour Extended
14. Stockton Yamato
15. Milwaukee
16. Western Canadian Tour
17. Tour Conclusion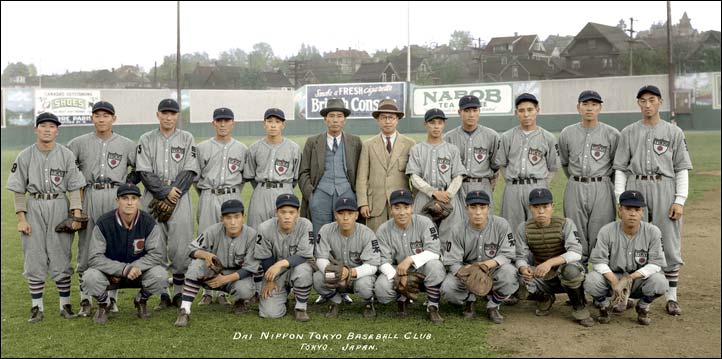 The Dai Nippon Baseball Club, forerunner of the Tokyo Giants team of the Japanese Baseball League, toured the United States and Canada in 1935.
Standing  (left to right) - Shigeru Mizuhara 3B/P, Eiji Sawamura  RHP,  Toshihide Hatafuku RHP, Daisuke Miyake COACH,  Nobuo Kura C, Tadao Ichioka MGR,  Sotaro Suzuki General Manager, Takeo Tabe 2B/P, Kenichi Aoshiba RHP, Hisanori Karita SS,  Fujio Nagasawa 1B, Jimmy Horio CF
Kneeling (left to right) - Victor Starffin RHP, Yukio Eguchi UT, Usaburo Shintomi OF, Shiro Tsuda 3B, Kumeyasu Yajima OF, Tamotsu Uchibori C, Takeshi Nakayama C, Eiichiro Yamamoto UT.  Not shown - Nobuaki Nidegawa OF
* Ten members of the 1935 Dai Nippon contingent have been inducted into the Japanese Baseball Hall of Fame (Sawamura, Mizuhara, Miyake, Ichioka, Suzuki, Tabe, Karita, Starffin, Yamamoto and Nidegawa).
[The colourized photo courtesy of Mark Truelove of Canadian Colour. The original photo by Stuart Thomson and provided by City of Vancouver Archives, CVA 99-4753.]
We acknowledge the kind assistance of Yoichi Nagata and his book, The Tokyo Giants North American Tour of 1935 and material from Banzai Babe Ruth by Robert K. Fitts.
---
Originated sometime ago by Americans
this wondrous thing called baseball
one can never get enough of it.
Masoaki Shiki
1898
SUZUKI HAD A VISION

Sotaro Suzuki, baseball writer for the Yomiuri newspaper, a large Tokyo daily, had a vision. He believed the time had come to bring professional baseball to Japan. Newspaper sales were lagging and interest in baseball was in decline. Suzuki was convinced that a tour of Major League ball players, headlined by legendary Babe Ruth, would not only revive interest in baseball but also increase the sales of newspapers, particularly his own publication. Not surprisingly, the 1934 tour was primarily financed by The Yomiuri Shimbun.
The tour of Japan by Babe Ruth and the American League all-Stars was both a cultural and commercial success. Huge crowds generated renewed interest in baseball and provided organizers with hearty gate receipts. Suzuki had been proven correct. Newspaper sales increased dramatically. An emboldened Suzuki and Matsutaro Shoriki, president of the Yomiuri newspaper, believed the window was open to establish professional baseball in Japan. Their intent was to replace Tokyo's so-called Big Six Universities as the focal point for the highest caliber and most competitive baseball played in that country.

Working closely with Frank "Lefty" O'Doul, they primarily attracted players from three Tokyo Universities (Waseda, Keio and Meiji) and formed the first professional baseball team in Japan to cross the Pacific Ocean to North America. Known originally as the Dai Nippon Baseball Club, the team was often referred to by the Japanese fans as Kyojin, the Nipponese equivalent for "giants." Not surprisingly, the team name eventually morphed into that of the Giants, and occasionally, the Yomiuiri Giants, with reference to its corporate sponsor.
O'Doul realized that the new team had to develop improved training techniques and compete against superior talent in order to make the necessary progression. This meant traveling to the United States and Canada. An ambitious schedule was initially drawn up that would require the team to play approximately 60 to 80 games over a short time period. O'Doul was hoping to schedule games with Class AA squads (there were no AAA leagues at the time, AA was the top minor league ranking) training in California as part of their Spring Training regimen. The Tokyo Giants would end up playing over 100 contests in 60 different cities while crisscrossing through half of North America. Included in this demanding schedule were 22 encounters in eight Western Canadian locales stretching from Winnipeg, Manitoba to Vancouver Island.
PRELUDE TO THE TOUR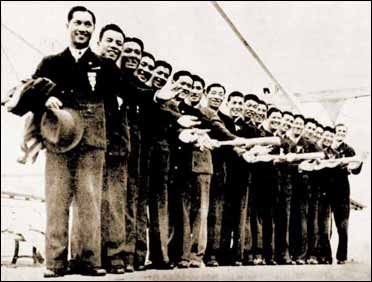 When the nineteen member squad sailed from Yokohama on February 14, 1935 en route to San Francisco, one can only surmise what went on in the minds of the Giants' brain trust. From evidence collected, there seems to be little doubt what Suzuki and Shoriki were expecting. The tandem was confident that the tour would be both a financial and competitive success. O'Doul probably would have been satisfied as long as the Giants did not embarrass themselves.
To general manager Tadao Ichioka, former manager at Waseda University, and dugout manager Daisuke Miyake, they had the herculean task of preparing a unit of inexperienced ball players to execute a credible and competitive brand of baseball virtually on a daily basis for four months. An underwhelming training regimen left them ill-prepared for both the physical and mental rigours of the grueling schedule facing them. One has to go no further than the pitching staff to appreciate the scale of Tadao's challenge. The team had but four pitchers! They were young and had little experience. The battle-tested Masao Date, the most effective pitcher during both the 1931 and 1934 games against Major League players, was not on the team. Tadao had confidence in young


Eiji Sawamura (left) (a month past his 18th birthday) who possessed a wicked fast ball that jumped all over the plate (think Roger Clemens). He also had another teenager Victor Starffin (right) (who would turn 19 on the first of May) whose arsenal included a highly effective array of curve balls and who possessed the stamina and rubber-arm to pitch all day. Lefty O'Doul believed both were Major League material.
Surprisingly, Japan's leading hitter was not on the roster. Toshiharu Inokawa had batted .348 against American League pitching during the 1934 series of games. Fortunately the roster did include Kumeyasu Yajima who led all Japanese players with 13 hits while clipping the horsehide at a .295 pace. Also on the team was Jimmy Horio, one of two players on the squad not native to the land of the Rising Sun. Horio was born in Hawaii while teammate Victor Starffin, who only made a token appearance in the 1934 showdown, first saw the light of day in Russia. After the Bolshevik Revolution, Starffin had migrated with his family to Northern Hokkaido.
The pressure on the team had to be intense, overwhelming and beyond realism in the sense that optimism blinded probability. A single injury could have had devastating effects, particularly if it involved a pitcher. Four pitchers to hurl over 100 games over a four month stretch? It sounded like a far-fetched impossible mission, Suzuki told the Sporting News in March, 1935, "practically every kid in Japan now wants to emulate Babe Ruth." Talk about pressure. In addition, the team would be playing in an alien and even somewhat hostile environment, where a foreign language, which most did not understand, was spoken. In all likelihood, they would also have to endure racial abuse, both overtly and on a subtle level. With apologies to Alfred Tennyson, this team was "entering into the valley of death."
SCORES
   Game 1 - (March 02) at Marysville, CA            Game 56 - (May 12) at Auburn, WA
   San Francisco Mission 5, Dai Nippon 0            Dai Nippon 12, Japanese All-Stars 2
   Aoshiba (L) Hatafuku and xxx                     Mizuhara (W), Sawamura and xxx
   Dean, Davenport (W) (4), Hassett and xxx         xxx and xxx
   Game 2 - (March 03) at Marysville, CA            Game 57 - (May 12) at Seattle, WA
   Dai Nippon 12, San Francisco Mission 5           Dai Nippon 21, Taiyo Japanese 2
   Sawamura (W), Starffin and xxx                   Hatafuku (W) and xxx
   Johansen (L), Gibson, Jackson and xxx            xxx and xxx
   Game 3 - (Mar 09) at San Francisco, 10 innings   Game 58 - (May 13) at Tacoma, WA
   San Francisco Colts 4, Dai Nippon 3.             Dai Nippon 1, Tacoma Tigers 0
   Sawamura, Hatafuku (L) and Nakayama              Sawamura (W) and xxx
   Cole (W) and Caligari                            xxx and xxx
   Game 4 - (March 10) at San Francisco, CA         Game 59 - (May 14) at Everett, WA
   San Francisco Colts 6, Dai Nippon 5              Dai Nippon 4, Everett All-Stars 3
   Starffin (L), Aoshiba and Uchibori               Starffin (W) and Uchibori
   Haeines, Coad, Visintainer                       Mateon (L) and Erickson
   and Phillips, Caligari
   Game 5 - (March 13) at Modesto, CA               Game 60 -(May 15) at Victoria, BC
   Dai Nippon 2, Oakland Oaks 0                     Victoria All-Stars 4, Dai Nippon 0
   Sawamura (W) and Nakayama                        Hatafuku (L) and Kura
   Chandler, Tobin (L) (6) and Hill, Annunzio       Daley(Dailey) (W) and Barnes
   Game 6 - (March 14) at Modesto, CA               Game 61 - (May 15) at Victoria, BC
   Oakland Oaks 5, Dai Nippon 3                     Dai Nippon 8, Victoria All-Stars 1
   Starffin (L) and Nakayama                        Sawamura (W) and Nakayama
   Kuykendall (W) and Hartje                        Musgrave (L), McCann (2) and Barnes
   Game 7 - (March 15) at Alameda, CA               Game 62 - (May 16) at Victoria, BC
   Dai Nippon 16, Japanese All-Stars 6              Dai Nippon 6, Victoria All-Stars 5
   Hatafuku (W) and xxx                             Starffin (W) and Nakayama
   xxx and xxx                                      Dailey(Daley) (L), Holden (7) and Barnes
   Game 8 - (March 16) at Sacramento, CA            Game 63 - (May 18) at Vancouver, BC
   Sacramento 6, Dai Nippon 5                       Dai Nippon 8, Vancouver Asahi 3
   Aoshiba (L) and Nakayama                         Aoshiba (W) and Uchibori
   Coughlin, Elton and Salkeld                      T. Suga (L) and Yasui
   Game 9 - (March 17) at Sacramento, CA            Game 64 - (May 19) Bremerton, WA
   Dai Nippon 2, Sacramento 1                       Bremerton 9, Dai Nippon 2
   Sawamura (W) and Kura                            Sawamura (L), Hatafuku and xxx
   Angelich (L), Hartwig (9) and Wirtz, Salkeld     xxx and xxx
   Game 10 - (March 20) at Sacramento, CA           Game 65 - (May 20) at Seattle, WA
   Sacramento 4, Dai Nippon 2                       Dai Nippon 6, Nippon AC 3
   Aoshiba (L) and xxx                              Starffin (W), Hatafuku and xxx
   Flynn. Elton (W) (5) and xxx                     xxx and xxx
   Game 11 - (March 21) at Stockton, CA             Game 66 - (May 21) at Vancouver, BC
   Sacramento 10, Dai Nippon 2                      Terminal All-Stars 6, Dai Nippon 1
   Starffin (L) and Kura                            Starffin (L) and Nakayama
   Angelich (W) and Salkeld                         Esplen (W) and Tinling
   Game 12 - (March 22) at Lodi, CA                 Game 67 - (May 22) at Courtenay, BC
   Dai Nippon 7, Lodi, State League 0               Dai Nippon 3, Courtenay All-Stars 2
   Sawamura (W), Hatafuku (6) and xxx               Hatafuku (W), Sawamura (9) and Uchibori, Nakayama
   xxx and xxx                                      Quinn (L), Davis and Beaumont, Hill
   Game 13 - (March 23) at Oakland, CA              Game 68 - (May 23) at Vancouver, BC
   Oakland 6, Dai Nippon 0                          Dai Nippon 9, Terminal All-Stars 2
   Aoshiba (L) and Nakayama                         Sawamura (W) and Uchibori
   McEvoy (W) and Sinibaldi                         Yehle (L) Sikora (4) and Tinling
   Game 14 - (March 24) at Oakland, CA              Game 69 - (May 24) at Vancouver, BC
   Oakland 1, Dai Nippon 0                          Dai Nippon 9, Vancouver Asahi 1
   Sawamura (L) and Kura                            Starffin (W) and Kura
   Haid, Rego and Sinibaldi                         T. Suga (L) Misakawa (4) and Yasui
   Game 15 - (March 25) at Fresno, CA               Game 70 - (May 24) at Vancouver, BC
   Dai Nippon 8, San Francisco Seals 1              Dai Nippon 14, IOCO (International Oil Co.) 3
   Aoshiba (W) and Nakayama                         Aoshiba (W) and Nakayama, Uchibori
   Sheehan (L), Jorgensen and Monzo                 Horne (L) F. Condon (7) and Spicer
   Game 16 - (March 26) at Fresno, CA               Game 71 - (May 26) at Spokane, WA
   San Francisco Seals 9, Dai Nippon 1              Dai Nippon 7, Bohemian Brewers, ID-WA 2
   Sawamura (L), Hatafuku (5) and Nakayama          Sawamura (W) and Uchibori
   B.Cole (W) and Woodall                           Muzatko (L), Christeson and Lassell
   Game 17 - (March 27) at San Jose, CA             Game 72 - (May 26) at Spokane, WA
   San Jose Asahi 3, Dai Nippon 2                   Silverloaf Bakery, ID-WA League 6, Dai Nippon 0
   Starffin (L) and Uchibori                        Starffin (L), Mizuhara (3) and Kura
   Hinaga (W) and Shiraki                           Haroldson (W) and Holsten
   Game 18 - (March 28) at Salinas, CA              Game 73 - (May 27) at Lewiston, ID
   Dai Nippon 16, Salinas Taiyos 6                  Dai Nippon 8, Lewiston 2
   Hatafuku (W), Tabe and Uchibori, Kura,           Aoshiba (W) and Nakayama
   Thompson, Hunt, T.Yamamoto and Takata            Anderson (L), Jamme, Arbelbide and Ball, M.Frost
   Game 19 - (March 30) at Fullerton, CA            Game 74 - (May 28) at Walla, Walla, WA
   Hollywood 2, Dai Nippon 1                        Dai Nippon 5, Walla, Walla 4
   Hatafuku (L) and Nakayama                        Mizuhara, Sawamura (W) (6) and xxx
   Stoner (W) and Varello                           xxx and xxx
   Game 20 - (March 30) at Los Angeles, CA          Game 75 - (May 29) at Pocatella, ID, 5 innings
   Seattle Indians 8, Dai Nippon 4                  Dai Nippon 14, Pocatella Indians 2
   Aoshiba (L) and xxx                              Starffin (W) and Uchibori
   xxx and xxx                                      H.Larson (L) and Isham
   Game 21 - (Mar 31) at Fullerton, CA, 12 innings  Game 76 - (May 30) at Ogden, UT
   Dai Nippons 6, Hollywood Stars 5                 Dai Nippons 10, Ogden 4
   Sawamura (W) and Kura, Uchibori                  Aoshiba (W), Mizuhara and Nakayama
   Brown (L) and Varello                            Lesser (L), Nielson, Card and B.Price
   Game 22 - (March 31) at Los Angeles, CA          Game 77 - (June 01) at Salt Lake City, UT
   Dai Nippon 16, Seattle Indians 6                 Dai Nippon 1, Salt Lake City Royal Bakers 0
   Starffin (W) and xxx                             Hatafuku (W) and Kura, Nakayama
   Dean (L), xxx (3) and xxx                        Kener (L) and Christensen
   Game 23 - (April 01) at Ventura, CA              Game 78 - (June 01) at Salt Lake City, UT
   Portland 9, Dai Nippon 6                         Dai Nippon 12, SLC Federation All-Stars 2
   Hatafuku (L), Tabe (5) and Kura                  Starffin (W), Sawamura and Nakayama, Kura
   Gould (W) and Doerr, Richards                    King (L), Lontz, Duffy and Austin
   Game 24 - (April 02) at Ventura, CA              Game 79 - (June 02) at Denver, CO
   Portland 8, Dai Nippon 1                         Dai Nippon 4, Denver White Elephants 3
   Aoshiba (L), Sawamura (2) and Uchibori           Aoshiba, Sawamura (W) and Nakayama
   Ulrich (W), Carson and Cronin                    Albright (L) and Dunlap
   Game 25 - (April 4) at Santa Monica, CA          Game 80 (June 02) at Denver, CO
   Los Angeles Angels 6, Dai Nippon 1               Dai Nippon 2, Denver College All-Stars 1
   Starffin (L), Sawamura (8) and Uchibori          Sawamura (W) and Kura
   Kimball (W) and Gibson                           Brown, Adams and Kavanagh, Sawicki
   Game 26 - (April 06) at Brawley, CA              Game 81 - (June 03) at Lincoln, NE
   Dai Nippon 4, Pirrone's All-Stars 1              Lincoln's Links 3, Dai Nippon 1
   Aoshiba (W) and xxx                              Hatafuku (L), Starffin (7) and Nakayama, Uchibori
   xxx and xxx                                      Swan (W) and Yarashus, Dexter
   Game 27 - (April 07) at San Diego, CA            Game 82 - (June 04) at Omaha, NE
   Texas Liquors 13, Dai Nippon 3                   Omaha Packers 6, Dai Nippon 4
   Sawamura (L), Tabe                               Sawamura (L), Starffin and xxx
   xxx and xxx                                      xxx and xxx
   Game 28 - (April 07) at San Diego, CA            Game 83 - (June 05) at Terre Haute, IN
   Dai Nippon 4, Whippets 1                         Dai Nippon 5, Terre Haute Tots 3
   Hatafuku (W) and xxx                             Aoshiba (W) and Nakayama
   xxx and xxx                                      Boughet (L) and Shatzer
   Game 29 - (April 09) at San Diego                Game 84 - (June 06) at Cincinnati, OH
   Dai Nippon 2, Dobbin Navy 0                      Cincinnati Tigers 9, Dai Nippon 5
   Starffin (W), Sawamura and Nakayama              Starffin (L), Hatafuku, Sawamura and Nakayama
   Reichert (L) and Cyr, Ray                        Harris, Moss (W) and Petway
   Game 30 - (April 10) at El Centro, CA            Game 85 - (June 07) at Flint, MI
   Dai Nippon 3, ABC Beer 1                         Dai Nippon 11, Flint All-Stars 7
   Aoshiba, Sawamura (W) and xxx                    Aoshiba (W), Sawamura and Nakayama
   xxx and xxx                                      Polaski (L), Misyak, Bibay and Bysco
   Game 31 - (April 11) at Mexicali, Mexico         Game 86 - (June 08) at Hamtramck, MI
   Dai Nippon 20, Mexican All-Stars 5               Dai Nippon 6, Dearborn Ford V-8 0
   Hatafuku (W), Mizuhara and xxx                   Sawamura (W) and xxx
   xxx and xxx                                      xxx and xxx
   Game 32 - (April 13) at Los Angeles, CA          Game 87 - (June 09) at Chicago, IL
   Dai Nippon 3, Los Angeles Nippon 0               Dai Nippon 9, Chicago Mills 4
   Aoshiba (W) and Nakayama                         Starffin (W) and Uchibori
   G.Matsuura (L) and Harris                        McNaughton (L) and Stokes, Murphy
   Game 33 - (April 14) at Los Angeles, CA          Game 88 - (June 09) at Chicago, IL
   Dai Nippon 8, Pirrone 1                          Chicago Mills 5, Dai Nippon 1
   Sawamura (W) and xxx                             Aoshiba (L) and Uchibori
   xxx, xxx, Bob Meusel and xxx                     Sullivan (W) and Goldwaite
   Game 34 - (April 20) at Los Angeles, CA          Game 89 - (June 10) Battle Creek, MI, 12 innings
   Los Angeles Nippon 4, Dai Nippon 3               Dai Nippon 0, Postum 0
   Starffin (L), Hatafuku and xxx                   Sawamura and Uchibori
   xxx and xxx                                      Brandt and Egan
   Game 35 - (April 21) at Los Angeles, CA          Game 90 - (June 10) at Kalamazoo, MI
   Dai Nippon 14, Los Angeles 3                     Dai Nippon 7, Kalamazoo 1
   Sawamura (W) and xxx                             Mizuhara, Starffin (W) and xxx
   xxx and xxx                                      xxx and xxx
   Game 36 - (April 25) at Los Angeles, CA          Game 91 - (June 11) at Milwaukee, WI
   Texas Liquors 11, Dai Nippon 6                   Dai Nippon 9, Milwaukee 4
   Aoshiba (L), Sawamura and xxx                    Hatafuku, Sawamura (W)(4) and Uchibori
   xxx and xxx                                      Kessenich, McWeeney (L)(3) and Casey
   Game 37 - (April 26) at Los Angeles, CA          Game 92 - (June 12) at Madison, WI
   Dai Nippon 7, All Mexican 6                      Madison, Wisconsin, Blues 9, Dai Nippon 3
   Aoshiba, Hatafuku, Sawamura                      Aoshiba (L), Starffin (4) and Uchibori
   xxx and xxx                                      Blatz (W) and Olson, Smith
   Game 38 - (April 27) at Los Angeles, CA          Game 93 - (June 13) at Wisconsin Rapids, WI
   Dai Nippon 11, El Paso 4                         Dai Nippon 2, Wisconsin Rapids 0 (7 innings)
   Sawamura (W) and xxx                             Hatafuku (W) and xxx
   Smith (L), Machado, Vilas and xxx                                      Van Flett (L) and Shipley
   Game 39 - (April 28) at Los Angeles, CA          Game - 94 (June 14) at Moorhead, MN
   El Paso Mexicans 3, Dai Nippon 2                 Dai Nippon 6, Fargo-Moorhead Twins 2
   Starffin (L) and xxx                             Aoshiba (W) and Uchibori
   xxx and xxx                                      Lippold (L), Knight and Rosette
   Game 40 - (April 28) at Santa Maria, CA          Game 95 - (June 15) at Winnipeg, MB
   Dai Nippon 13, Santa Maria All-Stars 0           Dai Nippon 15, Winnipeg All-Stars 0
   Aoshiba (W) and xxx                              Starffin (W) and Nakayama
   xxx and xxx                                      Foster (L), Avery (5) and Campbell
   Game 41 - (April 28) at Santa Maria, CA          Game 96 - (June 15) at Winnipeg, MB
   Dai Nippon 10, Japanese All-Stars 2              Dai Nippon 4, Winnipeg All-Stars 3
   Mizuhara (W) and xxx                             Hatafuku (W) and Nakayama, Kura
   xxx and xxx                                      McCallum (L) and Henry
   Game 42 - (April 29) at Fresno, CA               Game 97 - (June 16) at St.Boniface, MB, 10 innings
   Dai Nippon 6, Fresno Japanese 4                  Dai Nippon 9, St.Boniface Native Sons 5 
   Aoshiba (W) and Uchibori                         Hatafuku, Sawamura (W)(7) and Nakayama
   Moriyama (L), Saiki and Zenimura, Fujita         Knight (L) and Levesque
   Game 43 - (April 30) at Stockton, CA             Game 98 - (June 17) at Regina, SK
   Dai Nippon 7, Yamato Club 0                      Dai Nippon 11, Regina Nationals 3
   Starffin (W), Sawamura and Nakayama              Aoshiba (W) and Nakayama
   Shironaka (L), Nushida, and Okina, Tanaka        Bates (L), Parkes (4) and Kokran
   Game 44 - (May 02) at Portland, OR               Game 99 - (June 18) at Saskatoon, SK, 10 innings
   Portland 5, Dai Nippon 2                         Dai Nippon 5, Saskatoon All-Stars 4 
   Sawamura (L) and xxx                             Starffin, Hatafuku (W) (7) and Uchibori
   xxx and xxx                                      Corbin (L) and D.McLeod
   Game 45 - (May 03) at Centralia, WA              Game 100 - (June 18) at Saskatoon, SK
   Dai Nippon 9, Centralia Elks 3                   Dai Nippon 14, Saskatoon All-Stars 0
   Hatafuku (W) and Kura                            Sawamura (W) and Uchibori
   Opelt (L), Lamb, Sterling, Wagner                Newbold (L), Klinck (5), Vallee (8) and D.McLeod
   Game 46 - (May 04) at Wapato, WA                 Game 101 - (June 19) at Edmonton, AB
   Dai Nippon 6, Wapato Japanese 5                  Dai Nippon 6, Edmonton All-Stars 0
   Aoshiba (W) and xxx                              Aoshiba (W) and Nakayama
   xxx and xxx                                      Brandt (L) and McKinley
   Game 47 - (May 04) at Yakima, WA                 Game 102 - (June 19) at Edmonton, AB
   Dai Nippon 7, Yakima Indians 3                   Dai Nippon 9, Edmonton All-Stars 1
   Starffin (W) and xxx                             Hatafuku (W) and Kura, Nakayama
   xxx and xxx                                      Eaton (L) and Aldridge
   Game 48 - (May 05) at Tacoma, WA                 Game 103 - (June 22) at Sacramento, CA
   Dai Nippon 7, Tacoma Tigers 3                    Dai Nippon 13, Sacramento Nissa All-Stars 5
   Hatafuku (W), Sawamura                           Hatafuku (W), Starffin, Aoshiba, Sawamura and xxx
   xxx and xxx                                      Kurima (L), Nakatomi, Matsumoto and xxx
   Game 49 - (May 6) at Seattle, WA                 Game 104 - (June 23) at San Francisco, CA
   Seattle 8, Dai Nippon 4                          Dai Nippon 7, Ty Cobb All-Stars 2
   Sawamura (L) and Nakayama                        Aoshiba, Sawamura (W) and xxx
   Thomas (W) and Bradbury                          xxx and xxx
   Game 50 - (May 07) at Olympia, WA                Game 105 - (June 30) at Honolulu, HI
   Dai Nippon 4, Olympia All-Stars 3                Dai Nippon 7, Honolulu Wanderers 1
   Aoshiba (W) and xxx                              Sawamura (W) and Nakayama
   xxx and xxx                                      Shaw (L) and Nicholas
   Game 51 - (May 08) at Vancouver, BC              Game 106 - (July 02) at Honolulu, HI
   Dai Nippon 6, Vancouver Arnold & Quigley 2       Braves 4, Dai Nippon 3
   Starffin (W) and Nakayama                        Aoshiba, Starffin, Sawamura (L) and Uchibori
   Lewis (L) and Staggs                             Cheeseman, M.Rodrigues (W) and Souza
   Game 52 - (May 9) at Vancouver, BC               Game 107 - (July 04) at Honolulu, HI
   Dai Nippon 6, United Distillers 2                Dai Nippon 6, Navy 2 (11 innings)
   Sawamura (W) and Uchibori                        Sawamura (W) and Nakayama
   Gibbons (L), Ruether (2) and Henry               Girard (L) and Woods
   Game 53 -(May 10) at Vancouver, BC, 13 innings   Game 108 - (July 06) at Honolulu, HI
   Dai Nippon 9, Vancouver Athletic Club 6          Hawaiians 3, Dai Nippon 1
   Hatafuku (W) and Nakayama, Uchibori              Starffin (L) and Nakayama
   Serventi (L), Straight (7) and Padovan           Teetai (W) and Fujishige
   Game 54 - (May 11) at Vancouver, BC              Game 109 - (July 07) at Honolulu, HI
   Dai Nippon 10, Vancouver Arnold & Quigley 4      Chinese 2, Dai Nippon 1
   Aoshiba (W) and Uchibori                         Aoshiba, Sawamura (L) and Uchibori
   L. Holden (L), Boston (1), Lewis (1),            James (W) and Chai
   Plantz (2) and Padovan, Ingram (7)
   Game 55 - (May 11) at Vancouver, BC
   Dai Nippon 7, Home Gas 4
   Starffin (W) and Nakayama
   Muscutt (L) Musgrave (1) and Padovan



CALIFORNIA HERE WE COME
The visiting Japanese professionals played their first game on American soil versus the San Francisco Mission Reds in Marysville, California, the Missions' training base. One of eight teams in the Pacific Coast League, they drew their fan base within working-class, Latino-American families in the Mission district in San Francisco. The roster included two noteworthy and charismatic players, both with the first name Oscar. Oscar Eckhardt was the Pacific Coast League batting champion four out of the past five years. In 1935, he would bat .398 and nose out Joe DiMaggio for the

batting title. Oscar "Farmer" Dean (left) was advertised as a 23-year-old rookie (although other players seem to recall him as a 35 year-old veteran, perhaps with a real name of West). Although not related to Dizzy and Paul Dean, he could match the St. Louis hurling brothers in braggadocio. He virtually talked himself onto the team. The local beat writers soon turned him into a celebrity. "Farmer" Dean claimed he possessed a submission fast ball, but his fireball was supposedly his best weapon. "It could start out fast and leave a smoke screen as it approached the batter". Oscar Dean also loved to eat. It is reported that he consumed two large T-bone steaks for breakfast. His chits for meals often reached a staggering $8.00 (in 1935 bread was 10 cents a loaf and ground meat sold for 22 cents per pound).

On Saturday March 02, 1935, manager "Gabby" Street (right) handed the ball to "Farmer'' Dean to see what he could do in a game situation. Dean bragged that he would "toy" with these visitors from the Orient. His submarine delivery stumped the Japanese for three shutout innings. His off-field behavior wasn't as appealing and he was released the next day after a heated exchange with the team president. The Reds won the opener 5-0 before the visitors stormed back to crush their hosts 12-5 in the second match. The Tokyo Giants had served notice they would be formidable opponents. They also gave the fans and players of the Missions a lesson in politeness. Every time they came to the plate they tipped their cap to the umpire. If they struck out they would tip their cap yet again. Whenever they were called out on the base paths, they would also bow and tip their cap. Such behaviour, unheard of in the United States and Canada, soon became a unique and genuine trademark of these visiting Japanese players.
CROWN JEWELL OF NORTHERN CALIFORNIA BASEBALL
Arguably the most anticipated, interesting and for Japanese professional baseball, the most important games on the schedule were against the San Francisco Seals.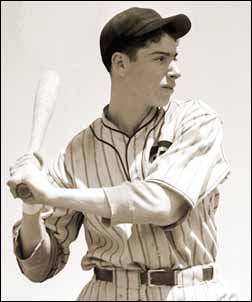 The 1935 edition of the Seals would run roughshod over their PCL opponents on their way to the title. The Seals roster included superstar Joe DiMaggio. He would bat .396 and drive in a whopping 173 runs on his way to winning the MVP. How talented was Joe DiMaggio in 1935? The following year he would join the New York Yankees and bat an impressive .326. In addition, the Seals were now managed by "Lefty" O'Doul who was connected both professionally and on a sentimental level with the success of the Tokyo Giants. Eiji Sawamura and Victor Starffin would be facing the most powerful batting lineup they would encounter on the entire tour.
It is impossible to fully appreciate the excitement and drama these games would have not only on Japanese-Americans in California but also with baseball fans back in Japan. in 1934, Sawamura had struck out 39 year-old Babe Ruth. Could he do the same when facing 20 year-old Joe DiMaggio? The Giants pulled off a surprise 8-1 decision in the first game as DiMaggio went 0-3 against Kenichi Aoshiba, but in the showdown between Sawamura and DiMaggio in the second game, a 9-1 victory by the Seals, "Jolting Joe" blasted a two-run homer and a brace of doubles. Sawamura failed to retire him even once. The unknown factor in these two encounters was the extent to which Lefty O'Doul utilized his "A" team. Sawamura returned in the Spring of 1936 to shutout the Seals 5 - 0 in a more convincing display of pitching. To the Seals, these were simply exhibition games and the team had nothing to prove. The appointment of O'Doul as the new manager of the Seals was good news to business manager Sotaro Suzuki. Such made it possible for O'Doul to arrange a full schedule of games between his beloved Giants and other Class AA Coast League games.
SAN FRANCISCO COLTS
After 'Lefty" O'Doul matched the young inexperienced Nippons to battle his senior squad, the San Francisco Seals, he followed up by scheduling them to encounter the Colts, the Seals' rookie outfit. The rooks were hard pressed to defeat the Tokyo Giants in two games played in the 18,000 seat capacity Seals Stadium. On March 09, they needed extra innings to squeak out a 4 - 3 victory, as the barnstormers out-hit them ten to seven. Bobby Cole, nephew of Bert Cole, a former major league and Pacific Coast League pitcher, was on the mound for the Colts and kept the hits scattered. The Colts won the second game on March 10, by the score of 6 - 3. This victory was aided by some poor throwing on the part of Giants' catcher Tamotsu Uchibori.
OAKLAND OAKS
On March 13, the Giants again defeated a Class AA opponent, downing the Oakland Oaks 2 – 0 behind Eiji Sawamura's five-hit shutout pitching. The Japanese "ace" whiffed 13 Oaks in an impressive performance. In a subsequent start, he bettered that feat by striking out 14 Hollywood Stars. The following day, Toshihide Hatafuku lost a close encounter to the Stars 2 - 1. Although suffering the defeat, he did demonstrate that Sawamura and Starffin were not the only pitchers on the Giants' roster with long-range major-league potential. Such pitching achievements had to have the fans back home feeling ecstatic.
SAN JOSE ASAHI
The Giants scheduled several games with squads consisting primarily of Japanese-Americans such as the San Jose Asahi, the Fresno Athletic Club, the Los Angeles Nippon and the Stockton Yamato.
On March 27th, they squared off against the San Jose Asahi. The Asahi were a local ball team in a community proud of its heritage. The game was played at the Asahi Baseball Park, a stadium constructed in 1926 and built entirely by the local Nikkei (Japanese-Americans of all generations) community. There was considerable interest in the up-coming contest against what was perceived locally as "the powerful visitors from across the Pacific." The Tokyo Giants' lean but highly talented pitching corps was both admired and feared.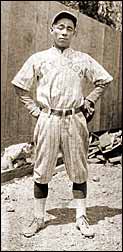 Local fans had high hopes for their team. Pitching sensation Russell Noburo Hinaga (right) was considered excellent at every position he played. Fans and media alike referred to him as "Mr. Baseball." He was the oldest of the three Hinaga brothers. He started his brilliant career at the age of 15, joining the San Jose Asahi team when they were first organized in 1918. In 1925, Hinaga had toured the Orient with the Asahis, pitching against Japan's leading Universities including the powerful unit from Waseda. At one stretch he had compiled a sparkling record of 29 and 2. In the outfield, the Asahi had George "Moon" Ikeda, who it is said never dropped a fly ball. Ikeda roamed the outfield pasture utilizing a glove from which he had removed all the stuffing. There was also Chitoshi "T-bone" Akizuki, whose speed left fielders flailing in the dust.
Not surprisingly, the game turned out to be a pitching duel between Victor Starffin and Hinaga. Going into the bottom of the ninth, the Giants held a slim 2 - 1 lead. Ky Miyamoto led off for the host club with a clean single to right. A walk and a hit batter soon loaded the bases. Manager Daisuke Miyake did not have the luxury of going to the bullpen to bring in a late closer. This would be Starffin's game to win or lose.
Harry Kamemoto tried to execute a squeeze play but could not handle Starffin's blazing fastballs and struck out on three pitches. Unfortunately for Starffin, his catcher also had difficulty with the strikeout pitch and it got by him for a passed ball and the tying run scored. Starffin struck out the next two batters. With the score knotted at two and with two out and the bases loaded, who else but "Mr. Baseball", Russel/Russell Hinaga, swung hard at a Starffin fastball, drilling it through second base to drive in Adrian Yamamoto with the winning run. In 2015, this "big game" was still remembered by former Asahi players such as Frank "Tarzan" Shiraki, age 91, of San Jose. He is among the dwindling circle off former players whose exploits were an integral part of Japanese-American baseball history.

The teams lineup for a photo in Wapato, Washington as the Tokyo Giants topped the local Japanese squad 6-5.
LOS ANGELES NIPPON, THE JAPANESE WORLD SERIES
The Los Angeles Nippon were organized in the 1920's and were originally known as the Los Angeles Japanese. They had a number of talented players including T. Ikadaki, Mori Miyahara, Isozaki and Oshio. Sammy Yakahashi was their flashy shortstop and best player. In 1930, he earned a tryout with the Los Angeles Angels of the Pacific Coast League.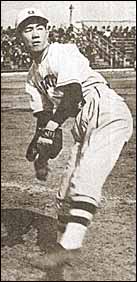 On April 13, the Giants engaged the Los Angeles Nippon in what was billed as "the Japanese World Series". Such hyperbole was often employed to hype games. Between 1927 and 1936, the Nippon nine from the City of Angels hosted ten games with Japanese college teams and five more with the 1935 and 1936 editions of the newly-organized Japanese professionals. Eiji Sawamura's reputation as the pitcher who struck out four American League All-Stars in succession, including legendary Babe Ruth, led to White Sox Park being filled to its capacity of 5,000 for all three games. Sawamura (left), Victor Starffin and Kenichi Aoshiba made quick order of their Nippon brothers and swept the series. The Giants' record when facing semi-professional or local teams in California was a remarkable 7 - 1.
In the opener, George Matsuura fired a three-hitter for the host nine, but the Nippons made four errors and lost 3-0 as the Giants gave up just six hits and played flawlessly in the field. The Los Angeles Times listed the winning hurler as "A. Oshida", a player not on the Tokyo roster. Kenichi Aoshiba was the likely hurler.
SAN DIEGO WHIPPETS
In early April the Tokyo Giants played three games, including a double-header, in San Diego. In the opening contest of the twin-bill, the Texas Liquor nine, a semi-pro commercial team, blasted the Giants 13-3. It would be one of the most lopsided scores on the entire tour. In the second skirmish, the Japanese tourists whipped (pun intended) the San Diego Whippets 4-1. The next day the Giants played a squad comprised of United States Navy players. The barnstormers beat the U.S.S. Dobbin 2-0 as Victor Starffin won a pitching duel over "Sailor Tex" Reichert.
JAPANESE BALL TOSSERS EXTEND TOUR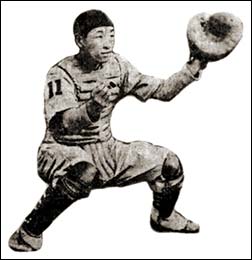 Following the tour of California, the newly minted Japanese professional baseball team extended their exhibition series to the U.S. Mid-West and the Pacific Northwest. In 30 games in the Golden State, the Japanese were 14 and 16. When playing against commercial and local Nippon teams they were almost unbeatable, winning seven of eight contests. The Class AA Pacific Coast League competition was much tougher. The Giants won seven games but lost 15. Eiji Sawamura picked up four wins against four losses when pitching against Class AA ball teams, although he did complete three games including a shutout over the Oakland Oaks. He also complied a high strikeout ratio. In a game versus the Oakland Oaks he whiffed 13 batters. He followed up that notable achievement by dismissing 14 Hollywood Stars in a subsequent start.
Left - Nippon catcher Nobuo Kura
The Tokyo Giants packed schedule took them to spending the month of May playing 33 games against teams from Washington State, Idaho, Utah and Canada. There were virtually no off days during this month. If they weren't playing, they were traveling thousands of miles including treacherous mountain journeys.
STOCKTON YAMATO
The Stockton Yamato baseball club was organized in the 1920's. One of the top Nikkei-based community teams in all of California, the Yamato competed against other local units such as the Los Angeles Nippon, Hollywood Athletic Club, San Pedro Skippers, Lodi Templars, and the San Francisco Aces. Whenever possible, they encountered commercial-caliber squads such as the one representing Paramount Studios. They also challenged Spanish-American teams. The Yamato just wanted to play baseball. In 1926, they won the Japanese State Baseball Championship and in 1935, they played exhibition games with the St. Louis Cardinals and the Sacramento of the PCL.
It was the scheduled battle with the Tokyo Giants that raised the spirits of the Stockton Japanese community. If they were hoping for victory over the visitors, there would be disappointment as the Giants got a 7 - 0 shutout as Starffin and Sawamura blanked the locals. That year, 1935, the Yamato were invited to the National semi-professional baseball tournament in Wichita, Kansas, a unique experience considering the times. Racism was prevalent throughout the baseball world; nevertheless, the organizers brought together African-American teams such as the Memphis Red Sox, Monroe, Louisiana, Monarchs and the Austin, Texas, Centennials. A mixed race team, was also invited to play and boasted famed pitcher Satchel Paige as part of their roster. An example of such bigotry came when The Wichita Eagle refused to recognize the Denver All-Blacks and referred to the team as the White Elephants or even more erroneously as the Colts. Although the Stockton Yamato represented Japanese-Americans, it would have been interesting to gauge the level of interest, drama and historical significance that could have evolved had Suzuki been able to enter his team. Unfortunately, the championship had been filled before he applied.
The Yamato were eliminated in the tournament by an African-American squad, the Texas Centennials, by the score of 4 - 2. Reports on the game by The Wichita Eagle bordered on racism. The paper wrote, "the colored boys took the lead in the fourth but the Japs tied it in the sixth only to watch helplessly as the Texas colored club went to the fore again in the seventh." The racist edition now had a problem. How to write a headline about a black team winning a ball game over a team of players with Japanese heritage. Under considerable pressure to find an acceptable headline, an Eagle wordsmith produced the following; "JAPANESE LOSE IN PITCHERS BATTLE AGAINST TEXANS." At least for one day, the African-Americans ball players were considered Texans!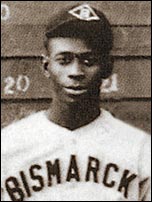 The tournament ended with a bang. The integrated team from Bismarck, North Dakota, behind the the dazzling pitching of Satchel Paige, breezed to the championship winning all six encounters. This achievement was particularly troubling for the all-white aggregations from "the old South Dixie". Had one of these teams made it to the finals would they have actually played against an all-mixed unit? Fortunately for the organizers this situation did not arise.
In the final, Bismarck defeated the best hitting outfit in the tournament, the Halliburton Cementers from Duncan, Oklahoma 6 - 4. In the ninth inning, Satchel Paige threw only nine pitches. Each pitch was a strike. Paige dominated the championship, winning all four games he started, allowing only five runs overall and whiffing 60. Starffin and Sawamura would have been impressed
MILWAUKEE
Subsequent to their stint in the Pacific Northwest, the Tokyo Giants extended their tour to the U.S. Mid-West. This would be be even more alien territory for the young professional ball players from Japan. There was virtually no Japanese diaspora within these north-central cities. How would they be received? Would they be able to attract a large enough crowd to at least pay their expenses? If baseball fans in Chicago and Detroit had not heard of the young phenoms, Starffin and Sawamura, they soon would. The Giants lost their opening contest to Mills, an all white team based in Chicago but Sawamura came back to pitch an incredible ten-inning masterpiece against Battle Creek, Michigan. He dazzled yet again only two days later when he pitched another gem versus a semi-professional unit from Detroit.
On June 11, the Japanese professionals engaged the Milwaukee Red Sox at Bochert Field in Wisconsin's largest city. The Red Sox were made up of veteran Class AA and semi-professional ball players and were a member of the Chicago City League. Interestingly, the game was played under the lights, a unique phenomenon for baseball in the 1930's. How would the Japanese adjust to this latest challenge? The game was promoted to be a contest between the local Red Sox and a team of Japanese All-Stars. Admission was 40 cents for adult men and 25 cents for both ladies and children. The novelty of artificial illumination, however, did not have the desired effect in enticing customers for this exhibition game as it attracted only 1,400 paying customers. Playing games under the lights did eventually pay off for the Red Sox. They drew a season total attendance of over 150,000. This was double the attendance of the St. Louis Browns of the American League.
The Scarlet Hose opened the scoring by plating two runs in the opening frame off 22-year-old Toshihide Hatafuku but the embryo Giants bunched their hits and scored a brace in the the third and four in the fourth to subsequently triumph 9 - 4. Star second basemen Takeo Tabe led the Giants with three hits, scored a run and stole three bases. Eiji Sawamura chucked the final six frames, allowing six hits while striking out nine. Oddly, the box score of this game listed Isamu Fuma as the starting right-fielder and batting in the leadoff position. Fuma was not part of the barnstorming tour. Kumeyasu Yajima was the regular starting right fielder and was also the team's leadoff batter. The hit credited to Fuma was more than likely accomplished by Yajima. The same mistaken player identity was made in the next game in Madison, Wisconsin.


Could Daisuke Miyake's depth-challenged pitching rotation survive the obstacles facing them with such heavy commitment of games ahead? One can only speculate as to what went through the minds of Miyake (left) and general manager, Tadao Ichioka (right) when contemplating whether one of their few young hurlers might become injured or develop a sore arm. The demands upon the beleaguered pitching staff began showing the heavy toll on June 12, when the Madison Blues crushed the Giants 9 - 3 before a record crowd of almost 5,000 fans in a joust in which Miyake was forced to pitch his "ace" in relief because of the number of double-headers on the schedule.
While attendance was generally disappointing, the young Giants made a favourable impression on their swing through the Dairyland state and the American Mid-West. Overall they executed a masterful exhibition of fielding, timely hitting and high-class pitching.
WESTERN CANADIAN TOUR
"BANZAI! HONOURABLE TOKIO GIANTS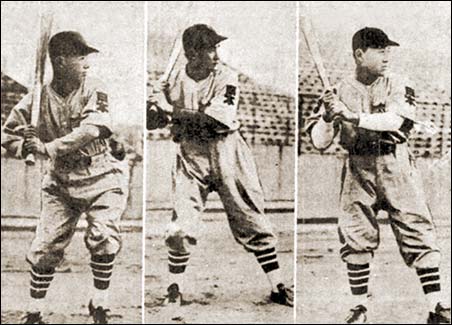 The Tokyo Giants participated in a five-game series against teams from the 1935 Vancouver Senior City Baseball League.
Left - Nobuaki Nidegawa, Yukio Eguchi and Shiro Tsuda (left to right)
This senior loop, having semi-pro overtones, had been in operation since the early part of the 20th Century and was generally considered the strongest of the quasi-amateur leagues which operated in the greater Vancouver region. Amongst lower mainland baseball fans, it was the most popular loop except when Vancouver had teams in the professional Northwestern and Pacific Coast International Leagues between 1905 and 1922. For the following fifteen years, the Vancouver Senior City circuit took centre stage. Touring Major Leaguers played in Vancouver in both 1932 and 1934 against these local Senior League clubs. Vancouver ball enthusiasts had to be intrigued as to how their best players would stack up against the touring Tokyo Giants whose pitchers had confronted Major League hitters the previous year with some spectacular results.
Opening reviews of the Japanese players in the print medium were mixed. A Vancouver Daily Province columnist framed his assessment in somewhat racial terms, an appraisal which reinforced his bias against Japanese-Canadians living in the densely-populated southwest corner of British Columbia. Baseball writers with The Vancouver News-Herald provided a more positive outlook of the first Japanese professional baseball club to visit Vancouver. Under the the headline, "Nippons Will Show Class In Field, On Paths Wednesday", The News-Herald portrayed the Tokyo Giants as a highly capable squad which had scored victories over Class AA Pacific Coast League ball clubs, displaying flawless defensive play on the diamond in the process. This was certainly high praise for any baseball team visiting Vancouver in 1935, yet alone a ball club from Asia. Even the myth that

Japanese players could not hit a home run did not prevent The News-Herald from promoting the emergence of sluggers such as Kumeyasu Yajima, the hard-hitting Waseda University product (the sole player on the Giants roster who threw left-handed). And, almost all were right-hand hitters - sixteen of the swatters swung from the right side, two from the left and one, Fumito "Jimmy" Horio (right) was a switch-hitter. Their collective physical stature, akin to their brethren on the local Asahi squad of the Terminal League, meant they were dwarfed by the Caucasian Vancouverites. Aside from their youth, an average age of 24, their median height, with the exception of their pitcher Victor Starffin who at 6' 4", towered over his teammates, registered at 5' 4".
(May 08) Tokyo Giants 6, Vancouver Arnold & Quigley 2
Tokyo Giants 6 8 4
Vancouver Arnold & Quigley 2 5 1
Starffin (W) and Nakayama
Lewis (L) and Staggs
HR - Horio (Tokyo)
The first Canadian team to encounter the touring Tokyo Giants was the Arnold and Quigley nine, the 1934 senior city loop champions. Manager Bob Brown of the Clothiers selected Earl "Bird-Legs" Lewis (left, the Lewis card from the Peanut card collection) to oppose Victor Starffin on the knoll. Possessing a hopping fast ball and an exploding knuckleball, "Bird-Legs" was considered one of the Vancouver Leagues' premiere hurlers. The lanky Russian-born Starffin also had a blazing fastball within his arsenal. The highly anticipated pitching match drew a sold-out crowd of over 5,000 at Athletic Park.
If the beat writers of The Vancouver Daily Province had doubts about the hitting prowess of the visiting Tokyo Giants, they quickly had to change their minds after the visitors routed the defending Senior City League champions 6 - 2. Not only did the Nippons receive excellent pitching from Victor Starffin, they also out-slugged their hosts as middle pasture custodian Fumito "Jimmy" Horio cracked both a home run and a double to go along with three walks, an unexpected show of respect by the A & Q tossers. Horio's two-run circuit-clout broke the game wide open in the sixth. Another big hitter was Usaburo Shintomi who walked once, hit a double, a single, and scored on every occasion. Starffin's heater, crafted skillfully with his off-speed delivery, limited the heart of the local batting order (Hal Haughland, outfielder Wooten, Charlie Miron and Boyd Staggs) to one-hit. Lewis, the Vancouver starter, did not fare as well. In addition to yielding six of the eight hits, he walked ten. The Province beat writers ate crow! Under the sub-headline, "Banzai! Honourable Tokio Giants!", their game reports flowed with praise. The capacity crowd got their money's worth.
(May 09) Tokyo Giants 6, United Distillers 2
Tokyo Giants 6 11 2
Vancouver United Distillers 2 6 0
Sawamura (W) and Uchibori
Gibbons (L), Ruether (2) and Henry
HR - Henry (Uniteds)
In the second game of the five game series, the Uniteds had the unfavourable assignment of facing Eiji Sawamura. Led by the 15 strike-out performance of Sawamura, the Giants continued their dominance over Senior League teams, winning again by the duplicate margin of 6 - 2. In an effort to slow down the visitors, Bob Brown, manager of Arnold & Quigley, loaned hurler Frank Ruether, son of of the great "Dutch" Ruether, to the Uniteds to encounter the Giant's pitching phenomenon. Entering the contest in the second inning, Ruether pitched well. Not so for starter Bob Gibbons. He, like Lewis in the opening game, had control issues and walked five in just an inning and a third. He was responsible for five hits and three runs. Three of those knocks were doubles in the disastrous first inning, an additional demonstration of underestimated hitting power of the visitors. Kumeyasu Yajima led off the inning with a free pass and Takeo Tabe, the flashy Nippon second baseman, crossed up Johnny Nestman by hitting down the third-base line as the United's pilot came in expecting a bunt. Hisanori Karita did the same thing and again Johnny's face was red. Usaburo Shintomi walked and then Jimmy Horio, one of the heavy-hitters from the previous night's contest, lashed out a two-bagger. Fujio Nagasawa followed with a single and only some smart work in cutting off runners kept the score down. The Japanese ball players proved they could hit and pitch. They also served notice that they could also play inside baseball and steal bases. If these were not enough surprises, Sawamura added another dimension to his skill set. Whiffing 15, he scattered six hits and yielded only two runs. He also contributed a hit in the sixth inning which scored Shigeru Mizuhara and followed up with another clean single in the eighth inning to drive in two more counters. Reliable, old Ed Henry nailed the flag in right to break Sawamura's shutout. Cold weather kept attendance down to approximately 2,000.
(May 10) Giants 9, Athletics 6 (13 innings)
Tokyo Giants 9 15 3
Vancouver Athletics 6 11 4
Hatafuku (W) and Nakayama, Uchibori
Serventi (L), Straight (7) and Padovan
HR - Stong (Athletics), Lodigiani (Athletics)
Having already won the first two games by identical counts of 6 - 2, the Giants carried a similar margin into the bottom of the ninth in the third game. Moundsman Toshihide Hatafuku (left) was firmly in control. With one out and runners on first and second base, Frank Hall sent a grounder to Takeo Tabe, but the usually dependent second baseman flubbed a potential game-ending double-play. Prior to this unexpected development, many of the fans had already left and several Athletics' players, including manager Coley Hall, were heading for the showers. The bases were now loaded. Pat Thomas sent a sharp grounder to Tabe who easily threw out the runner at home. Two out. The bases remained loaded. The potential third out, now heading to the the plate, was one of the better hitters in the league, future MLB infielder Dario Lodigiani. He let a called strike steam by then cut loose on Hatafuku's second pitch, polling a sky-rocketing homer over the right-field fence, bringing home four runs and tying the game. That performance had Coley Hall and company scampering back to the playing field minus regulation socks. The game was knotted at 6 - 6. Left-hander Hal Straight and a much humbled Giants' hurler turned the subsequent four innings into a pitcher's duel that was only decided in the 13th panel. Hatafuku punched a single to left field, his third hit of the game. Teammate Fujio Nagasawa moved him to second with a scratch safety. Shigeru Mizuhara attempted to sacrifice the runners into scoring position and, with his speed, beat Straight's toss to first and the bases were jammed. Pinch hitter Usaburo Shintomi, sensed a frazzled Straight who was stalling for time and asked for new balls several times. These delay of game tactics did not work. Shintomi got his tie-breaking walk. Hatafuku then showed that Sawamura was not the only Giant pitcher who could hit when he delivered a two-run single to extend the lead to 9 - 6. Hatafuku pitched the entire 13 innings, yielding 11 hits while fanning 11 batters and issuing only one free ticket. The Giants ran wild on the bases, stealing a total of eleven sacks, including three each by Hisanori Karita and Tabe.
(May 11) (Game 1) Giants 10, Arnold & Quigley 4
Tokyo Giants 10 13 3
Vancouver Arnold & Quigley 4 9 4
Aoshiba (W) and Uchibori
L. Holden (L), Boston (1), Lewis (1), Plantz (2) and Padovan, Ingram (7)
In front of another sell-out crowd of over 5,000, the Tokyo Giants unleashed a salvo of extra base hits to cruise to an easy triumph in the opening leg of the double-header. Never were Arnold & Quigley twirlers treated with less courtesy than by the polite but potent Nipponese in the opener, a 10 to 4 conquest by the barnstormers. They blasted both starter Larry Holden and early replacement George Boston out of the box in the opening frame, which netted nine runs. To the delight of most of the Japanese-Canadian supporters in attendance and to the surprise of many of the other fans, the so-called "mighty-mites" again displayed their hitting strength as Jimmy Horio, Shiro Tsuda and Tamotsu Uchibori each cracked out a two-bagger as part of the nine run uprising in their first at bat.
(May 11) (Game 2 ) Giants 7, Home Gas 4
Tokyo Giants 7 9 2
Vancouver Home Gas 4 9 2
Starffin (W) and Nakayama
Muscutt (L) Musgrave (1) and Padovan
HR - Yajima (Tokyo)
In the evening contest against Home Gas, the Japanese "sluggers" belted out three more doubles as well as triples by Hisanori Karita and Yukio Eguchi en route to a 7 - 4 triumph and a five game sweep over the best the Vancouver locals could offer. The Nipponese had only nine hits but seven of those blows went for a total of sixteen bases. The visitors scored three runs in the opening inning, sending starting pitcher Doug Muscutt to an early shower. He was replaced by young Tommy Musgrave whose benders slowed down the runaway. In the bottom of the frame, the Gasmen got to Victor Starffin for four hits and three runs. Don Stewart and Bruce Thirsk lashed out doubles while Bert Mann and Tollefson, the latter a new Home Gas shortstop recruit from Tacoma, had singles to tie up the game. However, Starffin bore down and successfully pulled himself out of jams, stymying the Home Gas squad which frequently had runners in scoring position Meanwhile, the Nippons sneaked a run home in the fourth, added another on Kumeyasu Yajima's four-ply clout over the right-field wall in the fifth and sewed everything up nicely with two more tallies in the seventh.


The Tokyo Giants made true believers of baseball fans in Vancouver. If not the flashy "keystone combination" of shortstop Hisanori Karita (left) and second baseman Takeo Tabe (right) that made such a favourable impression, then it was the high calibre of pitching displayed by Starffin and Sawamura. The skinny before the series was that Japanese ball players could not hit for power. En route to out scoring their hosts 38 - 18 over the five games, they cracked out 56 hits, including 13 doubles, two triples and two home runs. In addition to the show of power, they displayed daring speed on the base paths, swiping a total of 15 sacks. Victor Starffin won both his starts. He held the Arnold and Quigley sluggers, the mightiest array fo swatters the senior league could offer, to only four hits, of which only one made it to the outfield.
Following their five-game sweep of Senior League teams in Vancouver, the Japanese professionals made a swing around the Pacific Northwest, playing in Seattle and Bremerton, Washington and entertaining fans in Victoria and Courtney on Vancouver Island. Many of the Senior League players were hoping to get another crack at the upstart Giants. They believed they were not yet in playing condition during the series and were confident they could beat the barnstormers from Japan. Sotaro Suzuki kept open the option to come back to Vancouver following a tour through the Prairies. He had to like the sell-out crowds.
TOKYO GIANTS INVADE ROYAL ATHLETIC PARK IN VICTORIA
(May 15) Tokyo Giants 0, Victoria 4
Tokyo Giants 0 6 5
Victoria 4 7 1
Hatafuku (L) and Kura
Dailey (W) and Barnes
(May 15) Tokyo Giants 8 Victoria 1
Tokyo Giants 8 9 0
Victoria 1 4 6
Sawamura (W) and Nakayama
Musgrave (L), McCann (2) and Barnes
HR - Haughland (Victoria)
(May 16) Tokyo Giants 6, Victoria 5
Tokyo Giants 6 7 4
Victoria 5 9 4
Starffin (W) and Nakayama
Dailey (L), Holden (7) and Barnes
HR - Haughland (Victoria)
An illustration of how challenging barnstorming can be is exemplified in the three-game set in Victoria. The visitors arrived in the Capital city by ferry from Seattle Wednesday afternoon. They unpacked their bags at the Dominion Hotel and immediately proceeded to Royal Athletic Park. With only enough time for a 15 minute warm up prior to the start of a double bill against an augmented Victoria Sons of Canada squad, the Giants heeded the umpire's call to "play ball" and the opener was underway. In an effort to make a good showing, the local ball team imported three

key players from Vancouver -- Joe Daley, (right) big right-handed chucker and one of the best pitchers in Vancouver's Senior Amateur League (known as Dailey in his Vancouver career), Tommy Musgrave of Home Gas, former Victoria twirler and Hal Haughland, veteran shortstop of the Arnold and Quigley aggregation.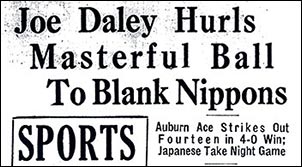 Led by the brilliant 14 strikeout performance of hired gun Dailey, Victoria accomplished a feat that few teams in the Pacific Northwest were able to execute. They shutout the highly rated tourists 4 - 0. Steve Dunn, lanky fly chaser whose timely clouting drove in three of the four runs, was the hitting star. Another import, Hal Haughland contributed two hits including a home run. Youthful right-hander, Toshihide Hatafuku, pitched well for the Giants but some early and costly errors enabled Victoria to push across four markers.
The third ringer brought in by Victoria did not fare so well in the second game of the twilight twin-bill. Tommy Musgrave started on the hillock for the hosts but was replaced in the second inning due to a sore arm. He had just pitched the night before in Vancouver. Lloyd McCann replaced his former colleague and hurled credible ball the rest of the way but, like Hatafuku, his teammates let him down defensively committing five boners. In the ninth, the Giants sealed the deal by plating four runs with two outs and nailed down a convincing
victory to avenge the earlier defeat. Eiji Sawamura pitched a sensational game. He allowed Victoria only four hits, albeit one was a four-ply clout by Hal Haughland. He whiffed 13 and displayed an array of speed, remarkable control and savvy. This time the Giants played flawless baseball. Takeo Tabe (left) was the offensive star, playing deuces wild. He had two hits, drove in two more and stole two bases. Teammate Fujio Nagasawa contributed a triple.
With the series knotted at a game apiece, the Giants sent out 6 foot 4 inch Victor Starffin to the knoll. Opposing "the Russian Rocket" on the bump was Joe Dailey, who had pitched brilliantly just the day before. Could he come back without even a one day rest? The tie-breaker was played in miserable and soggy conditions before a sparse crowd, barely 500 fans showing up. The double-header of a day previous had attracted over 2,000 customers. It was not a well-played contest.
The consistent drizzle led to both teams committing a slew of mistakes, both physically and mentally. Dailey did not have his usual stuff and the Giants soared to an early 5 - 0 lead although Victoria inched back, only to eventually fall 6 - 5. Although out-hit, the visitors bunched their safeties with timely Victoria errors in the first two innings to take what turned out to be an insurmountable lead. It was not one of Starffin's better performances but he hung in there to pick up the win. Dailey's lack of stamina and ineffectiveness were predictable considering that he was pitching his third game in three days. The offensive star of the skirmish was Kumeyasu Yajima, right-fielder for the Giants, who led all batters with three hits, two of which went for extra bases. Steve Dunn and Freddie Gibbons each stroked a brace of safe swats for the local batters while Hal Haughland cracked out his second home run of the series.

The Tokyo Giants captured captured the three-game series two games to one, out scoring their hosts 14 - 10 and barely out hitting them 22 - 20. Coming into the series, the Giants, were rated as one of the smartest baseball clubs to ever visit Pacific Northwest ball circles, with the exception of touring Major Leaguers. The Victoria Daily Colonist opined that the Giants did not live up to their early billing, with the exception of Sawamura who dazzled the locals with his pitching mastery, but that the demands of a tight schedule and the poor playing conditions at Royal Athletic Park had hampered the their Victoria showing.
TOKYO PROFESSIONALS MAKE EAST END DEBUT
Having dismissed the best amateur teams in both the Victoria and Vancouver Senior City Leagues, the Tokyo Giants were now poised to confront teams competing in the Vancouver Terminal League including encounters with the local-based Asahi. Play within the Terminal League was considered a notch below the level of the Senior City loop and included baseball teams primarily from East Vancouver and surrounding cities such as Burnaby. Hoping to upstage the rival Senior City League, officials from the Terminal League decided to select an all-star unit to try to slow down the barnstormers. Since the Asahi had scheduled two contests with their heritage cousins, only three Asahi players were named to the all-star squad. Their rifle-armed catcher Reggie Yasui was a natural choice as were shortstop Roy Yamamura and third basemen, Herb Tanaka. Japanese-Canadian baseball players lining up along side of a squad of Caucasian players was a bold move on the part of co-managers Jimmy Condon of Lowney's and Bill Tuson of the Brunswicks. The all -stars would be adorned in uniforms worn during league play by the Shores' Jewelers aggregation. Before the mixed team would get its chance, the Asahi would open the five-game series. All games would be played at the 3,000 seat capacity Con Jones Park.
The Vancouver Asahi Baseball Club was formed in 1914. The original squad had only nine players, one for each position. Most players were second-generation Nisei (born in Canada). They practiced and developed their baseball skills in a small ball park on Powell Street in East Vancouver. The diamond featured patches of dirt covered with small pebbles and weeds. The neighborhood was predominantly Japanese-Canadian. Their regimen, designed to take advantage of the rising sun, included a training program beginning at five o'clock in the morning before heading off to work. The team would become known as the Vancouver Asahi-gun (The Vancouver Morning Sun). Asahi players had strong connections to the mother country. In adopting the Asahi designation, Vancouver was not the first. Seattle, Oakland, Los Angeles, Hollywood and Sacramento all had Asahi baseball teams. The local and subsequently fabled Asahi baseball team would compete in Vancouver's Caucasian leagues between 1920 and 1941.
The Asahi joined Vancouver's organized league baseball in 1920 and would capture their first Terminal League Championship in 1926, winning again in 1932 and 1933. When the Asahi challenged the Dai Nippon Tokyo Baseball Club in 1935, they had accumulated 30 years of experience before their opponents had ever played their first organized baseball
game. Several Asahi players had ten years experience, including stars such as Kenichi "Ty" Suga, Reggie Yasui and Roy Yamamura (left). The Tokyo Giants were not formed until 1934. The local Nikkei were anxious to learn how their team with roots deeply planted around Powell Street in the heart of "Little Tokyo" would compare to the fledgling Tokyo Giants, a team whose talent included several players who the year before had faced the American League All-Stars. The Asahi turned down offers from other Terminal League teams for loaned-out players with which to strengthen their roster as they wanted to compete "brother to brother". By 1935, the Japanese-Canadian population in Vancouver had surpassed 10,000. An encounter with a team from Japan was like a dream come true for this vibrant community which endured racism and nativism on a daily basis. Baseball was an important link that the Japanese-Canadian community embraced to survive within the broader outside community, Baseball was about the only activity in which there was a genuine contact on an equal basis with Hakujin or white people.
(May 18) Giants 8, Asahi 3
Tokyo Giants 8 12 6
Vancouver Asahi 3 8 1
Aoshiba (W) and Uchibori
T. Suga (L) and Yasui

The Asahi were aware that the Giants' manager Daiske Miyake had four outstanding hurlers on his roster including wunderkind Eiji Sawamura. Asahi field manger, Harry Miyasaki took a gamble. He by-passed his proven ace and one of the better chuckers in the Terminal League, Roy "Nag" Nishihara, for veteran southpaw Ty Suga (right). Portsider Suga joined the Asahi at the tender age of of 19 and over the years had earned the trust of Miyasaki, business manager Frank Nakamura and former field manager George Tanaka. The decision to go with Suga was unanimous. Suga would have the honour to face the highly-rated visitors from the homeland. In his previous start within the Terminal circuit. Suga had been brilliant in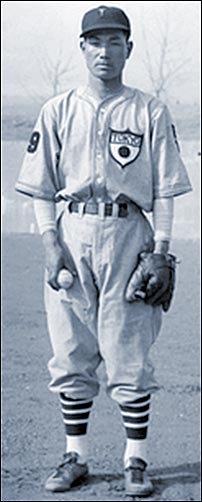 shutting down the high flying Lowney's nine, allowing only three hits and surrendering only one batted ball that got out of the infield. The Giants went with well-rested Kenichi Aoshiba (left), who after tossing three complete games victories in eight days, hadn't pitched in a week.
The engaging contest would also match up two of the best base stealers. For years, Roy Yamamura, speedy, rangy and sure-handed infielder of the Asahi, was regarded as the class of pilfering base runners in Vancouver. When it comes to base stealing, Takeo Tabe was no slouch. Tabe had run wild against Senior City League competition, swiping seven sacks and would go to to amass 109 stolen bases throughout the four-month tour.
The Asahi players and supporters had great faith in their manager, Harry Miyasaki. Known as the John McGraw of Powell Street, Miyasaki was credited with developing the concept of inside or brain ball baseball. The strategy employed by Miyasaki was to out-run and out-think their opponents. For example, Miyasaki made his players practice bunts until they could hit them anywhere with precision. Runners would be readied on the bases. Hit-and-run and suicide/safety squeeze would be yelled out in Japanese. Before the bat touched the ball, they were on the move, expecting to score two runs off a single bunt. The Asahi had mastered the tactical aspect of base-running so well that they actually won 3 - 1 in a game in which they had NO HITS. His managerial opposite, Miyake was employing similar tactics with great success on the tour. Suga facing Aoshiba ! Yamamura challenging Tabe ! Strategists Miyasaki and Miyake watching each others moves. Yet another "Japanese World Series" was about to begin
The visitors continued their winning ways when they bounced their way to an 8 - 3 verdict over the Vancouver Asahi in the opening tilt of a five-game series with teams from the Terminal League.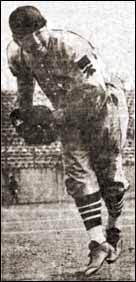 All games were scheduled to be played at Bob Brown's Con Jones Park. Playing under the lights and before a packed house of over 3,000 fans, mostly Japanese-Canadian, the Giants, gave an impressive showing of their power with their war clubs. They bunched their hits along with four walks in the fourth and fifth innings to score five runs after the Asahi had taken the lead in the third frame. Key hits were triples by Usaburo Shintom and Fujio Nagasawa (right).
What excitement there must have been in the stands with the Asahi actually leading heading into the fourth inning. However, the decision to throw a southpaw against the mainly right-handed hitting Giants, in lieu of the more reliable and starboard throwing Nag Nishihara, turned out to be a disastrous choice. Ty Suga did not have his best control and yielded 12 hits in addition to his four free passes. His mound opponent Kenichi Aoshiba held the Asahi to eight scattered singles and, despite the poor defense of his teammates, he allowed only three runs, all unearned. To the delight of the home crowd, Roy Yamamura, playing second-base for the Asahi, was the most brilliant performer on the diamond. He cut-off several likely looking hits with sensational stops and combined with catcher Roy Yasui to nail three fleet-footed Giants attempting to steal bases. There was little doubt as to why these players were selected to join the Terminal League All-Stars. The remainder of the series would have to wait a few days as the Giants departed immediately following the game to board the ferry back to Seattle. They would squeeze in two games in Bremerton and Seattle, Washington before returning to Vancouver to encounter teams from the Senior Amateur and Terminal Leagues.
(May 21) Giants 1, All-Stars 6
Tokyo Giants 1 4 2
Terminal League All-Stars 6 11 1

Starffin and Nakayama
Esplen (W) and Tinling
HR - Eddie Davis (Terminal League)
(May 22) Giants 3, Courtenay All-Stars
Tokyo Giants 3 5 3
Courtenay All-Stars 2 4 4
Hatafuku (W), Sawamura (9) and Uchibori, Nakayama
Quinn (L), Davis and Beaumont, Hill
Having routed both the Vancouver Senior League and the Victoria Senior Amateur League teams, the visiting Japanese professionals had earned respect. This was amply demonstrated when they finally lost an encounter to a Vancouver-based team. Now they were not just the visiting Tokyo Giants, they were "the famous Japanese ball stars" and they had not been beaten, they were "conquered".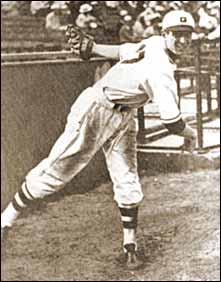 No one was more delighted than Lowney's manager Jimmy Condon. He had piloted his all -stars to a win over the Giants, a feat that had not been matched by any Senior League outfits that encountered the visitors. The hero was the "Daddy" of local pitchers, Baden "Babe' Esplen, who beat the barnstormers 6 - 1, limiting the previously displayed power of the Giants to but four singles. The Babe showed he still had lots of stuff in his elbow and his curve ball had his opponents totally confused. His mound opponent was the "Russian Rocket", Victor Starffin (right). Starffin was a surprise choice as he had pitched the previous day in Seattle. Overall, however, he had the fewest appearances, just 17 games, to 27 for Sawamura and 19 apiece for Hatafuku and Aoshiba
The lanky Starffin started brilliantly, whiffing five of the first six batters. His fastball was bewildering and, coupled with his change of pace, looked unbeatable. However, pitching on back-to-back days took its toll and Starffin eventually coughed up 11 hits, including a prodigious home run by Eddie Davies, plus doubles by Johnny Keith and "Scotty" Knox. Davies' swat "sent a crash that would be heard in IOCO" (the Imperial Oil Refinery located miles away). His three-run homer changed the outcome of the game and the "mighty conqueror" from the Pacific had been slain. The game on Vancouver Island, at Courtenay, drew the biggest crowd ever to assemble at Lewis Park and they nearly saw an upset. Giants managed to turn three second inning runs into a victory, 3-2 over the local all-stars. Courtenay had a golden opportunity in the sixth with the bases loaded and none out. Toshihide Hatafuku walked in a run, but then got out of trouble getting the next three batters.
(May 23) Giants 9, All-Stars 2
Tokyo Giants 9 14 2
Terminal League All-Stars 2 5 1
Sawamura (W) and Uchibori
Yehle (L), Sikora (4) and Tinling
Tokyo Giants' farewell to Vancouver was marked by three runaway victories over Terminal League Baseball teams Thursday and Friday. Piqued by their loss to the all-stars two days previous, the Japanese professionals wreaked havoc Thursday night scoring six runs off starter Fred Yehle and adding three more off George Sikora. They hardly needed their star pitcher Eiji Sawamura, who breezed through the all-stars batting order giving up only two runs. It was Sawamura's only start in the five-game set. The Asahi were spared from having to face the young phenom.
(May 24) Afternoon Game - Giants 9, Asahi 1
Tokyo Giants 9 16 1
Vancouver Asahi 1 6 2
Starffin (W) and Kura
T. Suga (L) Misakawa (4) and Yasui
(May 24) Evening Game - Giants 14, IOCO 3

Tokyo Giants 14 11 0
IOCO Imperials 3 6 6
Aoshiba (W) and Nakayama
Horne (L), F. Condon (7) and Spicer
HR - Yajima (Giants)
In Friday's afternoon contest, the Giants unleashed a 16- hit barrage anchored by four doubles. eight walks and two errors. They tallied four times in the opening frame en route to the posting of a 9 - 1 shellacking. Ty Suga, getting the call once more, failed for the second time. He surrendered six runs in only three innings of work. Winner Victor Starffin struck out four, walked four and relinquished only four hits of which only one went for extra bases. He was assisted by three double plays. Takeo Tabe scored two runs, had two hits and drove in three more to pave the way for the victorious Giants.

The Giants played their third game within twenty-four hours and Kenichi Aoshiba (right) pitched five-hit baseball for a 14 - 3 victory over the IOCO Imperials. Meanwhile, Barney Horne lasted only six innings and part of the seventh, the visitors getting to him for eight runs and eight hits. Freddie Condon finished the game and the Nipponese kept right on scoring another six runs on only three hits. A series of disastrous errors by the Imperial Oil nine kept Horne and Condon in hot water all the way. Kumeyasu Yajima belted a home run over the right field fence and scored four runs to go along with his two stolen bases. The top of the Giant batting order accounted for nine runs and six of the Giants' eleven hits. As was par for the course for the barnstormers, they had little time to celebrate at the local Fiji Cafe as they were rushing to catch a ferry for Seattle.
Conclusion
They came. They played. They conquered. The Tokyo Giants swept the three sets of games with the best that Vancouver and Victoria baseball clubs could offer. The Giants won eleven of thirteen games. The presumption that Japanese players could not hit for power was proven wrong. In the five games against Terminal League squads, the Giants belted ten doubles, three triples and two home runs. They outscored the Terminal League clubs 41 - 15. In the showdown with the local Asahi, the Giants won both games, outscoring the Nikkei 17 - 4. The Asahi were even spared the daunting task of having to face Eiji Sawamura. He pitched against the Terminal League All-Stars which included three members of the local Asahi and won easily 9 - 2.
It was May 24th. Their next stop in Canada wouldn't occur until June 15th. Now it was on to 24 games in 20 days in Spokane, Washington, Lewiston, Idaho, Walla Walla, Washington, Pocatella, Idaho, Ogden and Salt Lake City, Utah, Denver, Colorado, Lincoln and Omaha, Nebraska, Terre Haute, Indiana, Cincinnati, Ohio, Flint and Hamtramck, Michigan, Chicago, Illinois, Battle Creek and Kalamazoo, Michigan, Milwaukee and Madison, Wisconsin, Moorhead, Minnesota.
GIANTS MINE FOR GOLD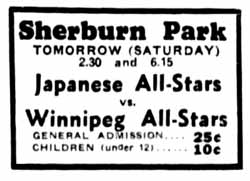 The Tokyo Giants arrived in Winnipeg following an extensive tour from Washington through the Mid-West to Minnesota taking on the best of the local semi-professional teams. They won 17, lost 6 and tied one on the journey.
The tie was something to behold. The local paper couldn't say enough about a "17-year-old schoolboy wonder", a "118 pound right handed son of Nippon" (it's believed Sawamura was 5-8).
Eiji Sawamura dazzled. A two-hitter over 12 innings with 16 strikeouts in a 0 - 0 draw. Just two days before, Sawamura "weighing less than 130 pounds" had fired a complete game shutout against the Ford V-8s. He had 14 strikeouts and nary a free pass. The legend was growing.
In advance of their crossing the 49th parallel into Manitoba, the Giants were greeted with advance praise and dignity, a sharp contrast to the reception afforded their arrival in many of their American city stops. The Winnipeg Free Press reported that something unique in barnstorming baseball teams would make an appearance in Manitoba's capital city when an all-star Winnipeg amateur team would be entangling the Tokyo Giants. The scribe emphasized that many of the Giants' players had played against the American League All-Stars who had journeyed to the land of cherry blossoms the previous fall. Local newspapers were full of praise for the visitors and comments pointed out that they were quick as lightning, were brilliant fielders and handled themselves with all the poise of major leaguers. Despite arriving early Saturday morning, the Giants were scheduled to play a double-header only hours later. Athol Foster of the St. Boniface Native sons got the call to pitch for the local all-star aggregation in the matinée encounter.
(June 15) Giants 15, All-Stars 0
Tokyo Giants 15 12 1
Winnipeg All-Stars 0 4 0
Starffin (W) and Nakayama
Foster (L), Avery (5) and Campbell
HR - Karita (Giants)
(June 15 ) Giants 4, All-Stars 3
Tokyo Giants 4 7 1
Winnipeg All-Stars 3 5 3
Hatafuku (W) and Nakayama, Kura
McCallum (L) and Henry
HR - Nagasawa (Giants)
(June 16) Giants 9, St.Boniface 5 (10 innings)
Tokyo Giants 9 10 2
St. Boniface Native Sons 5 10 2
Hatafuku, Sawamura (W) (7) and Nakayama
Knight (L) and Levesque
HR - Horio (Giants)
The flower of Japan's baseball talent showed Winnipeg baseball fans just how far they had progressed in the great American pastime, when they twice defeated the local amateurs at Sherburn Park. The travelers won the first game in a breeze 15 - 0 while the evening encounter saw them triumph again, 4 - 3. The Tokyo Giants were simply too polished a unit for the best that Winnipeg could offer. Epitomizing both surprising power for men of their size (average weight 150 lbs) in addition to brilliant fielding, the Japanese carried all the requisites of a high-class baseball team. They put on a clinic on how to play defensive baseball. Second basemen Takeo Tabe, shortstop Karita and first-sacker Fujio Nagasawa executed three

brilliant twin killings in the first game. Victor Starffin, the Russo-Japanese hurler limited the all-stars to four scattered hits and faced only 30 batters. In the meantime, his teammates collected 12 safeties off Athol Foster and "Nellie" Avery. Those twelve hits, three of which were homers, and aided by twelve free passes, enabled them to score a decisive 15 - 0 victory.
The evening game was much closer with Toshihide Hatafuku (left) pitching against Sammy McCallum. For the bulk of contest, it looked like another shut-out victory for the Giants. The touring Japanese carried a 4 - 0 lead heading into the eighth inning. At this juncture, Hatafuku had allowed but one measly single. The locals got their chance in the eighth on a single by Campbell and a rare error on the part of the visitors. They pushed two more across in the ninth. In all, Hatafuku gave up only five hits and two earned runs. McCallum pitched well, but got the loss. Fugio Nagasawa clubbed the fourth home run of the day. The Japanese professionals made their final appearance in the Manitoba capital the next day, posting a lively and thrilling win over the St. Boniface Native Sons. The game was knotted at four apiece and went into overtime. In the tenth canto, fly chaser Fumito "Jimmy" Horio smashed a grand slam home run to lead the Giants to a 9 - 5 victory. A huge crowd of approximately 4,000 was well entertained.
(June 17) Giants 11, Nationals 3
Tokyo Giants 11 12 1
Regina Nationals 3 13 3
Aoshiba (W) and Nakayama
Bates (L), Parks (3) and Kokran
The Regina Leader-Post observed that the Japanese players crossed the Pacific to learn about baseball. The Queen City scribe covering the event opined that "last night, despite the muddy and bumpy diamond, the barnstormers taught Reginans a lesson or two in how to play this game." Kenichi Aoshiba, the 23 year-old hurler burned the locals à la Lefty Grove or Satchel Paige. Although he allowed 13 hits, the Nats were held under control as Aoshiba rose to the occasion in the pinch. He whiffed ten and allowed no free passes. Left fielder Eiichiro Yamamoto led the hitting barrage with a brace of safeties and three ribbies. It was claimed that the touring professionals were weak at the bat. Nationals' mound starter Winston "Lefty" Bates came
to disbelieve that claim. He was touched for nine runs in the first three innings and took an early shower. His replacement, Eugene Parks, allowed only two more runs the rest of the way. Kumeyasu Yajima (right) scored four times off two hits, one free ticket and a Regina error. The top of the order plated six runs. Aoshiba proved again that he was a capable hitter, striking the horsehide for a trio of safe swats in an equal number at-bats to go along three runs scored. The game was played before approximately 700 fans in miserable conditions. Their pickup of ground balls and pegs to all bases were perfect and they displayed a thorough knowledge of the game.
(June 18) Giants 5, All-Stars 4 (10 innings)
Tokyo Giants 5 10 7
Saskatoon All-Stars 4 11 2
Starffin, Hatafuku (7)(W) and Uchibori
Corbin (L) and D. McLeod
(June 18 ) Giants 14, All-Stars 0
Tokyo Giants 14 13 0
Saskatoon All-Stars 0 2 7
Sawamura (W) and Uchibori
Newbold (L), Klinck (5), Vallee (8) and D. McLeod
The Tokyo Giants were slated to play the Saskatoon All-Stars in yet another double-header. It would be the second such challenge in the last three days. Double-headers were a menace for a pitching staff of only four hurlers, let alone one with an average age of only 21. Victor Starffin, pitching with only two days rest, was given the assignment in the opener. He failed to live up to his advance billing. Meanwhile Cecil "Ace" Corbin was holding the Tokyo nine mainly in check for nine innings. A misunderstanding in the local outfield resulted in the visitors chasing the winning run across in the tenth, when fly chasers Desmarais and R. McLeod got their signals crossed on a fly ball. The sparkling double-play combo of Karita and Tabe proved they could also hit as each collected three bingles. One of Karita's swats was a two-run triple. He also stole two bases.
Eiji Sawamura, the star of the Japanese pitching staff, was the whole show in the evening contest. In the first inning, he struck out the side. He ended up with 17 strikeouts, while only allowing two scratch singles. His teammates pounded three Saskatoon chuckers for 14 runs off 13 hits. Every Giant starter got at least one hit, including Sawamura. The score was only 2 - 0 in favor of the visitors heading into the fifth. Even the reporter for the local Star-Phoenix had to admit that umpire Roger Strum was favoring the home side. As was their custom, the Japanese never complained. Their patience paid off in the fifth and sixth stanzas when they tallied seven times and chased Newbold from the mound. They also ran wild on the bases, stealing five, including home and everything else but the catcher's equipment. The attendance was fair at both games.
(June 19) Giants 6, All Stars 0
Tokyo Giants 6 7 0
Edmonton All Stars 0 1 3
Aoshiba (W) and Nakayama
Brant and McKinley
(June 19) Giants 9, All Stars 1
Tokyo Giants 9 11 0
Edmonton All Stars 1 4 2
Hatafuku (W) and Kura and Nakayama
Eaton (L) and Aldridge
Incredibly, the Tokyo Giants played their third consecutive double-header within a four day period. In addition, they traveled over 1,000 miles by train overnight and slept on-board. They usually arrived early in the morning at their destination allowing a short workout before engaging at least 18 innings of baseball. Despite this demanding schedule and the toll it took on the on their four-man pitching rotation, the Giants displayed formidable and sustaining baseball talent.
As was the case in Winnipeg, Regina and Saskatoon, pre-game hype promoting the visitors from Japan was high in praise and expectation,. Nevertheless, Bud Williams, in charge of the Edmonton nine, was confident that his

charges could finally slow down the baseball machine from Tokyo. Tommy Brant,one of the better overall players in the entire City of Edmonton and environs, was chosen to pitch the opener. He would hit third in the batting order. Continuing their grinding schedule, Giants' manager, Daisuke Miyake (left) nominated his curve ball specialist, Kenichi Aoshiba, to start on the knoll, hoping that the right-hander could keep his pitch count down. A large crowd was in attendance and favorable playing conditions were the order of the day. The local fans were hopeful their heroes could win at least one encounter from these upstarts from the Far East.
They would be disappointed. The young, beleaguered Giant pitching staff proved their mettle once again. "Hibs" Aoshiba and "Toss" Hatafuku limited the hapless local squad to only one run and five measly hits in 18 innings of baseball.
Aoshiba, primarily known for his curve ball, demonstrated that he could also throw heat. His fast balls cut the corner throughout the afternoon and with the exception of Bill Green, who lined a double down the third base line, not one of the other Edmontonians managed to get a safety. Aoshiba accumulated a total of 11 strikeouts and was never in any serious trouble. Only 28 batters faced him, one over the limit. While the Japanese received outstanding pitching, they also put on both a fielding and hitting show. Tabe and Karita executed the double steal as nonchalantly as you walk out the front door. The Giants, assisted by a pair of Edmonton errors, plated two counters in the second inning, bunching two hits including Kumeyasu Yajima's double. Three more runs in the fifth panel paved the way for a 6 - 0 drubbing.
The Japanese picked up right where they left off when, in their first turn at bat of the second game, they notched two runs, aided by a walk and an error. With the bases loaded in the third round, Emerson "Buck" Eaton of the Albertans walked Shiro Tsuda and forced in a run. The visitors broke it wide open in the fourth. With Tabe, first man up, grounding out to "Phats" Rimstad, Yajima scratched a comebacker to Eaton who, in trying to field the roller, slipped and fell. Then Karita singled to center field. Yajima and Karita followed with a double-steal and with the keystone and third sacks occupied, outfielder Jimmy Horio cleaned the bags with a triple into left-field, later crossing the plate himself on a Fujio Nagasawa single to right-field. The Giants scored two more in the sixth. The key hit, the longest of the day, was a mammoth three-bagger by Shigeru Mizuhara. He drove home one run and scored himself on an error by Rimstad. The speedy Japanese stole 13 bases in the nightcap and pilfered 20 in total for the day against the Edmonton pitchers and the hapless pickoff attempts from catchers McKinley and Aldridge.
Demonstrating once again that the Giant pitching staff consisted not just of Starffin and Sawamura, Hatafuku faced only 30 batters in the evening game, punching out 16, nine of them in a row. "Toss" Hatafuku and "Hibs" Aoshiba allowed only one run and five hits in 18 innings of of pitching. They combined to whiff 27 while issuing only 6 walks. It took all of two games but the local heroes finally scored a run in the bottom of the ninth of the second game. Bill Green slashed a double to left-field scoring Ed McHugh, who had opened the frame with a single. However, with two on and two out, Gordon Stewart struck out to end the game.
The Tokyo Giants departed Edmonton immediately following the game, boarding a train to New Westminster with a connection to Seattle. They were nearing the end of their arduous tour of over 100 games in four months.
---
DAI NIPPON 1935 TOUR OF NORTH AMERICA SUMMARY
Sotaro Suzuki had a lofty ambition for the legendary baseball tour of 1935. Tensions were already growing between the governments of Japan and the United States. This was not the best time for such an historic adventure, but Sotaro was not discouraged. He not only wanted to lay the groundwork for the establishment of professional baseball in his native country, but he also hoped that Japan could someday compete for baseball's ultimate prize, the World Series. The tour involved playing 109 games in 13 U.S. States, four Western Canadian Provinces and a game in Mexico. The team would be playing most of its games in alien and even hostile environments with a foreign language most did not comprehend. In addition they suffered racial abuse both overtly and on a subtle basis. The logistics for such a tour were overwhelming. There were few off days. A packed schedule including many double-headers required utilizing off days for travel. The team traveled thousands of miles, twice having to cross the treacherous Rocky Mountains.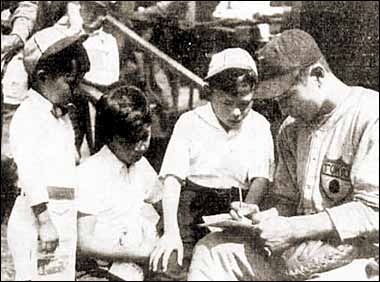 Remarkably, this incredulous venture turned out to be an astounding success. The tour balanced its books. There was no final attendance report but games usually sold out at premium prices. The manner in which the Japanese players handled themselves both on and off the field underlined its cultural achievements. The Japanese players responded to all requests to participate in all non-baseball related activities such as the tour of the Ford Plant in Dearborn, Michigan.
(Right - catcher Takeshi Nakayama signs autographs for three youngsters, identified as Aki Kordo, Jim Shimoura and John Konda at a game in Detroit (Hamtramck) on June 9th.)
The team probably would have preferred to have the day off rather than being exploited to sell automobiles. On the field they were beloved and received raving compliments in every city they played. Their
approach to "huddle" before each game captivated North American baseball fans. They never complained about a single call on the field. Not only did they refuse to complain but they actually tipped their ball caps when being called "out" by the umpire. Such courteous behavior toward an umpire was unheard of in American baseball.
Left - Takeo Tabe makes a spectacular slide to home but is called out. Undismayed, Tabe rose from the dust,, turned to the umpire, bowed and tipped his cap.
Some believe that Lefty O'Doul recommended that Japanese players not engage umpires to help win over support from American baseball fans. Noticeably, the Japanese game was different. They believed it required a dedicated spirit. Borrowing from a heavily romanticized version, Japanese players believe in strength through spirit. It is not surprising that the Japanese national baseball team today is known as Samurai Japan. Nevertheless the Japanese realized that they had to develop the basic skills to play the game at the highest level and this could only be accomplished by embracing American training techniques and competing against superior competition.
The success of the 1935 tour cannot be evaluated on the number of victories alone. The Dai Nippon Giants won 74 out of 109 contests. Many of these victories were over amateur or semi-pro teams. When facing AA level Pacific Coast League competition the Giants were only 7 - 15. Most of the games versus Pacific Coast League teams were competitive. The young Japanese pitching corps proved themselves throughout the series with PCL teams at times pitching masterpieces.
From an on-field perspective, the 1935 tour was a competitive and financial success. The fact that this tour took place during a time of high anxiety between the governments of Japan and the United States

reflects the power of baseball as a sport to bring players together from divergent backgrounds. Newspaper game summaries published in both Canada and the Unites States heaped praise and respect on the brand of baseball displayed by the invading Japanese. Even in cities without any Japanese diaspora, game reports were often positive toward the visiting ball team. Individually, many Japanese players excelled. Takeo Tabe (right) stole 109 bases and, combined with Hisanori Karita, put on a clinic demonstrating the art of executing a double play. Lefty O'Doul believed both had Major League potential. The most remarkable story of the 1935 tour had to be the four-man pitching rotation of Toshihide Hatafuku, Kenichi Aoshiba, Victor Starffin and Eiji Sawamura.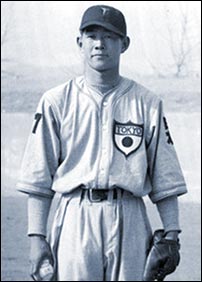 Younger baseball fans reared in the age of pitch counts will not be able to relate to the the pitching achievements of the four remarkable chuckers of the the 1935 Dai Nippons. Pitching complete games was not only a necessity, it was a requirement. The team had no relief pitchers, no eighth inning or set-up specialists and particularly no late closers. The Japanese quartet completed an astonishing 68 complete games out of the 109 games played. It is incredible that not one of these pitchers sustained any injury which would have taken him out of the rotation.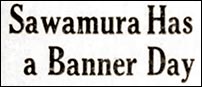 Over a four month period, the four endured more than 900 innings of pitching.
Sawamura (left) was credited with winning 24 of the 74 Dai Nippon victories (losing just 9), including four of the seven wins against AA Pacific Coast League teams. He appeared in an astonishing 48 games, 27 of them starting assignments with 20 complete games. In the one tie on the tour, Sawamura pitched a two-hit shutout. The final figures show remarkable peformances by the workhorse four and the two infielders posing as moundsmen.
| | | | | | | | | | | |
| --- | --- | --- | --- | --- | --- | --- | --- | --- | --- | --- |
| | | G | GS | CG | R | W | L | PCT | | G = Games |
| | Mizuhara | 7 | 4 | 1 | 3 | 2 | 0 | 1.000 | | GS = Games started |
| | Hatafuku | 30 | 20 | 11 | 10 | 15 | 5 | .750 | | CG = Complete games |
| | Sawamura | 48 | 27 | 20 | 21 | 24 | 9 | .727 | | R = Games in relief |
| | Aoshiba | 34 | 32 | 20 | 2 | 17 | 9 | .654 | | W = Won |
| | Starffin | 33 | 26 | 16 | 7 | 15 | 11 | .577 | | L = Lost |
| | Tabe | 3 | 0 | 0 | 3 | 0 | 0 | .000 | | PCT = Winning percentage |
The 1935 tour laid the ground work to establish professional baseball in Japan. Such a league was formed in 1936. "BANZAI! HONOURABLE TOKIO GIANTS"
CODA
Established on February 5, 1936 with an initial complement of seven teams, the loop employed Fall and Spring sessions. Surprisingly, Daisuke Miyake chose to manage the Hankyu Braves rather than the Yomiuri Giants. Not surprisingly, Victor Starffin and Eiji Sawamura opted to perform for the Yomiuri Giants. The Giants would win eight sessional championships between 1936 and 1943. The dynamic double-play combination of Takeo Tabe and Hisanori Karita would never play together again. Tabe never even played baseball again. The Ogden-Examiner called him a "backstop's nightmare". He died in combat in 1945. Karita played professional baseball until 1951. In his inaugural season, he collected 47 hits in 46 games and stole 27 bases.
Victor Starffin only pitched sparingly in 1936 but won 28 games in 1937, 33 games in 1938 and set the standard for Japanese baseball by winning 42 contests in 1939. He was the first chucker in Japan to win 300 games, retiring in 1954. Eiji Sawamura complied a 14 - 3 record in 1936, coupled with a sparkling 1.18 era. The following year he won 33 games and pitched an incredible 384 innings. His lifetime era was 1.74. He died in combat in 1943. Each year, the Eiji Sawamura Award is bestowed upon the outstanding pitcher in Japanese baseball.
AMERICAN LEAGUE ALL-STARS TOUR OF WESTERN CANADA 1934 GAME REPORTS
AMERICAN LEAGUE ALL-TARS TOUR OF JAPAN 1934 GAME REPORTS
TOYKO GIANTS BARNSTORMING TOUR OF WESTERN CANADA 1935 GAME REPORTS