Page 2 (Acadia to Fresno City College), Page 3 (Fresno State to Oklahoma City), Page 4 (U.Oklahoma to Tulsa), page 5 (UCLA to Yuba College).
When Edmonton met Williston in the summer of '58 it must have seemed like an intra-squad game. The Oilers had eight players off the USC roster. The Eskimos had five. (Another suited up for Lloydminster-North Battleford.)
The college connection, especially with the California schools, was strong throughout the short history of the Western Canada League. So many Fresno State products played on Western diamonds (more than 70 identified so far) it's a wonder we didn't call the prairies San Joaquin North.


Roy Taylor (left) and Pete Beiden (right), got their first taste of the prairies in the late 40s and early 50s with their California Mohawk tours.
Taylor, coach at College of the Sequoias, returned in 1951 as playing-manager of the Saskatoon 55s and brought his college kids to field a team for Kamsack, Saskatchewan in 1952, 1953 and 1954. He would follow the trend in his managerial stops in Moose Jaw and Saskatoon.
In 17 years as coach at COS, Taylor finished on top five times, second another six. His 1957 team won the state championship. More than 40 COS players suited up with teams in the prairie leagues. Taylor also brought Canadian kids down to California to play for COS -- Dave Kostenuk, Bob Holowaty, Dick Doepker and John Zeeben were among the Saskatchewan boys to play for Taylor at Sequoias.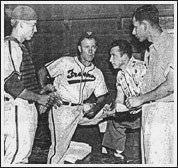 Beiden, a legend in college coaching ranks, died in March, 2000 at age 92. The Fresno State facility is named Beiden Field. He never had a losing season in coaching the Bulldogs from 1948 to 1966, and 1968-69. Overall, he had 601 wins and just 268 losses.
In 1972, he was inducted into the Hall of Fame by the American Baseball Coaches Association. Beiden was a regular on the prairies, first with the touring Mohawks in 1949 and 1950, then Medicine Hat , Saskatoon and parts of four summers in Regina.
(Above - Pete Beiden, at Fresno State in 1952 with catcher Bob Bennett and sports writers Sid Hosking and Bruce Farris) (Fresno Bee, March 20, 2000)

Other high-ranking college coaches also would find summer jobs on the Canadian prairies. Floyd Temple baseball coach at Kansas was at the helm of the Moose Jaw Mallards in 1957 and later coached in the Basin League.
Temple, Kansas' all-time winningest baseball coach, was honoured by the university in August, 2003 at Hoglund Ballpark. Temple, who led the Jayhawk baseball program from 1954-81, amassed a record of 437-396-7. Temple, who retired from KU in 1992, is a native of Coffeyville, Kan. and was inducted into the Kansas Baseball Hall of Fame in Wichita in 1966.
Many Western Canada players went on to distinguished careers in coaching.

Bob Bennett arrived in Canada in 1952 with Pete Beiden and a group of Fresno State collegians. He suited up with Roy Taylor's Kamsack team in 1953 and, the following season, put on the catching gear for Saskatoon. He made a brief return to Saskatoon in 1959. Bennett was Beiden's successor at Fresno and, in 1992, followed his mentor into the Coaches Hall of Fame. He stepped down after the 2002 season as one of only seven coaches in NCAA history to reach 1,300 wins and closed out an outstanding career with 26 consecutive winning seasons. In his 34 years with the club, Bennett compiled a 1,302-759-4 record. His record includes 17 conference championships, 21 NCAA Tournament berths, 32 All-Americans, nine first-round draft picks and two College World Series appearances. Bennett, coach of Team USA in 1986, was a catcher on the Fresno State teams from 1952-1955. In February, 2000 Bennett received one of college baseball's most prestigious honours -- the Lefty Gomez Award. Not bad. An all-star catcher (he set a school record for fielding percentage by a catcher in 1953 when he went errorless in 224 total chances) and a Hall of Fame coach!

Mike Gillespie, a member of the 1959 Edmonton Eskimos, has been baseball coach at USC for 17 years. Since he took over in 1987, he has led USC to playoff spots in 14 of his 17 seasons, including the Trojans' record-setting 12th national title in 1998. Gillespie was named National Coach of the Year after his Trojans won the College World Series championship in 1998.


Al Endriss played both on the diamond and gridiron in Canada before launching a coaching career which won him a spot in the American Baseball Coaches' Hall of Fame. Endriss played with the Medicine Hat Mohawks in 1951 (along with future major leaguers Curt Barclay and Pumpsie Green) and the following season turned in his spikes for football cleats to suit up with the San Francisco 49ers. In 1953 he was in the lineup of the Calgary Stampeders football club.
His coaching career began in 1954 and took him to Redwood High School in Larkspur for 28 years (named the National High School Coach of the Year in 1978), University of Santa Clara, and College of Marin (up until 1997) where he earned his HOF nomination.
Endriss has worked in the international arena the last few years, including stints as the coach of the French and German national teams. In 1998, his French team played against the USA at a tournament in Spain -- coaching the American squad were Mike Gillespie and Bob Milano, two more coaches with roots in Western Canada!

John Noce, a star on the Medicine Hat Mohawks of 1951, has had a distinguished coaching career in the USA, Canada and Europe. In 1992, Noce stepped down after 31 years as coach at the College of San Mateo. During that time he also pulled coaching duties at Drummondville, Quebec in 1968-69-70 and 74-75. Noce also returned to Western Canada to coach the Edmonton Tigers in '75.
The former catcher is well known in Italy from two decades of experience, 1977 to 1997, including a role as assistant coach with the national team for the 1984-92 and 96 Olympics.
In 1998 Noce coached the Reno Chukars of the Western Independent League and he's still suiting up -- with an association this season with the Youth Baseball Program in Parma, Italy. Quite a career! (The picture, left) is from his 1951 Mohawk days.)


Bob Milano (left) catcher on the 1960 Lloydminster club took over the reins at the University of California at Berkeley. Selected coach of Team USA in 1997. In May, 1999 Milano retired from the post after 22 years as head coach and 29 years overall with the Cal baseball program.
2004 will mark the 30th season as head coach at UCLA for Gary Adams, (right) the Calgary second baseman in 1960. (Gary's twin brother Gene was the shortstop.)
Glen Tuckett, Calgary Dodgers' coach in 1957 went on to a distinguished career at Brigham Young University which resulted in induction into the Collegiate Baseball Hall of Fame, Utah Sports Hall of Fame as well as the BYU Hall of Fame. Tuckett was baseball coach for 17 years at BYU.
Many others became high school coaches. Jim Garrett, a veteran of Western Canada baseball, for example, became an honoured coach in the "valley" and an inductee into the College of the Sequoias Hall of Fame and the Fresno State Hall of Fame. In 2000, the former WCBL star retired after 35 years at the helm of the baseball program at Tulare Union High School.
Mike Noakes, has been selected twice as high school Coach of the Year for his work in Fresno schools, Jim Hansen coached for more than twenty years at Thousand Oaks, Tom Bergeron at Garr High School in Southern California.
The impact of the college connection, or lack thereof, was noticeable early in the 1952 season. Brick Swegle, a California businessman (the organizer of the California Mohawks in 1949 and 1950 and the Medicine Hat Mohawks of 1951), was in a pickle. He had made arrangements to field teams both for Regina of the Western Canada League and Brandon of the ManDak League. Most of the players were to come from Fresno State.

There was a major problem. Fresno State had done so well in '52 that the team was still in the college playoffs into the second week of June. The Canadian teams were shorthanded. Brandon had to postpone some early games and Swegle was forced to resign his post as managing-director of the Brandon Greys to devote full time to the Regina franchise. Eventually, Pete Beiden, the Fresno coach, would arrive with a carload or two of newcomers to stock the Regina franchise.
WCBL clubs featured lots of All-American talent. Bruce Gardner, Sterling Slaughter, Jerry Adair, Stan Charnofsky, Bill Thom, John Werhas, Tom Shollin, Mike Castanon, Ken Guffey, Bill Heath, Tom Satriano, Larry Isbell, Don Barnett, Dan Schneider, Ernie Fazio. (Headline - Edmonton Journal, 1958)
The California connection was especially strong. For example, on the 10-man 1962 California college all-star squad, seven played in Western Canada - pitcher Bill Oakley, California (Lloydminster), catcher Bud Hollowell, USC (Saskatoon), first baseman John Boccabell, Santa Clara (Saskatoon), third base Tim Cullen, Santa Clara (Saskatoon), shortstop Ernie Fazio, Santa Clara (Saskatoon), outfield Bob Levingston, USC (Saskatoon) and Mickey McDermott, Santa Clara (Saskatoon). Among the honourable mentions, Ken Yaryan, USC and John Rebelo, California has also played on the prairies, Yaryan for Edmonton and Rebelo for Lloydminster.