Bronchos Ride to WCBL Championship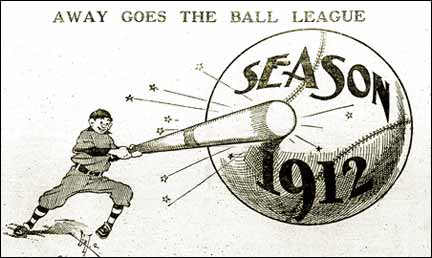 Calgary Bronchos downed Red Deer four games to win in a playoff to capture the 1912 Western Canada championship. The Eskimos had finished on top in the first half, just a half game ahead of the Bassano Boosters, while the Bronchos easily topped the circuit in the second half, winning 34 of 45 games and topping the runnerup Edmonton Gray Birds by 12 games. Off the field the situation wasn't so rosy for the Bronchos as the team ran a deficit of $7,000 on its 1912 operations.

Bassano's Archie Persons (left) took the batting title with a .378 mark, just ahead of teammate Howard Guyn (according to The Sporting News of the day).

Chester Cox, the playing manager of the Bassano Boosters, was 5th at .348 (Cox took the title according to the Encyclopedia of Minor League Baseball, with Persons not having enough plate appearancesx to qualify). Pete Standridge of Calgary and Ferdy Manning (right) of Red Deer tied for the lead in pitching wins, each with 21 victories. Standridge, who reached the majors for 31 games over two seasons, had three 20-win campaigns in the minor leagues.

Jack Roche, (left) a 21-year-old catcher, played for two seasons, 1912 and 1913 for the Calgary Bronchos, hitting .353 and .314. Later, he spent parts of three seasons in the majors with the Cardinals.

Also prominent were Walter Ford (right) Edmonton pitcher; Red Deer manager Bill Hurley (below left), in his third of five season in the Western Canada League, Edmonton manager John Mackin (below centre), who hit .295, Archie Persons of Bassano, and shortstop Leonard Reddick (below right) who had his best minor league season, batting .282




(June 17) John "Moose" Baxter the former major leaguer and player with Edmonton of the Western Canada League was arrested last night and is in police custody awaiting deportation. Baxter, who is reported to be worth $100,000 was ordered deported by the judge who sentenced him to six months in jail in Lethbridge. He finished serving his sentence a little more than a month ago. All efforts to secure permission for him to remain in Canada have failed.
In July, 2011, Baxter was sentenced to nine months imprisonment and ordered to pay $500 and costs of $114. The former proprietor of the Turkish bath house on First Street West, near Eighth Avenue was convicted of violating provincail liquor rules. In passing judgement, Superintendent Dean of the Mounted Police, made clear he didn't believe the defence witnesses.
"The defendant herein has, in spite of repeated warnings, persisted in defying the law of the province. The records of the court justify me in saying that the defendant defames his manhood by pandering to the lusts of the sexes and by living on the avails of prostitution."