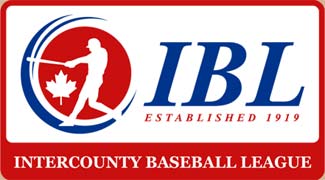 The Intercounty League has been a fixture in Southern Ontario since 1919 when four teams - Berlin (now Kitchener), Guelph, Stratford and Galt (now Cambridge) -- formed the new circuit out of the remnants of several professional Canadian League operations.
The initial Canadian League appears to have functioned in 1885 with six teams including the Guelph Maple Leafs, Hamilton Clippers, Hamilton Primrose, London Cockneys, and Toronto. I disappeared after one season, not to return until 1896 for a four-year run to 1899. The league was back in 1905 for a single season and then popped up again in 1911 (with the Berlin Green Sox, Brantford Red Sox, Guelph Maple Leafs, Hamilton Kolts, London Cockneys, and St. Thomas Saints).
Another version of the Canadian League surfaced in 1912 (Berlin Busy Bees, Brantford Red Sox, Guelph Maple Leafs, Hamilton Kolts, London Tecumsehs, Ottawa Senators, Peterborough Whitecaps, and St. Thomas Saints) and, with a few franchise changes, lasted until 1915.
The war effort forced the league to shut down for three seasons. Activity resumed in 1919 with the formation of the amateur / semi-pro Intercounty League.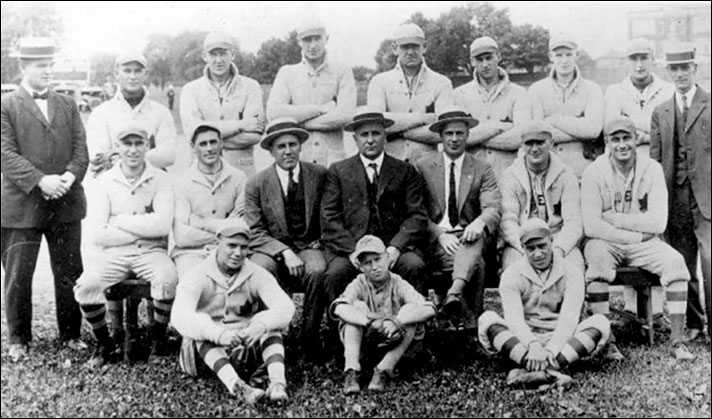 (The 1921 Intercounty League champion Guelph Maple Leafs)
[Of course, baseball in Ontario goes back to the 1830s and the origin of the game on Canadian diamonds, not Cooperstown.]
The road has often been rocky along the way but the Intercounty circuit has survived and provided a rich history. London, Brantford and St. Thomas, from the early pro leagues, became integral parts of the Intercounty experience and it evolved into perhaps the top amateur circuit in the province. In the early 1930s, league teams captured the Ontario Baseball Assocation championship five straight years.
As with many athletic endeavours during the Second World War, the league limped through but established a foundation for a post-war boom as soldiers began to return home and prosperity beckoned.
Into the 1950s, fans flocked to the local ballparks and crowds of 7,000 were not uncommon. Former big leaguers were hired on as were top stars from the Negro Leagues. Games were played at night under the flood lights and the league brought on John Gillies, a respected London lawyer and former player, to be its first commissioner. At the end of the decade, interest began to fade and by the early 1960s just five teams remained. However, one of the original franchises, Stratford, rejoined in 1964 and the loop began another period of growth, adding Toronto in 1969 as the Maple Leafs of the International League folded.
The Intercounty has had its up and down seasons since, but continues as a force in Southern Ontario.
The 2010 edition welcomed Ottawa (the FatCats) as the league's ninth team, replacing the Oshawa entry which suspended operations after the 2009 season.
September 2, 2009, the Brantford Red sox downed Barrie Baycats 3-2 in 10 innings to sweep the best-of-seven final series in four games. It was the second consecutive championship for the Red Sox. They also won in 2006 and reached the finals in 2007.
A two-out, 10th inning single by Hyung Cho drove in Al Stephens, who had doubled, with the winning run. The Baycats had forced the extra frame with a run in the 9th inning as Donovan Latour knocked in Steve Lewis. Stefan Strecker picked up the win in relief of starter Mike Myers. Brad Bissell went the distance in taking the loss for Barrie.
1945 Game Reports 1945 Photo Gallery 1945 Snapshots 1945 Stats
1946 Game Reports 1946 Photo Gallery 1946 Snapshots 1946 Stats
1947 Game Reports 1947 Photo Gallery 1947 Snapshots 1947 Stats
1948 Game Reports 1948 Photo Gallery 1948 Snapshots 1948 Stats
1949 Game Reports 1949 Photo Gallery 1949 Snapshots 1949 Stats
1950 Game Reports 1950 Photo Gallery 1950 Snapshots 1950 Stats
1951 Game Reports 1951 Photo Gallery 1951 Snapshots 1951 Stats
1952 Game Reports 1952 Photo Gallery 1952 Snapshots 1952 Stats
1953 Game Reports 1953 Photo Gallery 1953 Snapshots 1953 Stats
1954 Game Reports 1954 Photo Gallery 1954 Snapshots 1954 Stats
1955 Game Reports 1955 Photo Gallery 1955 Snapshots 1955 Stats
1956 Game Reports 1956 Photo Gallery 1956 Snapshots 1956 Stats
1957 Game Reports 1957 Photo Gallery 1957 Snapshots 1957 Stats
1958 Game Reports 1958 Photo Gallery 1958 Snapshots 1958 Stats
1959 Game Reports 1959 Photo Gallery 1959 Snapshots 1959 Stats
1960 Game Reports 1960 Photo Gallery 1960 Snapshots 1960 Stats
1961 Game Reports 1961 Photo Gallery 1961 Snapshots 1961 Stats
1962 Game Reports 1962 Photo Gallery 1962 Snapshots 1962 Stats
1963 Game Reports 1963 Photo Gallery 1963 Snapshots 1963 Stats
1964 Game Reports 1964 Photo Gallery 1964 Snapshots 1964 Stats
1965 Game Reports 1965 Photo Gallery 1965 Snapshots 1965 Stats
1966 Game Reports 1966 Photo Gallery 1966 Snapshots 1966 Stats
1967 Game Reports 1967 Photo Gallery 1967 Snapshots 1967 Stats
1968 Game Reports 1968 Photo Gallery 1968 Snapshots 1968 Stats
1969 Game Reports 1969 Photo Gallery 1969 Snapshots 1969 Stats
1970 Game Reports 1970 Photo Gallery 1970 Snapshots 1970 Stats
| | | | | | |
| --- | --- | --- | --- | --- | --- |
| Roy McKay | Russ Evon | Stan Anderson | Ron Stead | Tedd Bogal | Wray Upper |
| Ed Steele | Jack Fairs | Joe Yosurak | Paul Allen | Dan Jackson | Dick Wright |
| "Shanty" Clifford | Tommy White | Joe Bechard | Johnny Ambrose | Dan Mendham | Larry Cunningham |
MAJOR INTERCOUNTY BASEBALL LEAGUE
ALL-TIME STANDINGS (to 2006)
Windsor 93 69 24 .742
Oakville 54 39 15 .722
Toronto 1255 823 432 .656
Kitchener 1986 1158 828 .583
Niagara Falls 168 92 76 .548
Barrie 212 114 98 .538
Stratford 1247 668 579 .536
London 1964 1012 952 .515
Brantford 1879 945 934 .503
Guelph 1861 910 951 .489
Oshawa 337 156 181 .463
Listowel 285 134 151 .470
Cambridge 1092 472 620 .432
Waterloo 779 334 445 .429
St. Thomas 1361 535 826 .393
Hamilton 1560 555 1005 .356

One of the league's most storied franchises is the London Majors. In their most successful season, the Majors captured the North American semi-pro title with a victory over the Fort Wayne (Indiana) General Electrics in a best-of-seven series. Fort Wayne was fresh from winning the National Baseball Congress title in the United States. The team featured such stalwarts as Tommy White (right) who won three games in the series and 15 straight over the season, catcher Jack Fairs and outfielder Joe Bechard. The London franchise has been in the forefront of maintaining the history of the team and its ballpark.

Among the Negro League stars who suited up in the Intercounty League were Jimmy Wilkes, Barney Brown and Wilmer Fields (left). During his final season (1955) in the loop, he was called Wilmer (The Great) Fields as he won another batting title (with a .425 mark) and led the league in hits, home runs, total bases and runs batted in. He led Oshawa to top spot in regular season play. In 1954, Fields had led the league in batting, .379, hits, doubles and was tied for the lead in homers. In his first Intercounty season, 1951, he led Brantford to the pennant and was named MVP as he led the circuit in hits, home runs, total bases, runs batted in and pitching (9-1).
---
Thanks to Len Hannam for compiling the following lists of Intercounty players who
suited up in Major League Baseball and in the Negro Leagues.
IBL Team Major League Team(s)
Jim Bagby P Galt 1938-47 - Boston, Cleveland, Pittsburgh
Tim Burgess 1B London 1962 - LA Angels
Rich Butler OF Toronto 1997-99 - Toronto Blue Jays, Tampa Bay Devil Rays
Rob Butler OF Toronto 1993-99 - Toronto Blue Jays, Philadelphia Phillies
Frank Colman 1B London 1942-47 - Pittsburgh, NY Yankees
George Copeland P Brantford 1942 - Philadelphia
Conny Creeden OF Galt 1943 - Boston Braves
Rob Ducey OF Cambridge 1987-2001 - 6 teams
Harry Fisher P Brantford 1951-52 - Pittsburgh Pirates
Tom Gamboa COACH Stratford Kansas City
Mike Gardiner P Stratford 1990-95 - Seattle, Boston, Montreal, Detroit
Preston Gomez SS Brantford 1944 - Washington
Pete Gray OF Guelph 1945 - St. Louis Browns
Fergie Jenkins P London 1965-83 - Philadelphia, Chicago Cubs, Texas & Boston
Oscar Judd P Woodstock 1941-48 - Boston Red Sox & Philadelphia Phillies
Mike Kilkenny P London 1969-73 - Detroit, Cleveland, Oakland, San Diego
Joe Krakauskas P Brantford 1937-46 - Washington Senetors & Cleveland Indians
Larry Landreth P Stratford 1976-77 - Montreal Expos
Dave Lemanczyk P Guelph 1973-80 - Detroit, Toronto & California
Phil Marchildon P Guelph 1940-50 – Philadelphia
Denny McLain P London 1963-72 - Detroit, Atlanta, Oakland
Scott Medvin P Kitchener 1988-90 – Pittsburgh
Jesse Orosco P Cambridge 1979 - 2003 - Mets, LA Dodgers, Cleveland, Milwaukee
& Baltimore
Peter Orr 2B Toronto 2005 - Atlanta Braves
Tommy Padden C Galt 1932-43 - Pittsburgh, Washington, Philadelphia
Jim Price C London 1971 – Detroit
Ray Rippelmeyer P Oshawa 1962 – Washington
Goody Rosen OF Galt 1937-46 - Brooklyn Dodgers, NY Giants
Pat Serrey OF Guelph 1943-49 - Cleveland Indians & Chicago White Sox
Chris Speier SS Stratford 1971-89 - SF Giants, St. Louis, Minnesota,
Chicago Cubs & Montreal
Paul Spoljaric P Toronto 1994-2000 - Toronto, Seattle, Philadelphia, KC
Buck Tanner P Brantford Brooklyn
Nick Testa C Guelph San Francisco
Bob Thurman OF Brantford 1955-59 - Cincinnati
Tom Warren P Galt 1944 - Brooklyn Dodgers
Bob Whitcher P Brantford 1945 - Boston Braves
Jeff Zahn P Stratford 1973-85 - LA Dodgers, Chicago, Minnesota,
California Angels
Negro League Team(s)
Ted Alexander P London Homestead Grays, Kansas City Monarchs
Barney Brown P Brantford Philadelphia Stars
Luther Clifford P Brantford
Wilmer Fields OF Brantford 1939-50 - Homestead Grays
Ray Finch P Brantford
Ed Finney 2B Brantford
Doc Glenn C St. Thomas 1944-50 - Philadelphia Stars
Jeep Jessup P Galt 1940-49 - Chicago American Giants
Lester Lockett OF Kitchener 30's & 40's - Baltimore Elite Giants
Lou Louden C Brantford 1942-50 - New York Cubans
Max Manning P Brantford 1938-48 - Newark Eagles
Eudie Napier C Brantford
Tom Parker P Brantford 1938 - Homestead Grays
John Richardson 2B Brantford
Ed Steele OF Galt Birmingham Black Barons
Bob Thurman OF Brantford 1955-59 - Cincinnati Reds, 1946 - Homestead Grays
Jim Wilkes OF Brantford 1945-52 - Newark Eagles, Houston Eagles &
Indianapolis Clowns