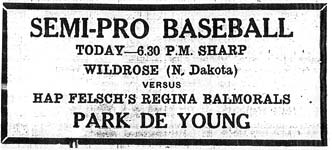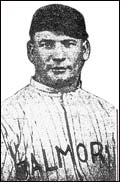 Hap Felsch (right), the disgraced former major leaguer of the 1919 Black Sox scandal, was hired to manage the Regina Balmorals in 1927.
The opening action was scheduled for May 25th at Park de Young in Regina against Wildrose of North Dakota. [Regina Leader-Post, May 25, 1927]
The Balmorals' name came from the Balmoral Cafe, adjacent to the LaSalle Hotel, both of which were the "in" places for gatherings in Regina during the 1920's. Ironically, construction on the new luxury Saskatchewan Hotel built by the C.P.R finished in 1927 and would shove the Balmoral eatery and LaSalle inn down the ladder in rank and popularity.
(August 12) The Balmorals took the self-proclaimed provincial semi-pro championship series from the Rosetown Goose Lakers four games to two. In the four box scores (out of the 6 games) that were published in the Regina Morning Leader, Hap Felsch was 8 for 13 with 3 homers and 2 doubles.
While the Balmorals were busy conquering Rosetown for the semi-pro crown of the wheat province, their senior amateur counterparts from the Queen City, the Northside League champion Regina Champs, were attempting to wrestle the 1927 Saskatchewan championship from the defending senior amateur champion Saskatoon Elks. The best-of-five provincial final series opened in the Hub City and saw the visitors, sponsored by the Champs Hotel, surprise their hosts by sweeping a Labour Day doubleheader. The following Saturday, the Elks stayed alive by winning one and tying the other as the clubs ventured south to the provincial capital. Then, a week later, the "Purple Hose", as they were affectionately called in the Bridge City, rose to the occasion and claimed their second consecutive title by knocking off the Hotelmen two games straight on the northerly return visit.
The Prince Albert & District League Final Series - With the best-of-three final playoff series tied at one game apiece, the third game resulted in a forfeiture by Birch Hills when, holding a one-run lead, their management pulled the team off the field in the eighth inning claiming that it was too dark to continue. The game and 1927 league championship was then awarded to the Prince Albert Cubs.