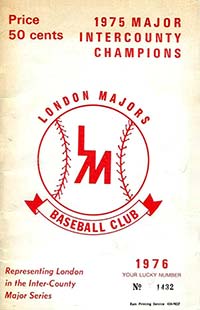 With a two to one game lead in the best-of-five Saskatchewan Major League, Alberta Major League final series, the Regina Red Sox captured the title without having to throw a pitch or swing a bat. Unity was forced to forfeit the series when all three of the Cardinals' import pitchers had to return to their university programs in the States. The title ended an eight-year drought for the Red Sox, dating back to the team's days in the Southern League. The Sox had captured the pennant during the regular season winning 17 or 24 games.

Teammates Don Peters and Gorman Heimueller (right) of Eston finished 1-2 in the Saskatchewan Major Baseball League batting race. Peters compiled a .452 average in 42 at bats with Heimueller at .402 in 82 at bats. Andy Logan of Regina was third, at .371.
Wade Wanner of Regina was the top hurler with a 5-0 record, and Don McIntyre of Unity and Randy Arthur of Eston both finished at 4-0, although Arthur was also credited with a tie game. Heimueller won five of seven decisions, losing one and tying one.
In Alberta, local product Randy Gregg twirled a sparkling three-hitter to lead the underdog Edmonton Tigers to the Alberta Major Baseball League title with a 2-1 triumph over Red Deer Generals to take the final series four games to two. Gregg also was an offensive force during the final series, going 10 for 19 in the previous five games with two doubles and two home runs.
Import pitcher Dan Kaupla (right) of the McAuley Blazers was named the Most Valuable Player of the Manitoba Baseball League for 1976. The right-hander compiled a 12-0 record during the league's 26-game schedule. Grant Everard of Riverside finished at 11-2. Kaupla's record topped an impressive debut he had as a McAuley rookie in 1975 when he rang up a 9-1 mark during the regular season.
Stan Furman of Souris won the batting championship with a .470 average in 100 at bats topping Mark Fisher of Riverside, at .438.