1947 marked the inaugural of what would become one of the highlights of a prairie summer.
The small community of Indian Head had held a tournament in July with 29 teams competing in junior and amateur categories. The weather was perfect. More than 10-thousand people turned out. With that success, organizers decided to try promoting another tourney, with higher-level competition, to be held in August. And, with prize money -- $2,000.

The two-day event drew an estimated 15-thousand fans with George Ligon's Colored All-Stars "from California, or some other spot south of the snowline" walking away with the title. They whipped the Wilcox Cardinals 13-0 in the final. Claude Williams (left) led the offensive with five hits.
The inaugural tournament featured a no-hitter by Jack Devine of Marquis.

One of the featured performers in the 1947 event was Bert Shepard (right), a minor league pitcher before serving in the Second World War. When his fighter plane crashed in Germany, doctors amputated his right leg.
While in a POW camp, Shepard, with an artificial leg, learned to walk and pitch. Back home in 1945, he suited up as pitching coach of the Washington Senators.
In a remarkable achievement, Shepard took the mound on August 5th, 1945 against Boston. He pitched five and one third innings (three hits, one walk, two strikeouts, 1.69).
At Indian Head, Shepard, lined up with Williston, North Dakota, pitched a three-hitter against the Ligon's, but lost 1-0.
Aberdeen captured the 1947 Saskatoon Exhibition Tournament defeating Melfort in the final.
Delisle, with the famous Bentleys, had an amazing summer. The team was reported to have won 25 of 26 tournaments entered winning 79 of 80 games played.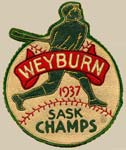 Following a stellar regular season in which they lost only three games, the Southern League's Wilcox Cardinals surprisingly withdrew from playoff competition as harvesting operations severly limited player availability. This left the door open for the Weyburn Beavers (the 1937 team crest at the left) who responded by downing the scrappy Notre Dame Hounds three games to one in the 1947 league final.
---
In the British Columbia Interior, the 1947 Trail senior Cardinals, operating as an independent club, devoid of any league connection, began the season with 18 consecutive victories, primarily against American opposition. The Cards early-season ace, Trail-bred LHP Clint McNeil, joined the St. Louis Browns organization at the Class C level in late July.

---

Andy "Mac" McGladrie, Lloydminster Oilers' classy one-armed pitcher, allowed only one hit in nine innings and only two Lashburn runners reached third base as the Oilers whipped Lashburn 16-0 in a Battle River Baseball League game here recently.

The Oilers hit B. Mohr freely in the first three innings to run up a 12-0 lead. Brother Robert rook over the mound duties late in the third inning and only allowed one man to cross the plate in the next three innings. Tellier took over the pitching duties in the seventh and was hit freely, allowing three runs, but held the heavy hitting Oilers scoreless in the eighth. (Saskatoon Star-Phoenix, June 30, 1947)

" ... Later, a real asset in so many ways came along in the one armed pitcher, Andy McGladrie He was teaching school in Kitscoty - very handy and very versatile. Andy lost his left hand in a saw accident when 15 years old. The fact that this didn't stop him from playing baseball showed the mettle he's made of. Even hitting with one hand didn't make him a weak hitter. I've seen him plaster a pitch pretty good on several occasions. Pitching was a very interesting procedure. Of course his glove had to be transferred to his left arm while making a pitch, but as he followed through he had a smooth transfer of his glove back to his pitching hand, ready to field a ball from the bat. I've seen him take a drive somewhere on the body, but I have never seen him back up or flinch. He also had management qualities which were overlooked until too late. Kitscoty people were very fortunate to have Andy amongst their young people, for besides being a good teacher, he could make a gymnasium hum smoothly with activity. (Alf Lampitt, Reflections of Baseball, 75 Years of Sport and Culture in Lloydminster)

Lloydminster easily captured the pennant in the Battle River circuit winning ten straight games.

W L T PTS
Lloydminster 10 0 0 20
Lashburn 6 4 0 12
Neilburg 5 4 1 11
Maidstone 4 5 1 9
Rivercourse 3 7 0 6
Marsden 1 9 0 2