" ... Baseball fans in Regina, Saskatoon, Moose Jaw and North Battleford are witnessing what many veteran observers think is better than Class B professional baseball ...

The league is drawing big crowds, the ball is top notch, there's plenty of hustle and it looks as though the way has been paved for a solid setup for years to come." (Don Pilling, Lethbridge Herald, June 5, 1952)
With their backs to the wall, North Battleford's Beavers got shutout pitching then awesome hitting to crush Saskatoon to win the Saskatchewan Baseball League championship.


Down three games to one, Beavers first got a four-hit shutout from Johnny Coleman (left) in a 2-0 win, then exploded for a 12-3 triumph to tie the series.
In the deciding game, the Beavers handed the Gems an early 5-1 lead before storming back to whip Saskatoon 22-9. Bob Herron (right) had four hits, including a pair of homers, good for five RBI. Art Stone belted a grand slam.
North Battleford had won the regular season and swept Moose Jaw in four games in a semi-final.
Indian Head, under manager Jim Williams, dropped out of league play to concentrate on exhibitions and tournament ball. They were joined by another touring club, the Florida Cubans. The Cubans won big tournaments at Lethbridge, Camrose, Lacombe and Indian Head. The Rockets won the tourney in Kamsack.
Cubans captured the provincial title with 9-2 and 16-11 wins over the Rockets.
Lethbridge Cubs won the Alberta championship defeating Brooks Buffaloes in a best-of-three series.

Minot Mallards were crowned ManDak League champions beating Carman in the final series. Zoonie McLean (right) won the batting title with a .369 mark.
Hal Price of Winnipeg led the league in wins, with 10, and strikeouts, 130.


Roy Taylor's (left) Kamsack Cyclones won the title in the Manitoba - Saskatchewan League.
Taylor was selected as the top manager in the seven-team circuit and three of his players made the all-star team -- pitcher John Zeeben, 1b Len Tucker (right), of Stan Green. Tucker led the league in average (.480) home runs, triples and stolen bases.
It was the first year of George Wesley's Granum clubs. It was one of four teams in the Foothills League (with Fort McLeod, Claresholm, and Stavely).
It was quite a season. Western Canada League clubs shared a playoff pool of $11,496.60, representing fifty percent of gross receipts from all playoff games.
The champion North Battleford Beavers took the lion's share, $3,140 while the runners-up, the Saskatoon Gems, received $2,637. Regina Caps were awarded $1,845, Moose Jaw Maples $1,582 and Estevan Maple Leafs $1,318

Regina's Gus Kyle (also a hockey star) won the Saskatchewan League batting title with a .368 average, nearly 20 points higher than the runner-up, Curtis Tate of North Battleford.
The Beavers Bob Herron was the home run champ with 12 and also led the loop in RBI with 46.
Ken Nelson of the Beavers, who finished third in the batting race at .348, led the league in runs with 50 and tied Estevan's Ray Patterson for the lead in doubles with 12. Jim Shields of Saskatoon and Bill Shea of Estevan swiped the most bases, 14 apiece. Jim Harford of Moose Jaw had the most triples, six.

The leading pitchers were Les Dean, NB with a 6-1 record, Bob Singleton of Saskatoon at 5-1, Chuck Holdaway, Saskatoon 6-2, and Johnny Coleman, NB, 7-3. Cless Hinckley of Regina finished at 3-0.
Moose Jaw imported a former major leaguer, Henry Harold Cotton Pippen (left). However, 1940 was Pippen's last year in the majors and he made little impact for Moose Jaw.
A North Battleford player needed help from the Royal Canadian Mounted Police to escape a sticky situation during a fracas at the Rosetown Tournament.
"Tate, the Negro third-baseman of the North Battleford Club, already had quite a reputation for some un-baseball-like antics at previous Rosetown money shows, but his part in Wednesday's riot will outlive them all."

"It was he who beaned a Cuban All-Star opponent with a baseball bat and then made a hurried and desperate exit out of the ball park through a surrounding hedge of willows, across 200 yards of summer fallow and eventually into the house of a North Rosetown grain-buyer."



Charlie Beene as "White Lightning" of the Jacksonville Eagles?
The Eagles, of Jacksonville, Florida, were a part of the Negro American Association. In Canada, they played under the banner of the Indian Head Rockets. Jim Williams (right), a veteran of the Negro leagues, was the playing-manager of the club.
Charlie Beene was a teenager from Oklahoma, via Visalia, California. He had pitched in 1951 with Roy Taylor's Saskatoon 55's in the Northern Saskatchewan league.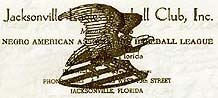 The Eagles were a "coloured" team. Beene's pale complexion didn't seem a particularly good fit. But, beginning in August of 1951, Williams began to try and sign Beene to play with the Eagles/Rockets. First it was for the 1951 playoffs (Williams also noted he wanted Sherman Watrous, Pete Polus and Andy Swota).
At the time, Beene didn't see anything unusual about the offer. "I never thought about the colour thing at all just that I had pitched against them two or three times and had my real good stuff."
As Beene passed on the '51 offer, Williams resumed his courting of Beene in January of 1952. Beene was even penciled in to be the starter in the Eagle's season-opener in March. Negotiations progressed well and Beene was informed than a transportation ticket will be arranged for him to go to Florida for spring practice. They even agreed on salary.

"I probably had that one-hundredth of a doubt so I said well how about I bring Bob Garcia, my buddy for life", said Beene. The team agreed. "Me and Bob were all ready to go."
The club was expected to make a trip to Japan in April, then play in Canada for the summer. A major league tryout camp in California changed plans. Beene was offered and accepted a contract from the Pittsburgh Pirates and began the 1952 season as a pro in Visalia.
In 1954, Williams tried to recruit Tom Mulcahy who had pitched for the Lloydminster Meridians. But, Mulcahy too would sign a pro contract with Pittsburgh.
---
The Regina Caps had a mid-season makeover. On June 10th the Caps unveiled a revamped lineup which featured eleven new players headed by playing-coach Pete Beiden. Among the newcomers were pitchers Jack Hannah, Larry Bolger, Ted Wills, Frank Warren and Truman Clevenger. (Wills and Clevenger would go on to become major leaguers.) Also joining Regina were first baseman Fred Bartels, infielders Fred Sommers and Bob Newton, outfielders Frank Ball and Art Shahzade. Two catchers were on the way, Bob Bennett and Bill Clevenger. Most of Beiden's recruits were from his baseball program at Fresno State. An additional four Fresno players were slated for jobs with Dauphin and Great Plains of the Manitoba-Saskatchewan League.
Beiden and Roy Taylor were instrumental in placing dozens of college players (more than seventy from Fresno State alone) on teams in Western Canada. At the time, college programs had a tough time convincing the pros they had something to offer. "The pros had an attitude against college players", said Taylor, "They just thought that college kids were a bunch of green nothings." It was a time, said Taylor, "when they didn't move the kids up and, if they were college kids they hated them. The pros and the college kids were always at battle."
---

In a season wherein Southern League pitchers seemed to have an upper hand on the hitters, Regina Royal Caps first sacker Doug Hingley took batting laurels with a .333 average. There were only seven batters in the 1952 circuit who could claim hitting .300 or above as Avonlea Arrows' chucker Garnet Campbell (left) of Brier curling fame topped all hurlers with a perfect 5 - 0 record. The Regina Royal Caps edged out both the Weyburn Beavers and Avonlea Arrows by half a game to claim top spot during the regular season. Their success continued into the post-season as they picked up the playoff silverware by taking three games out of four from the Notre Dame Hounds in a best-of-five final series.
---
Stan Obodiac (later to be a long-serving PR officer with the Toronto Maple Leafs) writing in the Yorkton paper in July, 1952.
Wednesday afternoon I was in New York City -- the Brooklyn Dodgers were playing Cincinnati at Ebbetts (sic) Field, over television. Thursday afternoon I was in Kamsack with the Cardinals playing ball in the Man.-Sask. League. You get a quick comparison of the play. Negro Len Tuck (sic) of the Cyclones hits the ball as powerfully as Jackie Robinson, but who knows whether he could hit major league pitching. Eddie Panser of the Cardinals can run the bases as fast as any Dodger. Surely he must be the fastest thing on two feet in Yorkton.
The same issue carried a story of Kamsack's 7-3 win over Yorkton and noted, "Big Negro Len Tuck, one of the best ball players to ever show in this district, led Kamsack at bat." Len Tuck (somehow the "er" went missing), of course, was Len Tucker one of Roy Taylor's imports from the College of the Sequoias.
---
Five teams comprised the Brooks, Medicine Hat and District League -- Brooks Buffaloes, Redcliffe Canadian Legion Red Sox, Bow Island Combines, Medicine Hat Mercurys and Vauxhall. The Wheatbelt League operated in northern Alberta with clubs from Grande Prairie (Mercury's and Legion), Beaverlodge, Sexsmith, Dawson Creek, Fairview and Roycroft.
---

On May 13, 1952, 19-year-old Ron Necciai fanned 27 in pitching a 9-inning no-hitter for the Bristol Twins (then a Class D farm club of the Pittsburgh Pirates). There was one groundout in the contest, but in the 9th as Necciai recorded strikeout number 26, his catcher let the pitch get away for a passed ball and the youngster promptly fanned the next hitter to end the game.
At Bristol, Necciai had an 0.42 ERA in 43 innings (with 109 strikeouts). Promoted to Class B Burlington, he pitched another 126 innings with 172 Ks and an ERA of 1.57. He finished the season in the major leagues with a 1-6 record in 55 innings (7.04 ERA, 32 BB, 31 K). 224 innings on a 19-year-old arm. He never pitched in the majors again.

One week after Necciai's spectacular performance, 20-year-old Joey Jankola of Trail, BC fanned 24 batters in pitching a no-hitter for the Universal Mercurys in the Chinook League in Calgary. Mercurys walloped Standard 19-0.
Jankola, attending Calgary Technical Institute, walked four and hit a batter. Two reached on errors. One putout was made in right field, one at second base and one at first.
---
In what may have been the first "deal" between American and Japanese baseball clubs, the St. Louis Browns loaded two black minor leaguer players to the Hankyu Braves of the Japanese Pacific League. Abe Saperstein, owner of the Harlem Globetrotters negotiated the transfer and termed the deal, sending third-baseman John Britton and pitcher Jim Newberry to Japan, as a "lend-lease" arrangement of benefit to both countries.