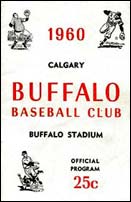 What more could you want?
An exciting season ending with a first-place finish for the Lloydminster Meridians.
Only five games separated the first place Meridians and last place Calgary Buffaloes at the end of the regular season.
The final playoff series went to the 12th inning of the seventh and deciding game as the Lethbridge White Sox staged an amazing comeback to down Saskatoon Commodores.



In 1960 it was back to the Western Canada Baseball League -- with a new look. Only two of the old teams would suit up in the new loop -- Lloydminster (without North Battleford) and Saskatoon would join two Alberta teams -- Calgary and Lethbridge -- in the four-team circuit. (George Wesley is believed to have bankrolled the Calgary club, in addition to his White Sox.)
Willie Walasko recalled :
"Places like Picture Butte and Vulcan just couldn't stand the expense of bringing up college kids like George Wesley did. So they folded and in order to make a league George agreed to finance the Calgary operation and Vic Stasiuk was taken on to run the Calgary team."
For the first time, Lloydminster would finish atop the standings. Disappointment would follow, however, as the Meridians were ousted by Saskatoon in the playoffs.

In the finals, the Lethbridge White Sox stormed back from a 3-1 deficit to win three straight over Calgary to claim the league title.
Lethbridge won the deciding game 10-9 as catcher Arley Kangas singled in the bottom of the 12th inning to score Stan Busch (left).

Lloydminster Meridians won two major tournaments, Lacombe and Lethbridge. Meridians hammered the Northern Alberta All-Stars 27-5 in the final of the Lacombe tourney and beat Calgary 9-6 in the final of the Lethbridge event. Meridians also established an unusual mark playing three tie games in three successive days.
Meridians captured the pennant and swept the tournaments, but placed just one player on the All-Star team. Lefty starter Ted Richardson was the lone Lloydminster first-stringer. Lethbridge placed four players, Calgary three and Saskatoon two.
All-Stars (with number of votes) :
c Gary Herrington Sask 30, Larry Koentopp Leth 19; 1b Lee Murphy Leth 40, Marty Hurd Cal 15; 2b Rich Johnson Cal 35, Tom Bergeron Lloyd 13; 3b Jim Lester Leth 25, Curly Williams Lloyd 20; ss Bob Bourbeau Leth 20, Barry Arnett Lloyd 15; of Stan Busch Leth 42, Pete Estrada Sask 39, Bill Casanova Cal 32, Mike Noakes Lloyd 18, Bill Fennessey Cal 14, Bill Lynn Sask 12; rhp Gene Graves Cal 37, Dick Montee Leth 31; lhp Ted Richardson Lloyd 32; u JB Carroll Sask 18, Tom McGarry Lloyd 14; mgr Vic Stasiuk Cal 25 (above), Cliff Pemberton Lloyd 22.
Those votes (ostensibly from writers and broadcasters) sparked considerable comment.
Don Pilling, in the Lethbridge Herald, didn't agree with many of the choices :
" ... Nobody asked us but if they did our WCBL all-star team this year would have Larry Koentopp of Lethbridge catching, Cliff Pemberton of Lloydminster at first, Tom Bergeron of Lloydminster at second, Jim Lester of Lethbridge at third and, Barry Arnett of Lloydminster at short ... the outfielders would be Lee Murphy of Lethbridge in left, Bill Fennessey of Calgary in centre and Norm Revis of Lloydminster in right ... the righthanded pitcher would be Roland Jones of Saskatoon and the lefty Ted Richardson of Lloydminster."
John Short, The Albertan :
" ... Cliff Pemberton was the best manager and the best hitter and the best drawing card in the Western Canada Baseball League this season, but he's probably yelping that Canada "ain't got no justice" as he heads to his little red schoolhouse at Tulsa."

"Pemberton took Lloydminster Meridians, who were last on merit, instilled considerable spirit and all the confidence in the western hemisphere and led them to the WCBL championship. He helped put people in every park in the circuit and he took at least two players cast off by other managers and made them standouts. He transformed Barry Arnett -- with considerable help from Arnett himself -- from a shaky fielder with no danger in his bat, to a mature defender who covers the left side of the infield like an Alberta hailstorm. Yet he was bypassed in favor of Vic Stasiuk as the best manager in the circuit. Even Stasiuk, a nice guy and tremendous competitor, didn't believe it." (The Albertan)
In his wrap on the 1960 season, Don Maclean in the Lethbridge Herald cited his choices for the season:
"Most Colorful Manager - Cliff Pemberton (Lloydminster Meridians whose slow drawl and fast wit kept things from being an absolute drag some nights here).

Most Colorful Player - Norm Revis (Lloydminster, who showed his eager will to win in the Rotary Tournament here by diving headlong over a snow fence in a try for a fly ball. He didn't get it. Wears his sleeves cut off like Ted Kluszewski).

Most Likeable Player - Bill Fennessey (Calgary Buffaloes who is the perfect gentleman on and off the field and yet will do a dozen things well to beat you).

Best Liked Manager - Vic Stasiuk (Calgary. People took a liking to him after it became apparent he had lost his head and was spending money).

Best Liked Umpire -- Three tied for second.

Best Infield Arm - Jim Lester (Lethbridge White Sox who made plays this year he never showed anybody in three previous seasons in Canada).

Best Outfield Arm - Bob Peters (Saskatoon Commodores) and Pete Estrada (Commodores). Peters, a pitcher, had such a good outfield arm he was used sparingly on the mound. Estrada is a real pro with a solid swing.

Best Eye at the Plate - Stan Busch (Lethbridge who must have averaged at least a walk and a half a game. What good a half a week is we aren't quite sure).

Wildest Display by a Player - Earl Ingarfield (Lethbridge who threw bat and helmet into the screen in disgust after a called strike with such force he fell down. Got up to continue the argument but was far back in the line).

Best High Jumper - Larry Koentopp (Lethbridge who got about three feet off the ground twice this year from a still start after third called strikes).

Most Talkative General Manager - Tied between Spero Leakos (Saskatoon, at left), Gary Kirk (Lethbridge) and Vic Stasiuk (Calgary). Little wonder one league meeting in Saskatoon lasted until six in the morning.

Best Long-Ball Hitter - Lee Murphy (Lethbridge - Baseball), Paul Sereduk (Lethbridge - Golf).

Best Bunter - Dick Hickerson (Saskatoon).

Most Honest Workman -- Gene Graves (Calgary).

Pitcher Most Likely to Get Water - Graves (Pumps oftener and harder than any other in the league)."
---
Pemberton Batting King (From the Calgary Herald - 31 August, 1960)

The batting race in the Western Canada Baseball League was strictly no contest during the last two months of the season.
Playing manager Cliff Pemberton, who led his Lloydminster Meridians to the WCBL pennant, grabbed the league title with a respectable .398 average. His nearest rival, Con Munatones of Saskatoon Commodores, was 55 percentage points back at .343.
Larry Koentopp of Lethbridge finished third at .330, followed by Dick Hickerson of Saskatoon at .319 and Norm Revis of Lloydminster at .315.

Lee Murphy of Lethbridge totaled the most bases, 153, hit the most home runs, 18, batted the most runners across the plate, 52, and tied Pete Estrada of Saskatoon for the most hits with 80. Stan Busch of Lethbridge scored the most runs, 58. Bill Lynn of Saskatoon bashed the most triples, seven, while Tom Bergeron of Lloydminster took the stolen base honors with 15 thefts. Curly Williams of Meridians hit the most doubles, 19.
Sterling Slaughter of Calgary is the best pitcher ERA-wise with a 2.17 earned run average in 87 innings. Roland Jones of Saskatoon worked the most innings, 127, struck out most batters, 119, and tied Ted Richardson of Lloydminster, for most wins, 11, and most complete games, 10. He also tied Gene Graves of Calgary and Paul Timme of Saskatoon for most appearances, 22. Ed Hite and Sam Canner of Lethbridge tied for most games started at 15.
---


Ron McKechney (left) of the Estevan Maple Leafs won the 1960 Southern League individual batting championship with a sizzling .474 average, some .071 percentage points superior to his nearest rival, Murray Jenkins of the Marquis Wheat Kings. Jenkins, however, was voted as the 1960 recipient of the MVP award. Swift Current Indians' catcher Gord Johnson led in the power department, slamming out ten home runs.
Wayne LeBere (right) who toiled for both the Rowletta Lakers and then the Moose Jaw Steelers finished the campaign with a 7 - 2 record to lay claim as the circuit's top chucker.
In regular season action, the Regina Red Sox took the pennant by a one game margin over the Moose Jaw Steelers. In the ensuing semi-final playoff series, the defending champion Swift Current Indians eliminated Moose Jaw while the Regina Red Sox ousted Estevan. The Red Sox then captured the playoff trophy by downing the Tribe three games to one.
---
The Northern Saskatchewan League kicked off what turned out to be a 15-year run with four teams in the inaugural season. Kindersley Klippers, gaining momentum as the summer wore on, won 14 of its last 15 games to down North Battleford and Neilburg in the playoffs to capture the league title. Klippers finished the year with 36 wins in 51 games, winning the Saskatoon Exhibition Tournament and placing second in the Optimist tourney. Larry Flicek of the Neilburg Monarchs was the league batting champion with a .377 average.
---
Ron Stead led the Brantford Red Sox to their second straight Intercounty League title capturing the loop's Most Valuable Player Award in pitching the Sox to the championship.
The left-hander registered 12 wins and set a league record of 149 innings pitched. Stead, who pitched for two seasons in professional ball after signing with his hometown Toronto Maple Leafs of the International League, joined Brantford last season.
Before signing with Toronto, Stead had been the club's batboy and used to pitching batting practice for the Leafs.
---


Satchel Paige (left) and Charles Drummond (right), both of whom spent time barnstorming in Canada, suited up in Wichita for the National Baseball Congress tournament.
Paige, who was the star of the 1935 tournament with four wins in five games and 60 strikeouts, added another win in four appearances for Weller Construction, the Kansas champions. Drummond also pitched in Canada for Thetford Mines of the Provincial League in Quebec (1955) and the Pacific Coast League with Vancouver (1956 and 1957).