The Canadian-American Baseball League

OK, it wasn't the New Yorker. But, it was my own column. And, lots of people read the weekly Lloydminster Times. At least, my parents did!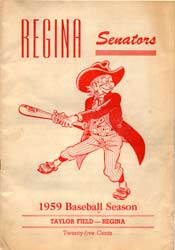 In 1959 it was the Canadian - American Baseball League. The loop was down to five teams with the withdrawal of the Moose Jaw Mallards.
It turned out to be the year of the Eskimo. Edmonton (with at least ten players from the University of Southern California in the lineup) captured both the regular season crown and the playoffs.
The Combines, in first place with just a week to go, dropped seven of their last eight games to fall four games behind the Eskimos.
There were some outstanding individual achievements. Edmonton's Norm Forsythe won fourteen games, finished second in ERA and had a string of 23 consecutive scoreless innings. Williston's Bill Lynn won the batting crown with a .376 mark and struck out just eight times in 263 at bats.
Curly Williams of Lloydminster-North Battleford led the league in homers, with 11, and in runs batted in, 59.
Saskatoon had a rarity -- a "homer" cycle. In a 15-4 win, the Commodores had a grand slam homer, two three-run blasts, a two-run homer and a solo shot.
Edmonton and Regina combined for eight triples in a single game.
Lloydminster-North Battleford and Regina fought to an 11 1/2 inning scoreless tie.
In a single game, Williston pitchers allowed sixteen hits, twenty-two bases on balls, and hit four batters.
Saskatoon stunned the Combines coming back from a 5-0 deficit to score fourteen runs in one inning. The Gems got two grand slam homers as part of that single inning offensive.
Edmonton won on the field but lost three games in the board room as a result of a dispute over a player.
Lew Hobson of Saskatoon fanned sixteen batters for a season high.
Edmonton's John Ducey imposed a midnight curfew on his players after the team gave up 22 hits and made seven errors in a 16-3 defeat.
The Combines' Eddie Tanner had one of those games a hitter dreams about -- five for five, including a homer and a triple.
Jim Sims of Edmonton and Mark Clark of Williston tossed one-hitters. Regina's Bruce Gardner had a seven-inning one hitter in the playoffs. Sims also pitched a 16-hit complete game and Clark tossed a five-hitter but lost 7-1 as he allowed eleven walks, a balk, hit a batter and threw four wild pitches.

The Lethbridge White Sox won the Southern Alberta Baseball title.
Steve Schott, (left) once a co-owner of the Oakland A's was among the White Sox players as was future major leaguer Ray Washburn.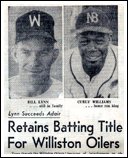 Bill Lynn of Williston and Curly Williams of Lloydminster- North Battleford were the 1959 batting champs according to official records compiled and released by the Howe News Bureau.
Lynn led the loop with a .376 average, to give Williston its second straight batting crown. Jerry Adair of the Oilers won in 1958. Williams took the home run title, with 11, and led in runs batted in, 59. Tom Satriano of Edmonton finished second with a mark of .350. Saskatoon's Pete Estrada placed third with .333, followed by Zoonie McLean of Williston with .323 and Cliff Pemberton of Regina with .309. (Picture from Edmonton Journal, September 15, 1959)
Lynn was high in hits with 99 and total bases with 139. Stan Charnofsky of Edmonton led in doubles with 17, Don Buford of Lloydminster-North Battleford in triples with 11, while Satriano scored the most runs, 61.
Ron Boone of Saskatoon had the most sacrifice bunts, six. Art Ersepke of Edmonton and Larry Exel of Williston tied for honors in sacrifice flies with six apiece. The latter also struck out the most times, 68, while Tom Bergeron of Lloydminister-North Battleford received the most bases on balls, 59. Buford stole the most bases, 19. Bill Hockenbury of Williston was hit by pitched ball the most times, 11. Eloyd Robinson of Saskatoon was credited with the most official times at bat, 284.
Pennant-winning Edmonton won the club batting championship with a .276 average. Regina was tops in club fielding with a .955 percentage. In club pitching Edmonton ranked first with a .365 earned run average.
Gene Graves of Saskatoon headed the pitchers with a 2.86 earned run average. Norm Forsythe of Edmonton, who was second ERA-wise, compiled the best won-lost record with 14 wins and three losses for an .824 percentage. Forsythe also won the most games 14 and tops in complete games 13. Graves struck out the most batters,145. Roland Jones of Edmonton issued the most bases on balls, 86.
| | | | |
| --- | --- | --- | --- |
| | Left | Right | Centre |
| Lloydminster | 360' | 334' | 385' |
---
Can-Am All-Stars

(As the representative for the Lloydminster Times and radio station CKSA, your 17-year-old correspondent had an opportunity to cast an All-Star ballot. There were a few differences from the ultimate selections -- notably Don Buford over Tom Satriano for an outfield spot. Click on the image for a larger version.)
c Bill Heath, Williston; Jim Garrett, Saskatoon; 1b Wayne Tucker, Regina; 2b Stan Charnofsky, Edmonton; 3b Curly Williams, Lloyd-NB; ss Zoonie McLean, Williston; u Cliff Pemberton, Regina; of Pete Estrada, Saskatoon; Bill Lynn, Williston; Tom Satriano, Edmonton; p Norm Forsythe, Edmonton; Gene Graves, Saskatoon; Ted Richardson, Lloyd-NB; Alton Arnold, Lloyd-NB; Bruce Gardner, Regina.
Placing second in the balloting were Miles McWilliams of Williston at first base, Ron Stillwell of Regina at second, John Werhas of Edmonton at third, and Dan Adams of Saskatoon at shortstop. The team was chosen by league managers and sports writers and sportscasters.
---
The 1959 Southern League expanded to include nine teams, one of the new entries being the Swift Current Indians who finished in a respectable second place tie with the Moose Jaw Lakers, three and a half games being the pennant winning Estevan Maple Leafs.
Led by veteran Jackie McLeod, (right) the Tribe had momentum entering the playoffs and edged the Moose Jaw Lakers in a come-from-behind final game on the strength of Gord Johnson's two-run homer.


In the playoff finals, the Weyburn Beavers were no match for the crew from Speedy Creek who dumped the Soo-Liners in three straight games. Individually, Lakers' backstop George Hunchuk (left) won the batting title with a .383 average, edging Weyburn's Ed Wyant by a mere .002 percentage points. Hunchuk's teammate, Wally Blaisdell, led the circuit in three offfensive categories: runs scores, base hits and home runs. Merv Sanderson (right) of the top finishing Estevan club had a highly impressive 11 - 0 record on the hill to walk away with the top pitcher award. Swift Current's Jackie McLeod also went undefeated on the mound, finishing the regular campaign with a 6 - 0 mark. McLeod also took home the hardware as the league's MVP.
---

Bob Bourbeau of Lethbridge staged dramatics at the beginning and end of the Southern Alberta season.
The White Sox shortstop belted a grand slam homer in the 1st inning of the Sox opening game then, at the end of the campaign, went on a tear as the club won the playoffs. In the three games for which box scores are available, Bourbeau went 10 for 13 with two homers, a triple, three doubles and eight runs batted in as Lethbridge downed Calgary in the final. He capped off a terrific season hitting for the cycle, with a homer, triple, double and two singles, in the last game of the final series.
Lethbridge won 48 of 62 games, including tournament and exhibition play. While the club had four players finish over .300 (Brack Bailey topped the group at .341) the Sox starting staff was something to behold. Steve Schott was 10-1 overall, Dick Creighton 10-3, Ray Washburn 9-2 and Mountie Bedford 8-3
Washburn added to his laurels with a no-hitter, the news of which got underplayed as a "riot" erupted over allegations of racial taunts. The episode drew major coverage in the Lethbridge and Medicine Hat papers for a few days until the White Sox threatened to take it to court
"Nobody really thought it was a no-hitter" said Washburn, "I walked so many, eight I think, and there were runners on the bases all night. I walked in two."
Lethbridge won fifteen consecutive games as they ran away with the pennant finishing thirteen games up on second place Calgary. Counting exhibitions and tournament games, at one stretch the White Sox won 31 of 34 games.
The Dodgers were never happier to feel the rain as in an August tilt against Vauxhall at Buffalo Stadium. The Jets had run up a 25-5 count when the contest was called after just five innings.

Tom Wilcox of Vauxhall, who failed to catch on with two other clubs, won the batting crown with a .362 mark just ahead of teammate Tom Gonzalez, who finished at .353. Brack Bailey (right) of Lethbridge, who was the runner-up in 1958, was third at .341.
Bob Mosteller of Vauxhall won the home run derby, with 13 while John Vaselenak of Lethbridge batted in the most runs, 56. Jerry McClure of Calgary won the most games, eight, while Steve Schott of Lethbridge finished at 7-1 for the best pitching percentage. Ray Washburn of the Sox won seven of nine decisions.
---
Southern Alberta All-Stars
c Larry Koentopp, Lethbridge; p Dick Creighton, Lethbridge, Ray Washburn, Lethbridge; 1b Marty Hurd, Calgary; 2b Tom Gonzales, Vauxhall; 3b Glen Rediger, Medicine Hat; ss Bob Bourbeau, Lethbridge; lf Brack Bailey, Lethbridge; cf John Vaselenak, Lethbridge; rf John Harmon, Vauxhall.
Managers: George Wesley, Lethbridge; David Abel, Calgary; Garland Lalibert, Vauxhall; Tom Schecter, Medicine Hat.
Larry Koentopp of the White Sox was named the league's Most Valuable Player. In a poll by sportswriters, Koentopp finished one vote ahead of teammate John Vaselenak. Vauxhall's Tom Gonzalez was third. Other players to receive votes were Bob Bolingbroke and Glen Rediger of Medicine Hat, Frank Amaya of Calgary, John Harmon, Jack Cravens and Tom Wilcox, all of Vauxhall.
---
Waking up with Walkingshaw At the Lethbridge reunion, Stan Busch related his introduction to prairie ball :
"I got a call from Lester (Jim) and a couple of hours later I was on a bus, 48 hours on a bus, all the way to Calgary ... I was picked up there and, two hours later, we were in Lacombe for a tournament. It was past midnight and they take me into my hotel and tell me I'm in a room with Darwin Walkingshaw, who I've never met before. What they didn't tell me, it was the same bed with Walkingshaw! Well, we got up at six or seven, as we had a triple-header that day, and shook hands for the first time."
Must have been something about the pairing -- in the final, Lethbridge took the title with a 5-0 win as Walkingshaw hit a solo homer and Busch had a three-run blast.
---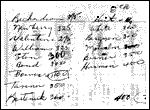 The Lloydminster payroll is worked out on the back of a schedule. It's not known, but assumed, that the handwriting is that of Slim Thorpe the team's president. (Click image for a larger version.)
These were pretty good salaries back in the '50s.
The top salary is $400/month. The monthly payroll for the whole team (14 players) is about 45-hundred dollars. For a look at the team's Financial Statement, click here.
At the club's annual meeting (in February, 1960) Bill Ritchie's financial statement showed the Meridians with a surplus of about $1,000. The team had revenues of $38, 711.27. Team salaries came to $16, 469.39.
There was talk at the meeting of forming an all-Saskatchewan league for 1960.
---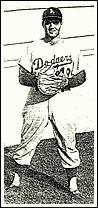 Conrad "Connie" Munatones (Moose Jaw 1956, Edmonton 1957, Saskatoon 1960) a slugging third baseman and outfielder during his days in Canada, was a catcher in pro ball. He had the prized opportunity to catch both Sandy Koufax and Don Drysdale, both Hall of Famers, during a spring stint in Vero Beach in 1959.
One of his Canadian highlights was as a member of the Edmonton Eskimos in 1957 playing for Canada in the Global World Series in Detroit. The club came within a whisker of taking the title (losing to Japan in the 11th inning of the final).

I suppose, if you're the head honcho, you won't find much difficulty in getting a couple of batters out!
In a UPI photo (carried in the Calgary Herald, July 28, 1959) Fidel Castro is seen taking some warm up pitches before an exhibition game in Havana.
Castro was reported to have set down the side in order in his one inning appearance. The match was a benefit for Cuba's agrarian reform program.
---
Former ManDak League hurler Al Spearman walked away from baseball shortly after ending an amazing streak of pitching in the pro ranks.
In a May, 1959 game with Triple-A Houston, the side-arming righthander was taken out for a pinch-hitter in the 8th inning of a 2-2 game. It ended Spearman's streak of 33 consecutive complete games. He had tossed a pair of complete games with Stockton of the California League at the end of the 1957 season, then finished all of his 28 starts in 1958 before beginning with three complete game efforts in 1959.
Spearman, who pitched with Carman and Winnipeg in the ManDak League and the Hankyu Braves in Japan, joined Stockton in 1956 and had an All-Star season in compiling an 18-3 record which included 16 consecutive wins and complete games in 18 of 19 starts. He faltered early in 1957 in a promotion to the Western League and was back in Stockton by mid-summer to finish up 14-4, 2.73, finishing 17 of 19 starts.
That set the stage for an incredible 1958 as Spearman took the mound in 28 games, completing all of them, en route to a 20-9, 2.60 campaign. With his three complete game performances to begin 1959, Spearman had finished an amazing 48 of his last 50 starts. With the death of his father Spearman, then 32 (although the papers claimed he was 27) quit in mid-season to return to Chicago.
---

Former Regina hurler Bob Theiss had a remarkable professional debut.
On August 1st, 1955, in the Class C Provincial League, the 19-year-old tossed a no-hitter for the Quebec Braves. He missed a perfect game because of a walk to the first batter he faced in the seven inning contest, the first game of a double-header against the Trois-Rivieres Phillies. After the base on balls, he retired 21 in a row.
---
And, in the Vancouver Industrial League, the year provided one of the messiest of no-hitters. The Westerns beat Nisei 7-3 as John Mahon and Ken Nobel combined to hold the losers without a hit. But, the pair allowed 18 base runners as the pair combined for 16 bases on balls and the Westerns' defense committed two errors in the seven inning contest. Mahon, a 16-year-old southpaw, issued 11 free passes and fanned five in three and one-third innings. Noble walked five and whiffed six in finishing the game.