Hoods & Quakers Share the Title !
Moose Jaw Robin Hoods and Saskatoon Quakers were declared co-champions after a league ruling to replay the 6th game of the playoffs. Moose Jaw, which had won the game to take the series four games to two, had already packed up for the season so both teams were awarded a share of the title.
With a .362 mark, Roy Mills of the Quakers was the batting champion. Walter Frink of Calgary topped the hurlers with 21 wins.
In an awesome display of pitching, a pair of Moose Jaw Robin Hoods fired no-hitters within the space of four days. The youngsters, Steele just beginning his pro career, Northrup with a couple of seasons under his belt, had failed to make the cut with their hometown teams earlier in the season.
Russell Northrup (below left) , from Des Moines, Iowa, didn't make the cut with De Moines or Vancouver. Bob Steele (right), a Canadian from Victoria, B.C., couldn't catch on with the Victoria team.
Friday, May 17th, Northrup no-hit Medicine Hat as the Robin Hoods won 2-0. He fanned eight and walked three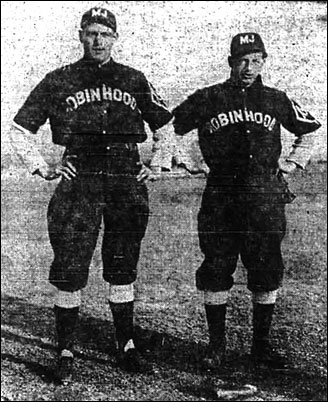 Monday, Steele, a left-hander, notched his no-hitter against Calgary as Moose Jaw won 2-0. He compiled seven strikeouts while issuing a pair of bases on balls. Steele, who would later advance to the majors with St. Louis, was coming off a poor performance on Saturday when he lasted just an inning and 1/3 giving up three hits and four walks before being sent to the showers.
Later in the season, Northrup would fire 45 2/3s consecutive scoreless innings, beginning on July 13th when he threw shutout ball after giving up a run in the first inning. July 16, only a misunderstanding in the outfield robbed Northrup of another no-hitter. Henry Rossbach and Bill Fortier let an easy fly ball fall between them. Another shutout followed on July 19th and then an eight inning relief stint (July 21) in which he allowed just two hits, one on a trick bunt. July 22nd, he fired 11 1/3 scoreless frames before an error in the 12th allowed a run.
Steele was one of six players from the 1913 season to advance to the major leagues. The southpaw made his debut in 1916 with the Cardinals.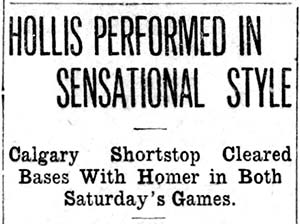 Calgary shortstop Brad "Babe" Hollis made quite an impact in a June double-header as he opened and closed the game with grand slam homers. In the first game he cracked a bases-loaded shot in the first inning and theh, in the second game, slammed a grand slam in the ninth. The Bronchos split the twin-bill with Moose Jaw.
The 1913 roster of the last-place Regina Red Sox included Ken Williams (left). He moved up to the Cincinnati Reds in 1915 and stuck in the majors until 1929, mostly with the St. Louis Browns. Compiling a lifetime major league batting average of .319, Williams didn't become a regular until 1920. In spite of his late blossoming, he led the American League in slugging, total bases, RBI and extra-base hits at various times throughout his career. The 1922 season was undoubtedly his finest as his 39 round-trippers and 155 RBI with the Browns topped the junior circuit. That same campaign, he became the first major league player to collect 30 homers and 30 stolen bases in the same season, a feat not equalled for 34 years. An aggressive player with few friends outside his own team, Williams earned the distinction of being Ty Cobb's most hated opponent.
1913 batting stats for Ken Williams with the Regina Red Sox of the class D Western Canada League
G - 101 AB - 359 H - 105 2B - 9 3B - 13 HR - 5 BA - .292 TB - 155 SLG - .432

Regina also sent outfielder Jack Smith (left) to the majors and two of the 1913 catchers also advanced - Jack Roche, in his second season with Calgary, made it up with St. Louis and 20-year-old catcher Al "Roxy" Walters (right) was with the Yankees in 1915 for the start of an 11-year major league career. 17-year-old pitcher Peter Schneider (below) of Medicine Hat was with Cincinnati the following season.
In addition, two players had seen time in the big leagues in previous seasons - Dave Skeels who played with both Edmonton and Calgary, and second baseman Harry Redmond of Edmonton had been in the majors with the Browns.

Peter Joseph Schneider was, at age 18, the youngest player in the major leagues in 1914 (he had begun a pro career at age 16 with Seattle). The right-hander won a spot in the Cincinnati rotation after a 17-7 campaign with Medicine Hat. He was a solid contributor for the Reds for five seasons before a half-dozen games with the Yankees in his final major league season, 1919. In 1917, he was one of the top pitchers in baseball with a record of 20-19 with an ERA of 2.10.
In an exhibition match in February, 1917, Schneider bested Negro League marvel John Donaldson, tossing a five-hit shutout and belting a homer as his San Pedro Merchants won, 7-0.
March 20, 1918, Schneider fired a one-hitter in Spring Training then hurled a one-hitter on Opening Day as Cincinnati beat Pittsburgh 2-0. The lone hit was a double by Casey Stengel.

After an arm injury, Schneider, whose bat had gained considerable notice, became an outfielder and was one of the leading sluggers in the Pacific Coast League. In his best season, 1923, Schneider hit .360 and belted 43 doubles, 23 triples and 19 homers.
In a game for the ages, May 11, 1923, he set all kinds of records as the former pitcher clubbed five home runs, two of them grand slams, and a double, good for 14 runs batted in. His double was a long blow which fell just inches short of another homer. He scored six times.
There was trouble in his private life. In 1924, his wife sued for divorce and Schneider was forced to pay $100 an month in alimony. The worst was yet to come. In February, 1935, Schneider was charged with manslaughter following a bar fight in which a man died. Convicted, he was sentenced to a one-to-ten year term at San Quentin. In the fall of 1936, it was reported that Schneider was the manager of the prison baseball team. He died in 1957 at age 61.
---
At the end of the 1914 season, Alfred/Albert Baker, a former Regina player failed in an attempt to get a full year's salary for not playing last season. It appears Baker was making the claim base on not having been notified of his release. The Sporting Life carried the story :
He evidently considered his services mighty valuable, for he believed he could lay low until the season ended, and then stick the local club for a year's pay. He apparently wrote a long, doleful letter to Secretary J.H. Farrell, stating how he had been misused by the Regina Club, and asked that he be avenged. Secretary Farrell, after duly considering both sides of the case adjudged that Baker was entitled to 16 days' salary and no more. This will amount to $66.67 as the findings are based on a salary of $125 per month.
Farrell ruled that a player, who is not notified of his release and does not report within five days of salary becoming due becomes a free agent. He calculated Baker was owing salary from opening day to five days after the first pay day, May 15th.
---
Baseball in December? In Canada?
Yes. In 1913 in Wetaskiwin, Alberta. A large crowd was reported to be in attendance as the Bankers and Hotelmen fought to a 3-3 draw in a four-inning contest. Patterson for the Bankers and Hibbs for the Hotelmen handled the pitching duties.
Patterson and MacEachern
Hibbs and Lundin
---
What are the odds of a pitcher breaking his throwing arm during the course of a game? Miniscule probably best describes the probability. But twice in one season. Both on Alberta diamonds? Believe it or not, this two for the price of one scenario actually took place in 1913.
(July 23) Charles Shaddick, pitcher for the Athletics in the Calgary Senior Amateur League, sustained a fracture of the arm on the second pitch he made in a relief role against the Y.M.C.A. nine. As Shaddick delivered the ball, an eerie snapping sound reverberated throughout the diamond, the ball itself flying into the crowd after striking the ground with great force as the hurler crumpled to the ground in pain.
Boyce, Shaddick, xxx and xxx
xxx and xxx
(September 1) A Labor Day finale to the baseball season saw hosting High River defeat Blackie 13 to 9. Starting pitcher Worthington of the Blackie nine was in the act of delivering the ball in the second inning when a distinct snap was heard and his arm dropped to his side. Suffering a broken arm, he had to be taken to the hospital.
Worthington, Rogers (2) and Lipsett
Bourque (W), Stitt (7) and Brown
---
Oscar "Lefty" Vold didn't make much of an impression in the Western Canada League in 1913 - dropped by the Regina Red Sox early in the season - but he quickly became a feared competitor in the city league in Prince Albert, Saskatchewan as the newspaper headline blared, VOLD NOW TERROR OF PRINCE ALBERT LEAGUE.
Vold was pitching so well the other teams in the circuit talked of a strike and threatened to break up the league if the left-hander was allowed to continue. W.M. Doidge, the manager of the Ruskin Place nine offered to limit Vold's appearances to three innings a game but even this concession was not enough to sway the majority of the other managers. In late June, the Civil Service team was scheduled for a double-header against Ruskins. Vold fanned nine in five innings in the opener and also excelled at the plate with three singles and a triple in four trips. The Servants refused to play the second game and the league executive acted to ban Vold to save the local league.
Vold would go on to play for another dozen years in Saskatchewan, with teams in Moose Jaw, Saskatoon, Swift Current, Morse and Hodgeville. In 1917 it was reported that Vold hadn't lost a game in five years.