The Weyburn Beavers captured the Southern League championship with a playoff victory over the Regina Army.

Some family acts were a big part of the success with Ralph and Cliff Hogg, Blaine, Doug and Gayle Shupe (left) and Les and Archie Wilder. Keith Covert was another stalwart, both on the hill and at the plate.
Beavers won the final series three games to none with one game tied. Gayle Shupe the former Winnipeg Maroon pro won two games in the final series.
Just a month prior to the beginning of tryout camps and practice sessions for Southern League returnees and newcomer hopefuls, word was received of a second known World War II fatality that had a

connection to the circuit. Army Corporal Vincent "Vince" F. Germann, a member of the First Canadian Parachute Battalion, lost his life in battle on March 24, 1945. Vince played third base for the Notre Dame Hounds when they first joined the Southern League in 1937 and was their playing manager during the 1939 and 1940 seasons. His younger brother Frank, also a paratrooper, aptly carried on the family legacy for many campaigns thereafter as the heart and soul of the Hounds.
Saskatoon Cubs claimed the championship of the revived Saskatoon City League which operated with four teams.
The Bohemians were again the class of the Prince Albert City League winning the pennant and taking the first game of the final series before inclement weather forced the cancellation of the series.


In Alberta, the Edmonton City League featured many Americans stationed in the area during the war years. The Yanks were the class of the circuit during the regular season with a 16-7 record ahead of the U.S. Signallers. The Edmonton teams were the Dodgers and Arrows (Hal Stafford, left, was one of the Arrow's hurlers). Former major leaguer Alex Kampouris (right) was among the top hitters with a .452 average but did not play enough to qualify for the batting title. Dale Crumly, of the Yanks, won that with a .425 mark.
Edmonton also was home to a top notch junior league which included the Arrow Juniors.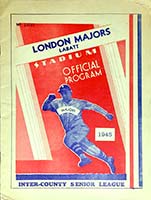 The powerful London Majors, with stars such as Tommy White and Russ Evon, captured the Ontario championship.
Three years later, the Majors defeated Fort Wayne, Indiana, to win the North American Sandlot title.