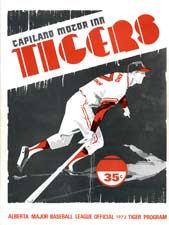 Lethbridge Lakers became the talk of Alberta baseball as the city went with an All-Canadian lineup after four disgruntled imports left

the team in the first week of the season.
The Lakers had brought in four players from Gonzaga University in Spokane, Washington, but they quickly announced their unhappiness and headed for home. Manager Ron Taylor (above), the former Blue Jay, decided to go it with homebrews alone and they responded by winning the Southern Division pennant and the Alberta Senior championship. They represented the province in the Canadian senior championship in New Brunswick.
Calgary Giants upset both Lethbridge and Red Deer to capture the title in the Alberta Major League and went on to represent the county at the National Baseball Congress championship at Wichita, Kansas.
Import Irv Homs was named the league`s MVP and was the only unanimous choice for the all-star team.

Wayne Commodore (right) of Lethbridge put on quite a show. The 26-year-old from Valmarie, Saskatchewan, near the U.S. border, had two spectacular days. June 24th in a double-header against Red Deer, Commodore clouted three home runs, a triple and single while drawing three walks and adding a sacrifice fly. He drove in a total of 12 runs. And July 26th, Commodore crushed four consecutive home runs and a double as Lethbridge whipped Calgary Jimmies 15-6 in semi-final action at the Lacombe Tournament.
Not bad for an a kid from a tiny community who never played a game of minor ball and was introduced to the game by the Swift Current Indians in 1966.
The Alaska Goldpanners, fresh from victory at the National Baseball Congress tournament at Wichita, Kansas, captured the inaugural Kamloops International Tournament Monday with a 2-1 win over the host Kamloops Okonots in the tourney final.
---

In the fall of 1973, the Houston Astros announced the signing of 17-year-old Terry Puhl of Melville, Saskatchewan.
Puhl had been scouted extensively from the time he had led the Bantam (14 and 15 year old) Melville Lions to the Western Canada crown (there was no national playoff) in 1971.
Two years later, as a 17 year old hurler, he was again dominant as the Melville Elks triumphed to win the Canadian Midget (16 to 18 year old) championship. In both tournaments, Puhl was named the MVP. Puhl was inducted into the Saskatchewan Baseball Hall of Fame in 1993 and the Canadian Baseball Hall of Fame in 1995.
---

1973 marked the birth year of Corey Koskie (Anola, MB) who carved out a nine-year career in the major leagues, mainly with the Minnesota Twins.
In 2001 Koskie, a third baseman, even got some MVP votes as he had one of his best seasons driving in 103 runs with 37 doubles and 26 home runs.
Koskie was inducted into the Canadian Baseball Hall of Fame in 2015.