Bronchos Repeat as Champs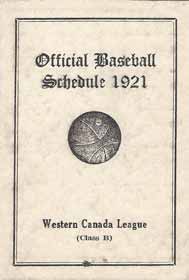 The Calgary Bronchos retained their crown as best in the west.
The Bronchos, with four future major leaguers (Karl Schnell, Bernie DeViveiros, Stubby Mack, and John Gillespie) in the lineup, downed Winnipeg in a best-of-nine playoff to win the Western Canada League title for the second straight season.
Left - front of the 1921 Official Baseball Schedule for the Western Canada League, Class B. No reason found for the use of the basketball to dress up the page! Image Courtesy of David Eskenazi


The league featured more than a dozen young players who succeeding in advancing all the way to the major leagues. A pair of Edmonton Eskimos -- Floyd "Lefty" Herman (to be known through most of his major league career as "Babe" Herman) and Henry "Heinie" Manush (right) were most prominent.
The Moose Jaw and Regina entries were the weak sisters of the 6-team circuit and both clubs disbanded on August 10 after completing 86 and 80 games respectively, citing lack of fan support as the rationale. The other 4 teams played in excess of 100 games each in what can best be described as a grueling schedule considering the short playing-time that summer life on the prairies afforded.
It would mark the final season of the early Western Canada League. Edmonton and Calgary joined Vancouver and Tacoma in the Western International League in 1922, but it collapsed half-way through its initial campaign. The WCBL wouldn't return until the 1950s.
And the batting champion was ...

Frank Jude (right) of the Saskatoon Quakers was a possible batting champion (at least crowned as such by The Sporting News and The Encyclopedia of Minor League Baseball), with a .335 mark. He was near the end of a 14-year career which included part of one season (1906) in the majors with Cincinnati.
Individual Leaders
Batting Average - Bill Speas (Regina) .350, Frank Jude (Saskatoon) .335, Floyd "Babe" Herman (Edmonton) .330
Runs Scored - Phil Apperson (Edmonton)- 111
Hits - Floyd "Babe" Herman (Edmonton) - 135
Home Runs - Henry "Heinie" Manush (Edmonton)- 9

However, Regina's playing-manager Bill Speas (left) offered a .350 batting mark, but with the collapse of the Regina franchise may not have accumulated enough plate appearances to be considered for the title. Nonetheless, the Winnipeg Evening Tribute and the Manitoba Free Press named Speas as the leading batter.
On the other hand, the Morning Leader out of Regina, Calgary's Morning Albertan and Spalding's Official Baseball Guide pegged Edmonton's Floyd "Lefty" Herman as the batting champion. The Morning Leader noted "several other players are credited with high averages", but concluded "they did not figure in so many games. Herman was in 107 games, at bat 409 times, made 135 hits for 216 total bases and an average of .330. Jude of Saskatoon, who played in seven less games, batted .335." (Regina Morning Leader, December 2, 1921)
A pair of hurlers bound for the major leagues topped the moundsmen in the 1921 Western Canada League. Karl Schnell of Calgary had the best winning percentage with 21 victories in 27 decisions. Tony Kaufmann of Winnipeg had the most wins, 22. Veteran Sammy Beer of Saskatoon was the workhorse, leading in games, 38, starts, 30, and complete games, 30.
The league featured two impressive winning streaks. Cy Williams of Saskatoon won 13 straight, starting with his debut June 4th and running through his August 3rd victory. He completed every one of the 13 starts. Tony Kaufmann of Winnipeg Maroons started his season with ten consecutive wins, 9 of them complete game victories.
---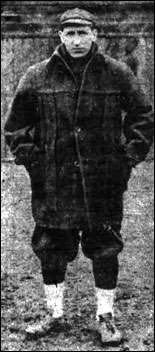 Robert Pearson was the president of the Western Canada League. Joe Devine was the manager of the Calgary Bronchos. George Brautigam (left) headed up the Winnipeg Maroons. John Hummel was the skipper of the Saskatoon Quakers, Gus Gleichman the Edmonton Eskimos, and Bill Speas the Regina Senators. Nick Williams began the season as the manager of the Moose Jaw Millers. He was replaced in June by Elmer Leifer.
---
The Manitoba Free Press (September 16) reported at least 31 players from the 1921 season would not be returning the following year, having been sold, returned to their owning clubs or released.
Edmonton sold first baseman Floyd Herman to Detroit and pitcher George Jones to Oakland. Outfielder Heinie Manush and infielder Julie Mee return to Detroit and pitcher Ken Douglas to Los Angeles.
Calgary sold pitcher George Valentine to Oakland and pitchers John Gillespie and Karl Schnell to Cincinnati. Pitcher George Swartz returns to Seattle. First baseman Clyde Anheier returns to Los Angeles, while Pittsburgh is negotiating for second baseman Bernie DeViveiros and St. Paul wants outfielder Bill Griffith and pitcher Ernie Thollander.
Winnipeg sold pitcher Tony Kaufmann to the Chicago Cubs and is set to sell outfielder Tommy Heilberger to Milwaukee. Oscar Melillo, Dick Attreau, Gregory and Don Slaughter will return to Milwaukee.
Saskatoon sold left-handed pitcher Cy "Lefty" Williams and first baseman Arthur Olson to Minneapolis, while the American club recalled catcher John Grabowski.
Because Regina disbanded, no players were sold, although Carl Spranger went to Omaha, Bill Speas, Albert Zweifel, Art Bourg and Jay Nofziger went to Joplin, Red Andrews returned to Los Angeles, Avery King to Portland and Eamonn Burke signed with Portland.
Before disbanding, Moose Jaw sold Elmer Leifer to the Chicago White Sox while Elva Duff and Mark Koenig went to St. Paul, Nate Shandling to Dallas and Roy Bliss to Omaha.

---
The second baseman for the Knights of Columbus in the Prince Albert City League had his baseball career put to an end, at least in his home terrirtory.
PRINCE ALBERT, Sask, July 15 -- The Prince Albert baseball league executive has taken drastic action against Charles F. Woodcock, a player, who, being dissatisfied with the umpire's decision in a league fixture on Tuesday evening, knocked that official insensible.

Woodcock has been suspended for life as far as Prince Alberta baseball is concerned and the executive is taking action to extend the penalty to other sports and to the whole province. (Saskatoon Phoenix, July 15, 1921)
---

The illusive Lafayette Henion ...
The right-hander began receiving attention as a 16-year-old high school pitcher in San Diego. In February, 1916, Connie Mack, the part owner and manager of the Philadelphia Athletics expressed strong interest in the teenager.
" ... Mack has trained his weather eye on another future great, Lafayette Henion, pitcher for Sherman school nine at San Diego. This lad recently blanked Florence school 14 to 0 without a hit, whiffed 21 and faced but 27 men in nine innings. Victory gave Henion's comrades the city grammar school title." (The Pittsburgh Press, February 28, 1916)
Two years later, in 1918, Los Angeles of the Pacific Coast League came calling.
"Manager Killefer is out seeking material and was on the trail of Laffy Henion, member of the local firemen's team. Henion was a member of the San Diego High School team last season and is a remarkable youngster. He has pitched two no hit games during the last six months and has good control." (Los Angeles Times, March 12, 1918)
The young hurler declined the overtures from Los Angeles to continue to pitch for his semi-pro club in San Diego and later to sign on with Vancouver, BC, Beavers to begin his professional career in the Pacific Coast International League in the spring of 1918. He also pitched with Aberdeen, WA, that summer.
In March of the following year, the Los Angeles Times reported Henion had received three contract proposals - one from Joe Tinker of the Columbus team, one from Portland and another from Oakland. Henion said he turned down the offer from Tinker but would seriously consider the other two. (Los Angeles Times, March 2, 1919)
According to reports in the Oakland Tribune, Henion was expected to line up with the Oakland Oaks for the 1919 season.
"Henion, a pitching guy who was discovered by Roche in the wilds of San Diego, did not get in with Jack. The kid missed the transportation that was sent him, but he located it late last night and said that he would arrive at the ball park some time today." (Oakland Tribune, March 11, 1919)
He never did report, heading instead for Canada for a return visit to Vancouver for the early part of the season and then Moose Jaw, Saskatchewan, of the Western Canada Baseball League. On July 29th, he had one of the best games of his career, pitching nine no-hit innings before dropping a 1-0 decision in 13 innings. He gave up a scratch hit in the 10th, then a pair in the 13th.
He finished 6-10 with the Millers, joined Minot, North Dakota for a brief tour, but the best was yet to come. At the beginning of September, the Brooklyn Robins announced they had purchased Henion from Moose Jaw. He got into one regular season game, pitching three innings in relief. He also pitched in an exhibition game as the Robins topped the McElroy team of Youngstown, Ohio, 3-2.
Over the winter, Brooklyn traded Henion to the Oakland Oaks of the Pacific Coast League. However, Henion declined to report to the California team. He explained he needed another year's experience in a lower classification, so he again suited up in Canada, this time with the Winnipeg Maroons (3-9 in 12 games). He also saw time with Pembina (not known if it was Pembina, Manitoba or Pembina, North Dakota). The Winnipeg Free Press of July 26, 1920, notes Henion's return to the Maroons after having been "farmed out" to Pembina. Other reports suggest Henion had jumped to a team in the Iron Range League in northern Minnesota.

In 1921, he'd begin the season with the Regina Senators of the Western Canada League (fanning seven straight to set the world's record noted in the headline) before again getting itchy feet.
He was sailing along with a 6-2 mark in 1921 before jumping the club.
"The suspension of L. Henion, Regina, pitcher, has been announced by president Robert Pearson of the Western Canada League. He has been blacklisted as a result of his conduct in deserting the club while under contract and unless the national baseball commission will consider the reinstatement of the hurler, he will be out of organized baseball for life." (Edmonton Journal, July 12, 1921)
Henion left the club during the first week of June to join a team in South Dakota. It marked the second consecutive year he had jumped to another team. (In 1920 he left Winnipeg for an independent club. Later, he was reinstated. Another report claimed Henion had jumped to a Detroit team in an outlaw circuit in the east.) He returned to Regina July 7th and said he was ready to pitch. He hurled a complete game victory the following day. However, a protest was upheld, and Henion was suspended.
In 1922, he's pitching for Pembina, North Dakota when the club makes makes an exhibition / tournament excursion to Brandon, Manitoba. In the Victoria Day Tournament at Brandon, pitching against the hometown team, Henion fired a four-hit shutout and fanned 16 as Pembina won 5-0.
A week or so later, it was announced that all the players of the Brandon team had lost their amateur cards because they had played against Pembina, a team with professional players. The Amateur Athletic Union warned that any players competing against Brandon would be suspended.
In 1923, apparently having paid a fine to get reinstatement, Henion - now a utility man and relief pitcher - turns up with the team in Arcata, California and is later signed by the San Francisco Seals of the coast league and plays in a few games near the end of the 1924 season.
Henion was in the lineup in 1925 for the Humboldt, CA, All-Stars a team which included several other former Canadian stars such as Sam Beer, Kibby Spranger and Karl Schnell. Two years later, in August of 1927, Henion is found hurling a two-hitter with 14 strikeouts for Klamath Falls in a 12 to 2 win over Medford, Oregon.

There, the trail ends. At least nine years of baseball, but at least 14 teams. Henion would have been just 28 years old.
---
The irrepressible Charles "Moose" Swaney

Obviously, Mr. Swaney (or was that Sweeney?) was a little less than forthright at times during his lengthy career
When he joined the Calgary Bronchos in 1920 he was portrayed as a youngster just starting his journey in organized baseball. He was introduced as Charles Sweeney and was reported to have played with Seattle in the Pacific Coast League before connecting with the Canadian club
CHAS. SWEENEY, pitcher, age 22 years, weight, 180 pounds, throws from the port side. He has been with the Seattle Coast League Club. This is his first year in organized baseball. He is a native of Pittsburg, Pa. (Calgary Herald, May 1, 1920)
Disclosures later in his career would put his age at 31 when he joined the Calgary nine (in fact, in the opening day write-ups the next season, Swaney's age was given as 27).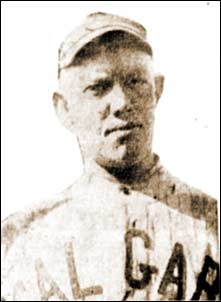 He had a terrific debut season topping the league in wins with 19. When he returned to Calgary for a second season, 1921, he became known as Charles Swaney, then Moose Swaney (he told the story that after having pitched in Moose Jaw he picked up the nickname "Moose Jaw", later shortened to "Moose"). He finished with a 17 and 7 won-lost record and advanced to Hartford of the Eastern League where, in 1923 and 1924 he was a teammate and roomie of Lou Gehrig.
He kicked around in the minor leagues for a dozen years before taking another baseball trail leading to a position as lefty hurler/comic relief with the barnstorming House of David.
In his initial season with House of David in 1931, Swaney tossed a complete game against the New York Yankees and Babe Ruth. He lost 5-0. Ruth "cavorted in right field in a set of false whiskers." (March 27, Associated Press). In Spring Training 1932, Swaney again faced the Yankees, firing a six-hitter but losing 2-0.
The portly portsider had a second career in roundball with the barnstormers as he traveled the continent for another 16 years before hanging 'em up after the 1947 season. He was 58.
Swaney drew much publicity for his talent, size and age. The following article appeared in a variety of newspapers in the summer of '41 :
Charles Swaney admits to 51 years but tells you he is just getting his second wind.

Moose Swaney defies time or any young sprout to do anything about or to his left-handed pitching.

A dead arm forced this remarkable man to give up hurling prior to World War I.

Today, with mere youngsters such as Bob Grove and Ted Lyons nearing the end of their strings, Swaney boasts a three-game winning streak, starting with a nine-hit shutout against Lloyd here in Chester.

Swaney and his mates return here to meet Lloyd again tomorrow. The Moose wants to pitch again.

Roommate of the late Lou Gehrig before the immortal Yankee crashed the American League, Swaney now has a gray beard and a paunch and southpaws for the bewiskered House of David team now traveling throughout the east.

Swaney couldn't win last season. Everyone lamented what appeared to be his finish.

But, looking more than ever like your favorite department store's Santa Claus, the squat, 200-pounder reported this spring, his venerable win creaking, but ready for action.

He demands to work at least once a week and sometimes draws two starting assignments. His record thus far for the campaign is six victories and two defeats and .750 wouldn't be at all bad in any company for a much younger chucker.

To open his latest winning splurge, Swaney handcuffed the Royal Giants, crack New York Negro outfit, 5-1. His effort here against Lloyd was a masterpiece. He allowed exactly one hit an inning--no less, no more. He had batters like Graupner, Wearshing, etc., breaking their backs on his cute stuff.

Swaney's best pitch doesn't come in fast enough to be honestly labeled a slow ball. His curve is becoming less seductive. He doesn't uncork his sinker very often, but near perfect control prevents him from serving many fat ones.

The Moose is made about opponents forcing him to have his beard trimmed. They claimed they couldn't see the ball for the flowing adornment.

Swaney, a native of Braddock, Pa., twirled semi-professional ball as a youth. As related in the foregoing, his arm went bad as this country got into World War I. The Moose changed his uniform to those of khaki and olive drab . He was wounded and gassed, but his arm regained its zip.

So, when the last shot had been fired, back to the ball yards went Moose Swaney. To the Pacific Coast League, the Canadian bushes and then to Hartford of the old Eastern League, where he acquired Gehrig, then a green hand, as a roommate.

He was Columbia Lou's constant companion in 1923-24 while the big boy from Harlem was acquiring the fundamentals which led to so many baseball records.

Thirteen years ago, after stopovers in the International and Piedmont Leagues, Swaney joined the House of David ranks. It was a way of prolonging a career. He has been a regular member of the mound staff ever since - has bagged 150 games against 70 defeats.

Swaney entertains in the Al Schact manner when he isn't pitching. He imitates, with exaggerations, moves of opposing players. The idea of such a fat man scooping up imaginary grounders panics the customers.

But youthful opponents find nothing to laugh about when the old fellow is making suckers out of them.

Comedian Swaney, fat and 51, is a bit too subtle in the pitcher's box. (Chester, Pa., Times, July 10, 1941)
Upon the induction of former Canadian star Heinie Manush into the Hall of Fame in 1964, New York Times columnist Arthur Daley wrote about Manush and Swaney :
Manush hitch-hiked his way across the continent from Tuscumbia in Tennessee to Edmonton on his road to fame and glory. He fanned in his first four at-bats, Lefty Swaney curve-balling him to death. The thread of that tale was picked up yesterday by Joe Cronin, now president of the American League and once Heinie's manager in Washington.

"About a dozen years later," said Joe, "the Senators were training in Biloxi and we played an exhibition game against the House of David. You remember that great semi-pro team of bearded wonders, don't you? Manush is at bat against a bearded left-hander. In comes a curve and Heinie drops his bat at the plate and races to the mound. He shakes hands with the pitcher.

"'If if isn't Lefty Swaney,' he says. 'You used to strike me out in Canada when I didn't have 10 cents in my pocket.' (New York Times, July 23, 1964)
Swaney died in the fall of 1961 at the Oakland, Pa., Veterans Hospital. He was 72.