A new look in Saskatchewan
The new Saskatchewan Major Baseball League was formed from the remnants of the old Southern League and Northern Saskatchewan circuit. Three teams from each area entered the new loop - Eston Ramblers, Saskatoon Royals and Unity Cardinals from the north and Moose Jaw Devons, Regina Red Sox and Swift Current Indians from the south. A version of the league remains active today, the Western Major Baseball League.

Mike Ongarato (left) was outstanding with a one-hit shutout as Eston Ramblers downed Moose Jaw Devons 6-0 to win the Saskatchewan Major Baseball League title in 1975. Ramblers won the best-of-five final, three games to two. Ramblers got the only run they needed on a solo homer by Randy Arthur in the 2nd inning. Gorman Heimueller and Reg Andrews each had three hits for the winners. Ongarato fanned ten and issued three bases on balls.
Moose Jaw Devons upset the pennant-winning Regina Red Sox in the semi-finals taking the set 4 games to 1. Eston Ramblers ousted Unity Cardinals in six games in the other series.
---
The Red Deer Generals were the class of the regular schedule of the Alberta Major Baseball League. The Generals won 19 of their 25 games to finish 5 1/2 games up on second place Edmonton Tigers. Rob Roy of the Calgary Jimmies was the league's top hitter finishing with a .431 average.
---
---
Bruce Bremer of the Binscarth Orioles was named the Most Valuable Player of the Manitoba Senior League. Bremer batted .372, sixth best in the league, while fashioning a 6-1 record on the mound, best on his team. He lead the league in strikeouts with 95. Souris outfielder-pitcher Ray Bruels was the runner-up. He had a 6-3 record on the hill while batting .293. The league's batting champ was Rick McFadyen of Brandon. McFadyen finished with a .418 average. Dan Kaupla of McAuley Blazers won the Hamiota Trophy was the top pitcher with his 9-1 mark.
The pennant-winning McAuley Blazers downed Hamiota in the best-of-seven final series to capture the Manitoba Senior championship. Dan Kaupla, who won nine games during the regular season, won six more during the playoffs, including the deciding game of the final.
---
Saskatchewan's Terry Puhl, in his first full season, was making quite an impact in climbing the ladder toward a regular slot in the majors with Houston.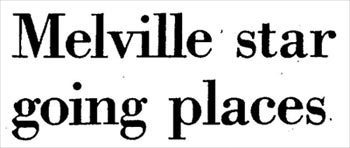 It took Terry Puhl awhile to convince his baseball manager that he could hit all kinds of pitching but skipper Bob Cluck is glad of Puhl's persuasiveness.
Puhl, an 18-year-old native of Melville, was platooned in the early part of the season while playing for Dubuque Packers of the Class A Midwest League, being used only against righthanded pitching.
But Puhl coaxed Cluck into using him against all opposition and he's been on a hitting spree ever since.

Since May 14, the 6-1, 190-pound lefthanded swinger has hit at a .500 clip and has failed to connect only twice in his last 25 games. The tear boosted his average to .383.
"Terry has to be ranked as one of the top major league prospects in the league," said Cluck, a former pitcher in the parent Houston Astros' organization.
"Right now he has the swing and the speed to get infield hits and the extra base," Cluck added. "He is a very intelligent kid and learns quickly.
"I'm sure by the end of the year I'll give him a seven rating as a hitter. Six is an above average major leaguer and seven is a star hitter, about .320 or better."
Puhl has been taking extra practice at drag bunting, studying pitchers' move while on the basepaths and raising his arm to major league level.
"If he makes the same progress from year to year that he has so far," Cluck said, "he should have a major league arm next year or certainly the year after, and would be ready for a shot at the big leagues."
Puhl has been charged with but one error this season and in 142 trips to the plate, has struck out merely 10 times.
The quiet-spoken Puhl isn't counting on a one-step journey to the big time. He admits he will be happy to take a step at a time.
But if his present credentials and his manager's opinion have anything to do with it, the youngster from Melville may soon be moving into the Astrodome in Houston. [The Leader Post, Regina, June 21, 1975]
---
1975 marked a return to professional ball on the prairies. Lethbridge had an entry in the Rookie level Pioneer League. Calgary and Medicine Hat would follow in 1977.
Rich Necker recalls some great talents being honed in Southern Alberta.
Residents of southern Alberta (I was one of them - a season ticket holder at the time in Lethbridge were fortunate enough to witness a host of recently drafted young men who played their first year of professional baseball in the Pioneer League. The following is a list of those who played on Alberta-based teams only (there were others from the Montana and Idaho teams, not included) and whose progression was such to eventually land them in the majors.
1975 Lethbridge Expos
18 year old outfielder Andre Dawson - 21 MLB seasons, mostly with Montreal Expos and Chicago Cubs. 1977 NL rookie-of-year, 8-time NL all-star, 1987 NL MVP, 1987 NL HR leader. Elected to Baseball's Hall of Fame in 2010.
1976 Lethbridge Expos
17 year old right-handed pitcher Bob James - 279 big league mound appearances spread over 8 seasons. Primarily a relief pitcher, he spent the bulk of his career with the Montreal Expos and the Chicago White Sox, the latter team for whom he saved 32 games, second most in the AL in 1985.
19 year old right-handed pitcher David Palmer - compiled a 64 - 59 record, primarily as a starter, over 10 big league seasons, 6 of them with the Montreal Expos.
1977 Calgary Cardinals
20 year old third baseman/outfielder Ty Waller - 63 major league games with 3 different clubs.
1977 Lethbridge Dodgers
19 year old outfielder Ron Kittle - 10 seasons in major leagues, all with AL teams, 1983 AL rookie-of-year with Chicago White Sox.
18 year old outfielder Mitch Webster - 13 MLB campaigns (1,265 games) with 6 different clubs.
1977 Medicine Hat A's
18 year old outfielder Mike Davis - 10 seasons in the majors with Oakland A's (8) and Los Angeles Dodgers (2)
1978 Lethbridge Dodgers
17 year old outfielder Candy Maldonado - 15 MLB seasons with 7 different teams.
18 year old outfielder/first baseman Mike Marshall - 11 seasons in the bigs, the vast majority as a member of the Los Angeles Dodgers.
18 year old second baseman Steve Sax - 14 MLB seasons, mostly with the Los Angeles Dodgers. 1982 NL rookie-of-year, 5 all-star appearances for NL.
18 year old third baseman German Rivera - 314 MLB games over 3 seasons with Los Angeles Dodgers and Houston Astros.
19 year old catcher Dann Bilardello - 317 MLB games over 8 seasons with 4 different NL clubs.
19 year old catcher/outfielder Dave Sax - 37 MLB games, mostly with the Boston Red Sox.
1978 Medicine Hat Blue Jays
18 year old outfielder LLoyd Moseby - 12 major league campaigns, 10 with the Toronto Blue Jays.
18 year old catcher/third baseman Geno Petralli - 809 MLB games over 12 seasons, 784 of these game with the Texas Rangers.
18 year old outfielder/third baseman Paul Hodgson - a late-season call-up (46 games) with the 1980 Toronto Blue Jays.
18 year old catcher Brian Milnar - called up to the Toronto Blue Jays shortly after he was drafted in June 1978. Went 4 for 9 at the plate in 2 games and then was sent to Medicine Hat of the Pioneer League for development. A series of injuries stymied his progress and he never appeared in the majors again.
1979 Lethbridge Dodgers
22 year old first baseman Greg Brock - 10 MLB seasons, 5 each with the Los Angeles Dodgers (NL) and Milwaukee Brewers (AL).
19 year old left-handed pitcher Rich Rodas - 10 games with the Los Angeles Dodgers in the 1983 and 1984 seasons.
18 year old left-handed pitcher Morris Madden - 16 major league games, all but 2 with the 1988 and 1989 Pittsburgh Pirates.
1979 Calgary Expos
18 year old first baseman Andres Galarraga - had a 19 year MLB career including 8 seasons with the Montreal Expos. A 5-time NL all-star.
19 year old right-handed pitcher Randy St. Claire- compiled a 12 - 6 lifetime MLB record over 9 seasons, primarily with the Montreal Expos.
1979 Medicine Hat Blue Jays
20 year old catcher Toby Hernandez - appeared in 3 games with the 1984 Toronto Blue Jays.
17 year old infielder Fred Manrique - played in 498 MLB games over 9 seasons, 320 of these with the Chicago White Sox.
18 year old outfielder Ron Shepherd - 115 games with the Toronto Blue Jays between 1984 and 1986.
18 year old right-handed pitcher Mark Eichhorn - 11 seasons in the majors, 6 of them with the Toronto Blue Jays.
1980 Calgary Expos
18 year old shortstop Angel Salazar - 5 MLB campaigns including 2 full seasons with the Kansas City Royals.
1980 Lethbridge Dodgers
16 year old catcher Gilberto Reyes - 7 partial MLB seasons from 1983 to 1991 with the Los Angeles Dodgers and Montreal Expos.
20 year old first baseman Larry See - 11 major league games split between the 1986 Los Angeles Dodgers and 1988 Texas Rangers.
16 year old right-handed pitcher Rafael Montalvo - appeared in one game with the 1986 Los Angeles Dodgers
22 year old left-handed pitcher Tom Klawitter - appeared in 7 games with the 1985 Minnesota Twins.