The Western Canada Baseball League
The 1957 season featured the debut of a

host of highly-rated college players such as Ron Fairly (right) Tom Haller, Larry Elliott and Larry Miller.
And, there was the return of campus stars as left-hander Dale Zeigler (who finished 11-3 over the regular season and led the league with a 2.40 earned run average and 149 strikeouts in 135 innings. Unfortunately, he also walked 127, hit 11 batters and threw 11 wild pitches.) See more on Zeigler below.
In addition there was veteran minor league star Len Tucker and Regina's Cuban connection led by outfielder Jose Tartabull to be a future major leaguer, and shortstop Bobby Cesar (left).
For the Meridians, it was a forgettable season -- last for the third time in four years. Curly Williams was a stalwart finishing 5th in the batting race with a .343 mark and tied for second in home runs, with 15. The team could run. Roberto Zayas and Tom Roberts tied for the stolen base crown, each with 18.

The Moose Jaw Mallards with batting champion Ernest Rodriguez and a rotation of Ernie Nevers (right), Larry Miller, Ron Wiley, Dave Kostenuk and Charlie Pieper breezed through the regular season and the first round of the playoffs but lost to the Eskimos in the final.


Edmonton came within three outs of winning the Global World Series in Detroit.
A highlight of the tournament was Canada's upset victory over the defending champion United States. Lefty Dale Zeigler (right) pitched a brilliant one-hit shutout. The Eskimos lost two heartbreakers to the Japanese squad, losing 3-2 in 13 innings and, in the final, 4-2 in 11 innings.
* The Global World Series button,
provided by Conrad Munatones.
There was plenty for prairie fans to enjoy -- in a game in North Battleford there were 20 hits, 21 runs, 7 errors, 7 home runs and a triple play!
Two pitchers, Charlie Pieper of Moose Jaw and Gene Graves of Saskatoon took no-hitters into the ninth.
Two managers quit, fed up with interference from above.


Moose Jaw's Larry Miller tied the league strikeout mark fanning eighteen Edmonton batters. (Edmonton Journal, July 9, 1957)
Miller had come to Moose Jaw from an outstanding career at the University of Kansas. The left-hander later advanced to the major leagues with the Los Angeles Dodgers and New York Mets.

Headline, Edmonton Journal, June 23, 1957)
Outfielder Ron Fairly, Edmonton, pounded a homer in his first game in the WCBL and went on to an All-Star season.
He was in the majors a year later and played for 21 seasons in the big leagues. Fairly seen here crossing the plate in an 8-5 loss to Regina. The catcher is Braves' Suge Carter. (Edmonton Journal, July 3, 1957)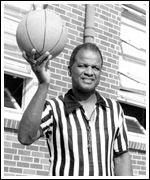 Lloydminster's Modie Risher, (right) a sparkplug for the Meridians, shown years later as an educator/coach in Charleston, South Carolina.
Risher won numerous honours for his work as a high school teacher, coach and mentor. (Photo courtesy of The Post and Courier, Charleston, South Carolina)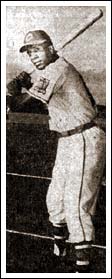 Leonard Tucker was the first black player signed by the St. Louis Cardinals. Out of Fresno State University, Tucker first came to Canada in 1952 to play with the Kamsack Cyclones.
In 1956 at Pampa, Texas, he had "one for the books" -- .404 with 51 home runs, 40 doubles, 13 triples,181 runs batted in, and 47 steals. (Headline & photo, Edmonton Journal, July 20, 1957)
Pitching fans got an eyeful from Moose Jaw's Ernie Nevers who, in a three week period in August and September, won five post-season games including two in the Global World Series.
In the longest game in league history, Lloydminster scored a 4-3 win in a game that finished nearly six weeks after it started! The teams went nine and tied 3-3 in mid-June. In late July, they continued the contest. It went another eleven innings before another run crossed the plate.
The Meridians' Tom Roberts had a game for the scrapbook -- five for five, two homers, knocked in four and scored five. Ike Jackson of Regina went one better -- a six for six day as he hit for the cycle, three singles, a double, a triple and a homer.

There was the Riot at Renfrew with Emile Francis getting the boot and Johnny Ford getting a police escort. A beaning, a broken ankle, 21 runs, 24 hits, 10 errors. 22 strikeouts, and 16 bases on balls. Oh, the Eskimos lost.
Len Tucker had at least one hit in twenty-three straight games.
In one of the more unusual runs of the season, Jim Phillips of Saskatoon scored when he worked Ernie Nevers for a walk, moved to second on a wild pitch, advanced to third on another, and crossed the plate on Nevers' third straight wild one.

Moose Jaw's Ernest Rodriguez (right) hit .402 to win the batting crown in a tight battle with Len Tucker of Saskatoon (.394) and Ron Fairly of Edmonton (.388). Rodriguez, who also drew a league-leading 68 bases on balls, registered an on-base percentage of .530.
The Meridians' Curly Williams finished 5th at .343. Tucker led the loop in homers with 18 and RBI with 68. Williams and Tom Haller each had 15 homers, and Bob Herron of North Battleford had 14. Herron finished second to Tucker in RBI with 64, while Haller had 63. Tom Roberts and Roberto Zayas, both of Lloydminster, tied for the lead in stolen bases with 18. Tucker was second with 17.
Three pitchers had 11 wins -- Dale Zeigler and Blaine Sylvester of Edmonton, and Bill Vanderlaan of Regina. Ernie Nevers of Moose Jaw was 10-2. Zeigler won the ERA title (2.40). Bennie Griggs of North Battleford pitched the most innings, 147. Zeigler topped the loop both in strikeouts (149) and walks (127) in 135 innings of work. The All-Stars:

c - Ed Tanner (Lloydminster), Suge Carter (Regina); p - Jim Hansen (Lloydminster), Jim Stevens (Saskatoon), Bennie Griggs (North Battleford), Larry Miller (Moose Jaw), Ralph Vold (Edmonton); 1b - Tom Haller (Moose Jaw, at left); 2b - Jerry White (Regina); 3b - Cliff Pemberton (Saskatoon); ss - Jose Cesar (Regina); lf - Ron Fairly (Edmonton); cf - Len Tucker (Saskatoon); rf - Ernie Rodriguez (Moose Jaw); u - Bob Herron (North Battleford), Tom McGee (Lloydminster), Ed Sada (Edmonton), Mark Bussan (North Battleford).
At the helm -- Floyd Temple (Moose Jaw), Ed Tanner (Lloydminster), Wayne Tucker (Edmonton), Cliff Pemberton and Allan Cross (Saskatoon), Suge Carter and Pete Beiden (Regina), Emile Francis (North Battleford).

Ernie (Let's Play Two) Banks would have loved the Western Canada League! Here, the Moose Jaw Mallards prepare for a triple-header -- a makeup game for one rained out the night before, the completion of a tied game, and a regularly scheduled contest. (Moose Jaw Times-Herald, June 15, 1957)
Western Canada Baseball League teams and parks (with seating capacity and distances to left, centre and right field fences)
Saskatoon Gems Cairns Field, 4,000 324, 384, 334
North Battleford Beavers Abbott Field, 3,000 280, 350, 280
Regina Braves Taylor Field, 6,500 450, 385, 450
Moose Jaw Mallards Exhibition Grounds, 4,500 320, 440, 320
Edmonton Eskimos Renfrew Park, 6,200 310, 488, 309
Lloydminster Meridians Sportsman's Park, 2,500 360, 385, 334
Running a baseball team on the prairies was no path to financial success. In a letter to the Saskatoon Star Phoenix in February, 1957, Ralpoh Mabee the Saskatoon GM noted the team had lost more than $6,000 in 1956. The Gems went in the hole $1,432.19 in 1955, $6,670.73 in 1954 and $1,384.27 in 1953. The club planned for an operating budget of $40,550 in 1957, half of which would be taken up by players' salaries.
---


Shortstop Ed Bearss of the Notre Dame Hounds smacked out a total of 41 hits in 94 at bats for a lusty .436 mark in taking the 1957 Southern League batting title. Portsider Vic Wall of the Southey Red Sox emerged as the circuit's top hurler with a perfect 6 - 0 record.
The transplanted Reginans, now relocated in Southey, edged past the defending champion Estevan Maple Leafs by a game and a half to take the regular season banner. Meeting again in the final playoff series, the Red Stockings captured the franchise's third Southern League crown in five years by besting the Maple Leafs three games to one.
---
George Wesley's Granum White Sox captured their fourth straight Alberta title downing Grande Centre in the provincial final. Sox had earlier beaten Calgary to take the Foothills-Wheatbelt crown. Granum took one of the major tournaments, winning in Lacombe. Sandpoint, Idaho won top prize at the Lethbridge Rotary tournament and Calgary won its own tourney.
The 1957 season featured both outstanding pitching and lots of hitting.
Calgary's Don Kirk (who had gone 13-1 for Saskatoon of the Western Canada League in 1954) went 7-0. He fanned 18 in a league contest and 19 in a tournament game. Kirk and Granum's Bentley MacEwen combined for 35 strikeouts in a nine inning contest. Tom McIntosh of Calgary tossed a one-hitter with 18 strikeouts in an exhibition match. Picture Butte pounded out 36 hits in a double-header, winning 19-2 and 13-1. Vulcan and Calgary combined for 29 hits, 12 errors and 35 runs. Picture Butte moundsmen had one of those days -- fifteen walks and four hit batsmen. Earl Ingarfield of Lethbridge had the best single day by a hitter with six hits and eleven runs batted in during a twin-bill. In the power department, team honours went to Granum with six homers in a game, including four, three-run blows, in a 22-7 victory.
Foothills-Wheatbelt League:
Granum (George Wesley), Calgary Dodgers (George Brookman), Vulcan Elks (Marty Norman), Picture Butte Indians (Harry Watson), Lethbridge Miners (Clarence Yanosik), Medicine Hat Superiors (Henry Jeske).


Bobby Lee (right) of Picture Butte won the batting title with a .424 mark.
John Vaselenak of Granum had the most homers, 11.
Marty Hurd (left) of Calgary was tops in RBI with 41.
Chuck Dailey of Vulcan led the pitchers with 8 wins while Al Warnick of Lethbridge had the most innings, 113 and led the loop in strikeouts with 92 and walks, 61.
Don Maclean of the Lethbridge Herald picked his "dream team" at the conclusion of the regular season:
"The catching job must go to Hans Pung of the Picture Butte Indians over Augie Scornaienchi of the Vulcan Elks. Both are fine receivers with good arms but Pung rates as being a little more dangerous with the timber.

At first base, the nod goes to Bobby Lee of the Indians who should win the batting crown and fields his position with ease and efficiency. He wins the spot only barely over big Marty Hurd of the Calgary Dodgers, possibly the better fielder of the two, but not as consistent at the plate

The second sacker spot must go to Lethbridge Miner's Earl Ingarfield, on the strength of his big bat. Ingarfield leaves much to be desired in the field and cannot compare with such men as Mako Tashima of Picture Butte or Vic Link of Medicine Hat in that department, but with his power from the right side of the plate, he has to be the choice. The runner-up spot belongs to Hank Bassen of Calgary who combines a good bat with a fine pair of hands in the field.

Third base is possibly the easiest of the lot at which to pick a winner. It's Jim Lester of Granum leading the field by a country mile over the lot. Playing-manager Marty Norman, who can do just about anything including pitch, must be moved over to the hot corner to supply power to the second team.

Owen Goto of the Indians rounds out the infield from his shortstop position, gained over Art Alvarez of the Elks on the strength of his fine ability to make the double play. Dennis Totland youthful shortfielder of the Dodgers must be rated as the player with the most potential at this position however. The Calgary player does everything well and rates high with a bat in his hand.

In the outfield it's Ken Mitchell of Calgary, Bill Fennessey of Granum and Jim Houck of Vulcan. Both Fennessey and Houck rake their spots mostly on the strength of their superior hitting power combined with efficiency in the field. With Mitchell it is his fine fielding that puts him on the first team over John Vaselenak of Granum who easily leads Miner's Joe Tarnava and Clarence Yanosik to the second team.

Granted there are a lot of fine outfielders in the league. One of the better, defensively is Elroy Schaufele of Medicine Hat, another is Terry Hanoian of Picture Butte. But the latter two lack the power with the bat that is necessary to make our dream club.

In the pitching department the nod goes to four players. Don Kirk of Calgary and Bentley MacEwen of Granum have posted the most impressive records and rate high as our choices.

But we must include Willie Walasko of Granum and Al Warnick of Lethbridge as two others who can be counted on when the firing is the toughest.

Those who rate high on the second team's roster include Gary Harrison of Picture Butte and Dave Gambee of Granum. Don Swedelski of Medicine Hat is the only Superior chucker who even manages a look-in as far as the Foothills-Wheatbelt is concerned." (Lethbridge Herald, August 9, 1957)
---
The National Baseball Congress also recognized the Southern Alberta Big Five League and the Southern Irrigation League.
Big Five: Vauxhall Jets 12-4, Lethbridge Niseis 10-6, Enchant 2-4 D's 8-8, Cardston Cardinals 7-9, Pincher Creek Oilers 6-10.
Irrigation: Redcliffe Red Sox 15-5, Bow Island Combines 11-9, Foremost Braves 11-9, Conquerville Cubs 10-10, Medicine Hat Marvels 5-15, Grassy Lake Panthers 4-16.
---
The final season of the ManDak League ended in controversy and with a forfeit in the finals. The regular schedule ended with just four games separating first from last and much debate over how many rainouts would be rescheduled. In the end, Minot was awarded second place and met the Bismarck Barons in the final.
Bismarck had a 2-1 game lead in the final series when Minot was hit with heavy rains. The league tried to switch the remainder of the playoffs to Bismarck but Minot declined to continue and forfeited the title to the Barons. (From Barry Swanton's The ManDak League)
Bismarck's Len Van De Hey hit .404 to win the batting title well ahead of Minot's Zoonie McLean who finished second with a .365 mark. Williston's Bill Raehse was tops in homers, with 19, and led the league in runs batted in, with 88 (a ManDak League record). Jackie Bowes and Jack Ackers, both of Bismarck were the top hurlers, each with 10 wins. Bowes finished with a 3.62 ERA, Ackers at 6.21
---
In the Dewdney League in British Columbia lefty Heimo Pennamen of Maple Ridge set a league record with 20 strikeouts against Langley. The previous week the teenager, still in high school, had tied the league mark fanning 19.