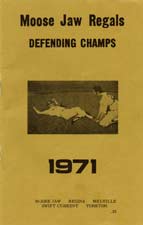 It was quite a summer in the Southern League. The player selected as the SBL's most valuable was dumped by his initial team after going 1-4. Picked up by the Swift Current Indians in late June, Terry Buck (right) went on a tear winning six straight games and finishing second in the batting race with a .405 average. He was selected as the lefty starter on the All-Star team in addition to his MVP award.

The Moose Jaw Regals, riding the strong arm of Fred Cardwell (left), ran away with the league pennant then defeated Swift Current in the playoff final to capture the championship for the second consecutive season. Cardwell, 5-2, 2.09 during the regular season, won five straight games in the playoffs. He pitched 32 consecutive scoreless innings at one point and finished the playoff run allowing just three runs in the five games.
Sunday, June 13, 1971, the Melville Millionaires played a Southern League doubleheader against the Regals at Moose Jaw's Ross Wells Park. It was pretty ordinary in many ways, but years later the significance would be clear for two of the players involved that day.

Catching for the Regals in the second game of the doubleheader was 17-year old Clark Gillies (right), who a year previous had signed a professional baseball contract with the Houston Astros, but had decided to spurn the life of rookie league baseball in the boondocks to return to Saskatchewan and pursue a career in hockey, a wise choice considering his ultimate attainment of four Stanley Cup rings as a member of the New York Islanders plus his election to the

Hockey Hall of Fame in 2002. In the other dugout was Terry Puhl, a soon-to-be 15-year old standout with the midget Melville Elks, who had been called up to perform temporarily for the pitching-strapped Millionaires. Primarily a pitcher in those days, Puhl appeared in a relief role in both games, chalking up seven innings of mound work in total. He, too, was destined to sign a pro contract with the Astros in the fall of 1973, a move which culminated in a fifteen year career in the major leagues and induction into both the Saskatchewan and Canadian Baseball Halls of Fame.
---
March 22, 1971 Les Lisowski, of Winnipeg, fired the fourth no-hitter in the history of the University of Arizona program as the Wildcats shutout Northern Colorado 5-0. Junior Lisowski, who had pitched only six innings in relief before getting Monday's start, struck out 16 and walked three as he faced 30 batters.