14 March, 2002

Many thanks to Bill Guenthner who has been busy in Minot digging up information on the city's ManDak League clubs. Lots of new images posted on the ManDak pages. He's also accumulated some clippings which may be helpful in filling in the holes in the game-by-game reports.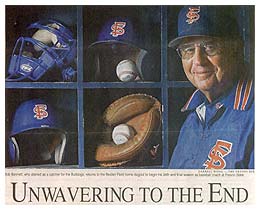 Nice item. Thanks to Jim Lester for sending along the Fresno Bee feature on Bob Bennett, retiring after this season as head coach of the Fresno Bulldogs. With the turmoil he's seen the last few years, it's a pleasure to see him able to walk away on his own terms.
After all these years ... ah, the stories he could tell ! Maybe that's for the banquet circuit. Hard to believe though he will be out of baseball. Bennett first coached the Bulldogs in 1967.
A reminder. April 20th is the date of the unveiling of the Pete Beiden Statue. A ceremony honouring the legendary coach will precede the Fresno-Nevada game.
Pleased our site was the subject of an article in Baselines, the Fresno Dugout Club publication. They did a piece on our coverage of the California Mohawks touring club of 1949 and 1950.

Working as well from a Joe Weremy scrapbook which included some material from Northern Alberta in the late 50s and early 60s. Some pictures (including a great picture of the Peace River ball park) posted (mostly in the 1959 section). Had to chuckle in coming across this report of a tournament game "
" ... Orest Hryniuk of Stamps had two decidedly different mementos of the year's opening match -- a home run for the first, and a beanball, for the second ... beaned not by the pitcher, but a high fly ball which he lost in a haze of sky at the last second -- said fly ball rebounded off Orest's forehead all the way back to first base from a shallow right field." (Peace River Record-Gazette, May 21, 1959)

Nice to hear from Eleanor Williams, County Historian in Clarksville, Tennessee, the birthplace of Steve Wylie (Minot '48, Brandon '49, Swift Current '50, North Battleford '51, Grandview '53). Steve died in 1993 at the age of 82. He'll be among those honoured by the county in a special presentation this summer or fall.
---
20 February, 2002

Ah, the connections, the interconnections. Turns out Joe Weremy (Granum 1956) and I were in the same town in Alberta back in the early 60s. Joe's wife Carol was in Kelowna recently attending a seminar being held by a doctor who used to work with my wife in Toronto. Small world.
Joe's son Kevin got in touch with me and a meeting with Kevin and Joe followed last week. Great visit. Joe also brought along some scrapbooks with material including his season in Granum and his years in the Peace River country in the late 50s and early 60s. One piece is up -- a team picture of the Beverly Athletics of 1953. More to come.

Arch Mullin keeps digging up great stuff from the old Manitoba - Saskatchewan loop. Arch sent along some pictures from Metro Prystai of the Yorkton Cardinals of the early 50s (I think it's the 1954 team) and the material is posted in the '54 section (including the Photo Gallery page of all the Cardinals).

Happy to have made contact with Ray Nemec a noted baseball historian. Ray probably has information on just about anyone who has played pro ball. He was one of the driving forces behind the formation of SABR, The Society for American Baseball Research. Also continues as an official scorekeeper in the minor leagues. Ray has been extremely helpful in my attempt to sort out some of the Western Canada stats.

Pleased to have received a note from Paul Bauer (who with former Negro league star Frazier Robinson wrote Catching Dreams.
Phil Dixon's new book, The Monarchs, 1920-1938, is scheduled to be out in a couple of weeks. Copies available from Mariah Press, 1214 S. Norton Avenue, Sioux Falls, South Dakota, 57105.

A couple of notes concerning the Jacksonville Eagles. If you have any information on the Eagles or on the Negro Southern League I'd appreciate a note.
Renovation is over. Just the mess to clean up now. So hope to catch up on some long overdue postings, emails and phone calls in the next few weeks.
---
29 January, 2002

Ooops. The real 2001 Fred Bartels picture below.

And, happy to report a strong contingent of FSU-Canada alumni at the weekend events. Among those in attendance in addition to coach Bennett (Regina 1952, Kamsack 1953, Saskatoon 1954 & 1959), Jim McMahon (North Battleford 1954, Regina 1955), Stan Busch (Lethbridge 1959-60-61), Greg Seastrom (Vulcan 1955-56), Skip Winn (Vulcan 1953-54), Bob Doig (Saskatoon 1953, Kamsack & Saskatoon 1954), Art Shahzade (Regina 1952-53, Kamsack 1954, Regina 1955-56-57, Saskatoon 1958) , Jerry White (Regina 1956-57), Mark Cameron (Regina 1956), Ted Hiltel (Moose Jaw 1955-56), Jim Garrett (Moose Jaw 1956, Saskatoon 1957 & 1959, Calgary 1960, Lethbridge 1961), Dick Doepker .(Moose Jaw 1956, Saskatoon 1958) and Jack Altman (Vulcan 1954, Vulcan & Granum 1955).
---
28 January, 2002

Quite a time at Fresno State over the weekend as the alumni saluted Bob Bennett who is into his 34th and final season with the Bulldogs.
"Some of the stuff these guys did for me this weekend just blew me away emotionally. The presentation they had today surprised me and it's nice to see so many players come back. This is the biggest turnout we've had and it's just been a special day," said Bennett.
Led by pitchers Bobby Jones (1989-91), Jeff Weaver (1996-98) and Denis Springer (1986-87) the alumni downed FSU 5-2. The Old Timers' game ended in a 4-4 draw. Greg Seastrom reports Jack Altman, whose last season with FSU was 1956, tossed a shutout inning.
" ... The thing is that he throws so slowly that we oldtimers, who want in the worst way to hit a long one, cannot time his pitches. He gets by with a couple of easy grounders and a weak pop fly. He doesn't even have to take a shower."



And, a little catch up -- last fall Fred Bartels (1951-52) was among the inductees into the FSU Hall of Fame.
Bartels played for three seasons in Western Canada, in 1950 and 1951 with the California Mohawks (who played as the Medicine Hat Mohawks in '51) and in 1952 with Regina.
---
24 January, 2002

The Annual Old Timers and Alumni games are set for this Saturday at Fresno State. Look for Jack Altman to take the hill. FSU opens its 2002 season February 1st against Santa Clara.
This marks the 34th and final season at the helm for coach Bob Bennett who is stepping down at the end of the season. He's guided the Bulldogs to 25 consecutive winning seasons.
A big day at FSU on April 20th. Pete Beiden, the legendary Fresno State coach, will be honoured with the unveiling of a statue at Beiden Field. The work, showing Beiden with his fungo bat in hand, is nearly seven feet tall on a three foot base. The ceremony will be held prior to the Bulldogs match against Nevada.

More contacts ... John Robertson (Granum 1958), another of the Pfeiffer stars who suited up in Canada ... Al Fuller, one of the batboys with the Carman club in 1950 ... Bob Olafson of Moose Jaw, who looks back on some great ball in the Southern Saskatchewan loop in the 50s and 60s ... Randy Edwards from Marsden, Saskatchewan who grew up watching those great Neilburg clubs (remember Pete Prediger playing for something like 40 years).
---
03 January, 2002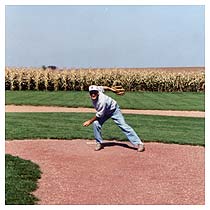 All the best for the New Year! A busy time for us here in BC -- a trip to Toronto just previous to the Christmas holidays then back to continue (well, at least supervise) the home renovation. Hopes that your holidays went well and 2002 will be one of good health and lots of happiness.

I love this picture (left) ! Jack Altman was kind enough to send it along. September, 2001 Dyersville, Iowa Jack on the hill at the Field of Dreams.
Unexpected contact from Gary Raehse whose uncle Bill Raehse was a major force in the ManDak League for three seasons, 1955-1957. With 88 RBI in 1957, Bill set an RBI record for the loop. I am hoping Bill might have some clippings of that era.
Thanks as well to Mark Flynn for more information on Manitoba baseball, including details on the 2002 Hall of Fame induction and to Dale Zeigler for more clippings on the Edmonton Eskimos of 1956-1957. Much appreciated.

Finally getting around to putting together a little piece on the finances of the 1956 Saskatoon Gems. Jeff O'Brien, City of Saskatoon Archivist, has provided some fascinating material on the Gems' application for financial relief from the city. Hope to have the item up in the next few days.

Some appeals ...
François Dupuis is looking for information on John Wingo, a pitcher with Carman in the ManDak League in 1950. John, who passed away in 2000, went on to play pro ball in the Yankee system.
Doug Bigelow is searching for info on Al Bigelow, a pitcher with Carrot River, Kamsack and Calgary.
Neil Lanctot is tracking info on blacks in baseball (especially Philadelphia) 1933 to 1952. We've been trying to confirm and obtain further details on Barney Brown, a long time star of the Negro Leagues, who played in Lloydminster, Brandon and Minot.
Murray Luft is after any information on a Calgary pitcher (1930s & 40s) by the name of Dodger Lewis. Although he is thought to have played in the majors, I cannot find any listing for him. "Dodger ran a restaurant/lunch counter in Calgary (beside the Beacon Hotel) for years and often locked up the restaurant to give us kids pitching lessons in the alley. Rumour has it he moved to Red Deer in the 1960's or 70's and died about that time. Family information is very sketchy (but I know his wife was Edith and he had some children)." Lewis also played for one of the House of David teams.
Please drop me a line if you have any leads.
---
05 December, 2001

Forty-four years before Ichiro, Japanese players were making headlines in North America. Thanks to Dale Zeigler, more tidbits on the Edmonton teams of 1956 and 1957 including the '57 club which came within an out of winning the Global World Series in Detroit. The Eskimos lost two heartbreakers to the Japanese, 4-2 in 11 innings and 3-2 in 13 frames. Some new images on the '56 and '57 pages.
---
04 December, 2001


Some interesting tidbits coming with web updates to baseball information at Arizona State. Former Edmonton (1958) and Regina (1959) shortstop Roger Tomlinson was featured in ASU's alumni section. Tomlinson played in 1960 & 1961 for the Sun Devils winning the MVP in '61 after a .342, 10 homer season. He'd play for a couple of seasons in the San Francisco system before embarking on a 36-year teaching and coaching career which took him from Utah, back to Arizona and finally to San Diego. Now retired, he's keeping busy with golf and travel.
The ASU archival material is among the best on the web! (Also able to add Bob Kavigan, Roger Barnson and Gary Linthicum to the list of Arizona State players who suited up in Western Canada.)
---
26 November, 2001

Lovely surprise -- a note from the daughter of Cowan "Bubba" Hyde. Hyde, a speedy outfielder, played in the ManDak League for parts of four seasons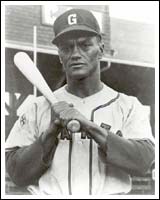 (1950-1953) with the Elmwood Giants, Winnipeg Giants and Brandon Greys. Now into his 95th year, he's finally taking a little rest (after retiring in the early 80's from General Cables Corporation, Hyde was a volunteer for Meals on Wheels for twenty years until just three years ago when the family urged him to take a break).
He began his baseball career as a 14-year-old in 1924 with the Memphis Rex Sox and, after taking time to finish his schooling (Morris Brown College in Atlanta, and Rusk College in Holly Springs, Mississippi), returned to play in the Negro Leagues mainly with the Red Sox. In the late 40's, with the integration of "organized" baseball, Hyde had a fling with Bridgeport in the Colonial League (.327 average). He had been a Negro League All-Star in 1943 and 1946. The 5' 8 1/2", 155 pounder, moved to the ManDak League in 1950, at age 42, and proved to be one of the top hitters in the new circuit (hitting .315 and .348 in the years final stats are available).
Hyde now resides with his daughter Almerth in St. Louis. In the Negro League literature there is reference to Hyde beating Jesse Owens, the Olympic sprint champion, in a foot race. Almerth says her dad revealed that the race was around the bases and, with Owens not accustomed to the intricacies of the turns, Hyde emerged victorious. He also scored wins in his matchups with horses. In 1997, Hyde was among the first group of inductees into the Negro Leagues Wall of Fame at County Stadium in Milwaukee.

Contact also from Jennifer Mizzell, a journalism student at Cal State Fullerton. She's interested in doing a paper on Bruce Gardner, the former USC and Western Canada star. Any information greatly appreciated.
---
20 November, 2001

Dale Zeigler's search through dusty old boxes has come up with the team picture of the 1956 Edmonton Eskimos (and from that, lots of individual pictures up in the '56 Photo Gallery).
---
12 November, 2001


Thanks to Dale Zeigler (USC & Edmonton) for a picture of the 1957 club which represented Canada at the Global World Series (and came within a hair of winning the title). The team picture (and the individual pics taken from it) help to beef up the 1957 photo section.
Edmonton came within three outs of winning the Global World Series in Detroit. A highlight of the tournament was Canada's upset victory over the defending champion United States. Lefty Dale Zeigler pitched a one-hit shutout. The Eskimos lost two heartbreakers to the Japanese squad, losing 3-2 in 13 innings and, in the final, 4-2 in 11 innings.

A note from Paul Timme's (Saskatoon 1960) son. Awaiting more news on Paul's adventures since Saskatoon

Jerry Bryson - located. Bryson, who played in Granum in 1958 and Lloydminster - North Battleford in 1959, continues to win laurels. Found an item in the Shelby, NC Star from May 5 this year noting his induction into the Cleveland County Sports Hall of Fame. Bryson, a member of the Gardner-Webb University's Sports Hall of Fame, compiled a 305-87 won-loss record in 14 seasons directing the Bulldogs. Resides in Boiling Springs.
" ... Bryson was a catcher on two state championship teams in high school in the early 1960s ... went to UNC and Pfeiffer, becoming an All-Southern catcher. He played minor league baseball in the Houston organization before becoming a high school coach with stops at South Stanly and Hunter Huss before arriving at Gardner-Webb. After leaving college coaching, he taught school in Rutherford County for 16 years."


From Pfeiffer University, a pair of Pheiffer Hall of Famers at the 2001 induction ceremony. Tom Jamieson (left) and Brack Bailey (right). Tom suited up with Lethbridge in '59 while Brack played for two season, Granum in '58 and Lethbridge in '59.

Possible sightings -- Bud Bloomfield (Saskatoon 1956), owner of Tale of the Trout, Rogers, Arkansas; Al Endriss (Medicine Hat 1951) back coaching at The Branson School at Ross, CA; Ralph Vold (Edmonton 1956 to 1959) still involved in the family cattle auction business near Ponoka, Alberta.

Think some good thoughts for Charlie Beene & wife. Charlie is hobbling around after foot surgery while the better half heads for back surgery.

Bob Kabel tracked down in Edmonton. Bob, who made it to the National Hockey League, was a star baseball player with Dauphin in the early 60s.

Contact from a journalism student at Cal State Fullerton who has become interested in the tragic Bruce Gardner story. Would appreciate hearing from anyone who may have known Bruce.
---
October 31, 2001
Get your 'flu shots! (Just back from more than two weeks of unpleasantness!)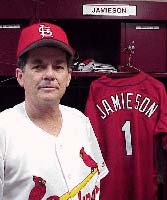 Located -- Tom Jamieson, Lethbridge 1959, has just joined the ranks of the retired (after service as President/COO of Health Services Corporation of America, in Cape Girardeau, MO). Tom now resides at the Isle of Palms, South Carolina, near Charleston, SC.
He's another of the Pfeiffer University guys (Brack Bailey Jerry Bryson et al) and has won a spot in the Pfeiffer Sports Hall of Fame. One pro season -- 1960 (5-1, 3.81 in the West Carolina League). Tracked down through Brack Bailey.
Right -- Tom at the 2001 St. Louis Cardinals Legends camp. Listed on the roster at 5'6", 160 !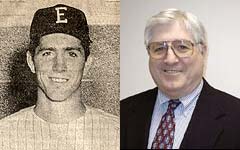 Located -- Dale Zeigler, Edmonton 1956 & 1957, in Seattle (Love Funding Corporation - commercial mortgage banking).
The lefty fireballer was one of the most feared hurlers in Western Canada for two superb seasons winning the ERA title both summers.
In '56 (2.32) he allowed just 68 hits in 101 innings while fanning 102. He followed up with an 11-3, 2.40 summer in '57 with 149 strikeouts in 135 innings. (Control was a little problem -- 127 walks, hit 11 batters and tossed 11 wild pitches.)
He saved his best for the Global World Series where, pitching for Canada, he fired a one-hit shutout to upset the defending champion USA. Earlier in '57 had starred for USC, including a 21 strikeout game against Fresno State.


On the move ... Lee Murphy, left, (Regina 1956-57, Saskatoon 1959, Lethbridge 1960) retiring in Montana ... might be a Charlie Beene neighbour!

Baseball historian Mark Flynn is getting a big kick out of another sport -- ice skating. His granddaughter, Lauren, is among the top junior figure skaters in the county. Competing in ice dancing (with partner Leif Gislason) Lauren is just back from competitions in Bulgaria and is off to Japan next month. Mark is to be among the inductees into the Manitoba Baseball Hall of Fame next summer.

Bill Gatenby (Sceptre CF in the late 40's) is back in Sceptre and still running a farm at age 76. This is retirement for Bill after years in the high executive ranks of the oil industry.
" ... Those were marvelous times ... if I had to relive any three weeks in my life ... I'd probably pick three weeks in '47 and '48 when certain tournaments were on and go back and play ball. It was just marvelous, and you know I've been to Moscow three times and Japan 14 times on business, and lived in New York, lived in Los Angeles, lived in Miami, lived in Venezuela 12 years, all those were good times but none of them compared to playing semi-pro ball in rural Saskatchewan."
George Mahaffy (Sceptre 1B-P) also does a little farming in the area. He's settled down in Medicine Hat AB.