July 17, 2004


Some interesting additions to the Southern Alberta section of the site thanks to Gary Harrison, former hurler with the Picture Butte Indians of 1956-1957.
Gary, out of Fresno State, was among a large contingent of imports on the Indians' roster.
After 30+ years as a union rep for the California Teachers' Association, he's retired and with the time to reflect upon those summers on the ball fields of Southern Alberta.
From his home in Nevada City, CA, he's been kind enough to dig through some nearly 50-year-old mementoes to forward material for the site
Aloha. The Picture Butte Indians of 1956 had a definite Hawaiian flair, via California's Coalinga College.
| | | | | | |
| --- | --- | --- | --- | --- | --- |
| Bobby Lee | Hans Pung | Dick Takamoto | Mako Tashima | Willie Yahiro | Larry Yogi |
48 years later, Gary still has memories of a 12-inning stint against Vulcan in 1956, only to lose by one run. He also recalls starting three games in one day in a tournament in Calgary in 1957, failing to get a decision in any of them. A vivid memory is that of the beaning of Mako Tashima by Willie Walasko. Tashima was forced to spend the night in hospital but came back to face Walasko the next week and belted one out in his first trip to the plate.
Thank you Gary !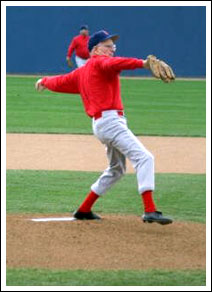 Wanted to share this picture -- Jack Altman, just a couple of months shy of 50 years since he made his debut in Western Canada baseball, takes the hill in the Old Timers game at Fresno State. Jack also suited up for the alumni a week ago in Arcata as part of a celebration of 60 years for the Humboldt Crabs. He didn't pitch in the Humboldt game (first base - "and not very well.")

For those interested in the Negro Leagues, there's a great opportunity coming up next week in Cleveland -- The 2004 Jerry Malloy/Negro Leagues Committee Conference. The conference begins on Thursday, July 22.

Robert Huculak of Winnipeg is working on a documentary on the Negro League players who came up to the prairies, especially in the late 40s and early 50s as the Negro Leagues began to crumble after Jackie Robinson's integration of the major leagues. Any chance anyone might have filmed some of the baseball back in that era?


Ray Nemec, Naperville IL, always such a good friend of our site, sent along word of the passing of Andy Anderson (Minot, 1950). Adolph N. Anderson Jr. had been a lawyer in Providence, RI for 45 years. Anderson, a lefty starter, pitched in the Red Sox system for a season after suiting up in the ManDak League. He passed away May 21st in Providence.

Bill Sharp, second baseman with Williston of the ManDak League in 1955-56-57 passed June 12th in Kansas City.

Nice move by the Manitoba Baseball Hall of Fame. The hall has finally approved a process to recognize the players and accomplishments of the ManDak League. The league, which had a profound effect on the development of baseball in the province, is to have a special display case in the museum and will be the subject of a special induction ceremony. Almer McKerlie and Gerry MacKay, two former ManDak stars, were instrumental in implementing the change.

Mystery solved. Thank you John Noce! John, one of the stars of the California / Medicine Hat Mohawks, and a long-time US and International coach, has identified that signed baseball sent along by Norm Thorpe of Lloydminster. John, sent word from Romania (where he's on a stint for Major League Baseball International) :
This ball was from our barn storming trip in 1972. We were the California San Mateo Bulldogs. We traveled in Alberta, Saskatchewan, and B.C. We played 39 games in 40 days. We won tournaments in Barrhead and LaCombe. Brian Asseltine played in the Majors with Atlanta.

Following are the correct spellings of the names on the ball: Paul Lucchessi, Terry Ruggles, Mike Williamson, Mark Souza, Tony Noce, Joe Bloom, Walt Moore, Tito Rael, Brian Asselstine, Ron Scott, Dave Robb, Dave Bias, Don Benedetti, Bill Gegg, John Noce, Greg Mutcheller, Steve Callahan, Pat Martin.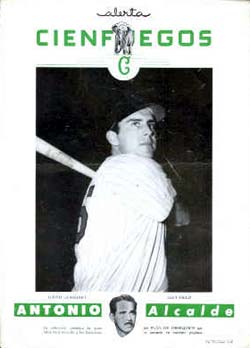 From Cuba, great to hear from Tony Campos, son of the former Williston, North Dakota (ManDak League) and Drummondville, Quebec (Provincial League) star. Tony enclosed a copy of a baseball card of Lloyd Gearhart who played in the ManDak League in 1954 with Williston and 1955 with Bismarck :
Gearhardt played at least one season in Cuban winter ball, 1949-50 season with Cienfuegos.
He also played in Venezuela with the Leones de Caracas team in 1952-53. That team won the pennant that year and went to the Caribbean Series representing Venezuela.
Caracas was managed that year by Martin Dihigo, who is in the Hall of Fame in Cooperstown and is an all-time hero in Cuba.

In you're in South Dakota late this summer, there's a special presentation on the Basin League in Rapid City. Bob Laskowski, a sportscaster in the city (no relation to the pitcher of the same name who played in the ManDak and Western Canada Leagues) is putting together a display on the Basin League to run from August 20th to September 22nd at the Journey Museum in Rapid City.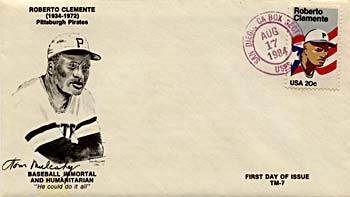 Here's one for the books. The Roberto Clemente stamp with a San Diego postmark the day before it was to be issued!
Note too the custom artwork for the Clemente issue. It's the work of talented Tom Mulcahy (1954 Lloydminster, 1955 Williston) and we are so pleased Tom has taken the time and effort to contribute so much to the site and to share such fascinating memorabilia.
---
May 14, 2004


Congratulations to Connie Munatones (Moose Jaw 1956, Edmonton 1957, Saskatoon 1960) on his selection, earlier this year, for inclusion in the Who's Who Among America's Teachers. The honour comes from his outstanding work at San Fernando Senior High School.
(Right : Connie with his offspring, left to right, Sharon, Conrad, Brian and Cozette. Left : The official 1957 individual photo.)
Connie was a key member of the 1957 Edmonton Eskimos, who represented Canada at the Global World Series in Detroit. The Esks came agonizingly close to capturing the title (losing an 11-inning thriller to Japan in the

World Series button. Now, in a marvelous gesture has sent it along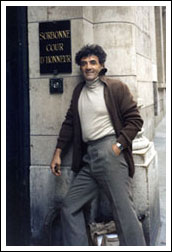 here. I wouldn't be surprised if it's now one of a kind !
Along with this treasured keepsake, Connie has sent along some photos and documents, most of which I am still processing. There's another Hub Kittle connection in a team picture of the Yakima Bears of 1961 on which Munatones played and Kittle managed. And, a fascinating photo (right) of the future teacher during his studies at Le Sorbonne in Paris.
What a difference nearly 50 years can make. When he went to spring training with the Dodgers at Vero Beach in 1960 players were given meal allowances of $1.50 for breakfast, $1.50 for lunch and $3.00 for supper !
Connie has been a great friend of our little endeavour and we are most appreciative of his latest contributions.

Just thumbing through one of the annuals from the National Baseball Congress (which used to be the governing body for the non-pro leagues). Always a few names which pop up unexpectedly.
| | | | | | | |
| --- | --- | --- | --- | --- | --- | --- |
| Bud Francis | John Gordy | Don Lee | John Noce | Lou Pisani | Len VanDeHey | Bud Watkins |
These are from the 1955 edition of the NBC annual which summarized the activities from the 1954 season. Bud Francis, Bud Watkins (along with shortstop Bob Lillis) were on the California champion Fort Ord Warriors. Francis and Watkins were barnstormers to Canada with the California Mohawks in 1950, while Lillis suited up with Edmonton. John Gordy, a familiar moundsmen in Western Canadian tournaments (and some time with Lethbridge in '54 and ;55), was with the Great Falls Air Force Base Jets, the Montana champs. Don Lee, Casa Grande Cotton Kings (Williston in '55) was a major star at the '54 National Tournament pitching all four of the Kings' victories. He was named Most Valuable Player, best pitcher and All-American pitcher. Lou Pisani (another of the California Mowhaks), Cashman Cowboys, the runners-up in Nevada. Len Vandehey (Bismarck '57) was selected as the top centrefielder.

Great to see the beginning of another baseball research project. Bill Wynn of Danville, Illinois has started his history of pro ball in Danville (1946-54, 70-76 & 1982). In his search he's found many links to players who performed in Western Canada and the ManDak League. He had a personal memory of a former Lloydminster and Calgary star :
" ... Sterling Slaughter! What a pitcher! I hit against him here in Danville when he was in the Pony League with little luck. In nine times at bat, I struck out eight times and walked one time. He and his entire family were really nice folks although his mother, Hazel, signed my draft notice when she worked for the selective service."

" ... Milt Joffe played left field for the Danville Dodgers of the Class B Three-I league in 1950. T.J. Brown played for our Dans in 1952-53. He was a member of the one of the best teams ever to play in the Mississippi-Ohio Valley league in '52. The '53 team was not quite as good. Ray Finch, Othello Strong, Al Spearman and Willie Hutchinson played here in '53. Pedro Naranjo pitched for rival Decatur and of course beat our Dans a couple of times. Amancio Ferro also pitched for Decatur in 1953-54."

" ... Lloyd Davenport played in two games for the Danville Dans in '53. Carl Bush played first base for the Terre Haute Phillies of the Three-I League in '50. He also managed the Mattoon Phillies of The Mississippi-Ohio Valley league in 1954 ... Jose Colas was a member of the '54 Mt.Vernon Kings of the MOV League appearing in 67 games. James Michalec also played in the MOV with West Frankfort in '49 and '50. His pitching stats for '49 would indicate that he had a control problem. He pitched in 177 innings, walked 177, struck out 121 and hit 22 batters. During the '50 season he walked 152 in 215 innings. Murray Richardson pitched for the Danville Dodgers of the Three-I League in '50. He won 7, lost 8 and had a 3.61 ERA."

And, yes, always on the lookout to salute the bat boys too (given my history with the Meridians)! Walter "Pete" Peterson, a good friend of our site, has managed to dig around in the attic to find this photo of his days as bat boy with the Lloydminster club (believed to be 1955).
Walter was a great athlete (including hockey, where he could normally be found at the top of the scoring parade). I think he's still one of those who suit up for old-timers' hockey on the prairies !

Need some help here. A photo from the early days of baseball in Lloydminster and another which has yet to be pinned down in terms of location or date.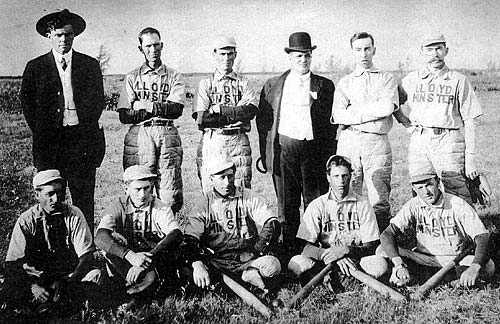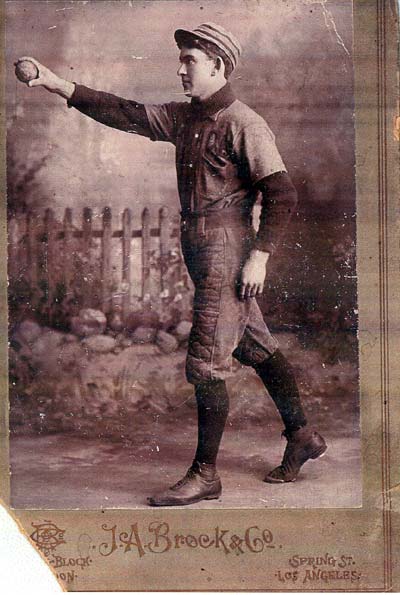 If you can provide any information about the above photos please drop me a line.

Anything at all would be helpful. The photographer noted on the bottom of the second photo is J.A. Brock & Co. or Spring Street, Los Angeles. There are some records of the company having operated in Vancouver for a time in the late 1800s, early 1900s, but I cannot find any reference to an outlet in Los Angeles.

Such a treat to hear again from Dr. Layton Revel of Dallas. Dr. Layton is a font of knowledge on the Negro Leagues, especially the circuits in the South (including such teams as the Waco Tigers, Hondo Bears et al). His Center for Negro League Baseball Research has accumulated an incredible collection of Negro League artifacts and has helped to keep alive the history of baseball outside the white lines of organized baseball.
Among other things, Dr. Revel has helped to provide confirmation of Al Jackson's (Mets, cards) short stint in Canada (with the Texas Jasper Steers in 1954) and he was able to pin down Muskogee, Oklahoma as the home of the Muskogee Cardinals, a barnstorming team of the late 40s and early 50s. Dr. Revel also disclosed the origin of the Brooklyn Cuban Giants. Not Brooklyn-based at all, but formed by players from black teams in North Carolina. We hope to further discuss the possibility of establishing a web site to allow surfers a glance at the amazing Revel collection.

For those anywhere near the Cleveland area, please take note of the 7th annual Negro League Conference July 22nd to 25th. The event is held under the auspices of SABR, The Society for American Baseball Research.
---
March 30, 2004


Thanks to Bill Young, we have a couple of new team photos from Southern Alberta from the early 50s. Bill was a member of the Nanton-Stavely Combines. The two towns were members of the Foothills - Wheatbelt League. The Nanton team pic is believed to be from the 1954 squad, while the Combines photo is thought to be from 1955. If you have any further information about these pictures please drop me a line.


FSU coaching legend Pete Beiden remembered. In a ceremony, to include a major alumni gathering, Fresno State will retire Beiden's number in a ceremony at Beiden Field. Saturday, April 24th. 630 pm.

More honours for Modie Risher, the former Lloydminster Meridian. Just happened upon an item from an August, 2003 edition of the Charleston Post and Courrier :
Charleston honors former coach for achievements
BY DENESHIA GRAHAM
Of The Post and Courier Staff

Seated in the shade on a sweltering afternoon, wearing a gray suit and a Burke High School blue-and-white baseball cap, Modie Risher said Saturday was one of the best days of his life.

While the loss of his sight 20 years ago prevents him from seeing the nearby construction, few people are more excited than Risher about the new Burke High gymnasium.

A resolution passed unanimously by City Council this month proposes naming the 1,500-seat gymnasium in honor of Risher, who spent his 33-year career coaching various sports at the downtown school.

At Saturday's small, informal gathering, friends and former players honored Risher with their words and said they hoped to see his name memorialized on the gymnasium when it opens ...

... Risher is recognized as a diverse educator and coach who wore many hats during his career at Burke High, a career that began in 1950. Risher coached boy's football, baseball and basketball, as well as girl's sports, and sponsored the cheerleading squad. He taught physical education, creative dance and gymnastics, and served as the school's athletic director.

A winning coach, Risher's most memorable victory was the state football championship in 1955, defeating Sterling High School. Sterling's quarterback was Jesse Jackson, now nationally known rights activist the Rev. Jesse Jackson.

A three-sports athlete himself, Risher played for Burke High while he was a student and continued to play at Allen University in Columbia. He played professional baseball for the Jacksonville Eagles in the Old Negro Baseball League, competing against legendary players such as Satchel Paige, Josh Gibson and Jackie Robinson in the late 1940s and early 1950s exhibition games.

Risher has a list of other accomplishments, including serving as the first black sports coordinator of Charleston's recreation department.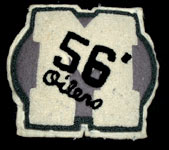 Trying to track down the origin of another team crest from the 50s.
This one is on a cardigan sweater (so it might be a college or high school). The sweater was picked up a thrift shop in Santa Ana, California.
That's an "M" as the base for the 56 Oilers lettering. Not certain that it's even a baseball item. If you can provide any assistance please write.

---
March 6, 2004

Why do those computer upgrades seem to result in downgrades? After considerable effort, the WCBL file back in order following a re-format, XP re-installation etc. etc.

Hub Kittle, who touched the lives of so many here, has a whole new group to entertain and teach. The following from Associated Press :
YAKIMA, Wash. -- Hubert "Hub" Kittle, pitching coach of the 1982 World Series champion St. Louis Cardinals, has died at the age of 86.

His death Tuesday was confirmed by Keith & Keith Funeral Home.

Kittle was a major league pitching coach for eight years, five with the Houston Astros (1971-75) and three with the Cardinals (1981-83).

His baseball career began in the Los Angeles Angels' system in 1936 as a pitcher. In 1939, the Yakima Pippins of the Northwest League bought his contract for $400.

He bounced around several minor league systems until World War II, where he served in the South Pacific while also playing on Army baseball teams. Competing Army teams managed by Yankee greats Joe DiMaggio and Red Ruffing simultaneously recruited him, but Kittle chose to play for another pitcher in Ruffing.

Upon his return from the war in 1946, Kittle migrated through the minor leagues for the next 25 years, both as a pitcher and manager.

Kittle was manager and general manager in Yakima from 1955-59 and helped save the Northwest League by arranging major-league affiliations for some of the its struggling teams. The Sporting News named him Minor League Executive of the Year in 1960.

He also managed winter teams for 17 years in Mexico, Venezuela, the Dominican Republic and Puerto Rico and said he was proud of helping to develop a number of players who went on to major league success.

One of those players, Whitey Herzog, later became manager of the St. Louis Cardinals and hired Kittle as his pitching coach in 1981. The next season, the Cardinals won the World Series.

He pitched in six decades, including throwing a perfect inning in an exhibition game with a Triple-A team in 1980 at the age of 63.

When his wife fell ill, he took a job closer to home as an organizational pitching instructor for the Seattle Mariners. Despite health problems, he had worked with the team's pitching coaches during the past year.

Born Feb. 19, 1917, in Los Angeles, Kittle had maintained a permanent home in the Yakima area since 1939 and always returned there during the offseason.

Pleased to have found a retrospective on the Basin League. Last summer, on the 50th anniversary of the loop, Darrell Shoemaker penned a series in the Rapid City Journal. The paper has been kind enough to allow the series to be reproduced here. I remain optimistic about digging in to the Basin League history one of these years.

Amazing. He did it again. Jack Altman back on the hill at the Fresno State Alumni game. At left, Jack warming up for his annual appearance. Right -- with grandsons (Matthew on the left, Michael on the right).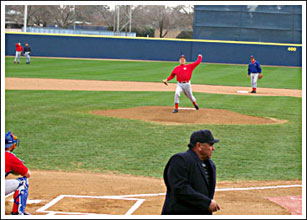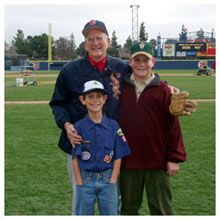 Contact from James Jennings, son of Steve Wylie. We are planning to collaborate on a history of the long time pitching star on the prairies.

And, Thomas Graves, Gene's son, has been in touch and has promised to send along some of his dad's photos, clippings etc. Hoping to get in touch with Gene soon to talk about his long career on the prairies. Gene was a pitching star at Fresno before heading up to Canada.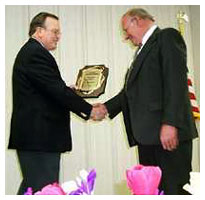 Also happy to have tracked down Tom Belcher (Lloydminster, 1960). He's the long-time owner of the Chandler Baseball Camp in Chandler, Oklahoma. Picture -- Tom (left) receives the Citizen of the Year Award from Chandler Chamber of Commerce representative Phil Tislow.
Chamber Member Philip Tislow ... praised long-time owner of Chandler Baseball Camp Tom Belcher and awarded him with an Outstanding Citizen plaque.

Tislow said the Belcher business was never based on hype or misrepresentations. He also said the Belchers have supported Chandler in many endeavors and never asked for anything in return. "They just tried to do a very good job at training boys in baseball," Tislow said. "For years, they paid much more than their share of the fireworks display on the Fourth of July."

Belcher said he owed a lot of the success of his business to his father, who personally sold stocks up and down the streets of Chandler just to get the business started. "Without the help of Chandler, it never would have gotten off the ground," Belcher said. (Shawnee Online)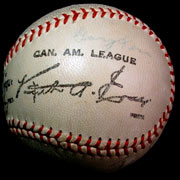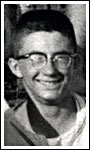 Thanks to Norman Thorpe, an 'ol Lloydminster colleague (and son of the Meridians' Slim Thorpe) for many items including the picture of the ball from the 1959 league (called the Canadian-American League that season).
The signature on the ball is that of Gary Kerr, the team's bat boy (left in 1961, and today)
Another Lloydminster school chum, Dick Ellis (now in Colorado) managed to locate Gary. He's now the Executive Vice-President and General Manager, West Region, for Sobeys Inc., a national retail grocery and food distribution company.
---
February 7, 2004

Jim Lester and John Vaselenak, two of the standouts of the Granum/Lethbridge White Sox are off to St. Paul in style for the National Hockey League's All-Star game. A not so little gift from Ron McLean, one of Canada's best-known television broadcasters from his role on Hockey Night in Canada. Ron is John's son-in-law. While John is quite familiar with the ice game, Jim has been up late trying to figure out the reason for the red line, the blue lines and what constitutes an off-side. Should be a ball.

A tidbit on Steve Dalkowski who, although he didn't play in Canada, was one of the legends of the minor leagues in the late 50s and early 60s and a teammate or opponent of many of the Western Canadian players.

Steve Dalkowski was one of the most feared pitchers in baseball in the late 50s and early 60s.
Although he never fired a single pitch in the major leagues, the flame-throwing lefthander was one of the most talked about players in baseball. Dalkowski's fast ball, and lack of control with it, become the stuff of legend.
In a cruel twist, in Spring Training 1963, just when he appeared to have conquered his wildness, an injury ended the dream. In a 1999 article, The Sporting News reflected upon the former phenom
" ... Dalkowski gained legendary status with a fastball that many who saw him pitch believe was 110 mph. The only thing that kept Dalkowski from ever reaching the majors was that he couldn't throw his fastball with any sort of control -- in 1960, he set a California League record with 262 walks in 170 innings. He also recorded 262 strikeouts. For his minor league career, Delkowski had 1,396 strikeouts and 1,354 walks in 995 innings.

Those who saw Dalkowski pitch believe he was the hardest thrower in baseball history. In a Newsday article from 1979, several baseball men discussed Dalkowski's and his blazing fastball. "He was unbelievable," said former Orioles manager Earl Weaver. "He threw a lot faster than (Nolan) Ryan. It's hard to believe but he did."

Dalkowski's wildness frightened even the bravest of hitters. Ted Williams faced Dalkowski once in a spring training game and that was enough. "Fastest ever," said Williams. "I never want to face him again." Here a just a few examples of how Dalkowski gained legendary status:

One night at Kingsport, Dalkowski threw a pitch that tore off part of a batter's ear. "It made me so scared, I didn't even want to look at it," said Dalkowski. Many people believe after this incident Dalkowski feared one of errant pitches would kill someone and that only contributed more to his wildness.

Dalkowski won a $5 bet with teammate Herman Starrette, who said Dalkowski couldn't throw a baseball through a wall. Dalkowski warmed up and then moved 15 feet away from the wooden outfield fence. His first pitch went right through the boards.

In one minor league game, Dalkowski threw three pitches that penetrated the backstop and sent fans scattering.

In a high school game, Dalkowski threw a no-hit, no-run game with 18 strikeouts and 18 walks.

In an Eastern League game, Dalkowski struck out 27 and walked 16 while throwing 283 pitches. In another game, he was pulled in the second inning after throwing 120 pitches.

At Aberdeen in the Northern League, Dalkowski threw a one-hitter and lost 9-8.

In 1960 at Class A Stockton, Dalkowski threw a pitch that broke an umpire's mask in three places, knocking him 18 feet back and sending him to a hospital for three days with a concussion.

In 1959, Dalkowski set a Northern League record with 21 strikeouts in a game.

In 1960 at Stockton on the California League, Dalkowski struck out 19 and limited Reno to four hits but walked nine and lost 8-3.

The Orioles tried a variety of things to help Dalkowski find the strike zone with little success. However, Earl Weaver, who was managing in the Orioles' farm system, helped build Dalkowski's confidence. In one stretch for Elmira in 1962, Weaver said Dalkowski had a 52-inning stretch where he struck out 104, walked only 11 and allowed one earned run.

The following spring, Dalkowski seemed poised to make the Orioles club. However, his career was ended on a throw to first. In an exhibition game against the Yankees, Dalkowski fielded a bunt from pitcher Jim Bouton. Dalkwoski threw to first and as he did, felt something pop in his arm. He missed most of the season and when he returned his fastball had leveled off to 90 mph. He was released by the Orioles organization and was out of organized baseball by 1966." (The Sporting News, August 24, 1999)

G IP H BB SO W L ERA
1957 Kingsport D 15 62 22 129 121 1 8 8.13
1958 Knoxville A 11 42 17 95 82 1 4 7.93
Wilson B 8 14 7 38 29 0 1 12.21
Aberdeen C 11 62 29 112 121 3 5 6.39
1959 Aberdeen C 12 59 30 110 99 4 3 5.64
Pensacola D 7 25 11 80 43 0 4 12.96
1960 Stockton C 32 170 105 262 262 7 15 5.14
1961 Kennewick B 31 103 75 196 150 3 12 8.39
1962 Elmira A 31 160 117 114 192 7 10 3.04
1963 Elmira AA 13 29 20 26 28 2 2 2.79
Rochester AAA 12 12 7 14 8 0 2 6.00
1964 Elmira AA 8 15 17 19 16 0 1 6.00
Stockton A 20 108 91 62 141 8 4 2.83
Columbus AAA 3 12 15 11 9 2 1 8.25
1965 Kennewick A 16 84 84 52 62 6 5 5.14
San Jose A 6 38 35 34 33 2 3 4.74

Amazing. Lefty Jack Altman back on the hill in the Fresno State old, old-timers game.
" ... And yes, I did throw my annual inning. Because I'm so old (no one else from the '50's suited up) they let me open on the mound: 1 inning, 1 run, 2 hits, 1 error ... This annual effort continues to be "great fun," and the weather cooperated once again. As long as I can reach the plate and not walk anybody, I'm happy. The very first batter, a left handed hitter, watched the first pitch come at him, dodged to his left, then to his right, came back to center -- and the pitch plinked him on the right shoulder. The umpire allowed him to continue at bat, and he belted a solid single on, I believe, the next pitch. So much for an intimidation effort, a la Roger Clemens."
Among the spectators, a few fellows familiar to readers here, Greg Seastrom, Stan Busch, Bob Doig, Jim Garrett and Joe Fischer.

Finding lots of connections between baseball on the prairies and semi-pro ball in Minnesota. Armand Peterson and Tom Tomashek are well into their research on amateur and semi-pro baseball in the state to lead to a book on the subject. The timeline for their work is pretty well the same as mine -- 1946 to 1960. Among the players who suited up both in Western Canada and in Minny :
Jack Hannah, 1954, Marshall
Don Gabby Hormann
Gready McKinnis -- Rochester, Southeast Minnesota League, 1947; Rochester Royals, Southern Minnesota League, 1948, 1950, 1954.
Willie Hutchinson, Rochester, Southern Minnesota League, 1950.
Sam Hill, Rochester, Southern Minnesota League, 1950.
Art Pennington, Mason City, Southern Minnesota League, 1957.
Double Duty Radcliffe, Rochester, Southern Minnesota League, 1948. (He only played in a few games, though.)
Sugar Cain and Rufus Ligon played on barnstorming teams who made regular appearances in the state.

A nice surprise. Contact from an old CBC colleague, Sandra Batson, now stationed in Saskatchewan and working on a story on the Indian Head Rockets.

Melvin Bill Daniels, a shortstop on the Ligon All-Stars, passed away January 1st in Brackettville, Texas.

I have to check this Remember the film Bang the Drum Slowly? Michael Moriarty was a star of the move (which also featured Roberti DeNiro). I believe Moriarty is the nephew of former Lloydminster Meridian David Moriarty. Did you know the movie also had a character named Piney Woods? (The name of a popular touring club.) The actor who played Piney? Tom Ligon. Not sure if he is related to Rufus or George Ligon the men behind the Ligon All-Stars.
---
February 1, 2004

It has been a productive month. With Bill Guenthner in the trenches digging through the Minot mincrofilm, and Barry Swanton checking his records, we've managed to put together the full game-by-game record of the 1953 ManDak League season. Fascinating (maybe a bit crazy too) ! Especially given the 50-year-plus interval between the games and the research.

With thanks to Barry Arnett (Lloydminster 1960-61) there are significant updates to the 1960 and 1961 sections, including revisions and additions to many of the individual photos. Clippings and a program from Barry have really helped to fill in lots of holes in the game-by-game converage. I'm still working on the material, so more to come too.

Good to hear from Curtis Strueby who is putting together a history of baseball in the tiny Saskatchewan community of Marysburg. Quite a connection -- there's been baseball in the town for 85 consecutive seasons and, each season, there's been at least one of the Strueby clan on the team !

The alumni game(s) were scheduled for January 31st at Fresno State. Awaiting word on the participants (wondering if Jack Altman made his annual appearance on the mound). This one would come nearly 50 years after his 32-11, 365 1/3 inning season in California & Canada.

Such a pleasant surprise to receive a note from George Thacher who suited up with the 1963 Lethbridge Cardinals and recalled, with such clarity, pieces of that summer on the prairies :
" ... Most of us were college players from California. San Francisco State was represented by Art Groza (P, OF), Bob Cavalli (OF), Terry Chrisman (P, IB); Stanford by Jim Hibbs (C, 3B), Lonnie Raymond (OF, P), Bob Cox (OF), George Thacher (2B); St Mary's of Moraga by Harry Laiolo (C, 3B). Tug McGraw and Barry Krohn were, I believe, just off their first years in junior college. There was a shortstop from Washington State, Craig Heimbigner, who signed with the Cards half way through the season, the best fielding shortstop I ever played with or against, but, alas, he couldn't hit a lick. We also had a tall, left handed farm boy from somewhere in Alberta, whose name, regrettably, I cannot recall."

" ... Our home was the York hotel, a minus 4 star shanty owned by the team's owner. It had a passable cafe and a bar where beer was five cents on Friday afternoons. (All of us under-aged Americans were delighted to learn that the percentage of alcohol in Canadian beer was about twice that previously experienced. Number of beers consumed didn't change, but the effect did, exponentially.)"

" ... Transportation was a barely post-war bus driven by a wonderful man who spent his Friday afternoons in the hotel bar. More than once on trips to Calgary, Medicine Hat and Edmonton, high plains lightning would drive our skinny bodies under seats. Someone with reputed knowledge of at least a few things scientific convinced us that as long at the bus tires were rubber, we were ok."

" ... The local ball yard was wonderful, at least in memory. Old time wooden, covered grandstands, 330 down the lines, 380 in the gaps, 420 to center. Homers were rare. Field kept in good shape, very few bad bounces. Lights not bad. Umpiring remarkably high caliber."

" ... From our team, Tug, of course, hit the bigs. Jim Hibbs had a few ABs. Calgary sent Tim Cullen and Nelson Briles to the majors, Edmonton had Gary Sutherland (and I believe Kenny Washington made it for a while), Medicine Hat had a second baseman with the quickest hands on earth, Ron Theobold, who made it for a few years. I've probably missed someone. The level of baseball skill and competence was the highest I was ever to play. No weakness anywhere on any team, probably A level tending to AA."

" ... When people ask me what age I'd like to be, I say I want to be 19 again, playing ball with kindred spirits in the great Canadian summertime. It was the last time I was young."

Searching for ... information on Collins (Collis) Jones, an outfielder who played with Dauphin, Moose Jaw and Lloydminster and, in at least winter, the Harlem Globetrotters basektball squad ... Steve Murray, who seems to have played with Moose Jaw in the late 60s', early 70s .... John Gordy, who played with Lethbridge and Great Falls (trying to determine if he might be the same athlete who played football with Detroit Lions.

Internet discovery ... a site on amateur baseball in Minnesota ... a project which includes information on Jack Hannah's 1954 summer in the league.
---
January 7, 2004

Tug McGraw, who came from Vallejo Junior College to pitch for Lethbridge in the 1963 Western Canada Baseball League, died January 5th :
" ... McGraw, the zany relief pitcher who coined the phrase "You Gotta Believe" with the New York Mets and later closed out the Philadelphia Phillies' only World Series championship, died Monday. He was 59. McGraw died of brain cancer at the home of his son, country music star Tim McGraw, outside of Nashville, team spokesman Larry Shenk said. He had been battling the disease since March when he underwent surgery for a malignant tumor.

A left-hander who threw a screwball, McGraw was a bit of screwball himself — a fan favorite in New York, Philadelphia and throughout the majors." (Associated Press)

" ... Tug McGraw once said, "Some days you tame the tiger. And some days the tiger has you for lunch," his way of explaining a reliever's life on the edge, working when the game is there to be won or lost. The man could talk funny talk. Why drive a 1954 Buick? "I like it because it plays old music." He answered every question. Did he prefer real grass or AstroTurf? "I don't know, I've never smoked AstroTurf."

" ... How would he budget a raise? "Ninety percent I'll spend on good times, women and Irish whiskey. The other 10 percent I'll probably waste." ... After the Phillies won the 1980 National League championship in the 10th inning of an 8-7 game filled with sensational plays, he said, "It was like riding through an art gallery on a motorcycle?" (The Sporting News)

Another nice find on the internet -- Christian Trudeau's site on the Quebec Provincial League(s). Christian, a student, initiated the project after getting a taste of the rich baseball history of the province while coming across information on the 1948-49 outlaw circuit which attracted such stars as Sal Maglie, Max Lanier and others who remained on the outs after having jumped to the upstart Mexican League.
"The project is vast, trying to collect as many stats, complete names and information on pro ball in Quebec, with a particular focus on the fascinating outlaw periods of 1935-39, 47-49 and 58-70 ... Another big focus is the role of Quebec in the integration of baseball. There were at least two black players in the league in 1935, then a black team in the league in 1936-37. Three of the first four pro teams officially integrated were in Quebec, and I'm looking for confirmation that there were black players on Quebec teams as far back as 1925."
The site is in French, but the Google translator provides a reasonable facsimile of the text. Thanks to Tony Campos (son of the former Williston star) for alerting me to the site.

An enquiry from Bill Hoover (who is working on a history of basketball players in the Detroit area) prompted a search for more information on Collins (Collis) Jones who saw service with Dauphin, Estevan, Moose Jaw and Lloydminster during a six-year tenure in Western Canada baseball. The trail has led to some interesting findings, but we are still awaiting responses from possible off-spring to help sort out some details.

As we resume an effort to fill in more details on the ManDak League, kudos to Barry Swanton, Bill Guenthner and Ray Nemec for their usual outstanding contributions. Barry's self-published work, "The ManDak League, 1950-1957" is a gem (updated as further information becomes available). Sent Barry an email for further details.

Through the Alberta Heritage Project (thank you Ralph) at the University of Calgary more information on 50s baseball is coming to light. Among the finds -- the 1950 Claresholm Meteors of the Foothills League. It's one case where the microfilm quality proved good enough to extract some images.

An interesting find from The Albertan in 1939 on more of the barnstorming teams, the House of Davidites (Bearded) playing the New Orleans Crescent Stars. A check with Terry Bertolino, the author of the definitive book on the House of David, finds NONE of the players in the box score as corresponding to any of the real House of David teams from that era.

Some of those California kids discovered many of the Canadian teams offered a little hockey with their baseball. Lou Pisani, a member of the barnstorming California Mohawks in 1950 and the Colonsay Monarchs in 1951, came away impressed with the baseball talents of a few of the prairies hockey stars :
" ... Gordie Howe played first base and the Bentley brothers had their own field. They were good baseball players. You know how they used to slide into a base? You know in hockey they give you a shoulder? Well, they used to come in and roll. They didn't come in with spikes high, they'd come in, slide in, and roll into you with their shoulder and knock the ball out of your glove. They played hard, they were great guys. I also remember a mean winger, Bert Olmstead. If you fooled around with him, he'd take ya out."

Pat Gillick has confirmed one of those wacky stories from the early days of the Foothills - Wheatbelt League.
"When Pat Gillick was playing for us (Vulcan) he didn't win a game ... but in the middle of the season George Wesley picks him up to go up north somewhere to play in a tournament and he throws a no-hitter. Well that didn't sit to well with the people of Vulcan. The next time he went to the bank (to collect his pay), before they gave him the money, they asked, 'Did Wesley pay you?' When Gillick said yes, they said, 'We're docking that from your pay' And they did." (Greg Seastrom, Gillick's Vulcan roommate)
While Gillick had trouble getting in the win column for Vulcan, he was money in the bank on the tournament trial. Pitching for Granum, he tossed a no-hitter to win a spot in the finals in the Medicine Hat tournament. Two weeks later, Gillick pitched a four-hitter and fanned seventeen to give Granum top prize in the Calgary tournament. And, at Fernie, he pitched Granum to an 18-1 victory and a spot in the finals.
" ... That's true! I was playing for the team in Vulcan, but played in those tournaments with George Wesley's team in Granum and basically they said if you're going to be playing with him you can draw half your salary from the Granum White Sox and half from the Vulcan Elks. My salary was $250 a month."
And, just how did Pat Gillick travel up to Alberta?
"Actually, I hitch-hiked from LA to Alberta. Well, money was tight in those times and I was trying to save a little money. I took about four days. I got into Salt Lake and went up to Idaho Falls and into Helena and Great Falls and up through that way and just kind of hitch-hiked along the way."
---
December 16, 2003

More contacts -- Pat Gillick (Vulcan & Granum, 1956-1957, Edmonton 1958) and Lou Pisani (California Mohawks 1950, Colonsay Monarchs 1951). Pat has just stepped down as General Manager of the Seattle Mariners, Lou has retired after more than 50 years in baseball in las Vegas including 35 years as a high school coach and a 15 year association with UNLV.

Delighted to hear from Carroll Rasch. As a youngster he was a member of the Knot Hole Gang in Minot, North Dakota in the 50s. Some great memories of the Mallards and the era. Check the "I Remember" section.

Many thanks to Bill Guenthner who has been delving into more material on the Minot Mallards (Merchants too) of the 40s and 50s. His detective work has resulted in many additions on the site, especially the game-by-game reports.

Received an information request from John Kelly's daughter-in-law. Managed to dig up some interesting stuff. Kelly, a pitcher with Minot in 1952 and 1953 (and, I believe, Granum in 1954) was featured in a 2000 piece on the 1950 Minnesota champion Fergus Falls Red Sox :
" ... Pitcher John Kelly is a product of Long Island, New York. After he left the Navy, he played in the West Texas-New Mexico Class C league ... This was Kelly's first summer with the Red Sox. He is employed by the city water and light department. (Note: Kelly, a lefthander, was the top pitcher during the summer of 1950, compiling an amazing record of 22-2 and pitching 195 innings. He had an ERA of 1.62, struck out 207 batters and threw 8 shutouts!) (Fergus Falls Daily Journal, September, 1950)
Ray Nemec, invaluable assistance, as always, in sorting out the John Kellys and others !

Also, in receipt of a note from Thad Tillotson's daughter-in-law. Good to hear Thad is doing fine in retirement in small town California.

Thanks to John Van Walleghem for helping to identify players (his dad among them) from the Winnipeg Reos of 1947.

Nice to hear from James Ratcliffe, nephew of Don and Phil Risinger stars with the Medicine Hat club in the late 50s. Hoping James can dig out a good copy of the 1958 team picture of the Southern Alberta League champion Superiors. Don passed away in 2000, Phil resides in Oklahoma City.

Some information uncovered on Ken Heffel a catcher with Edmonton and Calgary in the mid 50s. Heffel passed away in 1987.
" ... As an Edmonton teenager he so impressed the Cincinnati Reds that they signed him to a pro-baseball contract. More intrigued with business than sport, he started a welding company with four men, turned in to giant Great West Steel Industries Ltd., and was a millionaire before he hit 40. By then he had established himself as a successful rancher and breeder of champion Herefords. He had also developed a passion of art and subsequently became one of the most respected gallery owners in the country, swinging multi-million-dollar deals that left rivals shaking their heads. Two weeks ago, however, the West's art and business communities were stunned to learn that the talented Vancouver-based entrepreneur had make his last deal. Kenneth Grant Heffel was dead of a heart attack of 53." (Western Report, November 2, 1987)

Canadian Baseball Hall-of-Famer Ken Kutsukake passed late last month at 93. Kutsukake was one of only eight remaining living players from the legendary Vancouver Asahi Baseball Club, who were inducted into the Hall in 2003. He was the group's spokesperson at the induction ceremony in St. Marys, Ontario, on June 28, and even played golf in the tournament the day before. Since the 2003 induction ceremony, held in late June, two other Asahi veterans also have passed away, Bob Higuchi, 95, of Pickering, Ontario, and George Yoshinaka, 81, of Lethbridge, Alberta. (Press Release from the Canadian Baseball Hall Of Fame)
---
November 27, 2003

Sadden by the news of the passing of Gord Wesley long-time second sacker for the Granum and Lethbridge clubs in Southern Alberta. He was key to the reunion of former White Sox players held in Lethbridge in 2000. Gord, his father, George, and brother Lee were mainstays of keeping baseball alive in the area in the 50s and 60s.

Also this week, Bubba Hyde, a star outfielder in the Negro Leagues who ended his career in the ManDak loop, passed away at 95. Associated Press noted :
" ... Hyde was among the first players inducted in 1997 into the Negro Leagues Hall of Fame in Milwaukee. He played for more than a dozen teams, beginning with the Memphis Red Sox in 1927. In 1950, Hyde tried to break into the majors with the Boston Braves, daughter Almerth Owens-Long said. But he left training camp to be with his wife, Edith, who was giving birth. He was cut by the Braves and spent the next five years playing in Canada.

Hyde was exceptionally fast. Owens-Long said her father used to race, and beat, horses running around the baseball diamond. Hyde played in exhibition games with other Negro Leagues players into his 80s and delivered Meals on Wheels until he turned 90, granddaughter Ingrid Owens said."
---
November 21, 2002

A few minor design changes to the site (including widening the pages a little). An effort was made to catch any broken links, errors/omissions, spelling mistakes, and missing pictures. Please let me know if you spot anything. Thanks.


A couple of major sections (the biographies & the bibliography) remain to be updated. They are fairly major endeavors, but it is hoped some progress can be made soon.