17 March, 2006

Sad news out of Moose Jaw. Roberto Zayas, who came to Canada from Cuba in 1953 and decided to make his home here, passed away in the Saskatchewan city March 6th at age 76.
The speedy outfielder played for six summers in the Western Canada Baseball League, mainly with Lloydminster, and later in the Southern League before turning his talents to coaching in the Moose Jaw area. (Below - Roberto in 1954 with the Lloydminster Meridians and in a photo some 50 years later.)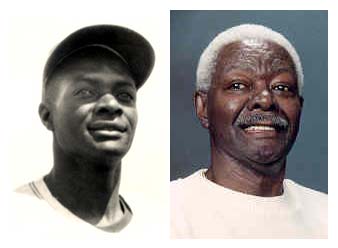 As school chum Doug Abraham reminds me, etched into our Legion Sportsman's Park memories is the picture of No. 2 " racing for a fly ball - and losing his cap on the first step no matter how tightly they tried to tie it down."

Thanks to Rodney McLean (and his dear mom of 92 years) of Moose Jaw for sending along some information on Modie Risher, one of the Lloydminster Meridians of 1957.
The new gymnasium at Burke High School, where Modie became a legend as a teacher and coach, is to bear Risher's name. Modie and his wife DeLaris were at a special ceremony in Charleston, SC where the announcement was made. The ceremony was held at the start of the Modie Risher Invitational basketball tournament at Burke.
Just after Christmas last year, Modie, 77, and DeLaris celebrated their 46th wedding anniversary.

In February, Dave Abel, former captain of the Fresno State Bulldogs and catcher in the Western Canada League, died at the age of 72.
Abel was a catcher with Moose Jaw in 1955. He carved out a career in the insurance industry and became a fixture on the Modesto, California softball diamonds.
" ... Mr. Abel played for, coached and sponsored several fast-pitch teams over three decades and became the initial inductee to the Stanislaus Area Softball Hall of Fame in May 1985 ... Mr. Abel sponsored several trips for youth baseball teams to tournaments throughout the United States, including Alaska and Hawaii, and Canada." (Fresno Bee)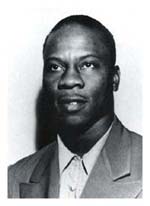 Willard Brown (right), an outfielder with Minot of the ManDak League in 1957, has been selected for induction into the National Baseball Hall of Fame.
Brown had a 15-year career in the Negro Leagues winning the Negro American League batting title three times and leading the circuit in home runs seven times. He had a major league cup of coffee with the St. Louis Browns in 1947 and became the first black player to hit a home run in the majors.
Brown joins Willie Wells, Leon Day, Ray Dandridge and Satchel Paige as Hall of Famers who played in Western Canada. Brown is part of a special selection which will see 17 former Negro Leaguers inducted into Cooperstown.

Happened upon a photo of the 1942 starting staff of the Kansas City Monarchs in re-reading sections of Bruce Chadwick's When the Game Was Black and White.
Left to right - Hilton Smith, Jack Matchett, Booker McDaniels, Jim LaMarque, Connie Johnson and Satchel Paige. I'm not certain about LaMarque but all the others appear to have spent at least some barnstorming time on the prairies. Matchett was playing manager at Saskatoon in the late 40s.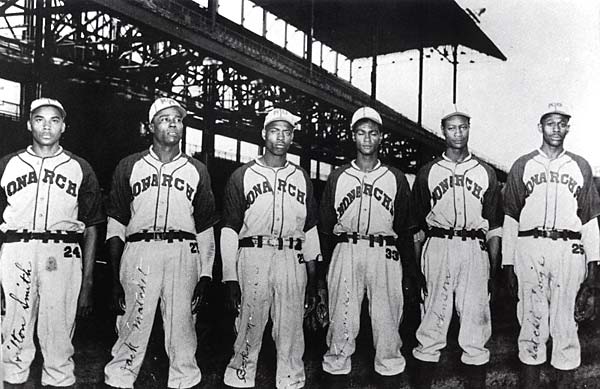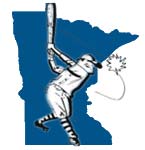 Congrats to Herb Schaper, former Minnesota sports editor, who's kicked off a project to "recognize and honor the individuals and events that created the outstanding and most memorable achievements of Minnesota baseball history."
Backed by an impressive advisory board, Herb is hoping to begin taking nominations later this year with the first induction ceremony in 2007.
The current task is to get the web site, Minnesota Baseball Greats, fine-tuned. It's heartening to see yet another historical baseball site on line.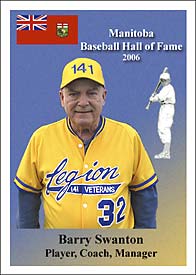 Bill Guenthner is having a ball working on his baseball cards. One of the latest is with our colleague Barry Swanton (right) who is to be inducted into the Manitoba Baseball Hall of Fame this summer.
Good work Bill !

We're on the lookout for any information on the San Francisco Sea Lions, a barnstorming team of the 1940s and perhaps the early 1950s.
James Rozzelle, the manager of an adult baseball team, has taken on the Sea Lions name and is hoping to find information on the club, especially a photo of the uniforms which they would like to copy.

Drop us a line if you can help out.

Always happy to hear from Royse "Crash" Parr with whom I collaborated on a research project and essay on Cliff Pemberton the long-time WCBL star. (And, to my shock, I had forgotten to include the paper on the web site, an over-sight soon to be corrected.) Crash is working on a project which includes a piece on Jerry Adair the star from Williston (1957-58) who went on to a long major league career, mainly in Baltimore. He's also trying to dig up some photos of the young Adair at Oklahoma State.
---
11 February, 2006

Much thanks to Mitchell Iwaasa, of Brooks, Alberta, for sending along an excellent quality photo (far better than the one we had posted on the site) of the 1952 Brooks Buffaloes. That summer, the club reached the Alberta Senior finals. The Buffaloes were an all-star club of teams in the Brooks area. One of those teams was the Brooks Monarchs (this photo likely the 1951 squad).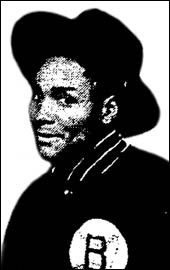 Stumbled onto this photo of Collins Jones (Chicago Defender, 1942). Jones played in Canada for six summers beginning in 1950 in Dauphin, Manitoba and included stops in Estevan, Moose Jaw and Lloydminster.
In the photo from 1942, Jones had returned from a tryout with the Ohio Buckeyes and was to work out with the Detroit Black Sox. He played later that year with the New York Lincoln Giants.
There is also some evidence that Jones suited up in basketball with the Harlem Globetrotters. Colleague Bill Hoover of Detroit has done some sleuthing and discovered that Jones may have been falsely imprisoned in the late 1940s. He did spend some time in jail following a charge of attempted rape. It seems his team's bus had broken down and Jones stayed with the vehicle until it was repaired. He then drove the bus to rejoin his teammates picking up a female who was stranded on the highway. When the two reached Minneapolis, the woman alleged that Collins had assaulted her, which Collins denied. Nonetheless he spent a little over a year in prison before his release in early 1950. In 1956, he was granted a full pardon by the Governor of Minnesota.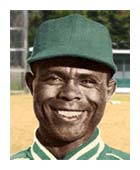 Along with researchers Bill Guenthner and Barry Swanton, trying to fill in the many blanks in the career of Marion "Sugar" Cain, the long-time star of the Minot Mallards of the ManDak League.
Through various sources, we've managed to map out a career from about 1936 through to 1960 (in 1958, 1959 and 1960, Cain joined major leaguers for barnstorming tours and was among the best of the pitchers on the tour).
There is very little information on his activities through the 1940s. He did play in the San Francisco area in the mid and late 40s but there is no information on where he may have played 1941 to 1946 (there is no mention of Cain in those stories on Negro Leaguers who served in the military). If you can assist in providing any information it would be most helpful.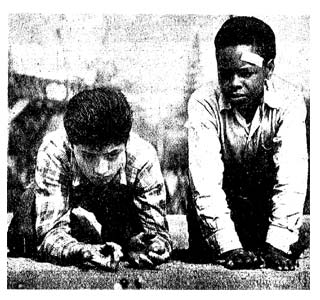 Wait 'til Connie Munatones' students discover this photo ! Found in the Los Angeles Times, February 19, 1950. - Munatones, on the left, has just captured the junior marbles title in Los Angeles in playoffs at Downey Playground.
In the photo he is described as showing his skill to the midget champion, Lawrence Jackson.
Munatones, who played in the Dodgers' farm system, was a star in Canada with Edmonton, Moose Jaw and Saskatoon.

One more shutout inning in the books ! It may not have been pretty, but Jack Altman (Vulcan, Granum 1954-55) made it through his annual appearance at the Fresno State Alumni Game (one inning, infield hit, double play, ground out). Skip Winn (Vulcan 1953-54) also suited up while Bob Doig, Jim Garrett, Dick Doepker, Greg Seastrom, Jack Hannah and Ted Hiltel were in attendance. Altman in action :

Possible captions for the last photo (as wife Bev provides some assistance) :
"Jack ... maybe it would go faster underhand."
"Do you really think you should stick with the change-up?"
"You know Jack, I think you used to throw right-handed."

Thanks to Charley Herrmann for sending along a copy of a 1959 program of a Northern League game involving the Minot Mallards. Among those noted in the program - Sugar Cain for Minot, Joe Pepitone for the Fargo-Moorhead Twins.

So good to hear from Tom Mulcahy (Lloydminster 1954, Williston 1955). He is on the way home. After decades away from Montana, Tom is moving back to the old stomping grounds. Butte seems a likely destination (perhaps Charlie Beene and Lee Murphy) will be in the area ! Tom spent twenty years as an executive with the San Diego Padres.

Thanks to Dave Fadley for forwarding information on Ira McKnight (Saskatoon, North Battleford, Melville). Seems Ira played in Canada to near the end to the 60s.
---
05 December, 2005


Gus Kyle? There are dozens of updates and additions including a number of team photographs (a few of which still need some re-working) -- 1951 Medicine Hat Mohawks, 1951 Eston Ramblers, 1951 Trail Smoke Eaters, 1951 Dauphin Red Birds, 1952 Brooks Buffaloes, 1952 Florida Cubans, 1952 Indian Head Rockets, 1952 Lethbridge Cubs, 1944 Veracruz, Mexico (a club which included Barney Brown and Hall of Famers Willie Wells and Martín Dihigo) 1945 London Majors, the Canadian semi-pro champs, and the 1950 Regina Caps, a photo which is missing the names of the players (with one exception). I think the photo at left is Gus Kyle. Can you help identify any of the guys? The link above has the team photo along with individual pictures .
The tournament pages have many updates, especially on the tourneys in Camrose in the early 50s.
Stumbled upon information on the Chinook League, particulary the 1953 season, including the final statistics -- lots of familiar names, Don Kirk, Bentley MacEwen, Frank Stone, Bill Fennessey.
The above reminded me to re-launch a search for Don Kirk who not only excelled on the mound but on the ice for the University of Alberta. I have found a reference to Kirk's hockey exploits in 1953-54 with the U of A, but nothing after this period. It was thought he was heading for a career in medicine. Please drop me a line if you have any information on what happened to the talented southpaw.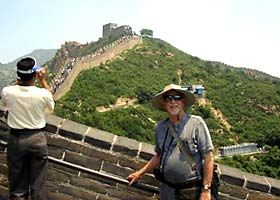 So good to hear from Barry Arnett, who continues with his teaching program in China. At right, a whole new meaning to "Arnett, at the wall!, as Barry checks out the Great Wall.
The former Lloydminster Meridian shortstop has had an extended stay and has taken advantage of the positing to sample both the tourist menu and the local sights and sounds. I'm sure Barry would love to hear from any 'ol teammates. Drop me a note and I'll send along the address.


Sad news to pass along. Francis "Franny" Oneto, one of the many Fresno State stars to suit up in Western Canada, passed away last month. He was 75. He starred in both baseball and basketball at Merced High School and FSU, where he played for legendary coach Pete Beiden. In 1993, Oneto was inducted into the Fresno State Baseball Hall of Fame. He played for the Medicine Hat Mohawks in 1951 before launching a five year pro career in the Detroit Tigers' farm system.

A few former WCBLers spotted in Reno at Bert and Sue Holt's 50th wedding anniversary party. While he didn't play in Canada, as a Fresno coach Bert had a long association with many, if not most, of the FSU imports who graced the Canadian diamonds. Jack Altman, Bob Bennett, Greg Seastrom, Art Shazade and Ray Strable were among the guests. It turns out Ray, too, played in Canada. He was a member of the Dauphin club in 1966 (a touch beyond our original time frame, but a member of the "club" nonetheless).

On the lookout for any details of the 1951 tour of Western Canada by the House of David. The club likely played in Winnipeg, Moose Jaw, Regina, Saskatoon, Calgary, Edmonton and Vancouver.

Thanks to Jack Altman for passing along the following story, on Asahi Baseball, which was carried in the Honolulu Advertiser. ('Every kid's dream': To play for Asahi, By Rod Ohira) :
David Murakami was 17 years old in 1957 and had just graduated from Saint Louis School when he received an invitation to play for Asahi in the Hawai'i Baseball League.

"It was every kid's dream to be an Asahi," Murakami said, recalling that his first game was at old Honolulu Stadium. "I walked into the stadium, went to the locker room and the equipment manager took my size and handed me the Yankee-type pinstripe uniform since it was a home game, and a cap, then tells me to go pick out a bat.

"It was the greatest feeling," said Murakami, who later starred at the University of Nebraska and later coached with his cousin, Les Murakami, at the University of Hawai'i.

Murakami was among 200 people who attended yesterday's 100th anniversary of Hawai'i's most notable baseball franchise, which was founded by the late Steere Gikaku Noda. The club won 23 championships, including 17 in the Hawai'i Baseball League, which started play in 1924, and was a top drawing card at the old stadium.

Asahi also made 11 trips to Asia but none was more significant than one in 1974 when the club upset the Cuban national team, 5-3, at the 45th Japan Goodwill Semi-Pro Series before a crowd of 40,000 at Korakuen Stadium.

Until the Rural Red Sox were organized in 1946, Asahi had its pick of the top players of Japanese ancestry on O'ahu and the Neighbor Islands.

Although the club has not played a game in 25 years, Asahi pride and tradition lives on in the memories of its former players. Yesterday offered an opportunity to share stories with old friends.

Japan pro baseball Hall of Famer Wally Yonamine played football for the San Francisco 49ers and did not have much interest in playing baseball until he joined Asahi in 1948 for the first of two seasons. He had returned to Hawai'i at age 26 to play football for Ben Dillingham's Hawaiians and work at Wilson Sporting Goods, but got to like baseball.

Playing for Asahi "taught me how to be hungry," said Yonamine, a gifted athlete. "I had to work hard at baseball, 10 to 12 hours a day, because I was only an average player."

The work paid off in a contract with the Pacific Coast League's San Francisco Seals in 1950. The Seals farmed Yonamine out to their club in Salt Lake and after one season, Seals manager Lefty O'Doul helped Yonamine get his release so he could play in Japan with the Yomiuri Giants.

Yonamine's Asahi teammates included Dick Kashiwaeda and Jimmy Wasa, two of the club's all-time great infielders.

Wasa's greatest contribution to the club came in 1942, when he agreed to start his career with the Adam Ornellas' Hawai'i Braves at the request of Asahi owner Dr. Katsumi Kometani. At the time, the Braves were the pride of O'ahu's Portuguese community and big rivals of the Asahi, or Athletics as they were known during the World War II era.

"At the time, they weren't friendly," Wasa said of the general Japanese-Portuguese relationship in the community. "The Japanese old men wanted to know why I was playing for the Braves. I was the first Japanese player to play for the Braves and I stayed for seven years. They treated me real good.

"What it did," Wasa said of the experience, "was it allowed people to find out about the other person."

Wasa came back after his stint with the Braves to finish out his career with Asahi.

Allan Yamamoto of Maui, who turned to a career in golf after playing for Asahi until age 25, rates left-handed hitting first baseman Larry Kamishima, whose power swing was tailor-made for the short porch in right at Honolulu Stadium, as the best he saw in an Asahi uniform.

"The guy didn't take batting practice so we all tried it but it didn't work for us," Yamamoto said of Kamishima, who is on vacation and missed yesterday's function. "He was the most feared hitter. I saw them walk him with the bases loaded once even though he was playing with a broken hand. That's respect."

Ron Ramie, who was an Asahi for three weeks in 1974, recalled that sumo star Jesse (Takamiyama) Kuhaulua came to the dugout to cheer for the team against Cuba.

"Tommy Gushiken got so excited that he runs up to say hello and steps on Jesse's foot with his cleats, spiked him!" Ramie recalled. "Tommy is apologizing to the guy and Jesse says, 'For what?'"

Former major leaguer Lenn Sakata, who managed the San Francisco Giants' San Jose Class A affiliate to the California League championship this year, recalled that Asahi was noted for playing "small ball" when he was a member of the team from 1971-74.

"It reminded me on how to play the game," said Sakata, whose uncle Jack Ladra brought him to the team.

Lillian Noda Yajima, daughter of the Asahi founder, along with Tom Ishigo, Hank Kibota, Jimmy Itamoto, John Nakamura, Hide Yamashita, Gushiken and Eddie Hayashi organized the function. Notables in attendance included Jimmy Burns, whose father Gov. John Burns managed the Athletics during World War II; Charlie Yoda, 89 1/2 years old, believed to be the oldest-living Asahi, and Masa Yonamine (no relation to Wally), who led Asahi to nine HBL titles in his 15-plus years as field manager. (Honolulu Advertiser)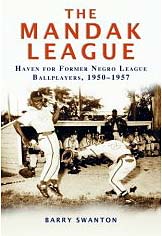 Neat. Barry Swanton's book on The ManDak League is nearly ready to be shipped (click the image). Barry, as you likely know, has had his self-published a book on the ManDak circuit available for several years.
This is a greatly expanded version in hard cover no less -- ManDak League: Haven for Former Negro League Ballplayers, 1950-1957. Barry is also booked for a June ceremony in Manitoba as he is inducted into the Manitoba Baseball Hall of Fame for his contributions to baseball in the province.

Check out the latest at minotmallards.com as Bill Guenthner adds to his impressive site on Minot's baseball history. He's been working on player cards for those stars of the Mallards back in the 50s and it's fascinating to see the progress he's been making. If only we had access to good photos of all those players of the era.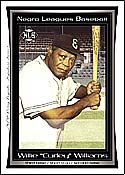 About time ! The folks at Legends of the Negro Leagues have, among other things, put together sets of playing cards of some of the Negro League stars.
About 60 players (the surviving members of the leagues at the time of publication) won recognition including Willie "Curly" Williams, the long-time Lloydminster Meridian star. Curly has been instrumental in efforts over the past few years to win benefits, from Major League Baseball, for those players.
A tad older yes, but you'd recognize the batting stance and the intensity at the plate from his days as one of the best hitters in prairie baseball.
---
05 November, 2005

Our colleague Barry Swanton is among those who have been selected for induction into the Manitoba Baseball Hall of Fame! Congratulations to Barry - well-deserved recognition for his contributions as a player, coach and in administration of baseball in the province. And, as you know, Barry is the author of several publications on baseball in Manitoba, including his work on the ManDak League.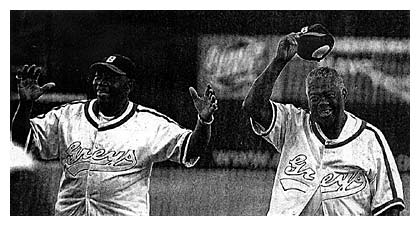 The induction ceremony is set for June 3, 2006 at the Recreation Centre at Morden, Manitoba.
Also to be honoured are the Brandon Greys of 1948-1951, one of Canada's most successful semi-pro teams, and three members of those Brandon clubs -- Frank Watkins, Armando Vazquez and Dirk Gibbons. (Left - Vazquez and Gibbons in Winnipeg this summer, Winnipeg Free Press photo.)
Among those from the 50s & 60s era selected :
Al Evason - Dauphin - July 1, 1939 - was an outfielder with Dauphin Redbirds (1956-63). They won Northern League crown (1956), Man-Sask League title (1958), Manitoba Senior Baseball League (1961), leading hitter for Bowsman Maroons (1963), top hitter for Flin Flon Johnny's Cardinals (1964-73), hustler, great team man & defensive player, son Dean is well known NHL player, junior coach & MB. Hockey Hall of Fame inductee; son Heavy was well known in hockey coaching & Special Olympics. 2. Walter Lee "Dirk" Gibbons - Tampa Bay, Florida - October 13, 1929 - player. After playing in the Negro Leagues with Indianapolis Clowns & Baltimore "Bubble Gum" came to Manitoba at 20 years of age to play three years each with the Brandon Greys & Minot Mallards, one year for Winnipeg Royals & this was interspersed with 2 years in the marines fighting in the Korean War. In 1949 he had a 19-5 won-lost record to spark the Greys to a second MB. Senior Baseball League title. He led the club with 229 strikeouts as Brandon lost only 18 of 108 games & was billed as the best team in Western Canada. Following his playing career, he coached, gave clinics & promoted baseball extensively so the Tampa Bay Devil Rays had him throw out the first pitch in the opening of the Tropicana Stadium. Tremendous ManDak fan favorite.

Barry Swanton - Surrey, BC. -September 26, 1938 - played, coached, managed, administrated & promoted baseball for 50 years, founding member, coached Legion 141 minor ball (4 years), managed Legion 141 Juniors (4 years); all star second baseman for CUAC Midgets (1955), starting CF for 11th Tribune all star game in Osborne Stadium (1957), manager Legion 141 Bison AAA MB champions & Western Canadians in Burnaby, BC. Researched & wrote short histories on 1. Winnipeg Goldeyes (1954-64), 2. Winnipeg Maroons, & 3. ManDak League (1950-57). Barry has a new book which will be published in spring of 2006, Haven for Former Negro League Ball Players 1950-57. He served MBA as vice president of competition for 4 years (1984-87). Received CAHA Meritorious Award Jan. 27, 1980 for many years in minor hockey.

Frank Watkins - Reston - August 17, 1924 - player – born in Ireland in a family of 11 children, returned to Westman area after World War II & excelled as a pitcher with Reston, Grandview, Brandon Greys, & Souris Cardinals, often pitched all day at a tournament or both ends of a doubleheader, was premiere hurler for Brandon (1948-51), was league all star in 1948 & 49 with pitching records of 8-1 & 17-3 respectively. Pitched all 15 innings & singled home the winning run for a 2-1 seventh game win over Elmwood Giants before 5200 fans in Kinsmen Stadium (1949). Hal Price was losing hurler while Solly Drake, later Chicago Cubs star, scored lone Giants run. Pitched Souris to Central Manitoba Baseball Association title in 1953 & 54.

Brandon Greys - 1948-1951 - Elected for induction of the Major Team Category was the Brandon Greys. The Greys won Manitoba Senior League crowns in 1948-49, lost the 1950 ManDak League title with the final game being a 17 inning 1-0 loss to a Winnipeg Buffaloes squad, rebounded to claim the 1951 ManDak League title. In 1949 the Greys dropped only 18 of 108 games in 113 days & were considered as the best baseball team in Western Canada. Led by a great playing manager, Ian Lowe, a good crop of area players & 5-7 Negro star imports, Brandon entertained huge crowds (4-6000) wherever they performed.

Armando Vazquez (alias Bus Quinn) - born in Cuba August 20, 1919 - excellent first sacker-pitcher in the Negro Leagues with Cincinnati, Indianapolis Clowns, New York Cubans also in Cuba Mexico & Panama. With the demise of the Negro Leagues he came to Brandon in 1948 to have 4 great seasons with the Greys. He hit .324 for Brandon's dream team of 1948 & 49 Manitoba Senior League champions & had a 12-1 record in 1949 as a southpaw hurler. Very entertaining performer, at 86, still coaches & promotes baseball. Has plaques from President Bill Clinton & New York mayor Rudy Juliano, but will treasure induction into the MB Baseball Hall of Fame, great impact player.

We're trying to help out track down the families of Frank Watkins and Maurice Oaks (who began play in the mid 1960's in Dauphin and Brandon). If you can assist, please drop a line

Bill Guenthner has some interesting updates at his Minot Mallards website, including additional player biographies, team photographs and rosters. I am partial to the work Bill is doing on his Mallards' player cards, a marvelous idea !
---
24 October, 2005

Another surprise package from Joan Parker (Kazakoff) provides more snapshots of Roy Taylor's Kamsack Cyclones of the early 1950s. In particular, check out the 1952, 1953, and 1954 Snapshot pages and the new Kamsack team photos, 1953 and 1954. Again, thank you Joan!
---
11 October, 2005

With faster computers and reasonably speedy internet connections now the norm, I have begun to revise some of the photo sections to enable larger versions of the photos to be available. The team pictures have been the first to redone and uploaded and I am now working on the pictures in the various "Snapshot" sections. The 1955 snapshot pages are pretty well complete.
There's a fair among of new information posted, especially from the Camrose Canadian newspaper of the 1950s. Of course, the Camrose tournament reports have been updated.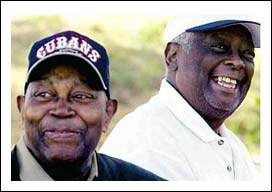 Ah, wish I would have known about the gathering in Brandon.
Dirk Gibbons and Armando Vazquez, stars with Manitoba's Brandon Greys were guests this summer at the 'ol ballyard. (Vazquez at the left, Gibbons at the right).
There's a move afoot to alter the rules of the Manitoba Baseball Hall of Fame to make eligible for induction such players such as Vazquez and Gibbons. They were among a vanguard of players from various Negro Leagues in the United States and Cuba to "go North" after the Negro Leagues began to collapse in the late 1940s following Jackie Robinson's integration of the Major Leagues. (Photo from the Brandon Sun)
Robert Huculak, working on a documentary film on Negro Leaguers in Manitoba, took advantage of the visit to tape interviews with the former Brandon Greys and to do some filming in Winnipeg, Brandon, Carman and Morden (the home of the Baseball Hall of Fame).

Bill Guenthner
is plugging away at his Minot Mallards site - lots of updates, including a contribution from
Barry Swanton
on his all-time ManDak League All-Stars.

A marvelous surprise to hear from Jack Crouch, former Auburn and Basin League star. Jack, who played with Yankton in the late 50s, also suited up in semi-pro loops in Nova Scotia and South Carolina. He's digging around now to try to find some material to send along. I am anxious to finally begin to put together some details on the Basin circuit.
---
28 September, 2005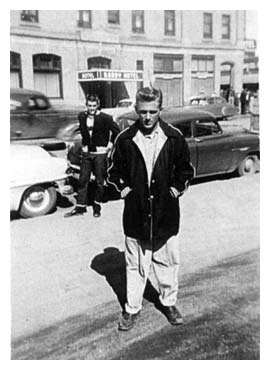 Kamsack, Saskatchewan 1954. Kirby Wyllie (foreground) and Bill Findley (background) must have been among the coolest looking guys in the province ! Both were California kids recruited by Roy Taylor to suit up with the Kamsack Cyclones of the Manitoba - Saskatchewan Baseball League.
Kamsack, in the eastern portion of Saskatchewan, became a powerhouse for a time with imports from California colleges. Len Tucker was among those who came up with Taylor in 1952 and many more followed.
With a huge thank you to Joan Parker (nee Kazakoff), our 1952-1953-1954 sections have major additions. Joan, out of Toronto, spent many summers in Kamsack and, thank goodness, had the foresight to take along her camera.
The new photos feature, among others, Wyllie, Findley, Taylor, Tucker,Ted Ellis, Steve Stavrianoudakis, John Carlson, Ray Philpot, Jim Peterson, Dick Hayes, and Bill Schulz.
In particular, check out the 1952, 1953, and 1954 Snapshot pages and the new Kamsack team photos, 1953 and 1954.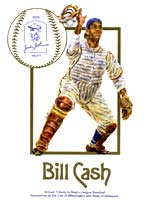 Well deserved recognition for former Negro League and ManDak League star Bill Cash. Bill (Brandon 1953, Dickinson 1955) was honoured this summer in Wilmington, Delaware at the annual Judy Johnson Night ceremonies. Thanks to Bill Guenthner for sending along information on the tribute and memorabilia from the event.
" ... Always described as a rugged backstop with a strong and accurate arm, Philadelphia native Bill Cash played professionally for more than a decade in all corners of North America.

Born William Walker Cash, he grew up in the Meadows area near the Philadelphia airport before attending Overbrook High School. He developed his skills playing semi-pro ball with the Camden Giants, Black Meteors, and Philadelphia Daisies. It was Daisies manager Webster McDonald who recommended his strapping young catcher to the Philadelphia Stars.

Over the next seven seasons in the Negro Leagues Cash earned his nickname "Ready" with his steady play behind the plate. He was selected to a pair of East-West All-Star Classics (1948, '49), catching the entire game in the East's shutout win in the latter.

Injuries caused Bill to miss a 1946 barnstorming tour with Satchel Paige and Bob Feller, and ruined his 1952 season in the minors with the White Sox organization. A line drive hitter, his production at the plate varied based on his health.

Following his playing days, Cash stayed in Philly and worked as a machinist at Westinghouse Electric & Manufacturing.

Now 86, Bill is on the Board of the Negro League Baseball Players Association. He enjoys appearances with his Stars teammates, and this May, 50 years after his playing career ended, Bill "Ready" Cash was inducted into Overbrook's Athletic Hall of Fame."


With even more assistance from Jack Altman the Fresno pages are just about complete. Jack has dug up a photo of Howie Zenimura, left, (Regina, 1955) to go along with the recent postings of photos of Rudy Garcia, Jim Jenkins, Jack Ladra, Ivan McAtee, and Franny Oneto.
The only missing photos of FSU / Canada players (as far as I now know) are Don Abbott, LeRoy Gregory, Larry and Terry Hanoian, Jim Houck, Dennis Shaves, Jack Welton and Babe Williams.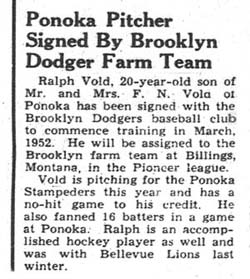 Always some interesting discoveries in just browsing through old 'papers. In the 1950s editions of the Camrose Canadian, details of some of the Camrose tournaments (now added to the site) and a report on the signing of one of Western Canada's star hurlers - Ralph Vold. (Camrose Canadian, August 1st, 1951)
Also, stumbled upon information on the Chinook Baseball League, especially the 1953 season. Bill Fennessey of the Calgary Purity 99s captured the batting crown with a .410 average topping Gus Kyle of the Universal Mercurys.
Kyle, who led the circuit in hits (50), RBIs (52) and doubles (10), ended up at .394. Cyril Ing, Red Deer, led the league in home runs, with 10.
Lefty Don Kirk, Carstairs, had the best pitching record (15-1) and led in strikeouts (168). Bill Lahey, Purity 99s, had the best ERA (1.62).
---
19 August, 2005



One of the great ambassadors for baseball, Ted "Double Duty" Radcliffe died August 11th. The versatile Negro League star was 103.
" ... Radcliffe, given his singular nickname by sports writer Damon Runyon after catching Satchel Paige in the first game of a doubleheader in the 1932 Negro League World Series and pitching a shutout in the second game, died from complications after a long bout with cancer, the Chicago White Sox said. Radcliffe was frequently in the crowd at U.S. Cellular Field and occasionally visited the White Sox clubhouse ... A six-time All-Star -- fittingly, three times as a pitcher and three times as a catcher -- Radcliffe outlived his contemporaries in the Negro Leagues and players from his era in the majors ... As he approached his 100th birthday, Radcliffe was living in a retirement center about a half-mile from Comiskey Park. His apartment was filled with bats, gloves, plaques and posters, and his easy chair sat next to a window facing a sandlot. Radcliffe was raised in Mobile, Ala., and went on to play for more than 15 teams in the Negro Leagues from the late 1920s to the early 1950s ... roomed with Jackie Robinson with the Kansas City Monarchs in 1945, two years before Robinson broke baseball's color barrier in the majors, and also managed in the Negro Leagues. At age 96, Radcliffe returned to the field, throwing one pitch for the Schaumburg Flyers in an independent Northern League game. (ESPN.com)

Thanks to Dr. Layton Revel of Texas (Director of the Center for Negro League Baseball Research) we've made some additions/changes to the rosters for 1961 and have placed Connie Johnson in the Major Leaguers section. Layton sent along a program from the '61 Lacombe Tournament. It included the roster for the barnstorming Philadelphia Stars which included Johnson as the team's ace hurler.

A former Ligon's star is the subject of a feature piece by David King in the San Antonio Express-News (August 14th).
" ... Cleveland Grant doesn't just know baseball history. He was in the middle of it. Grant was a ballplayer during one of the game's most-notable periods, the 1940s and '50s. He played on all-black teams. He played on integrated teams. He played in Mexico and Canada and places in between. He played against the House of David, a traveling team sponsored by a religious cult that featured players with long hair and longer beards.

"I've had a lot of real experiences playing baseball," said Grant, who will turn 81 later this year.

Growing up in Hondo, he played for Rufus Ligon's All-Stars with his three brothers. Hondo — where there wasn't much to do but play baseball — also was where Grant learned Spanish, which came in handy during his career at Kelly AFB as well as on the ballfield.

"We were playing against a team out of Mexico and when I came to bat, all their players were asking if I was a cubano," Grant said. "There was a woman who was at all the games, and she said, 'No, no es cubano. Es un mayate (a black man) del East Side.'" Grant laughed at the thought.

"I could understand them all, but I sure wasn't a Cuban," he said. "My doctor tells me I should write a book from all these experiences."

But his experiences are more than just good stories. His life in baseball came during a period of radical change in the sport — and in society — as the old, segregated ways were coming to an end. He played on integrated teams in Regina, Saskatchewan, and was part of a group of black players who tried out for the St. Louis Browns during spring training in 1949.

Grant also played against a team that has become a footnote to history, Bill Dickey's Major League All-Stars. Dickey was among the most prominent of the players who jumped from the majors to the Mexican League in the late 1940s, seeking better treatment and better salaries. When the experiment in Mexico collapsed, players who jumped — a group that also included Max Lanier, father of former Astros manager Hal Lanier — were banned from the majors.

So they went on a barnstorming tour to survive, playing teams like Ligon's All-Stars. "I can still remember the day we beat Bill Dickey's team," Grant said. "It was in Council Bluffs or Humboldt, Iowa. That was a good team."

But Grant didn't have to travel to Iowa to play against stars. When big leaguers like Don Newcombe were stationed at Fort Sam Houston in the early 1950s, they would seek out competition on the weekends and play games in the Spanish-American League or the South Texas Negro League.

Grant, nicknamed "Babe" for his hitting ability and "The Octopus" for his skills at third base, wasn't above a freelance appearance or two himself. During one of the summers he played in Canada, he was recruited for a team heading out to play on a nearby American Indian reservation, where betting action on the games was heavy.

"Those guys would see me coming to the plate, and they'd say 'Strike out, brother, we need the money,'" Grant said. "I have to admit I felt sorry for those guys, but I wouldn't strike out for them."

Grant's ballplaying also included summers in the South Texas Negro League, which is holding a reunion Saturday at Wolff Stadium. At least 25 former players will be honored on the field before the game and there also will be the presentation of plaques honoring Royal Brock and Nate Davis Sr., the founders of the league.

Negro Leagues historian Layton Revel will make a presentation about the South Texas Negro League's history, and players — including Grant — will be available in the picnic tent as well."

And, a couple of older items also of interest. The News-Gazette, Champaign, Illinois, carried an item by Pat Phillips on Dr. Revel October 4th, 2002 :
" ... DANVILLE - A Texas chiropractor with an interest in education and history has rekindled many memories for a retired Danville athlete, former Negro Leagues player Nate "Bobo" Smalls. Dr. Layton Revel, who owns seven rehabilitation clinics across Texas and wrote a series of books on education and sports, has found himself fascinated with the history of the Negro baseball Leagues in America.

"My family was incredibly blessed on a business deal and it has allowed me to establish the permanently funded Center for Negro League Baseball Research," Revel said. "There are no paid positions. Every time we make a trip for research, we pay our own way." Revel's fascination began at a book signing where he met some former players from the Negro baseball Leagues.

He was then invited to attend a reunion of league members, and his fascination with the talent of the men and the fact that his extensive library of baseball books contained very little information on the league and its players led him to first research what was being done to preserve the league's history and then to establish the center. "There really was a lot to the league. There were both major and minor league teams, and when the league, as a business, disbanded, barnstorming teams," Revel said. "The barnstormers were definitely professional-caliber players, but they were also entertainers, like the Harlem Globetrotters of basketball, but they took on all comers - industrial teams, town teams, black college teams - instead of playing a team, like the Generals, that travel with (the Globetrotters)."

The center, established eight years ago, has three goals: to locate as many of the former Negro League players as possible and record oral histories, collect league artifacts and do historical preservation and research on the League. A permanent collection of Negro League artifacts is on display at the Legends of the Game Museum in Arlington, Texas.

The first Negro Leagues were organized in 1920, but later folded. The Negro National League was formed in 1933, and the Negro American League was organized in 1937. The two leagues had their own World Series and All Star games, until they disbanded in the late 1940s. Revel set about the task of defining when the Negro Leagues actually ceased to exist and tracking the teams that continued to barnstorm. The last team, he said, which played into the 1980s, was the Indianapolis Clowns and their star was Bobo Smalls.

Smalls has made Danville his home base since marrying Anita Smalls 34 years ago. He is retired from Bunge-Lauhoff. "I met the greatest woman when we were here playing the Danville Boosters at Danville Stadium. She got to harassing me and we been together ever since," Smalls said. Smalls' career with the Clowns was a colorful one.

"Bobo was the last really great player of significant athletic ability to play in the Negro Leagues," Revel said. "He was a really outstanding player and an incredible showman."
"I was signed by the Kansas City Royals, but the Clowns' owner saw me as an entertainer and talked me into staying," Smalls said. The still long and lean Smalls said he had his entertaining debut in Davenport, Iowa.

"I went to the local Kresge and bought a pink mini skirt, white baseball shoes and socks and a blond wig. About the fourth inning, I changed and came out to hit. I had these long skinny legs and I put a red bathing suit on under the skirt. There were probably 10,000 people there ... They liked me and ever since then."

Smalls would play his fielding position from a lawn chair while drinking lemonade, call all the other fielders off the field and strike out the side from the mound, leave the field and roam the stands to interact with the fans. He also developed the ability to hold five baseballs. "I used to love to go in the stands and steal people's popcorn and lead kids on the field. Most of them had never been on a major field.

"One time, in Corning, New York, I took this little girl's lollipop and I put it in my mouth," Smalls recalled. "After the game, the lady she was with came up to me and said that they were there with a group from the orphanage. She told me 'That's the first time that child has smiled since she came to us.' That was really something." Revel said Smalls was perfect for barnstorming. "I think Bobo is a vagabond," Revel said. "I think he really enjoyed life on the road. Everything about Bobo was about the game of baseball, not about money."

Smalls began his pursuit of a professional baseball career in 1964 with his hometown Savannah Bears. "His skills should have taken him into professional baseball," Revel said. "He was a fine left-hand pitcher." Smalls still loves his baseball and uses his showmanship when talking to kids about avoiding gangs, violence and drugs.

"My baseball stories give me a platform to help kids," Smalls said. "If I heard one kid say, 'I heard Bobo say not to do this,' and it keeps them out of trouble, if I can make that kind of impact on kids, that's what I want to do."

"I didn't make a lot of money, enough to take care of my family," Smalls admits of his baseball days. "But I'd do it all over again." Copies of his personal career scrapbook and video of his part in "Back to Jackie," a tribute to Jackie Robinson, are now a part of the archives at the Center and the Negro Leagues Baseball Museum in Kansas City.

"Knowing that my stuff is in two museums is like being in a hall of fame," Smalls said. "Being told I was the last of my kind, though, is a sad distinction. It makes me a kind of dinosaur." Revel begs to differ. "There's no doubt, Bobo's longevity and commitment deserves a prominent place in the history of black baseball," he said."

And, from The Oklahoman, June 21, 2004, by Berry Tramel :
" ... GUTHRIE -- Porter Reed's dad told him to play baseball. The Muskogee town team was short of players. Too much barbecue and homebrew whiskey that day, June 19, 1937.

Even at 15 years old, Reed could play. But he was little and scared and didn't want to scrap with veterans of Negro baseball. So when his dad told him to play, Reed instead ran. He bolted from his pops and dashed across the field, trying to flee the game. But his dad and baseball caught him.

"He gave me the worst whippin' I ever had in my life," Reed said. "I've been playin' with the big boys ever since." Sixty-seven years later, to the day, Reed was still playing with the big boys. He attended the Oklahoma Black Baseball Reunion on Saturday at the Oklahoma Sports Museum.

Nine veterans of Negro League baseball -- ranging from the Kansas City Monarchs to town teams -- assembled to tell stories and celebrate the history of a culture that slowly is losing eyewitnesses.

"So much history of Negro League baseball has been forgotten," said Dr. Layton Revel, director of the Center for Negro League Baseball Research, who drove up from Dallas to moderate the reunion. But for a couple of hours on a summer Saturday, the Negro Leagues lived again.

The Guthrie Black Spiders don't have the lush history of the Homestead Grays or the Birmingham Black Barons. But such storied franchises were only a small part of Negro baseball. Every region had a league. Many a town had independent teams. And from 1937 through 1951, the Black Spiders were the pride of Logan County.

"It was THE event of the week in Guthrie at that time," said 64- year-old Lola King, who grew up in Guthrie and now is director of educational services at Tinker Air Force Base.

Sammie Simms, who owned the Chicken Inn and a rooming house, organized the Black Spiders and recruited the players.

"Sammie's the guy," said Frank Luster, who played for the Black Spiders while a student at Langston. "Sammie loved baseball. If you're hungry, he'd feed you. Send transportation over to Langston."

The Black Spiders played weekends at Jelsma Stadium, and after games the party would start over at the chicken shack, just south of the ballpark. King called it a "homespun, juke-joint atmosphere." Fried chicken, beer, music and social standing.

And it all started with the baseball games.

"People didn't have any place to go," said Cookie Chambers, who played second base for the Black Spiders. "Come out to the ball game, spend the whole day. You'd fill that stadium up."

Simms paid announcer Chief Ellis $2 to drive around town with a loudspeaker, publicizing the game later that day. The fans responded, even white fans. The Black Spiders had a strong following.

Often, the opponents were white, too. Said Chambers, "We couldn't get the black teams to play us."

In 1949, the Black Spiders grabbed control of Guthrie. In August, they played the Guthrie white team, Nelson Sporting Good, in a best-of-three series. The winner got the stadium for Sunday afternoon games, when crowds were the highest.

The Black Spiders won in two straight.

The black baseball alums told tales of players, both famous and never known.

Reed, who went from the Muskogee Cardinals to the Kansas City Monarchs, played against the great Josh Gibson. "THE best hitter," Reed said. "THE best hitter. THE best hitter. His ball, it wasn't might be, wasn't could be. It was."

Reed batted against Satchel Paige and wouldn't try to hit old Satch. "I laid down a bunt," Reed said, pointing to his head. "Baseball, it's up here. You gotta be smart."

But not all legends are household names.

Ex-Black Spider catcher Ted Hamlin talked of a hitter named King Kong. "Real name, nobody knows." And a knuckleball pitcher, Jimmy Webster. "I could call for it anywhere, and he could put it right there," Hamlin said.

Chambers told of a cross-eyed pitcher, Elmer Hester.

And Reed recalled a Muskogee pitcher named Jim Robinson. "Good pitcher," Reed said. "Whiskey man. One Saturday, pitched a doubleheader. On Sunday, pitched another doubleheader. Sunday night, made whiskey for the rest of the week."

Chambers wore a black T-shirt heralding the Negro Leagues. It proclaimed: "For the brothers who played and never got paid." But the black ballplayers were paid. Just not very much and not very consistent.

Frank Luster, who played for the Black Spiders while attending Langston, said he got $8 a game unless he pitched. Then it was $10. "I liked pitching," Luster said.

Tickets to the Black Spiders games were 50 or 75 cents. Proceeds paid for the umpires first. Some games were staged on a 60-40 basis -- the winners got 60 percent of what was left. But in Guthrie, few teams would play the Black Spiders for anything other than a 50-50 split of the net.

Said Chambers, "We got paid if there was anything left."

Gene Sugarfoot Johnson barnstormed in the 1950s with two storied teams, the Baltimore Elite Giants and the Brooklyn Cuban Giants. "The tour with the Cuban Giants, I haven't been paid for that yet," Johnson said.

The Negro Leagues, not unlike white baseball then and all of baseball now, had a caste system. "Satchel, they gave him $5,000 (a season) in Des Moines," Reed said. "They gave me $300." Even in the highest level of Negro Leagues, the pay was minimal.

Reed in 1949 played for the Houston Eagles, who had moved from Newark. He received a telegram from his wife back in Muskogee that all their furniture had been repossessed. "Wasn't nothin' left but the stove," Reed said.

Fifty-five years later, the silver- haired ex-ballplayer breaks down at the memory. "I had my ups and downs," Reed said. "Wasn't all good days playing baseball."

"It's dying history," Reed told Layton Revel. "You're digging it up. We appreciate this. I love baseball. I appreciate this digging it up. It's good."

Revel founded his Negro League research center about 10 years ago. He says his mission is threefold: 1. document history; 2. collect artifacts; 3. locate as many alums as possible.

Revel says he was told 10 years ago there about 275 Negro League veterans still alive. But Revel has found an additional 500 and believes many more remain undocumented.

He delighted in the stories of the men in Guthrie on Saturday.

Porter Reed slapping his knee at the notion of riding a train on road trips.

Kenneth Arinwine graduating from Douglass High School and being courted by the Chicago American Giants, only to be told by his mother he was too young to go.

Cookie Chambers telling of the McAlester penitentiary team coming to play the Black Spiders. "The toughest team around. A guy ran off, and they never caught him. That ended us playing them."

And Sugarfoot Johnson eating baked beans, bologna and bread, for breakfast, lunch and supper.

Said Johnson, "Now looking back, I really appreciate those times. I learned I was a survivor."
---
31 July, 2005


What a marvelous addition to the Internet and to the research efforts on baseball in the 50s & 60s ! Bill Guenthner has re-packaged his self-published book on the Minot Mallards as a web site.
Bill even got some coverage in the Minot Daily News (July 16) in a piece written by Chris Bieri. The text of the article follows :
Even though Minot native Bill Guenthner has been living on the East Coast for years, fond memories of his youth in Minot are still occupying his time.

Last year, Guenthner published a book on the Minot Mallards baseball team and earlier this month launched a Web site (www.minotmallards.com) dedicated to the same club that played in the Man-Dak League in the 50s.

"I followed them when I was a kid," Guenthner said. "When I got to be a teen-ager. I got interested in other things."

Guenthner's interest in the Mallards waned for decades until the late 1990s when the Mallards were reincarnated in the Prairie League. Guenthner travelled to Minot in 1997 to visit his mother, who still resides in Minot, and the return trip sparked his memories of the team.

They had a reunion in 1997," he said. Guenthner who now resides in Hockessin, Del., was not able to make the reunion, but had the team sent him a booklet it compiled for the event and some other information.

"I started reading the microfilm from The Minot Daily News," he said of his research methods. "I started going through the seasons and building a database of information."

He began to exchange information with Jay-DeIl Mah and Barry Swanton, who had been researching the history of baseball in Western Canada and the Man-Dak League respectively.

"I started surfing the Internet," he said. "He (Mah)) has a Web site that is 700-800 pages on baseball in Western Canada."

After gathering a host of information, Guenthner decided to write and independently publish a book on the Mallards.

He was surprised when there was a fair amount of interest in his book.

"I tried to sell it (his first copy) on eBay, it sold for over $50," he said, adding that he was able to sell dozens more online. "I think the people on eBay were looking for information on Negro League players."

In the 50s, the Mallards were a hot ticket in town, with players like Rugby's Clifton "Zoonie" McLean, who was a multi-sport star at Minot State University before becoming a perennial star with the Minot nine.

Even the legendary Satchel Paige threw a few innings for the Mallards in the1950 season. After the book was favorably received, Guenthner decided to begin transferring the contents of his book onto a Web site.

"I always wanted to do a Web site," he said, "so I decided I'll take my book and make a Web site out of it."

"My plan is every month I will come out with some revisions," he said. "I'll do it for a year and see what happens."

Barry Swanton, who has self-published a book on the ManDak League, has made arrangements to have a substantially revised edition published next Spring. Among other things, it means the work will be made available in the USA.

A reminder. The Saskatchewan Baseball Hall of Fame Induction Day is set for August 20th, Battleford, Saskatchewan.

Earlier this summer, the Manitoba Baseball Hall of Fame gave special recognition to the ManDak League at its ninth annual dinner. More than 600 people attended the June 4th event which also honoured Gladwyn Scott for his indelible mark on baseball in the province, including his role in the creation of the Baseball Hall of Fame.
" ... The Manitoba Baseball Hall of Fame featured a definite local flavour as it honoured 13 individuals, four teams, named its 20th Century All-Star Team and gave special recognition to a past league ... Among the 12 new inductees was long-time Carman Goldeye left-handed pitcher Gerry Falk who was enshrined as player/builder ... Falk was named to the 20th Century All-Star team along with right-handed pitchers Glennis Scott and Don Rettie, and fellow leftie Orville Minish.

Meanwhile, Miami's Almer McKerlie was named as the catcher, with Bill Carpenter at first base, Lloyd Brown at second, Ian Lowe at third and Bill Siddle at shortstop. The outfielders named were Gerry MacKay, Ken Little, Mark Fisher, and former Goldeye Gord Ledochowski. Toronto Blue Jay and ex-Minnesota Twin Cory Koskie was named as the designated hitter and yet another former Goldeye, Shane Moffatt was selected as the utility player. Terry Hind was chosen as the manager ...

The long defunct ManDak League received special recognition. "It was unique," said Jack Callum, the President of the Manitoba Baseball Hall of Fame. The league operated in Manitoba and North Dakota from 1950 to 1957 using not only Canadian players but also many of the Afro-American players from the former Negro League teams that were put out of business when the American and National Leagues disposed of their racist colour barriers. Of the Afro-Americans, three who spent part of their careers in the ManDak were inducted to the Baseball Hall of Fame in Cooperstown, New York: Ray Dandridge, Leon Day and Willie Wells. At one time or another the ManDak included teams such as the Bismarck Barons, Brandon Greys, Carman Cardinals, Dickinson Packers, Elmwood Giants, Minot Mallards, Williston Oilers, Winnipeg Buffaloes, Winnipeg Giants, and the Winnipeg Royals. One of the great shakers and movers of the league was Stanley Zedd of Winnipeg who besides owning the Buffaloes was described by Bill Redekop in his book Crime Stories as the colourful kingpin of underworld gambling in the city." (Carman Valley Leader)

Minor updates in several sections, including additional photos in the Negro League areas.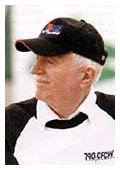 News filters through of the passing of Wes Montgomery, infielder with the Peace River Stampeders of the late 50s and prominent broadcast personality in the West. Montgomery worked in radio for nearly 50 years, kicking off his career at CKYL, Peace River before moving on to cover sports with CKSA, Lloydminster and CFQC, Saskatoon.
He's probably best remembered for his 17-year tenure as morning man at CHED, Edmonton where he became one of the province's best-known broadcasters. He died April 25th at the age of 66.


Donald Jantzie, a key member of the Vulcan Elks of the Foothills-Wheatbelt League in the mid 50s, passed away on June 23rd at the age of 79. He graduated from the University of Alberta in 1950 and began a career with the Seismograph Service Corporation before returning to Vulcan to take over the family farm in 1956. Back at university, Jantzie added a Bachelor of Education degree and, in 1962, began teaching at County Central High School. It would continue for 19 years. Upon retirement, in Calgary, Jantzie barely slowed down as an active member of the Golden Age Club, Senior Sports Club, Royal Canadian Legion, United Church, Independent Order of Odd Fellows, among other interests.
---
28 June, 2005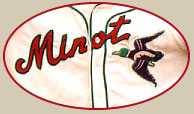 More sterling sleuthing by Bill Guenthner, author of Minot Mallards of the ManDak League 1950-1957, has turned up some fascinating memorabilia -- uniforms of the Minot Mallards, a powerhouse team in North Dakota and the prairies during the late 40s and 50's.

It seems it was only yesterday when our little project first hit the internet. Now, with the site at some 20 or 30 times larger than first anticipated, I've been revisiting some sections to begin revisions to reflect new information and the reality, for many, of faster internet connections which make it feasible to post larger versions of photos (without forcing you to wait forever while they download).
The initial test has been with the Fresno State section. Now included in the list are all the FSU players identified as having played in Western Canada (more than 80 identified so far) not just those for whom actual Fresno State pictures were available. There are a few holes -- photos still required for Don Abbott, Rudy Garcia, LeRoy Gregory, Larry and Terry Hanonian, Jim Houck, Ian McAtee, Franny Oneto, Jack Welton, Babe Williams and Howie Zenimura. I could also use some upgrades on some of the photos. This section also includes larger versions of many of the pictures. Just click on any of the photos displayed.
Also, there's been a slight revision to the logo on the home page and the smaller one at the top left of each interior page. The prairie elevators (from Jack Altman's great shot of those Vulcan, Alberta elevators in the mid 50s) remain the central theme.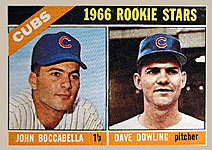 In searching for some of those missing photos I have come across quite an unusual card, a 1966 card featuring a pair of former Western Canada stars who both suited up with prairie teams in 1961 -
John Boccabella
(Saskatoon) and
Dave Dowling
(Lethbridge ).

A surprise find in surfin' the net -- a pair of photos of Charlie Beene (Saskatoon 1951 & 1957) in a feature article in the Billings Gazettte of March, 2003.
" ... Beene and [his German shepherd] Rex walk together twice a day along the Rimrocks overlooking Alkali Creek. That's where they spotted two 16-year-old Belgian mares -- Fara and Faydee. Now, part of his daily routine is feeding each of the horses a couple of carrots. He checked with the owners, John and Meg Carpenter, who say it's OK to feed them carrots, but not to feed them any grass or hay. "I don't know anything about horses, but I think they're great," Beene said. "They know me when I arrive over the hill."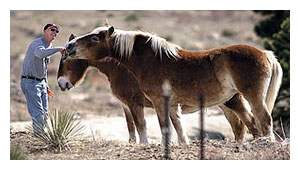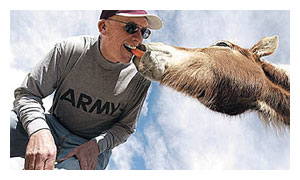 Thanks to JC in Miami for sending along photos of winter league baseball cards (Cuba and Puerto Rico) from the late 40's and early 50's. Top row, left - Rafe Cabrera (Brandon and Winnipeg, 1948 to 1953), then Barney Brown (Brandon 1952-53, Ontario 1954, Lloydminster 1955-56).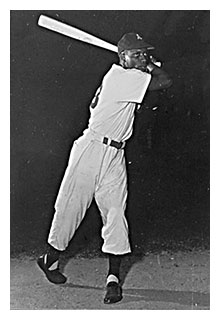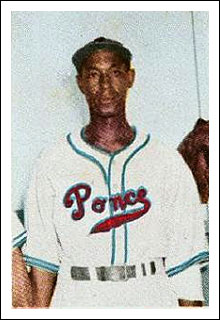 And below, left to right - Willie 'Curly" Williams (Carman 1953, Lloydminster 1955 to 1963), Bill Powell (Lloydminster 1959), Lou Louden (Elmwood, Winnipeg, Brandon, 1951 to 1954, 1957) and Stan Karpkinski (Williston 1955, Lloydminster 1956)






In its Summer, 2005 edition, Prairies North carries a short piece on Anton Belous, a star hurler for the Hyas team of the Northeastern Saskatchewan League in the 1930's. Belous walked away from baseball to concentrate on his farm, family and local community. The item, by David Egge, portrays Belous as one of Saskatchewan's unknown heroes. Thanks to Barry Swanton for forwarding the article. And, speaking of Barry, his book on the ManDak League may soon be available in the United States. More info when available.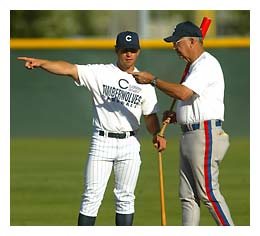 Bob Bennett isn't just sittin' and rockin' in his easy chair. The Hall of Fame coach, who retired from head coaching duties at Fresno State after the 2002 season, is helping out his grandson, Jeff Prieto, the head coach of the Clovis East High School baseball squad.
Bennett was also a featured guest at the College World Series which concluded yesterday (with Texas taking the title). Bennett was among the coaches from the ABCA (The American Baseball Coaches Association) to address audiences at the event.

Thanks to Tom Bergeron (Lloydminster 1958 to 1961) for some clippings to help fill in details in coverage for those seasons, including the incredible triumph for the Meridians at the 1960 Lacombe Tournament.