Updated : August 03, 2003

A big charity event is coming up the weekend of September 6th to assist the surviving members of the Negro Leagues. If you are anywhere in the Houston area please drop in and help out.
This all comes about because of a group of guys who formed the No Bats Baseball Club.
" ... We stand for all that should be good about the game and using baseball as a vehicle to grow old gracefully while being good to other people."

" ... No Bats isn't just about playing baseball, it's about supporting the game that we all love. The No Bats Baseball Club has proudly and consistently supported causes such as the Nolan Ryan Foundation, Catfish Hunter's ALS Foundation and Dave Dravecky's Outreach of Hope ... We were one of the first sponsors of a strikeout at the Nolan Ryan Foundation ... We've also made general donations to the Foundation, done charity work in the Bahamas in the aftermath of Hurricane Andrew, hosted a Canadian team at Cooperstown, and donated money to the American Kidney Fund, donated to help fight Lou Gehrig's disease, cancer amputee victims...the list goes on."
Rich Bellis (who kindly passed along information on his meetings with Ira McKnight) is a key member of the group. This year they take their annual game and charity work to Round Rock where a Baseball & Blues benefit is to be held at the home of the Astros Double-A affiliate. For information on the No Bats, check out :
http://www.nobats.com/

Thanks to Rich Bellis for sending along information on his meeting with Ira McKnight, who played with Saskatoon in the Western Canada League in 1960 after suiting up for clubs in the last days of the Negro Leagues. McKnight continued to play into the mid-60s in the Northern Saskatchewan League. McKnight fondly recalled his tenure in Canada and helped to fill in some of the missing names in the 1960 Saskatoon team picture. That's Ira left, along with Nate Dancy, below second from left, Tommy Taylor, and (right) Rueben Rodriguez.




Some kind worlds from Jim Sims, one of the top starters in the Canadian-American League in 1959 (with Edmonton) . Jim discovered the site a week or two back. "My memories have faded so it was fun to go back and learn the truth of what actually happened as opposed to what I remembered."
Jim, an Arizona State star, went on to achieve a PhD in Chemistry from UCLA in 1964, had an NSF postdoctoral fellowship in Zurich, then settled down at the University of California, Riverside where he's about a year from retirement.

Looks as if we may have tracked down another of that 1950 touring team, the California Mohawks. By chance (in reading an article from a Las Vegas paper on Joe DiMaggio's incredible PCL hitting streak) there was a quote from Lou Pisani. He's been a high school coach in the area for decades and, I believe, has been involved with the Triple-A club in the city.


A coincidence, contact from Robert Jones, and John B. Jones sons of Roland Jones, also a member of that 1960 Saskatoon club. Robert reports finding a cache of clippings and information from his dad's career and is beginning to sort through the material. It is hoped there will be significant finds to help fill in some of the blanks here. Roland was a key moundsman for four seasons, 1958 with Regina, 1959 Edmonton, 1960 Saskatoon, and back in Edmonton in 1961. He also served a couple of terms as playing manager. Roland died in 1982 after a long career coaching high school athletics.

Always a pleasure to hear from Tom Mulcahy (Lloydminster 1954, Williston 1955). Tom sent along copies of some autographs from the 1972 Old Timers' game ... Stan Musial, Newk, Babe Herman, Satchel Paige, Allie Reynolds, Campy, Ernie Banks et al ... what a collection.

Thanks to Dave Shury, Mr. Baseball in Saskatchewan (and the force behind the Saskatchewan Baseball Hall of Fame) for a Lloydminster Meridians program. Much appreciated.

Discovered Barry Arnett, Lloydminster 1960 & 1961, living just a couple of hundred miles away. He's in Vancouver.

More appeals for assistance -- trying to find information on a touring fastball club, the Iowa Ghosts (aka Iowa Grey Ghosts, Iowa Colored Ghosts) who likely toured in the last 50s and early 60s.

Also hoping to find any information, however rudimentary, on James Hicks a former player (early 60s) with the Kansas City Monarchs, a club which toured extensively in Western Canada. James was an infielder, probably shortstop and a little guy -- 5-4 or 5-5, 140 pounds. He was born in January, 1933 and could have been on the Monarchs touring team of the early 60s.

Nice to hear from Wayne Labins, son of Jerry Labins who suited up with Lloydminster in 1957. He's checking the attic to see if there's any material stored from that season.

Western Canada alumnus Gary Adams (who played alongside his twin brother Gene with Calgary in 1960) is to step down after three decades as head coach at UCLA :
" ... Adams has decided his 30th season at UCLA will be his last. Adams announced yesterday that he will retire from coaching after the 2004 season, then spend 2004-05 helping the new coaching staff in its transition in an administrative position. "Coaching at UCLA has been a dream come true for me," said Adams, a 1962 graduate of the school. "I've had a tremendous time working with the quality student-athletes in our program. Watching them develop during their time at UCLA and then watching their successes in all fields after college has made me proud to be their coach." (Baseball America)

Frank Neri, the namesake of his dad (1957-58-59 in the ManDak & WCBL), has been in touch and is looking for relevant material on his dad's career, both pro & in Canada.

Our prayers and good thoughts for Doug Culbreth of Philadelphia who has been a big help in tracking down contacts in the Philly area. Doug's youngest son was killed in a traffic accident in March. He was just 27.

A note of thanks arrived from Jeff Bennett, the grandson of Arnold Godlonton who suited up with Lethbridge teams in the early 50s. Jeff is hoping there might be some memorabilia hidden about. We'll keep you posted.

So happy to hear Jim Lester is back on the golf course, not yet ready for the pro circuit, but just happy to be able to drive a few. Always great to chat with Jim who sent along some great stuff from the Lacombe Tournament.
Thanks for your patience these last weeks as the spring and summer have been so busy the site has had to take a backseat. Keep looking for those goodies from the 50s & 60s !
---
04 May, 2003

Sherwood Brewer (Saskatoon 1951, 1957, Medicine Hat 1959) died at age 79 on April 23rd. The Chicago Tribune carried the following story :
Sherwood Brewer, 79, of Chicago, an All-Star second baseman in the Negro Leagues, founded a fellowship organization that worked to make sure history remembered the players and they remembered each other.

Mr. Brewer died Wednesday, April 23, in his Chicago home.

He helped demonstrate fielding fundamentals to Jackie Robinson and Ernie Banks, his teammates on the Kansas City Monarchs.

An Army veteran of World War II and the Korean War, Mr. Brewer was raised in Downstate Centralia by an aunt and uncle after his father died when he was 11 months old. He credited his uncle with sparking his love for baseball and said his break came after he played baseball with his military unit while stationed in Guam.

"I guess someone saw me. When I got out of service and back home, I had a lot of letters from different ball clubs," Mr. Brewer told the Chicago Sun-Times in 1995.

Mr. Brewer briefly managed the Monarchs and played on two other teams, the New York Cubans and the Indianapolis Clowns, in the 1940s and 1950s. The Negro Leagues existed in various forms from 1920 until 1961.

"Players like Jackie Robinson and Ernie Banks learned the game from their teammates in the Negro League, and Mr. Brewer was one of those guys," said Dennis Biddle, president of Yesterday's Negro League Baseball Players Foundation, which Mr. Brewer founded in 1996.

Banks has said in interviews that when he was homesick on a road trip with the Monarchs, Mr. Brewer made him feel better and helped keep him in the game.

"My brother was always proud of being a part of the league," said his sister, Geanette Coleman. "He talked about it all the time. He said it was hard at first to be recognized for who they were as players because there weren't a lot of people coming to watch the games of the black players. But he always spoke highly of everyone and said he was treated fairly by the fans."

Mr. Brewer also helped keep the memory of the Negro Leagues alive after he left baseball.

"What he's mainly known for is pulling the guys together after the Negro League folded," Biddle said.

A pitcher for the Chicago American Giants in 1953 and 1954, Biddle went to spring training with the Cubs in 1955, but a broken leg ended his career.

He said 180 former Negro Leagues players are alive, and most are members of the foundation Mr. Brewer launched.

Mr. Brewer also worked at a bakery at the University of Illinois at Chicago until his retirement in 1988.

Other survivors include sons Sherwood, Dwayne and Kevin; sisters Dorothy Benjamin and Hattie Leggs; a brother, Johnny Daniel; five grandchildren and one great-grandchild.

Services have been held.

Ed Albosta (Minot 1952-53, Carman 1954) passed away in January.

Good to hear from Jim Lester -- spinal fusion successful, but some post-operative rehab will keep him on the DL for awhile.

The latest issue of SABR's The National Pastime has a story on Don Lee (Williston 1955) and his father Thornton, both major leaguers.

Great to hear from Jeff Swick, Jules' son (Saskatoon Gems). Among other things Jeff has sent along this great photo of a team from the late 40's or early 50's.

John Doucette (Edmonton Eskimos 1955-56) located -- White Rock, BC. 70th birthday coming up !
---
04 March, 2003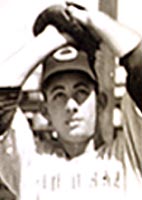 Don Barnett ? Maybe, maybe not. My attempts to identify this picture of a 1950 California Mohawk pitcher has failed to bring a definitive answer. Already, count out Jake Abbot and Fred Bartels (lefties). So, it appears to be one of Don Barnett, Larry Bolger, Mike Rubcic, Bud Bauhofer, Lou Pisani or Jack Welton.

Thankful to Douglas Culbreth of Philadelphia for information and clippings on Charles Peete (Brandon, 1950) who was on the verge of a major league career when he and his family were killed in a plane crash in Venezuela in 1956. Peete had a brief callup with St. Louis during the 1956 season after an outstanding campaign in Triple A. Douglas has also agreed to try and videotape interviews with former Negro League star Bill (Ready) Cash (who played in the ManDak League with Brandon and Bismarck). Bill might also have some leads on tracking down the family of Barney Brown with whom Cash played for several years in the Negro Leagues.

Anyone with information on Andy Anderson ? The one who played in the infield with the St. Louis Browns in 1948 and 1949. I've had a note from Kitsap County in Washington which is trying to organize an historical display. I have information on an Andy Anderson who played with Minot in 1950 and an Andy Anderson who suited up with Carman in 1951 and an Andy Anderson with Minot in 1956 and 1957. The Anderson with Carman and with Minot in 56-57 was a pitcher. I am not sure about the 1950 version. The details on have on the Anderson sought : Andy Holm Anderson, born November 13, 1922 in Bremerton, WA. 5'11, 172 pounds.
---
25 February, 2003

Long overdue. Recognition for the Asahi, the celebrated Japanese-Canadian team of the 30s and early 40s. The Asahi Monday won entrance into the Canadian Baseball Hall of Fame (along with Joe Carter, Kirk McCaskill, and Richard Bélec, one of the founders of Baseball Quebec).
" ... The Asahi ... were the pride of Vancouver's Little Tokyo. Local heroes, hopeful recruits came not only from the hometown, but also from every surrounding town, village and farm in the Fraser Valley. Wearing the Asahi uniform became the dream of every Japanese Canadian boy.

Smaller than most Caucasian players, the Asahi played a brand of baseball everyone called "brain ball." They stole bases with abandon and placed bunts with the accuracy of pool sharks.

By the 1930's, the Asahi Japanese Baseball Team was playing in the prestigious Senior City League at Athletic Park, and had become the top gate attraction on the West Coast. Beginning in 1937, the Asahi won the Pacific Northwest Championship five years in a row. However, 1941 would be the last carefree summer the boys would play as a team.

Early in 1942, following the Japanese attack on Pearl Harbor, the Canadian government interned all people of Japanese descent, confiscating their property, and destroying their lives. As a team, the Asahi never played ball again. Yet, when these men, along with thousands of Japanese Canadians, were removed to prison camps, ghost towns, and road crews, they took with them the spirit of baseball. Little by little, bats and balls appeared and these former Asahi players assembled baseball teams wherever they were. Soon these men were playing against their RCMP prison guards, then with local townspeople -- many of who had never seen a Japanese person before and were surprised to discover they spoke perfect English. Baseball, the ultimate symbol of North American culture, was a common bond. It helped dispel suspicions and fears and led to lasting friendships that exist today."

" ... It is believed that ten members of the Asahi are still alive today: Ken Shimida, Jim Fukui, Yuki Uno, George Yoshinaka, Ken Kutsukake, Kiyoshi Suga, Mickey Maikawa, Kaye Kaminishi, Mike Maruno, and Bob Higuchi."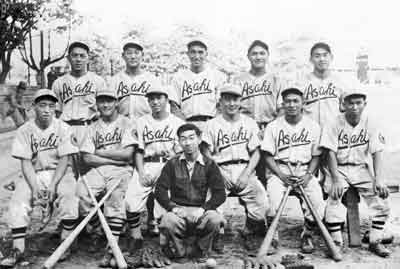 Back row: Yuki Uno, Eddie Nakamura, Naggie Nishihara, Koei Mitsui, Kaz Suga. Front row: Mike Maruno, Ken Kutsukake, George Shishido, Roy Yamamura, Tom Sawayama, Frank Shiraishi. Centre: Kiyoshi Suga

Western Canada veterans Greg Seastrom, Bob Doig and Jack Altman were among those who made their way to the Fresno Old-Timers Alumni game. Altman didn't live up to his usual standards in his annual mound appearance (5 hits, 4 runs). He's already preparing for the 2004 match. (Thanks to Greg and Jack for help in identifying the California Mohawk pitcher. The consensus -- Don Barnett.)

Ray Nemec, noted sports historian/researcher is really something. One day I may be able to stump him, but not close so far.
The latest mystery followed a request from a reporter (from the Danville, VA paper) working on a story on Eloyd Robinson (who played in Western Canada with Indian Head, Saskatoon and Lethbridge). I could find a few bits on Eloyd, but Ray managed to fill in much of his career by tracking down his records under four different names -- Eloyd, Elloyd, Floyd and Jack.

Found -- Miles McWilliams (another of the Pfeiffer guys & Williston 1959) located near Jackson, Mississippi.

Murray Luft has found some information on Dodger Lewis :
" ... Dodger Lewis was one of Alberta's finest hurlers in the twenties and thirties, forming a battery with his hard-hitting brother Frank. The Lewis Boys hired out their service to teams throughout Alberta and Saskatchewan." (From Lewis St. George Stubbs, "Shoestring Glory: Semi Pro Ball on the Prairies".)
---
05 February, 2003

This is the part of the project which brings only sadness.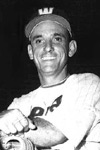 News from Cuba of the passing of Tony Campos, long time Cuban star who also played pro ball in the USA and Mexico and in the ManDak League with Williston (1954).
Among his achievements in Cuban baseball were the 1954 and 1955 seasons with the pennant-winning Almendares teams and for Cienfuegos, in 1956, which went on to win the Caribbean World Series.
He died suddenly in Havana on the 29th of December. He was 77. In announcing the death on TV, commentators noted, "... he was a fine ball player and a very good friend of the sports press."


With thanks to Bud Watkins, we've begun to sort out more IDs on pictures from the California Mohawks of the early 50s (especially in the 1951 "snapshot" section). Also, I am looking forward to receiving Bud's diary of the 1949 and 1950 seasons with the Mohawks. This should add substantially to our knowledge of the barnstorming Californians.

On the subject of those mainly college barnstormers, among the photos which have proven difficult to ID is one of a pitcher from 1950 (see left). I believe, which originally had been identified as Watkins. Bud thinks it might be Al Endriss. I wonder if this might be Don Barnett ? Larry Bolger, Mike Rubcic, Bud Bauhofer, Lou Pisani or Jack Welton ? Somebody else, pretending to be a pitcher? Anybody help? Thanks !
---
30 January, 2003

Happy New Year ! Hey, for a guy lost in the 50s, this can't be seen as being too tardy!


Our thanks to Cesar Lopez (who has done a marvelous job preserving the history of Cuban Baseball on the 'net) for digging out some baseball cards (from the winter leagues) of two of the Cuban players who suited up in Western Canada.
Armando Suarez - Position: Pitcher. Club: Cienfuegos. Born in Havana 20 years ago.
Bats and throws left-handed. Height 6'1" and weighs 160 lbs. Uniform no. 6. He played in the Cuban Junior Championships of Bueno Vecino and later as a amateur in the Popular League. In 1951 he leaped to the Brandon Club of the Canadian League, where he won 14 games. Belongs to Club Cienfuegos since last year.

Right, from a 1953-54 Program : Armando Suarez - Pitcher.
Throws and bats left-handed. Born in Havana on the 6th of May, 1932. Height 5'11 1/2". Weighs 158 lbs. Single. In 1953 he also played for the Great Falls Club of the Pioneer League, where he finished with a 10-5 record.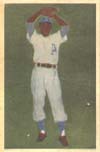 Left, from the 1952-53 Victoria Album, Pedro Naranjo -- Position: Pitcher. Club: Almendares. Born in Havana 24 years ago. Height 5'9'' and weighs 155 lbs. Bats and throws left handed. Uniform no.19.
Is expected to become one of the premier left-handed pitchers in Cuban baseball. He played this summer in the BBO with the Decatur Club of the State of Missouri, which was managed by Yuyo Acosta. It is his 2nd year in the championship.
Ray Nemec, the baseball stats man, has been kind enough to send along the stats and background information that's on file about Armando Suarez :
Born, March 6, 1932, at Havana, Cuba.
Batted left. Threw left. Height, 6.01-1/2. Weight, 175.
Ancestry, Cuban Negro.
Home address during career: Havana, Cuba.
When Suarez signed with Great Falls in 1952, it was noted, "player speaks no English."
Suarez' best pro season was 1952 when he won 19 games for Great Falls of the Pioneer League. He fanned 190 in 220 innings and finished with a 3.52 ERA. His last pro season was 1957 with Monterrey/Nuevo Laredo of the Mexican League.

February 8th, Josh Gibson -- one of the Negro Leagues biggest stars -- is to be inducted into the Georgia Sports Hall of Fame. Robbie Burns, the PR Director for the hall, says there's evidence Gibson came close to being the first black in the major leagues.
" ... From 1937-1948, the Homestead Grays used Griffith Stadium in Washington, D.C. as their home park ... played there when the major league's Washington Senators were on the road. Senators' owner Clark Griffith saw the star-power in Gibson and Leonard. "Griffith would sit there and watch Gibson and Leonard hit more home runs than his whole team," said Negro League historian James A. Riley ... "He (Griffith) called them up one day to his office," Riley said, " to ask them if they would like to play in the major leagues. And, of course, they said yes. He said 'well, do you think you can make it?' They said they thought they could do it." For Gibson, "the Black Babe Ruth" and Leonard, "the Black Lou Gehrig", their hopes died quickly as the conversation continued. "He (Griffith) talked a while," Riley said, "and the bottom line was 'no one wants to be the first, that's the problem,' and it never came about. He recognized the talent they had and did talk to them about it. A lot of them (major league owners) had the vision but they didn't have the courage to be the first. (Branch) Rickey…until he came along no one else was going to be the first one." Riley said the encounter between Gibson, Leonard and Griffith is not a part of baseball lore. He believes the eyewitness account. "Buck Leonard told me that story and that's basically what happened," he said. "Buck Leonard was a man of impeccable integrity, so he told the story. So, I know that it's true."


Bob Koroluk, key in uncovering information on the Northeastern Saskatchewan Baseball League, has sent along some photos of the Stenen club which dominated the league in the 50s (left - Bob's dad Gust Koroluk). There's also an addition from Bob on the Hyas team. All now posted on the NESBL page.

Scott Linden of Carson, CA is looking for photos of the Charnofsky twins, Hal and Stan. Scott's stepfather, Hal, passed away just before Christmas. He was 71. After baseball, Hal earned a doctorate from USC and joined the faculty at Cal State Dominguez Hills in 1966 to begin a distinguished career in Sociology.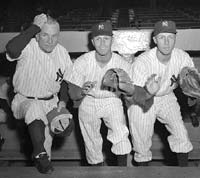 The brothers both signed with the Yankees and played for a half-dozen seasons in the minors. Stan was the playing-manager with the Edmonton Eskimos in 1959 (finishing 2nd in the batting race with a .350 average).
The 1953 photo is from the Corbis Collection.
Yankee manager Casey Stengel looks a bit puzzled trying to tell the Charnofsky twins apart. The problem will be still tougher for Stadium spectators, if Stan (center) and Hal (right) ever appear in the Bombers' lineup. Playing shortstop and second base, respectively, the brothers are slated to work out with the Yanks and then join the Binghampton squad this season.

Darin Bridges of Edmonton is looking for information on his dad and uncle -- James Bridges, Frances Bridges -- who played in Edmonton in the 40s and 50s. Also, Darin's dad is particularly interested in finding information on a pitcher, believed to be named Walter Wagner, who was described as a top flight pitcher (black) .

Another surfer to our site is trying to track down anything on catcher Ira McKnight who toured in Canada with the Kansas City Monarchs in the late 50s and 60s and suited up with Saskatoon and North Battleford.
---
05 December, 2002



In our thoughts ... Jim Lester (left) and Roberto Zayas (right). Jim is set for a spinal fusion to try to alleviate the pain he's been having in his back. (Hope Jim doesn't read this until AFTER the surgery. When I had a back operation many years ago, the chap in other bed in the hospital made a point of telling me just how painful was the fusion! He screamed a lot during the night. He tormented me, saying if his back itself wasn't bad enough, the hip -- where they chipped a piece of bone for use in fusing the lumbar vertebra -- was a pain factory. Ah, the joys of hospital camaraderie!) Roberto is recovering from a stroke a couple of months ago. His speech is fine, a little leg trouble, but so far so good.

Roberto has been helpful in tracking down the story of Roberto Chico Barbon, (left, 1953 with the Indian Head, Saskatchewan Rockets) the first Cuban to play in Japan.

Gilberto Garcia, of Eastern Washington University (near Spokane), is putting together a paper on Barbon who became a legend while playing in Japan from 1955 to 1965. His name is still in the Japanese League record book.
After stumbling upon some Barbon baseball cards (one seen at right) from his Japan days, I became curious as to whether it was the same Barbon who played in Western Canada in 1952 with the Florida Cubans and 1953 with the Indian Head Rockets. Roberto Zayas confirms that it's the same Barbon. In fact, Zayas says Barbon had talked about playing in Japan. The two played against each other in Cuba before leaving to play in Canada.

Thanks to Ray Nemec and his incredible database, here's the Barbon file as we have it.
Roberto Chico Barbon
Born, March 13, 1933, at Matanza, Cuba.
Batted right. Threw right. Height, 5.11. Weight, 160.
Year Club League G AB R H 2B 3B HR RBI SB PCT
1952 Florida Cubans(x) [Statistics unavailable]
1953 Indian Head (x) [Statistics unavailable]
1954 Hornell PONY 17 60 16 17 2 0 1 4 3 .283
Bakersfield California 25 92 16 26 4 1 0 8 0 .283
1955 Hankyu Braves Japanese Pacific 141 583*105*163 23 13* 5 48 49 .280
1956 Hankyu Braves Japanese Pacific 152 590 94*141 26 8 6 31 55 .239
1957 Hankyu Braves Japanese Pacific 122 479 75 102 16 3 8 30 33 .213
1958 Hankyu Braves Japanese Pacific 128 515* 76 138 27 10* 4 32 38*.268
1959 Hankyu Braves Japanese Pacific 132 481 66 112 11 3 2 23 38*.233
1960 Hankyu Braves Japanese Pacific 116 387 52 87 14 4 1 22 32*.225
1961 Hankyu Braves Japanese Pacific 120 391 41 84 12 2 0 12 20 .215
1962 Hankyu Braves Japanese Pacific 107 310 36 74 11 3 3 15 14 .239
1963 Hankyu Braves Japanese Pacific 114 299 26 67 9 3 3 22 14 .224
1964 Hankyu Braves Japanese Pacific 96 172 23 49 5 1 0 10 4 .285
1965 Kintetsu Japanese Pacific 125 459 50 106 12 2 1 15 11 .231
(x) Indicates league/team was not a National Association member and operated as
an independent, industrial or semi-pro league/team.. * Led or tied for league lead.
---
09 November, 2002


Another lovely surprise in the mail. A letter and some information from Conrad "Connie" Munatones (Moose Jaw 1956, Edmonton 1957, Saskatoon 1960, along with five years of pro ball).
Connie, a captain of the UCLA team, was a slugging third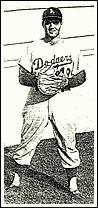 baseman and outfielder during his days in Canada, so a little surprised to discover he was a catcher in pro ball (and had the prized opportunity to catch both Sandy Koufax and Don Drysdale, both Hall of Famers, during a spring stint in Vero Beach in 1959).
One of his Canadian highlights was as a member of the Edmonton Eskimos in 1957 playing for Canada in the Global World Series in Detroit. The club came within a whisker of taking the title (losing to Japan in the 11th inning of the final).
He managed to continue his love of athletics through 30+ years as a teacher in Los Angeles (a championship in baseball & four titles in basketball at Roosevelt High School). His university studies have taken him from UCLA to Pepperdine to La Sorbonne in Paris. For a guy whose big first trip was to Moose Jaw, he's managed to see a lot of the world since his playing days having traveled to Europe (17 countries), Mexico, and Japan in addition to Canada.


Also, a note from a grandson of Ed Albosta (Minot 1952-53, Carman 1954). Ed, retired from General Motors, is settled down in Bridgeport, Michigan. Ed and his wife have two daughters, four grandchildren and two great grandchildren!
Ed joined the ManDak League after a pro career which had stretched from 1938 to 1951, including stints with the Brooklyn Dodgers and Pittsburgh Pirates. He was the top pitcher in the ManDak league in '53 when he also managed the Minot club. (The picture at left is from his Brooklyn experience.) Grandson Abbey is now looking through scrapbooks to see if there's anything from the ManDak days.

A very nice effort by Baseball America this week on the "Human Touch", an article about "George Kissell and other elder statesmen of baseball" who "add color and help to humanize the game". Hub Kittle, of course, noted among the elders :
Hub Kittle, 85
Special-assignment coach, Mariners
Health problems have cut back Kittle's workload, but the longtime pitching coach still spent time working with Mariners prospects this season when the Mariners' Everett team came to Kittle's hometown of Yakima. Kittle, who threw a scoreless inning for Springfield in 1980 as a 63-year-old to become the oldest player to pitch an inning in professional baseball, also won 1,329 games in a 20-year career as a minor league manager.

A coincidence, as Jack Altman had just send along a couple of articles from Sports Illustrated magazine (from the '80s) on Hub Kittle, then pitching coach with St. Louis Cardinals. Here's an excerpt from the 1989 article :

Kittle's salty language and gruff voice camouflage the man inside; he's the happiest man on the field. "He's the Santa Claus of pitching coaches,: says an admiring Kissell. "Only he can't come down the chimney anymore, his bag is so full of tricks. Nobody teaches pitching like he does."

Kittle's own pitching career was notable less for its brilliance than its length. He first pitched as a pro in 1936 -- he was 17 -- making $50 a month with the Cubs' Catalina Island (Calif.) team, for whom he went 15-3, with two no-hitters. He later made a name for himself as a forkballer in the Pacific Coast League but never reached the majors. He retired as a player in 1955, but in 1969, while managing at Savannah at age 52, he ran out of pitchers and inserted himself for two innings. That got some attention, so four years later, when Kittle was Houston Astros' pitching coach, manager Leo Durocher let the old fellow pitch an inning in an exhibition game against the Detroit Tigers at the Astrodome. Kittle, rising to the occasion, retired three straight batters and earned a save. Kittle says, "That gave me the idea of pitching in six decades."

He got his chance in Springfield, Ill., on Aug. 27, 1980, courtesy of the Cardinals, who had rehired him as minor league pitching coach. It was Senior Citizens Night, and the old folks rose and gave 63-year-old Hubert Milton Kittle a sustained ovation when he took the mound against Iowa of the American Association.

"The place was packed with people as old as me," he recalls fondly. "I signed a contract for one dollar just before the game, and when I walked out there, the national anthem was playing and the moon was shining, and I tell you, it felt great to be alive."

The first batter Kittle faced was no sentimentalist; he tried to bunt on the old man on the first pitch but fouled it off. A mistake. "He went down on his ass the next pitch, I tell you," Kittle roars, his eyes flashing. "I put one under his whiskers." Kittle needed just nine more pitches to retire the side. In so doing, he became the only man to have pitched in organized ball in six different decades.

That may serve as Kittle's claim to fame but his legacy is that of the man who cussed and roared and squeezed more joy out of baseball that anybody before or since. (August 14, 1989, Sports Illustrated, The College of Cardinals, by John Garrity)

A note from the Georgia Sports Hall of Fame announcing Josh Gibson, Negro League star, is among those to be inducted early next year (February 8th, Macon City Auditorium ).