Updated : October 21, 2003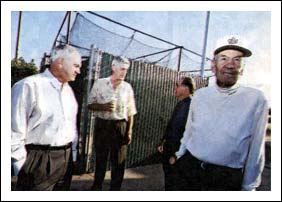 Roy Taylor, nine seasons in Western Canada with the California Mohawks, Saskatoon 55's, Kamsack Cyclones, Moose Jaw Mallards and Saskatoon Commodores, saluted by the Fresno Bee in a feature item in the October 5th edition by Bee reporter Lamar Lopez. Thanks to Greg Seastrom and others for sending it along : Click here for the story
Picture : From left, Dennis Williams, short stop; Dick Doepker, pitcher; Michael Wlasichuk, an all-position player; and Roy Taylor, past coach of the College of Sequoias baseball team]

Thursday, October 23rd is the date of the 2003 Fresno Hall of Fame induction ceremony. The 1959 team, with many players who suited up in Western Canada, is to be honoured.

Oh my, how could I have overlooked this summer's induction ceremony at the new Saskatchewan Baseball Hall of Fame (new in the sense of building and location).
The official opening and ceremony was held in August. The museum has re-located to 292 - 22nd St. Battleford, SK (306-446-1983).
Among the inductees this year were Johnny Ford, Bob Holowaty and Baldy Smith, names familiar to 50's baseball fans on the prairies.

Thanks to Lloyd Creech of North Augusta, SC for information on Don Lee (Williston, 1956) and a clipping on Stan Charnofsky (Edmonton, 1959) during their days in the South Atlantic League.

From 1954 or 1955, letterhead of the Lloydminster Meridians :


What an interesting concept to bring Negro League ball to life ! Kyle McNary -- www.pitchblackbaseball.com -- has produced (on CD) a play-by-play broadcast of the 1935 Negro League East-West All-Star Game. It's a blast to just sit back and listen as the stars of the depression years battled in the 3rd annual classic at Comiskey Park in Chicago. Just one more feather in the cap of McNary who has done exceptional work to help keep the memories alive.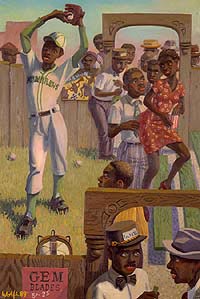 If you're in the Chicago area next month (the 17th of November to be specific) there's a treat in store at the opening of The Negro League Cafe (the corner of 43rd and Prairie).
" ... The upscale restaurant serves Caribbean influenced soul food and features artwork by father-and-son artists John D. Wolfe and John A. Wolfe. Their Americana-style folk art evokes the rich history of the Negro Leagues ... Since Negro League teams played in Cuba, Mexico and the Dominican Republic during the winter months, it was only natural for chef Rhamell Moore to incorporate Caribbean cuisine with the classic soul food on his mouthwatering menu ... A Wall of Fame in the lounge area honors legendary players such as Josh Gibson, Satchel Paige, Cool Papa Bell, Pop Lloyd, and Ted "Double Duty" Radcliffe."
The images are courtesy of WolfeStudio.com. Left -- Satchel Paige - Warming Up by John D. Wolfe. Right -- "Double Duty" Radcliffe and Satchel Paige by John D. Wolfe.
---
September 27, 2003

After a busy, busy summer (including much worry about forest fires in our area), attempting to catch up on some baseball news.

Next month, the 1959 Fresno baseball club is to be inducted into the FSU Hall of Fame. I believe it's the first time a team has been granted the honour. More than a dozen members of FSU's most successful team suited up for clubs in Western Canada -- Pete Beiden, Dick Doepker, Jerry White, Leroy Gregory, Lee Murphy, Ted Hiltel, Dave Biggers, Jim Lester, Stan Busch, Joe Fischer, Jim Garrett, Dorman Martin and Mountie Bedford.
Anyone have a good photo of the '59 team? The Fresno Bee archive does not have a record of such a picture and even the organizers of the induction have been unable to come up with a good quality photo. Let me know if you might have one available for copying.
The celebration is set for Thursday, October 23rd. Also to be inducted, long time Fresno Bee sportswriter Bruce Farris (whose brother played in Canada). The dinner will also salute former FSU star Augie Garrido for becoming the all-time winningest head coach.

Jeff Swick has sent along more information on late 40s baseball in the Saskatoon area. Still trying to narrow down the year -- believed to be in the range of 1946 to 1949. It's the Saskatoon Legion club. Jeff's dad, Julius is second from the left in the back row. Ralph Mabee is second from the right in the back row. If you can identify any of the others, please let me know.

Jeff also included a clipping from, I believe, the Saskatoon Star Phoenix on the beginning of the Saskatoon & District League. Still trying to track down the year of the clipping (likely 1947, 1948 or 1949). The item features Jack Matchett, the player-manager of the Saskatoon Legion. Matchett (left) had been a star pitcher with the Kansas City Monarchs from 1940-1945.

Looking for information on Pete Spatafore (Williston, 1956). Pete's son has been in touch and is on the hunt especially for any photos or programs.

Also looking for info on Eli Anderson who was with the Minot Merchants in the late 40s. A Williston jersey (believed to be from 1955) has been passed down to Rob Hall's family and he's trying to find some background on the uniform and Anderson. The jersey is #19.

Oh my, what great reading ! Jim Lester has gone to great difficulty to copy a couple of publications -- the 1945 Street & Smith's Baseball Yearbook and the St. Louis Browns' 1944 World Series program. Among those highlighted was Mort Cooper of the Cardinals (22-7 that season) who pitched briefly with Moose Jaw in 1949.

Jack Altman was kind enough to send along the PCL Potpourri, the newsletter of the Pacific Coast League Historical Society. The latest edition has some notes on a reunion held last month. Bud Watkins (California Mohawks 1949-50, Medicine Hat Mohawks 1951) was among the guests.

Kudos to the University of Calgary which is leading a partnership bringing Alberta newspapers to the internet. While I would much prefer more papers from the 50s online, the selection so far is impressive. It's been interesting reading accounts of the first pro league, the Western Canada League, which began in 1907. (Now if my little village could only access a fast connection!)
A few snippets discovered in checking out a few of the local papers.
The Muskogee Cardinals played in Camrose in 1948, beating the locals 9-8. The Camrose Canadian of July 21st carried a little information about the Cardinals :
"The Cardinals, a darky club, were the champions of the Southwest from 1934 to 1947. It remains to be seen whether they will be champions for 1948 or not. They are highly publicized but are reported to be one of the best teams of their kind. Those who have seem them play report they put on the best show any touring ball club has ever shown. They play to win, but add enough comedy to the game to give you your money's worth."
The paper also mentioned an upcoming series with another barnstorming team, the Oakland Beavers.
Surely, you won't see many headlines like this one from the Medicine Hat News, July 23, 1907, Front Page :
Medicine Hat Team Looks Good
STAR BATTERIES, LIGHTNING FAST INFIELD AND RELIABLE OUT
FIELDERS ENSURE THE LOCALS A HIGH STANDING IN THE
LEAGUE - CITIZENS MORE THAN SATISFIED WITH THE
CLEVER BUNCH THAT WILL REPRESENT THE
HAT THIS SEASON
From The Fairview Post, September 14, 1949
FAIRVIEW TAKES BASEBALL FINAL
In a sudden-death baseball final here Sunday afternoon, Fairview coasted to an 8-0 score over Grimshaw and copped the North Peace River league crown for 1949. The MacNamara trophy goes with the victory.
John Smart on the mound for Fairview set Grimshaw down for three hits in the nine innings and was in full command throughout. Laurie Shaw worked behind the bat. Fairview's infield was clicking and turned in two neat double plays.
Ed Konowalyk, a good pitcher, made a creditable stand on the hill for Grimshaw, but his infield support was erratic and his troops showed no talent whatever at the plate.

The Edmonton Daily Bulletin from 1907 didn't appear to make much use of baseball photographs, but did use sketches to depict the action :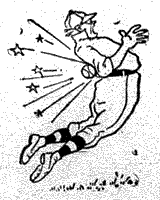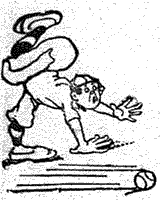 GOUCHEE WAS HIT BY STERLING SHORTY WATCHED IT PASS

Also online at the University of Alberta site are books on local history. One of them, on Claresholm, provided some information on baseball in the Alberta community and featured a little information on Dodger Lewis, a long-time pitching start, who played with the team in the late 20's.



Some interesting finds in tooling around the internet. No surprise to find good stuff at Cesar Lopez' site dedicated to baseball in Cuba.
Many of the Western Canada players had roots in Cuba or experienced winter ball in the country. Negro Leaguer were especially welcome in the Cuban leagues. Among those who suited up both in Western Canada and Cuba were Gentry Jessup (left) and Lou Louden (right).
There's also a growing number of sites covering Japanese baseball (several, thank goodness, providing information in English). In my travels, managed to discover pictures of several former WCBL players who spent time in the Japanese leagues.
Top row, left to right (photos from prestigecollectibles -- Don Buford, Jack Ladra, Roberto "Chico" Barbon, Larry Yogi and Harvey Zenimura (not certain whether Harvey played in Canada, as did brother Howie). Bottom row, left to right, Jerry Adair, John Werhas, Jim Newberry, John Britton (spelled Brittain in Japan) (pictures from Jeffrey Jun Kusumoto's site.







It's believed Britton and Newberry were loaned to the Hankyu Braves in 1952 by the St. Louis Browns. Both players were in the Browns' minor league system.
In 1971, Werhas was part of the first-ever trade between an American club and a Japanese team. Werhas, then with Taiyo Whales, was traded for Clete Boyer, then with the Hawaii Islanders of the Pacific Coast League.


Also located on the internet -- Gary Pennington (Edmonton Eskimos & Saskatoon Gems, 1956, Cheney Studs) is an instructor with the The Big League Experience Baseball Camp out of White Rock, British Columbia.
Pennington came to play in the Western Canada League while a student at Seattle University. He was one of the top hitters in the WCBL in '56 with a .296 average.


Al Spearman (Carman & Winnipeg of the ManDak League in 1951-52 and who also played in Japan has been saluted by The HistoryMakers. The institution is an American non-profit educational group "committed to preserving, developing and providing easy access to an internationally recognized, archival collection of thousands of African American video oral histories". The following appears on their site :
Alvin Spearman was born on August 26, 1926 in Chicago, Illinois. In 1941, at the age of fourteen, Spearman began boxing in the Chicago Golden Gloves. Later that year, he won the Chicago CYO 160 LBS Novice Championship.

Spearman was a member of an amateur baseball team when some friends asked him to join Chicago's Negro League team, the Chicago American Giants. He was a pitcher for the American Giants from 1949-51 in addition to serving as an outfielder in a few games for the Kansas City Monarchs.

After leaving the Negro Leagues, Spearman played baseball in Mexico, Canada, and Japan- where he was one of four Americans in the Pacific League. He was a pitcher on the Stockton team in the California State League from 1956-58, where he completed 55 of the 58 games that he started.

Spearman retired from baseball in 1959 to become a salesperson for the 7-Up Bottling Company. Presently, Spearman works as a courier for IDEXX Veterinary Services, Inc.

Thank you Steve ! Steve Geiselman of the Kokomo Perspective has published a piece on Ira McKnight, a fixture in Saskatchewan baseball in the 60's. The item was in their July 23rd edition and, as I am not certain if the link is still up, the entire article follows :
Baseball's 'Shadow men' still remain; Negro Leaguers McKnight, Westfield played for the love of the game

By Steve Geiselman
PerspectiveStaff Writer

When Jackie Robinson took the field as a Brooklyn Dodger in 1947, he became the first African American to play major league baseball in the 20th century. Before then, African American players were relegated to playing in a separate leagues, the so-called Negro leagues.

Recently, Kokomo played host to a pair of former Negro league baseball players. Ira McKnight, who played with the Kansas City Monarchs, and Ernie Westfield, who played with the Birmingham Black Barons, were part of a baseball card show at the Markland Mall. The former players are part of the group of players that played on in the Negro leagues after Robinson broke the color barrier.

While fans today may think that the Negro leagues ended when Robinson broke the color barrier that isn't the case. The leagues started to suffer with the integration of major league baseball.

Most of the big stars went to the major leagues and took many of the fans with them. Teams began to fold by the mid-1950s. Only the Kansas City Monarchs, Memphis Red Sox, Birmingham Black Barons and Detroit Stars remained.

What was once a flourishing league quickly turned into a group of traveling teams. McKnight and Westfield were part of those traveling teams.

Both men are part of living history -- history that is being slowly shoved aside and forgotten, according to Westfield.

Only the ball was white

Baseball -- the original "gentleman's game" -- really took off after the Civil War. The first amateur baseball clubs often were integrated.

However, once baseball became organized, America's racial intolerance caught up with it. According to The Baseball Hall of Fame, the National Association of Baseball Players created the first color line on December 11, 1868. The governing body voted unanimously to bar "any club which may be composed of one or more colored persons."

Some professional teams remained integrated since they were not bound by the amateur organization's ruling. Two brothers -- Moses Fleetwood Walker and Welday Walker -- even played in the major leagues in 1884. But, gradually, black players began to be excluded from baseball.

However, black Americans continued to play baseball. By necessity they played on all-black teams and eventually in all-black leagues. The first black professional team was the Cuban Giants in 1885, but the teams played as independent ball clubs until the first black league was organized in 1920.

Teams like the Homestead Grays, the Indianapolis Clowns, the Philadelphia Stars, the Birmingham Black Barons and the Pittsburgh Crawfords made up six leagues. The Negro National League, Eastern Colored League, American Negro League, East-West League, Negro Southern League and Negro American League fielded more than 60 different teams from 1920 to 1955.

The stars were players like Cool Papa Bell, Josh Gibson, Satchel Paige, Willie Foster, Buck O'Neil, Toots Ferrell, Smokey Joe Williams, Willie Wells, Hilton Smith and Biz Mackey.

They were called "Shadow men" because they played in the shadow of the white baseball players. That shadow eventually faded away, but not before some of the greatest baseball players to swing a bat or throw a ball were denied a place in the national spotlight.

McKnight: Catching for Satchel

As a teenager, Ira McKnight was just another youth in South Bend, playing sports -- mostly football. Like many kids, he had his fair share of trouble in school and on the street.

"I played a lot of football and baseball," McKnight recalled. "But I wasn't the best student."

McKnight's mother eventually sent him to Trenton, Tenn., to live with family. A change of scenery would do him good was the idea.

"The school I went to in Tennessee didn't have any baseball or football or track," McKnight said. "We mostly played basketball."

McKnight got his chance to play baseball however, and eventually heard the the Memphis Red Sox were looking for a catcher.

"I played some third base but I really made it as a catcher," McKnight said. "I went to play for Memphis in 1952."

After a short stint with Memphis, McKnight returned to South Bend to finish high school.
Eventually, McKnight ended up with the Kansas City Monarchs, where he got a chance to ply his trade as a catcher full-time.

The legendary Satchel Paige rejoined the Monarchs after his time in the big leagues in 1960. By 1961 the Negro Leagues had folded, and the All-Star pitcher rejoined the team.

"We traveled around the country playing local all-star teams," McKnight said. "Most of the time two teams would travel together and play each other. Sometimes we would play a local team.

"That was pretty tough," McKnight added. "Most of those teams had players who had played in the big leagues."

McKnight said that he got along okay with Paige and was his primary catcher for three years as they traveled as part of Satchel Paige's U.S.A All-Stars.

"We didn't make a lot of money," McKnight said. "Most of it went to Satchel, since he was the big name."

After the Monarchs folded for good in 1963, McKnight got the chance to play baseball in Canada after a short tenure with a New York Yankees minor league team in upstate New York.

"I was a catcher, and at that time it wasn't easy to be a catcher with the Yankees," McKnight said. "Yogi Berra and Elston Howard were pretty good. So that was tough."

McKnight made about $225 a month plus $3 a day meal money playing in the Yankee organization.

"That was pretty good," he said. "Remember you could get a meal for about 75 cents back then."
McKnight had a good deal of success with the Saskatoon team in the Saskatchewan Baseball League. He later played with a team in Quebec.

"There were a lot of guys from the big leagues who played in Canada after being in the big leagues," McKnight said.

After his career as a player was done, McKnight moved to Chicago and started his own amateur team -- The Chicago Elites.

"There was this one player who came and tried out right out of high school," McKnight remembers. "I cut him because he was too skinny. I thought he was too immature to play with the players I had."

McKnight lost track of the kid but saw him again a few years later -- when he made it to the major leagues. That kid was future Minnesota Twins superstar Kirby Puckett. McKnight admits that he knows how the guy who cut Michael Jordan as a freshman feels.

Nowadays, McKnight spends his time traveling -- when he feels like it -- to card shows and other appearances talking to people about his experiences in baseball.

Westfield: A pitcher with a poem,

Ernest "Ernie" Westfield became a pitcher by a stroke of fate or perhaps by God's hand. The Tennessee native was playing semi-pro baseball in Knoxville in 1959 when opportunity knocked.

"I usually played third base," Westfield said. "But the pitcher didn't show for some reason, and they asked me to pitch."

Westfield made the most of the opportunity -- tossing a no-hitter.

"After the game this scout came up to me. It was Buck O'Neil," Westfield said. "He said he wanted to sign me up. At first I didn't believe him. But then I looked at his car and how he was dressed. I figured he had to be the real deal."

O'Neil, beside being a great baseball player himself, was a scout for the Birmingham Black Barons, whom Westfield had faced that day.
Westfield left with the team the next day and pitched for the Barons for the next six years.

Westfield said he enjoyed his time in baseball and still has the desire to make people aware of the history of the Negro Leagues.

"I don't want people to forget about what these players did," Westfield said. "A lot of young people today aren't aware of how baseball was then."

Westfield says that not letting people forget about the past and the role that African American baseball players played in it is key to ending racial problems in this country.

"It's funny. I was being interviewed by a reporter, and he asked me who my favorite player was when I was a kid," Westfield said. "I told him Carl Erskine, the pitcher for Dodgers. He said 'What about Joe Black or Don Newcombe?' I said no, my favorite player was Erskine. I guess he wanted me to say that my favorite player was black, not white."

After his playing days, Westfield continued to coach baseball at the youth level. And he started working harder in his other passion -- poetry.

"When I was younger, I could do two things well," Westfield said. "Play baseball and write poetry."
Westfield said that he had a stuttering problem when he was younger, so he was more likely to put his thoughts on paper than speak them.

"Surprisingly, all of my stuttering problems stopped when I started to play baseball," Westfield said. "I remember seeing Duane Thomas of the Dallas Cowboys on television. He stuttered real bad. I thought to myself, all you need to do is slow down."

These days, Westfield's poetry is his passion, and it allowed him to make a connection with another sports star a few years back.

"I really loved Walter Payton," Westfield said. "When he got sick I saw him on television crying. So I wrote a poem for him."

Westfield's poem -- Sir Sweetness -- is his top
seller when he goes to baseball card shows.

"I sent him a copy, but I don't know for sure if he got it," Westfield said. "People really enjoy the poem."

Westfield runs E.L.W. Enterprises out of Champaign, Ill., and travels across the midwest selling Negro League merchandise.

The East-West All-Star Game

Westfield and McKnight played against each other in the last East-West All-Star Game at Cominsky Park in Chicago.

Westfield was the starting pitcher for the East, while McKnight played third base for the West. Westfield pitched three innings for the East and left the game down, 3-2.

That game was the last Negro League All-Star game and featured Ike Brown. Brown was the very last former Negro Leaguer to make it to the big leagues, breaking in with the Detroit Tigers in 1969.

Having been opponents on the field, Westfield and McKnight now can be found spreading the word about the Negro Leagues, making sure that an important part of history doesn't die or fade away.