Updated : 14 May, 2005

A round of applause for Andrew Marshall of Winnipeg! He's been kind enough to share a discovery with us.
" ... I recently purchased a large lot of old books and when flipping through the pages of one, I discovered the year-end bank balance sheet for the "Winnipeg Reos", dated 1948. It lists their profits, coaching salaries, etc."
Quite amazingly, the Winnipeg Reos of 1948 ended up with a balance of $2,228.18 (according to the financial report from B.G. West, the Secretary-Treasurer).

The team brought in over 4-thousand dollars from 50 games at Osborne Stadium and overall, had income of more than 52-hundred dollars. The largest, single expenditure was $807 for " Players Pay". The Reos spent $509.58 on bats and balls, $43.39 for hospital and medical, $83.75 on drinks and gum and 9.67 on charges for telegraph and telephone services.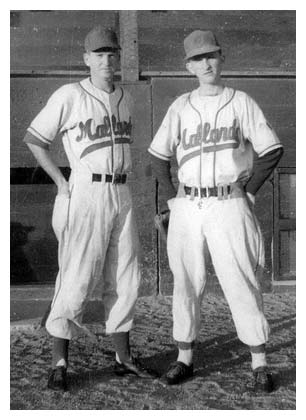 What a pair! The Bowman boys of Minot.
Thanks to Bill Guenthner ("Minot Mallards") for passing along this photo of the brothers from their time in the ManDak League.
That's Duke (who rarely went by his given name of Faber) on the left, Ed on the right.
The photo is believed to be from the 1955 season. Duke, who joined the club in 1952, was the Mallards' third baseman for six seasons, hitting over .300 four times. Ed (also known as John) held down the Mallards' second base job for three summers, twice the league's best fielder at the position.
A third Bowman, Walter, also spent part of one season with Minot.

Looking for ... photos of John Rebelo, pitcher, Lloydminster, 1961 or a team photo of that Lloydminster club.

Ooops ... wrong photo ... David Cihocki has been in contact to advise that a photo (in the Major Leaguers section) I had identified as his father, Al, was in error. Hoping David will be able to dig up an authentic photo of his dad.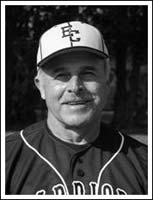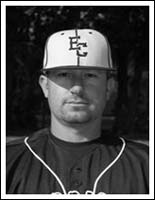 Very nice to again hear from Tom Bergeron, left, (Lloydminster 1958 to 1961). After more than 30 years as head coach at Gahr High School in California (and 19 league titles), Tom moved on last season to the college ranks to join his son Greg, right, head coach at El Camino College.
This year, with Greg taking a position with UC Irvine, Tom took over the reins at El Camino. Turns out there is a father-son Canada connection with Greg having played baseball in Canada, with stops in Lethbridge, Surrey and Regina. Tom hints that it might be getting close to a time to hang up the spikes.

Arch Mullin, who was instrumental in digging up material on baseball in Manitoba and Eastern Saskatchewan, is checking out the schedule for the Winnipeg Goldeyes of the Northern League which adds two Canadian entries -- Calgary Vipers and Edmonton Cracker-Cats -- for the 2005 season. Season openers are less than a week away.

Anyone in the Brandon, Manitoba area who is interested in doing a little sleuthing through the old Brandon papers?

---
February 18 2005

Nelson Briles a key moundsman for Calgary in 1963 and a major leaguer for 14 seasons died Sunday February 13th at age 61. He spent just one season in the minors before making his major league debut at age 21. He rang up 129 wins including a 19-11 2.31 season with the Cardinals. He added two more wins in his three World Series appearances including a two-hit shutout while with the Pirates.
" ... Briles died suddenly while at a Pirates alumni golf tournament in Orlando Fla. team spokesman Dan Hart said. He said he did not know the cause of death. "The Pirates family is deeply saddened by Nellie's passing and our thoughts are with his wife Ginger their children and grandchildren. Nellie was a valuable member of the Pirates organization for many years" Pittsburgh Pirates owner Kevin McClatchy said in a statement released by the team.

Briles helped the St. Louis Cardinals to a championship in 1967 going 14-5 with a 2.43 ERA and beating Boston 5-2 in Game 3 of the World Series. He also played a key role in Pittsburgh's 1971 title run pitching a two-hit shutout in Game 5 against Baltimore. Born Aug. 5 1943 in Dorris Calif. Briles also pitched for Kansas City Texas and Baltimore in a big league career that lasted from 1965-78. He was 129-112 with a 3.44 ERA and 22 saves.

The Pirates' popular vice president of corporate projects and president of the alumni association Briles was honored with the Pride of the Pirates award at the team's home opener last season. The award was created in 1990 to recognize lifetime service to the club. Services will be held in Greensburg Pa. but the date and other details had not been determined Hart said. Briles is survived by his wife Ginger four children and several grandchildren." (Associated Press)

Searching for information on Sceptre baseball in the 20s. After receiving a note from Bob McNeely requesting info on his dad and uncle I've discovered that semi-pro ball was widespread in Saskatchewan in the 20s and 30s. Bob has come across a photo of a Sceptre team believed to be from the 20s and now we're on the trial of more details. John (Jack) McNeely and Tom McNeely are thought to have been brought up from Minnesota to suit up for Sceptre.

How did they do it? How did those communities front quality ball teams in the 50s & 60s? I recently came across some recent population figures (from 2001 - Saskatchewan & 2004 - Alberta). Must say, I was shocked by some of the numbers. Geesh, Delisle at 884 people, Sceptre with just 136.
SASKATCHEWAN ALBERTA
Biggar 2,243 Calgary 933,495
Buchanan 233 Edmonton 666,104
Carrot River 1,017 Lethbridge 51,249
Colonsay 426 Medicine Hat 51,249
Davidson 1,035 Claresholm 3,622
Delisle 884 Granum 420
Estevan 10,242 Nanton 1,841
Eston 1,048 Picture Butte 1,701
Fairlight 45 Stavely 455
Foam Lake 1,218 Carmangay 261
Hyas 131 Vulcan 1,762
Indian Head 1,758 Vauxhall 1,112
Kamsack 2,009 Lacombe 10,235
Kindersley 4,548
Moose Jaw 32,131
Moosomin 2,361
Neilburg 366
Nipawin 4,275
Norquay 485
North Battleford 13,692
Pelly 303
Preeceville 1,074
Prince Albert 34,291
Radville 735
Rosetown 2,471
Sceptre 136
Stenen 110
Swift Current 14,821
Unity 2,243
Yorkton 15,107
---
February 4 2005

MLB.com has a feature on Tom Alston the former Indian Head Rocket who broke the colour line for the St. Louis Cardinals in 1954. Alston played with the Rockets in 1950 and 1951 before making his pro debut in 1952.
---
February 3 2005

An unexpected find in leafing through the pages of The Sporting News. Four former Western Canada players were prominent in the National Baseball Congress Tournament in 1965. Pat Gillick (then a former pro player who had begun a front-office career in Houston) and Bud Bloomfield helped the Wichita Rapid Transit Dreamliners capture the NBC championship. Jim Garrett and Bobby Doig playing for Eureka California were named to the All-Star squad.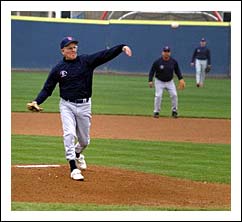 One more Fresno Alumni game one more start for lefty Jack Altman (right).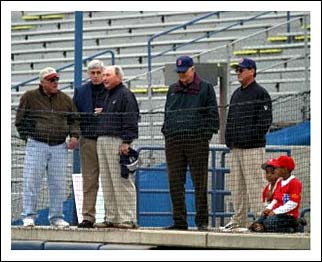 Amazing. The former Vulcan star went his usual inning (two runs this time) and had a ball visiting with family and friends.
Some interested spectators too (looks like Jim Garrett (third from left) and Bobby Doig Dick Doepker in there.

A little setback for Roy Taylor (one of the most recognizable players / managers from the 50's in Western Canada. A minor stroke has kept Roy off the golf course this winter but he reports he's in good spirits happy to stay in contact with many of former COS and FSU players.

Roberto Zayas one of the many Cuban imports to suit up with teams in Western Canada has been slowed by a tumour but the smile and positive aura remains. Les Gould one of Roberto's players during his coaching career in Moose Jaw had invited Roberto to be his guest at the Kinsmen Sports Celebrity Banquet where Les' son and friends were to be honoured for their accomplishments with the Moose Jaw Little League team which captured the Canadian title.
" ... Roberto`s baseball strategies and tactics along with his fiery nature were very evident on this team ... Bottom line is Roberto Zayas has positively influenced many people in Moose Jaw and indeed Western Canada."

Steve Cottrell is a former weekly newspaper editor in Nevada City California and a long-time member of City Council. Long before he was a baseball pitcher and ranch hand in Vulcan Alberta. A few years back Steve penned a piece on his prairie days. Here's an excerpt :
When I returned to San Francisco after the aborted Fresno tryout [in 1961] I received a call with an offer to go to Vulcan Alberta - $200 a month and a free apartment in the local Legion Hall while the Vulcan Elks finished their season in the Alberta Foothills - Wheatbelt League.

Not what I had in mind a week earlier when I faced Willie Mays & Co. at Candlestick Park but it was baseball. Besides I had never been to Canada and my mental picture of Alberta was of Nelson Eddy in his mountie uniform standing on the shore of Lake Louise cooing to Jeannette McDonald with the snow-capped Canadian Rockies in the background. "Oh Rose Marie I love you... " An offer to play baseball in Alberta? And be paid with a free apartment? I'll take it.

That the league's hyphenated name had a reference to wheat should have been my first clue. But I was raised in California; what the hell did I know about the topography of Alberta?

Vulcan Alberta is (was?) wheat and cattle country. Flat? Very. The joke up there was that a person could stand on a newspaper and look into next week. Several miles to the west stood the beautiful Rockies and from the ball park the view was great because there was very little visual obstruction between Vulcan and the distant mountains.

But it was a summer in Canada and a chance to play ball regularly across the vast Southern Alberta prairie. Places like Okotoks High River Black Diamond Charmangay Champion and other great small s I had never heard of and never expected to visit.

As the summer became fall I grew to love Vulcan and its people -- honest folks who earned their living from the soil; some who spent Saturday nights inside the Vulcan Hotel bar hoisting .10¢ glasses of draft beer while others waited their turn in the pool hall for a friendly game of snooker. There were only 1200 people in and I was the only non-Canadian on the local baseball team but I was never made to feel like a stranger.

I was crushed having been released by the Red Sox and frustrated that the Giants did not offer me a contract in Fresno but I was 18 years old being paid to play baseball and life was good.

In fact looking back at that summer in Vulcan Alberta life was damn good.

Following spring training with the Giants in '62 and still without a contract I returned to Vulcan for a second season of old-fashioned team ball. Then when the season ended I stayed on until the spring of '63 -- a hired hand on a ranch outside for the princely sum of $5 a week and use of a pickup truck every Saturday night for the short drive into Vulcan. And once in I would blow the five bucks in the company of my friends and drive back to the ranch for another seven days of work. And another $5 bill.

And like most young people I just didn't realize how good I had it.
---
January 8 2005

Much time spent recently updating the section on majorleaguers with some fascinating tidbits on former Western Canada & Dakota players turning up in the research :

Talk about pressure -- Roy Weatherly (left) traded to the Yankees in 1943 to replace Joe DiMaggio in centre AND handed uniform No. 3 (the Babe's).
Two former Western Canada players -- Nelson Briles and Dave Dowling -- being signed on the same day by the Cardinals.
Tim Cullen belting grand-slam homers in consecutive innings.
Vallie Eaves hanging around long enough to pitch on the same team as his son.
Bonus baby Bob Henrich ended his pro career at age 21.
Father and son major leaguers Thornton and Don Lee each gave up homers to Ted Williams.
Lou Lombardo began his pro career at age 15.
The versatile Dee Moore with a major league career ERA of 0.00.
John Werhas and Clete Boyer as the principals in the first trade between Japanese and American teams.

With an opportunity to leaf (well electronically) through the pages of The Sporting News comes some discoveries. I had seen references to an amazing pitching streak in the California League in the 50s but until now didn't have the resources to confirm the story. Well it's true and it's a former ManDak League hurler.
Al Spearman walked away from baseball shortly after ending an amazing streak of pitching in the pro ranks. In a May 1959 game with Triple-A Houston the side-arming righthander was taken out for a pinch-hitter in the 8th inning of a 2-2 game. It ended Spearman's streak of 33 consecutive complete games. He had tossed a pair of complete games with Stockton of the California League at the end of the 1957 season then finished all of his 28 starts in 1958 before beginning with three complete game efforts in 1959.
Spearman who pitched with Carman and Winnipeg in the ManDak League and the Hankyu Braves in Japan joined Stockton in 1956 and had an All-Star season in compiling an 18-3 record which included 16 consecutive wins and complete games in 18 of 19 starts. He faltered early in 1957 in a promotion to the Western League and was back in Stockton by mid-summer to finish up 14-4 2.73 finishing 17 of 19 starts.
That set the stage for an incredible 1958 as Spearman took the mound in 28 games completing all of them en route to a 20-9 2.60 campaign. With his three complete game performances to begin 1959 Spearman had finished an amazing 48 of his last 50 starts. With the death of his father Spearman then 32 (although the papers claimed he was 27) quit in mid-season to return to Chicago.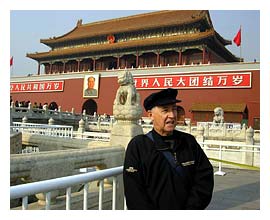 Barrry Arnett taking advantage of his teaching stint in China to take in the sights. Left -- in the Forbidden City in the centre of Beijing. Arnett (Lloydminster 1960-61) is teaching both business and ESL classes in the port city of Tianjin.

Pages added to salute some of the great US semi-pro teams of the 50s -- Drain Black Sox Alpine Cowboys and Sinton Plymouth Oilers.

Thanks to Bill Guenthner Minot Mallards of the ManDak League 1950 - 1957 for the great shot of the Minot ballpark added to the 1949 section.

Among the sections updated -- Barnstorming Ligon All-Stars.

In you're in the Fresno area later this month the annual FSU Alumni games are scheduled for the weekend of January 21st.

Happy to hear from relatives of a few former players -- a niece of Joe Atkins (Carman 1953) and great niece of Curtis Tate long-time star with North Battleford and Ike Jackson's (Regina 1957 Saskatoon 1958) daughter. Looking for photos of Atkins, Tate and Jackson. Please let me know if you might have something in the attic.

Nice to be able to help out in confirming Tate as the great-uncle of Lorna Roberts.
---
December 16 2004


Ed Sudol (Minot 1951) died last week at the age of 84. Sudol who played minor league ball for 12 seasons turned to umpiring and went on to a 20-year career in the major leagues before retiring in 1977.
He was an imposing presence on the diamond -- 6'3" 250 pounds. Among a host of highlights -- the plate umpire as Hank Aaron broke Babe Ruth's home run record three World Series calling the pitches for Jim Bunning's perfect game. He also became known as The Extra-Inning Umpire as he called all the pitches in a 23-inning thriller between the Giants and Mets in 1964 that lasted a NL record seven hours and 23 minutes. In '74 he was behind the plate when the Cards and Mets went 25 innings. And in 1976 Sudol was behind the dish as the Cards and Mets went 17 innings.

A Yogi sighting. Yogi Giammarco (Minot 1952 & 1954) wowed the folks in Utica for an event at the Oneida County Historical Society. Giammarco played with the Utica Blue Sox in the years after Second World War.
" ... Giammarco loved Utica and Utica loved him. "I played 14 years in the minors but the greatest city I ever played in was Utica N.Y." he said. "The fans were great. Any game I played even if I did something wrong they never booed me." ... Giammarco was a 5-foot-11 190-pound left-hander. A native of Poughkeepsie he originally signed with the New York Yankees in 1941 then went to the Giants the next year before being drafted and serving with Gen. George Patton's 3rd Army and participating in the Battle of the Bulge.

" ... Giammarco saw a little more history when he returned to baseball after WW II. He was with the Giants in spring training in 1946 when the team was scheduled to play an exhibition against Montreal of the International League. The game didn't come off. Jacksonville city officials padlocked the stadium because the Royals had a black player -- Jackie Robinson. Later that spring Giammarco was on the Jersey City Giants bench when Montreal came to to open the IL season. There were 30000 people in the stands. "Jackie Robinson went 4-for-5; we couldn't get him out" he said. "He was fantastic. He was a great player and he was a gentleman. When Branch Rickey signed him (to break baseball's color line) he signed the right man."

" ... As much as he loved Utica Giammarco's favorite baseball memory came in 1954 in the ManDak League in North Dakota. He hit 19 homers in 52 games there but the big deal came after a visit to a hospital in Minot N.D. "There was a boy there maybe 15 years old all crippled up" he said. "He was so happy to see us. He said to me 'Yogi will you hit a home run for me? Will you do it?' I said 'Wow! Well Davey I can't promise you that but I'll tell you this -- I'll try.' Would you believe it the Good Lord made me hit one out for him. They got the ball and gave it to him. That's the greatest thrill I had in baseball." (Utica Observer-Dispatch Aug 23 2004)

Joe Greene (Carman Elmwood 1951) has won recognition by the Georgia Sports Hall of Fame. He's one of the Negro League players noted in a special display The National Pastime in Black and White.
" ... In the late 1930s and early 1940s Bill Dickey sat behind the plate for the New York Yankees juggernaut. During that same era Stone Mountain Georgia native Joe "Pea" Greene handled the famous Kansas City Monarchs' pitching staff that featured the legendary Satchel Paige.

Greene's career started with the Atlanta Black Crackers where he played from 1932-1938. Known then as "Pig" for the amount of food he would eat Greene's powerful bat helped lead the Crackers to the second half championship of the Negro American League.

The next season he played with the Homestead Grays and the Monarchs. His long association with the Kansas City powerhouse lasted until 1945. There he became an All-Star in 1940 and 1942 while earning the nickname 'Pea' for his bullet-like throws to second base. Considered by many as the best catcher in the Negro American League he blasted 33 and 38 home runs in 1940 and 1942.

As he did for the 1938 Black Crackers Greene again shined in post-season -- this time in the 1942 Negro League World Series against the Grays. The dominant Negro National League squad featured Georgia-born Josh Gibson Buck Leonard and the versatile Sam Bankhead. Greene bolstered the Monarchs' offense hitting .444 including one home run to help lead them to the title.

Like many others of his day World War II interrupted Greene's career. From 1943-1945 he was in the Army's 92nd Division spending nearly a year on the front lines in a 57-millimeter antitank company. When his company entered Milan Italy they found and lowered the bodies of Dictator Benito Mussolini and his mistress Clara Petacci who had been executed and were hanging upside down.

After the war the decorated serviceman played two more years with the Monarchs before being traded to the Cleveland Buckeyes for the 1948 season. He finished his career in 1951 playing minor league level ball with Elmwood in the ManDak League." (Georgia Sports Hall of Fame)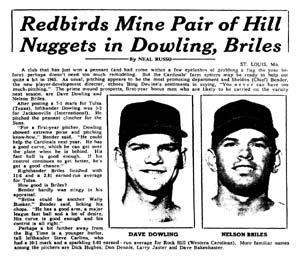 Interesting finds in looking through various archives. Discovered that WCBL alumni Nelson Briles (Calgary 1963) and Dave Dowling (Lethbridge 1961) signed with the Cardinals on the same day (September 12 1964).
In the item left (from The Sporting News) the pair are viewed as the next big hopes for St. Louis. There's also a line about another prospect " ... a bit further away from the Big Time is a younger hurler tall lefthander Steve Carlton."

In updating the Major Leaguers pages (specifically adding in those players who played in the majors before joining teams in Western Canada and the Dakotas) I've come across lots of nuggets.
Hal Daughtery (Brandon 1954 Minot 1956) had just one at bat in the majors. He struck out.
Vallie Eaves (Minot 1951) pitched in the inaugural semi-pro tournament in Wichita (same one in which Satchel Paige led Bismarck to the title).
John Kennedy the first Negro to suit up with the Phillies was 31 not 23 as advertised when he made his debut in 1957. (Hope to have those Major League updates posted after the holidays.)

In 1965 Satchel Paige was getting a little concerned about getting a pro contract and wondering aloud if he'd have to return to Canada to continue his career :
" ... he has just about decided he'll have to go back to Canada to pitch. "I've been checking with some people but it doesn't look like there's anything for me in the States" Satch said. "I was hoping I wouldn't have to go back to Canada but if I can't find anything else that's what I'll do. It's an awful long way up there and it gets pretty cold. You see bear and moose around everywhere. You've got to be a little careful about those bears." (The Sporting News June 12 1965)

Having a blast going through Bill Guenthner's Minot Mallards (see below). His history of his home club is chock full of fascinating information. After the holidays I hope to get around to updating my site with some of the data from his book.

Len Tucker (Kamsack 1952 Saskatoon 1957 Lethbridge 1961) had some amazing seasons in the minors (including the season at Pampa in 1956 .404 with 51 home runs 40 doubles 13 triples181 runs batted in and 47 steals). How about this for a three-game series -- ten consecutive extra-base hits. Four homers a triple and a double in a twin-bill plus a homer and three doubles the following day! The scores -- 11-0 13-0 and 28-6. July 25th & 26th 1956.

The very best to you and yours for the holiday season!
---
December 05 2004

On the trail of another mystery -- the San Francisco Sea Lions a Negro barnstorming team which toured the prairies in 1949 albeit for an abbreviated run. Howie Snyder of Burnaby BC is working on a book which is to include a chapter based on the Sea Lions. Howie's father came from the small Saskatchewan community of Buchanan. And in 1949 the sponsored the team when things went awry mid-way through the tour. The story even made the New York Times :
"Harold Morris owner of the San Francisco Sea Lions touring Negro baseball team was a troubled man when he arrived here today -- minus his ball team. He said his played jumped the club and signed to play with the Buchanan Sask. All-Stars for the remainder of the season.

He only "player" Morris has left is Sammy Workman an armless and legless performer who has been traveling with the team. The Sea Lions have permission from the United States Immigration Department to stay in Canada until the end of August Morris said. A move however now is under way to have the players deported to the United States for jumping their bond he added." (New York Times June 30 1949)
(In another of those crazy coincidences Howie's parents were married just miles from the small which I now call home.)
Any information on the club would be appreciated. (The team appears to have been formed around 1946 with the establishment of a Negro League on the West Coast.) In the picture above (with some of the Sea Lions suiting up with Buchanan) the players are identified as : Back row (left to right) Junior Walton, Papy Dyk, Mike Lukey (coach), John Johanson, Lee Lundrum. Centre row Mule Jones, Edgar Myrfield (sponsor), John Wishlow ,John Plaxin. Front row John Henry, Chizun, Lefty Jackson, Lorne Johanson.

Always such a treat to have a chat with Jim Lester (Granum Lethbridge). Nice to hear he's played lots of golf! Also a reminder to keep trying to confirm the story (as told to Jim) about Len Tucker having raced a horse during his time in Peoria!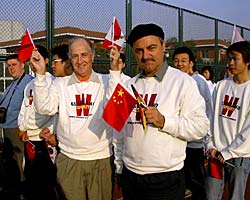 Barry Arnett (Lloydminster 1960 & 1961) is off on a new adventure -- teaching in China! The former Meridians' shortstop (at the left in the photo waving his Chinese & Canadian flags) is now fielding questions in business classes in the port city of Tianjin (approx. 10-million population) about an hour (by train) from the capital of Beijing. He's also been thrust into teaching ESL and seems to be enjoying the experience :
" ... They are quite easy to prepare for as the goal is have students practice oral speaking and the text book is excellent. Students are so polite and eager to learn. Almost never talk when they shouldn't. The challenge is to get them to contribute as they do not volunteer answers. Yesterday they took off and had a great discussion themselves and I just went to back of room and grinned."

Also on the lookout for any photos of Jose Roman a pitcher who played in the early 50s in Mexicali Modesto Billings and Visalia. Son Agustin is trying to piece together his dad's baseball days.

Nice to hear from Jason Lizotte who was surprised and pleased to see the reference to his dad Pete who played with the Peace River Stampeders in Northern Alberta. And from the family of Ted Foord who was a mainstay on the Moose Jaw teams of the 40s and early 50s. Reminds me of how I would like to include material on the Southern Saskatchewan League!

In Winnipeg Robert Huculak is making progress in his quest to produce a documentary on the Negro Leaguers who made such an impact on the prairies in the late 40s and early 50s. It's still in the formative stages but he's garnered interest from some major players in the TV industry.

Tom Haller an All-Star catcher in the majors who got his start with Moose Jaw in 1957 died last month. He was 67. Haller had been hospitalized since August with a viral infection. He played in the majors for 12 years mainly with San Francisco.

Happy to pass along news of the publication of a ground-breaking work The American Indian Integration of Baseball by Jeffrey Powers-Beck :
" ... The American Indian Integration of Baseball describes the experiences and contributions of American Indians as they courageously tried to make their place in America's national game during the first half of the twentieth century. Jeffrey Powers-Beck provides biographical profiles of forgotten Native players such as Elijah Pinnance George Johnson Louis Leroy and Moses Yellow Horse along with profiles of better-known athletes such as Jim Thorpe Charles Albert Bender and John Tortes Meyers. Combining analysis of popular-press accounts with records from boarding schools for Native youth where baseball was used as a tool of assimilation Powers-Beck shows how American Indians battled discrimination and racism to integrate American baseball."
The book also includes a section on the semi-pro Nebraska Indians team which barnstormed across the country from 1897-1922.
Powers-Beck is a professor of English and assistant dean of Graduate Studies at East Tennessee State University the same school where Lyle Olsen (Saskatoon 1961) was a professor of English. The book is available from Amazon.com.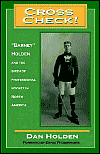 Dan Holden is on the lookout for any information on his dad (Danny Holden) and uncle (Roy Holden) who played on the West Coast from the 1920s through the early 40s (including the Western International League). Dan's hockey book is now on the shelves -- Cross Check! : Barney Holden and the Birth of Professional Hockey in North America.
" ... Long before there was an Eddie Shore or a Bobby Hull or a Wayne Gretzky or even (God help us) the Hanson Brothers of Slap Shot fame there were the Victorian era hockey pioneers ...They played not in the big Canadian cities but in the turn-of-the century mining s of Rat Portage, Haileybury, Cobalt and Houghton. They played at a time when substitutions were not allowed and the only way to leave the ice was to be carried off ... this book focuses on that particular period in sports history through the life and career of Bernard "Barney" Holden. Not only was he one of the very first professional hockey players in history but he scored the first goal in the first game of the very first professional hockey league ... He was a defenseman…a hitter and one rough tough son-of-a-gun who gave as good as he got. And somewhere on the ice rinks between Michigan, Manitoba, Quebec and Saskatchewan he left his blood and most of his front teeth. The author presents the reader with a glimpse of hockey life during the Victorian era when the British Union Jack still flew over the Canadian provinces and of the young men who became the first hockey stars in North America."

On the lookout for information about a player from the 20s -- Harold F. Grasser (may have played under the nickname Potty). Daughter Meredith very interested in finding any material about her father.

Thanks to Don Tanner of High River Alberta for sending along the World Spectator item on Fritz and Don Sauter noting their induction into the Saskatchewan Baseball Hall of Fame a couple of years back.
" ... Baseball was what the two lived for. Fritz played his final game only 11 years ago at age 75 when Moose Jaw oldtimers picked him up when they were short a player or two at a Wawota Twi-Liters tournament. He pitched his final game when he was 55 ... There were 13 children in the Sauter family ­ 10 boys and three girls. Even though Floyd the eldest was about 10 years older then Fritz "I played (ball) with all of them at one time or another." The two Sauters were inducted into the Hall of Fame as "players/builders." Fritz managed the Fairlight team from 1937- 1957 and continued playing long after that ... One year Fritz recalls Fairlight's ball team went 65-5 in tournament action. "We'd think nothing of playing three tournaments in a week" he said "but none on Sunday. You didn't play ball on Sundays back in those days."

" ... A team would win $50 or perhaps as much as $75 for winning a tournament ­ big money in those days. Don played shortstop and pitched and Wade said he taught himself how to throw the knuckleball ­ a pitch easy on the arm. "If we were short of pitchers he could throw that knuckler all day" said Fritz."

Always interesting going through the newspaper files. My lack of access to a microfilm reader has been a major impediment since my move to BC but I've managed to dig up a few tid bits through research on the internet.
February 1947 the New York Times has a piece on the New York Yankees playing in Puerto Rico against San Juan. Barney Brown (Lloydminster Brandon) was the PR starter against the Yanks (and didn't fare too well as San Juan was belted 16-3).
February 1952 the Los Angeles Times reports the Hollywood Stars signing of young pitcher Charlie Beene (Saskatoon) from Visalia.
November 1947 a New York Times item notes the Satchel Paige All-Stars' victory over the Bob Feller All-Stars. 8-0. Paige gave up just four hits and fanned fifteen.
July 1960 the Los Angeles Times gave prominent coverage to the Dodgers' signing of lefty Bruce Gardner (Edmonton Regina).

A few weeks back the Winnipeg Free Press ran a feature piece on Stanley Zedd one of the major forces behind the establishment of the ManDak League. The item quoted our colleague Barry Swanton who's done a superb job of documenting the ManDak League in his self-published book and has provided invaluable assistance in our coverage here.

To you and yours the very best wishes for the holiday season.
---
29 August 2004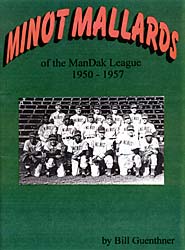 Congratulations to Bill Guenthner ! Bill who has made major contributions to our coverage has self-published his history of the Minot Mallards the dominant team of the ManDak League of 1950-1957. It's 72 pages chock full of fascinating material including rosters player biographies stats standings year-by-year summaries and more.
Fifty-four years after the Mallards debut in the Manitoba-Dakota (ManDak) League Bill's incredible research and subsequent publication mark a huge leap forward in documenting the glory years of baseball in the Dakotas. It is all the more remarkable as Bill who grew up in Minot is now resident in Hockessin Delaware.
Publication of "Minot Mallards" doesn't mean an end to Bill's search for material. He's already planning updates and is anxious to hear from anyone who might have further information on Minot's semi-pro teams. Send him a note.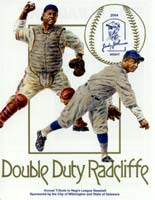 Double Duty Radcliffe at age 102 was honoured last week in Wilmington Delaware at the annual Negro League tribute. Bill Guenthner was at the game and reports Double Duty in remarkable shape sitting in a receiving line for most of the contest. Bill also had an opportunity to speak briefly with Bill "Ready" Cash another of the ManDak alumni.
The baseball card (left) of the renown two-way star was available at the game. Radcliffe suited up for Elmwood and Winnipeg in the ManDak League in 1951 and 1952 (at age 50!). Cash played for both Brandon and Bismarck.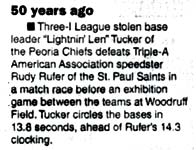 Thanks to Jim Lester for sending along this clipping from the Peoria Journal-Star of August 9th. The paper noted the 50th anniversary of another of the feats of Len Tucker who went on to star in the Western Canada Baseball League. Jim is still searching for confirmation of a story that Len also raced and defeated a horse in one of those zany promotions during Len's tenure with the Chiefs in Peoria. Tucker the first black to be signed by the St. Louis Cardinals was denied a trial in the majors in spite of an outstanding minor league career.

Help requested in tracking down a couple of players from the 50s. Rich Lamas is chasing information on his father Dick Lamas who played in Cold Lake Alberta in the late 50s. The elder Lamas passed away recently. He would have been a teenager or perhaps into his early 20s when he came up from California.
And Sunny Cohen is on a search for any material on her dad -- Ed Pokropski -- who it's believed played for one of the House of David touring teams in the early 50s likely 1950 and 1951. He was involved in both baseball and basketball. Both Sunny's dad and stepmother have passed away and the scrapbooks appear to have been tossed out. There's not much to go on with the exception of a mention of a "Pop" Miller who was likely a teammate and the possible misspelling of his name. There is an Eddie Popowski who played with the HOD and later in the major leagues but that's not the guy.
Any information would be greatly appreciated.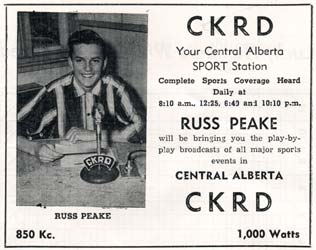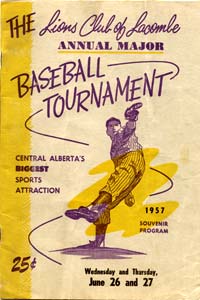 A hidden gem in the material sent along by Gary Harrison the former Picture Butte twirler.
In a program for the 1957 Lacombe Tournament the advertisements included this one (right) for radio station CKRD Red Deer (where I would be a DJ a few years later) featuring Russ Peake the station's ace sports guy. Russ and I were acquaintances way back in the 50s in Lloydminster when his parents would bring him into town (and into my dad's restaurant) from the farm in Marwayne. He's recently retired after a stellar career as a television sports reporter/host with CFCN Calgary.

Good news from Armand Peterson who reports a contract with the University of Minnesota Press to publish their (Tom Tomashek is the co-author) book on amateur baseball in Minnesota in the 1945-1960 era. The book is expected to be published in the Spring of 2006. Armand is seeking photos of Gready McKinnis and Sam Hill (who played in both the ManDak and Minny Leagues).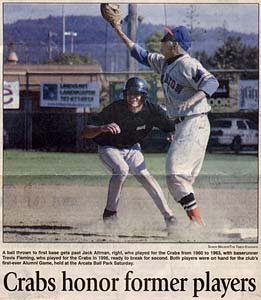 In an earlier news report we had a mention of the reunion in Humboldt CA of former players with the home Crabs. I didn't realize at the time just how newsworthy the event had been in the local press -- no less than a front-page throw with a major item and picture inside!
That's Jack Altman trying to make the catch at first. The caption actually reads "A ball thrown to first base gets past Jack Altman right who played with the Crabs from 1960 to 1963 with baserunner Travis Fleming who played for the Crabs in 1996 ready to break for second. Both players were on hand for the club's first-ever Alumni Game held at the Arcata Ball Park Saturday."

George Counter (who describes himself as a small time baseball researcher) needs some help in identifying some prairie baseball teams (believed to be from the 1920s). George picked up some photos on Ebay from a seller who said his wife's grandfather had taken the photographs. We've managed to identify one of the photos as a team from Arcola (thanks to Dave Shury's Wheat Province Diamonds). Here's hoping the following photos bring back some memories. If any look familiar please get in touch.