Updated : September 26, 2001
Perhaps one day, someone will have the words to describe the horrific events of September 11th.
Two weeks later, it still seems so unreal even in having watched television coverage hour by hour. So heartening has been the incredible courage of so many and the world-wide outpouring of prayers and support.

Some additions to the ManDak file -- pictures of Williston Oilers, 1955 thanks to Barry Swanton who's been a great contributor of ManDak League material.

A few discoveries ... Garland Butch Lawing, Dickinson 1955-56 and Brandon 1957, was the MVP with the Quebec Braves in 1950. Lawing won the Triple Crown, .346, 19 HR, 141 RBI (he also led the league with an incredible 168 walks). Lawing had played in the majors in 1946.

In mid August, Leon Day, Winnipeg 1950-51, Edmonton 1953, Brandon 1954, was honoured in Wilmington, Delaware during the 6th Annual Judy Johnson ceremonies.
" ... Day was often held in the same regard as legendary pitcher Satchel Paige, but without the notoriety."
"It's an honor, and it's great they remember a great player like Judy Johnson and remember my late husband," said Day's widow, Geraldine.
Day died in 1995 at age 78, within a week of being elected to the Baseball Hall of Fame."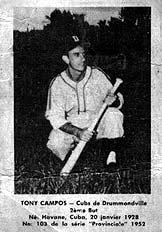 Another wonderful surprise from Cuba and Tony Campos Jr. -- his dad's baseball card while with Drummondville Cubs of the Provincial League in 1952. Frank Campos, Tony Sr's brother, played in the majors with Washington.
Tony Jr. reports that Pedro Seoane, Florida Cubans 1952 and Indian Head Rockets 53-54, passed away a few months ago. He had been a well-known umpire in Cuba for many years.

Contact with Bill Gatenby, a key member of the Sceptre clubs in the 40's ... more in the next week or so.

Jeff O'Brien, Saskatoon City Archivist, kindly sent along documentation on the financial difficulties of the 1956 Saskatoon Gems. More in the days ahead.
---
September 5, 2001

A little more information trickling through on the ManDak League. An unexpected surprise from Cuba -- a note from Tony Campos Jr. son of the former Williston Oiler (1954). Tony Sr., now 75, played pro ball beginning in 1947 and spent a season in the ManDak League before continuing his baseball career in Mexico, Venezuela and Cuba. Tony Jr. provided a bonus -- a photo of his father and two teammates from the '54 Williston club. If you can identify the others, please let me know. Some names from that club:
Afremow Buddy, Baxter Dick, Betzen Don, Blinn Ralph, Campos Tony, Chalfont John, Cleveland Bill, Dyke Paul, Gearhart Lloyd W, Geisler Kent, Lutz Joe, Martin Ronnie, Michalec James, Michalec Vic, Patton Danny, Schoonover Dick, Smith Ron, Taylor Harry J, Tayor Harry, Weatherly Roy, Williams Dewey, Williams Edward
---
August 29, 2001

Some work done on the team photo pages, so they should be working again. (If you spot any pages where the pictures don't show up, please let me know.) Some additions to the ManDak photo files (1952) thanks to Bill Guenthner who dug out some Minot Mallard pictures.

Finally, tracked down my tape of conversations with Emile Francis and Wayne Stephenson ... snippets on the "I Remember" page and, in Emile's case, also on the Rosetown Riot page.
---
August 25, 2001

Tidbits ... Early this month, Jim Lester pulled off a surprise visit to a HOF ceremony at Reedley, inductees Jack McBride and Vern Horton among Lester's surprise victims ... Lee Murphy house building in Montana (near a trout stream, of course) ... success, it appears, in raising funds for the Pete Beiden statue ... Jack Altman at the 7th Annual North California PCL Reunion (Bud Watkins among those attending) in Oakland ... Bob Bennett announced he'll coach for one more season at FSU :
" ... It is my personal desire to retire at the end of the 2002 season . . . I am making this decision after lengthy deliberations and discussions with my family. After 45 years of coaching, included 33 years as head baseball coach at Fresno State, I feel strongly that I have done almost all of the things I have wanted to do in coaching. While I look forward to one more season with our program and seeing the fresh talent on this year's team mature to even greater heights, I want to move on with my life, spend more time with my family and pursue other goals of writing, lecturing and conducting clinics."

A little trouble with the team pictures on the site (they had been posted on a separate server, now down), but hope to have them back up soon.
---
August 14, 2001

Whew. A busy summer with the move from Toronto to Nakusp, BC. Lots of visitors to keep us company as we attempt to deal with 36 years of "rat-packing" in Toronto. Many, many boxes still unpacked (a good project for the winter).
Again, please don't mail anything to the old Toronto address -- new address below.


Some quick hits. Sherwood Brewer (left) in Milwaukee at an event to honour Negro Leaguers. After more detective work, finally located his phone number (my luck, he was away in Milwaukee!) Catch up to him one day soon.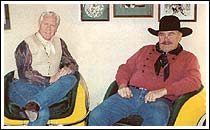 Nice to hear from Don Beene (Charlie's older brother). Don had an opportunity early in the year to catch the Sons of the San Joaquin (the Hannahs) in Green Bay. That's Jack Hannah on the left and Joe on the right (both comfortable in those Packers' chairs).
Don also sent along a clipping on a presentation of a Baseball Heritage Award to the Hannah brothers.
Joe, a catcher, played for thirteen years, mainly in Triple-A. Jack's career, shortened by a series of injuries, included an 18-inning, three-hitter!



Happy to have located Tom Bergeron (left), a mainstay of the Lloydminster clubs from 1958-1961. Tom continues a high school coaching career in California.

John Rebelo (right), a standout pitcher with Lloydminster in 1961, has done quite nicely outside of baseball as a bank president in San Diego.

Also heard from Ron Stillwell, who went from the Regina Senators to the Washington Senators. I hadn't realized that another major league Stillwell, Kurt, is Ron's son.

A downside to the move from the Metropolis to the Village -- a lack of library resources to track down old newspaper stories (no microfilm reader at the tiny library here and not much more at the library in Nelson). But, I'll just have to improvise.

Neglected to mention the induction ceremony in June at the Manitoba Baseball Hall of Fame. Reg Chopp, Steve Clark, and the Bowsman Maroons among the honoured. Arch Mullin instrumental in the recognition for the Bowsman club.

Lots of little bits (including many pictures to go with the names in the Major Leaguers' section). Had a devil of a time but finally found a Thad Tillotson baseball card. Still a few to go.
---
June 17, 2001

After some hits and misses, all seems back to normal after the transition to a new server (same site, just an update).
Things slowing down a touch as we prepare a move back to the West.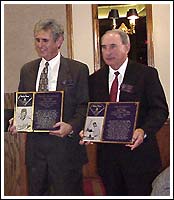 Happy to see the introduction of an ALUMNI section on the Fresno State web site. A long last, some recognition for some of the oft-forgotten builders of the FSU program. Left -- Terry Banderas and Jim Garrett receiving their Hall of Fame plaques at a ceremony earlier this year. The following from the Alumni salute :
Terry Banderas 1961-62 Outfielder Primarily an outfielder, but sometimes found at third base, Banderas claims defense was his forte. But the numbers say he was more than a defensive specialist. He hit .344 in 1961, third best on the team, and led the Bulldogs the following season with a .398 average to earn all-conference honors. Banderas said he came to Fresno State to get an education and play baseball. Mission accomplished. He played professional baseball for four years, reaching Triple A. A shoulder injury ended his playing days, so he took the lessons he learned in baseball and applied them to a successful career in aerospace.
Jim Garrett 1959-60 Catcher After playing on a state junior college championship team at the College of the Sequoias, the catcher out of Delano transferred to Fresno State and helped the Bulldogs reach the college World Series for the first time. In 1959, he batted .304 and caught every inning in Omaha as Fresno State placed third. The following season, Garrett earned all-conference honors, batting .324 from the clean-up spot. Garrett's playing days ended, but his association with the game was just beginning. In 35 seasons with Garrett as the coach, Tulare High School won 492 games, 15 league championships and the 1982 Central Section title.

Barry Swanton keeps pumping out info on the ManDak League -- more game-by-game reports posted.
Had a long chat with former North Battleford player/manager and long time NHL star as a player, coach and general manager, Emile Francis. Might not get to transcribing the material until we're settled out in BC. Still chasing material from the Dakotas -- appreciate any stuff from Minot, Williston, Dickinson, Bismarck. Contributions greatly appreciated.
And, a slightly revised logo now on the home page and a smaller one on each of the individual pages. Original photo was one of the gems from Jack Altman's fascinating collection of pictures from the 50s.
Some interesting additions to the LINKS section as well.

An enquiry about the whereabouts of Sammy White, who played with the Indian Head Rockets in 1953-54. If you have any info please drop me a line.
---
Updated : May 20, 2001

A little reorganization as the site moves to a new server. As all the files had to be moved over, there might be some missing pieces. Please let me know if you discover any errors or omissions.
---
Updated : May 09, 2001

A little stab made at game reports in the Southern league of Saskatchewan (starting in 1949) with the 1950 section the most complete.
Some of the links have been reorganized a little to make it easier to zoom around the site.
Happy to report contact with Norm Revis (Lloydminster 1961, U of Arkansas) and with Bennie Griggs, long-time star in Canada. Well, didn't exactly talk with Bennie (he was, as expected on the golf course) but with his daughter. Birmingham, Alabama.
Finally reached Wayne "Wimpey" Stephenson on the phone to get details of his fascinating tour with the St. Louis Black Cardinals. He's trying to dig up a picture of the group.
The marvelous Lil Lowe has sent some further material which includes a little on the Saskatoon clubs of the late 30s and early 40s along with some photos of the Brandon clubs of the late 40s and early 50s. Thank you all!
---
May 02, 2001

Included in the new stuff, team pictures of Brandon 1948, Moosomin 1938, Saskatoon Lions 1939 and Calgary Purity 99s 1946. There's bits of new information as well in the barnstorming section.
Pleased to report that the Western Producer published a plug for information and the first responses have come in.
Arch Mullin has been busy again, tracking down a marvelous story on how Wimpey Stephenson suited up with the St. Louis Black Cardinals for the summer.
---
April 21, 2001

Some updates to the early sections on Sceptre baseball thanks to Gertrude Hale and Carol Hegg at the Great Sandhills Historical Society in Sceptre. Although I still have to figure out how many teams Sceptre had in any given year! The 1946 club apparently won 80 of 87 games.
---
April 14, 2001



Lots of updates. With thanks to Charlie Beene, there's an incredible selection of photos from 1951 Saskatoon 55s (all in the 1951 Snapshot section). Some identifications needed on a few of the pictures. And, with Arch Mullin combing the prairies, there's lots of new information on baseball in Manitoba. Thanks to Bill Murray of Gilbert Plains, Lorna Wilson of Grandview and Vern Pachal of Yorkton for digging around in their attics to come up with photos. Arch has also worked on a note we hope will appear in the Western Producer perhaps prompting even more folks to dig through their archives for baseball news from the 50s! There's a new page on the Hockey Connection -- including at least eight players in hockey's Hall of Fame who suited up on prairie diamonds.

There's an addition to the site, a section entitled "I remember . . .". I hope you'll get as much enjoyment out of these little snippets from conversations as I did in putting it together.

A couple dozen new pictures on the site from the Charlie Beene collection. I love the pic of Cairns Field (taken from the centre field bleachers) -- it's in the 1951 Snapshots. There are some other pics likely to be very familiar to prairie players -- the never-ending card game, and trying to catch a a little shuteye in the back seat. Barry Swanton has come through with more game reports from the ManDak League. Much appreciated.
---
April 5, 2001

Arch Mullin of Winnipeg has been busy digging out information on the Man-Sask loop of the late 40s and early 50s. His quest has turned up material from Vern Pachal on the Yorkton club (including a picture of the 1954 club) and from Lorna Wilson on the teams from Grandview and Gilbert Plains (pictures of the 1948 Gilbert Plains crew and the 1952 Grandview club). There's a few game reports too! Thank you Arch and Lorna and Vern.
Small world department -- I used to talk a fair amount with Stan Obodiac, one of the players in the 1954 Yorkton photo, during his days as PR man for the Toronto Maple Leafs hockey club. And, I first met Fred Windjack, the Yorkton batboy, in the early 60s when both of us worked up in Peace River, Alberta!
---
March 29, 2001

Amazing what you can get done when the equipment works! The new Lethbridge Reunion pictures are up too. I'm missing a couple of names. If you spot any errors or omissions please send a note. (Oh, there's also a picture from the 2000 reunion of the 1959 Fresno State club.) Thank you Jim Lester!
---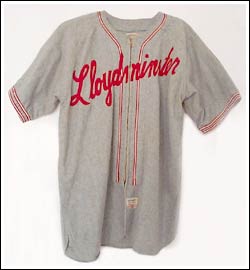 March 28, 2001



The strange case of Lloydminster Meridians uniform #13 as item #112035220 on eBay, the on-line auction.
In early March I received an e-mail which, without any introduction, simply asked two questions -- did the Meridians have home and away uniforms and who wore number 13.
I discovered later that the author, Ed Konopka, has had a long friendship with a former Western Canada player. He then informed me that his interest in the uniform stemmed from a posting on eBay. Ed was kind enough to suggest that the bidding was up to $50 and he would withdraw his bid if I wanted to pursue the item.
A little detective work found that the jersey was being auctioned by a woman in Montana (whose name I have lost, along with hundreds of other e-mails in my recent computer revamp). She had obtained the uniform at a thrift shop in Kalispell. (One Lloydminster player did, at the time, give a home address in Kalispell.) Eventually the item went for $99. It was sold to Dr. Revel in Texas who turns out to be a baseball researcher who had previously been recommended to me as an expert on the Ligon All-Stars. Small world.
Makes me think back to Marshall McLuhan's concept of the "global village".

There are some major additions -- especially the new 1948 and 1949 sections on the Manitoba Senior league (the loop which laid the foundation for the ManDak circuit). Thanks to Lil Lowe's scrapbooks (her late husband Ian was the playing-manager of the Brandon Greys 1948 to 1951) there is a lot of new material on Manitoba baseball. It's been quite an undertaking to put together the two early seasons. Of particular interest is the incredible 1949 Brandon club which played 108 games in 113 days and lost just 18! The 1948 Greys were likely the club which set the stage for the wide-spread acceptance of "coloured" players on prairie rosters. The time period coincided with Jackie Robinson's integration of the major leagues (1947) and the quick decline of the Negro leagues.

Ron Teasley, ex-Carman star, was kind enough to send a photo of the 1949 Carman club, another of the teams which featured many former Negro leaguers. Barry Swanton of Surrey, BC has been great in sending along game reports for various years of the ManDak league and Mark Flynn of Winnipeg is keeping me busy just going through the bundles of terrific material on Manitoba baseball (including some fascinating stuff on the All-American Girls Baseball league).

The new sections on the Manitoba Senior league include game-by-game reports on just about every Brandon game and many of the other contests. Lots of pictures too. Need some help though in identifying two of the Brandon players, both pitchers I believe. You'll find the photos in the 1949 Snapshot section. I think these may be players from the 1948 team -- the one of the left is likely Steve Wylie.

The Willie Walasko page is up. Walasko was one of the most feared pitchers in the Southern Alberta area over a fifteen year period beginning in the early 50s.

Charlie Beene (Saskatoon 1951 & 1957) provided some wonderful pictures of the Saskatoon 55s of 1951 and the Gems of 1957.

There's also been an addition to the book section -- Kyle McNary on Ted "Double Duty" Radcliffe, one of the stars of the Negro leagues who spent a couple of summers as playing-manager in the ManDak league.
And, now to work on some lovely pics of the Lethbridge reunion sent along by Jim Lester (who, by the way, is just back in Peoria from some sunshine and Spring Training baseball in Arizona).