Updated : 01 August, 2002

Now posted -- thanks to Dave Shury and crew at the Saskatchewan Baseball Hall of Fame -- the photo of Wayne "Wimpy" Stephenson and the St. Louis Black Cardinals. Stephenson, who is to be inducted into the Hall of Fame this summer, suited up during the summer of 1949 with the barnstorming club. Just two years after Jackie Robinson broke the colour barrier in the major leagues, Stephenson was the only non-black to suit up with the American touring team. He would have continued for the fall and winter too, but American customs officers delayed him long enough at the border to prevent him from tagging along further south. Full Story.
This year's ceremony is to be held August 17th at Battleford, Saskatchewan. Further information -- (306) 445-8485.
---
28 July, 2002

More catchup ... the Len Breckner page posted. Hmmm a left-handed third sacker? That's how it began! Now, 50+ years later he's getting a kick out of watching his grandsons having a ball on the diamond.
---
24 July, 2002

Ron Teasley writes from Detroit that he had an opportunity to attend Double-Duty Radcliffe's 100th birthday party in Chicago. A very nice affair says Ron (who has been very helpful in tracking down information especially on the Carman clubs of the ManDak League).

Contact from Clark Rex (Lethbridge & Calgary 1960, Edmonton 1961, 1963-64). Clark is digging through his scrapbooks for material on his years in Western Canada. Many will be familiar with Clark both from his Canadian days and college years at Pepperdine. He ran the Edmonton club in 63-64 when the league became primarily a "rookie" loop.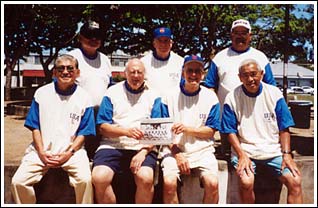 Tough summer for the former Vulcan Elks -- Jack Altman (front row, third from left) and Greg Seastrom (middle, back row). The pair were in Hawaii for a reunion of their 1952 high school (Punahou) nine. The picture was taken last month on the site of the old Honolulu Stadium (as, with most of the old ball parks, was demolished long ago).

Also at the gathering, former Moose Jaw (1958) shortstop Gordon Dolinar (left) who, it turns out, Altman coached in 1953 on an American Legion team (which won the Honolulu championship, but lost in the Territorial playoffs). Dolinar was in a tough shortstop group that season in Canada, others included two who went on to major league careers -- Jerry Adair and Tom Satriano.

Sad news from Brent Siddons -- notice of the passing of Gerry Parker, one of the Victoria kids who suited up with Moose Jaw in 1951-52 and with Saskatoon in 1954.
Worth and Parker then started up a top calibre senior A league in Victoria and mentored young players like myself in the late 60's and early 70's. These players won the Canadian Sr. A Championship in 72 and represented Canada in the 72 Pan American Games in Cali Columbia. Parker was a dandy third baseman and was well respected in Victoria baseball circles.

Much thanks to Jan Derwores of Kamsack for taking the time and effort to copy newspaper clippings covering Kamsack teams of the late 40s and early 50s. This, combined with Bob Koroluk's material on the NE Saskatchewan Baseball League helps immensely in building information on ball in that part of the province.

Thanks to an inquiry from Douglas Culbreth I've uploaded revised Negro Leagues pages (with a dozen or so additional pictures). Douglas was about to show Bill Cash his picture when I realized I had somehow forgotten to put the new pages on the site.

Another oversight corrected -- there are now links (from the sitemap page & the main "year" pages) to the 1953-54-55 Beverly (Edmonton) Drakes, the Alberta Senior Champions. Pictures thanks to the digging of Joe Weremy.

There's an interesting new site added in the links section -- the Negro League Baseball Players Association.
---
22 July, 2002



All the grandparents will know what kind of summer it has been! With a little quiet now ... beginning to clear the backlog of material.
Lots of updates on the site, including individual pictures of the Ligon All-Stars in the 1950 Photo Gallery.

Kyle McNary reports a great time had by all at Double-Duty Radcliffe's 100th birthday bash in Chicago. As part of the celebration at Comiskey Park, Radcliffe threw out the ceremonial pitch at the July 7th White Sox game. Kyle says Sherwood Brewer and Lester Lockett (Western Canada players) were among the participants.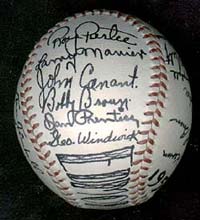 Fascinating. Heard from Sue Partee, daughter of former major league catcher Roy Partee (Red Sox 43-44 & 46-47, St. Louis 1948). Roy played with Edmonton in the Western International League in 1954 and Sue has a ball (mint condition) signed by all the members of that club. She's looking for anyone interested in the item. Send me a note and I will have Sue get in touch.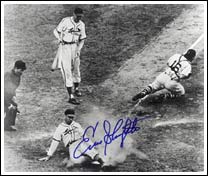 Roy is featured in one of the most famous World Series photographs -- Enos Slaughter's "mad dash" to score from first on a hit-and-run play in the 8th inning of the 7th game of the 1946 series. It turned out to be the game and series winner. Roy is the Boston catcher. His career, which began in 1938, continued until 1959.

Jim Lester continues to be a great supporter of the site, sending along more material on Fresno State and helping to fill in some blanks in Southern Alberta coverage with newspaper clippings.

Thanks to Brent Siddons for information on baseball in the Victoria area and for helping to track down some of the players, especially Art Worth who, it turns out, is just a few hours from me here in the BC interior.
During and just after the war, Victoria produced many great ballplayers. Ed Rungee, a major league umpire played played in Victoria and worked in the shipyard. Victoria Athletics played in the old Western International league and were a Yankee affiliate. Art Worth scouted many players from the area who played in the Yankee system. Jack Harshman, Gil McDougal and Lou Novikoff (the mad Russian) were among many great ball players I had the pleasure of watching as a kid. We were baseball crazy and played all summer from dawn to dusk ... The Okanagan Mainline league was very good and Vancouver had some very strong teams. Many of those players would be major leagers today. Ted Bowsfield was just one of many great pitchers from the Okanagan and lower mainland. Also many great soft ball players came out of the interior.

A treat to hear from Norman Klenman of Richmond BC on his memories of baseball in Brandon in the 30s. Norman was assistant batboy (to his brother Allan) with the Brandon club in 1934.
The games in Brandon were played at a field which I think was at 18th and Louise Avenue, an open park, as I recall, with a fence over 400 ft from home plate. I don't recall ever seeing a home run over the fence, but Allan would recall that. There was an elementary grandstand, and there was a small cash collection made at the games, but no gate charge.

Exhibitions were played, and I recall seeing the great Grover Cleveland Alexander and a team of travelling US players there in '34. We all knew what a great pitcher he had been. But age and alcoholism had worn him to a tired-looking, leathery-faced old vet, sweating and straining manfully on the mound for 9 innings and prevailing...just. The US team retired to the Beaubier Hotel beer parlour for beers at 10 cents a glass. We also saw the House of David, that marvelously bearded US team four players of whom wore hair normally down to their wrists, but for playing wrapped tightly under baseball caps. And of course, we all witnessed in awe the brilliant, whipsharp, eye-defying Pepper Game. No one did that better than they.

Ron Beck of Mandan, North Dakota has come across a picture of what's believed to be the 1910 Calgary team of the old Western Canada League. Anyone with information on that loop?

Douglas Culbreth of Philadelphia, who has written a history of Charles Peete for members of a Little League bearing Peete's name, had the opportunity recently to talk with another former Negro Leaguer and Brandon star, Bill "Ready" Cash.

Charlie Beene just can't sit still! He's working on a tourism project in Montana.

Anyone know of a Joe Brown? 1957. Global World Series, Detroit? John Hartman has come across a ball signed by Brown and a couple of other players. '57? This would be Edmonton's near win (a highlight of which was Dale Zeigler's one-hit shutout against the USA).

Rob Porkka is hoping to dig up some more information on his uncle, Ernie Porkka, who played with Foremost & Picture Butte.
---
21 June, 2002

Catching up, little by little. A nice surprise in the mail from Marvin Ligon -- a good quality version of the Ligon's team photo of 1950. It's here. Also a clipping of a story on his uncle Rufus Ligon who, with brother George, founded the Ligon's barnstorming team of the late 40s and early 50s. That, along with some other photos from Marvin, will appear soon on a Ligon's page being developed. The test version is up here -- if you can add any information I'd appreciate hearing from you.

Click here for a look at Phil Dixon's new book, The Monarchs, 1920 - 1938 Featuring Wilber "Bullet" Rogan. The product of years of research, the work features one of the best known Negro League and barnstorming teams, the Kansas City Monarchs and one of the best players of all time, Bullet Rogan.
---
13 June, 2002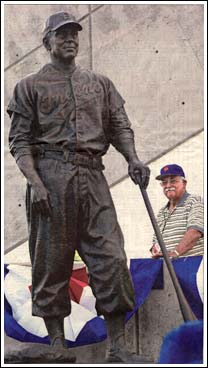 Apologies for the lengthy break. A major medical emergency has put things on hold for the last month or so. But, things have gone pretty well and optimism reigns!
There's a large backlog of material and I hope to begin processing the information over the next few weeks. But, a few tidbits to try and acknowledge the great assistance being provided.

You're probably aware of the happenings at Fresno -- the unveiling of the statue of Pete Beiden (left) (California Mohawks '49 & 50, Medicine Hat '51, Regina '52, Saskatoon '53, Regina '55-55-57) and Bob Bennett's (Kamsack Regina '52, Kamsack '53, Saskatoon '54 & '59) final game as head coach of the Bulldogs. Thanks to Roy Taylor (California Mohawks '50, Saskatoon '51, Kamsack '52-53-54, Moose Jaw '55-56, Saskatoon '58-59) for sending clippings (including the Fresno Bee photo left) and other pictures below.

Mark Flynn (Fort Whyte), a good friend of Western Canada Baseball, among the inductees into the Manitoba Baseball Hall of Fame earlier this month. Thanks to Gladwyn Scott of the MBHOF for the 2002 calendar.

Dave Shury, founder of the Saskatchewan Baseball Hall of Fame, is to be inducted into the Canadian Baseball Hall of Fame at a ceremony next week. Dave, who is unable to make the trek to St. Mary's, Ontario, is to be represented by wife Jane.

Many thanks to Bob Koroluk of Regina for information on the North Eastern Saskatchewan Baseball League. Bob was kind enough to send along a booklet with many clippings on the old circuit.

Joe Weremy (Beverly, Granum '56, Lethbridge '57, Peace River) has been a great help in providing information on baseball in Alberta in the 50s and 60s both in the Edmonton area and in the northern section of the province.

Some fascinating material on Steve Wylie (Ligon's, Brandon '48, Minot '49-50, North Battleford '51-52, Grandview '53) from Eleanor Williams, County Historian, Montgomery County, Clarksville, Tennessee.

Thanks to Jim Lester (Granum '56-57, Lethbridge '59-60-61) for updates on Fresno and other activities. Interesting to note that Jerry Burcher's (Vulcan '55-56, Medicine Hat '57, Lethbridge '61, Unity '63-64) position at the new ballpark in Fresno puts him in contact with at least a couple of former Western Canada players, Tim Cullen (Saskatoon '61) & John Carbray (Edmonton '61, Calgary '63-64) (executives with the Fresno club of the PCL).

Marvin Ligon is still digging up information on the Ligon's All-Stars, one of the famed barnstorming teams of the late 40s and early 50s.

Doug Culbreth, from Philadelphia, sends news that he's working on some Charlie Peete (Brandon '50) material for a Little League named after him in Portmouth Va. Doug is putting together a history of Peete to share with the kids this summer.

Kyle McNary (working on a movie based on Doubleduty Radcliffe, Elmwood '51, Winnipeg '52) has begun a Newsletter on the Negro Leagues. He's one of the people behind a birthday party -- 100th !! -- for Radcliffe (July 6th at Slugger's World Class Sports Bar & Restaurant in Chicago).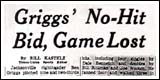 Joshua Raisen has sent along news of one of the highlights of Bennie Griggs' (Delisle '50, Saskatoon '53-54-55, North Battleford '56-57, Lloydminster '58, North Battleford '63-63) pro career -- a 9 2/3s inning no-hitter in 1961. He didn't get credit, however, for the no-no as he lost the no-hit bid in the 10th and went on to lose the contest.

In a roundabout fashion, discovered just where Tom McIntosh (Calgary '57) has been all these years. Received a request from a design company working on a tribute to Dr. McIntosh (Internist) who is retiring as President of the Cedar Rapids Physician-Hospital Organization.

Another doctor, Dr. Andrew Lillie (Roblin & Yorkton '51, Estevan '52, Grandview '53, Moose Jaw '54) has also made contact and has sent along some material on early 50s baseball in Saskatchewan and Manitoba.

Heard from Jeff Swick, son of Jules Swick (Saskatoon '51), who is digging around for clippings and photos from Jules' tenure in Saskatchewan in the late 40s and early 50s.
Zach Jendro, Fargo, ND has been in touch in regard to his project on baseball in North Dakota.
Rick Dodson, who grew up in Valentine, Nebraska (one of the clubs in the Basin League in the 50s) is looking for any leads on Basin League ball.
Bert Orlitzky of Metro Data Inc. is helping out with the new site of the Negro League Baseball Players Association (http://www.nlbpa.com). Well worth a visit.
Looking forward to Phil Dixon's latest book -- The Monarchs, 1920-1938, Featuring Wilbur "Bullet" Rogan.
Also anxious to see the pictures from the Jack Altman (Vulcan '54-55), Greg Seastrom (Vulcan '55-56) return to Hawaii for a high school reunion.
Thanks to Brack Bailey (Granum-Lethbridge '58-59) for helping to confirm that a former teammate (Jose Cesar) was the same shortstop who played in Regina.
Hoping to connect soon with Barry Swanton to restart our effort to check and rationalize the ManDak League stats.
As always, Ray Nemec has a tremendous help in tracking down details on Western Canada players. One of Ray's contacts in Birmingham managed to get in touch with Bennie Griggs to check out, among other things, his real age!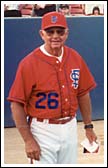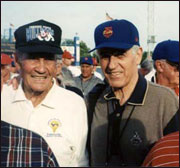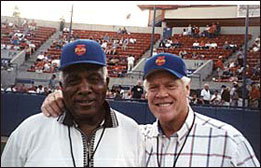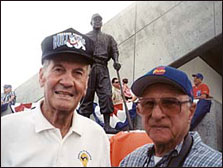 Above left : Fresno boss Bob Bennett
Above middle : Roy Taylor & Dick Doepker (Moose Jaw '56, Saskatoon '58) at the Beiden statue unveiling.
Above right : Len Tucker (Kamsack '52, Saskatoon '57, Lethbridge ;61) & Jack Hannah (Saskatoon '51, Regina '52, Kamsack '54, Lloydminster '56).
Left - Roy Taylor & Art Shahzade (Regina '52-53, Kamsack '54, Regina '55-56-57, Saskatoon '58) at the statue unveiling.
---
26 April, 2002

Dozens and dozens of pages updated (mainly photos) thanks to the fabulous support from Roger Tomlinson, Marvin Ligon, Bill Guenthner, Len Breckner and John Zeeben among others.

Among the things I remember so well as I began to read about baseball as a kid were the newspaper and magazine player sketches (I guess Mullins, who covered the Brooklyn Dodgers, might be the most memorable). The one at left is Roger Tomlinson while at Arizona State.

Dave Shury, Mr. Baseball in Saskatchewan, is to be inducted into the Canadian Baseball Hall of Fame. The ceremony (which is to include Paul Beeston and Cito Gaston, former Blue Jays) is set for June 22nd in St. Mary's Ontario (about a two-hour drive from Toronto). Dave was the driving force behind the establishment of the Saskatchewan Baseball Hall of Fame (located in Battleford).

Fresno State has delayed the unveiling of the Pete Beiden statue. The ceremony is now set for Saturday, May 25th.

Mystery solved. The case of the Canada Cyclones jacket, 1953.
I had received a note from Deana MacKay of Portland asking about a jacket her brother Rory had picked up at thrift shop in Olympia, Washington. He picked it up about four years ago because "it looked cool". After wearing it a few times, he became concerned about ruining what appeared to be a significant find, so he pushed it into the closet. Now, in preparing to move, he rediscovered the 1950's artifact and became interested in the background of his purchase.
Well, after some digging (including conversations, e-mails with Roy Taylor, John Zeeben, Bob Bennett and others) it's clear the jacket is from the 1953 Kamsack Cyclones (one of Roy Taylor's teams). Bennett recalled the jackets were promised if the team won a big tournament (the '53 Kamsack event). On July 10, 1953 the Cyclones downed Indian Head (in one of three games that day) to take top prize AND the jackets.
My guess is that this is JD Peterson's jacket (Peterson is believed to be living in Tacoma). Peterson, one of the many Sequoias & Fresno State players to suit up in Canada, was a member of the '53 Kamsack club.
---
02 April, 2002

With gratitude to Len Breckner, Joe Weremy and Bill Guenthner there's a ton of updates (additions/changes on more than 90 pages) on the site. Len sent along a stack of great material including team pictures (great quality too) of the Colonsay and Saskatoon teams of the early 50s. Joe also had some great quality team photos of the Peace River teams of the late 50s and early 60s. Bill, as usual, has been mining photos and information on the Minot clubs from the late 40s through the late 50s.

The Western Canada League stats have updated so as to present them in a larger type and in a consistent format across the years. The other leagues will follow a similar pattern. Still working with the ManDak kid, Barry Swanton, to rationalize and update the ManDak stats.

John Zeeben has been particularly helpful in tracking down more information on prairie ball in the Kamsack and Yorkton areas. John has been instrumental in putting me in touch with Jan Derwores who is sending along a few dozen pages of clippings on the Kamsack Cyclones. Thanks! The contributions are greatly appreciated..
---
24 March, 2002

Red-faced. Upon receiving a note from Gary Linthicum (Regina 1959) I was perplexed by the absence on Gary's picture in the '59 Photo Gallery. I knew I had a team picture of the Senators. Ooops. Couldn't find it either. A little backtracking and I have found the picture and added the three individual pictures I had somehow mislaid.

A pleasant surprise to hear from Roger Tomlinson (Edmonton '58, Regina '59) who is sending along some clippings and photos to further enhance the site. Thank your very much. Roger also had some news on his former Regina teammates -- Bob Kavigan is teaching in Illinois, John Regoli is living in Pennsylvania, where he and his wife run a travel agency, Roger Kudron lives is Phoenix, Gary Linthicum owns his own construction company in Phoenix, and Roger Barnson, a close friend of Roger's, was killed in a car accident more than 20 years ago. At the time Barnson was Assistant Athletic Director at UNLV.

Sad news. Blaine Sylvester, also on that '59 Regina club (along with Edmonton in '57 and Lethbridge in '61), passed away earlier this month. Dale Zeigler had been in touch with Dale recently and

Thanks to Ray Nemec, another mystery solved. Isaiah Ike Jackson (Regina '57, Saskatoon '58) is the same Ike Jackson who played in the Negro Leagues with the Kansas City Monarchs and in pro ball with Carlsbad and Midland (hit .388 with 18 homers and still didn't get promoted so came back and swatted .383 with 48 doubles, 10 triples and 26 homers and still couldn't move up). The big catcher-outfielder died in 1964 in Virginia at age 41.

Weird. ManDak League expert Barry Swanton and I are working furiously to try and update the ManDak statistics. Yep, 50 years later we're trying to make sense of several different versions of what happened. In addition, working to re-format all the stats' pages so the data will appear in the same form on each page.

Happy to have had the opportunity for a long chat with former USC and Edmonton star Dale Zeigler. About a month ago, Zeigler and former teammates -- Ernie Rodriguez, Michael Blewett, Freddie Scott, Mike Castanon, and Bill Thom -- held a mini-reunion at a USC-UCLA game in Los Angeles.
Dale brought back a lot of memories with his recall of the field conditions of the 50s :
In '56 at Lloydminster you guys needed a game, the last game of the season against us in your park and you needed it for the payroll but it had rained and the field was a mess. We're all there waiting and they poured more gasoline on that field ... gasoline on the infield and lit the match and then somebody in a car or a truck was going around in circles on the dirt to try and dry it out. And then some more gasoline. I'd never seen anything like that in my life.
.And, Zeigler on pitching instruction in the 50s:
None. Just keep the ball down. Throw strikes.

On the verge of some information on the Ligon All-Stars. Thanks to Dr. Layton Revel of Texas, I've had conversations with former Ligon third baseman Cleveland Grant and Marvin Ligon, the nephew of the brothers who founded the team. The search is on for any artifacts of the era.
Marvin on his contract with the All-Stars :
Get on the bus and ride 'til September.

Merritt Clifton, noted baseball researcher and writer, has graciously offered to help out track down information on players who suited up in the Quebec Provincial League. Merritt has written a trilogy on baseball in the East.

Roy Taylor is keeping busy traveling around the southwest following his grandson's pro golf career. Roy says he's doing just fine and getting in the odd round himself.

Thanks to Joe Weremy, there's material on Northern Alberta baseball up on the site. Included in Joe's scrapbook, a wonderful photo of the ballpark in Peace River.
In trying to track down further information on Peace River area ball, made contact with Wes Montgomery, noted radio personality in Alberta. Wes played on some of the early teams and has been a fixture on radio in the Edmonton area since the early 60s.

Contact from Zach Jendro in Fargo, ND who is beginning a book on baseball in North Dakota. Obviously, we'll be exchanging a fair bit of information.

Also good to hear from Bob Craine who runs the Sequoias web site. Look for some of the Sequoias material to appear on Bob's site. (Still looking for a photo of the 1957 COS team and some clippings from that championship season.)

A nice note from Tom Valcke head of the Canadian Baseball Hall of Fame. Tom might be able to help out in searching out information on Ontario's Inter County League.

I know Jack Altman gets embarrassed every time I mention him here, but I have pleaded and cajoled him into helping me out with a project on "the portrait of a young arm". I am trying to get Jack to dig up details on every game he pitched one season to try and get an idea of just how many innings young pitchers threw in those days (nothing like today when a 200-inning season is like climbing Everest, backwards).

Again, many thanks to Bill Guenthner for great stuff on the Minot Mallards.

Keep cheering for Bob Bennett and the Bulldogs -- won their 10th straight Sunday, 2-0 on the road against Louisiana Tech. After a slow start, Fresno is up to 16-12 on the season.