Update : 20 July, 2016
---
20 July, 2016

Whew. It's done !
The two major lists of players have been consolidated (a separate list of players in British Columbia has been combined with our basic list which has been the main focus since we began the exercise more than 15 years ago). The Basin League (South Dakota-Nebraska) list remains a separate entity.
The first task, however, was a huge update of hundreds of new entries, mainly from BC and Manitoba. In total, we now have 45,389 different players listed. Duplication of player entries remains a concern, but with so many identified during their playing days only by last name or having various spellings of their names, it likely will remain a challenge for years to come.
Among the benefits of the updates is the discovery of another pair of major leaguers, Ike Rockenfield and Jerry Freeman who suited up with Vancouver teams back in 1902 !
The lists, divided into decades, are available on the Players Page. There is a separate page with the codes for all the teams.
---
26 June, 2016

Cann or Cant? That's Hec Cann or Hec Cant. That's second baseman Hec Cann or second baseman Hec Cant playing in the early 1920s in Vancouver area baseball.
At first glance it seemed like an obvious duplication. It must have been either Cann OR Cant. But - they are listed with different teams. Cann consistently with Vancouver city teams. Cant with the BC Box club out of New Westminster.


Sorting out that one (turns out there were two players, a Cann, left, and a Cant, right) has been among the challenges in a major task of trying to update all the roster sheets, THEN combine the now separate BC roster listings with the main data run. This could take most of the summer.

Ontario Intercounty League superstar Stan "Gabby" Anderson passed away June 7th at age 86.
Anderson, born in Detroit, was just a few months old when his family moved to London, Ontario. With his dad and uncle deeply involved in baseball, Anderson learned the game on London's playgrounds. He was good enough to win a pro contract in the United States.
After five seasons in professional ball (including time in the New York Giants and St. Louis Cardinals systems) and two years in military service, Anderson became a fixture in the Intercounty League 1957 to 1966 with the London Majors, a six-time, first-team, all-star. He was a batting champion, MVP and league-leader in home runs and runs batted in.

Gordie Howe passed away June 10th, at age 88. Howe, celebrated as Canada's greatest hockey star, was also quite the ball player with Saskatoon clubs in the late 1940s and early 1950s (until barred from baseball play by the Detroit Red Wings).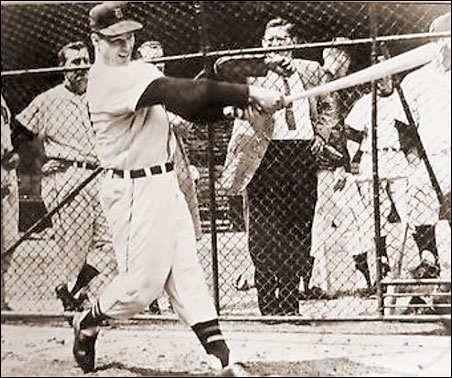 Howe, a close friend of Detroit Tiger star Al Kaline, used to take batting practice at Briggs Stadium with the Tigers.
We received a note from CJNB Radio in North Battleford, Saskatchewan requesting information and an interview on Howe's baseball career. We put the station in contact with Charlie Beene, a Howe teammate back in the 1950s. Charlie, a wonderful story teller, had some great memories of their times in Saskatoon ball.
(Geoff Smith, the News Director of CJNB, in noting our connection with the station back in the day, sent along a photo of Eldon Elliott, the long-time sports announcer and play-by-play man at the station during the days of the Western Canada League.)

Great to hear from fellow baseball researcher Gary Fink, who provided us with his very impressive work into players in the ManDak League, especially his effort to trace those Negro Leaguers in the Manitoba-Dakota circuit. Gary had a great question. Who was the first Canadian black player to be signed by a major league team? Well, Manny McIntyre (better known for his hockey prowess) was playing in pro ball just months after Jackie Robinson broke the colour barrier in professional ball. But, seems McIntyre was signed by Sherbrooke, Quebec, a minor league team. Stan Anderson, was born in the USA, so doesn't qualify, so perhaps the answer is Fred Thomas, the all-around athlete from Windsor, who was in the Cleveland system in 1948.

So far we've been unable to confirm whether Frankie Crosetti, the famous Yankee shortstop, suited up during his teenage years for Cumberland on Vancouver Island. The Cumberland Museum and Archives has come up empty trying to find anything in its catalogue to make the connection. We'll continue to search out the local papers for more clues. My neighbour is clear that his dad had mentioned playing against Crosetti in the late 1920s. The lone possible confirmation so far is a story in the Nanaimo paper saying Crosetti, in his early teens, played with Cumberland teams.

It was an unexpected joy to unearth a good photo of the 1926 BC champion Rossland Miners. We had been trying, without much success, to make presentable two newspaper copies of the photo. A chance contact with the Rossland Museum & Discovery Centre resulted in an actual photo of the team. There's still a little work to do in clarifying some of the names (the newspaper caption and the names provided in the Museum photo show some differences.

Among dozens of other things, ace reporter Rich Necker has dug out one more year of Charlie Miron's batting statistics, filling in season 1927. So, we are now missing just 1920 and 1935 of Miron's brilliant career in Vancouver baseball (see below). Between 1921 and 1932, his lowest batting average was .302, winning the batting crown five times and finishing as the runner-up twice.
1919 - .260, 1920 - Not known, 1921 - .462 (1), 1922 - .365 (7), 1923 - .302, 1924 - .400 (1), 1925 - .380 (2), 1926 - .375 (1), 1927 - .333 (6), 1928 - .343 (1), 1929 - .380 (1), 1930 - .342 (3), 1931 - .345 (2), 1932 - .336 (3), 1933 - .259, 1934 - .261, 1935 - Not known, 1936 - .264, 1937 - .313

Also, Mr. Necker has discovered this story on Don Stewart, the former Vancouver star of the 1930s. It is part of Gary Bedingfield's outstanding series on players who served in the military, including those like Stewart who died in action.

Once again our thanks to David Eskenazi, the Seattle sports historian-author-collector, for information on Washington ball. Our question this time was on Edward "Babe" Barberis and Floyd "Babe" Barberis. Both were showing up on our lists in the 1920s, 30s and 40s as playing for the University of Washington, semi-pro clubs in the state, a touch of pro ball and on teams in Vancouver. Turns out they are one and the same.

Big thanks to Lou DeRosa for sorting out the Trail "Mystery". First it was confirming it was DiPasquale and not DePasquale on the Trail, BC team. Next, validation that the nickname "Mystery" was indeed used for DiPasquale. And, finally, that Bill was his real name. Yes, Bill "Mystery" DiPasquale. We have yet to discover the nature of the "Mystery".

Old friend Jack Altman brings news of a book by former Vulcan, Alberta hurler Steve Cottrell. It's called Bartoli's Burden, available at Amazon. Jack says it was a really good read, as Steve blends fiction and fact.
Gino Bartoli enjoyed a brief stint as a weak-hitting Major League reserve infielder, followed by a long career as a scout. Retired and living in Nevada City, California, he meets each Thursday with his good pal Paddy Hannigan to drink and talk. Lots of drink, lots of talk. Indeed, Bartoli is a charming braggadocio who never lets truth (or a box score) get in the way of a good yarn –– but one day he slips and mentions a teenage pitcher he discovered in Alaska in 1963. When Paddy hounds him for more information, a lifetime of lies––some harmless, some not––begin to squeeze in on Gino, and he decides to record the truth of his life. For Paddy's eyes only. But secrets as dark as Bartoli's force Paddy into the unavoidable dilemma of protecting or exposing his good friend.

Brian Morrison, Diamonds in the Dusk, is at it again ! He's unearthed this little gem from the Manitoba Free Press of June 18, 1880. Yes, 1880. Front page too.
MUD-TURTLES VS POLLYWOGS

Hooray ! Hooray !! Hooray !!! Once more has victory perched herself on the banners of Winnipeg's sporting men and she means to stay there. The long-looked-for and much-talked-of baseball match between Van's Mud-turtles and McDowell's Pollywogs took place yesterday afternoon at Dufferin Park in the presence of a vast concourse of spectators. When the teams showed up on the ground the Turtles struck terror to the souls of the Pollywogs from their massive build, and well-developed muscles, the distinguished foreigners put on as bold a face as possible and went to the bat determined to do or die, and now, if they keep their words, they've got to die, and that pretty suddenly. Notwithstanding that McDowell's crowd were picked from all over the United States and Canada, our little phalanx of base ball bangers has scooped them. The match was pretty close, and the score is estimated at all the way from 9 to 7 down to 2 to 1, but notwithstanding this little discrepancy all parties concede that the victory was ours. The Winnipeg team was comprised of Van in the pitcher's square, with Billy Dick behind the bat; Mell Wood was short stop, while Doc Lockhart, Frank Myer and Dave Martin bossed the first, second and third bases respectively, and Andy Colquhoun, Ham McMicken and Johnny Rossiter went leather-hunting in the long grass. The intruders were distributed something after this fashion : Will McDowell threw the ball at Harry Reeves, and Harry threw it back, with Billy Tough as short stop, J. H. Stuart, Charley Arnold and Fred Bryton made three rattling basemen, while they had Clarence Handyside, Mark Abjon, and Alex. Stuart leather hunting, while Mell and Van punched the ball in their direction, and Selwyn sat on the fence and shouted "Bravo!" The playing on both sides was remarkably good, but were are unable to give the exact score, as Frank Masonville and Cooper, the scorers, are in doubt as to where the score sheet is, but they think it was blown away with the cheers at the wind-up. A return march will be played next Wednesday.

Momoko Ito, of great assistance to us, especially on New Denver and Asahi baseball, when she ran the Nikkei Internment Memorial Centre in New Denver, has put us on a search for information on a Japanese team from Steveston. The Steveston Fuji were a force in the Vancouver area in the 1930s. If you have any information on the team please drop us a line.
---
01 June, 2016

Ooops. A paragraph missing from the earlier post & also note of an additional page, a photo of the 1926 Vancouver Asahis.

In the story of the Tesreaus, there is quite the coincidence. As Jeff Tesreau was going through his minor league experience his catcher in the old Three I League was a top flight receiver called Tubby Graves. And, years later, in 1926, as Elmer Tesreau, Jeff's nephew, began his college pitching career, his coach was ... Tubby Graves.
---
31 May, 2016

Wow. Our dynamic duo of Rich Necker and Henry "Red Eye" Ropertz have put 1926 British Columbia baseball in the books. With their latest discoveries, we've posted game reports for Vancouver and the Lower Mainland (Vancouver Senior City League, Terminal League, Twilight League, New Westminster & District League, Howe Sound League and the Senior "A" playoffs), Vancouver Island (Victoria Senior Amateur League & a few Nanaimo games) and the BC Interior (West Kootenay ball).

Along with the game reports, come the rosters and those illusive statistics. The material highlights some of the premier players of the day, noting the outstanding achievements of such guys as Jack Noble (right) who dominated the Victoria circuit winning the batting title, home run crown and was the leading hurler.
In the Vancouver Twilight League, Dave Gray not only finished in the top ten in hitting but topped the hurlers with a

15-3 record, including 12 or 13 straight wins to end the season. Young (probably still a teenager) Roy Yamamura (left) already was a star for the Asahis of the Terminal League. The diminutive shortstop was fourth in hitting with a .367 batting mark, led the league in runs, 35, hits, 33, and stolen bases, 37.

Charlie Miron (right), of the Vancouver Young Liberals was back as the top hitter in the league for the third time in six seasons, finishing a .375 average. (We've also located the Vancouver Senior League stats for 1922 when Miron hit .365 to leave just three seasons of Miron's career undocumented - with the below update, further updated.)

The 1926 search also provided a photo of the Trail, BC club of that season (although we have one of those "five players, six names" situation in trying to make the player IDs) and a photo of the 1926 Nanaimo Tar Flats (no names yet). And, as usual, we've made some additions to the Photo Gallery, including a couple of players from the University of Washington who also suited up for Canadian teams - catcher Gene Walby (below right) and shortstop Louis Tesreau (left).
Louis Tesreau's brother Elmer (below left) was a pitcher/outfielder for the college team. And, both brothers were also stars for the the college's football team. The Tesreau's uncle, Jeff, was a major league hurler with an interesting story.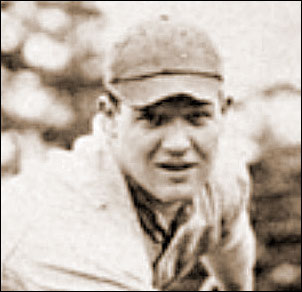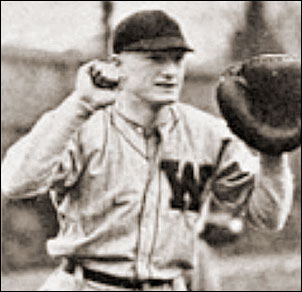 After some eye-opening seasons as an amateur, Jeff Tesreau got into pro ball in the St. Louis Browns minor league system and then was picked up by the New York Giants. Having learned to throw a spitball, Tesreau became one of the league best hurlers going 17-7 with a league-leading 1.96 ERA (beating among others, Christy Mathewson) and a no-hitter in 1912. He remained a rotation star with the Giants through 1917. In 1918 he had a argument with manager John McGraw (Tesreau apparently refusing to inform on the off-field acitivites of his teammates) and quit the team in the middle of the season, never to play pro ball again. Tesreau took up the coaching reins for Dartmouth College and held that position until his death in 1946.

And, a few bits and pieces added - photos of Ralph Stong and the Telosky brothers to the 1935 Snapshot page and, courtesy of Kent Morgan, the cover of the schedule for the Greater Winnipeg Senior League to the 1949 home page.
---
27 May, 2016


As we dig more and more into baseball in British Columbia, we find more and more evidence of the star quality of such talents as Charlie Miron, a feared hitter who suited up with eight or ten different teams during a career which ran from about 1919 to 1937. Now with game reports and statistics from the 1926 Vancouver summer from our ace researchers/reporters Rich Necker and Henry "Red Eye" Ropertz (more on Henry below) we show Miron as the batting champion of 1926, just one more lofty achievement for the superb swatter.
Even though we're still missing information on three years of Miron's career, the talented flychaser (and sometimes 1B-2B-3B) won five batting titles, finished second twice and was third on two occasions. His best mark was .462 in 1921 with the Vancouver Province nine.
1919 - .260
1920 - Not known
1921 - .462 (1)
1922 - .365 (7)
1923 - .302
1924 - .400 (1)
1925 - .380 (2)
1926 - .375 (1)
1927 - Not known
1928 - .343 (1)
1929 - .380 (1)
1930 - .342 (3)
1931 - .345 (2)
1932 - .336 (3)
1933 - .259
1934 - .261
1935 - Not known
1936 - .264
1937 - .313

Game reports are now posted for the 1926 Vancouver Senior League and the Vancouver Terminal League along with rosters and statistics. (We've also added Vancouver Senior League batting stats for 1923.) There are also rosters for the Toronto Ossington League of 1926 and a couple of Manitoba game reports for 1924 (which featured starts by the celebrated small town hurler, Harold Nelson).

Henry and Rich also chased down more individual photographs which we've entered in the Vancouver Photo Gallery of 1926 and the Snapshot page of 1935. In addition, the gang has discovered a newspaper version of a team photo of the Rossland Miners, the BC Senior A champions of 1926.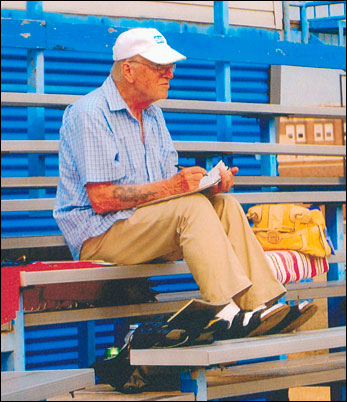 That's Red Eye Ropertz (left) in a classic pose at the ball yard, eyes intently studying the action, scorecard at the ready. (It took more than a bit of prodding to get a photo and a little background out of Mr. Ropertz) :
My career begins and ends with baseball. I grew up in Moose Jaw, Saskatchewan in the 1950's. We were lucky to have had the opportunity to watch, cheer and appreciate ball players from all races and culture. as a youngster I was the bat boy for the visiting Delisle Gems. This team featured the brothers Bentley, Doug and Max of NHL fame. Incredibly I got paid for doing something I loved. Incidentally, I aced that job away from one of your correspondents, Rich Necker, who lived closer to the ball park than I did. During the dog days of my career I was able to earn a Ph.D. in Transportation from U.B.C. And lectured at several universities. I also worked as Policy Advisor To The Government of Canada and spent several years in Ottawa. In the later stage of my career I am the unofficial and at times the official scorer of The Regina Blue Jays. That team features my favourite Nephew Jake Vorrieter.
We are happy to discover that about ten years ago, Red Eye was among those to protest a decision by Ottawa to name a government office building in Vancouver after Howard Green, a former Conservative cabinet minister and MP for Vancouver. Turns out Mr. Green had strongly advocated excluding all Orientals from Canada and was a strong supporter of the internment of Japanese-Canadians and the seizure of their fishing boats and other assets during the Second World War. Green was not shy about publicly stating his anti-Japanese sentiments, time and again. Eventually, the government reversed its decision and named the building after Douglas Jung, a prominent Chinese-Canadian politician.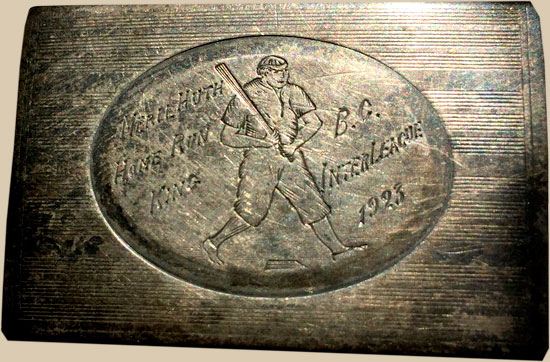 OK. Mystery time. Craig Smith has come across a belt buckle inscribed "Meril Huth Home Run King. BC Interleague 1923". I've managed to find some Huths playing in Chilliwack in the late 1940s and 1950s, but nothing on Meril so far. If you can help ID this player please drop us a line.

If you are in the Winnipeg area, look for a piece in the local community papers on the all-time Manitoba dream team. Kent Morgan has an item in the papers in advance of the Manitoba Baseball Hall of Fame dinner on June 4th. Bob Elliot, superstar baseball writer of the Toronto Sun and Canada's strongest supporter and chronicler of Canadian minor baseball talent, is to be the guest speaker at the gathering.


Jeff Wylie is searching for information on his father - Earl Alexander Wylie - who played in Edmonton (Lions?) in the 1950s (1953 a likely specific season). This could have been junior or juvenile ball.

Reed Clarke is looking to start an apparel company based on the teams of the old Western Canada League in Alberta, Saskatchewan and Manitoba during the early 1900s. He's looking for images of the uniforms of the era, especially anything in colour.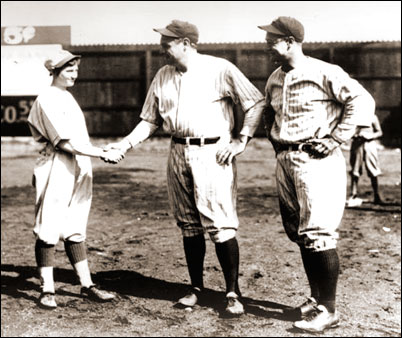 From Barry Forster comes this neat photo (distractify.com) of Jackie Mitchell, the woman who struck out both Babe Ruth and Lou Gehrig.
Mitchell - Virne Beatrice "Jackie" Mitchell Gilbert - was one of the first females in pro baseball. In 1931 she was on the mound for the Chattanooga Lookouts in an exhibition game against the Yankees. And, indeed, both Ruth and Gehrig fanned.
There is, however, some continuing doubt about the event, a hint that it was a staged performance.
Check out the piece in the July 2013 edition of the Smithsonian Magazine The Woman Who (Maybe) Struck out Babe Ruth and Lou Gehrig.


Surfing the Victoria and District Baseball Association site I became aware of the passing of long time BC pitching star Bill Prior who died April, 2015, at the age of 92. The right-hander played amateur and professional ball over a two decade period from the mid 1930s to the mid 1950s. Inducted into both the Victoria and BC Sports Halls of Fame, Prior was a member of the Victoria Tyees, the 1952 Western International League pennant winners. He went on to coach minor baseball for another twenty years.

OK, you see the pitching line of 17 strikeouts, 11 walks. A name that might come to mind is Steve Dalkowski (who once had a game with 24 Ks and 18 walks). Nope, it's Bill Bell. And, you might be surprised to learn that game was a no-hitter, the first of two, back-to-back no-nos for Bell. Check it out at Brian Morrison's, Diamonds in the Dusk.
---
10 May, 2016


He's in the Canadian Baseball Hall of Fame having grown up in Toronto and learned his baseball fundamentals on the playing fields there, but the former Chicago Cubs catcher is not recognized as one of the Canadians who've played in major league baseball.
The story of Jimmy Archer has emerged from Rich Necker's research into early 1900s baseball in Manitoba. Rich found some material on an outstanding Canadian pitcher of the day, Bert Orr, and in trying to find more material on him, I uncovered the wonderful story of the kid who almost lost his throwing arm in an accident but turned misery into major league success.
Jimmy Archer was born in Ireland, but came to Canada as a youngster.
The legendary Connie Mack saluted Archer as "without question, the greatest catcher in baseball today". [Pittsburgh Press, March 23, 1915]
"Catchers of the past have been called famous for their wonderful throwing to second base, their excellent receiving and their ability to steady pitchers. Kling was noted for his cleverness in helping a twirler when he threatened to blow up, but Archer surpasses any that I have ever seen ... There are many backstops who have arms like steel and can peg to second like a shot, but they cannot do the same to the other bases. Archer can, and that is what makes him a star ... he does it gracefully, without much effort and in a manner that is likely to catch the fastest runner off his guard."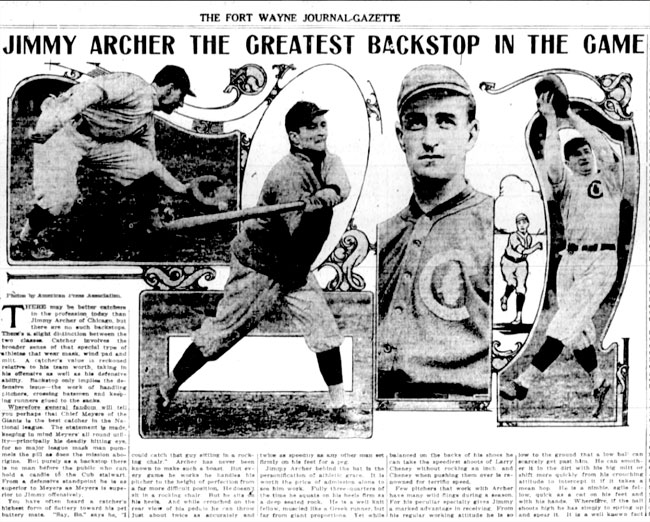 An extensive feature carried in newspapers across the US in 1912 (and later) carried versions of the headline, "Here's the Greatest Backstop in Baseball".
"Jimmy Archer behind the bat is the personification of athletic grace. It is worth the price of admission alone to see him work. Fully three quarters of the time he squats on his heels, firm as a deep seated rock ... Backstopping literally means the receiving of the pitcher's delivery. In this special line ... Archer has no equal. But his resources do not stop there. His peculiar catching attitude seems to be admirably adapted to perfect throwing. Archer is a deadly marksman. Either standing or squatting, he can peg the bullseye at any cushion 99 times in 100. His throws snap out with rifle like velocity, but his greatest adjunct is the faculty of getting that throw away at once ... He never draws back his arm; he shoots the ball with a snap ... Let a man stray two feet beyond safe ground at any base and he's dead as a door nail." [The Oregon Daily Journal, August 18, 1912]
Archer, who honed his craft with the Wellingstons in the Toronto City League, says an accident at work, in February of 1902, turned out to be the reason for his success.
"While working at my trade as a cooper, I fell into a vat of boiling oak sap. All the doctors who looked me over decided that I'd lose the use of my right arm and wanted to amputate but that wing still looked good to me even in the condition it was ,,, when the arm began to mend I found that outside of a shortness of about two inches and an unnatural curve I was almost as good as new ... the two inches I had lost by the tightening of the cords in my arm made it almost impossible for me to throw overhand. I had to get the ball in the best way I could and soon discovered that what is now called the "snap" or "flat-footed" throw was the easiest for me ... All that Winter I worked with my arm and by Spring I had got so I could snap the ball in any direction without moving from the position I was in. I practiced throwing from every angle I could possibly get into." [San Francisco Chronicle, May 25, 1913]
During his three month stay in hospital, the 19-year-old Archer received an offer from a former Torontonian who had gone to North Dakota to manage the Fargo nine. For $80 a month, Tommy Reynolds wanted Archer to join the Northern League team. He was unaware of the accident and Archer delayed replying. It appears that was viewed as holding out for more money and soon the offer was increased by $20 and Archer accepted. Placed in the outfield, Archer had a tough time and, with some money problems as well, he decided to leave the team for Virden, Manitoba where he played for the rest of 1902 and a portion of the following season.
He made his major league debut at age 21 with Pittsburgh. In 1909 he began a nine-year run with the Chicago Cubs. Over 12 seasons in the majors he compiled a batting average of .249. He was inducted into the Canadian Baseball Hall of Fame in 1990.



Snippets on Bert Orr (left) and Archer are featured on the new 1902 home page. Orr was a local boy (Virden) who traveled up and down the rail line (and occasionally over to the North-West Territories and even south of the border) as a hired gun for those teams with the assets to reward the import hurler.
Often, Orr and his battery mate, Archer, came up against a duo pitching for Winnipeg, Cox (far right) and Baerwald (near right). The pair had been brought in from a league in Minnesota. Turns out, Cox is the same Eugene "Chesty" Cox who went on to play with just about every team in the Western Canada League (Winnipeg, Regina, Calgary, Edmonton, Lethbridge, Moose Jaw and Bassano) in later years. And, that was Charles Baerwald (often spelled Bearwald) who advanced to pro ball for a half dozen seasons.

Weird advertisement in the The Globe, Toronto, March 18, 1903. This would be around the same time that Jimmy Archer is playing in Virden, Manitoba.
WANTED -- A TINSMITH AND TAILOR -- good wages: steady situations; must play fast amateur baseball; other situations open for good baseball players; no expense to play ball; team holds championship of Manitoba and Northwest Territories. Address correspondence to E. H. Garrison, Virden, Manitoba.

Thanks to Rich and Henry Ropertz there is much new material, including the 1901 home page with game reports from Manitoba, British Columbia and the North-West Territories' districts of Alberta and Assiniboia. Of course, the rosters page has been added to reflect those games and there is even the beginning of a 1901 Photo Gallery.
To provide some context for the early days of baseball in the West, we've dug out some of the population figures from the 1901 census. Montreal was the country's biggest city with a population of 266,826. Toronto was second with 207, 971. Winnipeg was the 6th largest (42,336) and Vancouver 12th (26,196). Calgary had just 4,398 and Edmonton 2,625. Surprisingly (and we are getting these double-checked) Nelson, BC, was shown with 4,610 people and Rossland 6,138. Kelowna was down at 375 residents. The Nelson-Rossland figures might represent the heavy interest in mining (gold, silver) during the heady "rush" days of the late 1800s and early 1900s.
We jumped the gun a bit with the posting of the material on the barnstorming Toronto Oslers. Henry had more information in a package which just arrived and we've added much more to the Oslers' sections. Turns out the Oslers tour was even more impressive as star shortstop and power hitter Joe Breen was unable to make the trip.

The Jimmy Archer finding was the prompt to make additions to the Major Leaguers pages. New and/or updated postings include - Archer, Joe Kutina, Dario Lodigiani, Art McLarney, Charlie Perkins, Terry Puhl, Marv Rickert, Bill Sayles, George Selkirk, Sibby Sisti and Earl Torgeson.

Frankie Crosetti, the famous New York Yankee shortstop may well have launched his baseball career in Canada, playing for Cumberland on Vancouver Island. My neighbour had mentioned long ago that his dad (a member of the Cumberland-area team, Royston Lumber) had played against Crosetti in the 1920s. Now, Rich has discovered a clipping from the Nanaimo paper which says Crosetti did indeed play in Cumberland. Apparently, he was too young (probably in the area of 14 to 16 years of age) to take a regular turn with the senior club. He later moved to San Francisco where he began his pro career at age 17. He joined the Yankees in 1932 at age 21 and played for 17 seasons.

Where does he find these things? Brian Morrison, Diamonds in the Dusk., has this UPI story from 1924.
OSSINING, N.Y., Saturday, May 24 -- Baseball players and fans among the convicts at Sing Sing penitentiary were made happy by the return to their midst of Joe Ryan, former star pitcher on the Mutual Welfare League team here. Sing Sing hasn't won a game since its crack moundsmen was released a few weeks ago. Ryan, however, has just started a new sentence of seven years for carrying a loaded revolver and will be out for practice shortly.
---
28 April, 2016


If the newspaper reports were even close to accurate, Joe Spring (left) was one heck of a pitcher.
Has been pitching ball since he was 15, and for the last 11 years has been the best right-hander in Eastern Canada, and still king of all cross-fire and curve ball flingers. In his long career he has been knocked out of the box once - a remarkable record. (Vancouver Sun)
Spring was the ace of the Toronto Oslers who, in 1926, again set out on a tour of Western Canada to show the country the Oslers were the best of the amateur teams in the nation. Although the club didn't field its full "A" team - star shortstop Joe Breen was unable to get away, shortstop and utility man Percy "Pucker" Reid didn't make the trip as he had just been married and headed out on the honeymoon, Spring injured his pitching hand in the third game of the tour, centre fielder Harvey Dodds suffered a hand injury and pitcher Charlie McCay had a sore arm. Nonetheless, the Oslers won ten, tied one and lost just three on their fourteen game adventure, which included a triple-header in Winnipeg.
Thanks to our ace researchers/reporters Henry Ropertz and Rich Necker we've pieced together the Oslers 1926 tour, game by game, and managed to uncovered a few photos along the way (including a newspaper team photo).
The Oslers report is posted in both the Barnstorming section and in the 1926 Exhibition game page.

Other additions to the site include - rosters from the teams on the Oslers 1926 tour, rosters updates for 1930, statistics for the 1925 Victoria Senior League, rosters for 1900 and (thanks to Mr. Necker, the former batboy for the Florida Cubans) a correction to names in a 1952 photo of players on the Cubans.

Through the work of Bernie "Daniel" Wyatt (check out his incredible work at High on History) the Broadview Buffaloes of 1936-1938 have been selected for induction into the Saskatchewan Baseball Hall of Fame in the 2017 ceremony. We're now on the outlook for any descendants of the Broadview players of those seasons. Here is a list we have of the Broadview players :
Alexander George P/1B/OF, Bates Kitchie C, Bates Ronnie MGR, Bibbons P/1B/SS, Boguille "Red" P/OF/3B, Bremmer Eugene OF/P/1B, Chilton Alex OF, Decuir Lionel C/OF, Degrury 1B/SS/P/OF, Eaton Buck OF/P, Edwards Chris 3B, Fitzgerald Brian OF, Harris Sonny OF/1B/P/SS/3B, Hogg George OF, Horeak Harold SS (also Regina Nationals), Isaacson John P/OF, Labatt Emile C, Miller Jim P/1B/OF, Ramie 1B/P/OF, Schappert Roy 2B, Sheeran Don OF, Sinclair Mack OF, Webb Dick(Lefty) P, Wilson Johnny SS/C
If you know of anyone please contact Mr. Wyatt.

I continue to be amazed at the wild and weird stories Brian Morrison manages to dig up for his Diamonds in the Dusk. How about striking out but still scoring a run, on the same play. Check out the piece on Jack Onslow.
---
26 April, 2016

The Saskatchewan Baseball Hall of Fame has announced the lineup of those to be honoured at the 2016 induction ceremony Saturday, August 20th at Battleford, Saskatchewan.

It's a big day for my old hometown as Lloydminster is the honoured community and Leo Wurtz (left) of Lloydminster is among the individual inductees !
It promises to be quite the party in August as 14 individuals will be inducted including Bev Hickie (below left, Melville Millionaires 1960s and 1970s), the late Doug Dodd (centre, lefty hurler for North Battleford, Lloydminster, Saskatoon, Biggar 1950s & 1960s) and Terry Buck (right, Mellville and Swift Current, 1960s & 1970s).



Other individuals to be saluted - Ron Bauml, Muenster, Sask. [Player/Builder], Barry Erickson, Regina, Sask. [Player/Builder], Regan Kjargaard, Saskatoon, Sask.[Player/Builder], Norm Loehr, Regina, Sask. [Builder], the Late John M."Corky" McCann, Red Deer, AB/Admiral, Sask. [Player], the Late Lewis McNamee, Moose Jaw, Sask. [Player/Builder], Harvey Schmidt, Medicine Hat, AB/Burstall, Sask. [Player], Fabian Schommer, Kindersley, Sask. [Player], Robert W. Thompson, Edmonton, AB./Semans, Sask. [Player] and Laurence Woodard, Weyburn, Sask. [Player/Builder].
Three teams are to be inducted, the Leader Barons Senior team of 1961 to 1983, Viceroy 1946 to 1975 and the Marysburg Royals Senior team featuring the Strueby family. The family to be saluted this year is the Lloyd clan of Swift Current.

---
18 April, 2016

Back, back, back ... way back ... sounds like an announcer's call of a home run. Nope. That's just our Rich Necker digging through the archives for baseball news in the year 1900. There was skimpy coverage of the "American game" but the papers of the day did manage to squeeze in the odd game report. Although the items often made you wonder about the reporter's familiarity with the game. This was part of a report in the Edmonton Bulletin of September 3, 1900.
Notwithstanding their defeat, the Leduc players put up an exceptionally strong game for so new a team. F. Garrow, their pitcher, won the commendation of opponents and spectators alike for his very effective work. G.Hardy, who captained the team and played short stop, also did good work. (Edmonton Bulletin clipping of September 3, 1900)
F. Garrow, "very effective work"? He gave up 27 runs ! Yep, as you'll see in the game reports we've posted, Leduc lost to Edmonton 27-13 !

A note from the granddaughter of former Calgary player Woody Huckabay spurred me to action in posting more of the individual pictures of the Calgary players of the Big Four League in the 1949 Alberta Photo Gallery. There are also a few additions to the Alberta Snapshot page of 1949. In the research process, I believe we have made a connection between the Calgary Huckabays and two or three who played in Aberdeen, Saskatchewan, in the 1930s. And, we've confirmed it is Huckabay,not Huckaby.
---
11 April, 2016


Eddie Olson was Mr. Big as New Westminster's Fraser Cafe roared through five playoff series to capture the 1925 Interprovincial (BC-Alberta) Senior Amateur championship. Olson (described as a veteran even back in '25) hurled in 31 games, 27 starts, in running up an 18-7 won-lost mark. He went 12-3 in playoff action, despite a broken rib suffered in the first playoff series against White Rock.
Olson's marvelous season is among that detailed in the 1925 BC game reports from ace researchers and reporters Rich Necker and Henry "Redeye" Ropertz. The reports cover the Vancouver Senior League, Vancouver Terminal League, Vancouver Twilight League, New Westminster & District League and the various playoff challenges. The updated 1925 rosters reflect the new game reports.
We don't know a lot about Olson. He first shows up in our records pitching the Hammond Cedars to the provincial title in 1924, moving on to Fraser Cafe, the New Westminster Royals, Fraser Cafe, a Vancouver team, back to Fraser Cafe then to the Imperial Oil Imperials (IOCO) in 1935. That's our last trace of him. The photo above is actually from 1935 when he suited up with IOCO (the Terminal League champions).
The 1925 BC Photo Gallery also has a couple of new photos with Harry Copas and Mattie Malcolm now included.



Speaking of IOCO, we've now posted the rest of the individual photos of the 1935 champions (having earlier made mention of the photos of the Telosky brothers (Andy, George, Pete and Sam) four key members of the Imperial Oil club.
IOCO had a storied final series against the famous Asahis and fell behind three games to none before roaring back to win four straight to take the championship. The Imperials had three, THREE, no-hitters in that final, losing one of them. That's pitcher Reg Jowett (left) and third basemen Scotty Knox (right).

There's an addition to the Manitoba rosters (Neepawa, Virden and Sperling) for 1926. One of the names in the Sperling lineup ("Smokey" Harris) looked so familiar I took a second look. I'd guess this is the same Harris who played with Virden later on and moved on to Saskatoon and Calgary in the 1930s, but probably not the Smokey Harris who lineup up with Courtenay in the mid-30s.

The identities of the players in the team photos of the 1930 (and perhaps 1929) Brandon Greys of Manitoba baseball are proving illusive. While only one player has been identified thus far (Cliff Corey) we have begun to try and match up the faces, even without the names, in the two photos.


We are sadden to hear of the declining health of another former Western Canada player. Modie Risher was quite the attraction on the 1957 edition of the Lloydminster Meridians. The chatterbox catcher-utility man ensured a lively, entertaining ball game.
Risher joined boyhood buddy Curly Williams on the Meridians for just one summer before returning to Charleston, South Carolina to launch a teaching career which lasted more than three decades. His honours and awards are numerous and substantial. In 2009, a resolution in the South Carolina House of Representatives noted his outstanding career and political activism. Modie is 87 years old.
---
06 April, 2016


Former Negro Leaguer and Eston, Saskatchewan, Rambler Ted Toles Jr. passed away Monday at the age of 90.
Toles was among the few survivors of the Negro Leagues, which began to fade away with Jackie Robinson's integration of the Major Leagues in 1947.

Toles was the subject of a lovely little book, Living on Borrowed Time : The Life and Times of Negro League Player Ted Toles Jr., by Michael Swank (right) who sent along the sad news of Ted's passing. Toles and life-long friend, Joe Caffie*(who progressed to MLB with the Cleveland Indians) suited up for Eston in 1950.
I had one heck of a summer, played against many hockey greats, the Bentley brothers, Emile Francis, Bert Olmstead and of course, Mr. Hockey, Gordie Howe!

The country side was beautiful and the people were so genuine. There was no racism, no negative comments, just good old fashioned gags and baseball pranks to be had with all!
Signed by Cleveland, Toles played three seasons in the minors, including one in Quebec's Provincial League with Trois-Rivieres and St. Hyacinthe.
Included in Michael's book is a bio-illustration by Ronnie Joyner.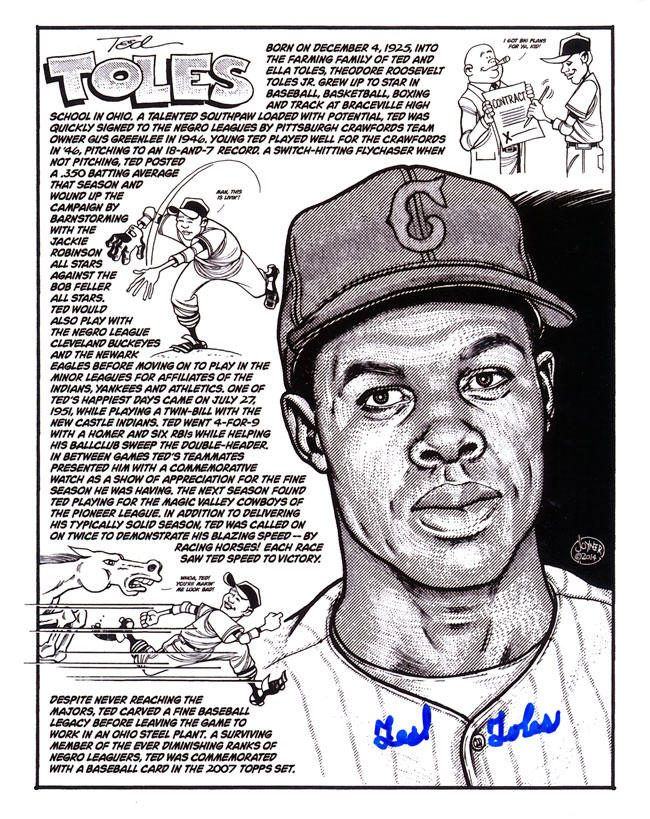 (* Who was known as Clifford (his middle name) Caffie that summer. Toles 2014 photo above by Danielle Brassard Photography. Swank's 2015 photo from WYTV, Youngstown, Ohio.)



Nearly a dozen individual photographs have been added to the 1937 Manitoba Photo Gallery, all of members of the St. Boniface Native Sons. That's first baseman John Lawton (far left) and catcher Armand Leveque (near left).
St. Boniface, now part of Winnipeg, was a powerhouse in Manitoba baseball.

Also with Manitoba ball, we salute the umps too. We've begun a 1926 Manitoba Snapshot page with a newspaper photo of umpire Walter Jansen. And, thanks to Rich Necker, we have Manitoba game reports for 1926.

We've added another team photo of the Brandon Greys of 1929-30. Being able to provide the names is a whole other story.

From British Columbia, we have posted another of those marvelous photos from Powell River baseball in 1914.

Rich Necker, with assistance from Henry "Redeye" Ropertz of Vancouver, has filled in more BC material with game reports from the 1925 season of the Victoria Senior League and some other Island baseball. In conjunction with the game reports, the 1925 roster page has also been updated and we'll soon add the 1925 stats.

---
29 March, 2016


36 wins, 1 loss in pitching all of his team's games ? The story of Harold A. Nelson of Carberry, Manitoba reached far and wide. In 1929, he was even featured in Ripley's Believe It Or Not, a highly popular item syndicated in newspapers across the United States and Canada (and maybe even overseas).
Nelson's incredible 1924 season (25 straight wins, a loss, then 11 more wins) was among the information in a recent dispatch from our Rich Necker. The right-hander's exploits earned him a coveted spot in the Manitoba Baseball Hall of Fame. Curious about the details, I contacted Joe Wiwchar, manager at the Morden, Manitoba HOF. Joe was kind enough to copy and send some of the Nelson material. While we remain interested in tracking down the specifics of that 1924 season, in particular, we are pleased to have some details on what prompted his inclusion in the HOF.
In a 1943 item in the Winnipeg Tribune, Nelson revealed the actual story noted in Ripley's tribute was even more mind-blowing.
Pitching for Carberry "somewhere around 1924" he completed three games in a single day at a tournament in Plumas, Man. moved on to Oak Lake the following day to pitch another four. His record for those seven was five shutouts and 84 -- not 80 -- strikeouts.

Nelson pitched another three games the next day in Cardale. Of the ten tricks on the mound, he lost only the last one.

He grinned, recollecting the ordeal. "I was getting a little tired toward the finish."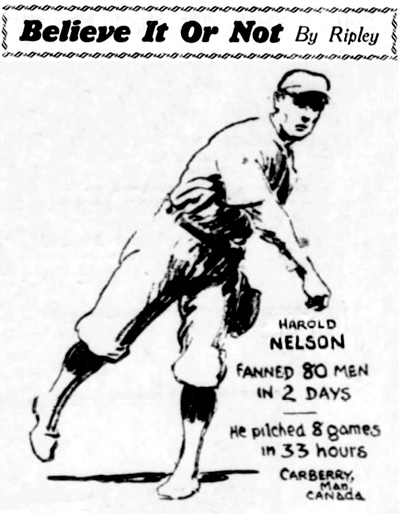 Wow. Ten games in three days !
One day, we hope to take up a kind offer from Kathy Carr of The Carberry News-Express to go through the old editions of the paper to try and find reports on his career.
As news spread of Nelson's achievements, he received an approach from the New York Giants to attend a training camp but had to decline given his responsibilities on the farm. One season, 1926, he was banned from pitching in a local league because he was just too good.
Nelson was inducted into the Manitoba Baseball Hall of Fame in 2001. Of course, the Nelson photo has been added to the 1924 Manitoba Photo Gallery.

Again, thanks to Rich we've added more game reports, including :
1925 Manitoba playoffs
1925 BC, Vancouver/Lower Mainland
1925 Alberta playoffs
1946 Vancouver & area Senior Amateur ball
And, it's always a treat to find statistics. Mr. Necker has been busy digging out the numbers for 1925 for the Vancouver Senior League, Vancouver Twilight League, Calgary Senior Amateur League and Winnipeg Wesley League. And, with the help of colleague Henry Ropertz we'll soon add some 1925 stats for the Victoria loop as well.

Of course, along with those 1925 game reports, the 1925 roster page is updated as well.

There are lots of new/revised individual photos posted in the various photo galleries, including some corrections (name reversal, players misnamed). Included here are :
1921 Manitoba, 1923 BC, 1924 BC, 1924 Manitoba, 1925 BC, 1926 Manitoba, 1938 Saskatchewan, 1947 Manitoba,
1955 BC, and 1955 Manitoba.
The 1955 Manitoba Snapshot page also displays a couple of additions, including catcher Bruce Hudson and pitcher Art Tooth.
A Hammond, BC team photo (1925-1927 squad) has been re-posted after going AWOL due to some mysterious circumstances.


A note from Warren Hall (asking about some missing names from the Major Leaguers pages) prompted me to search out information on Joe Kutina, the former St. Louis Brown first baseman, who ended up in the Rimbey area of Alberta in 1917 just five years after playing in the majors. Joe and two brothers moved from the states in the hopes of establishing a farm in Canada, but poor conditions forced their return to the USA just three years later. Although we've been unable so far to confirm the Kutinas playing in Alberta, a local history book is clear the Kutinas played ball for Rimbey (and, on at least one occasion, Edmonton).
In the book, History of Rimbey, Alberta : golden anniversary, 1902-1952, the authors note that suddenly near the end of the 1910s Rimbey and the surrounding area began to boom and settlers poured into the new province.
Among these were J. Lethbridge, the first manager of the first bank in Rimbey. This boy was a real ball player, and with his coming, it seemed to open the doors to a tide of talent. Then came the Connellys fresh from Illinois high school and semi pro ball, followed by the Kutinas, semi pro and professional ball players from Minnesota, Joe Kutina, having suffered a stomach injury, had been released by the St. Louis Browns, and having his career cut that short, decided to homestead in Western Canada and his choice became Rimbey. Along with him came Bill and George, two of his brothers, both high class semi pros. These boys had been preceded a few months by Floyd Little and Clyde Ely from the Nebraska state league, and already here, were some boys showing great promise namely Alfred and Gilbert Lloyd and Carl Cox. Little did all these immigrants know that they were to form one of the best, if not the best, ball club in Alberta ... The class of ball played can be judged by the fact that Henry Roache, the man of baseball at that time, drafted Joe Kutina, Bill Kutina and Warren Connelly to play in western Canadian finals, his Edmonton team having won the Alberta championship. These boys played through seven torrid games finally to go down to defeat in the last game.


Thanks to John Wakelin for his inquiry about Cleo Lewright a pitcher in Quebec pro ball in the 1950s. He was one of those we missed in our book Black Baseball Players in Canada.
In an eight year minor league career the right-hander reached as high as AAA in the Cleveland, Pittsburgh and Yankee farm systems. Lewright played for the St. Jean Canadians in 1952 and 1953. His best season came with Hutchinson of the Western Association in 1954 when he finished with a 20-10, 3.45 record in 44 games, 240 innings. At the time of publishing the book we could not confirm Lewright's ancestry. Subsequently we found material noting his role as the first coloured player in the history of the California Baseball League
---
29 February, 2016

Welcome to Leap Day !

Perhaps it was the relative isolation from the big cities and their attractions that allowed local ball to survive and prosper into the 1970s in the Slocan and Arrow Lakes area of British Columbia. Thanks to Daniel Hellyer we have added a couple of pieces from the era - a team photo of the 1971 New Denver-Silverton Combines (the league champs that season) and a snapshot of a couple of the players from that hippie era!

Among other things, Rich Necker discovered an ad for an exhibition game in Winnipeg in the 1920s featuring the touring Toronto Oslers. The Oslers have been mentioned more than a few times in our coverage and the question arose - why the Oslers on a barnstorming tour all the way to Vancouver in the tough travel days of the 20s? Well, Kevin Plummer, at the web site Torontoist, provides a fascinating look back at one of the premier local teams in the history of Toronto.

Out on Vancouver Island, Doreen Telosky (Sam, her husband, was a key member of the team) has dug up a photo of the 1953 Campbell River Athletics and from the team picture we've managed to extract individual shots of each of the players and posted them in the 1953 BC Photo Gallery. Among them (left to right) - Johnny Haramboure, Douglas "Baz" Nagle (a year later he'd be in the lineup of the Calgary Stampeders in Canadian football), Sam Telosky (one of the six baseball playing Telosky brothers), and Larry Walker Sr. (father of Larry Jr. the former Montreal Expo, MLB All-Star, MVP and batting champion.




Larry Sr. had a brief pro career, as a lefty hurler with Yakima of the Northwest League in 1956. One of his teammates was Jack Altman, out of Fresno State University, who honed his craft in Vulcan, Alberta.
(For those concerned about the work load for young pitchers today, please check out the Altman page for a rundown of his college and semi-pro mound duties in 1954. 365 1/3 innings ! A 32-11 record with an ERA of 1.60 and 431 strikeouts ! )
Speaking of the Teloskys, thanks to Doreen, we've added a photo of Pete Telosky from the 1950s standing in front of the ballpark he built for the Haney community.
And, we've added the Telosky IDs to the 1934 team photo of the IOCO Imperials and the individual photos to the 1934 BC Photo Gallery.


The eagle-eyed Rich Necker spotted an on-line photo and cleared up a long standing mystery - the real first name of the big hurler -- Geoghegan -- from the prairies and Vancouver in the 1920s and 1930s.
And, it wasn't even a baseball photo. It was a picture of a fire station crew in Vancouver in 1933. Tiny or Big Six Geoghegan was formally called, Norman. Norman "Tiny or Big Six" Geoghegan. We've tried to make the change throughout the site.

As you would expect, Rich has also discovered more individual player photos. We've now posted some, in the 1924 and 1925 Manitoba Photo Galleries, the 1925 BC Photo Gallery, the 1925 BC Snapshot page, and the 1919 Snapshot page.
And, while the quality is far from top notch, we've posted a newspaper version of the 1925 Powell River club, champions of the C.P.C. (Courtenay, Cumberland, Powell River). As we've noted before, at very least these low quality versions provide a place holder and are a reminder to chase the real thing.

Bill Guenthner (author of the wonderful Minot Mallards site, now attached to ours) sends along news of former Mallards' star Sugar Cain. Earlier this month, Cain was among a group of former Negro League players to be honoured in Macon, Georgia. The late Marion "Sugar" Cain, the late Lemuel Hawkins, Ernest Fann and Robert Scott were distinguished with plaques at Luther Williams Field in Central City Park. According to the local television station, the tribute was a result of an effort by a local Boy Scout :
The plaques were a part of a project led by 15-year-old Gordon Smith, an Eagle Scout of Troop 170. For his Eagle Scout project, Gordon raised money to create plaques for the men he says paved the way for him to play ball. Gordon said he's glad people will get to appreciate the history of the Negro League, and he carries their legacy with them to Cavalier Field.

"Well, it's a good feeling in my heart to know that they started it for me, so I can think about them as I'm playing," he said. (WMAZ, Macon)
Also, Bill discovered an eBay item, the 1958 contract Cain signed with the Kansas City Monarchs. I'll soon post a copy of the whole contract, but here's a snippet. The dollar figure is surprising, but there may have been other financial arrangements (such as a share of the gate or expense money).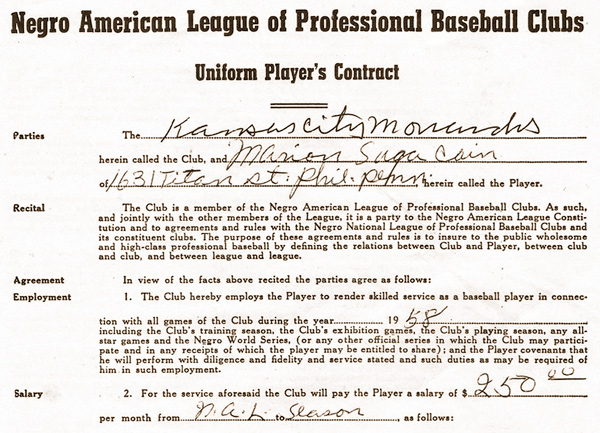 ---
01 February, 2016

February? Use to hate the month when still in the broadcast business. It was the pronunciation. Hardly anyone gets it right these days. FEB - roo - air - ee Not, FEB - you - air - ee. There's an "R" in there. But, the incorrect pronunciation has been used to so long, 'cuz the correct one is so difficult to say, it's now become an accepted version, at least in Canada and the US.

Today's update features photos, including a group of team pictures ranging from 1913 to 1966. And, with a lack of names for some of them, help would be appreciated in putting names to the faces.

Our keen-eyed Rich Necker has discovered a superb group of photos from 1934 Vancouver senior baseball, including some action shots and individual photos (Boyd Staggs and Tony Telosky among them). There's nearly a dozen photos on the 1934 Snapshot page. On the 1930 BC Snapshots, there's the addition of a photo of pitcher Dave Gray. New pictures from Powell River feature a pair of neat photos from a game of July 1st, 1914.



And, of course, with all of these there are additions to the respective BC photo galleries - 1923 , 1930, 1934, and 1940, and the start of the 1961 gallery. That's Bill Inglis (far left) a fixture on the local baseball scene in Vernon, BC along with Nick Janicki (left).
The exercise has helped to pin down the correct spelling of Otto Munk (and brothers Fred and Al), all BC players of the 1940s and 50s. Over the years both Monk and Munk were used in the newspaper reports. That's Otto on the right, above.

And, with Rich's incredible work with the old newspapers, we are pleased to post game reports for the 1934 season for the Vancouver Senior League and the Vancouver Terminal League (starring the famous Asahi nine and the Imperials of IOCO, the company town of Imperial Oil). Of course, rosters, have been updated to reflect the additions. Batting and pitching statistics have been added for the Terminal League and from the game reports we've identified the top pitchers for the Vancouver Senior League to add to the existing batting stats.
---
25 January, 2016

I am trying to recall the number of different spellings we had for a Duncan and Prince George hurler of the '40s and 50s.
Lyle Roger, Lyle Rogers, Lyle Rodger, Lyle Rodgers, Lyal Roger, Lyal Rodgers, Lyell Roger, Lyell Rogers, Lyell Rodger, Lyell Rodgers, and maybe a few more. It was further complicated because his brother Eric also played and all the same combinations also applied to him. (And, I believe another brother Leigh - sometimes spelled Lee - also played a bit.)

Turns out it was Lyell Rodger. I think we've made the change throughout the site.
Unfortunately, the confirmation comes from an obituary notice. Lyell passed last June after an outstanding career in education, mainly in Prince George, BC. He was a star hurler and hitter in the period after the war until the mid 1950s.

We've also sorted out much about the Teloskys of Haney, BC, thanks to Doreen Telosky (widow of Sam who passed away in 2010 at age 95) and former Haney player Bob Stinson (who sorted out the Stinson brothers as well).
Turns out there were six Telosky brothers who suited up for various teams in British Columbia from the 1920s into the 1950s (there were also three sisters in the family). The most prominent of the brothers was Pete Telosky, whose "Field of Dreams' story still resonates today. Well before the Kevin Costner movie and the corn field in Iowa, Pete took a piece of his farmland and created a beautiful ballpark for the people in the Haney area. Check out the story at the Maple Ridge Archives.



We are really pleased to get the 1953 Vancouver Island baseball game reports posted (Victoria Senior League, Comox District League & Mid-Island League). Rosters and Comox stats included. Baz Nagle (left) was one of the stars for Campbell River pitching the Athletics to a league title. You might remember the name from his days playing football for the Calgary Stampeders of the Canadian Football League.


A couple of photos of 1950s player Norm Forbes (right - Victoria & Edmonton) are among a few new pictures added -- 1913 Sam Beer, 1923 Art Morse, 1924 Pat Cann, 1944 Ed Henry, 1945 Bob Wiegand, 1948 Eddie Leier, 1952 Norm Forbes, 1953 Norm Forbes and Bill Garner.
Forbes, from Vancouver, was an all-star pitcher and hitter with the University of Oregon (he won the conference batting title one season). After playing in the Victoria Senior League, he played, as an outfielder, for a season with the Edmonton Eskimos of the fast Western Canada League.

There have been quite a number of team (and other) photos on the shelf awaiting identification of the players. However, with little progress in some of these, we figure out best bet for getting the IDs is to put them online. Here are the latest additions and revisions.
1946 Magrath Eagles (Rice Family)

Our 'ol friend Brian Morrison at Diamonds in the Dusk is working on a lovely little piece on Archie Persons, a star in the old Western Canada League back in 1912. You'll be amazed at the information and photos he manages to dig out for his stories.
---
16 January, 2016


Bill "Snake" Siddle one of Manitoba's greatest baseball products had quite the compliment back in 1927. As a player in the amateur Manitoba Senior League, Siddle was part of a baseball card series by Honey Boy Ice Cream (just 21 cards) which also featured such major league stars as Babe Ruth, Tris Speaker and Grover Cleveland Alexander. Seems if you collected all 21 you could win a brick of Honey Boy Ice Cream. The accompanying photo is extracted from his 1927 card (#5 of the set, Ruth was #14),

Siddle's career as a player, manager and umpire covered nearly 40 years from 1909 to the late 1940s. Late in his playing days, the pitcher, shortstop, third baseman, signed up with the famous House of David and in a stroke of luck, was in the lineup as the club played in Winnipeg, his home town (right, that's Siddle in his HOD disguise).
About ten years ago, for Bob Elliott's The Northern Game, Baseball The Canadian Way a panel of experts selected all-time amateur all-star teams province by province. Siddle was chosen as the best shortstop in Manitoba history. In 1935 he was the umpire in the famous pitching duel between Negro League legends Satchel Paige and Chet Brewer at Osborne Stadium. The 0-0 thriller produced 30 strikeouts, 17 by Paige.


In yet a little more clearing of the backlog, we've added bits and pieces of Manitoba game reports from 1924, 1930 (disgraced former major leaguer Hap Felsch (left) is in the lineup for Virden, Manitoba) and 1932. Among the 1930 players is a pitcher, who - just from the name - I'd exercise considerable caution - Beano Meliti. Of course, rosters for those years noted have also been updated.
With photos of Snake Siddle we've begun Manitoba photo galleries for 1917, 1927 and 1929.
And, along the way, we discovered a photo of the 1930 Brandon Greys. Unfortunately, we have yet to find names to go along with the photo.
---
13 January, 2016


The 1937 St. Boniface Native Sons of Manitoba senior baseball had an interesting organizational chart.

There's John Lewis (left), President ... and Second Base. Athol Foster Manager ... and Pitcher (right). Another player, Chuck Ridgedale was listed as a Coach and Pitcher. The Lewis and Foster photos launch the 1937 Manitoba photo gallery page.

In another step in clearing up a backlog, we've posted game reports, rosters, and some statistics for 1951 Vancouver Island baseball. Pitchers Tony Folk and Doug English were among the stars.

The Vancouver Island data prompted me to chase a better photo of long-time island star
Roy Schappert
(who also suited up for teams on the mainland and in Saskatchewan). Schappert (left) played for at least 19 seasons. We found the photo (left) and in the process figured out what year (1939) Schappert played in Trail, BC.

A lost page is back on the site. About a year or so ago, Will Scheibler of Thunder Bay, Ontario, sent along information on baseball in northern Ontario (reflected in our posting of info on baseball in the area including a photo of the 1915 Fort William club of the professional Northern League). At the same time, Will sent along some photos of teams of the 1886, yes 1886, Winnipeg senior baseball. Somewhere along the way, the page went missing. It's now been re instituted.

Rich Necker has come up with some bits and pieces on BC baseball in 1925 (Vancouver, Island and Interior), including statistics for the New Westminster and District League.
---
06 January, 2016

Baseball is a business with no heart. 1914 edition. Calgary. Thanks to Brian Morrison Diamonds in the Dusk for spotting this and passing it along. The player noted is catcher-outfielder Roy Kuhn.
The Calgary Club of the Western Canada League applies to the Commission for a reversal of the National Board's award of Player Kuhn's salary claim of $150 against it.

The player caught in the game of July 4 for his team and two days later he and his wife were stricken with scarlet fever and removed to a hospital. His wife died on July 8 and the player, who was discharged from the hospital early in August, was given his unconditional release on the fourth day of that month by the Calgary Club.

The Board ruled that the player was entitled to salary up to the date of his release for the reason that the Calgary Club did not exercise its privilege under a clause in his contract of suspending him during his unfitness for service from illness, and other specified causes, excepting injury incurred in a game.

The Calgary Club unquestionably neglected to avail itself of the only legal methods of terminating its salary obligations to the player under its contract by suspending him or releasing him until after he reported to it in August.

The decision of the Board is, therefore, affirmed, the Calgary Club's appeal is dismissed and that club is directed to forthwith forward its check for $150 to Secretary Farrell for transmission to the player in adjustment of this award. [The Sporting News, November 19, 1914]


With chief sleuth Rich Necker plodding through the archives we are pleased to wrap up another segment of game reports, the 1952 games in three leagues on Vancouver Island -- the Victoria Senior Amateur League, the Mid-Island League and the Comox District League. This, of course, becomes a little more complex when we find the latter two loops played inter-league contests and Victoria teams played exhibition games against teams in both other loops ! The 1952 rosters have also been updated to reflect the Vancouver Island material.
Along with the game-by-game summaries, we've managed to dig up stats for the Comox circuit and post a few photos on the Snapshot Page, one of them of star pitcher-outfielder Ken Cessford (left) of the Duncan Athletics of the Mid-Island League. In the records we've found, Cessford not only was a top slugger, but went 12-0, including 7-0 in the playoffs. We've tracked down a nephew of Duncan pitcher Tony Folk and hope we'll be able to located a photo of the left-hander.

Meanwhile, Rich has dug up more photos from the 1925 season to add to the Photo Gallery and Snapshot Page. One of those photos - Bill Clark -- provided us with another name for the 1924 Hammond team photo (as the 1925 item mentioned Clark had played the previous season with Hammond).


We stumbled upon another photo of former Indian Head (Saskatchewan) Rocket Bobby Prescott, this one from 1961 when he was playing in the Pacific Coast League with Hawaii. Prescott made his major league debut that season with Kansas City.
In a career, which spanned twenty years, Prescott played with at least twenty-two teams in the USA, Canada, Mexico and his native Panama. He began with Sceptre and Indian Head, Saskatchewan in 1951 ending in Mexico in 1970. In the twilight of his career he was an outstanding power hitter in the Mexican League. In one four-year span he bashed 37, 39, 41 and 32 home runs, driving in more than 100 each season.

Former Lloydminster (Sask) Meridian (1957) Modie Risher is battling health issues. A recent fall added to the woes. Good wishes going out to Modie and DeLaris down in South Carolina.
---
20 December, 2015

Among the highlights of the 2016 induction ceremony at the Manitoba Baseball Hall of Fame will be special recognition for the province's 20th Century Dream Team. The team was selected by a special HOF committee for Bob Elliott's book The Northern Game, Baseball the Canadian Way.
Catchers - Almer McKerlie & Cliff Seafoot, 1B - Bill Carpenter, 2B - Lloyd Brown, 3B - Ian Lowe, SS - Bill "Snake" Siddle, OF - Gerry McKay, Ken Little, Mark Fisher, Gord Ledochowski, DH - Corey Koskie, P - Glennis Scott, Don "Pete" Rettie, Gerry Falk, Orville Minish, UT - Shane Moffatt, MGR - Terry Hind.
Ten individuals have been selected for induction at the 2016 event, June 4th at Morden -- Myles Bond, Jamie Hodgson, Mike Krykewich, Rod Ledochowski, Larry Nicholls, Gerald Palidwor, Mel Soughton, Jeff Trager, Glen Johnson and Ross Tycoles. The major team to be inducted will be the Elmwood Giants, and the Small Community Teams are the Wawanesa Brewers and Waskada Orioles. More on each of the individuals here.

Krykewich (left) , now the baseball coach at the University of Winnipeg, has just advanced the program by leaps and bounds winning a spot in a US college N.A.I.A. league for 2016. Winnipeg, which has been playing exhibition games, will now be a member of the North Star Athletic Association with Bellevue (Neb.), Waldorf (Iowa) and Viterbo (Wis.), Dakota State (S.D.), Dickinson State (N.D.), Jamestown (N.D.), Mayville State (N.D.), Presentation (S.D.) and Valley City State (N.D.).
Thanks to Gladwyn Scott of the MBHOF for keeping us updated.

The newsletter from the Saskatchewan Baseball Hall of Fame brings the sad news of the passing of Don Sumner, former Brandon player, coach and statistician. He was killed in a car accident in October.

We have some better photos of the 1924 Mirror CNR team and of Cliff "Tiny" Turner the young Alberta phenom who died at just 23 years of age to cut short a promising pitching career. The photos come from the City of Edmonton Archives.

We stumbled across a bit of information on BC Fraser Valley baseball in 1958, so there are some rosters and an addition to the 1958 snapshot page.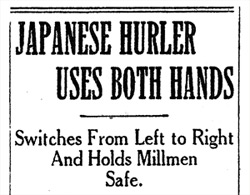 In baseball, one of the rarest feats is having an ambidextrous hurler -- both a righty and a southpaw! In going through 1925 material from BC, Rich Necker came across one in a Japanese league on a feeder club for the famous Asahis of Vancouver.
G. Sarayama attracted the notice of the local paper, the Vancouver World, as he pitched the Mikados to a 10-4 victory over Hanburys in Senior B action at McBride Park on May 13, 1925.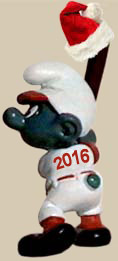 Sarayama was the centre of interest as he pitched with his left hand for the first three innings and before the fourth, warmed up with his right. When Stan Clark knocked a two-bagger on a lefty delivery, Sarayama changed hands and allowed only one hit the rest of the game. In the seven-inning contest, he allowed seven hits, fanned six and walked a pair.

Good wishes to all for the holiday season and for contentment in the coming years. Merry Christmas !
---
16 December, 2015

Super sleuth Rich Necker and his new sidekick and Vancouver correspondent "Redeye" Ropertz have gone back to the archives

to dig up the goods on 1935 Vancouver and area baseball (including the Imperial Oil town team of IOCO and the barnstorming tour of the soon-to-be Tokyo Giants and future Hall of Famers Victor Starrfin and Eiji Sawamura (right). (At the time Starrfin was 19 and Sawamura just 18).
In the fall of 1934, Sawamura faced a team of touring major league all-stars in Japan and in a relief role, he fanned nine including consecutive strikeouts of Charlie Gehringer, Babe Ruth, Lou Gehrig and Jimmie Foxx.
The 1935 Vancouver stories cover both the Vancouver Senior League and the Terminal League featuring the now-famous Asahis.
In addition, we have posted the first part of information on the 1951 and 1952 Vancouver Island baseball leagues -- the rosters. Again, thanks to Rich. So far we've extracted the rosters for those years and a few snapshots too. . Game reports still to come.
Going 'way back, we've added a snapshot page for 1917 in British Columbia with a copy of one of the few local baseball photos featured in the local papers (this one of star hurler Ira Brethour).


There's a new BC snapshot page for 1939 as well featuring a photo of two of the stars of the Vancouver Asahis - Roy Yamamura (far left) and Nag Nishihara (near left). The photo comes from a very nice on-line video (produced by Orbit Films) about the famous Asahis on the site Nikkei Stories. Of course, a major source of information on the Asahi is at the site by the National Nikkei Museum and Heritage Centre of Burnaby.
Along with another photo of Yamamura and pics from Rich's research, we've added a 1925 BC Photo Gallery, and updated the 1921, 1922, 1939 and 1940 galleries. A couple of photos for the 1957 BC gallery means we now have photo galleries for BC baseball right through from 1917 to 1960.
In another of those wonderful coincidences, Roy Yamamura was the great-uncle of a former working colleague of mine, Mel Tsuji, at CBC Television in Toronto. Of course, at the time, I had no idea that twenty years or so later I would be chasing material on the old Asahis players.

Well, after spending a couple of hours searching for a photo of 1968 Manitoba batting champion Claude Lambert, I discovered it - right here. Yep, he's in the photo of the St. Lazare team of that season.
Lambert was a 19-year-old right-handed hurler signed by the Astros in 1965 and he pitched for three seasons in pro ball before heading home to Manitoba. Obviously, he had more talent than mound work and copped the batting title with a .375 average and led in home runs too. Lambert is among the additions to the 1968 Manitoba Photo Gallery.

In the Basin League material from Tom Cason, the former Sturgis Titans star, we've added a photo (this one a newspaper quality picture) of the 1969 Sturgis team. Hope Tom can sort out who's who. Still to come from the package from Tom, photos of many of the major league stars who suited up in the Basin League.
And there's a couple of additions to the 1960 Basin League gallery.
---
10 December, 2015

Even more photos adorn the pages. Another 50-75 have been added, mainly for the Basin League photo pages of 1968, 1969 and, especially, 1970. Thanks to Tom Cason, former Basin Leaguer, for these and the statistics for 1968 and 1969, now posted.


We also happened upon some photos of members of Roy Taylor's 1954 team at the College of Sequoias. It was an interesting one as four members of the pitching staff were from the Canadian prairies - Dave Kostenuk, Jim Hagemeister, Bob Holowaty and John Zeeben (left). Zeeben is still coaching in the Western Major Baseball League with Yorkton, Saskatchewan.

Among the bits and pieces, updates to all the Lloydminster individual photos in the 1955 photo gallery, and an addition to the Manitoba snapshot page of 1962.
---
06 December, 2015

Mom saved the day !

In this case Tom Cason's mom back in the late 1960s when she attended some of her son's games and made sure she picked up some game programs. Tom, the former Basin League star has provided a wealth of material from those programs (much yet to be processed) on the summer college loop in South Dakota (and Valentine, Nebraska) during his three year stint, 1968 to 1970.
Thus far, there are additions to the Basin League photo galleries of 1968, 1969 and 1970, along with roster updates for the same seasons, 1968, 1969, 1970.
We noted earlier the 1968 photo of Tom's team, the Sturgis Titans. There's also the beginning of a snapshot pages for 1970. Lots of photos still to come, and stats too. Thank you Tom !

Our pre-Christmas update is overwhelmingly about photos, probably about 150 of so of them, individual pictures, team pictures and snapshots. Rosters too.
In a catchup splurge, much of the output covers Manitoba senior baseball from the late 1950s through to the mid 1970s.
Photo Galleries : 1959 1960 1961 1962 1963 1964 1965 1966 1967 1968 1969 1970 1971 1972 1973 1974 1975
Rosters : 1959 1960 1961 1962 1963 1964 1965 1966 1967 1968 1969 1970 1971 1972 1973 1974 1975
Snapshots : 1961 1964 1968 1971 1973
Three new team photos have also been posted. The quality isn't much to crow about, but as we've said before, at very least these reproductions, newspaper quality photos, serve as place holders for when we manage to dig out better versions. There's the Brandon Cloverleafs of 1966 and 1967 and the Binscarth Buffaloes of 1972.
We're very pleased to have discovered more statistics for Manitoba senior ball. Adding to our collection are the final stats for 1967, 1968, 1969 and 1970. The 1967 and 1968 additions are particularly helpful in having all players listed, not just the top hitters and pitchers.
Along the way we embarked on a little tangent to further study the record of import right-hander Richard Edward "Dick" Limke who spent six seasons with the Souris Cardinals of the Manitoba Senior League after two summers in the Basin League in South Dakota and a taste of pro ball in the St. Louis Cardinal farm system. Limke wrapped up a sterling career in Manitoba ball by being selected as the loop's top pitcher for the fourth straight season and the MVP for the fourth time in five seasons. He tied for the lead in wins, with seven, and finished with just 17 walks and 97 strikeouts in 85 innings of work. His best summer was 1967 when the former Minot State star went 10-1 with 110 strikeouts in 97 innings. In the 1968 playoffs, Limke hurled the first no-hitter in the league's history. Two walks kept him from a perfect game. He went on to play semi-pro ball in the US with Fargo, North Dakota, for another six campaigns and continued to pile up MVP awards.

BC ball has not been neglected (well, a bit as I've still haven't attacked a batch of material sent in by super sleuth Rich Necker and his new sidekick and Vancouver correspondent "Redeye" Ropertz).
The 1924 BC photo gallery now has players from the Collingwood team of that season and we've added a photo of three of the famous Cousins baseball family to their team photo page. On the 1921 BC snapshot page is a photo of some Haney players advertising an event to raise money for the team (not sure if, at the time, the players or the car happened to be the focus of the photo).

Good wishes going out to former Lloydminster Meridian David Moriarty who is on the way to recovery from a broken hip. He reports his rehab is going slowly but okay.

Years ago, in researching Manitoba baseball, I had wondered why their baseball trails had ended so suddenly. Within the last week, accidental research discoveries told the tales of Barry Moffatt and Ross Pollock.


Outfielder Barry Moffatt of the Riverside Canucks had just finished one of the most successful seasons in Manitoba senior baseball history. In the summer of 1969 the all-star in the outfield got at least one hit in every game he played, 30 in all, running away with the batting championship with a .481 average, nearly 70 points higher than the runner-up. Moffatt, who had had been playing senior ball in Manitoba since 1955 when he joined Souris as a 16-year-old, led the Canucks to the 1969 pennant.
Of course, Moffatt was also a hockey star. Four months after the end of the 1969 baseball season, playing for the Souris Elks in a Southwest Hockey League game he was checked into the boards and fell to the ice, unconscious. There was less than two minutes to play. Moffatt never regained consciousness. He had suffered a fractured skull. Moffatt had worn a helmet, a football helmet, a couple of years previous to protect a broken jaw, an injury suffered in another hockey game. But, he had discarded the protection once his jaw had healed. He was just 30.


Ross Charles Pollock, of McConnell, Manitoba, was just 21 coming off quite an accomplishment - making the roster of the celebrated Brandon Greys in 1949. Pollock had won two of his three starts, tossing a pair of complete games. The Greys, with a lineup loaded with imports, had a magical season easily winning the Manitoba Senior League (28 victories in 32 games) and ringing up an overall record of 87 wins in 108 games. Just a month after the close of the season, Pollock was killed in a single truck accident a few miles east of Oak River. Two others in the truck suffered just minor injuries. The trio were headed home from Brandon when the truck slid on a corner of the road and crashed into the ditch.
---
24 November, 2015


He was crowned "King of the Bushers" and once compared to Walter Johnson. But, young Cliff C. "Tiny" Turner of Mountain Park, Alberta (coal country west of Edmonton near the BC border) had barely started when he was struck down and out.
In 1921, as a teenager he had an introduction to pro ball with a tryout with the Edmonton Eskimos of the Western Canada League (as far as we can determine he got just an inning of work as a reliever). At age 21 he was the ace hurler for the Cadomin-Mountain Park nine and at 22 was the toast of Alberta in 1924 as he led the Mirror (a railway village of several hundred east of Red Deer) Canadian Nationals to impressive showings in the Central Alberta League and then in upper level competition in Edmonton. Mirror was invited as one of the teams for a "Bushers Tournament" at Edmonton and led Mirror to top money.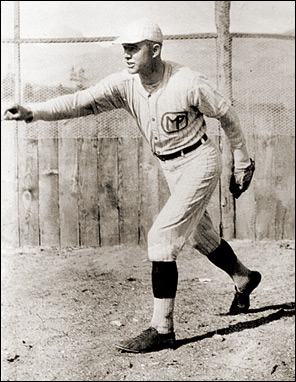 It is just seventeen years ago this summer that the immortal Walter Johnson of the Washington American League team was burning up the bushes down in Idaho for the little tank town of Weiser. He was striking out from ten to twenty-four men every time he pitched, and shutting teams out right and left at libitum. Every league ball team in the northwest was trying to sign him up, including the Edmonton team of the Western Canada League, but Cliff Blankenship, scouting for Washington, came along, secured his signature to a contract, and carried him back to the capitol of the United States, where he immediately made good.
As far as records in the bushes go there is a pitcher down at Mirror, Alberta, who is attracting wide notice this year by the same brand of phenomenal twirling. His name is C. C. Turner, and his wonderful feats on the hill among the semi-pro teams of Alberta have paralleled the achievements of Walter Johnson seventeen years ago. (Edmonton Bulletin, July 29, 1924)
[Photo an edited version of the original from the City of Edmonton Archives EA-523-15]
On August 4th, Turner hurled a four-hit shutout in the afternoon (with 16 strikeouts) and then came back in the second game to twirl four shutout innings (six strikeouts) as Mirror came from behind to win 7-4 and take top money in the tournament. A panel of thirty experts selected Turner as the top player in the event, "King of the Bushers".
The right-hander had a sensational season. Records are far from complete, but he won at least 13 games, nine by shutout. We've been able to track down 17 starts and two relief stints for a 13-3 (with one tie) record. In one amazing stretch Turner had 60 consecutive scoreless innings, with six straight complete game shutouts. He rang up 88 strikeouts in that 60 inning stretch.
In early September of 1924, Turner was signed by Ty Cobb's Detroit Tigers with an invitation to spring training, Farmed out to the East Texas League for his rookie season in pro ball, Turner excelled with 17 wins in over 190 innings of mound duty, But, not feeling well near the end of the campaign, Turner left the team early to return home to Alberta. Near the end of September, his conditioned worsened and he was taken to hospital in Edmonton. He died the next day, diagnosed with typhoid fever. He was just 23.
Turner story is woven in and around the 1924 Alberta & Tournament game reports just posted (with usual thanks to Rich Necker).. Of course, the 1924 roster page reflects the latest material. Along the way we found this newspaper plug for a Central Alberta game (note the admission prices). I'm not sure how much bats cost these days (although I seem to recall folks here talking about $300 CDN for a slow-pitch bat) but check out the 1924 prices for baseball bats and gloves in Red Deer, Alberta.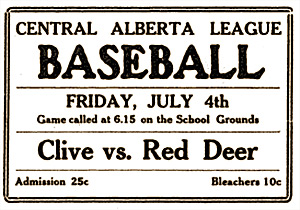 Tom Cason (left), the former Basin League star, has come through in a big way with material from his three seasons (1968-1969-1970) in the college circuit with the Sturgis, SD, Titans.
Just a couple of items posted so far, the 1968 Sturgis Titans team photo and the beginning of postings on the 1968 photo gallery and 1970 photo gallery. That's Allen "Rusty" Gerhardt right, Cason's teammate in 1970 who made the majors in 1974 with the Padres. More still to come, including statistics for at least two of those three seasons noted.

Walt McCoy, the former Negro League and ManDak League hurler, who passed away earlier this month, surely had a lot of good friends.Last week, the site The Negro Leagues Up Close published this report on a final farewell to McCoy. (Unfortunately, there was no mention of the article's author.)

Congrats to Jeremy Klaszus of Calgary for his efforts in preserving and presenting prairie baseball history. His site Wild Rose Baseball is image oriented, presenting program covers and artifacts of more recent heritage than Western Canada Baseball (mainly in the 1980s and 1990s).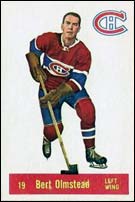 He was known as one of the toughest and best players of the 1950s and 1960s in the National Hockey League, inducted into the Hockey Hall of Fame in 1985. Bert Olmstead died a week ago at his home in High River, Alberta. He was 89. The Saskatchewan native also excelled on the diamond in the late 1940s and early 1950s. Ol' pal Doug Abraham earlier wrote about the former pitcher/shortstop.
Perhaps it wasn't surprising that Olmstead played a lot of ball during those summers because he hailed from Sceptre, Sask., the Sceptre Nixons being the unofficial kings of 1950 baseball tournament play with $17,000 in winnings (his brother Dean had tossed a no-hitter in 1945 pitching for the Calgary Purity 99s). .
A 1946 Southern League report shows Olmstead tossing a one hitter in a seven-inning contest but coming out the losing hurler in a 2-0 Regina win over Moose Jaw. Big Bert also played third base/shortstop.
In 1948, Olmstead was a hired gun, one of five imports landed by Delisle Commodores in their halcyon days. He hurled complete-game wins and, in another contest, contributed two triples and two singles in six plate appearances.
Olmstead pitched Sceptre to the Camrose Tournament 1950 title by tossing a four-hit shutout in a 2-0 triumph over Kamloops in the final. Earlier in the day, he had fired four shutout innings in relief to pick up the win as Sceptre advanced to the final. The next weekend, Olmstead had a three-hit shutout at the Lacombe tournament.
If big Bert Olmstead was of such a mind, he could very well place among that rare athletic species that merits stardom in two phases of top-drawer professional sport.

Already the 23-year-old native son of Sceptre has won his spurs as a left winter with Chihawks under the big top in hockey, and there are many competent diamond observers who maintain that the strapping right-hander has what it takes to go far along the organized baseball trail as well. (Edmonton Journal, June 15, 1950)
---
15 November, 2015

Ty Cobb in Port Haney, British Columbia in 1920 ?

Naw, seems to be an imposter. The Maple Ridge Museum & Archives has a photo from 1920 (see the October 28th entry below) supposedly showing the famous major leaguer in a Port Haney team photo.
We sent along that photo (and another which appeared to show Cobb on a fishing trip up here) to an expert on photo identification, Mark Fimoff of SABR (Society for American Baseball Research). Mark has been a key member of SABR's Pictorial History Committee and has been engaged to identify photos for various publications, auction houses and institutions including the Boston Public Library and Chicago History Museum. His conclusion - it's NOT Ty Cobb. See the full report here.

We've added a couple more photos from the Maple Ridge Museum collection, one is on the 1953 BC Snapshot page, the other on the 1960 page.

With thanks to Rich Necker and his superb work we've been able to offer more game reports from British Columbia. The latest additions are the 1924 and 1950 reports for Vancouver Island baseball.
Of course, along with the game stories there are the rosters for 1924 and 1950 along with statistics for the 1950 Comox District League. The 1924 stats page now includes final numbers for the Vancouver Senior League, Terminal League and Victoria Senior League.
The 1924 BC photo gallery has been updated with a bunch of first names, mainly for players of the Victoria CPR team.
There's also a very brief entry for the 1919 BC Interior basically showing there was a league in the Okanagan area.

With all of the roster additions over the past few months we've also made a major update of the BC roster pages adding another 1,190 players to the lists (with another 300+ yet to be included, mainly from 1924).

Always a treat to hear from Jim Lester, the former Fresno State, Granum and Lethbridge star, but so sorry to hear of a broken hip. Jim had surgery a couple of months back and is still hobbled. Send some good thoughts Jim's way.
In chatting with Jim, in confusing a fractured hip with hip replacement, I gave him a whole wrong impression about the Canadian health system. I noted it often takes a long, long time (up to a couple of years) for hip surgery. But, of course, that's for replacement surgery, not after a fracture.

David Moriarty, son of the famous Detroit Tigers player, manager, MLB umpire and scout also took a tumble recently and is recovering from a hip fracture. David, who played Western Canada ball in my hometown of Lloydminster has had a tough run, as his wife Cathy passed last year. BTW, David's nephew is actor Michael Moriarty (Law and Order, Bang the Drum Slowly).

Sad news from Dan Doyle in San Diego who sends along the news of the passing of former Negro League and ManDak hurler Walter McCoy. He was 92. Dan and Walter became friends after first striking up a business relationship as Walter continued to work in San Diego as a contractor into his late 70s and early 80s.
I interviewed Walter a few years back for our book "Black Baseball Players in Canada" and Walter expressed his appreciation for his time up here. He recalled his first trip over the border traveling with Jesse Douglas, another former Negro Leaguer, going up to Winnipeg to play in the ManDak League. [Photo from the San Diego Union-Tribune, 2015]
As soon as we crossed the border and headed toward Winnipeg, Jesse says, "Homie, you're in God's country now." And, oddly enough, you could feel something different. It seemed like the air was different. There was just a slight breeze in the air, you know. And I know we passed through wheat fields and there was a little bit of rustle of the wheat you know with the wind blowing over the tops and I was saying this is beautiful, really beautiful. There was nothing else in sight, except a highway and wheat fields on both sides ... It was the best time of my life, because in addition to everything else that happened to me, I got married there. I married a girl there in Winnipeg ... The fans were nicer than I ever encountered anywhere. They were so nice, they really treated the ballplayers like human beings you know as compared to here in the United States at that time. 

Late last month, Elsie Emma Schmidt (nee: Gunther) passed away at the age of 102. Elsie was a member of the famous Gunther family baseball team in Saskatchewan ( inducted into the Saskatchewan Baseball Hall of Fame in 1999). She was the 5th youngest of 20 children born to Pauline and Fredrich Gunther in Lanigan, Saskatchewan. She was 11 when her mother died. Her father remarried a woman who had 4 children and together they had 6 more for a grand total of 30 in the Gunther Family!

More questions about name spellings, in regard to Vancouver Island baseball - Lyle & Eric Roger/Rogers/Rodger/Rodgers ? Jantz/Jansch ? Hindmarch/Hindmarsh ? Maynard Fooks/Fookes ? Dave Roseanna/Rozzano/Rozanno ?

You never know when an old photo might turn out to be "gold" for reasons other than its original purpose. A few years back Texas based Barry Forster began chasing down material on his father's baseball career in Canada. His dad, Bryan Forster had been a star infielder in Regina and in Victoria from the late 1920s through to the mid 1940s. In his search Barry collected a ton of material, a lot of it to appear here. One of the items posted here is a team photo of the 1912 team from Dysart, Saskatchewan. There in the background is Bryan, the three-year-old son of the team's playing manager. Well, also in that photo is a J. Cutler, who turns out to be the object of a genealogical search by Graham Cutler of the U.K. who had no idea his great uncle had anything to do with baseball ! We're now in the process of tracking down a high-resolution version of the photo for Graham.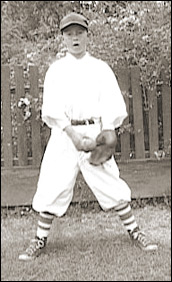 By the way, that's the young Barry Forster (left) in Little League in Victoria in 1951 taking the torch from his dad (although, that does look a bit like a catcher's mitt not an infielder's glove).
The kid went on to a career as an engineer in the aerospace industry, working for the likes of Lockheed Martin Space Operations (including the Hubble Space Telescope) and Fairchild Space & Electronics. Not bad for a kid from the prairies.

Thanks to Kent Morgan of Winnipeg for keeping us in mind. A friend of Kent's dropped off some material from the mid 1990's on the Prairie League of the day (which included teams from Brandon, Moose Jaw, Regina and Saskatoon) and he's sent it along.

Happy to help out Holly Stevens of the Tessier Community Hall who was chasing material on Murray Coben a star pitcher/outfielder in Saskatchewan from the 1940s through to the mid 1960s.

Love the coincidences. In trying to track down a specific photo from the Winnipeg papers of 1916 I made a request to the University of Manitoba, repository of many of the papers of the era. The response came from U of M archivist Lewis St. George Stubbs. His book "Shoestring Glory, Semi-Pro Ball on the Prairies" was among the first I discovered and devoured when I started this project ! Thank you Lewis !
---
28 October, 2015


The stuff you learn if you only look.
The aim was to try and determine the correct spelling of Richie/Ritchie Nicol/Nichol/Nicholl, a pitcher-outfielder with Nanaimo and Vancouver teams in the 1940s. The search took us to a column by the prolific Tom Hawthorn on the first white player for the legendary Harlem Globetrotters basketball team. Yep, Ritchie Nichol (left) quite the basketball star in his day. Hawthorn also has columns on other BC stars Coley Hall and Bill Prior.

Our thanks to Val Patenaude, Director of the Maple Ridge, B.C.,Museum & Archives for his speedy and helpful response to our plea for material on baseball in Haney and Hammond. As a result we've now posted/updated team photos of the 1928 Haney club, 1950 Haney, 1953 Haney, 1953 Hammond, and 1955 Haney. On the 1955 BC Snapshot page there's a picture of the 1955 pitching staff of the Haney club. Previously on that snapshot page we posted the picture of Larry Walker Sr. as a pitcher with that Haney club.


The WMBL (The Western Major Baseball League), the successor to the Western Canada League, has completed its 2015 season with the Lethbridge Bulls taking the league title for the first time. The Bulls won all nine post-season games, beating Regina Red Sox in the final.
Outfielder Brandon Bufton (left) of the Bulls was named the league's MVP after hitting .359 during the regular season.


David Eskenazi, the amazing Seattle baseball historian and collector continues to dig up interesting items related to Canadian ball.
These pennants appear to be from the early Western Canada League, likely from the 1910s period.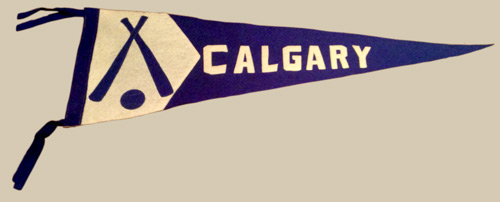 The Calgary pennant clearly has the same colour as the Calgary Bronchos uniform David discovered a few years back. The uniform was from the 1914 season. The batting figure and uniform style on the Edmonton pennant appear to be from around that time frame.


As usual, we've been pecking away at those British Columbia game reports and we're really

pleased to have posted reports for - 1924 Vancouver & Lower Mainland, 1934 Vancouver Island, 1940 Vancouver Island ball, 1941 Vancouver & Lower Mainland, 1941 Vancouver Island, 1942 Vancouver Island, 1943 Vancouver Island. Along with the game summaries, of course, are the updated roster pages.
As usual, a major thanks to Rich Necker for his incredible work in putting together the game report sections. And - in continuing to keep an eye out for photos, such as the one of Harry Sanzoku Miyasaki (right) the long time pilot of the Vancouver Asahis.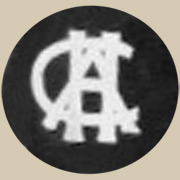 Now, a new mystery. One of the items in the Maple Ridge Museum & Archives is a team photo identified as from 1920. It is listed as the Port Haney team of 1920 with a special guest, Ty Cobb ! The entry in the museum contains a list of names as well.
Left to right – Jack Fuller SS, Frank Burnett OF, Charlie Owen 3B, Ted Robinson OF, Cliff Mosher MGR, Charlie Dauphin Asst. MGR, Ty Cobb, Nip Ogilvie OF, Nick Williams OF, Maynard Fooks P, Wally Douglas 1B. Front - Earl Biggs Mascot.
I was surprised to find Cobb identified as the guy in uniform to the right of the chap in the white shirt and hat in the middle. Also, it seems interesting that if this is a Port Haney team, what the heck is the logo on their uniforms? Looks like a C, H and A? Help appreciated !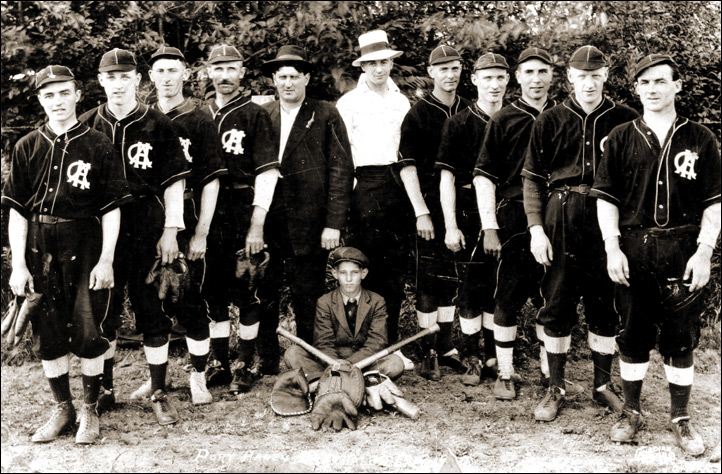 ---
03 October, 2015

Transfixed by the Blue Jays terrific run for the AL pennant, our efforts here have been a bit limited lately, but that's about to change as we organize the latest posts, with thanks to Rich Necker, Brian Morrison, David Eskenazi and Val Patenaude.


Val, who is director of the Maple Ridge Museum & Archives has provided photos of teams and individuals his area. One which caught our eye is that of Larry Walker Senior of the 1955 Haney club. Yep - father of the former Expos star. Larry Sr. was good enough to have earned a pro contract back in the 1950s as a lefty hurler. He played on the same team - Yakima - in 1956 as Jack Altman, one of the stars of Alberta baseball in the mid-50s and one of the earliest contributors to our little operation.
Also, there's a photo of Larry Sr. on the 1955 BC Snapshot page and a half-dozen individual photos of Haney players in the 1955 BC Photo Gallery. There's the beginning of a 1960 BC Photo Gallery with a picture of long-time Hammond area hurler Roy Lehman.
We are still awaiting the names, but the photo of the 1955 Haney club has been processed and posted. More to come .

We have made some progress in identifying members of the 1916 Winnipeg team of the Northern League in those photos from David Eskenazi. Please check out the link and see if you can match names to photos. I'd guess this one will provide more than a few hours of study over the winter.

One of those 1916 Winnipeg players was first baseman Babe Adams, wanted by the major league Brooklyn Robins. You'd think they would have had some kind of formal process for attempting to acquire players from minor league teams. Not really, just a telegram from Brooklyn's owner C.N. Ebbets to Winnipeg's Charlie Moll (remember the idea of farm systems hadn't yet been formed).
"We are in bad shape. Can you possibly accommodate me by sending Adams to us at once? Answer to Cincinnati. C.N. Ebbetts, president, Brooklyn Baseball club."
Moll turned down the Brooklyn request. In retrospect, could it have been a prank? Note the spelling of "Ebbetts". Of course, the spelling error could have been just in the newspaper story and not the actual wire. Hard to believe there could have been those kind of pranks back in that era.

The 1921 game reports page for Vancouver and the Lower Mainland is one of the most complete compilations we've posted with reports for the Vancouver City League, the Commercial League, Terminal League, Dewdney League, and Twilight League plus the provincial Senior playoffs. Of course, along with the game details, are the rosters for more than thirty teams in the Vancouver area.

While we are on the topic of rosters, we've made considerable progress finishing off the 1940 names for Vancouver Island teams including those in the Victoria Senior League, Cowichan Mid-Island League, Mid-Island Japanese League and the Comox Valley Twilight League.
Similarly, we've organized rosters for the 1941 season on Vancouver Island, including the Victoria Senior Amateur League (along with the rosters of all the Washington teams up for exhibition games), Comox Valley Twilight League, Chemainus Baseball League and the Mid-Island Japanese League.
The rosters for Island baseball for 1943 are another addition. We have names for the Victoria Senior League (again with rosters for the USA teams up from Washington), the Nanaimo Army League (remember this is during the years of the Second World War), Comox Valley, Cowichan Valley and Cariboo region.
There's also an update on the 1944 rosters for Vancouver Island ball. The military influence is obvious in the areas posted, Victoria, Duncan, Nanaimo, Campbell River, and Courtenay.



Rich Necker, whose game reports on Vancouver ball in 1924 have just been received and should be posted within the next few days, has discovered a few photos from 1924 BC baseball. Len Arthur (far left) and Harry Richardson (near left) are among the additions to the 1924 BC Photo Gallery.

Brian Morrison Diamonds in the Dusk has sent along a couple of photos from 1921 which he dug up in doing his marvelous review of the 1921 Western Canada Baseball League season. On the 1921 Snapshot page you'll find the additions of former major leaguer Frank Jude, one of three players to claim the batting title that season, and Andrew "Rip" King (right) the Regina catcher who went on to a career in football in the NFL & its predecessor.


With access to a more papers from Manitoba, we've added a few more game reports to the ManDak season of 1957.


We're really pleased to have heard from Tommy Cason (right), an outfielder out of George Southern, Auburn & Jacksonville State, who suited up in the Basin League in 1968-1969-1970 with the Sturgis Titans. Cason also had a four-year pro career in the Boston Red Sox system, mainly in Double-A. Our fingers crossed in hopes Tom can dig out some photos/clippings from his years in the loop.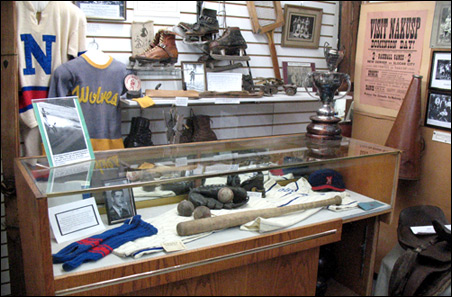 The Nakusp, BC, Museum has a display on athletics with artifacts mainly from baseball and hockey in the area. A Nakusp baseball uniform, with cap, is prominent in the display case.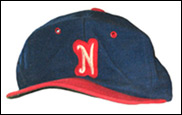 The museum, under the direction of Sharon Montgomery, has undergone a wide-ranging re-organization over the past few months and is holding an open house today.

A big thanks to Cheryl Nybo for her work on organizing the reunion of Swift Current players for the August induction into the Saskatchewan Baseball Hall of Fame, What a grand occasion.
They came in as old men and left feeling 18 again with renewed spirits and a weekend full of laughs and stories as they gathered in North Battleford for the Induction into the Sask Baseball Hall of Fame and for the Friday night reunion. They came from the west coast and from the east coast, they came from California and Minnesota and from all parts in between. They were the boys of summer from 1950 to 1975 who had played for the Swift Current Indians Baseball Team. If they did not know some of the fellows, they probably had heard of them. They arranged in age from the mid 60's to 85 . Their memories were sharp and could retell many game moments. One younger fellow said, "I had heard about many of these fellows from the earlier years and had often wondered where they where or how they were, as well as all of the guys I had played with. This weekend I was able to put closure to all my thoughts as I now know they are fine." But at the end of the great weekend one of the older fellows said, with tears in his eyes and a lump in his throat, " This has been a super time but I am sad as I know I will never see many of these friends again."
Cheryl sent along a "team" photo of the whole reunion group which looked just too small when sized for this page, so I've left it over-sized and posted it on the site in a pdf version. Enjoy.
In the picture below, players re-enacted the photo of the 1963 championship team.
Back row (left to right) - Ron McKeckney, Marty Martinson, Ron Meyers, Merv Sanderson, Jack McLeod, Harv Nybo. Front row - Stu Millard, Jerry Knipfel, Bob Lewis, Rick Sentes, Terry Buck.

Missing - .Larry White (3rd in back). Deceased - Gus Twambley (3rd from right in front) Alex Maxwell and Bill Bozak.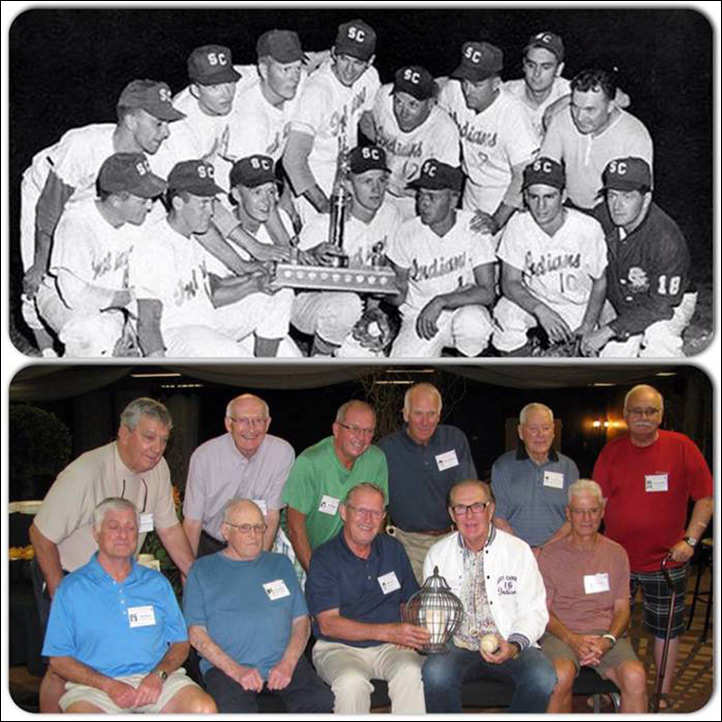 ---
13 September, 2015

Brian Morrison, at Diamonds in the Dusk has an in depth review of the 1921 season of the Western Canada League, focused on the debate over who won the batting title. Check it out, it's a great effort, wonderful research, interesting stories.



Individual photos, 16 in all, of the 1924 Victoria C.P.R. squad are now posted (extracted from a composite photo of the 1924 "V.I." champions). For a time we couldn't figure out what the initials "V.I." represented, but it turned out to be easy - Vancouver Island. That's outfielder Ray Corpas (left) and pitcher Matty Malcolm (right).

David Eskenazi, the extraordinary Seattle collector, has some new mysteries for us. He's come upon some photos of Winnipeg baseball in 1916, including the photo below of the flooding of the ballpark and a photo of four members of the "Pegs". Winnipeg played in the Northern League in 1916 with Superior, Fort William, Duluth, Fargo and Virginia. It will be yet another challenge to try and identify players from just about 100 years ago !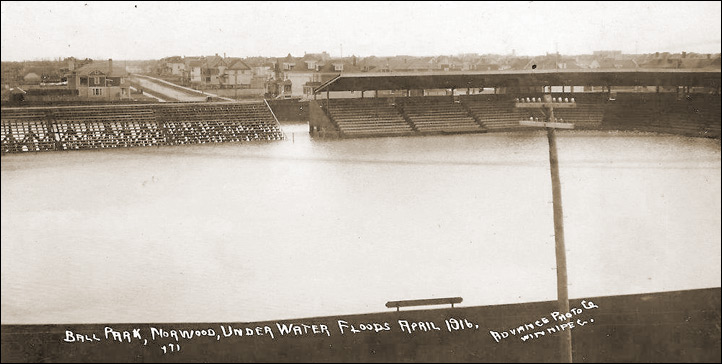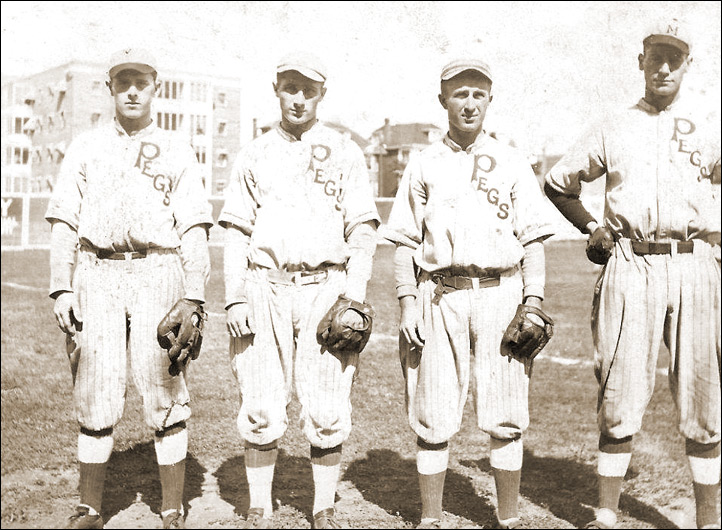 Congratulations to Charlie & LeAnne Beene (right) who recently celebrated their 60th - yes, 60th wedding anniversary. Also, Charlie had a birthday, might be in triple digits by now ! Between the celebrants in the photo I believe that is daughter Marianne.

Thanks to history buff Fred Braches and Val Patenaude of the Maple Ridge Museum & Archives for helping out in trying to identify members of that 1924 Hammond, BC baseball team.
We started out with just two names and already we're pretty confident we can identify six or seven of the 1924 BC Senior champions.
---
11 September, 2015

Indoor baseball was quite the thing in the early part of the last century, especially in the Chicago area :
Indoor baseball was invented by George Hancock in 1887 at the Farragut Boat Club on Chicago's South Side. The basic equipment was a mushy soft 17-inch ball and a stick-like bat. No gloves were worn and bases were only 27 feet apart. The game spread like wildfire across the Chicago area, and by the winter of 1891–92 there were more than a hundred teams organized in flourishing amateur leagues. Colleges and high schools, girls and boys, embraced the sport. Around 1907, players began taking the game outdoors, calling it "playground ball" and later "softball." The indoor version went into steep decline in the 1910s, most assuredly because of the rapid growth of basketball, a game far better designed for indoor play. By the early 1920s, indoor baseball was a dead sport, but it left as its progeny the playground game most peculiar to Chicago, 16-inch slow-pitch softball. (Robert Pruter, Encyclopedia of Chicago)

So far, we've tracked down indoor leagues in Vancouver into the 1920s. Previously, we posted a team photo of the 1923-1924 Grandview Retailers of the Vancouver Indoor City League. Now we've found a photo of Hanbury's indoor team of either 1923-1924 or 1924-1925 (note the thin bats and big ball). It's one more challenge for us to try and identify the players from 90 years ago ! We have one - Ab Mortimer (left).

From Vancouver Island baseball after the war, we've located a photo of the Alberni Athletics of 1948. It's still not been determined what league, if any, they participated in, but it appears they were part of a lively Island ball competition. Bob Prior and Vern Kendrick might be the two most recognizable names.

This one's not of the greatest quality, but it's another step forward to have a photo of the 1929 Vancouver Firemen of the Vancouver Senior City League. Many familiar names on the squad, including Norm Trasolini, Lefty Kaye, and Peggy Duff.

And, one poor quality team photo now has a much better version. It's the replacement for the 1923 BC Box Manufacturers team from New Westminster. The new photo is from the New Westminster Archives.

And, still with pictures, there are a couple of new individual photos added to the 1924 BC Photo Gallery and some individual pictures to the 1924 BC Snapshot Page.
---
09 September, 2015

Among the challenging tasks we face in putting together baseball history are those team photos with the players not identified. They are fairly commonplace back in the first half of the last century. After about the 1950s, it appears the chances are much better that names are provided in the team pictures.
We have, however, devoted some considerable time and effort to try and put together names for several team photos we've had posted.
One is the 1929 Vancouver Generals. We are reasonably certain we have identified all but one of the players (and for that player we have reduced the choices to one of two names).

Another is a team photo of what appears to be an all-star squad from Vancouver. It was thought the photo was from the 1920s, but we now think it fits in 1919 as a Vancouver All-Star team.
We have a couple of names to go with the faces, but there are many left to be ID'd. Lefty Delcourt (left) was an easy one to identify, wish the rest were as accommodating.
The third team is the 1924 Hammond Cedar club, the provincial senior champions. We're still missing a few names here, but we have made a pretty good start.


And, rediscovered, material from Chad Evans, whose father Verne (right) was a force in both baseball and softball in the Victoria area in the 1940s and 1950s. The picture here is believed to be from a stint with the Victoria Eagles in 1951.

More game reports are now available, including the Vancouver Island teams (including clubs from Victoria, Duncan, Chemainus, Campbell River) for 1942, 1944 and 1947. Reports for Vancouver and Lower Mainland teams for 1935 have also been posted. Of course, roster updates (1935, 1942, 1944, 1947) go along with the game reports.
One aspect of baseball on the Island during the war years was the placement of Quebec and Prince Edward Island military units on Vancouver Island. The PEI squad was quite the powerhouse in 1944.

We're particularly pleased to post more statistics as well. Newly added are the statistics for the 1924 Vancouver Senior League and Terminal League, the 1935 Terminal League and the 1937 Senior circuit.

Mystery solved. Toss Naylor or Tosh Naylor or Tommy Naylor of Vancouver Island baseball in the 1930s and 1940s ? A few phone calls resulted in contacting Yvonne Naylor, the widow of Jack (Red) Naylor, whose brother Tommy (Toss) Naylor was quite the star of the era. Yes, Toss was the nickname for Tommy. Yvonne could not recall how the nickname came about. I think we've made the correction site-wide.



Matt Meredith, a fixture with the North Battleford Beavers of the late 1940s and early 1950s Saskatchewan baseball passed way August 28th, just a day before what would have been his 92nd birthday.
Daughter Lynn forwarded information noting a Celebration of Life to be held Thursday, September 10th at 1:00 pm at the Woodlawn Mission Funeral Home in Mission , BC.

Nice to hear from Jack Mullen, one time US college hurler digging for information on the 1957 California Junior College championship. Jack, who pitched for Pasadena CC in the '57 playoffs, says he was the losing pitcher in their final game against San Diego JC. He says "I never got to show off my move to first because none of the San Diego hitters stopped there !" Jack went on to serve on the police force in San Diego.
---
24 August, 2015

The 1921 BC season is taking shape, with much thanks to Rich Necker who has tracked down all this material and put together most of it. Some, we are still working on. Posted so far are game reports from a couple of the Vancouver leagues along with rosters and stats of the Vancouver City League.
Three new 1921 team photos have been added - Collingwood, Hudson's Bay Company and the C.P.R. (the Cee Pees). The latter pair are good quality photos replacing the iffy versions we culled from newspaper files. And, we've found a photo of Centrals' manager Charlie Crook to the 1921 BC Photo Gallery.

The are a couple of new postings for 1937 - the Vancouver game reports and rosters and a photo on the Snapshot page.

For 1935 BC, there's the start of the Vancouver game reports, plus additions to the photo gallery and snapshots.



From Mack Reid's material we've added a few photos for the 1924 BC Photo gallery, including Hec Cann (left) and Bill Giguere.
And, on the 1924 Snapshot page, we've added a newspaper composition showing five of the stars of the Vancouver City League along with a newspaper photo of Lefty Kaye of the Vancouver Young Liberals and a copy of a real photo of Alex "Lefty" Simons, also of the Libs. On the 1920 BC Photo Gallery we've re-done the photo of Ab Mortimer, the only player identified so far from the 1920 Longshoremen's squad and added a couple more pictures to the 1923 BC Gallery (Babe Esplen & Tat Larsen).


In trying to determine whether if was Frank or Floyd Isakite or Isekite of the 1935 Vancouver Athletics, we stumbled upon some pretty interesting material on Floyd "Lefty" Isekite.
Seems he was a Tacoma baseball legend having played amateur ball in the city and then four great seasons as a professional with Tacoma in the Western International League ringing up seasons of 9-4, 16-5, 18-12 and 18-9 leading the league in strikeouts for three consecutive seasons. Near the beginning of his career he suited up for a short time with Trail, BC, while spending most of his time in Tacoma amateur circles before joining Vancouver and then Bellingham. After a one game stint in pro ball with San Francisco of the Pacific Coast League in 1933, Isekite launched his storied tenure with the Tacoma Tigers. He was inducted into the Tacoma-Pierce County Sports Hall of Fame in 1972. Isekite died in 1992 at the age of 83.

Was it Lowery or Lowry, the 1921 player with Kelly-Douglas of the Vancouver Senior League? Thank goodness we have some sources, such as the Henderson City Directories, to try and determine the correct spellings. A quick check of the 1921 directory appeared to provide a quick answer. Listed under Lowery is an A.L. Lowery, a shipper at ... Kelly-Douglas ! Wow, that was easy. That must be the guy, right?
Well, just to double-check, I went down to Lowry. Well there under Lorne Lowry is a warehouseman at ... Kelly Douglas. So, that's why in the 1921 game reports the name appears as Lowery/Lowry.
---
16 August, 2015



We've been busy as bees with much thanks to Mack Reid of Courtenay, BC who has been kind enough to send along some scrapbooks covering BC baseball in the 1920s. The clippings and a few photos focus on Mack's great grandfather, Alex "Lefty" Simons (left) a feared hurler of the day.
I've begun to work through the material which appears, in the main, to concentrate on the seasons of 1921 and 1924. Included are the final batting statistics for both seasons. It'll take a couple of weeks to get the stats posted.
Among the gems is a good quality photo of the 1923 Vancouver Young Liberals and another, showing individual pictures of the 1923-24 Grandview club of the indoor winter season (Charlie Miron, above right, was among the Grandview stars). Yes, they had a thriving, eight-team, INDOOR league, a popular pastime of the era. We've extracted those individual shots to be posted in the 1923 BC Photo Gallery.
From the box scores of 1921 games, we've made numerous additions and changes to the Vancouver rosters.
The clippings included newspaper copies of some team pictures, the 1921 IOCO Imperials, the BC Senior champions, 1921 Hanbury Lumbermen, champs of the Terminal League, 1921 Vancouver Province, 1921 Hudson's Bay Company, and 1923-24 Grandview Retailers of the winter indoor loop. The newspaper images are not of great quality, but, at the very least, they provide placeholders for when we track down better versions (as in the Young Liberals photo above)....



Unhappy with our first attempt at the 1938 Cousins Family team photo, we've edited out part of the background to better display the individuals, especially those in the back row. We're still hoping the Peachland Archives can dig out the original photo. And, we've added a second photo of the family team, a picture used in 1981 at the official opening of Cousins Park in Peachland.
In the interim we've managed to extract one picture from the team photo, that's pitcher Harold Cousins, far left, a long-time star in the Okanagan.
With the help of Eric Weitzel grandson of Alymer Cousins we've discovered this photo of Alymer (near left), a pitcher-outfielder, during his tour with the Canadian military during World War II. And, we now know there were five girls in the family for a total of fourteen !

Our major job of the week has been the update of the BC Roster pages. There are hundreds of new entries. Already I note some changes that need to be made - I neglected to include the Cousins family for 1938 and see there's a spelling change needed - Montcrieff in 1921, but Moncrief in 1936.


Thanks to Rich Necker's dogged work, we've added photos to the 1937 BC Photo Gallery, including that of George "Lefty" Boston (left) a major force in Vancouver ball for more than a dozen years in the 1930s and 1940s, and right-handed hurler Bill Sayles, who went on to suit up in the major leagues.

We've made updates to Gary Fink's marvelous work on rosters and stats for players in the Man-Dak League of the 1950s. I think it's time to work on a summary of the Man-Dak, similar to the one we've posted on the Basin League. That'll be one of our winter projects. That, and a similar presentation for the Western Canada League, 1954-1964.

The earlier story on the commemorative garden and mural in Regina to honour Bonnie Baker, a star of the All American Girls Professional Baseball League in the 1940s and early 1950s, brought back some memories for Barry Forster, whose dad was a manager in the Regina Pony League at the same time as Baker. Barry was a third baseman-pitcher for Baker's Moose Monarchs while his dad ran the Legion team.

Happy to help out Bradley Berman of Berkeley, California, who is working on a video about Richmond, California, and was looking for some information on Nat Bates, a long-time civic leader in the community. Bates spent a couple of summers on the Canadian prairies pitching for the Medicine Hat Mohawks and Indian Head Rockets. Bates was on the 1952 Rockets squad that included future major league Pumpsie Green, who integrated the Boston Red Sox, the last MLB team to allow a black player.
---
10 August, 2015



Walter "Dirk" Gibbons, who had one of the most impressive pitching seasons in Western Canada history, has died at the age of 86. He passed away July 24th at Tampa, Florida.
Gibbons, also known as "Bubblegum" went 19-5 with 229 strikeouts in 198 innings pitched with the Brandon Greys in 1949. He started 23 games and completed 20 of them. He stayed with the Greys when they were part of the formation of the Man-Dak League in 1950 and, after two years in military service, returned for five more seasons of Man-Dak ball. Gibbons had come to Canada after a couple of seasons in Negro League ball with Indianapolis. In 2006, he was inducted into the Manitoba Baseball Hall of Fame.



Buddy Timme sends word of the death of his father Paul Timme of Tyler, Texas. Paul, who played with Saskatoon Commodores in 1960 after a season with Huron in the Basin League in 1959, died July 7th at the age of 75.
A few years back, Buddy and I had some fun putting together photos and clippings of his dad's baseball career as a birthday surprise. The photo on the right above was taken in 1960 when he joined Saskatoon and I'd guess the "R" on his cap meant it was a cap from Rice University where Timme starred for two seasons. The left-hander was among the top finishers in ERA in the Basin loop in 1959 and in the Western Canada League in 1960 was a workhorse tying for the lead in both appearances and games started.

Thanks to Eric Weitzel, grandson of Alymer Cousins for helping to track down a photo of the Cousins baseball team ! We are now searching for a better quality version (of the 1938 squad) and the Peachland Historical Society has joined the hunt. A baseball park in Peachland has been named after the family.
The Cousins, from the Okanagan area of British Columbia, were famous enough to earn a mention in Ripley's Believe It Or Not, quite the newspaper feature of the day. The catch phrase in the item was something like "nine brothers who were also Cousins" and formed a baseball team. Our contact with Eric also allowed us to double-check the spelling of his grandfather's name - Alymer - and we've made changes through the site.

Barry Forster, whose dad, Bryan, was a force in Western Canada baseball in the 1920s, 30s and 40s, is pretty happy to have received our clippings from his dad's 1943 season in Victoria. We're still working on the 1940 game reports, but the 1940 Victoria rosters are now posted along with a few 1940 individual photos.




With thanks to the Elgin County Archives in St. Thomas, Ontario, we've added some individual photos for the years 1954, 1955, 1958, 1959, 1960 and 1961. These are photos of players of the Intercounty League of Southern Ontario, mainly the St. Thomas Elgins. Included are those of Tedd Bogal (who also suited up in Western Canada), Stanley "Doc" Glenn, right, the former Negro Leaguer, and stars such as Frank Colman , far left, (ex New York Yankee), Ed Drapcho, near left, (former Penn State All-American) and league standouts as former pro Johnny Ambrose.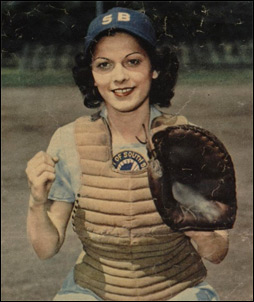 Thanks to ol' Lloydminster pal Rodney Mclean for alerting us to the Regina event honouring legendary Canadian baseball player Mary "Bonnie" Baker. She was among a core of prairie women who starred in the All American Girls Professional Baseball League in the 1940s and early 1950s. On Saturday, a multi-panel mural and commemorative garden was unveiled in Regina's Central Park honouring Baker. It's pretty clear that Geena Davis' character in the 1992 movie A League of Their Own is based on Baker's role in the league. The mural is the work of Moose Jaw artist Carly Jaye Smith. Baker was inducted into the Saskatchewan Baseball Hall of Fame in 1985.

Thanks to Brian Morrison (Diamonds in the Dusk) for the photo of Darky Bouchard of the 1930 Winnipeg Senior League.

We stumbled upon some Vancouver Island photos and are in the process of trying to obtain some high resolution copies. They contain individuals such as Philip Houbregs of the 1947 Port Alberni Legion.
---
27 July, 2015

Thanks to super sleuth Rich Necker, who dug out and transcribed the the information, we have the 1936 game reports and rosters for the Vancouver and Lower Mainland area including the Vancouver Senior League, Terminal League and the Commercial League along with some material from the Senior A and B playoffs. The data for British Columbia is filling in nicely.

It's slow going at this end, but we've managed to put together the 1939 game reports for the Chemainus Baseball League. And, along with the games we've posted team rosters, including those of some barnstorming teams.
One of the major stars of the loop was shortstop Pete Hawryluk who we have playing a couple of years in Saskatchewan in 1933-1934 (then again in 1941) before settling on Vancouver Island. The papers surely had trouble with his name. In the 1939 clippings it came out as Haweylock, Hawleylock, Haureylock and Haweyrluk among the choices. We managed to confirm the spelling by locating a reunion site (Hillcrest Lumber Company) which included a brief bio of Hawryluk noting he had been recruited by a farm team of the New York Yankees in 1939 but instead served overseas during the war. It's believed he served with the Royal Canadian Air Force. Still, though, we've been unable to locate a quality photograph of Hawryluk.

Game reports have been completed for the 1943 Victoria Senior League. The rosters had been posted earlier along with several photos in the 1943 BC Photo Gallery (among them Gerry Whitney, Percy Switch, Bert Appleby). Final stats are also posted as noted previously. Ian Lowe, one of the stars of Manitoba baseball in the 1940s and 1950s with the Brandon Greys, was the loop's leading swatter.



There are a couple of additions to the 1942 BC Photo Gallery, members of the Victoria Army squad, Elmer Keller (far left) and Bus Algar.


There's a bit of new material from Ontario as well. Well, new and sorta-new. The 1954 team photo of the St. Thomas Elgins has been on the site for quite awhile, although the link to it has been missing. So it's now fixed and from the team picture and additions to the Snapshot page we've extracted a few individual photos (including Doc Glenn, Intercounty baseball legend Tommy White (right), Butch Lawing and Willie Casanova) for the 1954 Ontario Photo Gallery. The picture of the 1933 St. Thomas Elgins (also called the Tomcats) is new and we are grateful to the St. Thomas Ontario Group on Facebook for permission to use the photos.

One new Alberta team picture has been posted. It's the 1942 Edmonton Arrows, the Edmonton Senior champions. Among others, the squad featured southpaw hurler Eddie "Lefty" Belter, pitcher Morris Hawkey and catcher Doug Stevenson.



With thanks to The Honourable Allan H.J. Wachowich we have sorted out most of the names in three Edmonton team photos, the 1946 Edmonton Eskimos, the 1947 Eskimos and 1949 Eskimos.
Before he graduated from the University of Alberta and proceeded to carve out an outstanding career as a lawyer and a judge (rising to the top as Chief Justice of the Court of Queen's Bench of Alberta), Allan was the bat boy of the 1950 Edmonton club and remained a strong supporter of baseball in Edmonton.

I've been bugging my next-door neighbour, Tad Kiyono, to look through his family's photos of any pictures of his dad, Shig, who played a lot of ball in the 30s-40s and 50s, first on Vancouver Island and then in New Denver. Just this week, he found another. I believe it's the 1949 New Denver entry. We've been able to ID all but one of the players.

It's not often we've covered softball and I don't believe we've even mentioned slo-pitch, but since it's now my hometown, it's the only game in town and my niece and neighbours are on the team, here are the 2015 Nakusp, BC Slo-Pitch Champions, the In the Parkers. ITP topped the Brew Jays in the final to take the title (the ball yard is just a half-block from my front door).


Murray Eddy (left) is among those to be inducted into the Saskatoon Sports Hall of Fame at their induction ceremony this fall. Eddy is being honoured for his achievements in baseball, curling and golf. The 30th annual event is scheduled for Saturday, November 7th.

A nice blast from the past - Bob Koroluk was back in touch this week. Bob was of great help in putting together the history of the North East Saskatchewan League and finding material on his dad, Gust, a Saskatchewan baseball Hall of Famer.

Jane Shury, the President & CEO of the Saskatchewan Baseball Hall of Fame writes to remind of this year's induction ceremony coming up in a hurry, Saturday, August 15th. Among those to be honoured are the members of the Swift Current baseball squads from the 1950s through to the mid 1970s who will first be the guests at a team reunion event Friday evening. A few weeks back, organizer Cheryl Nybo indicated that more than 30 old-timers had indicated they would be attending.
Here's the 1972 team. Back Row (left to right) - Brian Keegan, Terry Buck, Steve Bent, Brian Dickie, Harv Nybo, Dwayne Dekowny. Front row - Wayne Sannes, Dave Coombs, Bill McKetiak, Bob Lewis, John Ford, Wayne Pusch. Bat boy - Kevin May. Missing - Neil Ernst, Bob Martin, Chris Hall.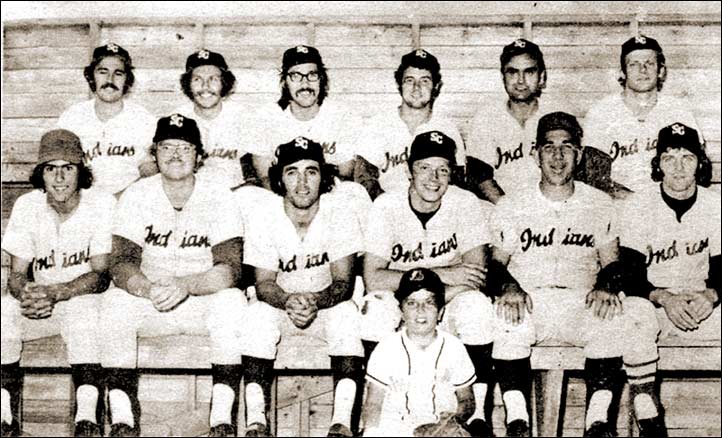 The Saskatoon Outlaws are also to be recognized in the team category, while former major leaguer Joe Erautt and power-hitter outfielder Wayne Commodore are among the individuals to be inducted. Others to be honoured are Bob Armstrong of Saskatoon, Sharon Bergerman from Regina, David Burke, Kindersley, the late Albert Cottenie, Kamsack, the late Merv Freeman, Goodwater, John Hemstad, Prince Albert, the late Sharon Hogg, Swift Current, the late Kenneth MacLeod, Regina and Wade Sauter of Fairlight.

Received an enigmatic email noting that the sender had spotted the "indefatigable Rich Necker ... leaving The Legislative Library (in Regina) loaded with baseball clips. Seen by a former part-time batboy of The Delisle Gems circa 1952". Well, turns out that note was from an old pal of Rich's, Hank Ropertz of Vancouver, who has been enlisted to help chase down some Vancouver resources to chase baseball information from the 1930s. We'd also really like to see some photos of his work back in '52 !

Brian Hayes, who runs a very nice little site on the Victoria HarbourCats (of the West Coast League, a summer collegiate, wood bat, circuit) is on the lookout for material on the Victoria Tyees of the early 1950s of the professional Western International League. Our recent posting of the Victoria Athletics 1948 and 1949 team photos spurred his interest. And, subsequently, Jack Altman has been able to ID two of the players in the 1948 photo - Sal Recca is on the far left, standing. Len Kasparovitch is third from the left, kneeling. Jack, by the way, is just a hop, step and jump from two of the league teams (in Medford and Corvallis, Oregon). One of the clubs is in my general neighbourhood - the Kelowna Falcons.

I hope Mark Wyatt was able to track down a few of his dad's old baseball buds while traveling up in Prince George, BC. Rudy Wyatt was posted there with the US Air Force in 1955 and the USAF Yankees were one of six teams in the BC Central Interior League.

I love checking out the work of T.Kent Morgan out of Manitoba. Last month he was at the Manitoba Baseball Hall of Fame induction to introduce the Rosedale Juniors, a powerhouse in the province in the late 1940s and early 1950s. Kent writes a regular column for the Canstar weekly papers in Winnipeg. Here's his piece on the Rosedales.

Gary Bedingfield, who's done such marvelous work on Baseball in Wartime has just published a very helpful piece on Negro Leaguers in military service. The list will help fill in a lot of blanks in our roster sheets. There is a link for the item on the Wartime site.

David Eskenazi and Steve Rudman have penned a fascinating look at the history of black baseball in the Seattle area. Check it out at the Wayback Machine. The article is based on the work of Lyle Kenai Wilson and his book, "Sunday Afternoons at Garfield Park."

I'm going to post only the first paragraph of the latest story at Diamonds in the Dusk, Brian Morrison's dandy little site.
On July 15, 1921, in the northern Utah town of Ogden, former major league pitcher Dave Davenport achieves the unique distinction of being the only player ever released from a professional baseball team because he is too good.
Now, how can you resist checking out the rest of that story?

The baseball research community lost a giant in the industry in passing three months ago of ace researcher Ray Nemec of Naperville, Illinois.
Ray was such a huge help to our little operation as he had the most complete set of minor league and semi-pro statistics to be found and we had a lot of questions. We exchanged many dozens of emails over the years passing information back and forth and I continued to be in awe at the extent of his collection of statistics and his helpful, pleasant demeanour in spite of his standing in baseball research and as one of the founders of SABR (Society for American Baseball Research). No N.I.T.A. (Nose In The Air) here. A lovely man who went out of his way to help fledgling operations like ours. If they're playing up there, Ray is keeping track of the statistics. SABR's In Memoriam provides an expanded view of the man and his work.


Bill Prior, the Victoria pitching star of the 1940s and 1950s passed away in April this year in Victoria. Tom Hawthorne's Benched notes that the right-hander was described as "one of the greatest baseball players to come out of Victoria" when inducted into the Greater Victoria Sports Hall of Fame in 2002.
Prior was also pretty good with the lumber. In 1948, for example, he not only topped the hurlers in the Victoria Senior League with a 9-1 record and 2.44 ERA (113 strikeouts in 70 innings. an eye-popping 14.5 Ks per nine innings) he led the league in hitting, batting .364 and topping the circuit with four homers. Prior died April 14th at the age of 92.

As you've probably noticed, the NEWS page has been abridged (with the previous material posted as News Page #19). So if you are looking for some of the older material, swing over there.
---
9 July, 2015

We've been pecking away at the keyboard to compile some rosters, one from the 1951 season of the Brooks-Medicine Hat and District League, and secondly, from the 1943 Victoria Senior League.
Interestingly, in the reports from 1943, provided by Rich Necker, there are notes of exhibition games with teams from Washington, including Fort Lewis (about ten miles from Tacoma), a U.S. Army team which featured major leaguer Morrie Arnovich as the playing manager and Saskatchewan's Aldon Wilkie (another major leaguer) as one of the team's hurlers. Another pitcher was Eddie Erautt, brother of Canadian catcher and future major leaguer Joe Erautt.who is to be inducted into the Saskatchewan Baseball Hall of Fame next month.

Victoria teams featured a number of players from elsewhere in the country -- Emil Hangs (left) who pitched for Wiseton, Saskatchewan, Gerry Whitney who went on to play in Saskatoon and Calgary, Billy Burke and Jack Couglin from Saskatoon and a few from Eastern Canada as well.
In the process of chasing down these rosters, we discovered Canadian catcher Bob Laurie playing as early as 1951 (you might recall the Laurie tangent of many months back as we tried to fill in the blanks in his career). We made a site

wide correction to be consistent with the spelling of Walt Pashuk, a pitcher in Alberta in the 1940s and 1950s. And, we found Wilf "Lefty" Pennington (right) still throwing 'em in 1951-1952 for Medicine Hat. Our records have Pennington first noted as playing in 1928. That's a career of at least 25 years !
And, not sure if I mentioned the additions to the roster pages of 1910, 1915, 1921 and 1922.

In a search of Vancouver Asahi games in the 1930s, we came across the remarkable playoff between the Asahis and IOCO (Imperial Oil) for the Terminal League championship in 1935. Asahis took the first three games of the best-of-seven final (winning one of the games in spite of being no-hit). Then the Imperials roared back with four straight wins, including back-to-back no-hitters (yes, three in all) to take the title. The game reports are available on the 1935 Vancouver page.

Former Western Canada star Jack Altman has been such a good friend of our little operation. In fact, if not for Jack and his great assistance way back in the early days, the site may never have evolved past the eight years of Lloydminster's participation in the old Western Canada circuit (Lloydminster? Well, that was my home town and my role as bat boy, stats guy, clubhouse boy, assistant to the GM for the Meridians is the foundation for the site.)
(You might recall our research project to pin down Altman's 1954 season in college and semi-pro ball In Canada and the USA. It worked out to 59 games and 365 1/3 innings. He finished with a 32-11 won/lost record and fanned 431 while compiling an ERA of 1.60 !)
Jack has helped us again with some photos from back in 1958 in Honolulu, his home at the time. The impetus was the photo of the 1948 Victoria Athletics, noted a few days ago, and his recognition of a couple of names on the roster. He's hoping to ID some of the players from his playing days and connections in Hawaii. One of the players turned up in a batch of photos taken in Hawaii in '58. More on that when Jack has a chance to go over the Victoria photo (which was missing for a time from the site).
Here are some of Jack's contemporaries from the mid and late 1950s. Left to right, below - Tom HIga (Kamsack, 1954, Moose Jaw Mallards 1954-1955), possibly Bobby Lee (Picture Butte Indians and Granum White Sox 1956-1957 and Lethbridge Warriors 1958), Unknown, Larry Yogi (Picture Butte, 1956, and Regina Braves, 1957), Keiji Tsuhako, Dick Takamoto (Picture Butte, 1956).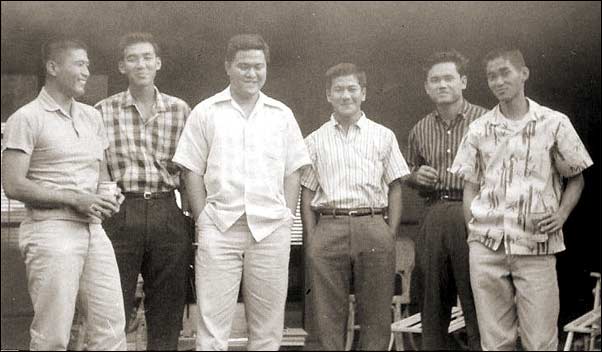 Below left - Larry Yogi on the left, Greg Seastrom (Vulcan Elks 1955-1956) centre and Larry Lovewell (Picture Butte Indians, 1957) on the right.
Below right - Jack Ladra (Kamsack Cyclones 1953) on the left with Greg Seastrom.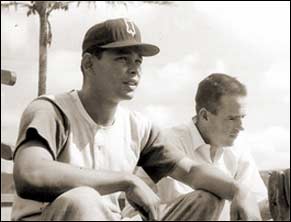 You wonder how so many players from Hawaii ended up on the Canadian prairies? It was a result of a recruiting effort by Coalinga Junior College in California, which brought the players to the United States where they were noticed and signed to play in Western Canada.