Update : 14 August, 2009

Just a quick note as I am trying to get re organized after a busy few weeks - including a trip to Lloydminster for our 50th high school reunion. Quite an event!
Thanks to Bryce Jerlow, who grew up in Visalia with a bunch of the guys who later came to Canada for ball, for a note about Roy Taylor.
Roy, whose wife Hattie died in March of last year, is in a care facility - Linwood Gardens - in Visalia. He seems to be doing OK, but he's having a little trouble with the memory cells. We had a little chat on the phone and I had the opportunity to again thank Roy for all his help over the years as I put together this web site. Roy, who would be in his 90s now, has been one of the most dedicated supporters of Western Canada Baseball.

In talking with Roy, I discovered Dick Doepker had visited and had some health problems of his own. Dick, who came from Saskatchewan to play college ball at Fresno State (and remained in the community as an esteemed educator) had an awfully close call after going in for a relatively common procedure, the placement of a stent to improve blood flow to the heart. Well, he collapsed, flat-lined, had last rites. But, we got him back! And, he's doing a little bit of exercise on the golf course (a few putts). Dick is to be honoured in a ceremony in October where he'll be added to the Fresno Wall of Fame. Our good wishes to Roy and Dick.
During the same October weekend, Fresno will be marking the 50th anniversary of its 1959 baseball squad, the first FSU team to advance to the College World Series. They finished third.

Before I left for my reunion, I managed to dig up much more information on the Basin League. There are updates to many of the game report and photo pages and the main There's also going to be a soft cover edition of our book, Black Baseball Players in Canada, so there should be a version for around $39.95.

Lots of stuff to catch up on over the next few weeks.
---
12 July, 2009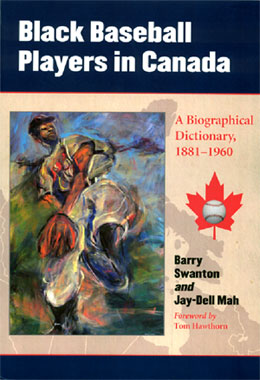 OK. She's nearly read to ship. Barry Swanton and I (Jay-Dell Mah) have made the final edits and the epic, "Black Baseball Players in Canada", is to hit the bookshelves this fall.
So, why didn't you hear about this before? Well, with two superstitious authors who didn't want to jinx the work, we decided "not a word" until we were sure it was heading for the printers.
The name went through a few variations. We thought "Afro-American and Caribbean" better described the players included in the dictionary but, in the end, this one seemed to provide an easier handle. There are lots of problems in trying to categorize players of so many different backgrounds.
It's expensive. I saw one on-line at around $58 CDN, and even our own purchases are based on that price (it is hard cover). Nonetheless, I hope of few of you will get bank loans or sell the car to enable the purchase of a copy.
We have tried mightily to include all the Afro-American, Caribbean and Canadian black players from the late 1800s through to 1960 (the first full season in which all of the major league teams began as integrated clubs). Canada played an important role in the integration of baseball. There were sixteen major league clubs when Jackie Robinson shattered the colour barrier. For seven of those teams, the first player to integrate the club had a background in Canadian ball - including the first (Robinson) to the last (Pumpsie Green).
There are hundreds of entries in the book, from Jose Acosta, ""the half-pint hurling demon", to Roberto "Jeronimo" Zayas, who was on the Lloydminster Meridians when I served as batboy in the mid 1950s. It's inevitable that we will have missed a few players. Let us know.
It is being published by McFarland & Company, out of Jefferson, North Carolina. We are very pleased with the cover. New York artist Jacqueline Jolles was kind enough to permit the use of her oil on canvas of famed Negro Leaguer Chet Brewer.
Enjoy.
---
30 June, 2009

There's lot's a new stuff ! And, updates all over the place.

I was very pleased to have stumbled upon a team photo of the Saskatoon Commodores 1959. Now, we need some help in identifying a few of the players. Take a look. If you can help, a note would be much appreciated


Rich Necker, who's been integral in digging out a ton of info and many great photos, managed to get the missing names for the 1951 photo of the Dauphin club. We'll have to do a check to see just where Wimpy Stephenson (right) managed to snag that "Beavers" uniform! Along with the photo of the Dauphin club of 1951, we've added more data in the Manitoba - Saskatchewan game reports.

Other team photos, courtesy of Gary McKechney (left), include the 1956 Estevan Maple Leafs and the 1957 Estevan Maple Leafs. Gary and brother Ron were mainstays for the Estevan clubs through the 1950s and early 1960s. The individual pictures are now included in the photo galleries as well.  McKechney, one of the 2009 inductees into the Saskatchewan Baseball Hall of Fame, also has been a major help in providing a program with some individual photos of the 1952 Estevan Maple Leafs. 
From Gladys Erdelyan, widow of Avonlea player John Erdelyan, we have photos of the 1950 and 1951 Avonlea Arrows.
The images of the Melville Millionaires 1963 and Notre Dame Hounds 1963 are not of very good quality, but better than none at all.

Ernie Boushy
(left) was one of the former players who provided assistance in providing IDs for the 1951 Dauphin players. Ernie, from Gilbert Plains, Manitoba, was a member of the Dauphin Redbirds for four summers before a stint with Carman of the ManDak League led to pro contract.
In his debut season in the professional ranks, Boushy hit .349, with 12 homers and 102 runs batted in. You might remember him best as a Canadian champion curler who chalked up four provincial and two national, mixed titles (see below).

On August 15th, the Saskatchewan Baseball Hall of Fame is to host its 25th annual induction ceremony. I was hoping to make the trek to Battleford after a visit to Lloydminster, August 1-2, for a 50th high school reunion, but the timing just won't work out. Those to be honoured :
Jim Baba, Harry Bonagofsky, Rube Erfle, Lloyd Guenther, Hugh Heintz, Wayne LeBere, Gary McKechney, Bob Pickrell, Cal Pickrell, Clarence Proctor, John Repin, Allan Roth, Ross Stone, the 1967 Yorkton Cardinals, the Chabot Family of Maple Creek and the community of Indian Head.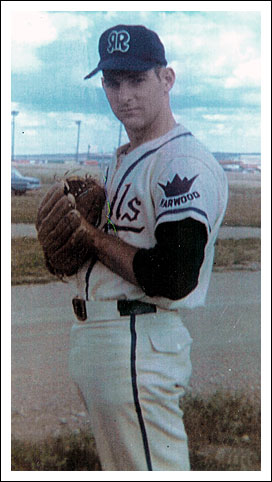 Left-hander Wayne LeBere was one of the most feared hurlers in the history of the Southern League. During his many years in the circuit with the Moose Jaw / Rowletta Lakers and then the Moose Jaw Mallards / Steelers / Regals / Devons, Wayne was named the loop's top pitcher in 1960, 1963, 1966 and 1967. He was also the MVP in 1966.
Wayne was born in Moose Jaw but grew up in Port Colborne Ontario. Scouted by the Brooklyn Dodgers as a teenager, Frederick (his first name under which he was known on his U. S. visa) had a very brief whirl in pro ball. He attended the Dodgers' training camp in Vero Beach, Florida in 1957 and was assigned to the Class-D Shawnee (Oklahoma) Hawks club in the Sooner State League where he immediately encountered arm problems in trying to adjust to the rigors of pitching every four days. Returning to Ontario, he finished off the season playing for Welland, where pitching but once a week allowed his arm to recover.
The summer of 1958 saw him hurling for a team in Lockport, New York. Lured back to Moose Jaw in 1959, with the promise of a tryout with the Mill City team in the semi-pro Western Canada League, LeBere headed west but the team folded before the start of the campaign and, wanting to remain in the community of his roots, he joined the Moose Jaw Lakers of the Southern League. He ended up pitching for ten seasons in the Southern League before retiring after the 1968 campaign when he hurt his arm and knee.
When queried about the toughest hitter that he faced during his pitching career in the Southern League, Wayne was quick to respond that Ed Stefureak of the Regina Red Sox seemed to own him. As far as the best pure hitter that he encountered over the years, he felt that import Ned Andreoni (who joined the Moose Jaw Regals as his teammate in 1967 and who remained in the Friendly City until his death in 2007) blossomed into a natural. With no designated hitter rule to limit his appearances as a batter, Wayne named right-handers Fred Cardwell of the Regina Red Sox and Daryl Patterson who toiled for the 1963 Melville Millionaires as the toughest hurlers he had to face. Patterson played only the one season in the Southern League and was signed by the Los Angeles Dodgers in 1964, making it to the majors in 1968 with the Detroit Tigers.
After settling in Moose Jaw and finding the girl of his dreams, Wayne joined the Moose Jaw City Police in 1962 as a constable and rose to the rank of Inspector, retiring after 35 years of dedicated service. In 1984, he was honored with the Governor-General's "Police Exemplary Service" medal.

Great to hear from John Chavez who pitched in Southern Alberta with Picture Butte and Lethbridge in the 1950s.
" ... I had the pleasure of pitching for the Picture Butte Indians of the Southern Alberta League the summer of 1956. I had just completed my second year at Coalinga Jr. College in California where our team won 37 and lost only the last two games that year ... [won] the State championship. I was 14 -1 that year and had a scholarship offer to play for the ASU Sun Devils in the fall. I pitched well that summer and wound up with a 7 and 4 record. Three of my wins were against Granum White Sox the league champions. I got paid $325 per month and had much fun playing ball. I was very content because everyone in town treated us very well and were great fans. It was one of the best and easiest summers I ever had. The previous four summers had been spent budding fruit trees on my knees in the hot fields of Central California. When I got to Arizona State that fall, I was an experienced seasoned pitcher and easily made the starting rotation. My summer in Canadian baseball was a real confidence boost!. I was surprised at all the college players that we played against in the Canadian League. I returned in the summer of 1958 after my Senior Year at ASU. I won about four games then hurt my right shoulder permanently. That was it for baseball. However, two years later in the Army I started pitching softball underhand. I did that in the California Open division for about 20 years."

We've managed to provide a bit of coverage of the early days of the Western Canada League, including a summary of the founding of the league and this note on Ralph Works, the first player from the inaugural season, 1907, to graduate to the major leagues. Also, along with some photos of the 1921 players, is a cartoon featuring Moose Jaw's Mark Koening, who went on to play with the Yankees. He was the last survivor of the 1927 Yanks - Ruth, Gehrig, Meusel, Lazzeri, Dugan, Combs, Pennock, Hoyt, et al considered by many to be the greatest team ever. Koenig was the shortstop.

Thanks to Rich Necker, there are a lot of significant additions to our Southern League coverage. Check out the snapshot sections for 1962, 1963, and 1964. A picture of Satchel Paige is among the entries. Rich also tracked down Paul Pearson to obtain a clipping with a photo. I had been searching for such a photo given Paul's great effort in the 1955 Lethbridge Rotary Tournament when he fired a three-hitter for Assiniboia to upend the defending champion Spokane club. He also dug up photos of Ralph Buxton and Joe "Stubby" Erautt two Canadians who advanced to the majors.

Baseball and curling? Oh yes. Rich says there's quite a connection :
Many prairie ballplayers gained prominence for their excellence with the stones and broom. Amongst those who come to mind are:
Garnet Campbell (Avonlea Arrows - Southern League from 1951 to 1954) was the skip of Saskatchewan's first brier championship team in 1955. He participated in 10 brier tankards in total.
Glen Campbell (Avonlea Arrows - Southern League 1951 and 1952) was second on his brother's 1955 national championship rink,
Denny Cochrane - (Regina Red Sox/Southey Red Sox - Southern League from 1953 to 1962) skipped the Saskatchewan foursome in the 1953 national schoolboy championship, the forerunner of the junior men's championship.
Ernie Boushy - (Dauphin Redbirds - Man-Sask League 1948 to 1951, Carman Cardinals - ManDak League in 1952, pro ball in U.S., 1953 to 1955, member of the Manitoba Baseball Hall of Fame) was the skip of the Canadian mixed curling champions in 1964 and 1966.
Terry Braunstein - (Winnipeg Senior League champion Carman Cubs in 1963 and member of the 1954-1960 Fort Whyte baseball club inducted into the Manitoba Baseball Hall of Fame) skipped the Manitoba rink to the national championship in 1965.
Harold Worth - (Delisle Commodores/Delisle Gems - Northern Saskatchewan League from 1949 to mid-1950's) was skip of the runner-up Saskatchewan foursome in the 1965 brier.
Dan Fink - (Regina Red Sox - Southern League in 1965 and 1966) skipped Saskatchewan to the 1965 Canadian schoolboy title.
Doug Wankel - (Marquis Wheat Kings - Southern League 1960) was the skip of the 1967 Saskatchewan representative in the brier.
Jim Pettapiece - (Moose Jaw Regals - Southern League 1963 to 1966) was the second on the 1971 brier champions from Manitoba skipped by Don Duguid.

A real pleasure to hear from Bill Zarubiak.  I knew the name sounded familiar. Check out the batboy on the North Battleford Beavers 1964. Bill notes, "Baseball in North Battleford back in the late '50's and early '60's was as important as breathing."

After a few stops and starts (changing spellings, changing back again) I think we've sorted out the correct spelling for Bev Hickie, star of the Melville Millionaires in the early 1960s. Hickie was the 1966 batting king. Some members of the extended family prefer the Hicke spelling, but Bev goes by Hickie

I am looking forward to her work. Karen Wall of Athabasca University (Canada's Open University, On-Line programs) has been in touch to check out some of our material.  She is working on a history of sport in Alberta -  a social history, looking at the integration of sport into cultural, social and economic life.

Tedria Richardson of Florida has sent along her thanks for information we've provided on her grandfather, Ted Richardson, of the Lloydminster clubs of the late 1950s and early 1960s. It must have been something around the Richardson household when somebody yelled "Ted!"  There were two sons, both Teds and a grand-daughter Tedria! 


Steven Travers, an accomplished author, with more than a dozen books to his credit, has piqued our interest in later decades of baseball in the west. Steven, from the University of Nevada, was the ace for the 1980 Kamloops, British Columbia, Brewers. He finished 9-3, 1.93 and was the top pitcher in the Kamloops Invitation Tournament.
One of his teammates was Todd McFarlane, who turned an interest in comic books into a comic book hero SPAWN and an entertainment empire. Yes, the same Todd McFarlane who bought the last three or four of Mark McGwire's record-breaking home runs ball in 1998-99.

Thank you Russ Mayberry! Russ, from the Fresno CA area, has provided info to put us in touch with former Lloydminster Meridian Jim Hansen. Hope to make contact soon - Barry Swanton and I have been working away feverishly on a major project, taking just about all our time. Details soon. (Both being a bit superstitious, we decided not to publicize anything until it was "in the bag".) Very soon, we hope.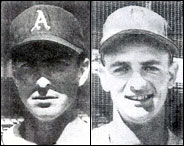 Phil Risinger (right) (Medicine Hat, 1957-58) sends along some further details on a classic 1957 basketball matchup in which underdog Oklahoma A&M (now Oklahoma State) upset Kansas and Wilt Chamberlain 56-54. We knew that Jerry Adair, a major baseball star in the Basin League and the Western Canada circuit was a key member of the Oklahoma squad. Now, Phil notes that a former baseball colleague of his in the Florida Winter League, Mel Wright (left), was also on that team and, in fact, scored the winning basket with two seconds remaining. Adair went on to a long major league career, while Wright played a bit in the Kansas City system.
---
27 May, 2009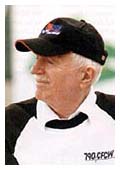 If you are anywhere near Fort Saskatchewan Saturday (May 30) please try and make the ceremony in honour of the late Wes Montgomery. The legendary broadcaster and infielder was a fixture in prairie sports from the late 1950s pretty well up to the time he passed, in early 2005.
The Edmonton Old-Timers Association is behind the work to renovate and rename the park in Fort Saskatchewan. It will be known as Wes Montgomery Memorial Diamond. Join the Edmonton Old Timers and Minor Baseball in the community to share some stories and good times. The Mosquito ball team is set to play before and after the ceremony. Could there be some Old-Timers' action as well? Follow the sign to the campground and to Diamond #1. Call (780) 998-7912 for further information. We're also trying to prod members of the Edmonton group to dig out their old scrapbooks and clippings, especially for items on Alberta baseball in the late 1940s and early 1950s.


If you see him on on the streets of Regina (or, more likely, in the library or local museum chasing down baseball artifacts) please sent along a big thanks for all his work in providing material from Saskatchewan baseball.

That's Rich Necker (left) former bat boy of the Florida Cubans, now having a ball digging out the history of round ball on the prairies.
Among his latest finds are some great photos of Swift Current baseball, from the early 1900s right up to a team photo of the 1960 Swift Current Indians. The individual photos have also been posted as well as a 1960 snapshot featuring Jackie McLeod (right) and Alex Maxwell. With the assistance of Hugh Henry of the Swift Current Museum we now have photos of the Swift Current teams of 1909, 1911, 1919 and 1922.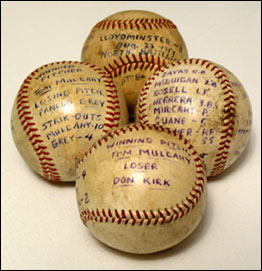 The amazing Tom Mulcahy has forwarded more fascinating items including baseballs he fired from the mound of Sportsman's Park in Lloydminster in 1954. Tom recorded details on the balls, including lineups, winning and losing pitchers and strikeouts. 54 years ago! Tom has also sent along some precious mementoes of his time with the San Diego Padres.

Above is an unused ticket from Jack Murphy Stadium, September 28, 1988 when Orel Hershiser went ten shutout innings in his final start of the season to set a record of 59 consecutive scoreless innings. The ticket is signed by Hershiser.

We've always held out hope of someday providing coverage of the original Western Canada Baseball League, which began play in 1907. There are some bits and pieces, including an introductory page and now some photos and rosters of the 1921 season.

Sad to hear that Bill Guenthner is closing down his marvelous Minot Mallards site. Bill has put in an enormous amount of effort to present the story of that famous ball club of North Dakota. He's been of great assistance to me in my Western Canada research and to Barry Swanton in his work on the ManDak League. If you need to capture anything from the site, please do so before July 4th. Good wishes Bill !

Does anyone have photos of the old Osborne Stadium in Winnipeg? I've had a couple of inquiries lately. If you can help out please get in touch.
---
18 May, 2009



Thanks to Ed Bearss (left), a long-time star of the Southern League, for the photo of the 1955 Notre Dame Hounds.
The team picture, and the individual shots taken from it, are now posted. Interesting, among the Notre Dame players was Hank Dornstauder (right). His brother Al was among my high school teachers at Lloydminster Composite High School.
Ed reports the team photo was taken in a Moose Jaw photo studio the day after the Hounds had tied Brandon Cloverleafs for the title at the famous Indian Head Tournament. The teams tied 4-4 in 10 innings in the final, called because of darkness. Each team received $1,000. The game was called on radio by Johnny Esaw, who went on to a prominent career in sports telecasting in Toronto with the CTV network.
Kudos, of course, to Rich Necker for tracking down the photo. He's also working on some pics of Swift Current teams (one from the very early days, 1922, and another from the late 1950s or early 1960s. In checking through the Melville papers, Rich found an item on the signing of Terry Puhl who went from Bantam and Midget ball in Saskatchewan to a 15-year career in the major leagues. Puhl was inducted into the Saskatchewan Baseball Hall of Fame in 1993 and the Canadian Baseball Hall of Fame in 1995.

Having a ball going through the 1944 World Series program (St. Louis Browns vs St. Louis Cardinals) thanks to Jim Lester who has sent along a copy.
---
13 May, 2009

Interesting times on the home front - a carport in danger of collapsing, a basement leak requiring substantial repair, a new computer which has resulted in significant time spent trying to "fix" some problems. Thus, quite a delay on updates to the site.
Nonetheless, Rich Necker has been busy out of Regina pumping out dozens and dozens of items of interest (I am still working on many of them). Among the finds are articles on the early days of the Western Canada League, going back to the 1920s. We should be able to post much of that in a week or so. In the meantime, we have posted items Rick has dug up on John Donaldson, Swede Risberg and Hap Felsch (the latter pair of Chicago Black Sox infamy) from their play on the prairies in the mid 1920s.

Previous material from Rich has provided the basis for greatly expanded coverage of both the Southern League and now the Northern Saskatchewan League. Check out the site map for easy access to the pages.

Tedd Bogal, the former Granum, London and St. Thomas star, has again provided a pleasant surprise with another package of items from his days in the Intercounty League in Southern Ontario. Included in the postings are game reports, photos, rosters and stats. Especially welcome was a complete stats book for the 1960 season. Tedd also sent along the sad news of the passing of baseball icon Dan "Buck" Mendham of London, Ontario. Here's part of the published obituary :
Mendham, Allan Daniel "Buck" - peacefully at University Hospital on Tuesday, March 31, 2009 in his 74th year. Beloved husband of Delphene, nee Arthur. Loving father of Kelly and the late Mark. Dear brother of Daphne Howell-Harries, Andrew (Betty) Mendham, Jennifer (Laurie) Oliphant, Debbie (Mel) Tsuji, and the late David Mendham and Barbara Ireland. Brother-in-law of Hugh Arthur, Norma (Jack) Dalton-Cairns, Allan (Jean-Lyn) Arthur, Sharyn (David) Bird and Paul (Linda) Arthur. He will also be sadly missed by Carolyn Mendham, Doug Ireland and his nieces and nephews. For many years, he enjoyed working with Brinks. "Uncle Buck" was very involved in baseball and will be fondly remembered around Labatt Park and the Inter-County League. He played with the London Majors and subsequently coached the Majors, Brantford Red Sox, and Stratford Nationals. He also played with Huff 'n Puff baseball and the Dorchester Canadians.

More and more information has become available on the Basin League. Among other items now posted are the 1953 and 1954 rosters

The Fresno State connection keeps growing. Even in the mid and late 1960s, perhaps into the 1970s, FSU Bulldogs were in the lineups of prairie teams. For example, Vince Rucobo and Tom Sharpe suited up for the Unity Cardinals of the Northern Saskatchewan League.

Congrats to former Lethbridge and Calgary baseballer (and, of course, hockey star) Vic Stasiuk. He's to be inducted into the Alberta Sports Hall of Fame in a ceremony to be held in Red Deer, Alberta, May 29th.
Victor John Stasiuk was a professional hockey player or coach for nearly 20 years, beginning in the late 1940s. He made his debut in the National Hockey League in 1949 with the Chicago Black Hawks and went on to play for Detroit Red Wings and the Boston Bruins. He potted 183 goals and contributed 254 assists over a 745 game career.
He was best known as part of the "Uke Line", with Johnny Bucyk and Bronco Horvath while skating for the Bruins. He later coached the Philadelphia Flyers, California Golden Seals, and Vancouver Canucks in the NHL and returned to coach junior hockey in Taber, Lethbridge and Medicine Hat.
Vic's induction reminds me to get busy updating the Hockey section of the site (since the page was established, years ago, so much more information has become available and I still haven't added the baseball info to the hockey data).

A big thanks to Tom Mulcahy for a package from Montana! Included in the delivery is the original crest off a 1954 Lloydminster Meridian jacket. Tom has also sent along some marvelous mementos. More later as I get a chance to got through the material.

Much more to come ... when I get reorganized in a week or so.
---
24 March, 2009

A nice surprise from ace researcher Rich Necker - game reports, - game reports, stats, rosters, for the Southern League and/or Northern Saskatchewan League, 1962, 1963, 1964, 1965 along with more than 100 photos now in the photo galleries and snapshot pages of the two leagues. More great stuff from Rich!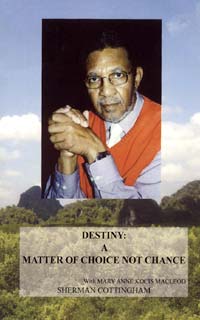 After much reflection and work, Sherman Cottingham has published his memoirs - Destiny : A Matter of Choice Not Chance. Sherman, who pitched for North Battleford Beavers in 1964-65 and traveled with the Satchel Paige All-Stars, had a long career in education following his athletic endeavours. Last fall, we were lucky enough to locate Sherman nearly 45 years after his play in Canada.

This could be a lot of fun. If you are in the St. Louis area April 28th there's to be a gathering honouring the two surviving players of the St. Louis Browns pennant winning team of 1944. This year represents the 65th anniversary of the all-St. Louis World Series between the Browns and the Cardinals. More information at the Browns' Blog.

Gary Bedingfield is doing marvelous work on his Baseball in Wartime Check it out for the latest reports.

Yes, the players' lists is in need of an update. It is hoped I can make the necessary additions and post the new list in a few weeks.

Former Intercounty star John Bain passed away January 3rd. He was 88.
Bain, a veteran of the Second World War, returned to Ontario after the war to star in local baseball activities.
He was the MVP of the Intercounty League in 1948. Bain went on into a career in education. He was the principal of Toronto Teachers' College and advanced to the position of Assistant Director of Education for the Province of Ontario.
---
19 March, 2009

Finally! All the stats pages, 1946 to 1966, have been updated. There's still some work to be done (summaries, for example) but there's much new information and a consistent format. Check the sitemap for quick links to the stats.

Thanks to Wanda Warren, we have the names for all the guys in the photo of the Saskatoon Royals. It turns out the year was 1955. And - Wanda has kindly sent along a copy of the Royals' crest for that season. They were the Saskatchewan-Manitoba Senior A Fastball champions, losing in the Western final to a club from Edmonton. Wanda's dad, Doug, was a member of the club.

Fresno State won't let him play anymore (the old-timers alumni have been benched), but Jack Altman continues his career in Ashland, OR. Jack is a one-man band in organizing the Ashland Amblers (they play on Little League diamonds) and is one of about three regulars on the squad. A little catch, pepper and batting practice keeps the guys in baseball mode.
Jack had an opportunity to sit in on the University of Oregon opener, the first Oregon baseball game in 28 years, the Ducks having dropped baseball in 1982.
Fresno State was their opponent. The game was sold out, but I was there early, before the gates for the ticket holders opened and was wearing a Fresno State cap, so I just walked thru an open gate where a couple of ushers/ticket takers/security folk were talking, and no one said a word to me. It was a great game for so early in the season, Oregon won, 1-0. The pitching and defense were outstanding. Both starting pitchers went a long way, 7-2/3 and 8 innings. The stands are not yet built in this new ballpark. Temporary stands will be in use all this season. The plans for what is to be built look very nice. The memory lane aspects: The last U of O game I'd seen was in 1954, also a 1-0 loss in a rain-shortened 5 innings final game in the regional NCAA 4-team playoffs, sending the Ducks to Omaha and me to Vulcan in Skip Winn's 1936 Buick. We had defeated USC twice to get to the final game, though a USC spokesman had said earlier that the Trojans had several good pitchers and should do well in Omaha. Earlier in the playoffs I'd thrown half a game in relief in a 9-5 loss to the Ducks.

Kudos to Ken McCabe of the Indian Head Sports Hall of Fame for a series of outstanding photos of the Indian Head Rockets of the early 1950s. Hope to have some of the photos posted in a week or so.
---
23 February, 2009


Among the items that's been sitting on our research "to-do" list has been the case of the Texas Jasper Steers, a team out of Texas semi-pro ranks which toured in Western Canada in 1954. Alvin Jackson (right), the former New York Met, is the most recognizable alumnus of the Steers. It's been a bit frustrating over the years as so little information turned up on the team. In 1955, when Jackson signed a pro contract, it noted he had pitched for the Steers on their tour of Canada and gone 23-3. But, there's been little found to document the achievement.
Thus, Rich Necker, our ace researcher, went hunting for information on the Steers. Having discovered so very little in the Saskatchewan newspapers. There was nothing at all in the Saskatoon Star-Phoenix, Moose Jaw Times-Herald, Swift Current Sun, Indian Head News, North Battleford Optimist, Prince Albert Herald, Estevan Mercury, Weyburn Review, Kamsack Herald, Yorkton Enterprise, Melville Advance, Canora Courier, or the Assiniboia Times. In the Regina Leader-Post there was just a snippet noting the Steers' first-round elimination at the Indian Head Tournament and a short summary of an exhibition game in Regina against the Southern League's Regina All-Stars. And, there was a brief mention that some of the players had played in a regular Saskatchewan League game for the Indian Head Rockets. Of course, the use of the ineligible players drew a protest. Anyway, that was the extent of the coverage in the papers.

There's always been a specific reason to try and document the Steers' Canadian tour - the play of C.C. Risenhoover, a white Texan with the coloured touring team. Risenhoover even wrote a book on his adventures.
Well, as a smart reporter will do, Rich went right to the source - C.C. Risenhoover.
. . . To my amazement, he welcomed my call to his home in Granbury TX and we rapped for a good half hour. I even learned that his first given name, "Carmel", was a name selected by his mother in reference to the biblical Mount Carmel in Israel and that his middle name "Credille" has French origins. As a kid and even during his tour into Canada, friends and teammates always called him "Candy" as his early peers hung that moniker on him, equating Carmel with caramel. He mentioned that he was one of four pitchers on a roster of 12 players that barnstormed in 1954 through South and North Dakota, amongst other states in the mid-west, on their journey into Canada. He said that he recalled the team playing in Sioux Falls SD and Minot ND while in transit to Saskatchewan and that he thought the team had played games in Moose Jaw (no record of such in the Moose Jaw Times-Herald) and Saskatoon (again, absolutely nothing in the Saskatoon Star-Phoenix). One of his fondest memories of Saskatchewan, besides the overwhelming number of ducks that he saw along the wayside, was a meal of roast pork, mashed potatoes and gravy (at a rural boarding house) that he and his teammates had the pleasure of devouring after enduring an infrequent meal schedule (usually once a day) wherein an over-abundance of chicken fried rice, ketchup and crackers was the norm.

. . . He was much younger than his mates as, for the most part, they had been veteran players from the then-defunct Negro American League who had been brought in as ringers. Anyway, with his help, I was able to clarify names and positions played for those he recalled. One other recollection of his summer is pitching a 17-inning game in Canada before losing 1 - 0. Probably, the most surprising revelation evolving from our discussion was his admission to something that I had known nothing about. As he was planning on returning to complete his senior year in high school in Jasper and did not want to jeopardize his eligibility to play high school football and basketball, he used an alias, "Randy Keegan", in his role as a paid semi-pro baseball player that summer. Many years later in his fictional novel, "White Heat", he re-created his alter-ego in the form of "Randy Joe Keegan", a white pitcher on an otherwise all-black semi-pro team . . . Since he was unable to supply all the names on the complete 12-man roster, he referred me to a friend who still resides in Jasper and who knew many of the players on the Steers' teams over the years.

. . . I have since phoned his old friend, Arthur Neil Davis, and was able to update the names and spellings further . . . As well, Mr. Davis advised me that one of the few remaining players . . . was a retired high school principal / assistant school superintendant who used to play the hot corner and who still lives in Wiergate,TX . . . former third sacker Ray Lacey is well educated, very articulate and has an exceptional memory. In no time after our conversation began, we finished off the complete roster . . . Ray couldn't remember specific names of venues where they played but, like Risenhoover, he mentioned . . . the city of Moose Jaw as playing-manager Charlie Nichols' favorite. Not that they spent much time there but primarily because of the hospitality and friendliness of the people. In fact, he commented on the fine treatment the team received in Saskatchewan as the thing he remembers most fondly about the trip. On the flip side, he related a story about the near-miss the team had when their not-so-well-maintained bus, after crossing the border into the U.S on their way home, lost its brakes while descending a steep hill and, miraculously, didn't roll over or collide with anything. He went on to describe it as the most frightening thing that had occurred in his lifetime, even more so than during his wartime service in the military. He categorized the group of 12 players as a "great, great ball club" and felt that "Candy" Keegan was an unusually gifted high school talent. After listening to Ray mention that they sometimes would play 3 or 4 games in a day (and in different locales), I have a feeling that they were playing in mostly rural areas without media coverage. Ray later played in eastern Canada with the Brantford Red Sox and was a teammate of "Seabiscuit" Wilkes who passed away this past summer.


. . . So, here's the skinny on how the complete 1954 Steers' 12-player roster should actually appear . . . Brown "Cut" 2B, Hicks Vernon CF, Jackson Alvin LHP, Johnson Johnny LHP, Jones John Henry C/OF/RHP/IF, Lacey Ray 3B, Nichols Charlie "Nick" SS/OF/mgr, Powdrill Vernet OF/C, Risenhoover Carmel "Candy" (played using the alias Keegan Randy) RHP, Robison O. B. LHP, Snoddy Tom 1B, Williams Roy C/3B/OF . . . Of this group, four were known to have previously played in Saskatchewan: Charlie Nichols (Estevan 1950), O. B. Robison (Baton Rouge, Moose Jaw 1952), Tom Snoddy (Ligon's 1950) and Roy Williams (Regina 1953).

Rich has kept me hopping with tons of material, especially photos of Southern League players.  Included is a great team photo of the 1946 Notre Dame Hounds (which was particularly pleasing as it contains Frank Germann, one of the prairie ball stalwarts for whom we have had little photo evidence).   Most of the Southern League photo galleries, from 1946 through to 1963 have seen significant updates, especially the 1960 page. 


Preston Gomez (right) seemed to win over just about everyone he met. The warm and friendly former player and big league manager passed away last month following a freak accident at a gas station at Blythe, California. He was 86. Gomez played in Canada with Three Rivers of the Provincial League in 1951 and with Bismarck of the ManDak loop in 1955. Tom Mulcahy, who sent along some photos of Gomez, well remembered "Pedro" :
. . . this wonderful gentlemen was credit to the game of baseball . . . very well respected baseball man as a player, manager and executive in the major leagues where he spent about 40 years. I first met Pedro in 1955 when he was playing shortstop for the Bismarck Barons and I was playing for Roy Weatherly at Williston. We spent several times talking about the game and he was very helpful for this young rookie and I always appreciated his interest in me. Later we renewed our visits when he managed the Padres and I was in the front office . . . and later when he worked for the Los Angeles Dodgers and Angels . . . He will be missed.

Nice to hear from Jane Wright, grand-daughter of former Rosetown Phillie, Boyd Brown. We're on the lookout for any information about Boyd, especially his play with the New York Harlem Yankees.

Brack Bailey is just back home from a baseball celebration at Pfeiffer University honouring baseball coach Joe Ferebee on his 90th birthday. Brack says he made contact with some of the Pfeiffer guys who played in Canada including Ed Carrier, Jerry Bryson, and Tom Jamieson.
---
18 February, 2009


Neglected to post this appeal in yesterday's update - trying to figure out if the first sacker Bill Roman who played with the Listowel Legionnaires of the Intercounty League in Ontario in 1958 is the same Bill Roman, also a first baseman, who played in the Basin League with the Pierre Cowboys in 1959 and went on to make the major leagues with Detroit.
He played a handful of games with the Tigers in 1964 and 1965. His best season may have been in 1961 with Knoxville of the South Atlantic League. He hit .308 with 20 doubles, 17 triples and 10 homers, driving in 71 runs. He scored 95. In 1963 he blasted 17 home runs while playing for Syracuse in the International League.
---
17 February, 2009

There are updates all over the site!  With much thanks to Rich Necker there are dozens and dozens of additions to the photo galleries of the Western Canada and Southern Leagues.  And, with his sleuthing through the microfilm of Saskatchewan newspapers, he's added game-by-game reports going back to the 1946 season. The amazing Mr. Necker (former bat boy of the 1952 Florida Cubans) now has the Southern loop pretty well documented from 1946 to 1964. Great stuff!
In addition, he's dug out some marvelous material on the 1943 Regina Red Sox, 1947 Weyburn Beavers, and a war-time team from the coast, the Vancouver Norvans. 
On the 1950 snapshot page there are individual photos of the Weyburn Beavers of the early 1950s (I haven't pinned down the exact year as yet) as Rick managed to track down Carole Miller, daughter of long-time Weyburn star Keith Covert.  Thanks too to Carole's son Trevor for scanning the photos and sending them along.
And, in his spare time, Rick has found some photos of teams such as the 1947 Aberdeen club, 1946 Wiseton, and the 1937 Liberty Eagles.

Tedd Bogal, former Western Canada and Intercounty star, has sent along another package of clippings from the Intercounty League of the late 1950s and early 1960s. Already I've managed to post lots of photos, especially the 1958 and 1960 photo galleries. Still working on the game reports, the 1958 season is the most complete so far. I was very pleased to find the complete 1960 statistical summary in the package. Thank you Tedd! Check the Intercounty page for links to all the Ontario material.
Overall, the stats have been a little more complicated than anticipated to standardize so it may be awhile yet before I can post the update stat pages.

Nice to hear from Phil Risinger from Oklahoma City.  He's been kind enough to send along all kinds of material from down south, including the team photo of the 1959 Olean Athletics of the NYP (New York - Penn League).  Among others on the team, along with Phil, were Jim Coggins (Granum), Jerry Boxer (Basin League) and current White Sox broadcaster Hawk Harrelson.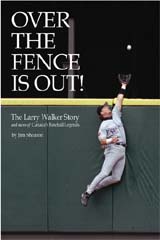 Check this out. Fellow SABR member Jim Shearon (Kanata, Ontario) has penned a book on Canadian successes on the diamond, with particular attention to super-star Larry Walker -- OVER THE FENCE IS OUT!.  But, that's only part of the story. 
You can also read about the 64 women who played in the All-American Girls Professional Baseball League, the year the Montreal Expos would have won the World Series. Why is Napoleon Lajoie the greatest Canadian who never was? Meet Elijah Pinnance, Canada's first aboriginal big league player. Discover a Little League team with a left-handed shortstop, and why Perth is a great baseball town. Current major leaguers Jason Bay , Russell Martin, Justin Morneau and Matt Stairs are among the Canadian stars noted.  The book, now out, includes an alphabetical list of every Canadian in the major leagues between 1871 and 2008; from Alexander to Zimmerman. Lots of photos too.

What marvelous photos! Baseballs. Yes, baseballs. Thanks to Jack Altman for the link to a series of photos likely to stir a lot of memories.

Forgot to ask Brack Bailey if he's still playing ball. Brack says he's doing OK down in North Carolina where (and note our jealousy here) he's had no snow. Wonder if Brack and Tedd Bogal have appeared in any of the same tournaments (Huff & Puff Leagues) ?

If you are anywhere near the Okanagan area of BC this July, take note of the following dates - July 9 to 12 and July 13 to 15. Don and Ann Denis and the famous Alaska Goldpanners are scheduled for some games in Kamloops and Kelowna. The Goldpanners, which have featured players such as Tom Seaver and Barry Bonds have been a major force in semi-pro ball for nearly 50 seasons.

Whatever happened to Scott Morton, a southpaw from Iowa State who pitched in the Basin League with Pierre 1964-65-66? Came across an article from 1965 which noted Morton's incredible feat of pitching all 24 innings as Pierre beat Sioux Falls 5-3. He fanned 26 batters. A year earlier, Morton had pitched a 19-inning game. I can't find him listed as having played pro ball and I've been unable to track him down on any semi-pro teams.

Sherry Rowland, the big first baseman was just a kid when he played for the Oshawa Merchants of the Viaduct Major Baseball League in 1950 and 1951.
In his first season, as playing manager, he led the team to the Canadian semi-pro championship in an upset victory over the powerful London Majors.
The 6-5 Rowland was a graduate student at the University of Chicago when he spent two summers in Ontario with the Oshawa club. He had graduated from high school at age 15.
In 1995, F. Sherwood Rowland was awarded the the Nobel prize for chemistry for a landmark discovery which, in the 1970s, brought the "ozone layer" into everyday speech and initiated a new concern about the environment. He's a snippet from his bio at the University of California, Irvine :
" ... Rowland built UCI's chemistry department from scratch and served as its chairman for six years while continuing to do notable research. The big discovery came in 1973 when he and post-doctoral student Mario Molina discovered that Right Guard was ruining the planet. Specifically, they figured out that chlorofluorocarbons (CFCs), chemicals then widely used as refrigerants and aerosol propellants, were eating away at the ozone layer in the upper atmosphere, exposing people to increasing amounts of cancer-causing radiation. It was a vital discovery. When Rowland was awarded the Nobel Prize in chemistry 21 years later for his part in making it, the award committee said that he may have "saved the world from catastrophe." And yet that discovery, in and of itself, will probably turn out to be only a minor part of Rowland's overall contribution to the future well-being of earth and its inhabitants."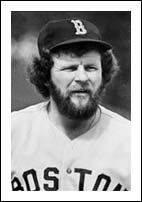 Additions have been made the the Major Leaguers pages, Bill "Soup" Campbell (left), who pitched for the Neilburg Monarchs in 1966 had an outstanding career as a reliever. He was one of few major leaguers to have served in Vietnam.
Also added - Pete Craig, who played with Listowel Legionnaires in 1960, made it to the majors with Minnesota. Roger Freed, Neilburg 1965, also advanced to the big leagues as did Aldon Jay Wilkie. Cotton Pippen, Moose Jaw 1952, had already seen MLB service by the time he arrived on the prairies. The note on Gail Hopkins, Edmonton 1964, has been expanded to include his incredible academic and professional medical career. I know - I still have to add in Ed Bahr, a native of Saskatchewan, who made it to the majors with the Pirates with Wilkie.

My apology if I've forgotten to note some contributions - I've been so busy updating the site to remember to take notes to tell everybody what's new ! You will notice though that the focus of the site has been extended to the period 1946 to 1966. It seems to be more appropriate to include the period right after the war and to extend the period to 1966.

---
29 January, 2009

What a nice surprise package in the mail from Tedd Bogal.  Tedd, former catcher with Granum and then in Ontario in the Intercounty League provided clippings on the Intercounty loop, primarily for the 1958 and 1961 seasons.  Already posted are game reports, photo gallery, and snapshots for 1958.  Thank you Ted!

A hearty round of applause for Cindy Irwin for photos on the Magrath Eagles clubs, 1941, 1946, and 1956.  Cindy's dad, Wes Rice, was one of the great athletes of Southern Alberta in the 40s and 50s.

Rich Necker is back in the library digging out info on Saskatchewan ball in the mid and late 40s.  Lots of stuff to be posted soon. 


Jim Lester sends along news on former Lethbridge White Sox official of the early 1960s Eddie Ferenz (left), who went on to a lengthy career (nearly 30 years) with the Philadelphia Phillies as traveling secretary and stadium announcer.  He's had some medical setbacks recently, but was surely pleased to hear from Jim after many moons.  Eddie was a former pro hockey player who was quite the character with the Phillies entourage.  Bill Conlin, baseball writer for the Philadelphia Daily News had fond memories of Ferenz.
When I went on the beat in 1966, I was 32 years old and was still an active surfer, 6-1 and about 225. Ashburn once wrote in his Bulletin column that I was stronger than a lot of guys on the ballclub. I was never physically threatened by any player, although traveling sec Eddie Ferenz and I went a few no-decision rounds one night in Montreal during a Molson's induced argument. Ferenz once cold-cocked reliever Dick Selma, knocking him onto the baggage carousel in Newark Airport.
It appears Selma, known for his needling, went a little too far one night as Ferenz tried his best to get the team back home after their charter was delayed for hours and was short on food and drink. When Selma complained about a delay with the buses, Eddie belted him with a short right.

A thank you to Greg Mackie for information on the old Northern Saskatchewan League, especially on Pete Prediger, a local legend, and Bill Campbell who went on to many years of major league play.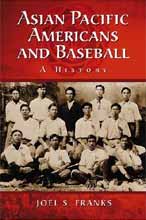 Here's another baseball book of interest -- Asian Pacific Americans and Baseball by Joel Franks of San Jose State University. It checks out baseball in Hawaii (before statehood) and in such spots as the Philippines, Guam and Samoa and covers barnstorming clubs such as the Hawaiian Travelers who competed against college and pro teams in the United States. It's published by McFarland. Another big announcement from McFarland coming soon !

A good idea from Warren Standerwick who sent along a note suggesting some additions to the hockey page, including notations where the hockey players played ball. I hope to make many more additions to the page as I find out more and more guys who made it to the NHL (Jim Lester mentioned Les Colwill, who I have overlooked).

Great to hear from Arch Mullin, who has been such a tower of power in digging up info for our site. He's working on the hockey angle among other things.

Joe Wiwchar, who runs the Manitoba Baseball Hall of Fame at Morden, receives lots of calls about former players. One recent inquiry has him stumped. So we are trying to assist in looking for information on Albert Ahronson, who played ball in Manitoba in the 1930s. I've been unable to dig up anything. Can anyone help?

Over at Battleford, Saskatchewan, Jane Shury, head of the Saskatchewan Baseball Hall of Fame and Museum, is planning the 25th annual induction ceremony (set for August 15th, 2009). If you have any ideas on individuals, teams or families for selection to the Hall of Fame, please let us know and we'll pass it along. Still, hard to think of baseball history on the prairies without Dave Shury around. The Canadian Baseball Hall of Famer passed away in October.
---
31 December, 2008

Wishes for a great New Year ! It's hard to believe it's nearly time to tune in Auld Lang Syne.

What a nice present!  Happened upon a Basin League program on-line.  A 1966 program which features the Rapid City Chiefs, but includes photos on dozens of other '66 players and former stars.  Thank you Don and Ann Dennis!  It turns out they operate the famous Alaska Goldpanners of Fairbanks.  www.dondennisfamily.com   www.goldpanners.com They've been kind enough to allow us to use some of the material that's in the program.

I've just begun to sort through the program, but quite a bit has already posted here, including the team photo of the 1965 Rapid City Chiefs, the champions of the Basin League that season.  Also, there's a few individual pictures such as Hall of Famer Don Sutton (above, right) when he played with Sioux Falls in 1964. Over time, I now hope to put together year-by-year reports on the Basin League for its entire run, 1953 to 1973.  Recently, I've added game reports for 1953, 1957 and 1958.  It's far from complete, but a nice beginning.  The main Basin League page has links to just about all the South Dakota material.  There's also a few photos on the 1965 and 1966 photo gallery pages.
One question - One question - anyone know when Dennis Musgraves pitched in the Basin loop?  He was a star for Missouri in 1964 and signed with the Mets, making his major league debut that same season.  It was to be his only major league action as injuries curtailed his career.  I think he would have been a freshman at Missouri in 1963, the most likely year for his Basin League experience. 
Sometime next month, I hope to be able to post the Basin League players' list with rosters I've managed to piece together thus far.

Nice to have Rich Necker back at home base (although I shouldn't deny him a few days out of town!).  He's made some checks and come up with IDs for the missing guys in the Eston Ramblers photos of 1951.  Also lots of little changes to the players' list as we find duplication or spelling errors or the like.  If you see any errors or omissions, please drop a line.
Also, with a big boost from Rich, we've put a name to another old photo..  Our original guess have proved to be correct, it's Jim Williams of the Jacksonville Eagles, once of the Negro Southern League.  Williams was a playing-manager in Western Canada for four seasons in the early 50s.

Seems I missed reports of last summer's ceremony honouring Modie Risher. Here's the story, carried in The Post and Courier of Charleston, SC.
Risher thankful for Hall of Fame induction

By Charles Bennett, The Post and Courier
Friday, August 17, 2007

Modie Risher turns 79 in September, and although he has been blind for almost 20 years now, there are things he can still see.

In his mind, he can still see the towering home run that Josh Gibson hit out of Columbia's Capital City Stadium, and he can still the see the high leg kick and blistering fastball of Satchel Paige.

"Satchel Paige was the best pitcher I ever saw," said Risher, who played against most of the great Negro League stars of the late 1940's and early 1950's. "I'd like to say that I got several hits off him, but that wouldn't be entirely true."

Risher's accomplishments extend far beyond the baseball diamond. In a 33-year career at Burke High School, he was a coach, athletic director and administrator, as well as an activist for civil rights and an all-around community leader. He also worked for 22 years with the city recreation department in Charleston.

But it is for his baseball career that he'll be honored tonight when he's inducted into the Charleston Baseball Hall of Fame.

Joining him in this year's class are the members of the 1955 Cannon Street YMCA All-Star Little League team, the 1990 team at The Citadel that reached the

College World Series, and former Stratford High standout Anthony Jenkins, who also played on the Bulldogs' 1990 CWS team.

They will be honored at Riley Park prior to tonight's game between the RiverDogs and the Augusta GreenJackets. Game time is 7:05 p.m. "This means a lot," Risher said. "This is great. I really appreciate being included. It makes me feel good."

It's the latest in a long list of honors for Risher, who has been named to the Mid-Eastern Athletic Conference Hall of Fame for his contributions as a football and basketball official.

In 2006, the Burke High School gymnasium was named in his honor. Risher has enjoyed many special moments over his long and varied career, but he remembers with great joy his days as a baseball player.

"I started right here in Charleston," said Risher, a three-sport athlete at Burke. "When the Negro League teams would come through, they'd pick an all-star team to play against them. I was 14 or 15 then, but I would play with the men. I was pretty good then. I could hit and pick it.

"My position was utility. In the Negro Leagues, you played where they needed you. I did everything but pitch."

Barnstorming up and down the East Coast, Risher got the opportunity to play against teams like the Homestead Grays, the Black Yankees and the Birmingham Black Barons.

Risher said it was also helpful to have someone on the team with a knowledge of buses.

"They didn't break down all the time, but it did happen," he said. "Just about every team had a player who knew something about buses."

After a three-sport career at Allen University, Risher also played in the Western Canadian League.

"It was cold, even in July," he said, "but we made it through."

When his playing career was through, he came back to Charleston and began teaching and coaching at Burke High.

His 1955 football team won the state championship over a Sterling High team quarterbacked by Jesse Jackson.

"I guess I coached a little bit of everything," Risher said. "I even helped with the cheerleaders."

Risher has slowed only slightly in retirement.

Despite his blindness and a touch of arthritis in his knees, Risher remains active.

He and DeLaris, his wife of 47 years, still attend sporting events at Burke High School, and he loves to listen to sporting events on television and radio.

"Oh, yes," DeLaris said. "It's sports around here all the time."

Thanks to all who helped out in identifying the members of the 1950 Winnipeg Buffaloes of the ManDak League. 
---
16 December, 2008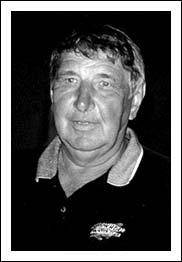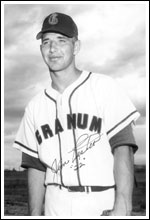 Jim Lester (as seen in 2000 at the Lethbridge reunion, and right, with Granum in the mid 50s) had a nice surprise a couple of weeks back.  The native of Galesburg had a call from his high school to announce he had been selected for induction into the school's Athletic Hall of Fame. 
More than fifty years ago, Lester was a star in baseball, basketball and football for the Silver Streaks.  So, on November 28th, Jim (with his son and grandson among those looking on)  made the trek from Peoria up to his old stomping grounds to make the sports honour roll at GHS. 
Jim went on to star at Reedley College and Fresno State University in California before a sterling career with Granum and Lethbridge in Southern Alberta baseball.

It's so good to hear Jack Altman is feeling better after a scare early in the year when he was hospitalized for nearly three weeks while visiting his son in New Orleans. Jack and Jim have been such strong supporters of my site. Without them, this little enterprise never would have gotten off the ground.

I've run out of superlatives for Rich Necker. The 1950 and 1951 game reports and rosters of the Northern Saskatchewan League (along with a fair number of photos) are now posted.

After a long, long delay, an updated list of players has been posted. I've been trying to discover a different way of presenting the information, but this format seems to work best. Altogether there are more than 5,900 players listed (although the Basin League list is yet to come).
---
13 December, 2008

Already, Rich Necker has sent along a treasure trove of material, so far mainly from the 1948 and 1949 seasons.  Among the items - 1948 Saskatoon & District League game-by-game reports,

the start of a 1948 photo gallery for the Southern League, 1949 Saskatoon & District League game-by-game reports, 1949 Southern League photo gallery, 1949 Southern League snapshots page. Right - that's Lambert Lefty Lauer, long a pitching stalwart in Saskatchewan. This newspaper photo is from his 1949 summer with the Moose Jaw Purity Canucks.

Also, through Rich's work, we've managed to put together some hitting and pitching stats for the 1948 and 1949 seasons of the Saskatoon & District loop. Hope to have all the stat pages updated within a week or so.

Still some work to do on player IDs - the 1950 Winnipeg Buffaloes and the 1951 Eston Ramblers.  And, there's the one unidentified player in this photo (along with Don Newcombe, Roy Campanella and Larry Doby).  I think it is Jim Williams, then of the Jacksonville Eagles of the Negro Southern League, who directed teams in Indian Head and Regina, Saskatchewan from 1950 to 1954.  If you can help, pls drop a line.
---
07 December, 2008

Rich Necker is back at the microfilm reader digging out info on the 1948 Saskatoon and District League. Already he's sent along the rosters and the game-by-game reports. Rich has been a marvel and I hope you enjoy the results of his efforts ! Man, that Max Bentley was quite an athlete - batting champ in '48.

OK, another challenge.  This time to identify members of the 1950 Winnipeg Buffaloes, champions in , champions in the inaugural season of the ManDak League.  We've managed to get IDs on most of them, but a few remain uncertain.  Can you help?
---
05 December, 2008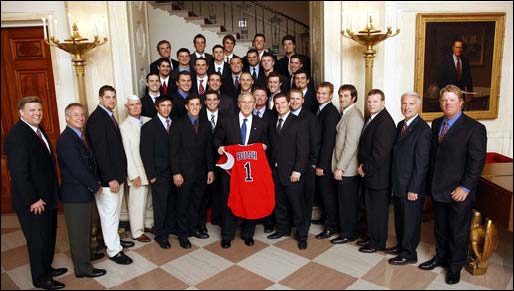 Quite a day for Fresno State. The College World Series champions were guests at the White House November 12th. President George W. Bush was presented with a #1 FSU jersey. The Bulldogs were part of "champions' day" with the President honouring nine winning college teams. The underdog Bulldogs were a major surprise in topping Georgia to capture the school's first college baseball title. All 25 members of the team, plus coaches and FSU officials, travelled to Washington for the ceremony. Thanks to Jim Lester for sending along the clipping of the event.
---
30 November, 2008


Sherman Cottingham. Finally, located him ! The former North Battleford, Saskatchewan, Beaver is in semi-retirement (right) in Macomb, Michigan after a long

career in education.
Cottingham was one of the stars of the Northern Saskatchewan League in the mid 1960s. He had visited North Battleford on a tour with the Satchel Paige All-Stars and the local baseball folks invited him to join the town team. Yes, the pitcher (often identified as Satchel Paige Junior) who finished up games for the legendary Paige was Sherman Cottingham. He had come out of amateur and semi-pro ball in Louisiana to join the Paige All-Stars.
In Louisiana, he rented himself (and his catcher) out to various teams to help finance his way through college.
I had my own uniform, with my name on the back, and I had one guy who would catch me and I would bid myself out to whoever wanted my services. So I didn't play for any particular team. Somebody would call me like in Shreveport, Louisiana and say come on over we want you to pitch this game and we have a big pot, winner take all. And I would go … all over and I would charge a fee to pitch a game. (2008 Interview)

In 1964, during his summer break from teaching duties, Cottingham led the Northern Saskatchewan League in pitching with a 10-2 record, and batted over .300. He was second-best in wins the following season. He had a no-hitter for the Beavers in the 1964 playoffs. After his 1965 season, the right-hander was forced to stay home to work on his masters' degree in education. He continued to pitch in the south up to the early 1970s when he moved to Michigan.

Tom Burgess, who graduated from the London Majors of the Ontario Intercounty League to the major leagues, has died at age 81.  Here is the item from the London Free Press, November 27th :
Hall of Famer Burgess made baseball his life

By JIM CRESSMAN
London Free Press

Tom Burgess liked to say there wasn't a baseball park in North America that he hadn't either played or managed in.

The pride of Lambeth spent almost 30 years in professional baseball, playing in the major leagues with the St. Louis Cardinals, Pittsburgh Pirates and Los Angeles Angels and coaching with the New York Mets and Atlanta Braves.

He was also a coach and manager in the minors with various organizations, including the Detroit Tigers, and recently spent his "retirement" years as a hitting instructor for Baseball Canada and its national teams.

He also did coaching clinics for Baseball Ontario.

Burgess, also known in this area as Tim, died at his home in Lambeth yesterday after a battle with cancer. He was 81.

"Baseball was certainly his life," said family friend Steve Boom of London.

"I remember one day we were at his house and he was showing us a picture on the wall from an oldtimers' game at Tiger Stadium. He said, 'There are four Hall of Famers in that picture -- can you name them?'

"I said to him, 'I know (pitcher) Bob Feller, (catcher) Yogi Berra and (umpire) Augie Donatelli are in the Hall of Fame in Cooperstown, N.Y., but who's the fourth?'

"He said, 'It's me.' We'd forgotten he'd gone into the Canadian Baseball Hall of Fame (in St. Marys."  Burgess is also in the London Sports Hall of Fame.

He played with and against stars such as Willie Mays, Jackie Robinson, Mickey Mantle, Al Kaline, Hank Aaron, Whitey Ford, Ernie Banks, Warren Spahn, Carl Yastrzemski and Brooks Robinson.

But Burgess prided himself on his biggest accomplishment of simply surviving as a Canadian in a U.S. game for so long.  He left home when he was 15, signing with St. Louis.

"To survive in the U.S., being a Canadian, you're getting knocked down and getting back up," he said in 2003.

Burgess broke into the majors with the Cardinals in 1954. His playing career ended in 1962 and he turned to coaching and managing, including two seasons with the London Pontiacs in the Intercounty. He also did some scouting for the Seattle Mariners during recent years.

Tom Valcke, president of the Canadian Baseball Hall of Fame, where Burgess was inducted in 1992, credited Burgess as being a great Canadian ambassador for the game.

"When people talk about a class guy, they usually think about nice suits, proper manners and perfect English," Valcke said yesterday. "But to me, class is a person who reaches the heights Tommy Burgess ascended. He never stopped giving back to the game he loved and to any player who wanted to listen or wanted to work.

"And it didn't have to be a major-league star with the cameras rolling. It could be in a London grade school gym if a kid wanted it.

"Naturally, Tommy is remembered for the 200 home runs he hit in professional baseball, but his most remarkable quality was that he just couldn't give enough back and to me that is class."

Burgess often spoke of the time he spent with the Baseball Canada and Baseball Ontario programs.

"I love teaching kids," he had said of that experience, one of many over an illustrious career that took him all over the baseball map.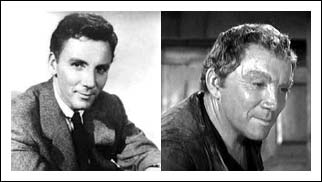 Kudos again to Rich Necker of Regina ! Over the past weeks he's gone through reel upon reel of microfilm to try and dig out some statistics of the 1951 Western Canada season. And, he's come across many interesting tidbits on his journey.
Did you know Hollywood legend Cameron Mitchell was a pitcher for Saskatoon Legion in 1950? Gordie Howe was among the other players on the team.
It turns out Mitchell married a Saskatoon woman and, even after the couple had split, he spent considerable time on the prairies. Wikipedia notes that Mitchell's bride was the daughter of a Canadian business tycoon, Fred Mendel, who founded Intercontinental Packers. Of their off-spring, a daughter and son went into acting careers in Canada and a son was president of the firm for many years. It seems Mitchell may have regretted not perusing a career in baseball. There is a report that he had an unsigned contract with the Detroit Tigers that he kept with him until the day he passed.

Rich Necker also spotted a typo in the photos of the old Saskatoon Legion teams. Jules Swick, one of Saskatoon's star athletes of the era, sent along the above and following photos a few years back. Rich put on his sleuthing shoes and has come up with names and accurate spellings to go along with the photos.
I also heard from Brenda Fischer, daughter of Bobby Sasseville, the groom in the above photo. He was called Bob or Bobby although his full name was Theodore John Sasseville. The bride is Elsie Doreen (Dorie) Sasseville (nee Duffus). Sasseville was the first-string catcher for the Legion club.
The photo was taken on August 13th, 1948 in front of Emmanuel Baptist Church (now demolished). It was at the intersection of Avenue I and 19th Street in Saskatoon.
(L to R) Johnny Jackson, Royal Canadian Legion (team sponsor), next to him is Jules Swick (infielder), Stan "Lefty" Currie (pitcher), Harry O'Brien (third base), the batboy, Tommy Bergstrom), the groom Bobby Sasseville (catcher), the bride Doreen (nee Duffus) Sasseville, Ralph Mabee (utility infielder), Bill Novak (outfielder), Cal Mills (first base) and Merv Clouston (outfielder). They were all members of the 1948 Saskatoon Legion of the Saskatoon & District Baseball League.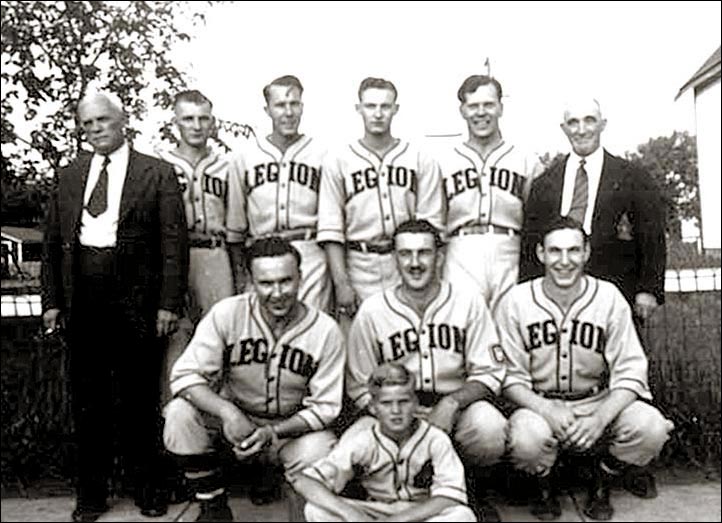 These next two photos were taken across the street from the church. Above, the IDs, left to right. Back row - Bunny Clouston (team president), Jules Swick (infielder), Harry O'Brien (third base), Merv Clouston (outfielder), Ralph Mabee (utility infielder), Johnny Jackson, Royal Canadian Legion. (L to R)
(Middle Row) Bill Novak (outfielder), Cal Mills (first base), Stan "Lefty" Currie (pitcher) (Front Row) Batboy Tommy Bergstrom). Wonder how many players they had on the roster (given that there are just seven in the photo)? Of course, this was just wedding day, not necessarily a game day. Would Bobby have gone out to play if it had been ? ;-)
One more photo below of members of the Saskatoon Legion.
Left to right - Bill Novak, Harry O'Brien, Cal Mills, with batboy Tommy Bergstrom in front.
Below, a photo of the Saskatoon Royals (fastball?). Isn't that Swick in his usual spot - back row, second from the left?
Any help in identifying these players would be greatly appreciated.
And, if you have any information about the Saskatoon teams of the late 1940s through the early 1950s I'd appreciate a note. That is likely our next area of research.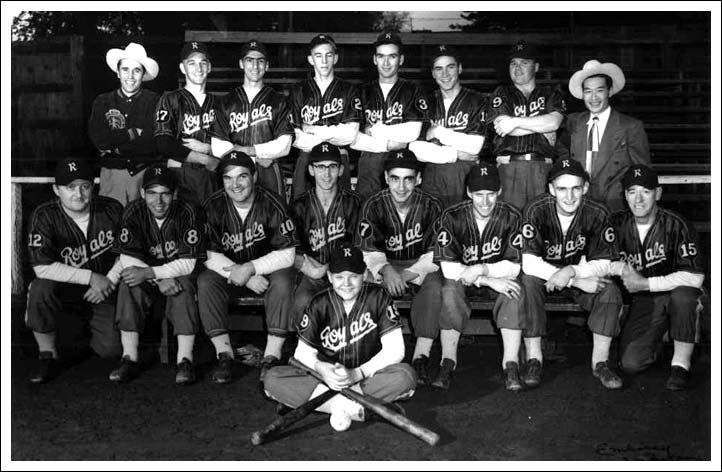 And, thanks to Rich, added two more entries to the "Hockey" page.  I hadn't realized the Bob Turner of Regina in 1953-54-55 is the same Turner who was on those Montreal Canadiens' teams during the glory years of the late 1950s and early 1960s.  And, Les Colwill (Lethbridge 1952-57) advanced to the NHL with the Rangers.

Thanks again to Phil Risinger.  In tracking down information on players in the Canadian leagues or in the loops in the Dakotas, he's managed to dig up some interesting stuff on semi-pro loops elsewhere.  Phil's brother Don (who played in Medicine Hat, 1958) spent a summer with the Lexington Minute Men of the Nebraska Independent League in 1955.  The team finished second to the North Platte Plainsmen during the regular season.  Other teams in the league were the Kearney Irishmen, Holdrege Bears, McCook Cats and Superior Knights.  Due to financial difficulties Superior dropped out during the week of July 21st and McCook was gone the following week.
In playoff action, Holdrege downed Lexington in the final winning three straight games after dropping the first two. 1955 was the final season for the circuit.  1956 Lexington joined the new Nebraska State League as an affiliate of the Boston Red Sox.  The Lexington Red Sox won the league title.

Thanks as well to Jack Altman (Vulcan Elks 1954, Vulcan & Granum White Sox 1955).  I asked Jack to send (in some cases, re-send) photos of his time in Southern Alberta.  The photos are posted on the snapshot pages of 1954 and 1955. 

Kudos too to Ken McCabe and daughter Jodi of Indian Head, Saskatchewan. The pair are working on getting some photos and information on those Indian Head teams of the early 1950s. Jodi has taken over from her dad running the Indian Head-Wolseley News. A couple of shots below of the Indian Head tournament. Reports indicated crowds of 12,000 to 16,000 for the final games. At the time, Indian Head had a population of about 1,200.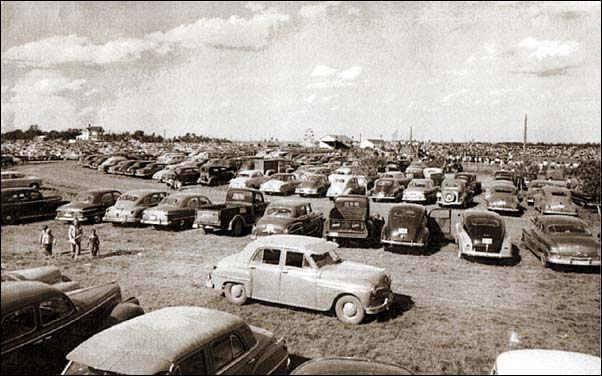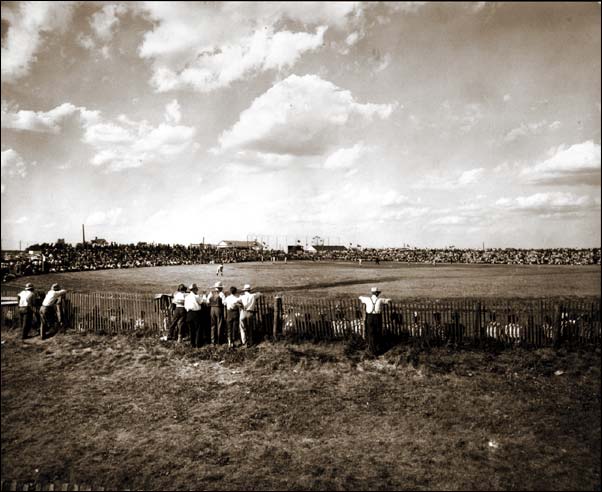 I am no longer amazed by the cooperation from librarians and archivists. Uniformly, these generally over-worked and under-paid folks provide such a great public service. These days, after all the success I've had with various libraries and archival sites, it would come as a shock if they didn't provide thorough and timely assistance. Thanks this time to Sharon Foley of the Archives of Manitoba, Pat Kelly of the Baseball Hall of Fame at Cooperstown, Ken Bullock of the Medicine Hat News and Jeanne Narum of the Minot (North Dakota) Public Library.
---
02 November, 2008

It's a sad time for baseball in Canada, especially the Saskatchewan Baseball Hall of Fame. Dave Shury passed away October 22nd. Following is the story which appeared in The StarPhoenix, Saskatoon.
Sask. baseball legend Shury dies at age 78
Kevin Mitchell, The StarPhoenix

Dave Shury, the Canadian Baseball Hall of Fame inductee who laboured for decades to raise the profile of baseball in Saskatchewan, lost his lengthy battle with multiple sclerosis this week at age 78.

Shury, a lawyer by trade who was involved in numerous causes from politics to baseball, died Wednesday -- several hours after spending one final day at the Saskatchewan Baseball Hall of Fame and Museum he founded with wife Jane.

"He's accomplished more in his life, in a wheelchair, than a lot of men I know," Jane Shury said Friday. "We're very proud of him."

Shury was instrumental in forming both the Saskatchewan Baseball Association and Baseball Canada. He was also a passionate historian who edited the Saskatchewan Historical Baseball Review on an ongoing basis.

The museum, a labour of love that is located in Battleford, houses a large variety of Saskatchewan baseball memorabilia.

"He knew the baseball world inside out," said SBA technical director Greg Brons.

"Because of him, children in this province can keep playing the game and have a governing body that can promote the game through the province."

Wife Jane noted the stubborn streak that propelled Shury through life.

"He was very determined in what he did and what he believed, and he didn't hesitate to argue such," Jane said. "He stood up for what he believed and didn't hesitate to support that -- whether it was family, whether it was business, whether it was baseball, whether it was politics. His life was a very full life, dominated by his love for baseball and his dream to have a Saskatchewan baseball museum."

Jane said she's received piles of e-mails and phone calls since Shury's passing, from people who knew him in a wide variety of ways. She wondered if the life-long Liberal was having some interesting conversations today.

"A friend of mine said 'Jane, he's probably up there with those politicians and they're having a good time.' I said 'yeah; he's probably sitting beside Trudeau and the both of them are talking about what the hell went wrong with the Liberals,' " Jane recalled with a chuckle.

Shury leaves Jane, his wife of 52 years, along with children Brent Shury and Debi Anderson, and seven grandchildren.

Shury's life and achievements will be celebrated Nov. 6 at 1 p.m. at the Alex Dillabough Centre in Battleford. Donations, in lieu of flowers, are to go to the Saskatchewan Baseball Hall of Fame and Museum.

---
28 August, 2008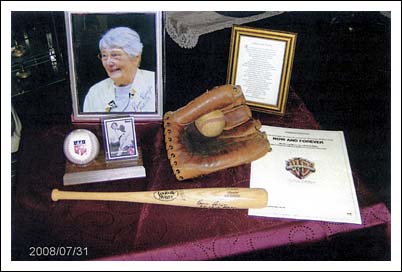 Earlene "Beans" Risinger passed away July 29th in Altus, Oklahoma.  Risinger was a star in the All-American Girls Professional Baseball League of the late 1940s and early 1950s.   Remember the movie "A League of their Own"?  Risinger was a consultant on the movie nearly forty years after she starred for the Grand Rapids Chicks, leading the club to the league title in 1953.  She remained in Grand Rapids until two years ago when she returned to Oklahoma.  Funeral services were held August 1st.  She was 81.  Among the items on display at the funeral were her AAGPBL baseball card and glove.  The AAGPBL was of particular interest in Canada as more than 60 Canadians were recruited to play in the league.  Funeral services brought together the Risinger clan, including the trio at the right (left to right -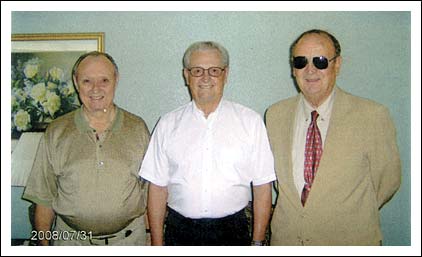 Johnny, Tony and Phil  Risinger).  Both Tony and Phil played in Western Canada.  Johnny and Tony suited up at Oklahoma University.  Tony was saluted recently in a piece in the Sunday Oklahoman.  The paper ran a major item on All-Century Teams at Oklahoma and Oklahoma State.  Tony was among those selected.  Thanks to Phil and James Ratcliffe for the photos and information.  They've also sent along photos of the 1954 and 1955 Valentine Hearts of the Basin League.

Jimmy "Seabiscuit" Wilkes passed away August 11th at Brantford, Ontario.  He was 82. Wilkes came from the Negro Leagues and the Brooklyn Dod ger system to play for the Brantford Red Sox of the Intercounty League in 1953.  He decided to stay and played for 11 years for the Red Sox. 
Wilkes was a key member of one of the last great Negro League teams, the Negro League champion Newark Eagles of 1946. He was the team's centre fielder and leadoff hitter. His speed in the outfield and on the bases brought him the nickname "Seabiscuit" after the famous thoroughbred race horse of the era. He played Negro league ball from 1945 to 1950 before entering organized baseball in the Brooklyn Dodger system. After two years he left to return to Negro league ball with the Indianapolis Clowns (playing out of Buffalo, New York). While on a barnstorming tour of Ontario, he caught the attention of the Intercounty League team in Brantford. He got a job with the city (where he worked for more than 30 years) and played for the local Red Sox for a decade before taking on an career as an umpire for another 23 years. The Red Sox won the league title five times during his ten year tenure.

Among the additions are photos from the 1955 Manitoba Senior League along with a team photo of the 1955 Brandon Cloverleafs.

More help needed in identifying some former players from the 1951 season. (Look below the team photo.)  The photos are believed to have been taken during the Saskatoon Optimist Tournament.  All but of one of the players are from the Eston Ramblers.  The Saskatoon player is thought to be Norm Brown. If you can help, please send a note. 
---
17 August, 2008

Finally - the roster pages, 1947 through 1964, have all been updated. Among the updates there are some new rosters presented including those from the Intercounty League of Southern Ontario, the Manitoba Senior League revival of 1961-1964, and the Basin League of South Dakota. The next challenge is the stats, with most of the hitting stats now posted (with some revisions ahead) and pitching stats to come. I am awaiting some information from Edmonton and Minot.

I've been able to access some information sources for the Intercounty League of Southern Ontario and there's a good start on the game-by-game reports for the 1955 season. 

Nice to hear from Darren Leibham, great nephew of a great prairie athlete Sully Glasser.  He's helped to identify Sully in pictures of the 1942 Regina Red Sox club.  Also, there's some new photos posted for which we need identification.  If you can help, please get in touch
---
13 August, 2008

Good wishes for the summer ! The elves have been busy behind the scenes with updates to more than 200 pages since our last post. Many of the additions are new or revised photos here and there, more game reports, spelling corrections on names, changes in rosters, fixing broken or non-existing links, etc. However there are three substantial updates focused on the Basin League (1953-1964), Manitoba Senior League (1961-1964), and Western Canada League (1964). In addition, a major effort is underway to update and standardize the roster (everything up to and including 1957 should be complete) and statistics pages (mainly hitting stats are up so far). Much is online already, more to come shortly. If you come across any errors/typos please let me know.

I could hardly believe my eyes a couple of weeks back when a package arrived from Oregon. Jim Miller, who pitched for the Edmonton Oilers of the Western Canada League in 1964 sent along a marvelous collection of material, including rosters, league schedule, team photos, statistics and programs. What a joyous day.  Most of the information is now posted,  along with individual reports on almost every game played that season along with a photo gallery. Thank you Jim !


A revamped Manitoba Senior League began in 1961 and I've begun to put together information on the first four years of the circuit. See, for example, the 1964 photo gallery. It appears 1964 is the season with the most information available. Check the links in each year's home page. Several team photos are now posted including the 1947 C.U.A.C. Blues, 1955 St. Boniface, 1959 St. Boniface, 1963 Carman Cubs, 1964 St. Lazare and 1964 Virden clubs. (Left - Bob Kabel of Dauphin 1964, Gerry MacKay of Brandon 1964)



There's been much progress on Basin League coverage with game-by-game reports and photo galleries (see 1964, for example).  The most complete reports are in the 1955, 1957 and 1964 sections.  (Left - catcher Duffy Dyer of Valentine.  Right - Dick Joyce of Sturgis. Both went on to play in the major leagues)

Again, an enthusiastic round of applause for Rich Necker of Regina for his superb work on game-by-game reports for the Southern League all the way through from 1948 to 1964.  You'll see Rich as the batboy in the photos of the 1952 Florida Cubans.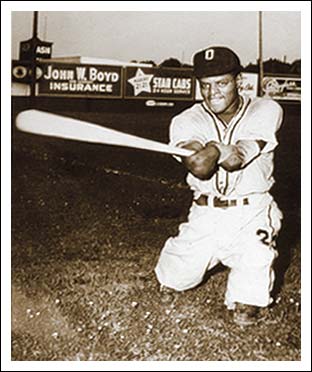 I'm pleased we've finally received authorization to post some photos of Sammy Workman (left), the wonder boy of the barnstorming Oakland Larks and San Francisco Sea Lions of late 1940s.  Workman, without hands or feet, would put on a demonstration of hitting, running and throwing during each game.  The photos are from a special collection at the Oakland Museum of California.  Also from the collection we've obtain permission to post photos of Sugar Cain and Ira Wells, pitchers who performed with Oakland before stints in Western Canada or the ManDak League.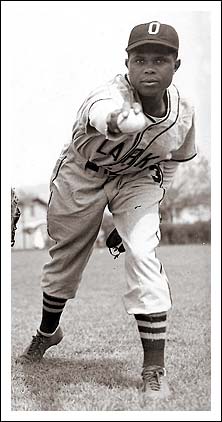 Cain (right) pitched in California when an attempt was made to form a West Coast Negro League (it folded half way through the inaugural season).  Later Cain starred for the Minot Mallards during a seven-year career in the Man-Dak League.  Workman, born without hands or feet, was a major attraction for the barnstorming San Francisco Sea Lions of the late 1940s.

Among other items, we've added a photo of the Bow Island Combines of 1958 (not of great quality, but at least a representation of the great clubs of the late 50s).

There are many little updates, including a notation of Roland Jones continuing his career with Moose Jaw of the Southern League and his earlier college career at Texas. 

Among the many photo revisions are those on the 1949 snapshot page and the Tom Mulcahy page.

Dozens of Western Canada alumni (including Jim Lester who called to break the news of the incredible FSU upset victory) were likely as proud as the 2008 Fresno State Bulldogs as the club surprised the pundits with its first College World Series title.  The Bulldogs (33-27 during the regular season) were the lowest-seeded team in college sports history to win an NCAA team title.  In the decisive game of the final, they downed George 6-1 as Steve Detwiler paced the offense with a pair of homers, driving in all six runs.  FSU's previous best finish was third place by the 1959 Bulldogs. Among college players who suited up in Western Canada baseball, Fresno State had the most collegians to participate here.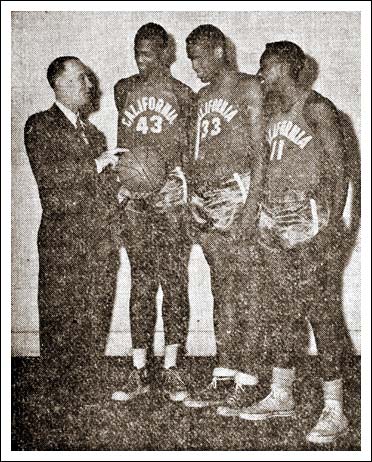 Much thanks to Goh Iromoto of Ubyssey, the student paper at the University of British Columbia.  Goh dug around in the archives to find a photo (from early 1952) of a touring, high school basketball team from California.  The club, formed by Brick Swegle (who had earlier brought the baseball California Mohawks on barnstorming tours of the prairies in 1949 and 1950) had a young, mostly unknown centre by the name of Bill Russell.  Swegle is credited with providing an environment which led to the growth and development of Russell.  In the photo, Swegle is at left, Russell (identified as Billy Russell, forward) is next to him.  Fred Jacobs (6'6" centre) is second from the right and Pepper Wesley (6'6") is at the far right. The team played a series of exhibition games in British Columbia and Alberta.  The cost of admission to the UBC game was 25-cents.  (Ubyssey, February 5, 1952, page 4)

More honours for Walt McCoy (Carman 1952-54).  The former Negro League star was a special guest as the San Diego Padres hosted their 5th annual Salute to the Negro Leagues at the end of June.   Kudos to the Padres' Dave Winfield who has been instrumental in organizing these activities to salute former Negro leaguers.  McCoy threw out the ceremonial pitch at the June 20th Padres' game.  Dan Doyle, a friend of Walt's in San Diego, said he managed to see the ceremony on the nightly sports report on television and reports Walt still has a pretty good arm !



Congratulations to Gladwyn Scott (a major force in Manitoba baseball), Billy Harris (former Brooklyn Dodger), the family of the late Peter Widdington (a major architect of the Jays), and Jays' shortstop star Tony Fernandez. They are the latest members of the Canadian Baseball Hall of Fame. Former Jays Paul Beeston (left) and Pat Gillick (right) were on hand for the ceremony (June 28th) at St. Marys, north of Toronto. Below (left to right) Scott, Harris, Fernanez, Widdington.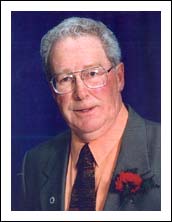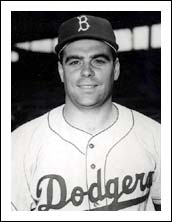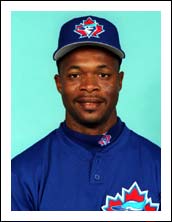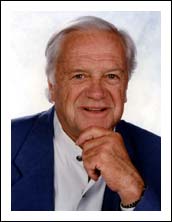 I happened to stumble upon a report of an incredible day by former Western Canada player (1949-50) Lincoln Boyd. Boyd, who played in Canada with Brandon, Regina Caps and Indian Head, had quite a day playing for Clovis Pioneers of the West Texas - New Mexico League April 30, 1956.
All he did was belt consecutive grand slam homers and a triple to drive in eleven runs (and score four) in a 17-12 win over El Paso.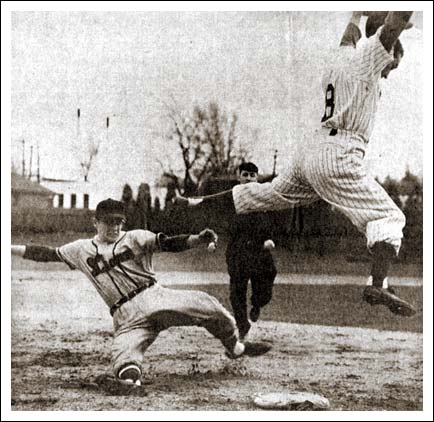 Thanks to Dick Wright (Elgin, Intercounty League 1961) for sending along some stuff on the old Southern Ontario circuit including this great photo from the 1961 season.
That's Wright sliding safely into third base in an exhibition game against the powerful London Majors. London third sacker Don Simpson goes high to try and get the throw. He made the catch but too late to tag Wright.
I am still on the lookout for material on the Intercounty League - anything from 1947 through 1964.  
There is a little information here along with notes on the stellar 1948 London Majors, the Canadian semi-prop champs who downed the Fort Wayne Electrics for the North American title. 
Thanks to Dick we've made a start on the Intercounty game-by-game reports (and a few pictures) for the 1961 season.  Dick tied for lead in homers in '61.  After a lengthy career as a newspaperman, he's continuing to post interesting pieces on the internet. 

Good to hear from Brack Bailey (1958-59, Granum & Lethbridge). The North Carolina resident might still be playing softball at 70+ years.

Thanks to Clark Rex (1960-64, Calgary & Edmonton) for helping with information on Casey Jones who played with Edmonton in 1961. I had run across some newspaper clippings which suggested Jones played pro ball in Arizona in the mid 1950s.
"Jones was in his mid-twenties when he played at Edmonton. I met him when I was coaching the White Sox Rookies in the Los Angeles County Winter League (most of the major league teams had rookie teams in the winter in L.A.). I was impressed with him and asked him to come to Edmonton with me the next summer. I know he played pro ball but he was looking for some place to play. He was a very colourful player, about 6' 4", skinny as a rail and wore size 14 shoes! He could run like the wind, exceptionally fast. He wore white shoes and when he ran the white shoes really stood out and the fans loved to see him run."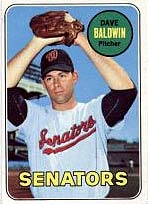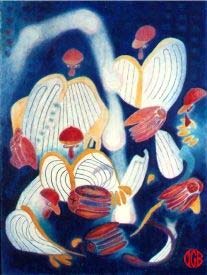 Dave Baldwin is some interesting guy ! A college phenom (University of Arizona), Baldwin was one of the most sought after college pitching prospects but hurt his arm during his sophomore season.
However, he worked diligently at a comeback as a side-armer. In a pro career covering 16 years, he battled all the way to the major leagues, with Washington, Milwaukee and the White Sox (he had a 1.70 ERA in 58 games and 69 innings for Washington in 1967).
After baseball, it was back to school for degrees in genetics and systems engineering. Then there's his art and now, a book (Snake Jazz). His work Fugue for the Pepper Players (above right) is in the Hall of Fame at Cooperstown.
As part of my attempt to provide coverage of the Basin League in the 1950s and 60s, I had contacted Dave to ask whether he was the David Baldwin who pitched for Rapid City in 1958. He replied quickly and confirmed his participation in the old Basin loop. He is, however, without any photos of his time in Rapid City. If you have any pictures from that season I'd appreciate a note.
Dave had been contacted by the Edmonton Eskimos and had planned to suit up for the Western Canada League team until he was persuaded to pitch for an Arizona semi-pro club.

Another tip of the cap to Phil Risinger (Medicine Hat 1957-58) who has been superb in digging up items from his time in Canada and from his home state of Oklahoma. His latest package included the special section of The Oklahoman which featured a story on the state's all-time Top 50 baseball players - topped by Mickey Mantle. Warren Spahn was the runner-up, ahead of Johnny Bench.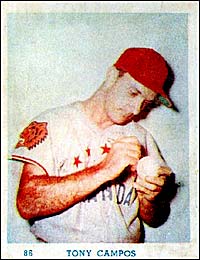 Thank you Tony! Tony Campos whose dad played in the ManDak League in 1954 has send along a note about his dad's career in Cuba along with a baseball card from the 1957 season when Tony Sr. traveled with a Cuban team to play in Nicaragua. That all-star club featured players such as Camilo Pascual, Sandy Amoros, Tony Taylor and Willie Miranda.

My apology to Cathy Burwood whose Great Great Uncle Lester "Slim" Haynes was one of the greatest players in Southern Alberta in a career which spanned more than 30 years.  I had arranged to send some photos, then got sidetracked.  Cathy is putting together a family history and Slim is quite a part of it.

Jose Roman likely played in Western Canada at some point, but we've been unable to pin down the location so far. However, his son Agustin Roman has been keeping me posted on material he's been able to dig up, including this (left) 1952 score book with his dad on the cover. It's from Jose's time with the Billings Mustangs.

Anyone have information on Jim Marechal who played with Pincher Creek Chinooks and Vauxhall in the 1950s? Jim's son is interested in tracking down any news of his dad's career on the diamond. I've managed to locate just one clipping so far, a 1958 game in which he pitched in the Southern Alberta League.

Harold Boyko ? He's in a couple of photos as batboy of the Beverly Drakes teams of 1953 and 1954. Lisa Maddigan is doing some research on her family tree and hoping to find more information on Harold.

Also, Stacy Walker (a key force in the Lloydminster teams of the current era) is on the lookout for info on his grandfather Johnny Folk, one of the great players of the Colonsay area of Saskatchewan in the 1940s and 50s.


Anyone recall if a Hank Baylis (Bayliss) played in any of the Canadian leagues? I came across a clipping from an American paper which said he had played semi-pro ball in Canada in 1955 or 1956 yet I cannot find a mention of him. He was an infielder, usually at third or second base, but might have taken a turn at catcher.

Among the stories which popped up in my research was a most unusual game from August 20, 1952 in Batavia, New York - a double no-hitter. Frank Etchberger of Bradford and Jim Mitchell of Batavia each tossed no-hitter as Bradford won 1-0 in the Class D PONY League. The lone run came in the 8th inning on a walk, sacrifice, wild pitch and grounder.

I also happened upon a report on Bernard Willis, the former Ligon All-Star and Kansas City Monarch, who passed away last fall in San Antonio at the age of 81.
He was known as "Cannonball" during his playing days in the 1940s and '50s and "Dad" to members of the New Testament Missionary Baptist Church, where he had been a volunteer for almost 10 years.

"He was a very kind man, a man full of quiet dignity," said Waldean Ashford, who once profiled Willis for Black History Month. "He was an icon in the community."

Willis' high point in baseball came in the spring of 1946, when, fresh out of the Navy, he was spotted by the Kansas City Monarchs during an exhibition game in San Antonio. The organization signed him for its barnstorming team, the Satchel Paige All-Stars, and he wound up traveling with the All-Stars for four seasons.

"Buck O'Neil sent me some money that summer to come up to Dallas, and he said 'Bring Willis with you'" said Cleveland Grant, who also toured with the All-Stars.

Paige made occasional appearances with the 16-player squad, and Hall of Famer Cool Papa Bell was the manager. For a while, the team's traveling secretary was Olympic gold medalist Jesse Owens, who once beat a horse in a footrace at Mission Stadium, Willis said in an interview in 2001.

"They were all nice guys," Willis said of the All-Stars. "It was a great experience. We were all like family, like brothers."

He also played for the South Texas-based Rufus Ligon All-Stars, who participated in a league in western Canada in the 1950s and also barnstormed with the House of David, Grant said.

"He did a lot of barnstorming, and if you did that you had to like the game," said local Negro Leaguer John Miles. "You had to love the game, because there was very little money to be made at it."

Willis was drafted into the Army in 1950 and appeared with the newly integrated team at the Brooke Army Medical Center, the Comets. He served two years in the Army, then went to work at Fort Sam Houston as a housekeeping supervisor. He continued to play baseball around the city, joining Miles' semi-pro Oilers for several seasons in the 1950s.

He went to work at Camp Stanley in the late 1960s and worked there until he retired in 1988.

He is survived by four children. (San Antonio Express-News)

Another find was a report on a sterling effort by Al Seymour in 1952. The Winnipeg right-hander fanned 21 batters in a junior game at Osborne Stadium.
Seymour pitched with Grandview in 1950 and for Bowsman in 1953 in the Manitoba-Saskatchewan League. He also suited up with the Moose Jaw Mallards of the Saskatchewan League in 1954 before returning to Manitoba to star in the Winnipeg Senior League. His feat was highlighted in the Winnipeg Free Press, March 21, 1953.

And, July 20, 1952, Hec Negrello, the playing manager of the Lethbridge Miners fired a no-hitter as the Miners won the first game of the Southern Alberta semi-final series with Bow Island Combines. Negrello fanned 12 as Miners scored a 3-0 victory.

June 19, 1950, Wally Granberg of Foremost who had a trial in pro ball in California in the spring, tossed a no-hitter against Milk River in a regular Sunshine League game. Granberg had 12 strikeouts as Foremost had 12 hits in a 14-1 triumph.

Our thoughts and prayers go out to a couple of Western Canada alumni facing health and other hurdles. Dale Zeigler (Edmonton 1956-57), the great lefty from Southern Cal led the league in pitching in both 1956 and 1957 with ERA marks of 2.32 and 2.40. In 1957, at the Global World Series, Zeigler, pitching for Edmonton as Canada's representative, pitched a one-hitter as Canada topped the United States 8-0. David Moriarty (Lloydminster 1957 & 1959), the son of famous Detroit player, manager and scout and umpire George Moriarty, not only faced surgery himself but was dealing with a serious accident involving his son's family. Good thoughts going your way.