Update : 20 August, 2012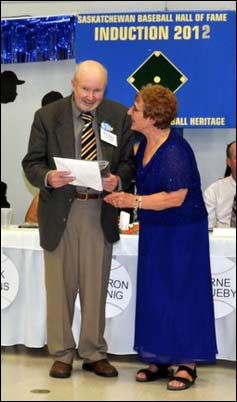 Norm Thorpe
reports a big turnout and a wonderful evening at the 2012 Saskatchewan Baseball Hall of Fame ceremony at Battleford, Saskatchewan.
That's Norm with Hall of Fame president Jane Shury receiving the Hall of Fame plaque on behalf of the late Curly Williams.
We got word from Jim Lester on Friday that Dick Doepker was on his way to the event with another long-time prairie ball player from California, Art Shahzade.
A very nice night for colleague Barry Forster, who represented his dad, Bryan Forster, and cousin, Gus Kyle, both 2012 inductees.
---
17 August, 2012

Two in a row for the Regina Red Sox! The Sox captured their second straight Western Major Baseball League crown Wednesday downing Medicine Hat in four games in the best-of-five final.


The MVP award was shared in 2012 as selectors choose both Ridge Gonsoulin (Lethbridge Bulls) (left) and Aaron Dunsmore (Swift Current Indians) (right).
The final standings and award winners on the WMBL page.

Thanks to the Fred Cardwell scrapbooks, we've made additions to the Southern League photo galleries of 1965, 1966, 1967, 1968, 1970, 1971, 1972, 1973 and 1974.

With more information on the photos, we've changed the years of two recent team pictures - the Moose Jaw Regals that we originally had as the 1970 team turns out to be the 1969 club. And, the Red Deer Generals, first thought to be the 1977 club, looks to be the 1974 team. Lots of names needed to identify players in both photos.
---
15 August, 2012

A big day coming up Saturday in Battleford. It's Hall of Fame Day. I had been looking forward to the gathering but a cranky back is going to keep me at home. If you can make the event, please do. It's a wonderful opportunity to meet some very special people.
As you know, the late Curly Williams is to be among those to be honoured.Old friend Norm Thorpe, from Lloydminster, is to sit in to represent Curly at the event. And, Barry Forster of Texas is going to be there to receive the Hall of Fame plaque for his late father

Bryan Forster all-star infielder in Regina in the 1930s and a player and coach in Ontario and BC. Barry will also be representing his cousin, the late Walter "Gus" Kyle, (right) both a baseball and hockey star from the prairies.


I am hoping Dick Doepker (left) of Visalia, California, will be there for his induction.He was a star in junior and senior ball in Saskatoon, winning a baseball scholarship in the USA. A star at the College of Sequoias and Fresno State, Doepker pitched for Moose Jaw and Saskatoon in the Western Canada League and played in pro ball before establishing a teaching career in California. Also to be inducted is third baseman Cam Sternig (right) of Battleford a star with the North Battleford junior and senior Beavers from 1963 to 1974. Cam played eight seasons with the senior team and finished with a .331 career batting average.
Others to be honoured Saturday included George Kohlman of Macklin, who has been involved in baseball for 65 years, Brian Weisbrod of Lumsden, to be inducted as a player and builder, the late Jack Ovens of Cutknife, the late Lorne Strueby, Manitou Beach, who continued to play into his 60s, Dan Asham, of Saskatoon, a player with the Saskatoon Outlaws from 1980 to 1993 and later president of the Saskatoon Senior Baseball League, builder Aron Braun of Saskatoon and the late Hank Dornstauder one of the many athletic stars to come from Notre Dame of Saskatchewan.
In the team category, there's the Notre Dame Hounds of 1953-1958 and the Lampman A's senior men's team of the 1980s and 1990s.
The Mything family of Climax will be honoured as the family to be inducted.

A missing team photo has been located and posted. It's the 1953 North Battleford Beavers which has been here all the time, but somehow I neglected to make a link to it. Individual pics, extracted from the team photo, have long been posted, but the original had gone AWOL.

And, we've made the last of the new posts from all the material provided by Fred Cardwell. The latest material includes updates to the stats pages, pretty well from 1964 to 1978 (and from 1953 as well), and the game report pages for the Alberta Major Baseball League (with some of the pages including photos) 1972 1973 1974 1975 1976 1977 1978 .

So pleased to hear from Anne Chamberlain a long-time fan of the Ontario Intercounty League. Anne is working on a history of the loop, soon to celebrate its 100th season. Anne has a couple of team photos from the late 1940s or early 1950s which we are anxious to see.
---
02 August, 2012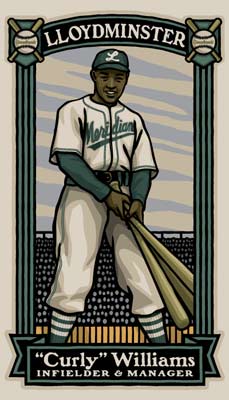 Maybe my brain cells are deteriorating at a increased pace! I had written a piece here about a month ago on the marvelous Curly Williams baseball card done by Gary Cieradkowski at The Infinite Baseball Card Set. But today, in trying to create a link to the item I couldn't find it. Oh my.
You can see a little blurb on Gary down the page, but suffice to say he does spectacular graphic work.
Months ago I contacted Gary in the hopes he might do a card on the late Curly Williams, who is to be inducted into the Saskatchewan Baseball Hall of Fame this month. He did!
Check out the Williams card and write up at Gary's site.
---
27 July, 2012

Today we've tackled the Team Canada photos from the 1971 Pan American Games in Cali, Colombia, the 1972 World Amateur Championships in Managua, Nicaragua, and the 1975 pics of Team Canada at the Intercontinental senior championships played at Moncton and Montreal.
All the material courtesy of former prairie pitching phenom Fred Cardwell (in his latter years, hobbled by arm woes, teammates affectionately nicknamed him Formerly Fast Freddie!).

Along with the team photos we've

now posted individual pictures for each of the team members (well, there's one player missing from the 1971 page).
These are some of the people who carried Team Canada in the early years of building a national team.
Players such as lefty pitcher/first baseman Dennis Lindstrand (above left) of Camrose, Alberta, who pitched his way to a baseball scholarship at Sam Houston State University in Texas. And, John Osborne (above right), of Toronto, who also won an American college scholarship and pitched for the University of Nevada.


Veteran pitcher George Brice (left) of Victoria, BC, and outfielder Dale Stokke (right) of Crooked Creek, Alberta, were key members of our early Team Canada nines.
The 1971 Team Canada, with individual photos. The 1972 Team Canada, with individual pics. And, the weird 1975 Team Canada cutouts from a newspaper item. (In this update we've re-done the 1971 individual photos in the same format as the 1972 page and added an action photo to the 1971 Pan Am Games report.)

The "new" major leaguers have been added - Juan Eichelberger, Jim Bouton, Gorman Heimueller, Tom Candiotti, Tom Niedenfuer, Nick Testa, Ernie Camacho, Ossie Chavarria and Alex Kampouris.

I've been so intent on just getting the material processed and posted I've yet to do the fine work of re-checking the material for typos and errors. So if you see anything which needs attention please let me know.
---
24 July, 2012



Among the latest additions is a 1970 photo gallery for the Manitoba Senior League. The photos from a program for the Canadian Senior baseball championships that year are of unusually good quality.
That's Glennis Scott (left) of the Hamiota Red Sox and Bob Thompson (right) of the Brandon Cloverleafs.


We've begun to fill in the information on the additions to the major leaguers pages. The latest names are Ernie Camacho who had a brief whirl with the Calgary Jimmies in 1975, and Ossie Chavarria who played and managed in Vancouver after his retirement from pro ball and took up umpiring. The baseball cards have been posted for the newcomers and some data has been posted.

Among the roster updates is the 1973 page which now includes the rosters for the Lacombe Tournament of that summer. The writers page now has Terry Jones of the Edmonton Journal and Sun included.

Lots of little bits and prices added, for example, the program cover for the 1970 Seniors tournament held in Manitoba and a Players' Pass for the 1970 Lacombe Tournament. And there are program covers for the Edmonton Tigers, Moose Jaw Devons, Moose Jaw Regals, and Regina Red Sox.
---
22 July, 2012

Oh my, there are additions and updates all over the place thanks to the material from Fred Cardwell. Most of the new stuff is in photo galleries of the Southern League and the Alberta Major League and in game reports from the Alberta circuit 1975 to 1978 (yes, we are expanding a little once again).
Among the updates :


Southern photo galleries, 1964, 1965, 1966, 1967, 1968, 1969, 1970, 1971, 1972, 1973
We were so pleased to find photos such as Ned Andreoni (left) and Roy Rowley (right).
Alberta photo galleries, 1970, 1971, 1972, 1973, 1974
Individual and action photos are included within the game reports of the Alberta Major Baseball League - 1975, 1976, 1977, 1978
Manitoba photo galleries - 1970, 1971
A few photos have been added to snapshot pages - 1957, 1959, 1970, 1971
Additional material appears on some of the tournament pages to include more of the Lacombe and Kamloops results along with both national and international competitions - 1970, 1971, 1972, 1973, 1974
There's a new team photo, the 1969 Moose Jaw Regals. Still need some names to go with the faces.

And, there are bits and pieces such as the 1945 home page update with information on the Saskatchewan and Alberta playoffs and the stats from the Edmonton City League. We've begun to add in the recently discovered major leaguers. Thanks to Michael Helm for the reminder to include Gorman Heimueller (right) who played both in Edson, Saskatchewan, and Red Deer, Alberta.

Thanks too to Ilene Johnston of Weyburn who dug up some material from 1922 on James "Lefty" Faulkner. The new info makes it clear the Weyburn Faulkner (who came up from California to play) is the same as the one who advanced to the major leagues with the New York Giants.

Many additions have been made to the college section to tag on more names to the various schools which are represented in Western Canada. For example, we discovered three Alberta players who won scholarships to play at Sam Houston State in Texas -- Al Symington, Dennis Lindstrand and Dale Stokke. The rosters have undergone a few changes, mainly through additions, but the new data has made it possible to confirm some spellings, such as dropping Lindstrom as it turns out Lindstrand was mistakenly identified as Lindstrom one season.

Thanks to old friend Phil Risinger for sending along some sports DVDs from Oklahoma. Keep well Phil !
---
20 July, 2012

Oh what a treasure trove of material ! With much thanks to Fred Cardwell we've been digging through scrapbooks of his career in Regina and Moose Jaw in the 1950s and 1960s and Red Deer in the 1970s. During the era he was also a prominent member of Team Canada in eight international competitions and was a key player for both Saskatchewan and Alberta teams in national championships.

Also a treat to make contact with a Cardwell colleague at Red Deer - Pete Duncan, a superb right-handed pitcher and feared slugger. Pete (left) is checking out the garage and attic for photos and stuff from his days with North Battleford and Red Deer.

Already posted from the Cardwell collection several team photos - 1972 Team Canada at Nicaragua, 1977 (?) Red Deer Generals, 1976 Brandon Cloverleafs, 1976 Hamiota Red Sox, 1976 Team Manitoba for the Canadian Senior Championships, 1971 Team Canada at the Pan American Games in Colombia, 1973 Team Canada, Intercontinental Cup, Italy and the winners at the Kamloops Tournament the 1973 Alaska Goldpanners. You'll also find Cardwell's 1963 City champion 1963 Regina Legion Juveniles.

Clippings in Fred's scrapbooks thankfully provided information on various national and international events. Thus, we've added details on the 1970 World Amateur Championship, in Colombia & the 1970 Canadian Senior Championships in Brandon, Manitoba. There's the 1971 Pan Am Games, 1972 Canadian Senior Championship, 1973 International Tournaments (Intercontinental Cup in Italy and World Amateur Championships in Nicaragua, 1974 Tournaments (Canadian Senior Championships, World Amateur Championships in Florida, Kamloops International Tournament).

There's much more to come as I work through the box of goodies! The recent info has brought our attention to a few missing players from the major leaguers list - Juan Eichelberger, Jim Bouton, Gorman Heimueller, Tom Candiotti, Tom Niedenfuer, Nick Testa (one inning of one game but no at bats) and Alex Kampouris so far. The clippings also provided a photo of Don Fleming, one of the most prominent sports writers of the 1950s to 1970s. And, the college section has been updated by many additions to the various schools.

Thanks to Knud Peterson of the Lethbridge Sports Hall of Fame we have the OK to post the photo of the 1936-37 Lethbridge Miners baseball club, one of the powers of prairie ball in the mid and late 1930s.

Thanks to David MacDiarmid we've added a photo of the 1945 Edmonton Arrow Juniors, the city champions. David's dad played on the squad and he's just learning of his dad's baseball background. In the process, we've also add the hitting stats for the '45 season.

Rich Necker has dug up one more photo from the early WCBL, this one of Edmonton's Phil Apperson who played with the club in the 1921-22 seasons.

Hearty congratulations to Bob Elliott who will be in Cooperstown this weekend to receive the J.G. Taylor Spink Award for his outstanding work as a baseball journalist. Bob is a Canadian treasure with his long and intense support for Canadian baseball.
---
19 July 2012

Fred Bartels, a part of the influx of Fresno State ball players to Western Canada teams in the 1950s, has died at the age of 80. The lefty pitcher and first baseman arrived in Canada with the barnstorming California Mohawks in 1950 and stayed with the team when it set down roots in Medicine Hat in 1951 as part of the Western Canada League. He was with the Regina Caps in 1952. Bartels was inducted into the Fresno State Baseball Hall of Fame in 2001.
While he was an assistant coach at Fresno City College in 1964, Bartels recommended a young pitcher to the legendary Rod Dedeaux, the coach at the University of Southern California. Dedeaux at first declined as he figured he was set with pitching. But, as Bartels explained, "one of the pitchers got hurt or something. Anyway, Rod called back and said he wanted Tom.". Tom was Tom Seaver who went on to a Hall of Fame career in major league baseball.
---
02 July, 2012


Word from Bob Elliott's Canadian Baseball Network that Toronto baseball legend Howie Birnie is to be honoured July 9th (at a special ceremony at Talbot Park).
Birnie has been a volunteer for 50 years and is to celebrate his 75th birthday and the awarding of the 2012 Queen's Diamond Jubilee award. Congrats Howie !
[On July 8th, the Toronto Star ran a feature piece on Howie and his marvelous career helping the kids in Leaside. Click the link for the story.]
---
26 June, 2012



He was a Saskatchewan legend, not only on the diamond and gridiron, but in the classroom and the community.
Frank Germann passed away May 25th at the age of 89. A report from wilcox.ca provides more on the life and times of Mr. Notre Dame.
---
25 June, 2012


We've just learned of the death of Thad Tillotson (Thaddious Asa Tillotson Jr.) of the Medicine Hat Superiors of 1959, who progressed to the major leagues with the Yankees. He died May 16, at Merced, California. He was 71.
Tillotson, who played college ball with Fresno City College and Fresno State University, signed with the Dodgers after his summer in the Southern Alberta League. In his first pro season he won 19 games (losing just 6) in 212 innings with Reno in the California League.
He was traded to the New York Yankees and made his major league debut in 1967. Tillotson pitched professionally for more than a decade, ending his career in 1971 with a stint in Japan.

Fred Cardwell has kindly dropped off a treasure trove of 1960s and 1970s baseball material. Cardwell, who grew up in Regina, was one of the country's top amateur/semi-pro hurlers selected for eight Canadian national teams, both at the junior and senior levels. These days, you'll find Fred more into golf (which he teaches in Red Deer, Alberta), law (again, a college teacher) or sports cars (a red Porsche). I've just begun to sort through the material, but already we've posted some of the goodies.
Because of Fred's involvement in the 1974 Canadian Senior championships (hosted by North Battleford) he had a program of the event which featured photos of most of the North Battleford club. Those had now been added to that 1974 Photo Gallery. Also, there are a couple of snapshots from that event.
Also from 1974, we found material on the Kamloops International Tournament which has helped with putting together additional rosters from that summer. And that scrapbook also assisted in filling in some blanks in our 1974 Alberta game reports.
Fred had complete booklets from the 1971 Pan American Games at Cali, Colombia which provided enough information to piece together the effort of the Canadian National team along with a few photos, including one of the full team.
I've now just found yearbooks for the 1972 and 1973 Moose Jaw Devons of the Southern League. With luck we'll have of this material posted in the next few days.
Thank you Fred !!

On the trail of Lefty Faulkner, I managed to come across some other items of interest, such as additional rosters of 1922 (Edmonton, Taber, Moose Jaw, etc.). We also added details of the Alberta amateur playoffs of 1922.
In trying to track down photos of former Lethbridge players, I came across a photo of the Lethbridge Miners of 1936 (which includes legends George Yanosik and Fred Onofrychuk among others).
Surfing the web, I was pleasantly surprised to find issues of the college paper from Fresno City College on line. From that we's managed to confirm that Ned Andreoni, Terry Buck, Don Krick and others were members of the FCC nine. One of the photos uncovered was a shot of Andreoni (who went on to many years as playing-manager and resident of Moose Jaw) in the batting cage.


Old friend Jim Lester has answered the call & might just have the name of our mystery man from 1959 (right). The player was seen in a photo with Lethbridge White Sox starting pitcher Mountie Bedford and it appeared he also was a pitcher. But, there's no record of anyone (other than the guys already known) who pitched for the club that season, especially around the date the photo was taken (July 8th at a White Sox practice).
Jim now thinks it might be Harry Blacker a local product who may have worked out with the team but didn't actually get into a game. Now away we go to see if we can track down whatever became of Mr. Blacker.
---
19 June, 2012

A pair of former Montreal Expos are among those to be inducted into the Canadian Baseball Hall of Fame this Saturday. Rusty Staub and Rheal Cormier will join Doug Melvin, General Manager of the Milwaukee Brewers and the 2011 Pan Am Games national team at the ceremony at St. Marys, Ontario.


There's some nice, new photos from the early days now posted. We have a couple of pictures featuring the Calgary Hillhurst Hustlers of 1919. One is when they had an opportunity to meet the Prince of Wales and the other is a composite of the team. Among those on the squad were the famous Lewis brothers - Frank, Earl, Lincoln "Dodger", and one for whom we can find only a nickname, Stiffy (right). Somebody must know the real first name of Stiffy Lewis!

Another team picture now on-line is the 1933 Stavely club which had Lester "Slim" Haynes as its legendary hurler from 1909 to 1943. The photos are from the collection at the Glenbow Museum Archives.

A find and a mystery. Searching on-line we've managed to find some photos from Florida State University of Western Canada players of the 1950s. There's Donald Axon, Rudy Eigl, and Tom Garcia. It was disappointing not to have found a photo of former Lloydminster Meridian Bob Rosell. There is a Bob Rosell listed on the FSU roster. He's listed as from Chicago (same as the Lloydminster info), same size, but - at FSU he's shown as a right-hander, but at Lloydminster he was a lefty. Maybe we'll never know if it was the same guy.

At a Texas A&M site, we located photos of former Western Canada stars Dick Hickerson and JB Carroll.

Talk about coincidences. First there's a call, out of the blue, responding to a note about trying to track down Fred Cardwell a star pitcher in the 60s and 70s in both Saskatchewan and Alberta. Tracked down to Red Deer, Alberta, I had a lovely conversation with Fred and discovered his parents kept lots of clippings and photos on his baseball career (which included many stints on Canada's national team). Then, in trying to figure out how to transport the material so I could copy it and include it on my site, I advised I was now living in this little village in south central British Columbia - away out in the sticks. Well, says Fred, I'm going to be coming through your town in about five days! Now he's driving a little sports car (as part of a group of classic sports car enthusiasts) and it doesn't have a lot of storage room, but he's going to pack as much as he can. Red Deer to Nakusp is a distance of about 650 km. Amazing.
---
16 June, 2012

Thanks to Bob Florence of the Saskatoon Star-Phoenix and school chums Angie & Eugene Ewanowich (who each sent one) I have the actual newspaper copy of the wonderful feature on the Indian Head Rockets. With the photos and the layout, it's so much better than the on-line version. I've created a PDF of the story and it's now posted. It's a big file and might take a bit of time to load. Good reading.
---
15 June, 2012

What a marvelous addition to baseball history - Brian Morrison's Diamonds in the Dusk. Brian has been such a good friend of Western Canada Baseball digging up information and photographs and providing feedback on the stuff here. Well, Brian's site is now up and already loaded with fascinating pieces (including one on former Western Canada player and manager Billy Hulen who skippered the Medicine Hat club in the early 1900s).
Dedicated to the proposition that baseball history should be far more than a chronicle of superstars and championship teams. Diamonds in the Dusk is a celebration of the amazing diversity of America's National Pastime – spotlighting the characters and the oddities (and the odd characters!) that have populated the game at both the major league and minor league level. For every Babe Ruth there is a Bunny Brief. For every Willie Mays, a Bris "The Human Eyeball" Lord. For every Sandy Koufax, a Astyanax Douglass. The 1927 Yankees are justly famous, but the Longview Cannibals, the Raton Swastikas, the Texarkana Casketmakers and the Staunton Lunatics should not be forgotten either.
It's a fun (and informative) site. Way to go Brian !

Chad Evans has sent along names and a bit of info on the photos of baseball and softball in the Victoria, BC, area. Chad's father, Verne "Red" Evans and his uncle Stan Stewart were quite the players back in the 40s and 50s. Thank you Chad! Here are the links to the team photos.
1946 Horse Shoe Newsstand Team
1947 Saanich, Mount View HS
1948 Douglas Tire, Softball
1948 Victoria, BC, Eagles
1954 Victoria, BC. Eagles
1956 Gorge Hotel
1958 Gorge Hotel
1959 Gorge Hotel

Among the most difficult finds in baseball coverage in the early 1900s are first names and photographs. For whatever reason, the papers didn't think it necessary or advantageous (maybe they were trying to save on ink) to print first names. And, I'd guess the cost of photos might have been a bit much to feature them regularly. Maybe it was just the lack of facilities. Anyway, a roundabout way to saying we've added a couple of photos to the 1914 page.
---
09 June, 2012

The story of the Indian Head Rockets is in today's Saskatoon Star-Phoenix. Writer Bob Florence has done a really nice job of capturing the times and the team. I've created a PDF of the Rockets' story.
---
08 June, 2012

Those California college kids were coming up to the prairies for baseball a lot earlier than we thought. We happened upon some news from 1936 that showed a pair of college stars from the University of California suiting up for the Calgary Mustangs in '36. While checking out some boxscores we've also added the rosters for some Alberta clubs.

After working at something or other for some 65 years, Charlie Beene thinks it's time to relax! Settled in Montana, Charlie has kept busy since retiring from the San Francisco Police Department after 28 years on the job. I had contacted Charlie recently as a message from him, sent in 2005, arrived just a few weeks ago when I renewed with my web site host. I guess it's the equivalent of finding a letter stuck in the bottom of the postal bag.

The 1915 home page now has the results of the Alberta and Saskatchewan amateur playoffs. And, the roster page has players from Edmonton Calgary and Medicine Hat. So far, as most of the entries are last name only (the papers of the day did not normally include first names) they have yet to be added to the master Players List.
---
03 June, 2012


There are several updates to the Fresno State pages, including Saskatchewan product Dick Doepker, to be one of the inductees into the Saskatchewan Baseball Hall of Fame this summer.
From the early 50s on, Fresno was the major college contributor to baseball rosters on the prairies topping even the University of Southern California.
---
02 June, 2012

Our thanks to Neil Srivastava of Guelph for some photos from the 1970 championship season of the then Guelph C-Joys of the Intercounty League of Southern Ontario. So nice of Neil to keep us in mind!


Bob Florence of the Saskatoon Star-Phoenix has a fascinating piece set to run on the Indian Head Rockets, one of the prairies most feared and revered teams of the early 1950s.
The original edition was, in fact, a team from Florida, the Jacksonville Eagles which played in Negro ball in the south. Sixty years later, they remain a subject of considerable interest. That's first baseman Tom Alston (left) one of the Rockets who went on to play in the major leagues. Alston was the first black player to suit up with the St. Louis Cardinals.

It surely would be a great leap forward to have a complete record of the semi-pro Southern Minny (Minneapolis) League. Well, Pat Lewis has long had an interest in the league and might just take up the challenge. In trying to determine how much material is on-line, I managed to find a fair sampling of clippings from the 40s and 50s and, in the process, update my yearly home pages from 1945 to the mid-60s with the names of the teams for each season.
There were a fair number of players who performed both in Western Canada and Minnesota.


We've updated some of the photos of the Lloydminster Meridians in the 1957 and 1958 photo galleries. Roberto Zayas (left) and Eddie Tanner (right).

The 1934 and 1935 home pages finally have been updated, including material from the Southern League, Satchel Paige's Bismarck club and the touring Dai Nippon Giants.
Added to those pages are photos of Winnipeg and Fort William ball parks from the mid 1930s courtesy of Armand Peterson and Tom Tomashek authors of Town Ball, the story of semi-pro baseball in Minnesota.
---
27 May, 2012

Another big update of the Player List. This should now include all the players we've tracked down from 1907 through to 1974. There's one exception - we have not included in these lists all of those who came from the USA or other countries on touring and barnstorming teams. We do have a separate list of those players. Among the latest additions are players from the 1959 Big Six League.
---
26 May, 2012

1959. A tragedy in prairie ball. Jack Ohno a 26-year-old star of the Lethbridge Niseis of the Big Six Baseball League in Southern Alberta was beaned during a regular season game on May 31st. He fell to the ground unconscious but was revived and taken to hospital where x-rays were taken and he was released. However, early the next morning he was rushed back to hospital where he underwent surgery to relieve pressure on the brain. He died in hospital on the 9th of June.

In researching the Ohno story, we've put together what we could find on the Big Six games of 1959.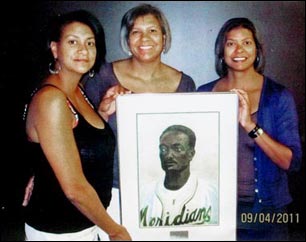 Much thanks to Gene and Angie Ewanowich of North Battleford.
Because of their generosity in obtaining and arranging copies of the Lindsay Evans painting of Roberto Zayas, the Zayas family has prints of the fabulous work.
The Zayas women have sent a photo of the group with one of the prints. That's Carrie Jeworski (left), Consuelo Zayas (centre) and Christie Zayas (right). Evans, who studied with A.Y. Jackson of the Group of Seven, was a widely recognized artist who settled in Lloydminster in the early 1900s. He painted the portrait of Zayas, then playing with the Lloydminster Meridians, in 1958.
---
24 May, 2012


OK, we've stumped Jim Lester. Anyone else have an idea of the identity of the player (right) of the 1959 Lethbridge White Sox? The photo was taken July 8, 1959 at a White Sox practice. At first we thought it might be Earl Morris, but that doesn't look like a fit. The player was photographed with Lethbridge pitcher Mountie Bedford and there was a clear indication both were pitchers. If you can help ID Mr. X, please let us know!

Through the cooperation of the Galt Museum and Archives in Lethbridge we've added several dozen photos. Among them is a large and good quality picture of Clarence Yanosik getting congratulated by manager George Wesley as Yanosik crossed third on his way home on a homer in the Rotary Tournament in 1954.
On the 1955 snapshot page, there are quality photos of Max and Doug Bentley, one of Lethbridge Miners' stars Mitch Sztaba and Morris Welch, and one of three Granum stalwarts, Earl Ingarfield, Willie Walasko and Gordie Vejprava.
The 1956 snapshot page, features a new photos of three key members of the Picture Butte Indians - John Chavez, Bobby Lee and Mako Tashima.
A following page, offers a new photo of three of the Foothills-Wheatbelt All-Stars -- Bobby Lee, Marty Norman, and John Chavez. And, in the 1957 section, we've added a quality photo of Granum catcher Larry Koentopp.
There are three new pictures among the 1958 snapshots -- Don and Phil Risinger, Ron Hubbard and Aaron Jones and one of the umpires and managers at the season opener. We also obtained a good quality individual photo of Bennie Griggs from the 1958 season.
The 1959 Alberta snapshot page also has three new photos. There's one of Lethbridge teammates Steve Schott and Bob Bourbeau, John Vaselenak receiving a trophy as the White Sox clinched the pennant, and the above noted photo of Mountie Bedford and Mr. X.
The 1960 Western Canada snapshot page has three major additions - a photo of Calgary's Vic Stasiuk and Bill Casanova, Clark Rex who suited up with Lethbridge and Calgary, and a photo of Lethbridge catcher Arley Kangas, manager George Wesley and pitcher Dick Montee.
A photo of Lloydminster's Mike Jauregui and Faldo "Mick" Mousalam is an addition to the 1961 snapshots.
We've added a photo of three Lethbridge Cardinals -- Terry Christman, Harry Laiolo and playing manager Ray Young -- on the 1963 page.
We are very pleased to now have a copy of a team photo of the 1960 Lethbridge White Sox and a little better version of a 1959 team photo.

From Max Weder's amazing collection comes a photo of Opening Day in 1912 at Red Deer. This was the All-Alberta version of the Western Canada League.

From the Saskatchewan Archives Saskatoon Star-Phoenix collection we've added a few new pictures. From 1962 we've posted a lovely picture of the opening game of the '62 Northern Saskatchewan League schedule. It shows import pitcher-outfielder Bob Peters at bat against pitcher Marcel Richard.
A 1964 snapshot page has three new photos -- Johnny Ford an his family on Johnny Ford Day, a nice action shot of Asquith outfield Bob Marik at bat against Neilburg, and Neilburg's Pete Prediger accepting the trophy for winning the Saskatoon Exhibition Tournament.
We've also added some individual photos of players of the 1958 Lloydminster-North Battleford Combines. And, on a 1958 snapshot page we've posted a photo of the brain trust of the newly combined team, an individual photo of well-known umpire Mo George, and groups shots of the players.

Some baby steps toward coverage of baseball (and some softball) in British Columbia. Thanks to Chad Evans, whose dad played in the 40s and 50s, we have the beginnings of some information on diamond action in the Victoria area. More information as we fill in names, dates and details.


Reg Clarkson, a remarkable Canadian athlete of the 40s, 50s and 60s died last month. Clarkson, who settled in the Vancouver area, passed away April 16th at age 87. Inducted into the B.C. Sports Hall of Fame, he was recognized as one of the province's top all-around athletes. At the University of British Columbia he was saluted as Vancouver's Athlete of the Year in 1946. Clarkson excelled in football, baseball and basketball. He went on to play professionally in all three sports, including a stint in the Canadian Football League. In later years he became quite the golfer.
---
16 May, 2012


We happened upon some baseball photos from the Galt Museum in Lethbridge. Some of the pictures are from the 1959 Lethbridge White Sox, including one at the left.
Who is this player? He's a right-hander, likely a pitcher. He is seen in a photo with pitcher Mountie Bedford.
OK Jim Lester, over to you !
Here's the roster we have for the '59 club :
Bailey Brack OF, Bedford Mountie RHP, Biggers Dave OF, Bourbeau Bob SS, Busch Stan OF, Carlson Don, Creighton Dick LHP, Ingarfield Earl 3B, Jamieson Tom LHP, Kirk Gary BUS MGR, Koentopp Larry C, Lang Bob OF, Lester Jim 3B, McClure Jerry RHP (also Calgary, Morris Earl P, Parks Greg BB, Schott Steve, Tarnava Jocko C, Vaselenak John OF, Walkingshaw Darwin 1B, Washburn Ray RHP, Wesley George MGR, Wesley Gord 2B, Wesley Lee MGR, Wilson Darrell.
---
17 April, 2012



We made it ! The late Curly Williams (left) is to be inducted into the Saskatchewan Baseball Hall of Fame this August. The directors of the hall have just announced the lineup for the August 18th ceremony at Battleford, Saskatchewan. Along with Williams, Dick Doepker (above right), an outstanding college, semi-pro and minor leaguer pitcher from the province and Bryan Forster who enters the hall as both a player and builder, have been selected. Also chosen were :

Dan Asham of Saskatoon, Aron Braun of Saskatoon, the late Hank Dornstauder (brother of a former teacher of mine), George Kohlman of Macklin, the late Walter "Gus" Kyle, the late Jack Ovens, Cam Sternig (left) of Battleford, the late Lorne Strueby, and Brian Weisbrod of Lumsden.
The Notre Dame Hounds and Lampman A's were chosen in the team category.

Loreen Kirk, wife of Gary Kirk, passed away April 11 at the Chinook Regional Hospital in Lethbridge. She was 78. Gary was a long-time official with Lethbridge baseball teams in Southern Alberta. Loreen and Gary were prominent attendees at the Lethbridge reunion of 2000. The couple would have celebrated their 60th wedding anniversary this year. A Celebration of her life will be held Thursday at 1:00 pm at the Coast Lethbridge Hotel and Conference Centre.
---
15 April, 2012

We hope to know in the next day or so who has been selected for induction into the Saskatchewan Baseball Hall of Fame this summer.. The ceremony is set for mid-August at Battleford, Saskatchewan. As you know we've recommended Willie "Curly" Williams of the Lloydminster Meridians/GreenCaps of the 1950s and 1960s for induction. Our colleague Barry Forster has presented a detailed submission for the induction of his father, Bryan. And, Rich Necker and I have also put forward the Regina Nationals of the 1930s in the team category. And Leo Wurtz of Lloydminster was working on a submission of behalf of Dick Doepker a Saskatchewan product who had an outstanding college and pro career in the USA. We will watch for the announcement with great interest.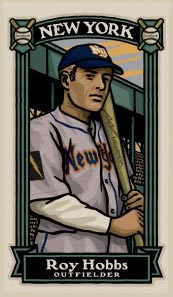 You are going to love the work of Gary Cieradkowski.
To say he's a graphic artist is to say Willie Mays played a little round ball. Check out this story on Gary by Jim Caple of ESPN.
His original illustrations are astounding. And his choice of subjects also breaks the mould - even Roy Hobbs (remember Robert Redford in The Natural?) has a card. Fidel Castro does too.
Gary is a graphic designer and illustrator, based in Northern Kentucky, whose work ranges from environmental graphics for Oriole Park at Camden Yards to the Folgers Coffee can. Close to his father, Gary Sr., the pair shared a mutual love of baseball especially the rich history of interesting characters who played the game. Although they lived at opposite ends of the country, they talked several times a week, often trying to out-trivia the other with arcane baseball knowledge. When his dad passed away in 2009, Gary Jr. not only lost his beloved father but an outlet for sharing baseball history.
He turned his grief into a web site where he illustrates a baseball card once or twice a week featuring some of the baseball characters he and his dad used to discuss. He called the project "The Infinite Baseball Card Set" because there is no set number of cards and like the memory of his father, it is intended to go on forever. The cards feature a hand drawn illustration by Cieradkowski and a description about what makes each player unique. I am incredibly impressed with Gary's work. Featured during April is a set of cards on players in the infamous Black Sox scandal. Check it out.

This one will be difficult - putting names to the players in the photo of the 1909 Lloydminster nine. The photo is a result of a search for information on a later (1914) Lloydminster team which featured an American import pitcher, Patterson, hurling to James Lowery, who was a member of the Alberta Legislature. Lowery, who was a Major in the Canadian Army in World War 1 (and wounded at Vimy Ridge) survived and was elected to the Alberta Legislature. So far, we've not been able to uncover anything on the import pitcher.
---
11 April, 2012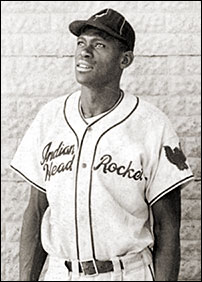 About time! A detailed look at the Indian Head Rockets, a team so familiar to baseball fans on the prairies in the 1950s. Bob Florence of the Saskatoon Star-Phoenix is working on a feature story on the Rockets. We are particularly interested in tracking down former players. Left - the late Tom Alston, former major leaguer and Indian Head Rocket.

Thanks to Chad Evans and Barry Forster we've received information on amateur and semi-pro ball in British Columbia. Chad's dad and Barry's father were involved in baseball in the Victoria area in the 1940s and 1950s. We've long hoped to research ball in B.C. and this will be a small step forward.

Former Lloydminster Meridian David Moriarty is chasing down papers written by his dad, George Moriarty, the former major league player, umpire and manager. The elder Moriarty wrote detailed scouting reports on hundreds and hundreds of players, including Curly Williams who we've recommended for a spot in the Saskatchewan Baseball Hall of Fame.
So pleased to have made contact with Curly's daughter, Jaquelyn, an educator in Florida.

Happy to help out author Tom Dunkel who's finishing work on his book about the Bismarck, North Dakota, Churchill's, the team Satchel Paige led to victory in the inaugural National Baseball Congress semi-pro tournament in 1935.

Looking forward to Gary Ashwill's piece on former Western Canada and major league pitcher William "Chief" Cadreau. We were able to provide a bit of assistance in Gary's research.


Much thanks to Brian Morrison for digging out more photos of special interest to Western Canada Baseball. Among the pics he's managed to find is a rare one of Dan Lewandowski (right) when he played with the St. Louis Cardinals. Lewandowski played in the ManDak League and Ontario's Intercounty loop.

Thanks as well to colleague Barry Swanton for chasing down more photos of those Negro Leaguers who spent some time playing north of the border, especially in the ManDak League.

Good to hear an effort is underway on the history of baseball in Lethbridge. The Alberta city has a rich tradition of diamond activity. I hope to work with Barbara Kitagawa to provide some input into the project.

Always a pleasure to hear from Connie Munatones, the former Edmonton and Moose Jaw star. Connie put us to the test in trying to dig out some information from 1957. Munatones, from UCLA, was a 1957 all-star in his college league along with some other former Western Canada players - Dale Ziegler, Ken Guffey, and Tom Shollin all from the University of Southern California.

We're looking for more information from the 1920s, particularly anything on the 1927 Regina Argos baseball team, headed by the legendary Father Athol Murray. Andrea Paradis is researching the period to try and discover more information on her father who was the mascot for the team.

Also on the lookout for material on Mose Solomon who played in the old Western International League in 1922. Arnold LeVine, Mose's grandson, is researching Solomon's baseball and football careers.

The Lloydminster Regional Archives has been helpful in a couple of requests, including a photo of the 1909 team which included a member of the Alberta Legislature. I'm also awaiting some photos from the 1960s from the Archives.

Thanks to Frank Reilly for keeping us posted on his searches for baseball leagues. The latest addition is the Qu'Appelle Valley Senior Baseball League which started in 1949.

Pat Lewis is on the lookout for information on the old Southern Minnesota League. We've had bits and pieces over the years, but we just haven't had the time to do detailed research on the loop. If you can help please get in touch.

Note to Cody Farmer. I attempted to send the Tony Risinger photos but it appears your email address is not longer valid.
---
01 March, 2012

OK, back to business ! We've been resting on our laurels for too long ;-) A couple of projects have been wrapped up, including a history of baseball and softball in Alberta for the University of Calgary. Their new sports history site is expected to be up and running in a month or so.
Rich Necker and I have made a submission to the Saskatchewan Baseball Hall of Fame in support of the induction of the 1930s Regina Nationals baseball club. (Happy to hear from Murray McLeod, son of Hec McLeod, an outstanding hurler for the Nationals.) Barry Forster also has a proposal before the HOF board in support of the candidacy of his dad, Bryan, a star infielder on the Nationals.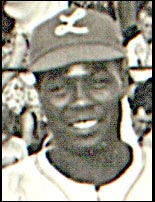 Now I hope to put together a submission for the induction of the late Willie "Curly" Williams, the former Lloydminster Meridians star (left).
Williams was Mr. Baseball in Lloydminster during his tenure from 1955 through the 1963 season. He also played a year with Carman in the ManDak League following stints in professional ball in the Chicago White Sox system and in the Negro Leagues. He was a Negro League all-star in 1950. Williams, 86, died last summer.

Much thanks to colleague Brian Morrison for tracking down some quality photos of several former Western Canada players -- Joe Erautt, Hal "Doc" Daughtery and John Andre (right). These will fit nicely on our Major Leaguers pages.

Good to see the friendships continuing ... Earl Ingarfield, long-time Southern Alberta baseball and hockey start stopping over in Montana to visit former Lethbridge teammate Lee Murphy while on the way to Arizona.

Thanks to Marie Peters for steering me to more information on Jimmy Rattlesnake one of Canada's aboriginal baseball stars. The southpaw pitcher was a force on prairie diamonds for two decades.


Great to hear from Alex & Donna Palica. Alex (left), who was 6-3 as a pitcher, also performed in a utility role and won the batting crown in the Western Canada League in 1951 hitting .432. With thanks to Tom Hawthorn, the stylish Globe and Mail columnist, Palica was put in touch with former teammate Reg Clarkson.

Mike Sherman, head man at the Granum Museum, received a nice surprise - a note from former Granum catcher Tedd Bogal announcing a package of archival items were on the way.

I'm trying to find copies of Western Canadian newspaper from 1951 to search for stories on the touring House of David baseball team. Jack Blankfeld was among the visitors and is hoping to track down some of the clippings. He played under the name Feldman, in order to keep his college eligibility.

My thanks to many (including Greg Seastrom, Bob Craine, Ryan McMillan and Dick Doepker) for sending along information on Roy Taylor, who passed away in December.

Good to hear from friends and former prairie stars Jack Altman, Jim Lester, Brack Bailey and Sherman Cottingham. Also, Tony Campos Jr., son of a former Canadian stalwart, sends along greetings from Cuba.

 Garnet Campbell, a fixture with the Avonlea and Notre Dame baseball clubs of the 1950s, has died at the age of 84.  Campbell, who was much better know for his talents at the curling rink, represented Saskatchewan at 10 national curling championships winning the Canadian title in 1955. He was inducted into the Canadian Curling Hall of Fame in 1974.  A celebration of life is planned for April 7th in Avonlea. 


 Ontario pitching legend Ron Stead passed away in December at the age of 75. The left-hander, pitching mainly for Brantford Red Sox, was the top pitcher in the Intercounty League in the late 1950s through to the early 1970s. In 1963, he finished 14-1 with an earned run average of 0.63. Although he retired in 1972, he still holds many of the league's pitching records. Stead, who was inducted into the Canadian Baseball Hall of Fame in 2006, was a 10-time Intercounty League All-Star and Most Valuable Player four times.

 Each of the yearly home pages (1950 for example) now has a list of all the leagues we've managed to track down for each season.  There's still work to be done to uncover more leagues, but this is a step forward.

  New 1928 material includes a series of exhibition games involving the Coloured House of David featuring John Donaldson.  And, we've posted 1939 exhibition games of the Satchel Paige All-Stars.
---
12 December, 2011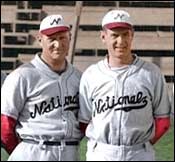 Wow. You have to check out the new photo(s) of the 1933 Regina Nationals. Barry Forster has been working with a colourizing program and the results have turned out remarkably well. We had to do a little extra work on the faces, but the new photo is quite an improvement on the original.


Lots of other bits 'n pieces added, including the 1964 photo galleries and snapshot pages. Among the additions - John Pearce (left), George Fowlkes, Paul Coleman, Jim Flammini, Harvey Smith, Louis Smith, Bob Christenson, Larry Derksen, Max Bentley, Elmer Walker, Brian McIntyre and Rob Roy.

The 1949 Tournament reports moved a little further toward completion with some additions, and we've made a start on the Alberta photo galleries of the 1930s with the 1932 and 1933 galleries now posted. And, I've just wrapped up the stats and rosters for the 1933 Edmonton Senior League.

I was pleased to be approached by the University of Alberta to write a history of baseball and softball in the province for their sports project. It is expected to be posted on-line sometime early in the new year.

In the process I learned much, especially about women in baseball and softball. It turned out the editor for my piece was Dr. Ann Hall (right, professor emeritus, U of A's Department of Physical Education) who penned a marvelous book on women and sport in Canada, The GIrl and the Game, Ann has another book coming out soon. It's on the fabulous Edmonton Grads womens' basketball team. For most of 25 years (1915-1940) they were the world's best, winning more than 500 games and losing less than two dozen.

Our history project has taken a great leap backwards! All the way back to 1887. Rich Necker and I are researching an allegation about racism at a ball game in Toronto that summer. Several dozen publications, including baseball books by highly respected authors, have included a claim of racist behaviour by Toronto fans against Buffalo's Frank Grant, a superlative, but black player. The claim makes specific reference to a July 27th game in Toronto against Buffalo. Small problem - Buffalo did not play in Toronto that day or any day close to it. So, we are going through the papers from 1887 and checking out the books to try and determine what, if anything, is accurate in the allegation.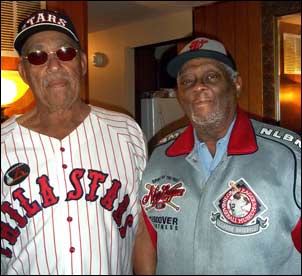 Thanks to Bryan Steverson for keeping us posted on Dirk Gibbons, one of the Western Canada stars of the late 1940s and 1950s. You'll likely remember Bryan from his wonderful book, Amazing Baseball Heroes: Inspirational Negro League Stories.
While Bryan was visiting with Clifford Brown (SS/2B with the Philadelphia Stars 1949-51), Gibbons dropped in to say hello. That's Brown on the left, Gibbons on the right.
The photo was taken December 1st. A few days later, Dirk called to inform that he had suffered a heart attack December 2nd and was rushed to hospital. Happily, after a few days in hospital, he was able to return home with no major problems. Two years ago, Gibbons had triple by-pass surgery.
In 2006, Gibbons and Brandon teammate Armando Vasquez won induction into the Manitoba Baseball Hall of Fame.

From the mail bag . . . a note from Cory O'Hayer from Dorchester, Massachusetts to send thanks for a 1909 team photo of the Moose Jaw Robin Hoods. Cory is the great-grandnephew of Harold O'Hayer, one of the Moose Jaw players. The photo from a newspaper item is pretty poor quality, but we continue to search for a copy of the real photo.

The item posted on Father Murray of Notre Dame (below) brought several responses, including one from Murray Adams of Calgary who has provided some contacts in regard to the quest to figure out why the Notre Dame club was wearing San Diego uniforms one summer. Murray also had some background on why Father Murray ended up shepherding the Regina Argos baseball team on a tour of Eastern Canada.
Pere had just been assigned to Regina and a bunch of Protestant kids got into trouble for breaking into a cathedral. The cops wanted to deal with them but Pere convinced them that he would take care of them and started up a sports program.(the Argos) They traveled all over western Canada playing hockey and ball.
On the San Diego connection, Murray noted that in the 40s baseball scouts would come up to the big tournaments to see who they could recruit.
I guess there was scout from San Diego that was out, met Pere, learned a little bit about Notre Dame and wrote a bit about it back in San Diego. Bill Lane who was the owner of the Padre's got hold of this guy as he could not believe the story about this little priest in the middle of nowhere and what he was doing at the college ... Bill started sending a hundred dollars or so to Pere whenever he could. Pere would write back and they became close friends. There is a building at Notre Dame (Lane Hall) and a ball field that is named after this man who helped Pere out so much.


Had a note from Oak Toombs, son of Oakley Toombs, a catcher of renown in the late 1920s and through the 30s in Moose Jaw and Saskatoon.
In 1932, Toombs, playing for the Moose Jaw All-Stars, lost the Southern League batting title to Bill Clayton of Milestone .365 to .364. One more hit or one fewer at bats and he would have won the crown. Toombs last season was in 1939 with the Saskatoon Lions before he joined the army and went overseas.
According to my Dad and some newspaper clippings, Johnny Dawson was the star of that team. Also, some major league touring players thought he was the finest shortstop in Western Canada.


Also nice to hear from Brenda Stoyand, daughter of former Regina (Balmorals and Nationals of the late 20s and 30s) star John Stoyand.
Seeing information and photos of her dad was particularly pleasing as Johnny passed away when Brenda was just five. We were happy to send along a pretty fair photo of her dad.

Some mail comes just too late, but it's still quite something when folks remember. Howard Shulman was trying to track down an old teammate - Eddie Tanner, who played ball over a twenty-year span in Western Canada (from the late 1940s to the late 1960s) broken up by a five year spin in pro ball in the USA. Shulman had played with Tanner on the Donaldson Seminoles in the Alabama-Florida League in 1955. Unfortunately, Tanner passed away in the mid 1980s.

I was so pleased to hear from Bernie Wyatt of Burlington, Ontario who, years ago, provided the photos of the Broadview Buffaloes of the 1930s (which, in this one, included the illusive Eugene Bremmer). Bernie, who was born in Broadview, happened to notice our expansion of reports on Broadview baseball in 1937 and 1938.

I continue to be amazed at Max Weder's collection of baseball memorabilia. Even if he hasn't got it personally, the Vancouver lawyer seems to be in the loop as to what's out there. A recent alert from Max concerned a uniform of the Moose Jaw Mallards of the Western Canada Baseball League. The pants to the uniform had the name Pancho printed on the inside of the waistband. From that, I figure the uniform might have belonged to Pancho Gray of the 1954 Mallard squad.

Robin McKenzie was kind enough to help us out again in confirming Sully Glasser's real first names - Sullivan John. Sully was Robin's father-in-law. Robin was so helpful in providing photos of the 1942 Regina club. We still need a couple of IDs here, but what a treat to have the photos.

Rex Hamann of Andover, Minnesota is trying to track down information on Joseph "Lefty" Sporer, a pitcher of the early 1900s. He's particularly interested in Sporer's age. Rex has a web site on the old American Association. Check it out !

Good to hear from Howie Snyder who advises a move is underway to establish a Baseball Hall of Fame in British Columbia. Danny Williamson is one of the core people in the project. I shall pass along more information as the process evolves.
---
09 December, 2011

Hearty congratulations to Bob Elliott, veteran baseball writer for the Sun newspaper chain. Bob has been named the winner of the Taylor Spink Award.
He's the first Canadian to capture the honour. The annual award is made by the Baseball Writers Association of America for "meritorious contributions to baseball writing" and will be formally presented during the 2012 induction Weekend ceremonies at Cooperstown, New York.
Bob had been runner-up for the Spink Award three straight years. In 2010, he was named winner of the Jack Graney Award by the Canadian Baseball Hall of Fame.
Bob's devotion to Canadian baseball in legendary. The Canadian Baseball Network web site is just a part of what he's been doing over the past three plus decades to chronicle and support baseball in this country.
Among the previous winners of the Spink Award - Ring Lardner, Damon Runyon, Peter Gammons, Sam Lacy, Jim Murray, Dick Young, Red Smith and Jerome Holtzman. That's some quality company!
---
03 December, 2011

A sad day here at Western Canada Baseball as we learn of the passing of Roy Taylor. He died Thursday at age 92.
That's Roy on the right (below) in the spring of last year meeting with Steve Stavrianoudakis, one of his mound staff at Sequoias and in Canada. For the last few years Roy has been in a care facility in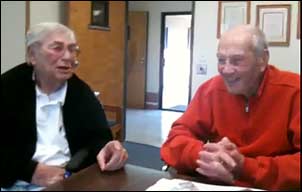 Visalia, California.
The Hall of Fame coach was a fan and media favourite during his time on the prairies beginning in 1950 with a barnstorming tour by the California Mohawks. Taylor went on to play and coach the Saskatoon 55s, Kamsack Cyclones, Moose Jaw Mallards and Saskatoon Commodores. He was a marvelous source of information for us in our early days of the history project. In May of this year, Taylor was featured in a publication of his care facility.
Longtime Visalia resident reveals secrets to a good life

Roy Taylor, all around athlete

Roy Taylor loves sports. As a star player on the Fresno State baseball, football and basketball teams in the 1940s, you could say the longtime Visalia resident was an all-around athlete. With the 2011 baseball season underway, Taylor's name and his achievements at Fresno State and College of the Sequoias are sure to be a part of many Visalia residents' conversation.

Taylor, 92, currently resides at Linwood Gardens Care Center in Visalia. Although he suffers from dementia, his daughter, Marty Scott, also a Visalia resident, said her father always said the secret to his success has been, "no smoking, no drinking and staying in shape."

"My father golfed until he was 89 years old and he skied well into his 70s," Scott said.

Taylor was born in Petersburg, Texas, one of seven children born to Martha and George Taylor. The family came to California via a covered wagon according to Scott. He proposed to Hattie Rhodes in 1944 and the couple was married for 64 years.

Taylor's experience with college sports didn't end when he finished his time as a student. He was the College of the Sequoias head baseball coach and assistant football and basketball coach for 20 seasons and continued as the school's part time golf coach until 1989. With Taylor at the helm, the COS baseball program posted a 285-199-6 record for 17 of Taylor's 20 seasons.

In 1994 Taylor was inducted into the COS Hall of Fame and the California Community Baseball Coaches' Association Hall of Fame in 1997. In addition to his fame at COS, Taylor was a coach and player for several teams of the Western Canada League in the 1950s and early '60s.   While in Canada, Taylor was instrumental in recruiting several Canadian baseball players to play at COS, many of whom made their home in Visalia after their baseball days were complete.

Scott said her father had a direct impact on the lives of countless athletes during his career that spanned five decades.

"People always knew he cared about them," Scott said. "He was genuine, kind and gentle and loved most all that he saw. He has been a devout Christian for 60 years. His relationship with God has definitely influenced how he has always treated people."
---
10 November, 2011

Amazingly, we've come up with even more names to go along with the players in several team photos, including the 1911 Moose Jaw Robin Hoods. the 1910 Moose Jaw club and the 1914 Saskatoon Quakers.
In that Saskatoon team photo, we remain puzzled at the absence of star hurling Sam Beer and still cannot place the player in the back row, third from the left. It doesn't match other photos we have of Beer.

The Dodger Lewis profile has worked out pretty well, but I'm still on the lookout for more photos, stats and other information

(especially what happened in the years out East & in the latter stages of his career). Efforts are underway on three more profile pages - Roy Rowley, Fred Cardwell (left) and Pete Prediger. If you can help with photos or information on those players, please drop me a line.
In a way it is shocking that Dodger Lewis is not among the inductees into the Alberta Sports Hall of Fame (and, how about such prominent sportsmen as George Wesley, Willie Walasko, Orville Franchuk, Harry Watson, the Yanosiks, Hec Negrello, Wes Rice, to name but a few). But, the hall has inducted just nine athletes/builders under the baseball category (and I have tried several times to get the hall to correct the information it displays on Lester "Slim" Haynes). Obviously, baseball is barely on the hall's radar.
The oft-repeated tale on Haynes was that he threw three shutouts in one day, one of them a "perfect game". The story got embellished as the years wore on. Haynes attracted the attention of Ripley's Believe it Or Not which stated the right-hander had pitched three shutouts in one day. Barry Broadfoot, his his 1973 book, Ten Lost Years, 1929-1939 : Memories of Canadians Who Survived the Depression, picked up and further exaggerated the achievement. Broadfoot not only had the game in the wrong decade (it happened in 1922) but was incorrect in most of his "facts".
There was one guy that Stavely brought in and he was a pitcher, a fast-baller, but he had a nice curve too and a curve wasn't seen much at those tourneys, and he pitched a no-hitter the first game, a one-hitter and a two-hitter, and Stavely won the tournament. Naturally. If you don't believe me you can look it up. It was in Robert Ripley's Believe It Or Not. Three great games in one day. This big gink had played pro ball for Seattle or San Francisco and hadn't got the attention he probably through he deserved, but he sure did on the Canadian prairies.
What Haynes (for whom there is no record of having played pro ball) actually did that day was to pitch two shutouts, one a no-hitter, the other a six-hitter. Stavely played only two games that day, although there was another shutout in a game not involving Stavely, Haynes' team. Slim did have a great day, two shutouts, one a no-no, but not quite the story still published on the Alberta Sports Hall of Fame site.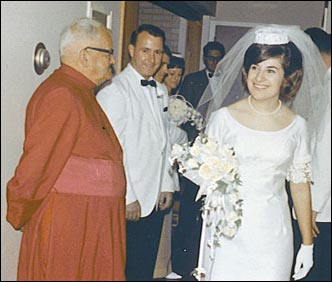 The inclusion of the Father Murray story below, brought a quick response from Barry Forster (who you know has been working hard on researching his dad's career). It turns out Father Murray was a lifelong friend of the family and, in fact, was there at Barry's wedding to the lovely Elizabeth ! (That's the beaming Barry between Murray and his bride).
And, speaking of Murray, we are still trying to track down the story of how Murray's Notre Dame Hounds ended up in San Diego Padres' uniforms one season. It seems Murray had a connection to the owner of the San Diego team, but the details remain to be uncovered.

Barry also alerted us to an unusual newspaper photo of the 1927 Regina Argos. One more coincidence, Father Murray was the team's supervisor on a trip to Quebec.

In the course of other research, I happened upon more statistics for the Southern League in 1973 and more details for the tournament report that season.

Another unexpected find was another newspaper photo of Dick Brookins to go along with Rich Necker's wonderful story on the Negro third-sacker who was banned from play in the Western Canada League in 1910.

Discovered an interesting photo of one Roy Taylor's pitching staffs at Sequoias College in California. Roy, as you likely know, was one of the pioneers in bringing American college kids to play with teams on the prairies. He also kept on eye on prairie talent which he could take down to California. This 1959 staff included one Canadian hurler, Bob Hydukewich (from Blaine Lake, SK) and four others who came to play in Saskatchewan, Gene Graves, Morris Yates,Paul Springer and Rusty Winfield.
---
05 November, 2011

Dodger Lewis? Anyone have any information on the pitching star of the 20s and 30s? I'm in the process of trying to dig up material on the Lewis clan. I've just added a couple of items to tournament pages on a two of Dodger's eye-opening performances, one where he fanned 23 batters and another where he set down 24 by strikeout. Here's the Lewis story so far.
---
03 November, 2011

With snow beginning to appear up the mountains, time to put away the gardening tools and get out those over-sized rakes to tackle the leaves from the far-too-many trees on the property. A little sunshine makes this much less of a chore. Although I could do without the aches and pains! But, before we begin to toughen up yesterday's blisters, a long list of new and updated stuff to Western Canada Baseball.

It's taken awhile, but most of the material from a treasure trove of old photos and clippings from Rich Necker is now posted. Among the finds was a composite photo of the 1938 Saskatchewan Junior

Champions, the Moose Jaw Steamers. The individual pictures are posted on the 1938 Photo Gallery. Many of the players went on to careers in the Southern League of Saskatchewan. One turned out to be a pretty fair hockey player - Elmer Lach (right).
Another of Rich's discoveries was a composite of the 1931 Moose Jaw Cats (or All-Stars), the provincial champions. Individual shots of the players from the composite are now posted. On the 1910 snapshot page, are photos of opening day of 1910 including pictures of a parade of autos down main street.
These Moose Jaw photos come courtesy of the Moose Jaw Public Library.
We've added a team photo of the 1921 Moose Jaw Millers of the Western Canada League. Look for soon-to-be New York Yankee shortstop Mark Koenig. Several of the individual pics, taken from the team photo, appear in the 1921 Photo Gallery.
More detective work is needed on the team photo of the 1911 WCBL champion Moose Jaw Robin Hoods. So far, we've been able to identify just a couple of the players. We are missing names for most of the players in the 1910 Moose Jaw team photo and the 1920 Moose Jaw team picture (the 1920 photo was so wide it's divided into two here).. Maybe you can help?

Individual photos of the 1925 Saskatoon CNR players are from the collection at the Saskatoon Public Library, Local History Room. Rich also managed to locate two photos of the 1914 Saskatoon Quakers. Thank goodness we've identified almost all of the players in the pictures.
We've drawn a blank, however, in trying to ID members of the 1911 Saskatoon Berrypickers.
Thanks to VM Productions of Regina we've some pretty good pics of the 1935 Regina Nationals. The firm helped restore a time-worn copy of a composite photo of the '35 club from former Southern League star Barry Trapp.

The Western Major Baseball League (the successor to the Western Canada League of old) info has been updated to reflect the 2011 season. Congratulations to the Regina Red Sox for winning their first WMBL title. Talk about stability, the teams finished in the same order as they did in 2010 in each of the three divisions. League officials report a very successful season.

Jesse Sawyer (left) of the Lethbridge Bulls was selected as the league's Most Valuable Player. Sawyer led the loop with 18 home runs and 50 RBI. The homers set a single-season record for

the WMBL. The Calgary native, who attended South Dakota State University, finished with a .351batting average.
Bryan Abrey (right) of the Medicine Hat Mavericks, captured the batting crown with a .423 average. Abrey, from Richmond, BC,, had been selected as the 2010 Outstanding Canadian in the league.
Reliever Chad Jones of Swift Current Indians was named Top Pitcher. He compiled a 6-2 record with an ERA of 1.06 in 22 games.

Among the other additions to the site is a photo of the 1956 Calgary Dodgers, the George Brookman team, the 1910 Edmonton Eskimos of the old WCBL, and the 1936 Neilburg, Saskatchewan, All-Stars. The team photo of the 1933 Regina Nationals has been updated thanks to Barry Forster. The individual pics of the '33 Nats are posted on the Photo Gallery.


Research into Alberta's baseball history, for a paper for the University of Alberta, proved fascinating and rewarding. It forced me to dig a little deeper into the careers of players such as Jimmy Rattlesnake (right) and Dodger Lewis (in the group below). Rattlesnake was one of Canada's great aboriginal athletes. A Cree, from the Hobbema Reserve, 60 miles south of Edmonton, he was inducted into the Wetaskiwin Sports Hall of Fame this spring. The lefty hurler was a star for two decades in the province. Lewis, whose career began about ten years before Rattlesnake, was a right-hander, who was known across the prairies for his pitching prowess.
And I've come across a dozen more photos which I've yet to figure out where to place. In the first row below are (left to right) Rollie Miles a Canadian Football League Hall of Famer who first came to Canada for baseball and after his football days continued with the diamond game for several Edmonton teams in the 1960s; Canadian lefty Robert Steele of the 1912 Moose Jaw club who went on to the major leagues; Dodger Lewis in 1919; Mark Koenig, Moose Jaw shortstop in 1921 who went on to play with Ruth, Gehrig and the powerful Yankee teams of the 20s; Cliff Bogstie prominent hurler for the Calgary Pucksters of 1933; Leroy Goldsworthy a star hurler in semi-pro and pro baseball while fashioning a two-decade career in hockey, ten years in the NHL.





Again, left to right, Charlie Beene, California college kid who came to play with Saskatoon in 1951 who went on to renown in policing in San Francisco; the next two photos are of Don Kirk a local kid who starred both in baseball and hockey and carved out a career as a doctor; Lefty Brown, Calgary pitcher from the late 1920s; Chet Brewer, one of the all-time greats in Negro League ball who finished his career in the early 50s pitching for several teams on the prairies. The photo is from 1935 and one of his many barnstorming trips to the prairies, this time with the Kansas City Monarchs. Albert "Silver" Smith, lefty pitcher for the Edmonton Cubs, 1933.






The addition of a 1951 photo (posted here on a 1950 page) provides the information that Dick Butler won the Northern Saskatchewan batting title in 1950 with a .368 average.



Father Athol Murray, one of Saskatchewan's most endearing characters, was the driving force behind the establishment of Notre Dame College at Wilcox, Saskatchewan. The Notre Dame Hounds were a key member of the Southern Baseball League.
The prairie legend, who died in 1975, was the subject of a 1980 movie. I came across the following, from 1980, published in the Ottawa Citizen. Under the headline Whiskey Priest, the paper, in its TV Guide section, carried the following story by Paul King in its October 4th, 1980, edition :
He was, by varied accounts, a Renaissance man, one of Canada's greatest con artists, or a saint. Even before his death five years ago, at 83, Athol Murray was part of prairie folklore: a scotch-swilling, chain-smoking, hard-cussing ham who hobnobbed with presidents, popes and kings; a man of peace whom the Mounties yearned to arrest for inciting a riot. At a 1965 banquet in his honour, tributes poured in from such diverse fans as Dwight D. Eisenhower, Bobby Kennedy, Lester Pearson and Bob Hope.

This month, a $1.2 million dollar feature movie based on Murray will premiere in Regina. Titled The Hounds of Notre Dame, the movie, rather than trying to compress Murray's multicolored life into 100 minutes, focuses on just two days in the winter of 1940. It's undoubtedly the only way they could do it. Forget the Beachcombers, the Kings of Kensington. If ever there was a Canadian story that could cram a TV series, it is Père Athol Murray's. Newspapering, law, religion, sports, politics, tough kids, a whisky-slugging priest with a faith in miracles -- it has everything. Even Bing Crosby said so. And he should know. After all, Bing (with Barry Fitzgerald) made cinema classics of such a cleric.

His friends say Murray could have excelled in any profession he chose -- as shrewd (and salty) a politician as his great-uncle by marriage, John A. Macdonald, or as brilliant a businessman as his nephew Bud McDougald (who, with E. P. Taylor, built the mighty Argus Corp. empire). When he was a young reporter with the old Toronto World in the summer of 1910, Murray's byline was better known than that of his contemporary (and buddy) Ernest Hemingway: "A drunken bum," sniffed Murray. "I never thought he'd amount to a damn." As a law student, he was a favorite clerk of the famed trial lawyer J. J. Robinette, who'd have Murray distract juries by dropping inkwells on the floor during hostile testimony.

Yet, because of a 10-cent copy of St. Augustine's Confessions bought in a Toronto secondhand shop, Murray's life was unalterably changed by one line: "He who does what in him lies, God will not deny his grace." Murray considered it divine conscription. And so the son of a rich Toronto mercantile family became a Roman Catholic priest.

And during the 57 years of his priesthood he founded, single-handed, in the dust-swept prairie village of Wilcox, Saskatchewan, the tiny school that today bears his name: the Athol Murray College of Notre Dame. It began in 1927 with about 15 boys (many of them Protestant). From its Spartan start as the world's smallest college, where students slept in four freezing threshing-crew shacks, it grew into a coeducational and inter-denominational institution that has to date turned out 6,000 fiercely individualistic alumni.

"Every human life is insignificant," he would thunder, "until you make yourself great." Murray went about it with amazing passion, taking care to preserve much of his own peculiar lifestyle along the way. Though he arrived in the West sporting top hat and cape, he soon eschewed grandeur. His students remember him in a plaid lumber shirt beneath his clerical collar, forever spilling ashes down his black dickey. He slept under a molting RCMP buffalo coat and often berated his parishioners from the pulpit: "You goddam Catholics -- you have no reverence for things sacred."

Visitors to his office were invariably handed a dirty glass, brimming with Bell's scotch, across a paper-strewn desk. "There's only one rule about whisky," he'd say. "Never drink alone." When a young student walked in one day, Murray poured the usual shot. "Hi, kid, have a drink."

"But," said the boy, "I'm only 12."

Murray nodded, "This'll make a man of you."

When the CCF government tried to introduced medicare to Saskatchewan in he 1960s, Père (as everyone called him) battled the "collectivized communist state" so bitterly from the pulpit and podium that the populace verged on riot. The Mounties suggested he should be jailed, and the CCF attorney general roared, "You damn fools. That's precisely what he wants. All that this cause needs to go out of control is a martyr."

Yet despite his unorthodox methods, the church made Murray a monsignor; because of his Cadet Corps during World War II (hundreds of students enlisted; 67 died), the RCAF made him a flight lieutenant; two universities gave him honorary doctorate degrees in philosophy and law to acknowledge his brilliant, classical teaching techniques; and his formation of Notre Dame's famous hockey team, the Hounds, got him into the Sports Hall of Fame. In addition, because he was . . . well, Père Murray, he was appointed to the Order of Canada.

It was to honor the memory of such a man that a group of wealthy Notre Dame graduates approached the Edmonton producer Fil Fraser three years ago with $50,000 to develop a movie about the eccentric monsignor. A book by the prairie writer Jack Gorman, Père Murray and the Hounds, had already been published, but the grads wanted to immortalize their mentor on film.

Fraser, 48, a Montreal-born journalist whose movie Why Shoot the Teacher? won an Etrog in 1977, had known Murray in the late 1950s. Fraser agreed to make the movie, "but not as a documentary or eulogy. It must show him as the larger-than-life rogue he was." The grads gave in and promised to raise the required budget privately.

So, during a blizzard early in March this year, the movie began shooting in Wilcox (population 170). Storefronts were reconverted to resemble their wartime facades; replicas of the rickety threshing shacks, the old 'four roses' (four-seater) outhouse and Pappy's Confectionary were reconstructed; actors shivered, then sank in mud as the frozen prairie thawed to knee-deep gumbo. And finally, The Hounds of Notre Dame, with screenplay by the novelist Ken Mitchell, who grew up near the college and knew Murray in the '60s, was finished.

The movie -- which will be distributed this fall across Canada and the United States -- opens with Murray at a political rally. From there, it goes through a blizzard, a hockey playoff, a romance between two teachers, a battle with the archbishop and the shaping up of a brash new student.

Although the names (except Murray's) have been inexplicably changed, the characters and events are real. Frances Hyland plays a nun based on Mother Edith, the sole mortal who could curb Murray's tongue or temper. Barry Morse portrays his archbishop. David Ferry plays a composite of two tough students, one who broke a teacher's nose and another who told Mother Edith, "No goddam penguin tells me what to do."
---
02 November, 2011

With the Players List in good shape (although more updates are coming) I am digging into the IN basket to try and catchup on some overdue material. Among the additions/updates this day are the 1939 rosters of the Northern League, game reports, playoff reports, and the start of snapshots for 1939.


We've made a little headway in filling in some blanks in coverage of senior baseball in Edmonton in the 1960s. Beginning to take shape are rosters for 1961, 1962, 1964, 1965 and 1966. I didn't realize that Eddie Tanner (left), one of my hometown stars in the 50s, had continued to play until the late 60s in the Edmonton league.
Thanks to former player Arnie Enger for being a sounding board for my many inquiries about the league. I made contact with Arnie as part of my research into Alberta Baseball and Softball history, a project for the University of Alberta. Back in 1986, Arnie wrote a university paper on the history of Alberta baseball.

Additions are being made to the yearly home pages to reflect other leagues in operation for those specific seasons.


Thanks to Barry Forster for digging out a group of much appreciate photos of the late 20s and 30s. That's Barry's dad, Bryan, right.
Among the items we've managed to get on-line are the individual photos of the 1929 Regina Balmorals , the team photo of the 1928 Saskatchewan Pool Juniors and the 1938 Lake Shore Mines team out of Kirkland Lake, Ontario.
---
29 October, 2011

It has taken many moons but, with the much appreciated assistance of Rich Necker, we've completed a major, major update and revision of the PLAYER LISTS. To make them easier to compile and access, they are now presented in PDF format.
Check them out at the link above and please send along any comments, corrections or additions.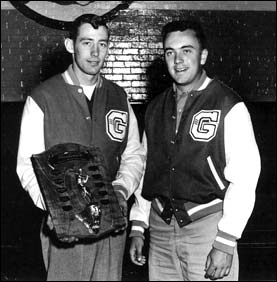 Now, lots to get to with thanks to Tom Mulcahy, Jack Altman, Barry Forster, Arnie Enger, Brian Morrison, Phil Risinger and Barry Swanton.
Left - A pair of former Lloydminster Meridians. That's Tom Mulcahy at the left and the late Keith Gustin at the right. Gustin may well have been the source of the Lloydminster uniform which was purchased at a thrift store in Kalispell, Montana ten years ago. Gustin was from Kalispell.

Never seen, or heard of, this play. Came across this in researching the career of Barry Forster's dad. It was a game in Northern Ontario between South Porcupine and the Lake Shore club from Kirkland Lake.
Streaking home with what would have been the tying run, Shelley of Lake Shore collided with Schultz, South Porcupine catcher, and fell unconscious to the ground. The ball eluded Schultz and Lake Shore players left their bench, attempting to drag Shelley across the plate. Umpire Frank Frawley ruled the unconscious runner out for interference. (Toronto Star, September 15, 1938)
Lake Shore protested the game, but the outcome is not known.

Big news on the International front - Canada has won its first gold medal in baseball, taking the final at the Pan American Games in Mexico. Canada shaded Team USA 2-1 to take the top prize. The Americans had earlier downed Cuba, ending Cuba's 40-year hold on the Pan-Am title.
---
29 September, 2011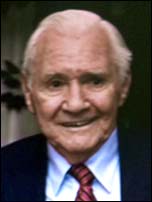 Gene Graves passed away on Monday, September 26th, just days after his 79th birthday.
The native of Arkansas pitched at Sequoias College and Fresno State University in California before spending ten summers on the prairies hurling for Saskatoon, Calgary, Kindersley and Biggar.
A talented right-hander, Graves also was quite the entertainer and won the support of countless fans over his decade of play in Canada. Folks still remember that herky-jerky delivery!
That's Gene (left) at his induction into the Fresno State Baseball Hall of Fame in 2007. A couple of weeks ago, we prepared a little surprise page for Gene on his 79th birthday.
---
11 September, 2011

There's been lots of work behind the scenes as we try to update and make presentable the long list of players who've suited up over the period 1907 to 1974.
Thanks to a suggestion from colleague Rich Necker, we've approached the daunting task by separating the remaining names into decades, a move that's made the job much easier to handle.
Already we've posted all the players of the old Western Canada League, 1907 to 1921, and from the run of the Basin League of the Dakotas, 1953 to 1973.
Now we've managed to post the 1920s, 1930s and, most recently, the 1940s. There's a lot of detail yet to be uncovered, including first names, positions and sorting out players with the same name - Lefty Arnold, for example.
The new lists are here.
If you can help out with any of the names, please drop a line.

One of the characters and prime talents of prairie ball in the mid 50s through the mid 60s was Gene Graves a little right-handed pitcher from Arkansas, via California. Well, tomorrow he's celebrating his 79th birthday and we've put together a little salute.