30 May, 2007

A big day Friday for former NHL star and Granum and Lethbridge baseball standout Earl Ingarfield. He'll be among the inductees into the Alberta Sports Hall of Fame at Friday's ceremony at Red Deer.
Ingarfield, who had a 19 year hockey career - including 14 in the National Hockey League - was a diamond star in Southern Alberta for eight summers from 1953 to 1960. Also to be honoured are the late Wes Montgomery a broadcast legend on the prairies and the famous Edmonton Eskimo football teams of 1954-55-56.

The amazing Jim Lester (Granum & Lethbridge 1956 to 1961) has solved one of our lingering puzzles. While at a ball game at Peoria he happened upon a display in the stadium which confirmed the story about Len Tucker (Kamsack, Saskatoon, Lethbridge) having raced a horse during his days with the Peoria Chiefs. As part of the festivities at the 1954 Three-I League All-Star game at Woodruff Field, August 2nd, Tucker raced a quarter horse. He lost.
---
17 May, 2007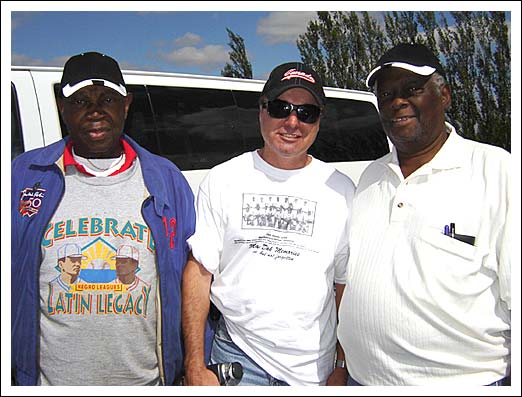 A major treat coming up next month on the CTV station in Winnipeg.
After seven years of research of hard work, Robert Huculak sees his dream come to fruition with the airing of his film, "The Boys Who Came To Play".
"The Boys" were among the casualties of Jackie Robinson's integration of major league baseball. As Robinson and other black players began to suit up in the majors, the Negro Leagues began a precipitous decline leaving fewer job prospects for many of the leagues veteran players. Some of the best of them were enticed to travel north to join teams in the Manitoba Senior League and a new circuit, the Manitoba-Dakota (ManDak) League with teams in Winnipeg, Brandon, Carman and Minot. (Above - Armando Vasquez at the left, Bob Huculak in the middle, Dirk Gibbons at the right)
The documentary has been nominated for a Golden Sheaf Award at the Yorkton Short Film Festival, the oldest film festival in Canada. The films are chosen by a jury of filmmakers from across the country. The annual festival is being held next week.
Right - Cast of the recreations in "The Boys Who Came To Play". Note the uniforms - Winnipeg Buffaloes, Elmwood Giants, Brandon Greys, Carman Cardinals and Minot Mallards.
Below, a photo of the cast in a wheatfield.
And, a picture of a trio of former ManDak League stars - first baseman/pitcher Armando Vasquez on the left, Carman catcher Almer McKerlie in the centre and pitcher Dirk Gibbons on the right.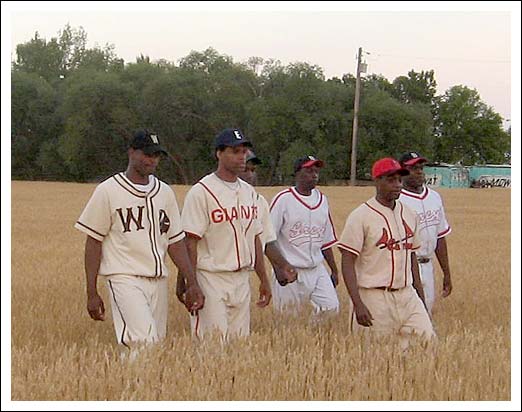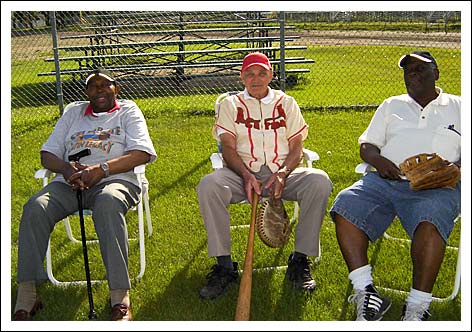 " ... The period they played here - from 1948 until 1954 - was the absolute Golden Age of Prairie Baseball, attested to by the incredible popularity of the players and the unmatched attendance at their games.

Lois Bentley, from Brandon Manitoba, was a teen-ager in those years and she and her family befriended some of the players from the American South and as far away as Cuba. As they dazzled the crowds with their unique brand of "tricky ball", they charmed their way into the lives of people open enough to receive them. Lois - and Prairie baseball - remember those as the best years of their lives.

In 2005, filmmaker Bob Huculak brought Brandon Greys teammates Dirk "Bubble Gum" Gibbons and Armando Vasquez back to Manitoba. They were reunited with Lois and a couple of local players in an emotional, evocative and memory-filled reunion on the fields of their youth. The personal celebration expanded to a public one when the Old Boys of Summer threw a few balls at Winnipeg Goldeyes game and relived the glory days with a standing O from enthusiastic fans. For, along with all the adulation and fan support, from 1948 to 1954, there was an undercurrent of suspicion and resentment. The racism that pervaded US society had its expression here, too.

The film has already been shot, the old photos and films gathered or located. Together, they tell a story of nostalgia, golden memory and good times, a story given depth, poignancy and edge by the dark and abiding experience of the ugly side of black-white history."
The film is slotted for Sunday, June 3rd at 730pm EDT (430 Pacific) and Saturday, June 9th at 6pm Eastern (3pm Pacific).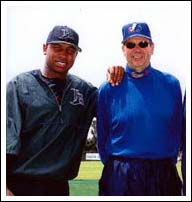 Happy to announce another "search success" - Bob Williams (4 years Basin League, Lloydminster 1957, Edmonton 1958).
Yes, the same Bob Williams who founded the Area Code Games and now the Goodwill Games, prime showcases for high school baseball talent. The Goodwill Games pit USA teenagers against top competition from teams in Australia, Japan and China.
(Right - Bob with Tampa Bay's Delmon Young, one of the top young talents in the game and a graduate of the Goodwill Games).
Bob played at Michigan State and was among the first of the university kids in the Basin League in South Dakota and suited up for four seasons in the loop before a couple of summers north of the border (with the Lloydminster Meridians and Edmonton Eskimos). He coached college baseball for a season at Sonoma State and was a successful real estate developer in California before getting back into baseball promoting the Area Code and Goodwill Games.
Among his memories of Lloydminster - "As soon as I got there I asked, "What do you do for fun?". Tom Roberts said, "What we do is go down and watch the guys get haircuts!" What an incredible memory he has of the times and people of that era more than 50 years ago. Now, if I can just find a good photo of Bob from his Basin League or Western Canada League baseball days.
---
26 April, 2007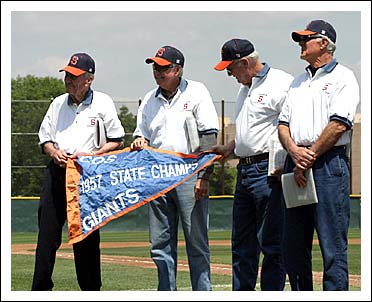 So good to see. The 50th anniversary celebration of the College of Sequoias state championship team.
That's Roy Taylor, coach of the 1957 team, at the far left. Among the members of the '57 squad who played in Western Canada are Taylor, Jim Garrett, Dick Doepker (a Saskatchewan lad who settled in Visalia after his college and pro career), Jim Hansen, Marv Weekly, Ted Hiltel, Gene Graves, Ben Reniker and Buddy Burgess. At least a couple of papers carried stories on the reunion and celebration, Tulare Advance Register, Visalia Times-Delta, and Fresno Bee

Nice to hear from Bowman Blythe of Hope, BC. Bowman and Norman Thorpe were among the guys who used to drive the Lloydminster players on out of town trips. Norman's dad, Slim Thorpe, was a driving force behind the establishment and continuation of the team.

A small step forward in coverage of the Basin League of South Dakota. I've found some clippings from the 1956 season and have begun to put together some game-by-game reports, rosters, photos and snapshots. Lots of interesting stuff from 1956 - Bob Gibson, the Hall of Famer, was a centre-fielder/pitcher for the Chamberlain Chiefs and a teammate of Paul Dean Jr. the son of the Cardinals' star, Paul "Daffy" Dean and nephew of Dizzy.
---
15 April, 2007

A treat for those in the Visalia area. April 21st, before the one o'clock game, the College of the Sequoias is to commemorate the 50th anniversary of the 1957 Giants' State Championship. A round of applause for coach Roy Taylor and his 1957 COS champions.

Among the names affiliated with that '57 triumph - Ernie Tressler, Frank Alves, Jim Hansen, Ted Hiltel, Bill Key, Mike Guy, Coach Roy Taylor, Buddy Burgess, Mel Silva, Jim Garrett, Marv Weekly, Dick Doepker, Glen McMillan, Joe Hernandez, Babe Castillo, Paul Morrison, Bill Ryan, Joe Morillo, Thurman Zearley, Jim Chatham, Art Browning, Gene Graves, Ben Reniker, Mike Wlasichuk, Jim Allen.
Thanks to Bob Craine of COS for the heads-up on the availability of a photo of that 1957 team and some further information on that championship season. All now posted at the link above.

The Edmonton Oldtimers Baseball Association is holding its annual reunion June 15-16 at the Marriott River Cree Resort and Casino on the west side of Edmonton. Guest speaker is former Western Canada League pitcher Orv Franchuk, now Minor League hitting coordinator with the Houston Astros. Clark Rex (Lethbridge, Calgary & Edmonton 1960-64) is a special guest. The EOBA is a great organization, now in its 41st year. It kicks off with the Vic Mah Golf Tournament on Friday morning.

Many, many updates on the site thanks to the support of some marvelous people, including Rich Necker of Regina, Saskatchewan, Bernie Wyatt, Burlington, Ontario, Jack Altman, Ashland, Oregon, Leroy Gregory, Fresno, California, Zoonie McLean Jr., Billings, Montana, Tom Mulcahy, Butte, Montana, Charlie Beene, Billings, Montana, Ira McKnight, South Bend, Indiana, Dan Doyle, San Diego, California, David Sandlin, Greensboro, North Carolina and Steve Harding, London, Ontario, Dave and Jane Shury of the Saskatchewan Baseball Hall of Fame, Tony Campos Jr. of Cuba.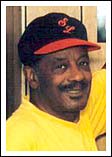 Stephen Harding has been instrumental in helping us incorporate coverage of the Intercounty League of Ontario into our site. He's penned a piece on Gabby Anderson (left) one of the stars of the London franchise from the mid 50s to the mid 60s.
In addition, he's provided a copy of a "Flashback" piece which ran in London This Week (February 9, 2005) on Ted Alexander (right), a Negro League pitcher who came to pitch for the London Majors in 1950. It included a photo of Alexander by London Free Press photographer Jack Burnett. He was still in his Homestead Grays uniform as the Majors didn't have a uniform large enough for him

I've been on the lookout for some pictures of Leroy Gregory (who played in Western Canada in 1957 and 1958 out of Fresno State University). In finally calling Leroy, I discovered he also played in Eastern Canada, in the Quebec Provincial League in 1969 and 1970. In fact, he won the batting title in '69. He was kind enough to send along some photos - 1969 Drummondville Royals (which also included former Western Canada stars Ira McKnight and John Noce), 1970 Drummondville Royals, and a photo of receiving the award as the batting champion in 1969. Gregory, who reached the majors as a pitcher with the Cubs in 1964, also played for the Humboldt Crabs for a couple of seasons.

Bernie Wyatt has dug through his records to help solve a mystery we've been chasing for awhile. I found references a few years back of an integrated team from Broadview, Saskatchewan which, in the mid 1930s, was quite a powerhouse on the prairies. But, my searches turned up little to flesh out the story. Supposedly, Negro Leaguer Eugene Bremmer was a star of the Broadview Buffaloes. Enter Bernie who, it turns out, was born in Broadview and who also became interested in the story of the Buffaloes and back in the 1970s began to look for documentation on the team.
" ... As far as I know they didn't play in any league, but played exhibition games and in tournaments, mostly. They too imported Negro League players, and this before the official integration a decade later. Their top player was flame-throwing colored pitcher Gene Bremmer, who went on to play in three Negro League East-West All-Star Games in the early 1940's. One of their catchers was Lionel Decuir, who later caught Satchel Paige in Kansas City in 1939-1940. The Buffalos broke up when the war started in 1939 ...
I also dug up some old notes I had written down after meeting with one of the players ... The team was started by a man named Harold Horeak who had come to Broadview ... as a Prairie City Oil agent. He hailed from Sceptre and also played shortstop on the team. Prairie City Oil bought the first uniforms ... in 1933 or 1934 and was all-white for a couple of years. Mostly locals. The colored players were there by 1936 for sure. Maybe even as early 1935 ... The team played tournaments as far away as Virden, Manitoba and Northgate, North Dakota. They also, as the story goes, played the House of David in a double-header in Broadview and managed to tie them in one game, with Bremmer pitching. A lady named Edie Maynard was the team's treasurer. She and her husband, Frank, owned a hotel in town. My wife and I met her in Regina back in the early 70's and she informed me that Lionel Decuir, in her opinion, was one of the finest catchers she had ever seen. Other colored players were outfielders Jimmy Miller, Red Bogeill, and Sonny Harris, and pitcher George Alexander. She said the blacks were welcomed into Canada by the immigration officials for a $1,000 bond which was refundable once the players left at season's end. This she showed me in an accounts book she brought out as evidence. She also showed me in the book that Gene Bremmer was paid forty-five dollars a month, plus housing expenses in 1936. This was the highest salary on the team! I guess that was Depression baseball."
In checking out newspaper clippings of the day, it appears Bremmer and Lecuir may have been recruited by Broadview from some barnstorming action in Winnipeg in 1935 when the pair played for the Shreveport Acme Giants in an exhibition series against Satchel Paige and the Bismarck Corwin-Churchills (which went on to capture the inaugural National Baseball Congress semi-pro title).
In 1938, in a story on a tournament in Moosomin, the Winnipeg Free Press reported :
" ... baseball classic of note is scheduled for Moosomin ball park ... when the cream of western senior ball teams meet in the $300 tournament ... Broadview Buffaloes, with colored players from the southern states, are a mighty ball machine that is tops in the Saskatchewan Senior league right now." (July 13, 1938)
1937 picture of catchers Lionel Decuir and Kitchie Bates
1937 Buffaloes, featuring Eugene Bremmer
While Bernie and son run their own interior-exterior painting business in Burlington, Ontario, he's found enough time to author nine books! Among his efforts (under his pen-name of Daniel Wyatt) is Pennant Man, a murder mystery set during the integration period with Jackie Robinson as one of the characters. And, there's The Shot Heard 'Round the World a novel about how the Giants stole the opposing catchers' signs to help win the 1951 National League pennant. Great stuff!

In 1952 Rich Necker was the batboy for the Florida Cubans, a barnstorming team which settled down on the prairies for the summer. For decades he's carried around a tattered photo of the team (celebrating a victory with bottles of Coca Cola, then a sponsor of baseball tournaments in the West). He's also send along a picture of the Indian Head Rockets of '52. I am so pleased Rich has agreed to share these fabulous photos - 1952 Florida Cubans & 1952 Indian Head Rockets. In the latter you'll note the quartet of friends out of Richmond, California -- Pumpsie Green, Winters Calvin, Willie Reed and Nat Bates.
The Cubans were a formidable force. Rich noted a few of their 1952 accomplishments :
Lloydminster - June 12 - 3 teams (Florida Cubans, Indian Head Rockets and Saskatoon Gems) split the prize money as rain forced cancellation of the semi-final between Indian Head and Saskatoon. The Florida Cubans had already won their semi-final game and were awaiting an opponent for the final before the remainder of the tournament was washed out.
Camrose - June 21 - 22 - First place finish winning $1400 with a 9 - 2 victory over the Leduc Oilers.
Lacombe - June 25 - 26 - Won the $3250 total prize money tournament final blasting the Leduc Oilers 13 - 2.
Kamsack - July 10 - 11 - Finished second after losing the $1200 final 13 - 1 to the Indian Head Rockets.
Indian Head - July 16 - 17 - Defeated Hardwood Sports of Baton Rouge, Louisiana 5 - 3 to win the $1300 top prize.
Rosetown - late July - In the fifth annual Legion tournament with prize money totaling $3,300, finished second after losing to Roblin, Manitoba 14 - 10 in the final. Had previously defeated both the Saskatoon Gems (semi - final) and the North Battleford Beavers (quarter - final) in what has been referred to as the infamous "Rosetown Riot" when, during the seventh inning, third baseman Leopoldo Reyes of the Cubans was viciously attacked and hospitalized after being deliberately hit on the head with a bat swung by North Battleford third baseman Curtis Tate.
Lethbridge - August 9 - Claimed $1400 first prize money with a 2 - 0 victory over the Trail Smoke Eaters.
Moose Jaw - August 13 - Beat the Indian Head Rockets 16 - 11 for their second straight win in a 2 out of 3 series to capture the Saskatchewan final of the National Baseball Congress. Earlier (August 6 in game 1), they had defeated Indian Head by a 9 - 2 score.
Also, I asked Rich if he ever tried to track down the former players in Cuba. He mentioned he had carried on correspondence with a couple of the players over the years and, three months ago, make his first visit to the Caribbean country. He put down thoughts down on paper.
The 2007 Cubana Béisbol Experience From A Canadian Perspective
Let me begin by acknowledging my intense infatuation with the sport of baseball, a love that developed as a youngster and blossomed further as I came to fully understand the strategies employed and the many nuances of meaning and expression attached to this game. One has to have maintained the little boy of the past within his being to totally appreciate the romance associated with such affection, a feat not easily maintained in this Canada of ours wherein hockey is king and other athletic pastimes are a distant second. Then, too, there is the cultural shift that now has adults organizing leagues and teams and has taken the fun away from the sandlot gatherings of kids who once played scrub, picked their own teams, did their own umpiring and hardly ever kept score. Fun was the name of the game. Professional baseball players once had to have off-season jobs to support themselves year round but, in today's society, sport has become a business and outlandish multi-million dollar contracts are the norm and have turned many present and would-be fans away in disgust at the impropriety in the ranking of remuneration.
One will find no such discrepancies present within "el sistema de béisbol Cubano" which is a loose translation meaning today's "Cuban baseball system". Prior to the revolution of the 1950's, the Havana Sugar Kings flourished as a professional Triple A affiliate within the International League. Cuban baseball players were allowed to travel to all parts of the world to ply their trade. As a young lad, I had the immense pleasure of indenturing as a bat boy for a team of semi-pro Cuban players who toured western Canada and consistently finished in the money in the numerous prize money tournaments which were in vogue during that era. I quickly learned, first hand, that Cubans were friendly people and intensely passionate about "pelota", the name they assign to baseball. After 1959, however, when the revolutionaries came to power in Cuba, a state-run amateur program was instituted, foreigners were not permitted to participate and home grown talent was not allowed to play elsewhere. But, one thing has remained solidly consistent, that being the deep passion that Cuba has for baseball. They proudly proclaim it as their "national sport" and the numerous international amateur and Olympic champions which have come from their leagues attest to their declaration as being the very best or close to the very best. Their teams once piled up an unbelievable 150 straight victories in official international competition over a 10 year time frame (1987-96). Their success at last season's inaugural World Baseball Classic brought them particular glee in that their amateurs were able to, not only hold their own, but to also beat most of the best professionals from the rest of the world. This is an impoverished country, after all, and the elite baseball players here draw their government salaries, like all other Cuban nationals, from mandatory day jobs for which they earn something in the equivalency of $20-25 Canadian per month. They are consistently inundated with the riches that await them in the professional North American leagues should they decide to jump ship and claim political asylum once within the boundaries of the numerous countries that their All-Star (Olympic) team visits each season while representing Cuba at the prestigious international championship tournaments. There have been a few that have succumbed, the most famous being pitchers Jose Contreras of the Chicago White Sox and Orlando "El Duque" Hernandez currently on the roster of the New York Mets. Almost all Cuban players, however, choose to stay with their national team for a variety of reasons, not the least of which is that they will never be allowed to reside again in Cuba. Family members are generally not allowed to leave the country and join them and are watched closely by government authorities. Yet, there are many who espouse the virtues of the socialist system and remain content with the status quo.
Their 16 team National League began play during the first week in December 2006 and will end in April 2007 with a 3 round set of playoffs. The 90 game schedule that each team plays is based upon the most favorable weather conditions of the Cuban winter months. Cuba is divided into 14 provinces and each province fields one team of their best players. Two teams also play out of the capital (and most populated) city, Havana. One of these Havana based teams, the feared "Los Leones de Industriales", clad in blue and simply known as the "Industriales", lay claim to 10 championships including that of last season and are widely acknowledged as being the Cuban League equivalent of the New York Yankees. The 2006-2007 season marks the 46th for this league of Cuba's elite players. Geography is the sole basis of team designation. Each province's best players can only play for that team as there are no trades and no free agent signings.
With some preconceived expectations, I eagerly signed up as part of a bus tour that was privileged to attend our very first Cubana béisbol game on Friday evening, January 19, 2007 at "Stadia Generalisimo Calixto Garcia" in Holguin City, the capital of Holguin province. Typical of most ballpark venues in this country, names that are assigned to such are those of revolutionary heroes. I almost had to pinch myself to realize that I was sitting outdoors in a t-shirt and sandals in the middle of January and, not only that, but at night. The parking lot was void of motorized vehicles except for the buses transporting tourists as well as one for each of the teams. Apparently, they dress and shower at a hotel. Local fans in Holguin primarily walked or cycled to the ballpark. There were no commercials on the fences or outfield walls and the only signs that appeared were slogans proclaiming the virtues of the revolution. Admission price was but 1 Cuban convertible peso (approximately $1.25 Canadian), a mere pittance considering the entertainment provided and the skill level of the players. Freshly roasted peanuts, still hot in long cone-shaped paper containers (re-used from newspapers or whatever else was available) sold for 5 centavos (6 cents Canadian). As foreign visitors, we were treated to VIP seats in what they refer to as their PENA section. These were located in the first three rows between home plate and the dugouts and provided an excellent line-of-sight to the action on the diamond. The playing field was elegantly manicured but, despite the VIP designation, the seats were anything but comfortable. Washroom facilities were as decrepit as I have ever witnessed and one tended to hold back for as long as possible without having to make a return visit. Police and military personnel were everywhere but that did not deter the animated Cuban fans from shouting and expressing their feelings toward the opposing team and the disputed umpire calls. Whatever vocal expression these affectionate Cuban fans held back regarding their political and economic system for fear of reprisal, they freely released in other ways within the safety of the ballpark milieu. They rarely were silent like North American fans and fully utilized the freedom of expression allowed citizens at such an outlet. No line-up programs, no scorecards nor team yearbooks are available and it is even difficult to retain your ticket stub as a souvenir since ticket takers tend to keep both halves. In spite of this only being a regularly scheduled league game, the atmosphere was electric and the exuberance of the Cuban fans was really something to witness. One would have thought that this was a sudden death playoff game with all this on-the-edge-of-your-seat enthusiasm and crowd reaction. Clapping cheers, whistle and percussion noise were abound. There are no commercial messages between innings but Cuban music blasts over the speakers while the defensive team takes the field and warms up. At Calixto Garcia Stadium, a roaming band of musicians continually marches around the walkway perimeter separating the lower level seats from those above. While I was wandering this walkway during the game and shooting photos, enthusiastic Cubano fans were standing in the aisles, loudly cheering the great plays made by both teams and inundating me with shots of Cuban rum which I was expected to down chug-a-lug style. By the end of the shooting session, I had to acknowledge the power of both the fans and the rum that had entered my bloodstream (and I am not normally a rum drinker). These fans were not only full of fervor but they really did understand the intricate strategies used by both teams. When all is said and done, the Cubano style of baseball is primarily fundamental, station-to-station baseball wherein sacrifice bunting, well executed squeeze plays, timely base stealing as well as a hit and run style offense have a more prominent role in manufacturing runs than in playing for the extra base hit. The foul poles in this stadium have thin florescent tubes running vertically end-to-end along the actual fair/foul demarcation. At the end of 5 complete innings, a mini-skirted clad lady walks to home plate with a tray of cold beverages for the 4 umpires to consume. The bat boys for both the home team Holguin Sabuesos (Hounds) and the powerhouse Industriales Blues from Havana were old men, probably veteran ballplayers who still have a great love of the game and the clubhouse life. Each time a run scores, all offensive players leave the dugout and high-five the team mate who has just crossed the plate. Following this game, I left the ballpark with a renewed vigor, reminiscent of my youthful enthusiasm . But this was only a prelude of what was to follow.
Unbeknownst to me at the beginning of my trip to Cuba, each provincial team plays a few of their home games in some of the more rural areas, at small antiquated facilities, in order to give fans there an opportunity to see their team play. Think of it in terms of the Saskatchewan Roughriders scheduling a game in Gopher Muscle or Buggywhip. Such a scenario was presented to me on Sunday afternoon, January 21/2007 when the Holguin squad left their spacious stadium in a city of 350,000 to play a home game at rundown "Estadio Mariana Comacho Romero" in the small town of 1500 inhabitants referred to as Rafael Freyre or Santa Lucia. I was able to taxi to this venue but, as I failed to arrive early, all of the 500 or so dilapidated seats were long gone. Not only that but a perimeter lined litany of spectators standing up to 5 deep in most spots surrounded the entire infield and outfield fences bringing the estimated crowd base to around 5000, a monumental feat considering that this sleepy hollow town itself had only a fraction of the total fan count. Only a few 1950's vehicles (still miraculously in running condition) were present. The multitude of fans had arrived primarily on foot but also via bicycles, tractors, oxen drawn carts, horse drawn buggies, in the back of 3 ton trucks standing up nose-to-nose like cattle packed in for the slaughter house and on horseback or mule. Cattle, pigs, goats, sheep and chickens freely roamed the area. Fans were literally hanging out of trees - I counted 13 in one tree alone - and on the rooftops of the abandoned buildings and shabby schools in the immediate area. People were hanging off of any and every conceivable thing that improved their line of sight. Rum bottles were freely exposed and the contents consumed without any trepidation of police intervention. However, those who over-indulged and created havoc were involuntarily escorted from the stands and driven to the local constabulary in the old Russian built Ladas used by the police force. Fan reaction, however, was no less enthusiastic than within the confines of Calixto Garcia Stadium. Players from both the Industriales and Holguin teams displayed a high level of skill. This excellence of quality of play in the Cuban National League and its importance to both the individual fan and the collective psyche of Cuban society is inescapable.
As eloquent as I have tried to be with my words, the Cuban passion for baseball is really beyond description. One has to see it to believe it ... not only see it but hear it, smell it, taste it and feel it, and you can absolutely use all five senses in experiencing it. It's a baseball purist's delight and brings back fond memories of what baseball in western Canada and most of North America was like 55 - 60 years ago. Even when a group of boys congregate on a street corner to play stickball or gather on a dusty sandlot for a pick-up game, it creates "magic in the air" and passers-by will slow down or stop whatever they're doing to enjoy the spirit of the moment. What I will always remember about this experience is the incredible passion of the fans, the solid fundamentals and the tremendous skill level displayed by these athletes, the infectious schoolboy zeal of the players who freely banter with the fans and outwardly enjoy the simple games of "playing catch" and "pepper" in stark contrast to the spoiled, can't-be-bothered-with-the-fans arrogance which is constantly on display in Major League ballparks and, most importantly, what I perceived as the fun that these Cuban players appeared to be having in representing their province and country. After all, isn't baseball supposed to be a fun game? Only in Cuba you say? Pity!
Rich Necker

Again, Jack Altman has provided sterling support. First in sending along a National Baseball Congress Annual which contained information about the London Majors of the Intercounty League of Southern Ontario and featured a picture of the 1948 London Majors team which captured the North American Sandlot title in 1948. Also in that issue, a photo of the 1948 Minot Merchants.
Even more interestingly, Jack has sent along some photos of an amazing relic of the Southern Alberta baseball wars -- a team jacket of the 1955 Vulcan Elks (with the crest showing the Elks' triumph as league champion in 1954). Jack was a pitching ace with the Elks in 1954 and 1955.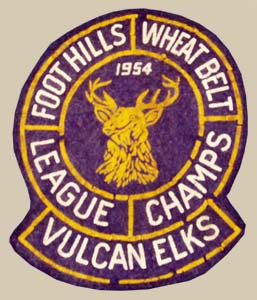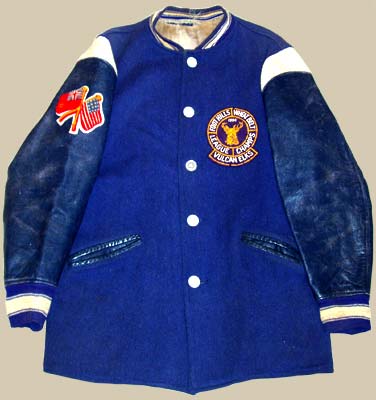 Now in a higher league.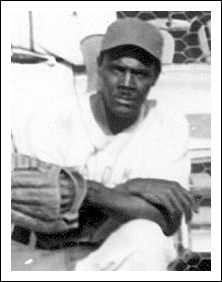 Hubert Country Glenn, a Negro League veteran and star of the Claresholm, Alberta teams in the early 50s, died on March 16th this year at Hickory, North Carolina. He was 90.
Glenn had played for the Philadelphia Stars, New York Black Yankees, Indianapolis Clowns and Brooklyn Brown Dodgers before joining Claresholm in 1951.
He led Claresholm to the Foothills League title in his first Canadian season winning 17 games (in 21 decisions) and fanning 207 batters in 166 innings. He hit .535 with 17 doubles, 4 triples and 9 homers in just 99 at bats.
Glenn got a taste of the prairies during a 1950 tour with the barnstorming San Francisco Cubs. He spent four seasons with the Claresholm Meteors and occasionally in tournaments with the Carmangary Eagles.
In a 1951 contest, Glenn clubbed four homers and two singles in seven at bats. In the 1951 playoffs, he lost his initial start then fired five straight wins, including two in one day, to lead the Meteors to the championship.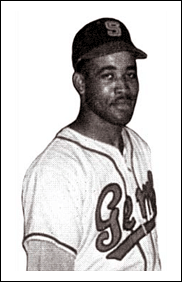 Bennie Lenton Griggs, who played in Western Canada for Delisle, Saskatoon and North Battleford between 1949 and 1964, passed away November 18th last year at age 78.
The native of Birmingham, Alabama had first come to Canada in 1949 to join the Bentley family's Delisle Gems. He spent nearly two years with the U.S. Army in Korea, 1951-52, winning a Purple Heart. He was among the leading pitchers (and sometimes a leading hitter as well) during his tenure in Western Canada.
He gave pro ball a whirl, beginning in 1959 when he was an All-Star in the Milwaukee Braves' system when he lead the New York - Penn League with a 21-7 record.
In 1955 and 1956 he twice represented Canada at the Global World Series. Survivors include daughters, Theresa (Roy) Bates of Montgomery, AL, Sharon (James) Guest of Birmingham, AL and Angela Leafloor of Atlanta, GA; sons, Bennie L. (Catherine) Griggs, Jr., Errick (Marlene) Griggs of Birmingham, AL and James Sabaan of Canada; 10 grandchildren; two great grandchildren; brother, Asa Griggs, Jr. of Birmingham, AL; and a host of nieces, nephews and other relatives.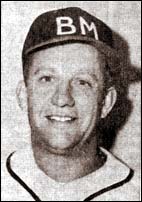 Did you know? Gabby Hormann (Lloydminster, 1959, Minot, 1956) had a career in country music.
As Webb Foley (from Webb Pierce and Red Foley) Gabby did live shows and cut some records in the late 50s and 60s.
" ... Gabby and I spent quite a bit up time together traveling and doing shows. We did a lot of military bases up and down the eastern coast like Boston, Maine and New York. We never rehearsed and he would pick up guys who said 'Hey, I play this or that.' We wound up with some real characters. He would get some girl to do the twist once in a while. I know he wasn't paid much. He pulled a trailer behind his Buick convertible. If we wanted to sleep, we'd go back there and put a canvas top over the instruments and have a sleep." (Dennis Puckett recalling his times with Hormann.)

Tom Mulcahy, who's completed a move from San Diego back to his hometown of Butte, Montana, sends along some more snapshots of the 1955 ManDak season with Williston. These latest 1955 Snapshots feature Dick Schoonover and family, Tom McDevitt, and Terry Hayes along with a great shot of the outfield lights at the Williston park.

About time. Gene Graves, who spent ten summers in Western Canada (with Saskatoon, Calgary, Kindersley and Biggar) is to be inducted into the Fresno State Baseball Hall of Fame. This year's induction ceremony is set for October 18th.

Graves went 11-0 in 1961 to lead the number two ranked collegiate baseball squad to the California Collegiate Athletic Association title (one of the wins - against the San Diego Marines - didn't count in the official stats which showed 10-0 with a 2.44 ERA and 83 strikeouts in 85 innings pitched). He was declared ineligible for post-season play because of his previous college experience at College of Sequoias and San Diego State.
" ... Fresno State College has boasted a long succession of top notch collegiate pitchers since Pete Beiden took over coaching in 1948, but few have been more effective or have captured the fancy of the fans than its current unbeaten righthander Gene Graves.

Gene is no fuzzy check but the 28 year old "Arkansas Traveller" is setting a hot pace for the younger members of the Bulldog pitching staff to follow.

The 5-9, 170 pounder reached the high point of the season when he turned back the powerful University of Arizona Wildcats, 9 to 2 . . . This ran his record to 8-0, making him the winningest college pitcher in the nation. One of his victories is over the San Diego Marines and does not count in the NCAA statistics.

Graves got a late start in his college education because of a four year hitch in the Navy after which he hurled two seasons for Coach Roy Taylor's College of the Sequoias Giants in Visalia.

He admittedly "thrives" on work and has been used both as a starter and reliever by Beiden . . . Gene's ready smile, slight drawl and homespun humor have made him popular with his teammates and with the FSC diamond followers . . . Most pitchers are quite proud of their ability with the bat, but Gene is not one of those.

"Heck, I was an infielder in high school (Hot Springs, Ark.) but the coach told me to try pitching when he saw I couldn't hit," he explained. "I really started pitching when I was in the Navy but I didn't have much coaching and all I had was a pretty live fast ball and good control. That probably is why I developed such a herky jerky style of delivery.

"Roy Taylor tried to smooth me out at COS but I guess I had been throwing so long that way, I couldn't change. Now Pete figures my big windup and unusual motion helps my effectiveness."

"I still feel my fast ball is my best pitch," he said. "I don't think it has been as fast this year as in the past but I haven't lost it. Several times this year I have cut loose with one so I know I still have it. Maybe I am pushing off the mound a little differently or something but I know this year I have relied more on my curve."

Graves was picked on the all Navy team in 1954 and won two games in the tournament before losing a 3 to 0 decision to the Hawaiian Marines.

He mad his way to Visalia since his brother and parents live in that area. They urged him to further his education. Graves first attended San Diego State after COS but quit the Aztec school and came to Fresno . . . He was the most valuable player on the COS nine in 1959.

One of the many major league baseball scouts who follow the local prep and collegiate games remarked after watching Gene pitch a shutout:

"There is a fellow that baseball needs more of now days, win, lose or draw he gives you a real show and he won't lose many." (The Fresno Bee, April 18, 1961)

A Modesto Bee headline from April 19, 1961.
Two former Western Canada players, Jerry MacDonald (Lethbridge 1961) and Fred Sommers (California Mohawks 1950, Regina 1952) were inducted into the Fresno Hall of Fame last fall. In three years at Fresno, MacDonald registered a 16-5 record in 208 innings with an over-all ERA of 3.12. FSU captured the CCAA championship twice during his tenure and he made the All-CCAA team in 1962. Sommers was an All-CCAA shortstop in 1953 and for 30 years held the record for triples, with 13.
Graves had some outstanding seasons on the prairies. In 1958 he was 9-3 with a 3.06 ERA, 2nd best in the Western Canada League. He went 9-7, 2.86 (4th in the league) in 1959 and 7-10, 3.24 in 1960. Graves was 3rd in ERA in 1961 with a 2.64 ERA and a 7-4 won-lost mark. (On the other hand, Graves batted UNDER .100 at least four seasons!).
(Aug 4, 1957) Gene Graves lost a no-hit bid with one out in the ninth as Bobby Cesar poked a single over the right side of the Saskatoon infield. Graves finished with a one-hitter in the Gems 1-0 win before 12-hundred fans at Regina. The Braves Gary Modrell was almost as effective, allowing just three hits. The only run scored on a fourth inning homer by Len Tucker. Graves struck out eight and walked three.
(Aug 6, 1958) Gene Graves pitched a no-hitter as Saskatoon edged Moose Jaw 2-1 before 12-hundred fans at Saskatoon. The Mallards lone run came in the fifth inning on a walk, a two-base error and a sac fly by Roberto Zayas. Graves fanned eight and walked four in gaining his ninth win, tying Bennie Griggs for the league-lead. Commodores scored the winner in the bottom of the ninth when Ike Jackson scored on an infield out. Saskatoon had eight hits off Dave Kostenuk, four by Jackson.

Catchup. Last fall, former WCBL catcher Mark Cameron was inducted into the Solano College Hall of Fame. Cameron was an All-Conference and All-Northern California while with Solano. He hit .350 as a sophomore and was Team Captain. Cameron moved on to Fresno State where he was Team Captain and MVP. In his senior year he was All-Conference as he hit .388. He moved on from teaching and coaching to become a CPA and a partner in one of the largest CPA firms in Fresno.

Pleased to hear from David Sandlin, now a senior bank executive in Greensboro, North Carolina :
" ... I was looking around on the net and came across your article on the Basin League. It brought back a number of great memories. I played for the Sturgis Titans in 1970. I was a 19 year old outfielder from UNC-Wilmington (Wilmington, NC). When I got of the plane in Rapid City I thought I was on the other side of the world. Little did I know that this was going to be one of the best summers of my life ... remember how great the fans and all the people treated us where ever we went. I was the youngest player that summer on the Titans and was really adopted by a family that lived near Sturgis. I lived in the old convent near downtown and remember being able to walk anywhere you needed to go. What great memories. I went on to be drafted by the St Louis Cardinals (1973) and played several years in their system ... Thanks for putting a smile on my face today with your help in bringing back some great memories."

One of the pleasant benefits of getting some coverage of the 1963-64 Western Canada Baseball seasons online is hearing from some of those players. Jerry Daniele, Lethbridge Cardinals 1963, dropped a line a few months back. The former Fresno State Bulldog is now living in Florida (Jerry paraphrased Jerry Seinfeld, "As soon as you turn 60, you have to live in Florida, it's the law.") His two children in California have gifted Jerry with four grandchildren.

I've also heard from Randy Goodrich,son of Cliff Goodrich (Saskatoon, 1961). He's hoping to check out his dad's attic for some material from the '61 season. Cliff went on to executive positions in the thoroughbred horse racing industry including, President of Santa Anita and Arlington Park.

I'm hoping to fill in some information on catcher Percy Howard after making contact from his grandson, Percy Howard III who was pleased to see a photo of his grandfather on the site. He's promised to check with relatives to try and track down some more background on his grandfather.

My thanks to Murray Cockburn, a colleague in a fantasy baseball league, for help with some photos of USC players from the 50s. Murray, a senior executive with the Toronto Star before retirement, was a Canadian track star who suited up with the track team at Southern California in the mid 50s and was a member of the 1956 Canadian Olympic team. He was at USC around the same time as such stars as Ron Fairly, Pat Gillick and Bruce Gardner.

Kudos to Elaine Pennington, The Camrose Canadian, for digging out negatives of a couple of photos from the 1950s. I am anxiously awaiting the pictures of members of the Swift Current Indians of 1951 and Indian Head Rockets of 1953.

Ivan Medina of Venezuela has been in touch to set the groundwork for information on Venezuelan players. Ivan has a book in the works and is searching out information on any players from his country who may have played in Canada. If you have such info, please send a note.

It's always such a treat to hear from Tony Campos in Cuba. His dad played in Quebec's Provincial League in 1952 and with Williston of the ManDak League in 1954. Tony has been very helpful in trying to track down former Cuban players who spent time in Canada.
" ... I'm almost completely sure that Pedro Seoane is the same man who was a well known umpire in Cuba for many years. Roberto Barbon, must be the same player that was the first Cuban to play in the Japanese League. My dad told me many times that he was contacted too, but ... he thought it would be too far. In those days even Canada was far enough for a Cuban! But maybe the most important name in the roster is Roberto Ledo, a colorful manager in Cuban ball, who directed the Orientales team that took away the pennant 1967 defeating the four times champions Industriales in a historic final game in Havana. I was a little child but still remember that traumatic game. He later managed Habana to win, I think in 1976, and died years ago by a heart attack."

Three homers in one game, including the game winner in extra innings ! What a memory for Jim Flammini (Calgary, 1964). Jim has been in touch and got quite a kick in reading a report on that fascinating game.
(August 21) The biggest offensive performance of the season occurred on the final day of the regular season. Calgary's Jim Flammini slammed his third home run of the game in the bottom of the 12th inning to give the Giants a 14-13 win over Saskatoon. Flammini, who joined the Giants three weeks ago, had five hits in six trips to the plate and knocked in six runs. The 20-year-old collegian from California had a two-run homer in the 3rd, a bases-empty blast in the 6th, pushed the game into extra innings with a run-scoring single, and punched out the game-winner in the 12th. Larry McWhirter also had a four-bagger for the Giants. Bob Reynolds, who pitched three scoreless innings in relief, was awarded the win.
Jim recalled it was quite a surprise, even to him as he weighed in at about 150 pounds!
" ... Later on that night I was in bed asleep and Phil Capka, the last opposing pitcher I hit a home-run off, came in my bedroom and threw a 'cherry bomb' under my bed. I looked up after the explosion and he was grinning. He said "Nobody hits 3 home runs in one game" ... I was called up to Calgary late in the season but they were some of my best life-long memories. Later in life I became a police officer in Anaheim, California. As a side note I was in charge of security at Anaheim stadium for 4 years and attended every Angel game as part of my assignment. I retired after 30 years in 1998 and still live in Southern California."

Cecelia (Littles) Smith wrote to express her pleasure at finding a listing for her dad, Cecil Littles who played for the Estevan Maple Leafs in 1951. Cecelia is hoping a trip to her dad's place might result in finding some clippings or photos of the Leafs.


Check it out! The Indian Head Rockets jersey at Ebbets Field Flannels. The company, based in Seattle, manufactures vintage athletic clothing. Jerry Cohen founded the company in 1987. Jerry's passion for authenticity is apparent as you flip through the pages of the on-line catalog. What a treat.
" ... In our early years we were the first to pioneer authentic reproduction apparel from the Negro leagues, the independent Minor leagues and Latin America. Our passion for the history of the game and the authenticity of the garments soon won us the attention of people like Spike Lee and David Letterman, and our products began to appear in films and television shows as well as on the field in the form of "turn back the clock" games."

Another plea to anyone from around the Rosetown area who might be in a position to search the old newspaper files for information on the Rosetown Phillies of 1954. Howard Warfield is just one of the former Rosetown players for whom we've had requests for info and, especially, photos. I'm hoping the local paper might still have some photos around from that era.

Some interesting catches on eBay. Otto Lehmann picked up an autographed baseball which included the signature of John McLane (Lloydminster, 1958). McLane, another of the USC stars to play in Canada, signed a big bonus contract with Cleveland Indians in 1959 and played four years in the pro ranks, reaching Triple-A, but not living up to the power promise of his university and semi-pro days.

Whatever happened to Larry Elliot (Edmonton, 1957) who advanced to the majors with Pittsburgh and the Mets? A former neighbour of Larry's parents, Beth in San Diego, came across a baseball card of Larry given to her by Larry's mom and is curious as to where Larry ended up.
---
28 February, 2007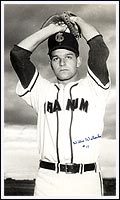 Sad news from Calgary. Bill Walasko (Willie during his playing days) passed away two weeks ago (February 14) at the Rockyview General Hospital. He was 71.
He was born in East Coulee, Alberta and raised in Hillcrest. By his early teens he was pitching in both in junior and senior baseball ranks.
For nearly 20 years he was one of the most dominant pitchers in Western Canada.
His 1956 season was one of the best ever summers by a moundsman on the prairies. He is survived by his wife Patricia, daughter Cheryl (Todd) Sparks, granddaughters Megan and Courtney, son Ron, sisters Irene (Bill) Bell and Jean Ann, and brother Jim (Florence).
Click here for our full page on Bill's baseball career.
---
08 February, 2007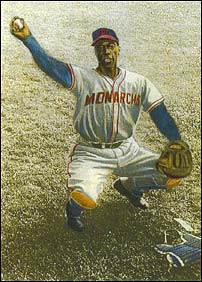 I am very pleased to report contact with a half-dozen former Western Canada players, including
Nat Bates
,
Walt
McCoy
,
Ira
McKnight
(left),
Pumpsie
Green
(right),
Gene
Graves
and
Lee
Gregory
. More to follow as I transcribe the tapes. Also helping out are
Lorne
Plaxin
(whose brother played with the Buchanan All-Stars),
Ken
McCabe
of Indian Head, home of the fabled Rockets, and
Jerry
Cohen
, of Ebbets Field Flannels, makers of those fabulous vintage uniforms. (At left - a painting of McKnight during his days with the Kansas City Monarchs). I've also tracked down
Marshall Severyn
one of the first Canadian kids to be selected for pro ball out of baseball camps on the prairies.

One more season, one more Fresno State alumni pitching appearance by Jack Altman (Vulcan 1954-55). Among those in attendance : Greg Seastrom (Vulcan '55 and '56), was there, and, of course, Bob Doig ('53-Saskatoon, '54- Kamsack and Saskatoon), who continues to be active in the FSU Dugout Club, the largest organization of its type in the country, I believe. Jack sends along more info :
Between games Truman Clevenger (Regina Caps '50 and Regina '52, and, later, a major league pitcher) was one of three former Bulldogs whose uniform numbers were retired. Jack Hannah sang the National Anthem. The Vulcan battery of 1954 was briefly reunited, as Skip Winn (Vulcan '53 and '54) opened behind the plate, on the stipulation that another catcher would replace him if anyone got on base. True to his word, when the first batter singled on the first pitch, Skip retired -- without catching a pitch! ... A sad note: I attended a memorial service in Visalia for Bill Clevenger (Regina '52) on January 26. Jack Hannah (Saskatoon '51, Regina '52, Kamsack '54), and his brother, Joe, members of the Sons of the San Joaquin, sang "Wyoming on My Mind" and "The Boss is Hanging Out a Rainbow" ... Jim Lester (Granum '56, '57 and Lethbridge '59-'61) called today from Illinois, asking about the game. He said he is doing well.

John Kelly, a left-handed pitcher (Minot 1952-53) died January 21st at his home in Mesa, Arizona. He was 79. Kelly was raised in the Long Island, NY area and served with the U.S. Navy during World War II before pitching professionally in the Brooklyn Dodgers' organization and semi-pro in Minnesota. He was 22-2 with Fergus Falls in 1950 and 10-5 with Wilmar in 1951. In 1952 and 1953 he pitched for the Minot Mallards of the ManDak League. He started 6-0 in 1952 before finishing with a 7-2 record. A sore arm cut short his 1953 season.

Thanks to Bill Guenthner for sending along the information on Kelly. Bill's site on the Minot Mallards is such a treat. Be sure to drop in.

May 16, 2006 Lillord Cobb (Carman 1949-50) died in Fairfield, Ohio. A sergeant in the Marine Corps in World War II, Cobb returned from the service to earn his B.Sc. in Mechanical Engineering from Lawrence Tech (Detroit) in 1952. While working for Lockheed Propulsion Co. in the 1960s, he patented a design which helped Apollo 11 reach the moon in 1969. He was preceded in death by his wife of 49 years, Dovie Mae and son Matthew. He is survived by his sister, Phyllis, daughter Dovie Mae Crawford and sons Marvin, Michael, Marcus and Marty. Cobb was a pitcher / outfielder with the Carman Cardinals in 1949 and 1950. His name was often written as Lillard during his time in Carman.

In January, Wilfred "Lefty" Lefebvre, Minot manager in 1950, died in Florida at the age of 91. A graduate of Holy Cross University, he played in the major leagues with Boston and Washington. While he made the majors as a pitcher, Lefebvre was perhaps best known for hitting a home run in his first at bat in the majors. After his playing days he coached baseball at Brown University and was a scout for the Red Sox.

In November, 2003 Roger Higgins passed away. He was 76. Higgins had an 11-year pro career, beginning in 1945. His best season came in 1950 with the Kingston (Ontario) Ponies of the Border League when he won 18 games, lost just 5 with an ERA of 2.77. He was an outstanding pitcher for Bismarck Barons in 1955-56, going 8-3 in 1955 and 12-1 in 1956. After his playing days, Higgins began a career in radio and television broadcasting. After retiring in 1989, Higgins took up as the voice of the University of Mary Marauders in Bismarck.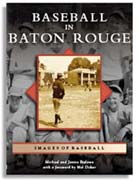 Congratulations to Michael and Janice Bielawa on the publication of their book, "Baseball in Baton Rouge".
It is a concise illustrated history of baseball in the Louisiana city from the game played by occupying Union troops during the Civil War through to the recent history of the Louisiana State University Tigers (one of the winningest teams in the history of the College World Sereis), with a variety of minor leagues and local teams in between. Available through Arcadia Publishing.
Michael is a member of SABR (The Society for American Baseball Research) and has written extensively about baseball. Janice is a researcher and graphic artist.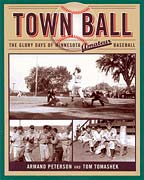 Thanks to Armand Peterson for sending along a photo of Cliff Pemberton from his semi-pro days in Minnesota. Armand and Tom Tomashek have their fine work on the book shelves. Town Ball, The Glory Days of Minnesota Amateur Baseball, is a 400-page effort which focuses on a 16-year span -- from the end of Word War II through to 1960 the year before the Twins arrived. I'm just 50 or so pages in and already I'm hooked. Among the very nice touches are the photo captions in group pictures. The captions identify all the players, not just the usual one or two "stars". Check it out ! Armand sent along this note on the Pemberton in Minny :
" ... Pemberton was just as colorful a player in Minnesota as he became in Western Canada. He had numerous run-ins with umpires during the season. The most notable came on August 27th. The game was at Springfield and ultimately won by Fairmont, 11-6. The umpiring crew was probably suspect. Players from both teams were on the umpires from the first pitch. In the third inning Pemberton became upset with a second strike call by the home plate umpire. Pemberton threw up his arms and stomped around the plate, and apparently used abusive language, causing the umpire to give him the thumb. Pemberton shoved the ump, who, unwisely, shoved back, and a scuffling match ensued. Players from both teams separated the two, and Pemberton finally returned to the dugout. For some reason, the ump did not force him to leave the dugout at that time. The umpire baiting continued, with the umpires engaging in verbal jousts with players on both teams, and another Springfield player was later ejected. As the jawing continued, the umpire finally demanded that Pemberton leave the park. This enraged Pemberton, who charged out of the dugout and tackled the umpire. After a brief wrestling match, other players separated the two and Pemberton finally was escorted out of the park.

The next day the Wisconsin-Minnesota Umpires Association demanded that the Western Minnesota League suspend Pemberton for 12 months. (The Association had issued that rule at the start of the season in 1953 in response to complaints by umpires that they had been abused in the prior years.) Furthermore, the Association said it would refuse to officiate in any game that Pemberton played. However, the Western Minnesota League said that their rules called for only a one-game suspension and that they had not accepted the Association's code. (The other two Class AA leagues in the state called for three-game suspensions that year for striking an umpire.) Springfield officials decided not to cause a stir at that time and held Pemberton out of the lineup for the next game, which turned out to be the last game of the season, as the team finished in the second division and did not qualify for the playoffs."

Good to hear from Gordon Elliott, second sacker with Carman Cardinals in 1949 and 1950. He's helped to fill in some information on those Carman teams, including one of the unidentified players in the 1949 team picture (it's Roger Shanner). Gord says he keeps in touch with Don Reid, a former Carman pitcher, now living in California. Reid was Gord's best man for his Carman wedding. After three years in the U.S. Navy Gord received his B.Sc. in Civil Engineeting, specializing in bridge design. He retired in 1993.



More little discoveries. Wilmer Fields (left) (who played both in the ManDak League and Ontario's Intercounty League along with a stint with the Toronto Maple Leafs of the International League) played on the USA team at the 1956 Global World Series in Milwaukee. John Kennedy (right) (Winnipeg 1950-51, Minot 1952) also suited up with Team USA. The next season Kennedy would be the first Afro-American to integrate the Philadelphia Phillies.

Lots of updates all over the site, including updates on stats for 1948 and 1949 and the beginning of a section on the 1948 London (Ontario) Majors. Barry Wells and Steve Harding have been kind enough to dig out information on the Intercounty League and the '48 Majors who downed the USA champion Fort Wayne General Electrics to capture the Sandlot World Series. Also, there have been major steps made on filling in the game by game reports on the 1963 and 1964 Western Canada League.
---
26 December, 2006

Again, I express my deep appreciation to all for being so generous in providing information and assistance in my little history project. May you be rewarded with good health, good friends and good times in the New Year !

In re-checking the "administration" of the site, I've noticed some links which may not have been working property, especially links to some of the "Profile" pages. A couple are relatively new (Ron Teasley, Sugar Cain, Zoonie McLean). Check the sitemap for the full list.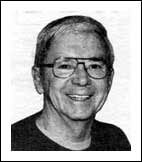 Long overdue - an enthusiastic round of applause for Keith Davidson of Lloydminster for his work in helping to preserve the baseball history of t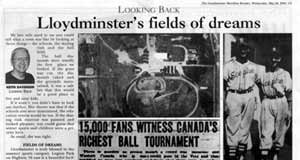 he community. Keith has penned a series of articles carried in the Lloydminster Meridian Booster on, among other things, baseball in the border town. The pieces well document the period of the 50s and 60s when the town embraced the loveable Meridians and the summers were so much more enjoyable with the opportunity to hang out at the ballpark. Thank you Keith!

One more link which has been AWOL (I think I may have accidentally deleted some links when I was forced to re-install my web program early in the year) -- Intercounty Baseball League . This is the bare bones beginning of a section on the InterCounty league of Southern Ontario. Len Hannam is providing the information and is hoping to dig out some of the stats from the 50s and 60s.

Thanks to Joe Dunning for prompting me to check out the 1951 Foothills Baseball League season and sending along some clippings. Joe's dad played on that championship team which starred former Negro Leaguer, big Hubert Glenn. It's here - Foothills Baseball League .

One of my resolutions for the New Year - to try and compile information on the Big Four Intercity League, 1947 to 1950. It featured teams from Edmonton and Calgary and was one of the loops to begin to display prime college talent from the United States. The beginning of the 1950 report is here. I am hoping Don Stewart, Des O'Connor and the gang from the Edmonton Old Timers Association will have access to materials of interest. Their group has done a marvelous job in keeping the history alive in Alberta.

The other major resolution is to attempt to update and complete various stats pages.
---
21 December, 2006

Best wishes to all for the holiday season. Merry Christmas!

Lots of work behind the scenes. Until the 'ol wrists began to fail again, I managed to punch in a ton of data and make additions and changes to dozens and dozens of photos. Among those pages with significant updates are all of the "Snapshot" pages and most of the "Photo Galleries". There are some new team pictures, including the 1957 Moose Jaw Mallards. There have been major strides in providing game-by-reports of the 1963 and 1964 Western Canada Baseball League seasons, plus additions to the 1958 and 1959 Southern Alberta reports, 1961 WCBL reports, lots of additions to the ManDak game reports, especially for the 1953-54 and 1956 seasons. There's new material as well on the Ligon's and California Mohawks pages and big changes to individual pages such as that featuring Willie Walasko. There's eleven additions to the "Major Leaguers" pages. Also, a beginning has been made on the 1959 Southern League (including a Photo Gallery) and a start is evident on some baseball in British Columbia (the Kootenay League in 1954) and the Big Six League in Alberta in 1954. The site map page is a good place to start. I've made so many changes there's likely to be the odd missing piece. If you note anything amiss, please let me know.


A big thank you to Maxine Cannon for information on the Southern Saskatchewan League. She helped put together scrapbooks on the Marquis Wheat Kings on the late 50s and early 60s and has kindly sent them along for my perusal. Maxine's husband, Bernard (right), was a key member of those Marquis teams.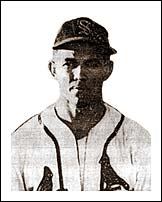 What a pleasure to chat with Walter McCoy (ManDak League 1952-53-54-55). He's still in San Diego and, at age 83, continues to do some work in construction! My thanks to Dan Doyle for alerting me to Walter's whereabouts.
With an incredible memory of his tenure in Canada, Walter says his time up here was the best of his life. He expressed his gratitude for the way he was treated by the fans and public. He even married a girl from Winnipeg! Walter came to the ManDak League after four seasons in Negro League baseball with the Chicago American Giants and some time in the Pacific Coast League, Mexico and the Dominican Republic.

A story in the Sacramento Bee put me on the trail of Bob Linck, the manager of the first Lloydminster Meridians' club in 1954. Linck also played in Regina, Moose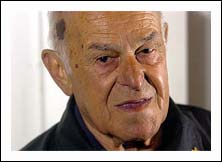 Jaw, North Battleford and Brandon from 1952 to 1955. After a long teaching and coaching career, Linck settled down in the Sacramento area. This past summer, he retired after 67 years with the Sacramento State Fair. The Bee ran the following story:
State Fair security guard Bob Linck keeps watch over an exhibit building while smoking his pipe just after midnight Wednesday. The 84-year-old Elk Grove resident, who started working at the fair in 1939, plans to retire when the fair closes on Labor Day.

Sacramento Bee/Hector Amezcua

But sunny Sacramento called, and he returned to his hometown and his summer ritual of working at the fair. He continued through 28 years of teaching at Sacramento High School and coaching scores of championship baseball and basketball teams, and kept at it after he retired from teaching in 1983.

This isn't the first time Bob Linck has planned to retire from working the California State Fair. For several years now, the seasonal security guard has planned to say goodbye to the graveyard shift and his passel of friends at Cal Expo.

Many teasingly predict he'll be back, though Linck denies it.

"I say it every year, but this is really going to be it," he said.

It's easy to forgive the skeptics when you consider that Linck started working at the fair 67 years ago.

Since 1939, the 84-year-old Linck has been a fixture most years at the fair, doing everything from working the paddock to manning the gates to pruning the gardens to running the monorail.
But he is best known there as a security guard. For the past 12 years, he's been a steady presence in Buildings C and D, where vendors hawk everything from magic stepladders to wonder knives to temporary tattoos.

He arrives well after dark, as the fair is starting to wind down for the night. He's there to turn off the lights, shoo visitors out the door and methodically ensure that each and every door is locked and the vendors' valuable merchandise is secure.

He spends the remainder of his shift doing rounds, visiting with other employees or sitting in solitude on an outdoor patio, with only his pipe and his thoughts for company.

"He's a livewire," said Cal Expo Officer Jim Libonati, who works with Linck and was also a student of his when Linck taught physical education and biology at Sacramento High School. "Most 84-year-olds would be sitting in a rocking chair, kind of chilling out. But he's right here."

Not for long.

Linck plans to hang up his keys and two-way radio when the fair closes on Labor Day. While he remains spry and alert, he can no longer drive and must depend on others for rides to and from Cal Expo.

From now on, the Elk Grove resident will spend his summers with his wife, Joan, at their cabin in Idaho. And if he goes back to the State Fair, it will be as a plain old visitor.

"We got some good kids working here," Linck said. "I know all these people. That's the big thing I'm going to miss."

Linck was born in Vallejo and moved to Sacramento with his family as a young child. He grew up near 28th and N streets, near where Paragary's restaurant sits today, and still remembers the hitching post outside his house.

The family moved to Oak Park, and Linck attended Sacramento High School, graduating in February 1940.

He began working at the fair the previous summer, as a night watchman for a salary of $20 per week. His original badge sits in his pocket, now attached to a money clip.

There are just two gaps in his State Fair résumé: four years during World War II, when he joined the Marine Corps and fought in the South Pacific; and 10 years when he attended college in Idaho and stayed to teach courses and coach a few minor league baseball teams, including the Lloydminster Meridians, part of the Saskatchewan Baseball League.

He has fond memories of the old fairgrounds on Stockton Boulevard. There, he passed the time during the graveyard shift by playing cops and robbers with the lone officer who lived on the grounds.

He remembers meeting entertainers Bob Hope, Bing Crosby, Billy Barty and Nat King Cole, and watching baseball great Joe DiMaggio cut the ribbon on opening day.

He tells of having a few hot toddies with singer Eddie Fisher at the A&J Club on Stockton Boulevard, and how nobody seemed to realize a star was in their midst.

The State Fair became a family affair for Linck, with both his brothers and all four of his children working the event at one time.

But he's the only one who came back faithfully.

He still enjoys people-watching. Still delights in the nightly parades, the stiltwalkers, the fireworks and the kiddie carnival area.

He still likes listening to the music that emanates from the nearby Blues & Brews stage as he secures Building C.

"This is a beautiful fair," Linck said.

He will bid Cal Expo a fond adieu, but the spirited great-grandfather won't be slowing down.

"I'm ornery as ever," he chuckled.

Managed to locate Jack Marcus (Medicine Hat Mohawks 1951 who also played on the basketball version of the California Mohawks and ended up playing a couple of seasons of basketball in Lethbridge. Jack was very helpful in providing some hints for digging out information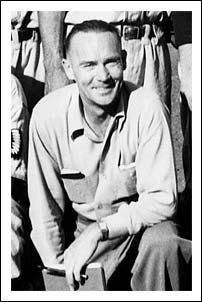 on Brick Swegle, the founder of the Mohawks. In spite of some troubles with the law, Brick appears to have developed considerable support and respect in the sports community. In 1936, Sterling L. Swegle was convicted of perjury in a case over a speeding charge. It is not known if he was sentenced to a prison term. Newspaper stories indicate he spent at least some time in jail while awaiting trail. During the trial he was also facing contempt of court charges for refusing to answer a question about whether he had been previously convicted of a felony.
In 1946, Swegle was indicted on a charge of receiving stolen Government sugar in an alleged theft conspiracy involving government property. I have yet to find a report on what happened to the charges, to which Swegle pleaded not guilty.
And in the early 50s, Brick and wife Ethel ran a bar in Walnut Creek, California which ran afoul of liquor license regulations.
In 1952, Swegle created a mess in the early going of the ManDak League as he failed to field a team, as promised, for the Brandon Greys. The California promoter had hoped to fill the Brandon roster with players from Fresno State University, but the Bulldogs advanced in the collegiate playoffs and Brandon officials had to scramble to fill out the roster as Swegle was sent packing.
Nonetheless, Swegle, a Second World War veteran, was installed as Commander of the American Legion in Walnut Creek and held various senior posts in athletic organizations in California.
In a 1989 article, Glen Stout suggested Swegle may have been a key figure in the development of basketball legend Bill Russell who joined Swegle on a basketball tour as a high school senior.
" ... By no stretch of the imagination was Russell an all-star. He hadn't even won an honorable mention on his own league's all-star team. But he was available, and his selection proved to be one of the most important events of his life.

A man named Brick Swegle coached the California All-Stars and subscribed
to a coaching philosophy that let the young men have fun. Under those relaxed
conditions, Russell's emerging athleticism flourished ... Coach Swegle let his young charges play, and they responded with a freer, wide-open style that had rarely been seen off the playground. Leaping was no longer a sin, and Russell, who was just beginning to gain control of his body, went wild. On the ground he was just another player; in the air he was something else.

Playing talented opponents, Russell improved his skills exponentially. He discovered not only that he could jump but also that he could "visualize" his opponents' moves and anticipate what they would do next. He started blocking shots. Lots of shots. Nobody had ever blocked so many shots."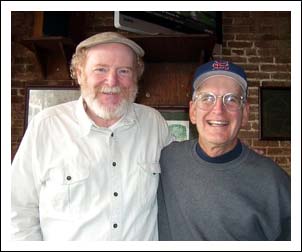 What a great picture! A couple of former Vulcan (Alberta) Elks. That's Steve Cottrell (Vulcan 1961-62) on the left with Jack Altman (Vulcan 1954-55) on the right. Jack visited Steve in Nevada City, CA where Steve is the mayor of the community. Jack & Bev are in England for Christmas to visit son Jay.

A big hello to all from Roy Taylor (nine baseball seasons in Western Canada between 1950 and 1959). Hoping to soon overcome a cold which has been bugging him, Roy is anxious to take on his grandson in a golf challenge over the Christmas holidays.


Among the players tracked down (thank goodness for the internet) from the 1963-64 revival of the Western Canada Baseball League is Leo Ruth (Medicine Hat 1963). For more than 35 years, Leo has been a teacher and coach at Bellarmine College Preparatory, in San Jose, California. That 1963 Medicine Hat club featured at least three players who graduated to the majors -- Ray Lamb, Paul Edmondson and Ron Theobald. Ruth both caught and pitched for the Commodores.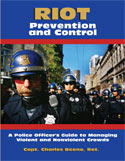 Charlie Beene (Saskatoon 1951 & 1957), who is supposed to be retired, has another book out. This one, RIOT PREVENTION AND CONTROL A Police Officer's Guide to Managing Violent and Nonviolent Crowds. The former San Francisco Police Captain has also been doing part-time work for the University of Montana. And, in what he says is the first year he hasn't worked, he visited his daughter's farm in Oregon to put in 30 straight days of trimming and clipping trees and vines.

Digging through online newspaper files, I've managed to find a little information on the Jacksonville Eagles (the team which moved up to Saskatchewan in 1950 and played as the Indian Head Rockets). From what I can gather, the Eagles played in the Negro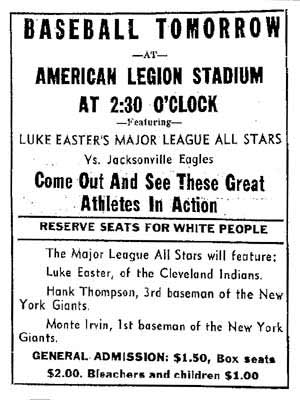 Southern League and were often the opposition for barnstorming teams such as the Jack Robinson All-Stars and the Luke Easter All-Stars. This ad (at right), from the Florence SC Morning News in November, 1950.

Anyone have information on the Rosetown Phillies of 1954? Along with the family of Howard Warfield, one of the Rosetown players, we are anxious to obtain a photo of the club.
Please drop me a line if you have any hints on how to find any photos or programs or the like.

Also on the lookout for a contact number for Fergie Olver, the former Blue Jays' broadcaster. It turns out Fergie suited up in both the Southern League and the Western Canada League.

Bill Jones of Saskatoon is seeking information on his dad, Collins Jones, who suited up for at least six summers in Western Canada. Jones played in Dauphin, Estevan, Moose Jaw and Lloydminster. Jones also played basketball for the Harlem Globetrotters.

Sad to hear of the passing of former Edmonton Journal columnist Don Fleming who was one of the key figures in covering baseball on the prairies in the 1950s and 1960s. He died this fall at age 87.
---
23 October, 2006

Happy to report major progress on digging out information on the 1963 Western Canada League. I've been working through the game-by-game reports and have June, July and half of August and the playoffs now completed. (Nelson Briles and Tim Cullen had huge seasons.) There are a few missing games, but I am hoping Clark Rex and John Carbray will be able to fill in a lot of blanks when they get around to checking out their material.

Looking for information on a couple of former players -- Jim McKinnon and Don Hogan. Hogan played semi-pro ball in Western Canada in the early 50s. He was likely based in either Edmonton or Saskatoon. McKinnon, a pitcher, played in pro-ball in the late 40's and early 50's, mainly in California. Also looking for information on Lew Wigley, who played for a time with the Medicine Hat Mohawks in 1951 and on Ira McKnight who played in the latter years of the Negro Leagues and suited up with both Saskatoon and North Battleford in the 60s.

Thanks to Arch Mullin for more information on the old Manitoba-Saskatchewan League. His interest, particularly in the Bowsman club, has been key to our coverage of the league.

Happy to help out Joe Dunning find information on his dad, Bernie Dunning, who played in Claresholm on the championship team of 1951. Even managed to locate a photo of the team.

Jim Lester, as always, very helpful in sending along some clippings on Buck O'Neil and Josh Gibson. O'Neil, who passed away just weeks ago, had suited up (at age 94) in the Northern League's All-Star game. He got two at bats, both walks. O'Neil led off the game with a walk the, after it was announced he had been traded to the opposing team, he got to leadoff in the bottom of the inning.
---
17 October, 2006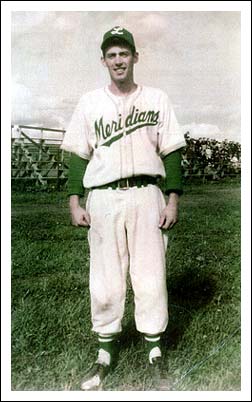 Dozens of pages have been updated with new and revised material and a start has been made on the Western Canada Leagues of 1963 and 1964.
Although I've just begun to chronicle those seasons, the quality of the league is readily apparent (eg. future major leaguers -- Tug McGraw, Nelson Briles, Jerry Nyman, Jan Dukes, Gary Sutherland -- and All-Americans (eg. Walt Peterson). And there's Fergie Olver. "How about those Blue Jays?" Yes, that Fergie Olver. The former CTV broadcaster was an outfielder with Saskatoon for both seasons (after a one-year shot in pro ball).
I am hoping Clark Rex (instrumental in the formation of the '63-64 leagues) will be able to provide some major help with this portion of my project.
The photo at left is among the surprise packages of the summer. Tom Mulcahy, the former Lloydminster Meridian (and long-term executive with the San Diego Padres) send along some photos from his days in Lloydminster and Williston. Tom has just moved back home to Montana.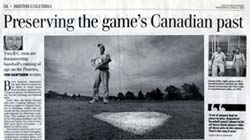 In June The Globe and Mail, Canada's National Newspaper, ran a feature focused on Barry Swanton and me for our attempts to document and promote an important part of the history of Western Canada - baseball. Writer Tom Hawthorn fashioned a piece on our work to keep the baseball history of the West alive and accessible. In the top right corner that's a picture of my dad and one of the Lloydminster players in front of his restaurant.

Happy to provide some material to Jessica Koroscil of Canadian Dimension magazine for a piece they are doing on the ManDak League. In another of those Six Degrees of Separation head-shaking moments, it turns out Jessica is the niece of the son of the son of the Manitoba woman who originally provided me with some of the ManDak photos.
---
17 June, 2006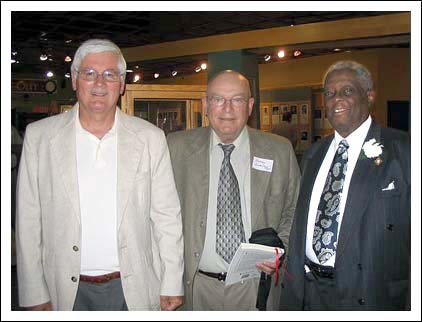 Congratulations to colleague Barry Swanton (centre) on his induction into the Manitoba Baseball Hall of Fame.
The ceremony, last Saturday in Morden, also honoured former ManDak League stars Dirk Gibbons (right) and Armando Vasquez.
In addition, the 2006 event recognized Al Evanson, Bruce Gullett, Mike Levandosky, Terry Lynd, Don Maskiw, Garth Neville, Maurice Oakes, Bill Siddle, Denny Smith, and Frank Watkins. Four teams also won special recognition -- Brandon Greys 1948-51, Elmwood Junior Giants

1978-80, Snowflake 1948-52, and Lyleton 1955-60.
In the above photo, that's fellow researcher Bill Guenthner (he of the marvelous Minot Mallards book and website) on the left, Barry (centre) and Dirk on the right. Barry's book on the ManDak League is available and doing well. Bill has been kind enough to dig out more info for us from sources in Minot. Much appreciated. Among his finds on his Minot visit was the actual Mallard crest from the Minot uniforms (right). This, of course, in the days before the word "logo" came into play !

So pleased to re-establish contact with writer Tom Hawthorn who is working on a short piece on Barry and me for national publication in Canada. Tom is a brilliant wordsmith with a long list of awards for his journalistic contributions. We've yet to meet face to face but for several years in the 80's in Toronto we worked in buildings just a few blocks apart. I wish I had permission (The Globe and Mail holds the rights) to post a lovely story by Tom on baseball in Ontario's InterCounty League. Here, however, are links to a couple of pieces on his web site - one on Larry Kwong the first Chinese to play in the National Hockey League, and other on Wilmer Fields who was an Intercounty star after his days in the Negro Leagues. Enjoy. If only I could entice Tom to re-write sections on Western Canada Baseball ! [Links removed as Tom's site appears to be down.]

I am honoured to have been approached by the Edmonton Old Timers Baseball Association to attend their annual reunion weekend (this weekend). I was unable to make the trek, but hope to have Don Stewart and gang to send along a full report. The Edmonton group is to be commended for maintaining such a strong organization. I wish I had access to resources to post information on the old Big Four League of the late 40's and early 50's. I think the guys would have had a ball with it.

We've been busy behind the scenes updating and adding to the site. A major effort is underway to re-size and improve the quality of many of the graphic elements (the 1955, 1958 and 1959 Snapshot sections are prime examples). Access to some additional online resources has made it possible to update several of the game-by-game sections (primarily the ManDak seasons 1950, 1951, 1953 and 1956 and Southern Alberta 1954).


One mystery solved. Thanks to Ralph Blinn Jr. for identifying the 1954 Williston Oiler photo as that of his dad, shortstop Ralph Sr. Just one Williston photo now (see TBA2 near the bottom of the page) remaining unidentified. A few days after receiving Ralph's note, I was lucky enough to come across a story of his play in Minnesota in 1953 with the Brainerd Braves and to send that along to Ralph Jr.

Thanks to Don King for pointing out Johnny McKenzie's hockey connection. McKenzie, a member of the Nanton baseball squads in the early 50s, fashioned a 24-year pro hockey career including a dozen years in the National Hockey League with Chicago, Detroit, New York and Boston. He also played for seven seasons in the World Hockey Association.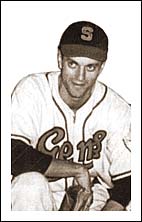 Finally, tracked down Don Kirk (left), a pitching star on the prairies in the early 50s. Kirk, who juggled baseball and hockey with his medical training at the University of Alberta, played with Saskatoon, Edmonton, Calgary, and Delisle.
The left-hander's best season likely came in 1954 with the Saskatoon Gems when he went 11-1 during the regular season and added a couple more wins in the playoffs. His onerous university program led to a short-lived baseball career. He was just 25 when forced to hang 'em up.
After graduation from medical school, Kirk spent six years in the Yukon as a doctor at a mine. Later he would set up a practice at Campbell River on Vancouver Island where he still resides.
Kirk also was a star hockey player with the University of Alberta Golden Bears and, in the late 50's took a year off from his studies to play hockey in Holland.

Super researcher Ray Nemec sends along word of the passing of shortstop Thomas (Buddy) Afremow who suited up with Williston and Dickinson in the ManDak League 1954-56. Afremow died April 26 in Manhattan Beach, California at age 80. In February, Hank Szostak passed away at age 69. After a three-year pro career, Szostak pitched for the Calgary Dodgers in the Southern Alberta League in 1958 and 1959.

It would have fascinating to have been a fly on the wall for the reunion (in voice at least) between former North Battleford Beavers teammates Matt Meredith and Emile Francis. Matt's daughter Lynn got in touch and we were pleased to facilitate the conversation. Also, happy to hook up Bill Raehse (Williston, 1955-57) with and old buddy Don Gaffney. It appears they haven't had contact for more than 50 years!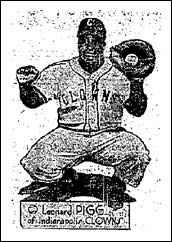 Came across the photo (right) in responding to a note from Alice Pigg, Leonard's great, great, great niece. The caption on the photo (from The Chillicothe Constitution-Tribune, Chillicothe, Missouri, August 20, 1951) reads :
"POUNDIN' PIGG -- Leonard Pigg, Oklahoma born, and now residing at Seattle, Wash., who led the entire Negro American League in batting in 1949, and last season pounded the pill for a .410 mark at Roblin, Manitoba, Canada, is again whacking the ball solidly for the Indianapolis Clowns this season, with a .370 average and doing most of the receiving in the Funmakers' drive to retain their first place position in the NAL. Pigg and his full 240 pounds, will be seen in action Wednesday ... "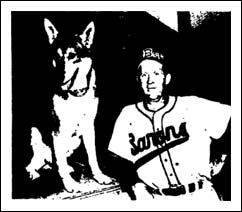 Did you know? Chuck Eisenmann, pitcher with the 1956 Bismarck Barons of the ManDak League began to bring his talented dog, London, along to the ballpark and soon developed a new career as London went on to star in movies and television. London, and his successors, starred in The Littlest Hobo a TV series which ran from 1963 to 1965 and again from 1979 to 1985.
Eisenmann went on to co-produce movies featuring his dogs and publish books on dog training.
His pro baseball career stretched from 1939 to 1953 with two lengthy tours in the military. The right-hander pitched in Triple-A as late as 1952 and 1953. His best season was in 1948 when he finished 16-11 in 220 innings with Memphis of the Southern League. (Photo from the Bismarck Tribune)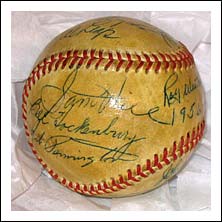 So nice of Jim Headrick of Manitowoc, WI, formerly of Bismarck to keep us in mind when he came across two signed baseballs from his youth in North Dakota. Jim is in the process of moving and about to head out on a lengthy RV tour before settling down in a new spot in Wisconsin. Thus, much had to go.
The Minot Mallards ball now has a good home with Bill Guenthner in Delaware and the Bismarck Barons ball now has a home here. Yes, Chuck Eisenmann's signature is on the ball. The signatures clearly visible in the photo are Al Leap (at the top), Sam Hill, Bill Hockenbury and Art Pennington, along with a portion of Roy Weatherly's signature at the right. Thank you Jim and best wishes on your tour.


After 20 years at the helm of the baseball program at the University of Southern California, Mike Gillespie has announced his retirement. Gillespie guided the Trojans to the 1998 College World Series championship and 15 NCAA Regional appearances. He was another of the Western Canada baseball graduates who found success in the college coaching ranks.
During one period in California, Gillespie had several other former Western Canada players -- Bob Bennett at Fresno State, Bob Milano, Cal Berkeley, and Gary Adams, UCLA -- as coaching colleagues.

Happy to help out Nick Purdon of CBC Radio with a couple of pieces on Negro leaguers coming to play in Canada in the late 40's and early 50's.

Thanks to Jim Lester for sending along a piece from the Peoria Journal Star on Negro League legend Josh Gibson. Also, no headway to report on the search for information on the story of Leonard Tucker racing a horse during his days in a Peoria uniform.

Among the finds in touring online newspaper sources. It's a 1948 photo (left) of 17-year-old Del St. John as a junior with Pincher Creek. A catcher, St. John was touted as the best prospect in Southern Alberta, being wooed by teams in Calgary and Lethbridge. (Lethbridge Herald, July 10, 1948)

Kudos to the folks at the Bismarck, North Dakota, Tribune. I am so impressed. Not able to read some microfilm from an online source, I called the paper and asked if someone could send me a photocopy of the original page. No problem they said. And, a few days later, there it was in the mail. This is service virtually unknown in today's business environment. Thank you !

Thanks to Tom Kvamme at the Williston Herald for the plug. In a piece on former Williston Oiler Ron Martin, Tom included a mention of our little project :
" ... Baseball fans can learn more about the history of those early days thanks to the good folks who took the time to put together a website listed under www.attheplate.com. We learned that Tom Mulcahy, who was associated with the Oilers in 1955, was responsible for putting the photos from 1954 and 1955 on the web."

So good to hear from Arch Mullin. He has been an incredible resource on the Manitoba-Saskatchewan League and baseball in Bowsman and area.

Anyone have information on Lew Wigley? His daughter Cathy is trying to chase down clippings or photos of his baseball career. I have a notation of a brief stint with the 1951 Medicine Hat Mohawks. Lew died in 2004. Please drop me a line if you can provide any details.

Also trying to dig up clippings or photos of long-time Western Canada umpire Johnny Lupul. Johnny's grand-daughter is especially interested in any photographs, even those clipped from newspapers. Again, let me know if you can help.

A round of applause for Thad Weinlein for pointing us to a super photo of Hank Aaron with Syd Pollock. Pollock was an owner, manager, promoter with the Indianapolis Clowns during a career which spanned nearly five decades. Aaron got his start with the Clowns.