Update : 31 July, 2010

Thanks for all the kind words about my Hall of Fame adventure! My local paper, The Arrow Lakes News, did an item in this week's edition.

A reminder - the 18th Annual Canadian National Oldtimers' Baseball Federation, Canadian Baseball Championships are on this weekend in Burnaby, BC. 24 teams in the running in three age categories.

The web site update is going pretty well. I have several dozen pages now finished, but am now wondering if it's a good idea to upload them now and thus have a mix of old and new. Will it screw up the site entirely? Let me think about that.
---
Update : 21 July, 2010

At age 100, Andy Porter passed away earlier this month.

Porter, the former Negro League pitching star, played for at least seven teams in Canada over four summers (1950-1953) - Winnipeg Buffaloes, Saskatoon 55s, Eston, Delisle, Indian Head, North Battleford and Carman.
Left - Porter with the ManDak champion Winnipeg Buffaloes in 1950.
Andy (Adrew, Andrew) "Pullman" Porter was born March 7, 1910 in Little Rock, AR. He celebrated his 100th birthday on March 7, 2010 and died Thursday, July 1, 2010 in Los Angeles, CA after a lengthy illness. Services were held on Monday, July 12, 2010, 11:30 a.m. at Inglewood Cemetery Mortuary - Manchester Chapel, Inglewood, CA. He was interred near the grave of his brother, first baseman Merle "Fancy Dan" Porter, at Lincoln Memorial Park Cemetery, Carson, CA. Andy's Negro League pitching career spanned from 1932 - 1954 and included the Louisville Black Caps, and the Elite Giants of Nashville, Columbus, Washington and Baltimore. He also played in Mexico and Canada, and with the Newark Eagles, and the Indianapolis Clowns of the American Negro League.
---
Update : 20 July, 2010

Early this month, former Fresno star and coach Bob Bennett was honoured with induction into the National College Baseball Hall of Fame. Bennett, who played in Canada with Regina, Kamsack and Saskatoon clubs in the 1950s, was at the helm for 26 years at FSU.
He chalked up 1,300 wins before he hung 'em up in 2002. Under his direction the Bulldogs had 26 straight winning seasons. In his 34 years at the helm, Fresno had just two losing campaigns.


Mo Weber, former manager in the Basin League (at Huron in 1953-54) recently stepped down as hitting coach of the New Market Rebels of the Valley Baseball League, a summer circuit for college players in Virginia.
Weber, who is 87, started his coaching career at Winona State (Minnesota) Teachers College in 1946. He's a former head coach at William and Mary.

There's hope for even more coverage of the Intercounty League. Out of the blue, a note from former pitcher Irwin (Al) Gerringer who played in the league in 1953. He's already sent along the team photo of the 1953 Brantford Red Sox. He's checking for more material.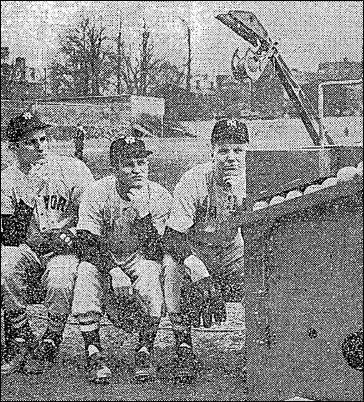 We've not a lot for that season so far, but hoping that with Irwin's help we can begin to shore up the coverage.
And, I found a photo (right) that I had of Irwin and teammates at New York University in 1953. I had tracked this down when trying to find details on former ManDak player Bill Oster (Minot 1956-57).
The photo, carried in the New York Times, shows NYU pitchers, Vinnie Lupica, Gerringer and Oster (left to right) pondering NYU's acquisition of a pitching machine.
NYU baseball coach Bill McCarthy arranged for the new fandangled contraption as an aid in training the club's batters. Servings ranged from a slow ball to a blazing fast one and could be set to change pace.
Writing from Lake Worth, Florida, Irwin notes some of the highlights of his baseball career :
1) Pitching my amateur team to the New York City championship at Ebbets Field in 1950.
2) Pitching five innings of no hit ball, striking out 12 out of 15 against Whitey Ford while he was playing in the army while stationed at Fort Monmouth, New Jersey, I think it was 1951.
3) Meeting Rocky Marciano in Oshawa when he came up there with his brother Louie, trying to get him on the team but our roster was filled up.
4) the whole experience in Canada, boy I'd like a do-over!

---
Update : 17 July, 2010

Whew. I didn't expect the revision of the site would be as time consuming as it has turned out to be. Nonetheless, I am making good progress and should have something online in the next few weeks.
In re-doing much of the material I have discovered some embarrassing errors - especially a couple of things which I thought were online but it seems links to the material were at some point deleted. One of the items was a presentation on Cliff Pemberton which Royse Parr and I put together a few years ago for a baseball symposium in Arizona. That's now been put back on the Pemberton page.
Another is some missing info on the Jack Altman page. I do recall putting the material together detailing his growing up with buddy Greg Seastrom and others in Hawaii, a stint as bat boy for the Cal Bears, college and baseball at Fresno, a stint in pro ball, the Army, baseball administration (Stockton, I think), then into college administration. Anyway, will have to quiz Jack all over again.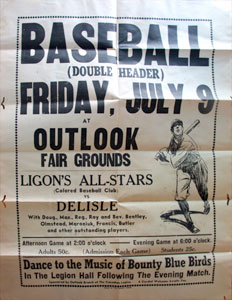 Thanks to Max Weder for tracking down a photo from Vancouver baseball in the early 1900s. The picture of the 1909 Vancouver Beavers included several players who later suited up in the Western Canada League. Max also sent along a copy of a poster for an exhibition game in Outlook between the Ligon All-Stars and the Delisle club. The poster is from either 1948 or 1954, more likely the former.

I love the folks at small town papers. In trying to dig up information on one game (missing from my attempt to pout together the stats for the 1909 WCBL season) I wrote to the Maple Creek News to see if they may have covered the game (Winnipeg and Medicine Hat stopped off in Maple Creek for the match). Right way I received a response that the paper no longer had the archived copies of the paper, but they sent along a contact number for the museum in Medicine Hat which does have the microfilm. Thanks Angela Litke !


I am really pleased to have convinced my ol' school chum and former newspaper sportswriter, Doug Abraham (right, in his serious-looking pose) to take over the Hockey Connection section. It's been neglected long enough! We'll try and put together some pages showing the dozens and dozens of ice hockey competitors who spent their summers on the ball diamonds of the prairies.

Howie Snyder of Burnaby sends word of a special baseball competition in Burnaby and New Westminster over the long weekend, July 31 to August 2. It's the 18th Annual Canadian National Oldtimers' Baseball Federation, Canadian Baseball Championships. There are 24 teams from across the country competing in three age categories, 35+, 44+ and 50+. If you're in the area, take it in !
---
Update : June 22, 2010

OK, after more than ten years, it's time to re-decorate! Behind the scenes, I've been working away to update the site (mainly to move from a table-based system to a CSS- based site). [CSS = Cascading Sheet Styles] I am plugging away page by page in what has been a much more difficult process than imagined. However, I think it will be well worth the effort.
In the process I am re-doing many of the photos to present better and larger versions.


Thank you Kathy Kemp! Her father, George, was a pitcher with the Army & Navy Cardinals in Edmonton in 1946 and she was kind enough to send along a scan of a team poster. That photo has produced the individual pictures to be found at the 1946 Alberta Photo Galley. There's still a little mystery to unravel. George was from Purdue University in Indiana and how he came to hook up with the Edmonton club is unknown. Kathy is trying to go through old clippings to try and provide an explanation.

Steve Cottrell (Vulcan 1961-62) the former mayor of Nevada City, California (about 60 miles NE of Sacramento) is heading to Florida. The former pitcher, newspaperman and bartender leaves to join his longtime girlfriend in the southeast.

Thanks to Paul Allen and Steve Harding for alerting us to a story (no longer online) in an Ottawa paper on the history of the Intercounty Baseball League. Also, Steve sent along one of the photos used in the piece (courtesy of the London Free Press Collection, UWO Archives).
From the 1959 London Majors - left to right - catcher Kerry Leitch, Crawford Douglas, outfielder Stan "Gabby" Anderson, and lefty pitcher Roy McKay.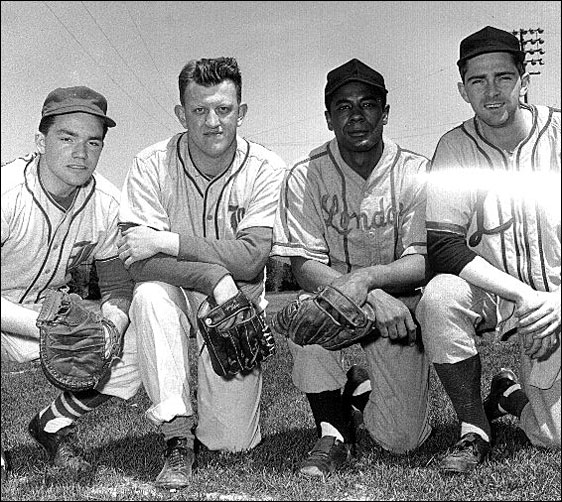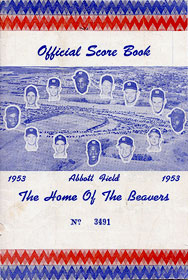 Paul managed to get in a game in Ottawa during a visit back to the capital. The Fat Cats drew more than 36-hundred for a double-header against Toronto.
They had 4,000 for their opener. That's very good fan support for the Intercounty loop.

Thanks again to Brant Ducey (author of The Rajah of Renfrew, a marvelous book about his dad, John Ducey, and baseball in Edmonton) for help in identifying various photos of Edmonton players of the 1940s and 50s.

Rich Necker has been busy again! He's discovered a bunch of photos of program covers from Western baseball, including this one (right) of the 1953 North Battleford Beavers.
These may be from Max Weder's flickr site, which includes a wealth of baseball photos. Still awaiting word back from Max on some old-time photos.
---
11 May, 2010

Oh my. From batboy to Hall of Fame! Received the notification from Jane Shury, President of the Saskatchewan Baseball Hall of Fame:
Dear Mr. Jay-Dell Mah

"Congratulations!"

We are pleased and honoured to inform you that you have been selected to be inducted into the Saskatchewan Baseball Hall of Fame for your contribution to the game of baseball and to the great baseball history of Saskatchewan.
The induction ceremony is to be held August 21st at Battleford, SK. I am in some very good company. Old friend Roberto Zayas is to be inducted posthumously. Zayas, who died in 2006, was among the first of the Cuban imports to suit up in prairie ball. Bennie Griggs, who passed away a couple of years ago, will also be honoured posthumously.
Other individuals to be inducted include Keith Czemeres of Hudson Bay, SK, Norman French, Delisle, Peter Fylyma, Saskatoon, Hugh Huck, Regina, Robert McLane, Liberty, Gary Nordal, Bulyea, Doug Schultz, Watrous, Dennis Williams, Woodland, CA, Ned Andreoni, Moose Jaw and Albert (Ab) Bidart (deceased), North Battleford.
My deep thanks to Barry Swanton (as you know, my co-author on Black Baseball Players in Canada) for putting my name forward. Interesting, now the book has two HOF authors (Barry has been inducted into the Manitoba Baseball Hall of Fame!).
Of course, without the amazing support from dozens and dozens of former players and fans none of this would have been possible. I am honoured to represent your combined efforts in preserving the history of baseball on the prairies. Much thanks.

A little more on Mel Wakabayashi, a teammate of Fergie Jenkins on sandlot teams in Chatham, Ontario. Wakabayashi, who went on to an outstanding college career and then hockey in Japan, was born at a Japanese internment camp in the BC interior during the Second World War. It turns out, the Lemon Creek camp is less than 60 miles from my location! Thanks to Linda Reid of the National Nikkei Museum and Heritage Centre in Burnaby for digging up information for me.

With the material from Paul Allen, we've made a start on the 1963 Intercounty (Ontario) League game reports and rosters. This may take awhile, but I remain determined to fill in the blanks on the Intercounty coverage.

A couple of photos added to the 1912 snapshots page, including one of Harry Hayes, a southpaw for the Bassano Boosters (it's hard to tell if the photo has been reversed or if the image is showing Hayes at the end of his delivery).

And, lots of new player photos from the early 1960s. Now the issue becomes putting names to the pictures. Here are the latest :
Please drop me a line if you can help out with any of these photos.
---
13 April, 2010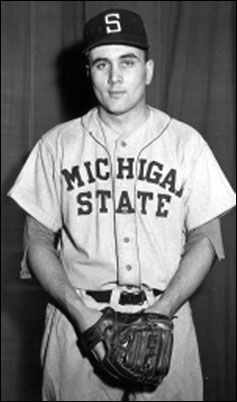 In February, former Western Canada League and Basin League star lefty Ron Perranoski was honoured by the Michigan State baseball program.
At the annual First Pitch Dinner, the Spartan Club saluted Perranoski (who couldn't make the gathering in person because poor weather conditions for travel) with the Distinguished Alumnus of the Year Award. Perranoski was a headliner with the Spartans 1956-1958.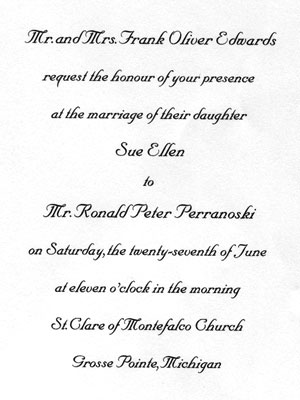 The New Jersey native pitched for the Watertown Lake Sox of the Basin League and Lloydminster Meridians of the Western Canada League in 1956 then returned to Watertown for 1957 (which had quite a pitching staff as Dick Radatz was among his teammates on that '57 Watertown squad).
Always interesting the "stuff" you keep. Here's my invitation (right) to Perranoski's 1959 wedding to Sue Ellen Edwards at Grosse Pointe, Michigan. The couple had met while attending Michigan State.
Perranoski had an outstanding 13-year major league playing career before becoming the pitching coaching of the Dodgers (and later the Giants) where he fashioned league-leading pitching staffs.
Until the last year or two, he had continued in baseball as a special assistant in the Giants' organization.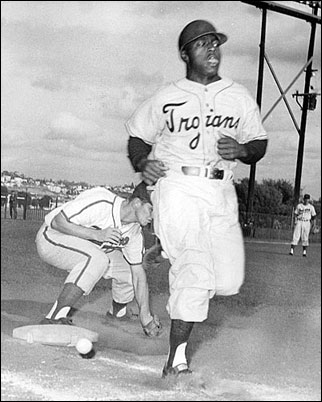 Some neat photos in the mail from the big guy in Montana, Lee Murphy (see the note a few inches below) the former Fresno State and Western Canada star.
It's believed these shots are from 1958 at a tournament at the San Diego Marine base - the Fresno State Bulldogs against the University of Southern California Trojans.
In the first, left, that's Don Buford of the Trojans making it safely to first as the ball squirts way from Murphy.
Buford, a baseball and football star at USC, was a big hit in his lone summer in Canada playing for Lloydminster and, in the playoffs, with Edmonton before embarking on a lengthy career in the majors as a player, coach and manager.
He played for ten seasons in the majors, split between the White Sox and Baltimore as a second baseman, third baseman and outfielder.
His finest season may have been his age thirty-four campaign when he hit .290 with a .413 on-base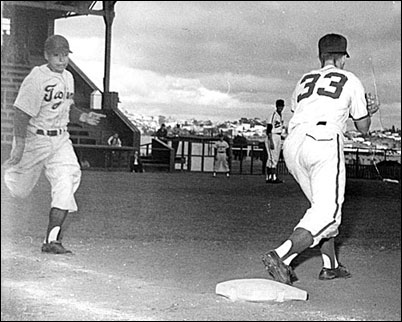 percentage, 19 home runs and 15 stolen bases. He had stolen as many as fifty-one bases (in 1966 with Chicago).
His son, Damon, also advanced to the major leagues. Don wrapped up his playing career with four seasons in Japan.

In the second photo (right) that's infielder Mike Castanon straining to make it to first as Murphy takes the throw.
Castanon, a second baseman, was a third-team All-American in 1958 and signed a pro contract with the Dodgers.
He played in the lower levels of the Dodger system for three seasons.
Murphy signed with the St. Louis Cardinals playing just one summer in the Cards'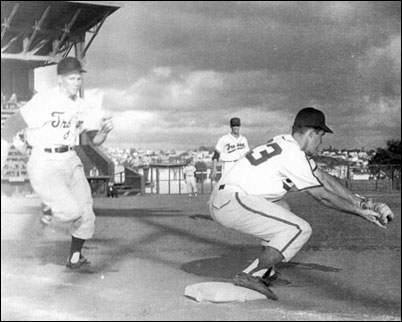 system before beginning a career in education.
And, in the third photo, Ron Stillwell is out at first as Murphy squeezes the ball.
Stillwell, a shortstop, reached the majors with Washington in 1961.
His son, Kurt, followed in his father's footsteps making the majors as a shortstop.
In the background of the bottom two pictures you'll also see Fresno pitcher Dick Doepker, a Saskatchewan boy who went on to play at the College of the Sequoias and Fresno before a stint in the pros and then a long and successful career as an educator in Visalia, California.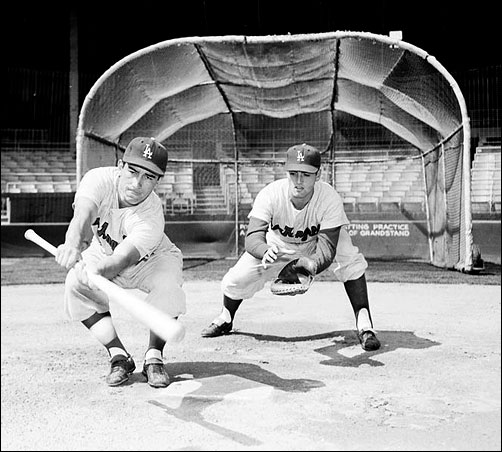 And, happened upon a photo (above) from 1958 of a pair of former Western Canada stalwarts, then playing in the Dodger system.
That's Ernie Rodriguez laying one down with Connie Munatones as catcher.
The Los Angeles natives were teammates in university (UCLA) and in Canada with Moose Jaw.
Rodriguez hit .402 in 1957 to capture the WCBL batting crown over such luminaries as Len Tucker, Curly Williams, Ron Fairly, Bob Herron, Tom Haller and ... Munatones.
In 1960, Munatones returned to the prairies after his stint in pro ball and was the runner-up in the batting race, with a .343 mark, playing for Saskatoon.
---
09 April, 2010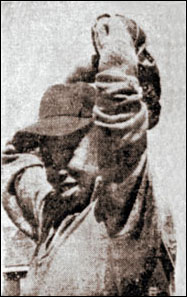 And, another piece (or two) in place, thanks to the material sent from Paul Allen (Intercounty League, London).
In their early teenage years, Paul and Fergie Jenkins were teammates on bantam and midget teams in Chatham, Ontario. From newspaper clippings and some photos we get an idea about the early years of the Hall of Fame pitcher. The Jenkins page is now posted.

From the material on Chatham, we also became aware of the outstanding career of Mel Wakabayashi, another Allen teammate.
We've posted an article from the University of Michigan where Mel was an All-American in hockey and a star on the diamond as well.



And, happened upon some photos of the 1914 Saskatoon Quakers of the early Western Canada League.
The Quakers won the championship that season.
Left is third baseman Roy Grover. Right is pitcher Sam Beer The additions appear in the 1914 Photo Gallery.
We're still working on the statistics for the 1909 Western Canada circuit. With help from the Winnipeg and Brandon public library systems we are getting closer and closer.
---
05 April, 2010

More Intercounty League information now posted, thanks to material send along by Paul Allen in Florida. Much of the latest effort has been in trying to put together game reports on the 1969 season.
It's now in pretty good order, at least with most of the games by the London Pontiacs, Paul's old team.
Here are some links to the latest Intercounty updates : 1969 Game Reports, 1963 Stats, 1964 Stats, 1966 Stats, 1969 Stats, 1963 Snapshots, 1966 Snapshots, 1969 Snapshots, 1970 Snapshots.
There's more to come. I've now begun to work on some great stuff on Fergie Jenkins early career in Bantam and Midget ball in Chatham, Ontario..

Don Heit ? Played in the Northern Saskatchewan League in the early 1960s. If you have any news on his whereabouts, please get in touch.

Good to hear from Orville Hammer (left), a former infielder with the Weyburn Beavers of the Southern League in Saskatchewan. He was just a 17-year-old when asked to suit up with the club in 1960.


Received a note from Tiretta Huntspon, grand-daughter of former Negro League and ManDak League pitcher Earl Bumpus (right). She's trying to piece together all of Earl's baseball career.


Some interesting contacts recently in regard to the Jasper (Texas) Steers a black semi-pro team of the 40s and 50s. The team made at least one major swing through the prairies in the early 50s.
Kyle Peveto of the Beaumont Enterprise did a short piece on the team. And, Steve Stewart of KJAS radio in Jasper also featured the team. The station followed up with an item on a special standing-room only presentation at the local museum, one featuring former Steers' star Raymond Lacey (above left).

Who are these guys ?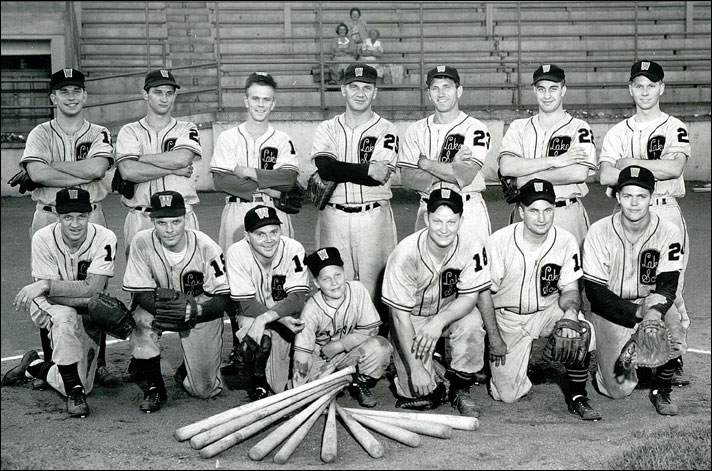 Kirk Moss has come across this photo of a Watertown Lake Sox team. Now we're trying to put some names to the faces. From the uniforms and the gloves, it appears to be a team of the later 50s or early 60s, rather than the 40s. Kirk thinks the photo is likely from around 1952. I've ruled out a couple of seasons (1956, for example, because there's no Ron Perranoski a team star that season). If you can help, please write !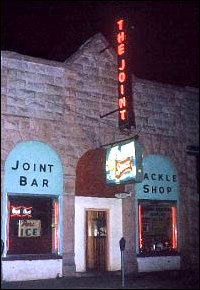 A neat idea from Kathy Williams Nyhuis to honour an ol' ballpark and local bar in Sturgis, South Dakota.
I was looking for information about the early days of Titan Field when I discovered your article Basin League 1953-1973. I grew up in Sturgis SD in the 60's & 70's and I still remember many of the people that were mentioned in your article. My dad, Bob Williams, owned the Joint Bar & Tackle Shop in Sturgis and he ran a concession stand at Titan Field, for one year that I know of, 1962. Dad also had many Canadian friends that came year after year to the Motorcycle Rally in Sturgis.

Last week I started a facebook group for the (Joint Bar & Tackle Shop Sturgis, SD) and we currently have 45 members. The bar has been closed since the 70's but I wanted a way to bring old friends together to share memories. I also love history and I have many old photos including some of Titan Field that I'll be sharing with the membership.

I was so pleased to hear from Scott Tabachnick, Corporate Communications Manager for Coca-Cola Canada. For year I've been chasing photos from the 1950s when Coke used to sponsor a variety of baseball activities on the prairies. There were many photos and it is hoped a few might have survived in the Coca-Cola archives. Several approaches to the company went unanswered until Scott came through earlier this year. He says there are a few dusty, old boxes still stored away. Let's hope he gets an opportunity soon to try and dig through the old material. Thank you Scott!

Journalist Tom Dunkel is working on a story on the 1935 Bismarck, ND team (featuring Satchel Paige) which surprised the nation with a victory in the National Baseball Congress tournament at Wichita. Tom is trying to contact relatives of the players for interviews about the team. Of particular interest are the families of :
- LF Vernon "Moose" Johnson. Reportedly born 1909, rumoured to have died young of alcoholism. Checkered minor league career: 18 teams in 11 seasons.
- SS Axel "Al" Leary. Born Montana January 1909, died in Great Falls in 1985. His obit mentions four daughters in the Seattle area.
- IF Charles "Red" Haley. Born 1905. Supposedly died in Chicago in the 1990s. Played four years in Bismarck. Before and after that logged time with the Chicago American Giants, Birmingham Black Barons, Cuban Stars, etc.
---
02 April, 2010

With team photos from Al Wachowich and Mary Ellen Whyte, we've now updated the 1948 Alberta Photo Gallery. There are still five players from the 1946 team to be identified, so if any look familiar please drop us a line.

Now posted - the team photo of the 1966 Northern Saskatchewan Photo Gallery. Am still hoping that former bat boy Buzz Dobni can dig out a top quality version of the photo.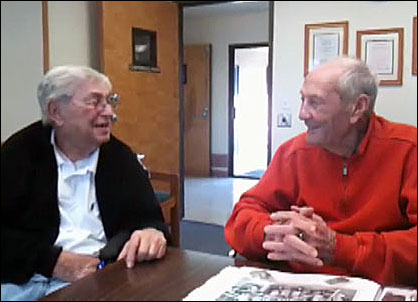 Ah, what a nice story. A few weeks back I received an email from Peter Stavrianoudakis, son of a former WCBL pitcher. The dad, Steve, played at Sequoias Junior College for coach Roy Taylor and came north with Roy to play at Saskatoon and Kamsack. After all these years, Steve wanted to make contact with his old coach. When advised that Roy was now in a care facility in Visalia, father and son make the trip to visit. That's Steve (left) Roy (right) checking out an old scrapbook from COS days.
It was quite a surprise to hear from Stavrianoudakis. Many years ago, when I was just starting out with this project I attempted to call Steve and was informed that he had passed away. I discovered a Steve Pete Stavrianoudakis, a Marine Corporal at rest at the San Joaquin Cemetery. Born 1927, died 1998, it all fit. But, again, it emphasizes the lesson - don't make assumptions.
I'll get the full story one of these days soon.

Still working through material sent by former Intercounty player Paul Allen. It is hoped I can punch in the partial 1963 and 1964 statistics within the next few days.

---
01 April, 2010

And, the beat goes on ... the latest additions include individual photos of the 1949 Edmonton Chevrolet Cubs,1949 Alberta Photo Gallery, and the Medicine Hat Hatters of the early Western Canada League, 1909 Photo Gallery.



Great to hear from former WCBL slugging star Lee Murphy (Regina 1956-57, Saskatoon 1959, Lethbridge 1960) - left in 1960, right at the reunion in 2001. Murphy had a sensation summer in '60 blasting 18 homers during the regular season (more than twice that of the next best slugger) and added a couple more during the playoffs. After a brief spin in pro ball, he began a teaching career in Fresno, California. Now retired, he and Karen have settled in Montana. This September, Lee and Karen will mark a 49th anniversary of marriage!
---
31 March, 2010


Rich Necker has been busy researching the case of Dick Brookins who was kicked out of the Western Canada League of 1910 because of claims he had an Afro-American background.
In a country later recognized for its multi-cultural attitudes and compassion toward different peoples, the case of 1969. It's the gathering of the Edmonton Old Timers' Association at the MacDonald Hotel in Edmonton. The photo was so wide I had to split it in two to fit here. One day we'll try and identify all the participants. I know Al Wachowich is in the bottom photo, at the head table, far right.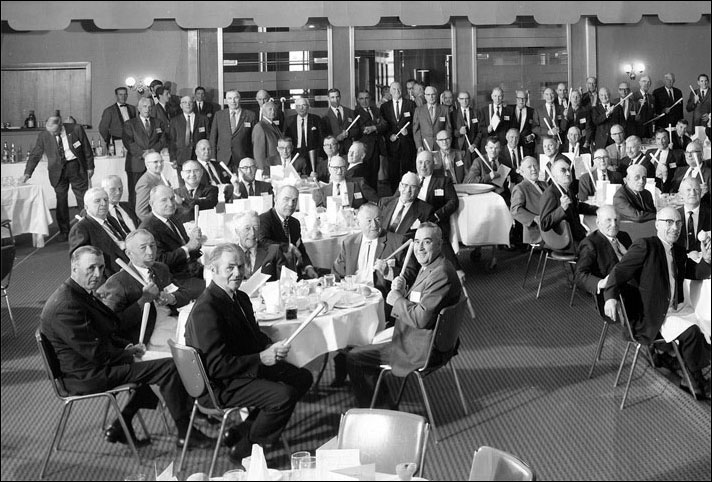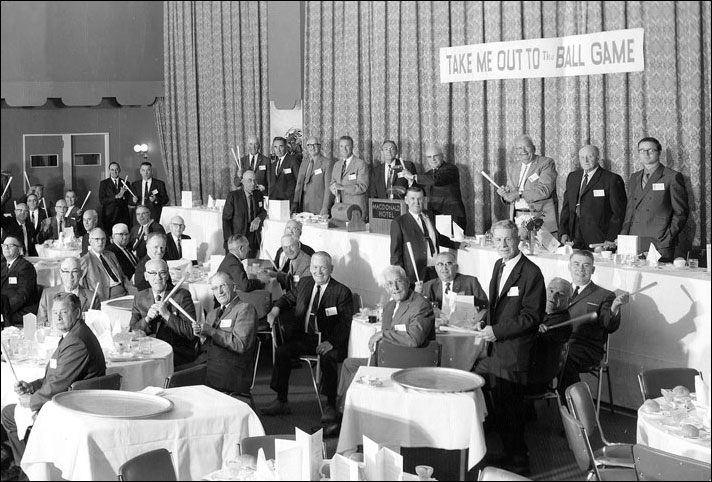 29 March, 2010



Making more progress on Paul Allen's material on the Intercounty League.
With photos from the 1964 program and clippings, we've added the 1964 Photo Gallery and 1969 Photo Gallery for the Southern Ontario-based league. That's Dave Moharter of London Pontiacs '64 above left and Wray Upper, veteran Intercounty star, above right. Also updated are the roster pages and game reports.
---
23 March, 2010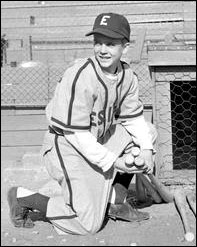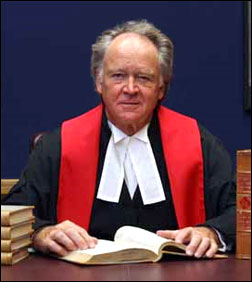 From batboy of the Edmonton Eskimos of the Big Four League (1950) to Chief Justice of the Court of Queen's Bench of the Province of Alberta.
The Honourable Allan H. Wachowich is stepping down after more than 30 years as a judge, the last eight as the Chief Justice. Now, in the process of cleaning out his office he'll soon try and dig out materials from Alberta baseball in the 1940s and 1950s.
Already, he's forwarded photos of two of the clubs of the era, the 1948 champion Edmonton Eskimos and the 1949 top dogs, the Edmonton Chevrolet Cubs. Much more to follow.
---
22 March, 2010

Connie Munatones (Western Canada Baseball League in 1956-57 & 1960 with Edmonton, Moose Jaw and Saskatoon) was bestowed a special honour last summer with a special ceremony at Dodger Stadium in Los Angeles!
The former UCLA star, was honoured by the club during its 50th anniversary celebrations.
He was the first Los Angeles born player to be signed by the club after its move from fabled Ebbets Field in Brooklyn to Chavez Ravine in Los Angeles.
Below, Connie and friends, all former baseball players from the Los Angeles area.
That's Connie sitting, far right is Rueben Rodriguez (1957 Moose Jaw, 1960 Saskatoon), 3rd from the left is Ernie Rodriguez, the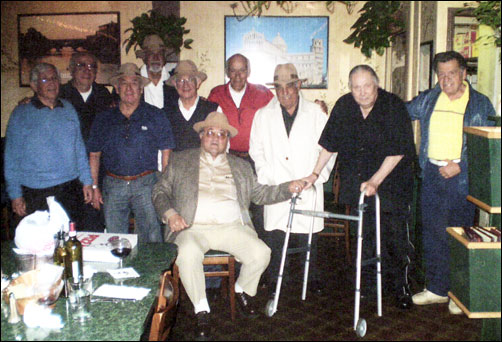 batting champ in 1957 when he hit .402 with Moose Jaw.
With the walker is Carl Brio who played in the Brooklyn farm system in 1956-57. Quite a lineup!
A career highlight for the young Munatones, converted to catcher by the Dodgers, was the opportunity to catch a couple of future Hall of Famers in Spring Training at Vero Beach, Florida. Yep, the celebrated combo of
Sandy Koufax
and
Don Drysdale
.
---
21 March, 2010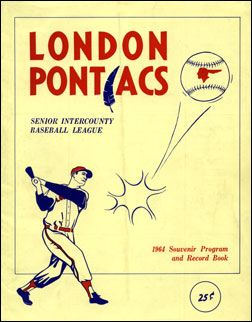 Oh what a treat! Paul Allen (left) has sent along a package of goodies on the Intercounty League (Southern Ontario) of the early 1960s.
Gabby Anderson (right) was among his teammates. Included in the package is the 1964 program (just 25-cents) for the London Pontiacs.
The Intercounty League is still in existence, with London and Toronto as key members.
The package from Paul will provide photos, game reports and statistics for the 1964 and 1969 seasons along with snapshots and biographical material.
There are also some clippings from the mid 1950s when Allen and future Hall of Famer Fergie Jenkins suited up with bantam and midget clubs in Chatham and led their teams to Ontario championships. It's a real slice of Canadian baseball history. I hope to have much of this information posted over the next couple of weeks.
---
20 March, 2010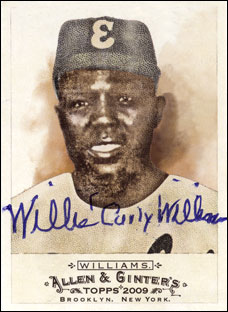 So good to hear from Willie "Curly" Williams, Mr. Baseball in Lloydminster from the mid 1950s to the early 1960s.
Curly, who settled in Sarasota, Florida, has had a few health concerns of his own, but says he's doing fine under the circumstances. In his note, he included a Negro League baseball card recognizing his play with the Newark and Houston Eagles and the Birmingham Black Barons.

Also in the mail a card from Modie and DeLaris Risher of Charleston, South Carolina. Modie, whose friendship with Curly Williams goes back to their school days, played with the Lloydminster Meridians in 1957.
In December last year, Modie and DeLaris celebrated their 50th wedding anniversary!

Cathy and David Moriarty (Lloydminster 1957 and 1959) of Cypress, California, marked their 43rd wedding anniversary! Congratulations to all.
---
19 March, 2010


Still going through the backlog to begin, among other things, to tackle material forwarded by Lynn Meredith, daughter of Matt Meredith of the North Battleford Beavers of the early 1950s. Already posted is the 1952 team photo and a great aerial shot of North Battleford's Abbott Field during the 1952 playoffs. Also working on updating some game reports from 1950-51 thanks to clippings provided by Lynn.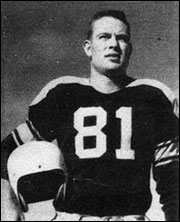 The libraries in the Oklahoma area surely know Phil Risinger by now.
He's been bugging the libraries in the state to stock our book on Black Baseball Players in Canada.
Among the items in a recent package from Phil is the photo (1957?), at right, of his late brother Don (also a baseball player with Phil at Medicine Hat in 1958) during his college football days at Southwestern State.
---
18 March, 2010

Kudos to Brant Ducey (author of the wonderful book, The Rajah of Renfrew) for his assistance in trying to identify an Edmonton team and players from the mid 1940s.
Mary Ellen Whyte, daughter of Bill Whyte (right) a former Edmonton pitcher had sent along a team photo but couldn't pin down the year or the other players.
I had originally pegged the year as 1947 but it now appears it is from 1946.
Brant explains that this may have been an offshoot of the three 1946 Edmonton clubs, but mainly the Eskimos with a few players from the Cubs and Army & Navy Cardinals. That season there were amalgamated teams that played against such opposition as the House of David, the touring Earl Mack major league All-Stars and during the final provincial senior playoffs.
---
11 March, 2010

Thanks to Gord Elliott we've added the photo of the grand occasion in 1950 when Carman installed lights at the ballpark. That page also displays several Carman photos which have been resized. There are additions as well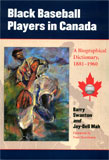 to the Manitoba game reports of 1949 and 1950 and the 1949 Carman hitting stats thanks to clippings from Gord.

Kudos to Phil Risinger for his unrelenting PR work in Oklahoma in trying to convince the local libraries to stock our book Black Baseball Players in Canada. The efforts are much appreciated!
---
09 March, 2010

Ah, with the Gold Medal in Olympic hockey in safe keeping in Canada, time to begin tackling the backlog of material.

First up, dozens of pages of the old WCBL (1907-1921) have been updated thanks to diligent work by Rich Necker. Included are photo galleries, rosters and linescores.


With thanks to Gordon Elliott (Carman Cardinals, 1949-1950) (left) we've posted the first few items from his package of goodies. The new team pictures of the 1950 Cardinals and individual photos have been uploaded.
Gordon served in the U.S. Navy for three years before college and a BSc in Civil Engineering (specializing in bridge design).
Gordon and Ruth (married in Carman 1950) lived in Dayton, Ohio for most of the time. They raised five children, living in ten cities in seven states. He retired in 1993 and now there are

six grandchildren to pamper!

Sammy Drake (Carman, 1954) (right) passed away January 27 at the Kaiser Permanente West Los Angeles Medical Center. He was 75.
Drake reached the majors in 1960 four years after his brother Solly had made the big leagues. They were the first Afro-American siblings to play in the majors.
---
24 February, 2010

Oh my. I've been so engrossed in digging up and compiling information on the old Western Canada League (1907 to 1921) that I've neglected to post for awhile. It's been so long, old friend Jim Lester called to see if I was still around!
The particular project which seems to have overtaken all else these past few weeks has been to compile statistics for the 1909 season. So far, we managed to find box scores for all but about three or four games. I am now awaiting a delivery from the Brandon Library (their microfilm reader broke down and things have been delayed about two weeks).
Rich Necker has been busy sending in material and compiling information.
Gordon Elliott (Carman Cardinals 1949-1950) has sent along great stuff including team photos and newspaper clippings.
Phil Risinger has been busy promoting our book (see below) in Oklahoma!
Lynn Meredith forwarded material on her father who was a key member of the old North Battleford Beavers in the early 1950s.
Once things calm down with my fantasy baseball drafts (five leagues in a fantasy game called Scoresheet) over the next few weeks I plan to begin to tackle all the above material.

Much thanks to Mary Ellen Whyte, daughter of player Bill Whyte of the 1947 Edmonton Eskimos. At least we think this is the 1947 club. I keep on the outlook for material on the old Big Four League in Alberta, in fact, any of the Edmonton and area teams from the mid and late 1940s.
Such a nice surprise to receive a phone call from Connie Munatones (Edmonton & Moose Jaw 1956, Edmonton 1957, Saskatoon 1960) who has taken retirement from a lengthy teaching career in Los Angeles. He's into a new career as a movie extra!

Among many updates since the Christmas break are the 1961 game reports and the 1961 stats for pitchers.

The photo additions include the 1909 and 1919 photo galleries.

Basin League updates include those to the 1956 game reports.

Lois Bentley, a contributor of many photos to our site, passed away last week in Brandon, Manitoba. She was 78. My colleague Barry Swanton used to chat with Lois every couple of weeks and was amazed by her recollections of the old days of baseball in Brandon, especially the ManDak League era, and was always cheered by her helpful demeanour.
Bob Huculak (who produced the lovely documentary on the ManDak League) first met Lois in 2004 as he began work on his project. Lois was central to his program and the driving force behind a move to have the Manitoba Baseball Hall of Fame honour two of the former Brandon Greys, Dirk Gibbons and Armando Vasquez.
---
22 December, 2009

The very best for the holiday season and the new decade ! I hope there are friends and family to bring warmth, fun and good cheer to your celebrations.


We've managed a few updates over the past couple of weeks. Thanks to Paul Allen (left), former infield star in Southern Ontario's Intercounty League, we've begun to add more information on the semi-pro circuit. Paul's material shows up in the 1966 photo gallery, snapshots, stats and game reports. Much more to come when Paul returns to Florida from a Christmas trip back home.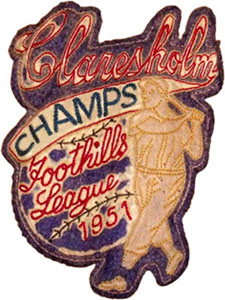 A thank you to Joe Dunning, whose dad Bernie played for the powerful Claresholm Meteors in 1951. Joe has dug out the ol' baseball jacket with crest still in pretty good shape.
The team, which featured American import pitcher/outfielder Hubert Glenn (a star from the Negro Leagues) was the class of Southern Alberta at the time.

A huge thanks to Debbie Shearwood, of the Davidson, Saskatchewan, Library. Debbie has dug through some old newspapers to find stories on Cuban imports with the local ball team in the mid 1950s. Jose Tartabull, who went on to a nine-year career in the major leagues, was one of three Cuban players on the 1957 Davidson club. During a break at the coffee shop, Debbie even checked with some of the locals and discovered a few who recalled the period. Geesh, if we had governments run by librarians we might have a system which actually cares about service to the public and - given all the budget cuts they've been through and the limited resources provided - we could feel confident our tax money is well spent. Thank you Debbie !

Ah the connections and the coincidences we discover along the way. For years I've been reading sportswriter Terry Jones first with the Edmonton Journal and then the Edmonton Sun as I followed my beloved Edmonton Eskimos football team. Introduced by Don Stewart, the head of the Edmonton Old Timers Baseball Association, Terry, it turns out, was a bat boy at the famous Lacombe Tournaments. He may, in fact, been bat boy for Jim Lester and others of the Granum White Sox. And, it seems Terry started out his sports career with the paper in Red Deer, Alberta, while still in high school. It's quite possible we were in Red Deer at the same time as I worked at the Red Deer radio station in 1964.

The indefatigable Rich Necker checks in with a lovely surprise - the newspaper photo of the 1954 Rosetown Phillies. I'm still on the trail of a top quality version of the photo but, until then, this one will do just fine. I am hoping the Saskatchewan Archives in Saskatoon might have a copy and I have put out some feelers to try and track down relatives of Fred Banks of Philadelphia who put together that 1954 team. Banks was a sports promoter in the Philly area and let's hope he may have left photos among his mementoes.
Rich also noticed some interesting notes in a Bill James book pertaining to Jack Fournier, one of the stars of the early WCBL.

Wow. Impressed by the Canadian and US Postal Services - Jim Lester reports he ordered and received his copy of our book in just a couple of days. The same day, he received items I had sent from BC just a few days previous. Jim reports he's been in touch with John Vaselenak (Alberta) and Lee Murphy (Montana) with both former teammates getting hunkered in for the winter!


Sad to report the passing of Eddie Ferenz, long-time traveling secretary for the Philadelphia Phillies. Ferenz, an official with the Lethbridge White Sox of the early 1960s (left), also had a background in hockey as a junior in Medicine Hat and some pro experience in the Eastern Hockey League. Ferenz was 74.

Thank you Dan Doyle of San Diego for the kind words about our book. Dan has been such a help in keeping us in touch with Walter McCoy a star in the old ManDak League and, before that, the Negro Leagues.

Kudos too to Peter Gorton for the book plug in his John Donaldson Newsletter. As you probably know, Peter has formed a super research group to dig up more and more of the missing pieces on the Negro superstar.

From Philly, so good to hear from Douglas Culbreth who's been very helpful in tracking down information on Bill "Ready" Cash, former Negro League and ManDak League catcher. Doug has been visiting Bill who is in a nursing home in the area.
---
11 December, 2009

We've made a good start on a project on the early years of the Western Canada League, 1907 to 1921. Some pretty wacky "official" statistics have us a bit baffled, but there's lots of time over the winter to try and make sense of all of this.
I'm pretty happy in that we've managed to dig out the scores and batteries for most of the games of 1907, 1911, and 1921.



Thanks to Rich Necker, we've added even more photos to the 1920 photo gallery.
And, lots of new photos from the 1950s, including Percy Trimont (left) and Max Bentley (right). We are still on the trail of one elusive photo -- of the 1954 Rosetown Phillies of the Western Canada League. I am hoping the Saskatchewan Archives might have a photo tucked away somewhere in their collection.

Also, Tara De Ryk of the Davidson, Saskatchewan, Leader has been kind enough to undertake a check through their newspaper archives to see if there's anything on Jose Tartabull (right). At age 17 the Cuban outfielder came to Saskatchewan and apparently played his first season in Davidson. He went on to a 9-year career in the major leagues.


Much thanks to baseball researcher Wayne Stivers for a photo of Joe Atkins (Carman, 1953, at left). Joe's family will be very pleased!

More research finds that Charlie Crist of Edmonton in 1907 and the manager of Calgary in 1909, was not the former major leaguer but a local product.

The major league connections with Western Canada baseball are so far reaching it isn't surprising anymore to discover links. One we're trying to document is the tryout in 1920 (we think) with Saskatoon by former baseball commissioner Happy Chandler. The information came out of a 1988 newspaper interview with Chandler.

Over the last week or so, we've sent out a little promo for our book. Just in case we've missed anyone, here's the gist of the note.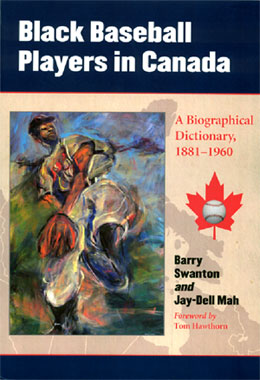 At long last, we (Barry Swanton & I) are in the Baseball Hall of Fame at Cooperstown !
And, in the Library of Congress, Yale University, University of Toronto and . . .
Well, at least we're in the libraries of those hallowed institutions with our book, Black Baseball Players in Canada, A Biographical Dictionary 1881-1960.
It's been a journey of nearly three years from the idea of the book to publication by McFarland & Company of North Carolina, one of the leading publishers of scholarly and reference books in North America.
Primarily, the focus is on Afro-American and Caribbean players who ventured to the Great White North in the 1940s, 50s and 60s. For many, such as Curly Williams and Barney Brown, the Canadian experience allowed them to continue baseball careers which had been severely limited with the decline of Negro ball following the integration of the major leagues by Jackie Robinson. For younger stars, like Pumpsie Green and Elston Howard, it was an opportunity to showcase their skills in a hospitable and level playing field.
Of the sixteen teams of the day, seven were integrated by players with roots in Canadian baseball.
From Jose Acosta, the "half-pint hurling demon", to Roberto Zayas, the fleet centre-fielder of the Lloydminster Meridians, the book contains biographical sketches, career highlights, and statistics for hundreds of players along with information about the teams and the leagues and several dozen photos.
The cover features a painting of Negro League great Chet Brewer by New York artist Jacqueline Jolles. Foreword by award-winning journalist Tom Hawthorn.
Enjoy.
Jay-Dell Mah
The book is available via our publisher, McFarland & Company
and various book sellers, including Amazon Canada and Amazon USA

Next month, former Lloydminster Meridian Bob Milano will be honoured with induction into the Hall of Fame of the American Baseball Coaches Association. The ceremony is to be held at the ABCA's convention in Dallas, Texas.
Milano retired in 1999 as the most successful baseball coach at the University of California with 688 wins over his 22 seasons. He was the catcher for Lloydminster in the Western Canada Baseball League in 1960-61.

To all, best wishes for the holiday season!
---
02 December, 2009

My apology to those who've had trouble accessing the site over the last few days. I goofed a week or so back and uploaded material to a wrong directory, erasing some original files and misplacing others. Those missing pages and pictures should now appear okay. All fixed, I hope.


By pure luck, I stumbled upon some marvelous material from the Western Canada League of 1912. As a by-product of an internet search for a particular player, I came across an edition of Canada Monthly which included a piece by writer Currie Love on The Twilight League (the more familiar name for the Western Canada circuit, so named because of the evening start for all the games).
The seven-page item included some good quality photos, including Ferdy Manning (right) and others now posted on the 1912 Home page and Snapshots page.

A first take at compiling statistics for the old WCBL has proven to be a challenge. What "official" stats are available have been shown to be highly unreliable. For example, in at least one set of final standings, the wins and losses are not equal. One batter, White of Edmonton, was shown to have collected 2 hits in 31 at bats. The .064 average shown was close enough (could have been rounded up to .065) but the record went on to show White, with only two hits, had 4 doubles, 6 triples and a home run. Research into pitching records in 1911 found just a couple of won-lost marks matching the official records. Almost all were out at least a little with a few with wide differences. Even the newspapers of the day made prominent note of some pretty weird numbers.
Rich Necker, Owen Ricker and I hope to organize a plan over the winter to try and compile some real stats from the box scores and game reports available.
One of the peculiarities about newspaper coverage a hundred years ago was a writing style which seemed to forbid the use of the first names of most of the players, even when there were two men on the same team with the same surname. Thus, the additional difficulty of identifying certain players.

From the Spalding Base Ball Guides I've added the team photos of the 1910 Brandon Angels (note the suits and ties) and the 1921 Calgary Bronchos.


There are dozens of additions to the photo galleries of the early years, including Walter Ford (left) of Edmonton. His brother, Russell Ford was a star hurler with the New York Yankees.

It's a relief to have made a start to the game reports. The 1907 and 1911 seasons now have the basis for summaries on each game. So far the scores and batteries are posted. The snapshot pages, especially 1909, 1910, and 1911 have additions. The 1912 page has been noted earlier.

Great to hear from another former bat boy, George "Buzz" Dobni (I hope I have that surname correct) once the mascot of the Kindersley Klippers of the Northern Saskatchewan League. Among other things, Buzz is trying to dig up a good quality photo of the 1966 club.

Happy to hear from ol' school chums George Emsland and Doug Abraham. Between the pair they seem to recall everything about the old hometown, Lloydminster and the ball team. So when my memory fails ...
George added some news on Stan Kulka, the former Alberta ball player who passed away last month. Stan's youngest son Glen played junior hockey with Spokane and Medicine Hat before bulking up to take on a football career, first in Junior College in California, then in the Canadian Football League. Later he was a recognizable figure in pro wrestling.
Doug, a long-time sports writer for papers in Saskatoon and Calgary, provided key information for a proposal to help honour former Lloydminster baseballer Roberto Zayas.

Ah the coincidences of life. This summer at my high school reunion, finally I had an opportunity to sit down with Scott Eichel, husband of a former school mate. In chatting about our book on Black Baseball Players in Canada I happened to reminisce about the old Indian Head Rockets and the help provided on the book by Ken McCabe of Indian Head. Scott just smiled and noted than he and Ken had been good friends for years.

Paul Allen, former player in the Intercounty League in the east, is back in Florida and is hoping to have some time soon to dig around in the garage for his scrapbooks on baseball in Southern Ontario in the 60s.
---
19 November, 2009



A memorial service is to be held this Saturday in Edmonton for Stan Kulka a familiar face behind the plate in Alberta baseball in the 1950s and 1960s.
Kulka passed away last Friday at the age of 76.
The quiet, but competitive athlete continued to play ball including Slow-Pitch in which he was on the Gold Medal team at the 2005 World's Masters Games. The gathering is set for 11 am, Saturday, at Hainstock's Funeral Home in Edmonton.


While we've spent much time as of late digging up material on the early days of the Western Canada League (1909 to 1921), ace researcher Rich Necker has put together some names of players in Southern Alberta in the 1970s and 1980s. Expos superstar Andre Dawson (left) was among them.

Among other gems dug up by Rich are photos of Dave

Pagan (the prairie boy who went on to pitch for the Yankees), Joe Ferguson (right, a terror both at bat and on the mound for Kindersley in the mid 60s before a lengthy major league career) and a team photo of the 1946 Wilcox Cardinals (which featured the famous Metz brothers).

Much thanks to former prairie pitcher Carl Coons for helping to ID players in the photo of the 1951 Regina Caps. (Rollie Miles, a Canadian Football Hall of Famer, is in the photo.)

The Manitoba Baseball Hall of Fame has announced the featured guests at its 2010 induction ceremony at Morden. Two families have won induction into the hall - the Fortin trio (Roy,Troy & Blaine) and the Kollesavitch family (Dan, Jim, Gerry, John and Rob). Others to be saluted include Morgan de Pena (player/builder), Bill Chapple (player), Al Kinley (builder), Hank Lemoine (player), Ron Ramsay (player), Brock McConachy (player), Ron Seafoot (player/builder) and the late Maurice Kohut (builder). The Brandon Cloverleafs (1966 to 1971) are going in the major team category, while the Deloraine Royals (1980 to 1985) are the small community team.

Harvey Nybo has been kind enough to send along a copy of a speech delivered by his old

Indians' battery mate Reggie Cleveland when Cleveland was guest speaker at a dinner function in Swift Current back in 2005. It's interesting in that in provides some detail on how the young Saskatchewan pitcher managed to attract major league interest.
It seems he first came to the attention of a "bird dog" named Sam Shapiro, a diminutive carnival man and erstwhile "B-game" spring training umpire who, while travelling the 1965 carny circuit through Swift Current, spotted the prospect in a Southern League game. Shapiro sent a telegram to his friend "Red" Schoendienst, then manager of the St. Louis Cardinals. Bill Sayles, Cardinal scout and former Red Sox pitcher, was dispatched to see Cleveland pitch, only to find that Reg had pitched a day earlier to help keep the Swift Current Indians from being eliminated in a tournament. His next start was postponed by rain so Sayles asked Cleveland for a personal pitching demonstration. Sayles was impressed enough to offer Cleveland a contract with a $500 bonus. When Reg resisted, Sayles raised the bonus to $1,000. Cleveland persisted and asked for more money but Sayles demurred. Later, the husky 17-year old right-hander reconsidered, called Sayles and signed the contract.

The next year, 1966, he started his pro career with the St. Petersburg Cardinals of the class A Florida State League where his first manager was George "Sparky" Anderson who, ironically, nine seasons later, would be the field manager of the powerful 1975 Cincinnati Reds, known as the "Big Red Machine" when Cleveland, as a member of the Boston Red Sox, became the first Canadian born pitcher ever to start a World Series game.

Rich has made another nice find in the team photo of the 1961 Neilburg Monarchs. We've also managed to extract the individual pictures to the photo gallery page.

In trying to dig out statistics for the early years of the Western Canada League, we were lucky to discovered some team photos in the Spalding Base Ball Guides at the Library of Congress site. Now posted are the 1909 Medicine Hat Mad Hatters, 1909 Lethbridge Miners, and 1909 Regina Bone Pilers

Happy to reconnect with Max Weder of Vancouver, an active SABR member and researcher. Among other items Max has made available is an image of the crest of the 1951 North Battleford Beavers and one of the 1937 Weyburn club. Great stuff.

Made the leap to Windows 7! So far, so good. I really like the new operating system, but it doesn't work well with some old software and my old scanner. If you noticed things out of whack on the site, please drop a line and let me know. Thanks.
---
03 November, 2009


A little added on Jess Buckles, for the day, a big (6-foot two, 212 lb) lefty who used a great 1914 season in the Western Canada League to advance to the majors for a cup 'o coffee with the Yankees. There's more research to do, but it appears Buckles won at least four double-headers during the '14 season. When Vancouver bought his rights in 1911, Buckles decided to sit out for three years rather than play for the Beavers.

A minor coding error resulted in some mixed-up links over the last few days/weeks. Among the items restored is the team photo of the 1965 Biggar Nationals.

Somehow lost in the shuffle - the pages on the Indian Head Rockets, the renown imported squad of the early 50s. Lots of help need to ID many of the players. Thanks to Ken McCabe of the Indian Head Sports Hall of Fame and Museum for the outstanding individual pictures of the 1951 Rockets.

Assistance also requested to ID players in the photo of the 1951 Regina Caps of the Western Canada League. If it helps I could try and post slightly larger versions of each individual player.
---
01 November, 2009


I'll have to set up a section called something like "And, digging a little further ... ". In following up with research on a few players, we've found some interesting material on the re-integration of the National Football League featuring Kenny Washington, right, (whose son played baseball in Saskatoon and Edmonton), Jackie Robinson and Woodie Strode (who starred in football with the Calgary Stampeders).



There was just something about Charles Sweeney/Swaney which seemed just a little out of whack. It turns out Mr. Swaney was quite a character who continued pitching until he was 58 ! Among other things, he pitched to Babe Ruth and roomed with Lou Gehrig.

And, Lloyd Zimmerman was an outfielder with Medicine Hat in 1909-10 whose talents as a ballplayer might well have been the reason for a very favourable decision from the courts.

Discovered another Western Canada - MLB connection. Clarence Rowland who managed the Winnipeg Maroons during the 1910 season was the same Rowland who managed the World Series champion Chicago White Sox in 1917.
---
24 October, 2009

Still lots of catch-up to do from the past few months.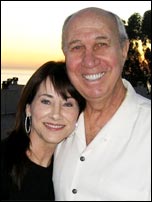 This summer The Spokesman-Review in Spokane ran a nice feature on John Werhas the former Edmonton Eskimo (1959). The third sacker, an All-American from USC, went on to a 13-year pro career including major league time with the Dodgers and Angels.
That's John and wife Kay (left). After baseball, John turned to religious duties as a chaplain with professional athletes in southern California before becoming pastor of a church in Yorba Linda.
Thanks to former Lloydminster Meridian Tom Mulcahy for alerting us to the article.

Tom has been an incredible supporter of our work here. He's also sent along numerous mementoes, including first day, baseball stamps, autographs, baseballs and collectibles from World Series events.



Major thanks to Ruth Kondro my school chum from the 50s in Lloydminster. At our recent reunion (the 50th for our high school graduating class) Ruth presented a package of baseball programs and baseballs which had been kept by her late aunt, Jean Powell, one of the town's great ball fans. It was such a marvelous gesture. It will mean new and improved photos, especially of the 1958 and 1960 Meridians (that's Curly Williams, left, and Bennie Griggs, right). Ruth has been the mainstay of our reunion activities over the decades and key to the success of the group and deserving of a standing ovation !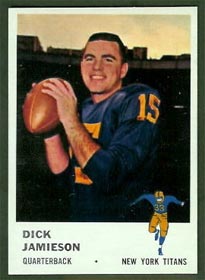 Jim Lester, always a contributor to the site, happened upon the photo of Dick Jamieson in the Basin League section and knew that name was familiar (not only from his residency in Peoria, Jim's hometown but from football). Dick, a Little All-American quarterback at Bradley in 1956 went on to a brief pro career in the NFL after had a taste of pro baseball in the Pirates' farm system. Jamieson had a successful coaching career that went from Peoria High to the University of Missouri and Indian State to positions as an assistant coach in the NFL. His name was mentioned frequently earlier this year when the Jets began the season with a rookie quarterback (Mark Sanchez). It was the first time since Jamieson's start for the club (then the Titans) in 1960.
He died in 2001. His brother, Bob Jamieson, was a long-time television news reporter in the United States for both NBC and ABC.
Jim also notes that Norm Stewart, the 1955 Watertown pitching star, is one and the same as the basketball coaching legend from the University of Missouri. He coached for nearly 40 years winning a spot in the National Collegiate Basketball Hall of Fame.
Earlier, Jim had sent along a copy of a book on Johnny Thiel (right), another of the Basin League alumni. Thiel became a highly honoured basketball coach at Jim's old high school in Galesburg, Illinois. Joe Morrissey, a former Sports Editor at the local paper, was author of the book, Thiel, The Silver Streak Years. It was published in 2007.

A reminder of the material on the early WCBL, 1907-1922.
1907 1909 1910 1911 1912 1913 1914 1919 1920 1921 1922

Added to the team photo section is a group shot of the 1957 Moose Jaw Juvenile Mallards courtesy of long-time Southern League star Dick Mandzuk.
---
22 October, 2009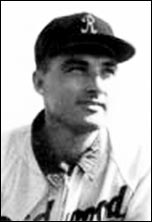 Al Endriss is still at it. Coaching that is. The former Medicine Hat Mohawk (1951) and Calgary (football) Stampeder (1953) is a golf coach at The Branson School, a private prep school in Ross, California, in Marin County, north of San Francisco. After a Hall of Fame coaching career in baseball, at both the college and high school level, he's been the golf coach at the school for the past four years.
Writer Dave Curtis has written a nice feature on Endriss for the Marin Independent Journal.

Former Lloydminster Meridian Modie Risher continues to add to his scrap book. Earlier this year, the South Carolina House of Representatives marked his 80th birthday with a special resolution noting his considerable achievements as a coach and educator. See the Risher page for the full resolution.
Wish I would have discovered the following before we went to press with our book on Black Baseball Players in Canada. It's part of a piece in the Atlanta Daily World, May 21, 1950.
Risher, catcher. Allen University. Columbia, S.C. who appears to be frontmost in the race to succeed Roy Campanella of the Brooklyn Dodgers, as the top catcher in professional baseball. Risher has been scouted by major and minor league clubs as well as virtually every Negro club.

We were sorry to hear of the passing of Ben Reniker who spent three summers pitching on the prairies, mainly with the Moose Jaw Mallards. Bennie Lee Reniker passed away October 7 at Elk, Washington. Cancer. He was 73. While still a teenager, Reniker pitched for Shauavon Badgers and Moose Jaw Mallards. He played in Western Canada in the summers of 1954-55-56 while attending the College of Sequoias at Visalia, California. He had a brief professional career pitching for Visalia and Fresno in the California League.
---
19 October, 2009


And those hits just keep on comin'. Rich Necker tracked down former Southern League star Ron McKechney (right) and came up with a team photo of the 1963 Southern League champion Swift Current Indians. In addition, individual photos have been extracted to fill in the gaps on the 1963 photo gallery page for the Southern loop.
That proved to be just a warm-up for Mr. Necker as he took up the challenge to ferret out team photos of the 1960s Regina Red Sox. His contact with members of the Ruhr family proved to be very productive.
Terri-Lynn Ruhr (daughter of Lionel Ruhr) dug up the 1960 and 1961 pictures (and Al Ash, a veteran of the team provided the names to go with the discovery).
Lionel's mother, Eva Ruhr, was kind enough to allow us to copy the colour photo of the 1962 team, again with Al Ash checking out the names to go with the photo.
Terri-Lynn dug out the colour photo of the 1965 Red Sox and the special photo of the 1966 club.. Gene Yellowega, former Red Sox player and coach provided the missing IDs for the '65 pic.
Thanks to Eva for the 1967 team picture and former players Jim Paisley and Rich Gergley for providing the names.
A big thanks to Harvey Johnson, another former Regina Red Sox, for the photo of Satchel Paige during his visit to Regina for an exhibition game.
---
14 October, 2009

Just a quick note to advise of tons of updates, including almost every page in the "early WCBL" package. Thanks to Rich Necker and Brian Morrison we've managed to dig up photos of almost every WCBL player of the era who advanced to play in the majors or who had major league experience before coming to the prairies. See the page links below.

Rich has also been up early scanning the old newspapers and making contacts for lots of other photos, including dozens of "ordinary" players from the 1907-1922 Western Canada League and from other later eras.
The updates include dozens of pics in the Northern Saskatchewan photo galleries, from 1960 on. The 1966 page is but one example. Also, there are updates to the other galleries, the Alberta, 1950 gallery for example.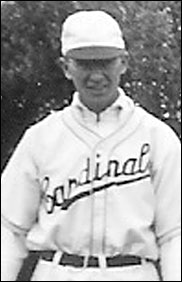 Thanks to Harold Pratt (left) long-time Wilcox Cardinals player in the 30s and 40s, we have team photos of the 1937 and 1940 Wilcox team. On the 1940 page, there's also a great shot of Harold (now in his mid-nineties) and the famous Metz brothers.
Daisy Brenholen (widow of former Moose Jaw pitcher Gene Brenholen) provided a lovely photo of the 1947 Moose Jaw Canucks. (Just how many "officials" were associated with the club?)
Gord Currie, long-time coach and manager in the Southern League was kind enough to provided a photo of the 1953 Regina Red Sox.
Harvey Nybo, a standout backstop in Southern League play, sent along photos of Swift Current players from the 60s and 70s and the team photo of the championship team of 1972. In addition, Harvey dug up a story about the Swift Current tilt with the Satchel Paige All-Stars.
Much thanks to all !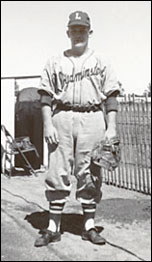 The word comes a bit tardy. Earlier this year, Bob Milano won induction into the American Baseball Coaches Hall of Fame.
The former catcher for the Lloydminster Meridians of the Western Canada League went on to become head coach of the Cal Bears and achieved numerous honours -- twice a Pac-10 Southern Division Coach of the Year, three appearances in the College World Series (a third-place effort in 1980), an Olympic gold medal as an assistant coach of the U.S. team in 1988, head coach of the club in 1997.
---
03 October, 2009

Again, I've been working on so much material I forgot to keep track of what's new. Anyhow, the latest target has been the early Western Canada League that ran from 1907 to 1921, with a brief Western International loop in 1922. This represents an enormous amount of work already, with ten times as much to go. It is a good start nonetheless and at least provides a framework for further discoveries. Much thanks to ace researcher Rich Necker and Brian Morrison for crucial assistance. They've been amazing. I am still working my way through all the good stuff they've sent along.
The material posted so far can be viewed through the individual pages.
1907 1909 1910 1911 1912 1913 1914 1919 1920 1921 1922
In addition, through the sitemap you'll find links to pages for other events in the 1920s and 1930s.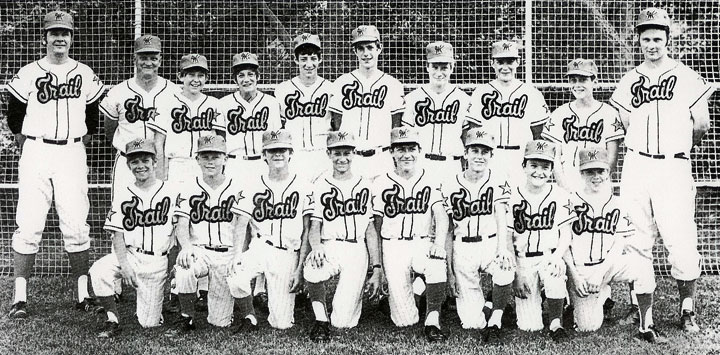 An interesting find from the 70s! It's the 1971 West Kootenay Babe Ruth League All-Stars, a group of 13 year olds from Trail, BC and district. This club went undefeated in capturing the B.C. championship. Back row, extreme left is Rich Necker. Back row (4th from the left) is pitcher/third baseman Steve Tambellini who has risen in hockey circles to become the general manager of the N.H.L.'s Edmonton Oilers. Third from the right in the front row is outfielder David Bay who is the father of Boston Red Sox' outfielder Jason Bay.

Thanks to Jim Lester for the book on John Theil, a baseball star in the Basin League in the 50s, who went on to a distinguished coaching career in basketball at Jim's old high school in Galesburg, Illinois. Former newspaper reporter, Joe Morrissey, wrote the book, an interesting little volume. I wonder how many books there are on local stars just sitting in the local libraries.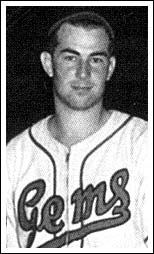 In early November, Len Breckner, one of the Canadian stars of the Western Canada and Northern Saskatchewan Leagues of the 50s and 60s, is to be honoured with induction into the Saskatoon Sports Hall of Fame.
Len Breckner was one of the prominent Saskatchewan-born players in senior and semi-pro baseball from 1948 until 1966. He played with his hometown Colonsay Monarchs and Kindersley Klippers in the Saskatoon Exhibition tournaments, twice winning the batting championship. He played right field and first base for the Saskatoon Gems in the Western Canada League from 1952 until 1959. He was chosen to play for Canada in the 1955 Global World Series at Milwaukee. He also played for the Saskatoon Commodores, beginning in 1958 in the Canadian American League and later in the North Saskatchewan League. Considered a hitter with power, and blessed with a strong throwing arm, Breckner was voted into the Saskatchewan Baseball Hall of Fame in 1990. He has also been honoured by the Saskatoon Hockey Association and Saskatoon Minor Softball Association for coaching and administrative services. (Saskatoon Star Phoenix, June 18, 2009)
---
05 September, 2009


Well, it's taken a bit of work but we've put together a team photo of the 1965 Biggar Nationals. Thanks to Rich Necker, Vic Sipko, Fred Clemence and Sheila Proctor for their efforts to locate and forward copies of the team picture. There were problems with both versions, so we've made a composite. As well, some individual images have been extracted for the Photo Gallery.
We've also added the individual player photos from Dick Mandzuk's Moose Jaw team pictures. Those are now posted in the 1961, 1962 and 1963 Southern League photo galleries.
In the "small world" category, it turns out my next-door neighbour was a teammate of two of the Moose Jaw players, one of whom visited here just a week or two ago.
---
30 August, 2009


A big thanks to Dick Mandzuk (left), a Southern League standout with the Moose Jaw Steelers and Regals of the 50s and 60s, for photos of some of those clubs. Already posted the 1961, 1962, and 1963 teams. Still some work to do in extracting some individual photos from the team picture. The 1963 photo is particularly interesting as it's one of the few team photos in colour.


Brian Morrison has added even more photos to update our pages of major leaguers. Among the new photos are those of Vallie Eaves, Hal Schacker (right), Bob Whitcher, Otto Huber and Ron Stillwell. Brian has also sent along material on the 1921 season of the Western Canada League. Thanks Brian ! Rich Necker has also forwarded a lot of stuff on the old WCBL. Hope to get to that soon.

Jim Lester thought he'd just take a quick look at our Basin League material after an invitation posted here. One of the first names he came across was that of John Thiel (Pierre 1953, Huron 1954-56) who it turns out was the basketball coach at Jim's old high school at Galesburg, Illinois. Small world. Thiel, who played in the NBA with Milwaukee, became an icon in the area as his basketball teams compiled a record of 398-90 from 1955 to 1973. Jim was also interested to see the name of Norm Stewart, a pitcher with the Watertown Lake Sox in 1955-56. Stewart also became a successful basketball coach, at the University of Missouri, for more than 30 years.

A big surprise on Thursday ... received the initial copies of our book with the news that it's likely now available through the usual sources. Now it's a little more time to read through to see if the editors made all the suggested changes. We were really pleased to receive a note from Jacqueline (Jackie) Jolles, who did the cover for us - a painting of Negro League star Chet Brewer. Jackie was so impressed with the reproduction and the information.
---
23 August, 2009


Very nice to hear from Brian Morrison of Greensboro, NC and take advantage of his hobby of tracking down photos of every major league rookie from the 1940s and 1950s. Already he's sent along some nice shots, including Dewey Williams, Jimmy Grant, Tom Burgess, Ed Albosta (left), Edson Bahr, Bill Oster, Pete Taylor and Joe Taylor. There are a couple that have us stumped, Dan Lewandowski for one. Anyone in the Hamilton area who could go through some old Hamilton papers?


Much thanks to Phil Risinger, a great supporter of this site, for a great looking baseball book, "Baseball In the Cross Timbers, The Story of the Sooner State League", by Peter G. Pierce. It has a ton of photos too. Not sure if there's much cross-over with Western Canada Baseball, but looks to be a great read.

Rich Necker has been scouring the old newspapers for items on the early Western Canada League and he's come up with a lot of material on the 1921 season. I hope to get to updating the site with some of that information in the weeks ahead. Rich has been the source of so much great stuff lately, I feel I should let him take a few days off this summer !

In a way I can hardly wait until fall ! Paul Allen, who played in the Intercounty League in Ontario in the 60s and early 70s has been in touch and this November (when he's back in Florida) plans to dig through his stuff to send along clippings and photos on those season of the Intercounty. It would be a great help in filling in the many holes in our coverage of ball in Southern Ontario. Thank you Paul !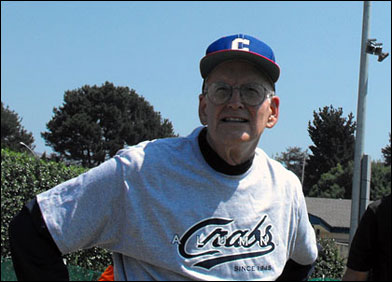 Jack Altman (left) is back in uniform! Yep, got to throw an inning this month as the Humboldt Crabs celebrated their 65th anniversary with a game between the alumni and the current squad. Alumni pitched for both teams as the Crabs had a four-game weekend series to wrap up their season. Altman, who played for the team, 1960-1963, after his time in Western Canada, picked up the win as the Crabs won 5-4 (it was his first pitching win since 1956 with Yakima in the Northwest League). Jack even picked off a runner at first! He's already in training for 2010.

Bill Zarubiak and I share so many memories of Western Canada Baseball. Bill, who's been in touch recently, was the bat boy for the North Battleford Beavers of the early 1960s. He's going to dig around to see if there are any old photos or programs.


A very nice surprise to hear from the grandson of former Lloydminster Meridians playing-manager Stan Karpinski (right). Stan was the man in charge in 1956, the main season I was bat boy for the club. Steve Karpinski is looking for any mementoes of Stan's career. Seems Stan's wife, a bit upset one day at his time away from home for baseball and basketball, trashed all his clippings and scrap books. It's a very long shot, but if you think you might have something related to Stan's career please get in touch.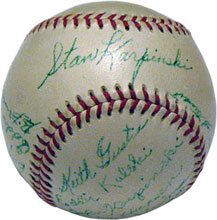 A very thoughtful gesture at my high school reunion in Lloydminster at the beginning of August turns into quite a coincidence given the above. My dear ol' school chum Ruth Kondro remembered me when she came across some old baseball programs and signed baseballs in clearing out her aunt's estate. Jean Powell had been a great baseball fan, rarely missing a game and almost always keeping score. You'll soon see a lot of photos and information posted from those programs. One of the balls is signed, prominently, by ... Stan Karpinski. Thank you Ruth !

John Grassso is on the trail of information on former Western Canada baseballer, Frank Neri, the grandfather of one of John's close friends. Again, if you might have some leads, let me know and I'll pass along the info.

John Chavez sends along the news that a couple of his former teammates passed away five or more years ago - Tom Snowden had been living in the Eugene, OR area and Willy Yahiro, in Hawaii. .

Tedria Richardson is trying to dig up more information on her grandfather, former Lloydminster lefty, Ted Richardson. I think we've finally dug up enough information to show that Ted Richardson and T.W. Richardson were different players.

Ah, too bad. Jim Lester says he's not likely to make the trek to Fresno for the 50th anniversary of the 1959 College World Series team. I full understand how travel is such a pain these days.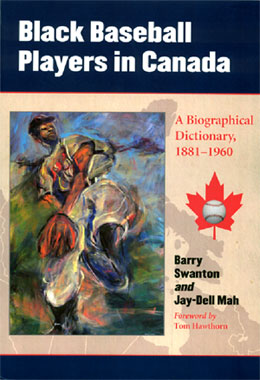 All seems well with the publication of our book on the influx of Black and Caribbean players to Canada, especially Western Canada, after the integration of the major leagues. With the collapse of the Negro League, so many players of colour had few other options than Canada or Central or South America.
We (Barry Swanton and I) have tried to include entries for all the Black and Caribbean players from the later 1800s right up to the 1960s (when the last of the major league clubs finally integrated). I had hoped to get an email off to all friends of Western Canada Baseball weeks ago, but have just been swamped. Soon. The book should be available in a month or so.
There is a paperback available, the latest price I've seen is $39.95 US.

Saskatchewan Hall of Famer Joe Zeman died last month in Saskatoon. He was 95. Zeman was active as a player, coach, manager and organizer of baseball and hockey in the province for decades. During one winter, Zeman coached five different hockey teams. He was inducted into the Saskatchewan Sports Hall of Fame in 1982, the Saskatoon Sports Hall of Fame in 1986 and the University of Saskatchewan Athletics Wall of Fame. He was named Saskatoon Kinsmen Sportsman of the Year in 1965.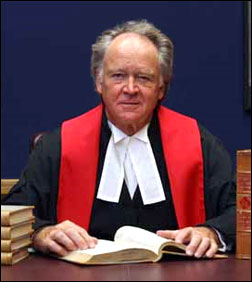 "Al" has been a major supporter of sport, particularly baseball, in Edmonton for decades and will be honoured next Saturday as the Edmonton Oldtimers Baseball Association and the Edmonton Capitals Baseball Club mark his imminent retirement.
"Al" is The Honourable Allan H. Wachowich, stepping down after 34 years as a judge, the last eight years as Chief Justice of the Court of Queen's Bench for the Province of Alberta. He was Associate Chief Justice for seven years before his appointment to the top post.
Saturday, August 29th at 7:00 p.m. Al's many, many friends will honour the life-long baseball fan at Telus Field prior to the game with the Calgary Vipers by having him toss the ceremonial first pitch. The former bat boy will be the guest of honour in the Home Plate Club during the game. A limited number of seats are available. You can purchase tickets by contacting David Benson at (780) 409-5909.
Mr. Justice Wachowich has promised to dig through his old baseball files to see if he can help out with information on the old Edmonton teams, especially those in the Big Four League of the late 1940s and early 1950s. His resignation takes effect on October 1st. After that, he will stay on the bench as a supernumerary judge until his compulsory retirement from the Court of Queen's Bench in March 2010. (Photograph by: John Lucas, Edmonton Journal)