Update : 23 August, 2023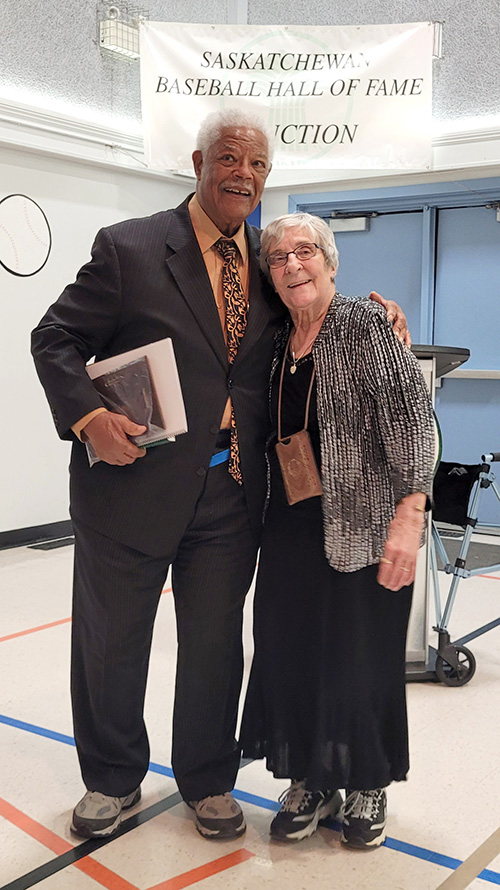 Nat Bates and Jane Shury at the 2023 Saskatchewan Baseball Hall of Fame induction ceremony at Battleford.
More than 300 people attended Saturday's annual event at the Alex Dillabough Centre.
Bates, up all the way from Richmond, California, was the keynote speaker. And, Shury the President and CEO of the Hall of Fame, had a surprise - honorary induction for the 91 year old.
13 other individuals and two teams were inducted this year.
Bates was among the Indian Head Rockets who were honoured in last year's ceremony.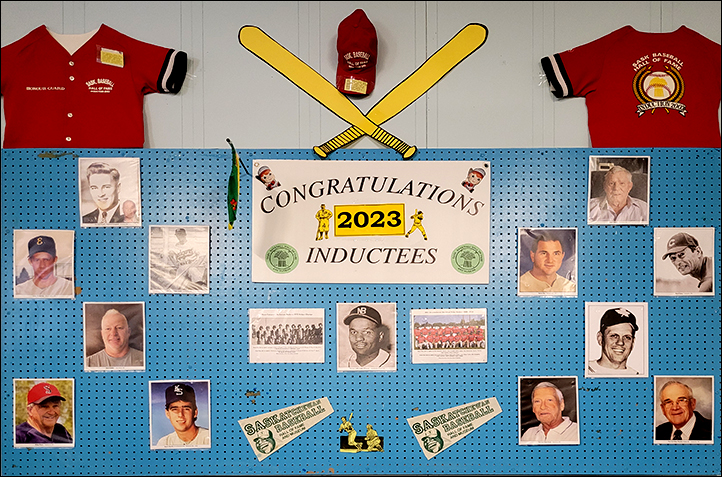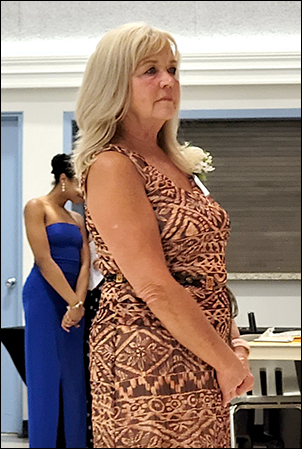 Ralph Mabee, former Saskatchewan player and manager of the Saskatoon Gems was honoured for an outstanding career which included managing the Canadian team at the Global World Series. Daughter Sue Mabee was on hand to receive the award and noted the day would have been her father's 111th birthday!
Louis Green, so familiar to ball fans in North Battleford and across the prairies, was selected for honorary induction.
Others to become Hall of Famers were Dick Scott, Larry Flicek, Kevin Frey, Darryl Rowley, Cory Borthwick, Gordon Campbell, George Ciocia, Glen Shockey, Brad Gyug, Brian Peters and Daryl Keller. The Lloydminster Meridian Twins of 2000-2014 and the 1972 Saskatoon Raiders Midgets were selected in the team category.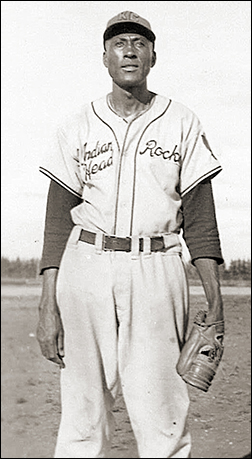 Robyn Jensen, the major force behind the Indian Head Rockets celebration last year, introduced Bates as the evening's keynote speaker.
She also managed to connect with Allen Braithwaite of Indian Head who had a major surprise - a photo of former Negro League legend and one-time Sceptre and Indian Head pitcher, Chet Brewer.
Brewer, at age 44, joined the two Saskatchewan teams in 1951 after a 26 year career in baseball, mainly with the famous Kansas City Monarchs of the Negro League. To many, he was thought the equal of baseball superstar Satchel Paige.
The two had, in 1935 in Winnipeg, put on a grand show in a scoreless thriller.
"Two of the greatest colored pitchers in the game staged a baseball battle for the book last night as Satchel Paige and Bismarck went nine innings to a scoreless tie with Chet Brewer and the Kansas City Monarchs in the first game of an exhibition series at renovated Osborne Stadium.  Between them the starry right-handers hung up the amazing total of 30 strikeouts before Umpire Snake Siddle called a halt as twilight descended at the end of the ninth inning.  Paige, displaying more smoke than Winnipeg fans have seen since Lefty Grove pitched here in the fall of 1933, took 17 victims, while the other 13 fell before Brewer's combination of speed and curves." (Winnipeg Evening Tribune, June 7, 1935)
Brewer was the first Black manager in organized ball. The year after playing in Saskatchewan he was at the helm for Porterville, California, in the Southwest International League.
---
18 August, 2023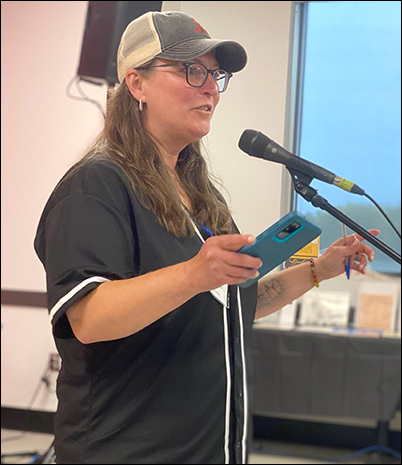 That's Robyn Jensen one of the organizers of the Prairie Players Reunion in Saskatoon speaking to the group today (August 18th).
Robyn and Max Weder have been working on the idea since Robyn's interview with John "Johnny" Ford, a standout on prairie diamonds for more than twenty years, mainly with North Battleford. Ford and Robyn came up with the great idea to invite old-time prairie ball players to come and reminisce and tell some tales of baseball particularly in Saskatchewan, a hotbed of baseball since the early 1900s.
The gathering came just a day ahead of the 2023 induction ceremony at the Saskatchewan Baseball Hall of Fame at Battleford. Robyn and Max will be there as well. Robyn is to introduce the keynote speaker, Nat Bates, and was the nominator for Louis Green, former North Battleford Beaver catcher, to be inducted tomorrow.
A snapshot of some of Friday's participants. Back row (L-R) - Dena Gilles, Kierra Gilles (Jesse Blackman's grand-daughter & great-grand-daughter), Jack Rowley, Patricia Bidart (Ab Bidart's daughter), Don Hilsendager, Ross Morrison, Roy Rowley & Maureen Ulrich (George Maffahy's cousin).
Sitting L-R: Bob Holowaty, Gale Tuggle, Nat Bates & Jessica Ertell (Jesse Blackman's daughter)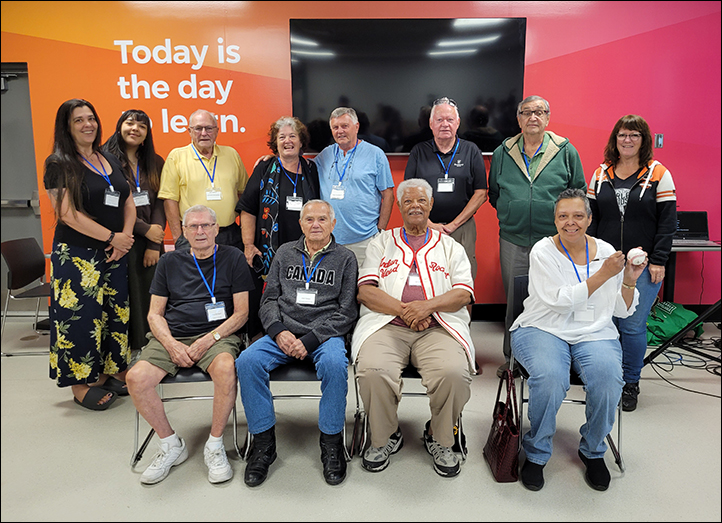 ---
18 August, 2023

Nathaniel (Nat) Bates and family back up from California for tomorrow's 2023 Saskatchewan Baseball Hall of Fame Induction ceremony.
Bates, who played in Western Canada with Medicine Hat and Indian Head in the 1950s, is to deliver the keynote speech at this year's event at Battleford.
The right-hander, who came up from college ball in California, was a special guest last year when the Indian Head Rockets were selected for induction.
Bates, went on to a lengthy political career in Richmond, CA, serving on the local council for more than 40 years, including terms as Mayor. Welcome back Nate !
He'll return to Indian Head for a special event on Monday (1-3 pm at the Indian Head Grand Theatre) for the special screening of the CBC documentary on Nat and Willie Reed. Display your Rockets' gear and meet Nat and family.
Today (Friday) colleagues Robyn Jensen and Max Weder are hosting a Prairie Players Reunion 2-5 at the Gordie Howe Sports Complex in Saskatoon. Both, of course, will be in Battleford for the induction ceremony.
---
26 June, 2023

Sad to hear the news that Johnny Ford had passed away June 17th at the age of 90. A life well lived.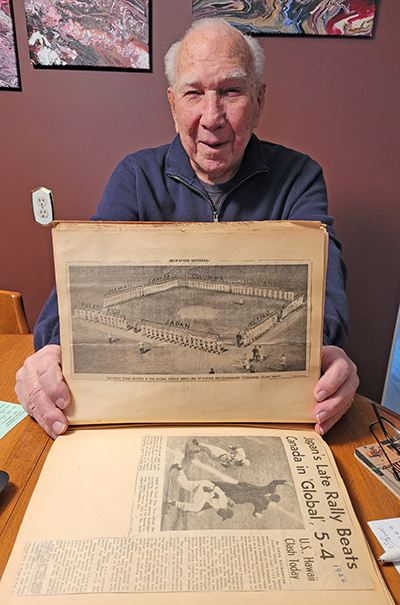 John William Ford was born in California in 1933. He excelled in athletics in high school and junior colleges in Visalia, California and Coerce d'Alene, Idaho.
In 1953, he was recruited to play baseball in Canada with Moose Jaw. It was a wild and wacky season for the team as it went through five managers.
Johnny moved on to Lloydminster in 1954 and later North Battleford and played and coached in Western Canada baseball into the 1970s.
(Photo from an interview colleague Robyn Jensen did with John earlier this year)
Johnny Ford married a local girl (the former Beverley Riddell of North Battleford) and settled down in Saskatoon.
The San Francisco born firebrand came to the league from the College of the Sequoias and a stint in the Marines. He played with Moose Jaw in 1953, Lloydminster in 1954, then North Battleford from 1955 through 1959. In the late sixties and early seventies, Ford suited up in the Southern Saskatchewan League with Swift Current.
Ford began his career as a third baseman and evolved into a superb utility player. He was a consistent hitter -- .312 in 1954, then .305, .295, .297, .329 and .321. His best power year came in 1957 when he belted 7 homers.
Ford twice went to the Global World Series (with Saskatoon in 1955 and North Battleford in 1956). He came out of retirement to suit up with Swift Current of the Southern Baseball League in 1969 and played until 1972. In 2003, Ford was inducted into the Saskatchewan Baseball Hall of Fame.
---
12 June, 2023

Rich Necker has dug up some interesting and quality photos, including a couple back to the early 1900s.
They are the team photos of 1903/1904 Fort Saskatchewan (of then Alberta Territory), the 1908 Vegreville nine.(with executives and pets) and the 1917 team (only eight players at photo time) of Chinook, Alberta.
To go along with the 1947 Kamsack Cyclones uploaded earlier, we add in the Leader Barons of 1977. The Barons (over a 20+ year stretch) were inducted into the Saskatchewan Hall of Fame in 2016.



Among the Barons was lefty hurler, first baseman / outfielder Randy Trautwein (in 1977 left, 2018 right).
Randy won induction as an individual player in 2018, carrying a career batting average of .370 (Leader kept detailed statistics over the team's decades of success.

To our 1940 BC Snapshot page, Rich sends along pics of Ray Casey, Victoria Tillicum Athletics and teammate H. Scotty Robinson.

To add to overage of junior ball on the prairies, we've added individual photos in the 1924 Manitoba Photo Gallery of member of the Brandon, Junior Bearcats. Among the pictures are those of - Wally Brannon, Jimmy Hughes, L. Johnson, Happy Buchanan, Tom Cowan, F. Winteringham, R. Crane, Joe McIntosh (left), Hod Cowan and Johnny Plum
The 1924 Manitoba Gallery also has the addition of eight more players from the Winnipeg Tammany Tigers - Johnny Austman, Tony Baril, Bill Cockburn, Bill Crowe, L. Hogeboom, Harry Lemon, Gordon MacKenzie and Sammy McCallum.

And a couple more, these from the 1950s - Wally Smith, 1950 Moose Jaw Purity Canucks and Pete Thomson, 1955 CUAC Blues, Winnipeg.
---
08 June, 2023

We now have a date for the launch of Paul Allen's book "Bright Lights Black Stars",
The former all-star in Ontario's Intercounty League will be in London, Ontario, at the end of the month to officially release the story of Negro League players in the Intercounty circuit.
Paul will be speaking at a special luncheon of the London Sports Association on Tuesday, June 27th, then the official launch will take place on Friday, June 30th at Labatt Memorial Park hosted by the London Majors, Friends of Labatt Park and the Majors Alumni Association. (The Kindle version and a paperback edition is already available on Amazon.)
Congrats Paul !!
" ... . Allen - a former two-time London IBL All Star - introduces readers to pre-IBL southwestern Ontario's players and teams including the 1934 Chatham Coloured All Stars, the first all-black team to capture a provincial championship. Allen then follows the 1948 London Majors' march to the Canadian Championship and their thrilling Can-Am North American National Congress victories over the American national champions, the Fort Wayne General Electrics. Bright Lights Black Stars then continues on a wonderful baseball journey as players, teams, and competitive games are meticulously described in each season during the IBL's Glory Years, 1948-1958, when the best of the best played in competitive games in front of large crowds. The book also has a chapter describing the historic ManDak League where many Negro League stars played.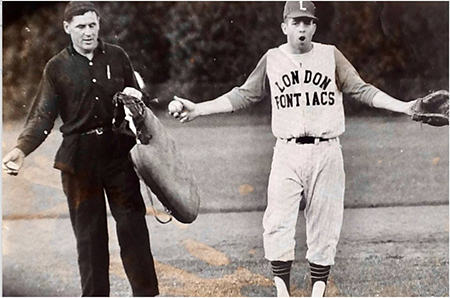 Allen, who is now 81, credits a London Majors and Brantford Red Sox reunion for motivating him to write the story of the great players who preceded him in the league. Allen acknowledged veterans Tom Burgess, Russ Evon, John Ambrose, Gabby Anderson, and long-time coach Norm Aldridge, as the ones who regaled him with stories of post-World War II players that stayed in his mind for years. Allen said, "those IBL years are a bygone era of baseball and I thought this story of Negro League players and their white teammates is really an integrated success story that must be told."
Scott Ellsworth, New York Times best-selling author of The Sectet Game agreed and wrote: "BRIGHT LIGHTS BLACK STARS" vividly captures the forgotten saga of how Negro League ballplayers transformed Canadian baseball in the 1940s and 1950s. Richly detailed, poignant, and often hilarious, author Paul Allen—a former ballplayer himself—doesn't just resurrect long-forgotten seasons of glory, and players who threw smoke and hit homers "that they are still looking for." He has also brought back to life a fascinating and truly significant moment in baseball history."
Among other quality endorsements, former MLB pitcher for the Boston Red Sox and Montreal Expos, Bill "Spaceman" Lee wrote the Foreword to the book. The book has attracted several endorsements from notable figures in the baseball world. These include Tom Gamboa, former coach of the KC Athletics and Chicago Cubs, Scott Crawford, the director of operations of the Canadian Baseball Hall of Fame, Frank Cosentino, a former Canadian Football quarterback & CFL Hall of Fame member, Cecil Wright, a director of the Canadian Baseball Hall of Fame, Barry Boughner, president of the London Majors Alumni Association & former NHL hockey player, and Ed Heather, a former Toronto Blue Jays scout. IBL batting champion, Brian Pearen said: "I felt I was sitting in the stands and was a part of the many exciting games these guys played."
In Bright Lights Black Stars, Allen introduces memorable players such as Negro League stars, Wilmer Fields, Shanty Clifford, Jimmy Wilkes, Jeep Jessup, Ed Steele, Larry Cunningham, and even Satchel Paige and his impact on Canadian Baseball. Former Major League stars, Phil Marchildon, Hank Biasatti, Goody Rosen, Bob Thurman, Tommy Padden, Pat Seerey, Pete Gray, Tommy Warren, Harry Fisher, and others will capture your attention. Local stars Flat Chase, Bobby Deakin, Roy McKay, Tex Kaiser, Freddie Thomas, Tommy White, Ron Hodara, Stan Lipka, and many other college and minor pro stars' stories are equally captivating. Readers will enjoy the IBL players, the teams, thrilling games, and some of the league's most flamboyant owners, Galt's Gus Murray and Brantford's Larry Pennell.
Fans attending the Majors vs Welland Jackfish game June 30th will have the opportunity to meet Allen and get their books signed. In addition to the Labatt Park book launch, Allen will also speak and sign books at the London Sports Association luncheon on June 27th. He is also scheduled July 22 in a "Meet The Author" event at Arnold Anderson Stadium in Brantford for the Brantford Red Sox and July 23rd at Jack Couch Park for the Kitchener Panthers. Other venues and appearance dates will be announced shortly."
---
07 June, 2023

Much thanks to Maritimer Colin Howell for his latest updates on game reports for the Halifax & District League one of the premier circuits for semi-pro and amateur ball in the country during an golden age for baseball in Canada.
Colin now has reports up to the end of the 1959 season in which Dartmouth won the championship in the final year of the H&D League.

Former pro in the Yankee system, Wilson Parsons, was the hero of the final series chalking up three wins. He fired a two-hitter with 12 strikeouts, a seven-hitter with another dozen Ks, then pitched five shutout innings in relief.
He had compiled a 7-2, 2.36 record during the regular season pitching in a league-leading 23 games with 97 strikeouts in 88 innings. An arm injury curtailed his pro career.
Earlier we had posted the league statistics for the 1950s thanks to Colin's efforts.
[Parsons photo from the Nova Scotia Sport Hall of Fame]

Will be fascinating to see our colleague Robyn Jensen's final take on her research into the famous Rosetown Riot of 1952.

She's looking at the fine details of the affair trying to determine the precise order of events and who did what to whom.
Robyn, head of the Indian Head Museum and organizer of the celebration of the induction of the Indian Head Rockets into the Saskatchewan Baseball Hall of Fame, has begun her own blog on baseball history, Home Runs and Dirt Roads.. Well worth the read.


Among other things, our Rich Necker has unearthed a photo of the 1947 Kamsack Cyclones, billed as the "original Cyclones".
There's quite a familiar name in there - the batboy, Eugene Kinasewich. Now trying to determine if there's any relationship to the Gene Kinasewich of the 1960s who, from Alberta, was a star and captain of the Harvard University hockey team.
Names added to the rosters of 1947. One day hope to get going on updating all the roster sheets.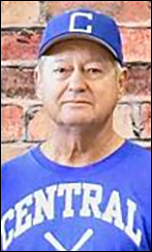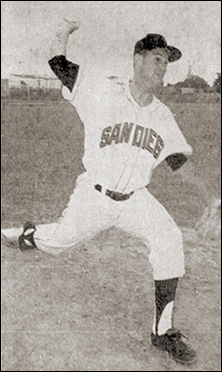 Sorry to hear of the passing of Dave Middleton, an import pitcher for the Saskatoon Commodores of the Northern Saskatchewan League for two seasons, 1968 and 1969.
He had come North after a fine spring with San Diego State College where he finished with a 4-1 record and 2.68 ERA.
He also had a good season with Saskatoon, 5-3, 2.68, with 62 strikeouts in 57 innings,.It was in the playoffs he had perhaps his best ever back string of success..
On Saturday, the 25th of August, the 20-year-old right-hander fired a no-hitter, his first ever, as Saskatoon evened the best-of-seven semi-final series with a 1-0 win over Unity. Middleton fanned 18 and walked just one.
The next day, as a pinch-hitter, Middleton stroked a two-run single.
Then in the 8th inning of Monday's game, Middleton, again pinch-hitting, punched out a single to bring in the winning run in the Commodores 2-1 victory.

Middleton returned to Saskatoon for the 1969 season and again performed well, 6-6, 2.91, in a league-leading 99 innings. He was third in strikeouts with 104.
Middleton was a native of El Centro, California where he attended Central Union High School where he returned after college to become the head baseball coach. He had pitched for two years for Imperial Valley College before advancing to San Diego State University.
Earlier this year, Middleton was a recipient of the "Head Coach Award" by the High School Sports Association of San Diego.
He held the coaching post for 30 seasons, running from 1974 to 2004.
Middleton passed away April 13th this year at the age of 75.
---
29 April, 2023

Continuing with our series on the game in the Maritimes, Colin Howell has posted game reports for 1954.
Among the diamond stars that season was outfielder John "Zeke" Bella of the Halifax Cardinals, just back from a two year hitch in the US armed forces.

Bella, who would later advance to the majors with the Yankees, had a sensational season, winning the batting title with a .419 mark, tying for the lead in RBI with 51, was second in doubles and among the leaders in stolen bases
(Photo from Baseball Reference).

Well back in second place was Francis "Joe" Fulghum of Stellarton at .380.
Fulghum, who had parts of two minor league seasons in the low minor leagues before joining the Maritime circuit went on to become a beloved teacher and high school baseball coach at Newark, Delaware.
He coached for 21 seasons. Fulghum passed away in 2020 at the age of 94.


Outfielder Fred Thomas is believed to be the first Canadian Black player to be signed by a major league team.
On July 4th, 1948 Thomas integrated the Class A Eastern League when he suited up with Wilkes-Barre after signing with the Cleveland Indians. He went hitless in three trips in the first game of a double-header, but banged out a pair of singles, stole a base and drove in a run in the second.
(Photo from the Windsor Star)
Thomas was a star in Ontario's Intercounty League in the 1950s. He was inducted into the Canadian Baseball Hall of Fame in 2021.

Thanks to Leo Wurtz & Rich Necker for digging up a photo (Ballcharts.com) of the Lloydminster Meridian Twins, to be inducted into the Saskatchewan Baseball Hall of Fame this summer.
Interestingly, at least to me, Bart King, the nominator for the Twins is the son of an old school chum of mine from Lloydminster. The team is being honoured for its performance during the years 2000-2014. They've won 10 league championships, including six in a row between 2009-2014.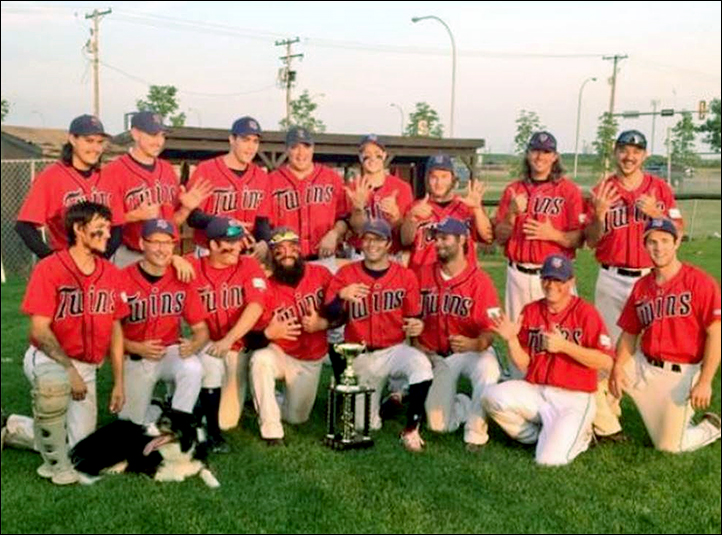 ---
23 April, 2023

Thank you, Leo !
Leo Wurtz has sent along the full list for the Saskatchewan Baseball Hall of Fame induction ceremony, Saturday August 19th at the Dillabough Centre at Battleford, Saskatchewan.

One name on the list just forced us to change a spelling throughout the site. It's Larry Flicek.
I just double checked the Saskatoon Star Phoenix for the period of Larry's playing days and there are 108 listings for FLECIK and just 3 for the correct spelling, FLICEK. Unfortunately we had followed the newspaper spelling.
Larry, a centre fielder, was a fixture for the Neilburg Monarchs from 1959 to 1971.
Also, happy to see my old hometown Lloydminster Meridian Twins to be honoured in the team category.
The full list :
INDIVIDUAL CATEGORY

1. Ralph Mabee - Stoughton
2. Dick Scott - Milestone
3. Larry Flicek - Neilburg
4. Kevin Frey - Sylvan Lake, Alberta (Originally Saskatoon)
5. Darryl Rowley - Oklahoma (Originally North Battleford)
6. Cory Borthwick - LaRonge
7. Gordon Campbell - Avonlea
8. George Ciocia - Assiniboia
9. Glen Shockey - Saskatoon
10. Brad Gyug - Lumsden
11. Brian Peters - Saskatoon
12. Daryl Keller - Pilot Butte
Louis Green - Honorary Induction

TEAM CATEGORY

1. Lloydminster Meridian Twins (2000 - 2014)
2. 1972 Saskatoon Raiders Midget Team

---
22 April, 2023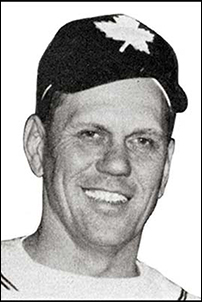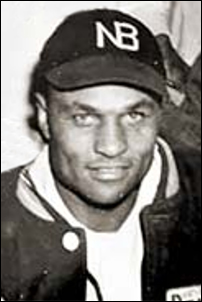 We know two of the 2023 inductees into the Saskatchewan Baseball Hall of Fame.
Ralph Mabee (left) and Louis Green (right) prominent competitors in the Saskatchewan and Western Canada Leagues in the 1950s.
Mabee, who began playing in rural Saskatchewan in the late 1930s, was most prominent as a player and then a manager from 1948 to 1957 in Saskatoon. A highlight of his career came in 1955 when he led the Canadian team to a third place finish at the Global World Series at Milwaukee.
Green, came north with the Jacksonville Eagles of Florida in 1950. The team became the home team of Indian Head, Saskatchewan, to be known as the Rockets. He played for eight summers in Canada, mainly with the North Battleford Beavers. Green was a key player on the Beavers' championship teams of 1952, 1953, 1954, and 1956.



I don't recall having made this connection before. But, our ace detective, Rich Necker, discovered this little gem on a Facebook site, Hockey Beast.
A pair of amateur ball players in Saskatchewan impressed enough to win pro baseball contracts and later became teammates in the National Hockey League. Clark Gillies (left) and Bob Bourne (right).
Clark Gillies and Bob Bourne first met when they played baseball against each other at 15 years old. Each signed with the Houston Astros and played together in the minor leagues. The Islanders selected Gillies with the No. 4 pick in the 1974, Bourne was traded to New York a few months later. Gillies and Bourne lived next door to each other on Long Island.

"Our house was first to the left and Bournie's was second. I'd just step out the back and yell over, 'Bournie, beers! Here or there?' Or I'd chip some golf balls down to his yard and he'd chip them back."
Gillies had three daughters, Bourne two sons. At a reunion 20 years later, Gillies' daughter, Brianna, and Bourne's son, Justin, met again. They started dating, fell in love, got married and had two children.
"I can't shake the guy," Gillies said. "It's a pretty crazy story, two kids from Saskatchewan ending up family after being friends all these years."

Source: The Athletic, nhl.com
---
26 March, 2023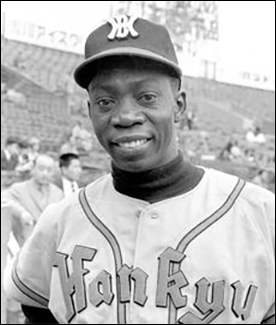 Sad to hear of the passing of Roberto "Chico" Barbon on the 12th of March, just one day before his 90th birthday.
Barbon began his baseball career as a 19-year-old left fielder/pitcher in Western Canada.
(Photo from "Alan" at Find a Grave/)
He arrived on the prairies in the spring of 1952 with the barnstorming Florida Cubans and helped the team to tournament vistories at Lethbridge, Camrose, Lacombe and Indian Head and to the Saskatchewan championship of the National Baseball Congress beating another touring team, the Indian Head Rockets.
Barbon would return to Saskatchwan in 1953 to play for the Rockets. His talent attracted the attention of scouts for major league teams and he signed a professional contract to play in the Brooklyn Dodger system. After just a year in pro ball, he decided to accept an offer to suit up for the Hankyu Braves in Japan where he excelled in the infield and on the bases.
" ... The Cuban-born Barbon was the first Latin American star in NPB, joining the Hankyu Braves in 1955 after having spent the 1954 season in the Brooklyn Dodgers organization. He would spend ten years with Hankyu, mostly as a second baseman. He made two All Star teams (1958-59) and won a Best 9 award in 1958. He was the second foreign player to ever lead either league in steals (following Larry Raines in 1953) and is the only foreign player to ever do it more than once. He actually did it three times - 1958-60 - and no foreign player has led either league since. He was the first foreign player to reach 1000 hits and his 1353 games were the most by a foreigner until Tuffy Rhodes passed him in 2007. He was traded to the Kintetsu Buffaloes after the 1964 season and spent the final year of his career in Osaka.

Following the Cuban revolution and Fidel Castro's rise to power in early 1959, Barbon was unable to return home. He settled in Japan, marrying a Japanese woman in the early 1960's and raising a daughter. He ran a restaurant in Kobe for a few years after retiring as a player until Hankyu brought him back as a coach in 1974. After two years of coaching he moved into a off field role with the team which among other things included translating for foreign players like Bobby Marcano and Boomer Wells." (Japanese Baseball Cards)

" ... The eternally cheerful Barbon has trouble completing a sentence without contagious laughter. He entrances people here with his fluency in Japanese. At 76, Barbon runs youth clinics for the team that originally signed him and is a fixture at its home games. No one is certain, but he may be the longest continuously serving figure in Japanese baseball.

The man commonly called Chico San grew up imagining quite a different life. The youngest of 11 children from Matanzas, Cuba, Barbon came to Japan in 1955 at the age of 21. He planned to spend a few seasons sharpening his skills so that he could gain interest from a major league team in the United States.

His life changed drastically when the Cuban revolution led by Fidel Castro broke out on Jan. 1, 1959. Diplomatic ties with the free world were severed, and Barbon was stranded in Japan. The security of a job made him appreciate what he had. He married a Japanese woman and has lived in Japan since. (New York Times, March 4, 2010)
---
23 February, 2023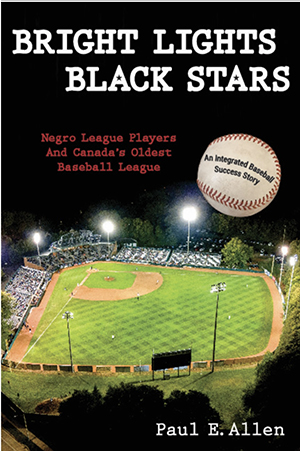 Former Intercoiunty baseball star Paul Allen has a book about to hit the book shelves l
BRIGHT LIGHTS BLACK STARS is a baseball story which covers the Negro League players who came to Canada to play baseball in Canada's oldest baseball league, the IBL (Intercounty Baseball League.)
It's a fascinating story about legendary players and teams who played in the glory years of the IBL 1948-1958 and in the world's oldest baseball park, London's Labatt Park.
The IBL and another league, the Manitoba Dakota League (ManDak), recruited "Black Stars" and their stories are legendary. Meet these players and their white teammates who demonstrated that baseball in Canada was an integrated success.
---
22 February, 2023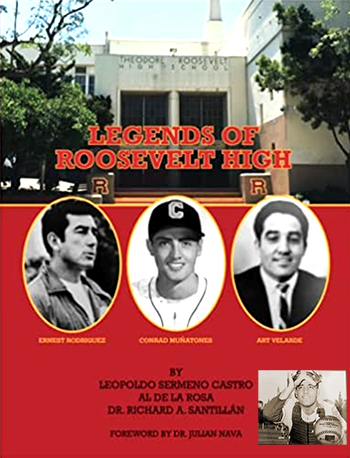 What a tribute! A pair of former Western Canada stars, Connie Muñatones and Ernie Rodriguez, along with childhood friend and colleague Art Velarde are the subjects of the book "Legends of Roosevelt High."
" ... The Legends of Roosevelt is the real to life story of three young men who grew up in the neighborhood of Boyle Heights. They went to Theodore Roosevelt High School together and played baseball together in the early '50's. They went on to play baseball at UCLA in the late '50's. Two of them, Ernie Rodriguez and Conrad Muñatones, signed to play professional baseball with the new Los Angeles Dodgers who had just moved from Brooklyn, New York in 1958.

After playing minor league baseball, they joined Art Velarde with teaching and coaching at Roosevelt High in the '60's. Art and Conrad went on to work in administration for the Los Angeles Unified School District and Ernie coached baseball and taught Physical Education for thirty-five years at Roosevelt High School.

It is an amazing story of how these "Tres Amigos" started playing baseball at Evergreen Playground. They played for the 1954 Roosevelt Varsity Baseball team which has been described as the most talented team in the history of Roosevelt High School. Coming back to teach and coach at your Alma Mater was a dream come true for them."
Connie played three seasons on the prairies in Edmonton, Moose Jaw and Saskatoon. He even represented Canada as a member of the Canadian team at the 1957 Global World Series at Detroit. The team upset the favoured Americans and came within a whisker of winning the championship.
In 1957, in his second year with Moose Jaw, Rodriguez won the batting title with a .402 percentage. He led the Western Canada League in hits, runs and walks. He compiled an on-base percentage of .532 and with just ten strikeouts all season, fanned about once every 6 and 1/2 games.
---
21 February, 2023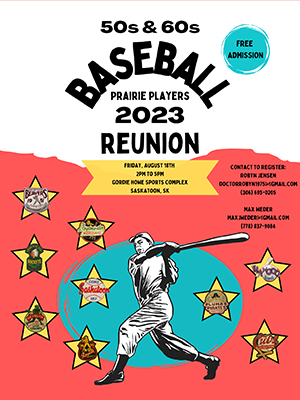 Robyn Jensen, that burst of energy from Indian Head, Saskatchewan, is looking for YOU.
Robyn has teamed up with co-host Max Weder (former Delisle boy) to provide a venue to rekindle memories of old-time ball on the prairies.
If you played baseball in the 50s & 60s on the prairies, there is a big reunion played for Saskatoon this summer.
It is set for Friday, August 18th at the Gordie Howe Sports Complex, Saskatoon.
For information Call (306) 695-0205 or (778) 837-9084.
---
03 February, 2023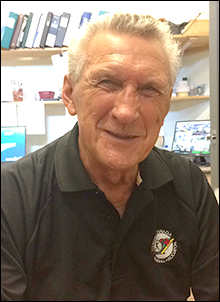 Wow. There's Joe in there with Jesse Barfield, Denis Boucher and Rich Harden!
That's Joe Wiwchar of Morden, Manitoba, who was notified this week that he's to be inducted into the Canadian Baseball Hall of Fame.
Joe, a big help to our little enterprise over the years, has a lenghty background in baseball in Manitoba as a coach, executive and more currently as curator of the Manitoba Baseball Hall of Fame (into which he was inducted in 1999).
The group is to be inducted into the Canadian Baseball Hall of Fame in a ceremony this summer (June 17th) at St. Mary's, Ontario.
Congratulations Joe !
---
23 January, 2023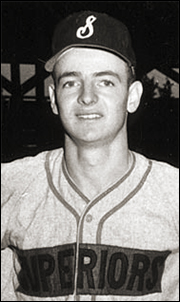 Sad to discover ol' friend Phil Risinger has passed.
Phil played just a couple of summers up on the prairies, shortstop for the Medicine Hat Superiors in 1957-1958. His older brother Don joined the team in 1958.
After a couple of seasons in pro ball, he hung up the cleats. The graduate of Southwestern State College then continued studies at the Harding Graduate School of Religion. An insurance adjuster, Phil served as minister for several churches,
Phil was instrumental in digging up material for us from his days in Medicine Hat and also in the Basin League and in Oklahoma college ball.
He loved our book, Black Baseball Players in Canada A Biographical Dictionary 1881-1960, and visited libraries in his home state of Oklahoma urging them to stock the work.
Phil Lavon Risinger passed away Sunday, August 28, 2022, at Glade Assisted Living in Bethany, Oklahoma, at age 83.
---
21 January, 2023

Rich Necker continues to scour the papers and he's sent along a few more additions to our Tournament pages.
There's a snippet on the Rosetown, Saskatchewan, tournament of 1948.
For the 1953 season we've added in events in Glenboro and Winnipeg in Manitoba, Lethbridge, Edson, Claresholm, Alberta Beach and Hillcrest in Alberta, Shellbrook in Saskatchewan and Whalley in BC.
In 1954 there's the Peace River event in Alberta, Portage la Prairie and Glenboro in Manitoba and the Mission tournament in BC.
And, in 1955, the tournaments in Carstairs, Alberta, Fort St. James in BC, and Griffin, Kelliher and Melfort in Saskatchewan.



There are a few names noted in the reports, one that jumped out was Larry Walker (left). Yes, the father of former major leaguer and Hall of Famer Larry Walker Jr.
Also, Don Kirk, from Carstairs, who became one of the top moundsmen on the prairies in the mid 1950s. He went on to become a physician.

More from the Maritimes! From Colin Howell we've posted the 1958 statistics for the Halifax & District League (the summary report still to come). The league rosters also added for '58.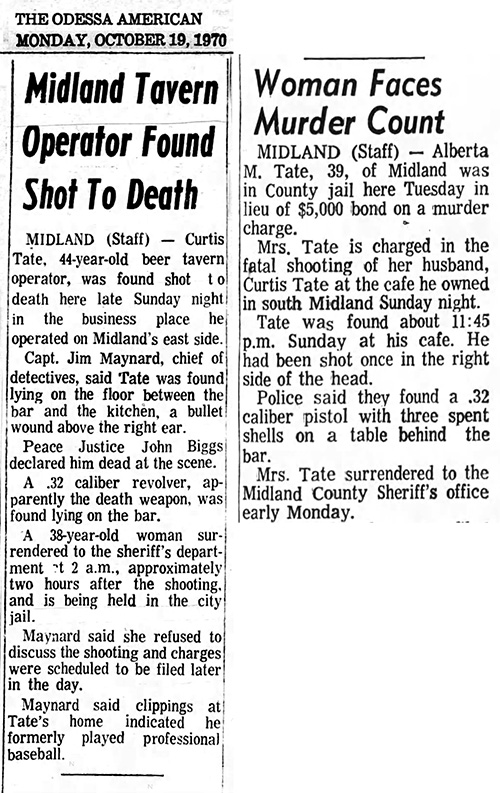 Curtis Tate was one of the most feared hitters in prairie ball in the early & mid 1950s.
He came north in 1949 with the Ligon All-Stars a touring team from Texas.
He was back with Ligons for the 1950 trip but quickly was snatched up by the North Battleford Beavers and what a first season. Tate hit .435 ! If he had had enough at bats he would have won the batting title.
In 1951 he finished second in the batting race, with a .395 average, a scant two percentage points back of the winner.
He was second again in 1952, batting .349 and followed that with a .303 mark in 1953 while leading the league in hits.. The Beavers' third sacker was third in 1954 batting .322.
After a whirl in pro ball in 1955 in the West Texas-New Mexico League (where he hit .289), Tate returned to North Battleford to hit .292 in 1956, dropping to .238 in his final season in 1957.
In an interview with Robyn Jensen of the Indian Head Museum this year, former North Battleford star Johnny Ford noted Tate was invited to join a Beavers reunion in 1971, but they discovered he had passed away. Jensen, and our Rich Necker joined the research effort to track down the story. Tate was shot to death by his wife at his Midland, Texas tavern in 1970.
---
13 January, 2023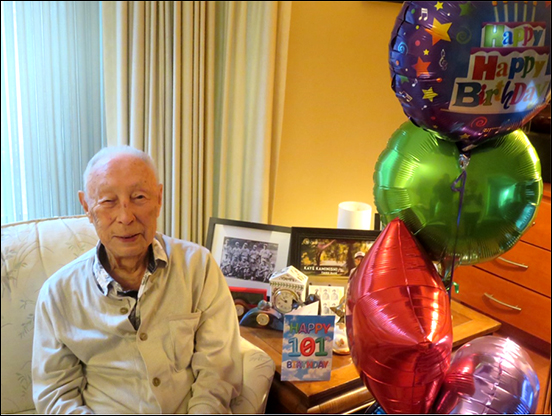 101 !
Ken Kaminishi, the last of the Asahi, marked his 101st birthday January 11th.
The photo sent via our colleague in Japan, Yobun Shima, from the family, daughter Joyce and brother Ed :
"Thank you All for your good wishes on Dad's 101st Birthday! He is healthy and is looking forward to joining the Shin Asahi event on the 22nd and seeing Grace Thomson and Elmer Morishita! Wishing Everyone a Happy New Year! Thank you once again! Joyce Shimokura and Ed Kaminishi."
The occasion will be celebrated by the Asahi Baseball Association.
ASAHI BASEBALL ASSOCIATION
New Year's Party
Come celebrate Kaye Kaminishi's 101st birthday along side other Asahi members past and present.
We will also be presenting the Kaye Kaminishi Award as well as formally introducing our 2023 Japan Tour Team.
Wear your Asahi attire (for an extra door prize ticket) and come celebrate and enjoy refreshments, games and entertainment!

Date: Sunday, January 22, 2023
Time: 1:30pm - 3:30pm
Place: National Nikkei Museum & Cultural Centre
Address: 6688 Southoaks Crescent, Burnaby
---
27 December, 2022

And the Maritime baseball news just gets better and better. Colin Howell adds the 1959 stats to the coverage in today's update.

Pitcher-outfielder Leo Parent put on quite a show. The big right-hander for the Truro Bearcats won the batting crown hitting .335 with a league-leading 48 RBIs. On the mound, Parent topped the league in ERA with a 1.72 mark although chalking up just four wins in nine decisions.
After four seasons in professional ball in the Yankee and Kansas City farm systems, Parent suited up in Maritime ball in 1955.. He had an explosive start in the Halifax & District League clubbing 10 home runs in 85 at bats. He put in five seasons in the H&DL, with a career average of .325.
Jim Craig of Kentville led the league with ten wins, 118 innings pitched and 110 strikeouts. He also walked the most, 86.
With the names from the stat sheets we've also been able to update the rosters for 1959 for the Halifax & District League.

Very pleased to hear from old friend Connie Munatones, the former Dodger and Western Canadian star in the 1950s and 1960s. He's doing OK, and happy to be connecting with family and friends over the holidays. You might recall, the Los Angeles Times did a piece a couple of years back on Connie and his baseball buddies in LA.

Much thanks to Robyn Jensen of the Indian Head, Saskatchewan, Museum for digging through the newspaper archives to send along material from Moose Jaw to help us finalize the 1909 Western Canada League statistics!
---
22 December, 2022

Managed to pick out some Ontario photos from one of friend Max Weder's posts on Facebook. It was one noting the 1964 All-Stars in the Intercounty League.
The 1964 Ontario Photo Gallery now has pics of Roger Dewaele, Dick Krol, Dave Lapthorne, Ken Plesha, Rofh Sheel, Ron Stead and Fred Thomson.
Stead (left) had an outstanding career leading to his induction into the Canadian Baseball Hall of Fame.
---
20 December, 2022

Lionel Kearns, born in Nelson, BC, has had many highlights in a distinguished career. (I am uncertain he would place his baseball days with the Fairview Athletic Club among them.) But the celebrated author has fond memories of a time when he played baseball against Fidel Castro.
Not only did Lionel Kearns play against Fidel Castro, he was his catcher. It was 1964. He published the story originally in 2005 and with a few touch-ups here and there we are so appreciative to post The Day I Caught Fidel.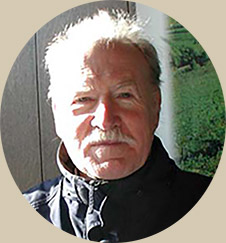 Left - the young Lionel Kearns in the lineup for Nelson's Fairview Athletic Club in the early 1950s.
Right - celebrated professor (Simon Fraser University) and author Lionel Kearns
[For a biography from Canadian Poetry Online, click the second link above.]
---
17 December, 2022

Oh wow. Maritime baseball expert Colin Howell follows up his 1950 batting and pitching stats with game reports for 1953, 1954, 1955and 1956 Maritime ball.
Colin's reports are especially valuable in providing context for various players, with their college affiliations and pre or post Maritime baseball activities, such as play in other leagues.
It is also eye-opening how many went on to suit up in the major leagues.
One was Moe Drabowsky (left) who went directly from the Truro Bearcats to the Chicago Cubs in July, 1956.

Thank you Lou.
Lou DeRosa pointed us to a link of a photo of former Trail baseball player Merillo Geronazzo.
The site had photos from the Trail Historical Society. In surfing through a few pages I managed to pinpoint a few more, including one Mr. DeRosa had failed to mention - far right below - Lou DeRosa! Finally, we have a good photo of our friend and correspondent !
Many of the photos are from the 1950s and 1960s. We've posted the smaller versions on the various BC Photo Galleries.

L-R John "Sonny" Hackett, Merillo Geronazzo. Mel Dorey, Frank "Skip" Ferguson, AND Lou DeRosa.






Oh those Bentleys of Delisle - on the ice, the ball field or the farm, so prominent during a growth era in Saskatchewan. Rich Necker came across a photo of Doug Bentley accepting the trophy for winning the Saskatoon Exhibition Tournament in 1955.
---
09 December, 2022

Oh wow. More on Maritime baseball. Colin Howell has stats for 1953, 1954, 1955, 1956 and 1957. Of course, the rosters for those years have also been updated. This goes along with the 1950s game reports already filed, with more on the way.
In processing the latest material, we discovered a team photo of the Truro Bearcats, that had been displayed in the 1956 section, was, in fact, the 1957 team and is now placed accordingly.

The three players in the Truro photo who could be identified at this stage now have photos in the new 1957 Maritime Photo Gallery.
One of them is lefty pitcher Ralph Lumenti (left) a "bonus baby" of the era who suited up in the majors for the old Washington Senators.

Lou DeRosa has come up with another photo find for us. This one a junior team from Fruitvale, BC, from 1956.

And, a photo of Saskatoon Cubs' Walter Vandale has been added to the 1950 Saskatchewan Photo Gallery.

Thanks to Robyn Jensen at the Indian Head Museum, who has been on the road to various libraries and archives to dig up baseball info, we will have more to add to the 1909 Western Canada Baseball League statistics. Yes, 1909 ! The league made no arrangements to have the stats done that year and back in 2010 we began sorting through the newspaper accounts to compile the hitting and pitching numbers. There were a few games missing and we hope to fill in the missing data soon.
---
12 November, 2022

Our page for the 1921 Regina Senators of the Western Canada League is back in place.
Somehow, it went AWOL for a time (with a Vernon, BC team sitting in the for the Senators)) but is back home. Still looking for IDs for those long ago prairie stars. The lone individual we were able to pick out is the playing manager Bill Speas.

Rich Necker has dug out a few more photos from the early days including a team photo of the 1914 Regina Red Sox of the Western Canada League. IDs needed here too. One might be Ken Williams a future major league star.


In the 1935 Saskatchewan Photo Gallery, Ralph Hogg (left), Wilfred H. "Gizzy" Hart, W. "Bill" Cousins and Dillon Brady have been added. All played for the Weyburn Beavers

On the 1920 Snapshot page we added a photo of Marvin "Red" Smith, shortstop of 1920 Regina Senators.

One of the best finishes of the likely best and longest-lasting tournaments in the country came in 1963 at the Lacome Lions Tournament. We've added in the newspaper report from the Edmonton Journal. Our Lou DeRosa suited up with Vernon for a few games in 1963, but wasn't in the lineup for the tournament.
One photo from that tournament now added to the 1963 Alberta Snapshots. It shows the Grande Prairie playing-manager Garth Roberts receiving the cheque for winning the event.

---
03 November, 2022

We are just so pleased Colin Howell is with us to compile information on Maritime ball. He has more progress this week with game reports for 1952, and statistics for the Halifax and District League for 1949 and 1952.
We've also added more on the stats for 1948 (Jack Kaiser of Kentville edged a teammate by one point, .389 to .388 for the batting title) and 1951 (Tom Bujnowski of the Capitals had an outstanding summer in leading the pitchers. He led the league in ERA, 1.41, wins, 16, innings, 166, and strikeouts, 141).

Buddy Condy didn't win the batting title in 1948 but did capture the crown in 1947, 1949 and 1950. He hit .309 in 1951 but finished second. Condy, inducted into the Nova Scotia Sport Hall of Fame in 1980 carried a career batting average of .356.
His first ever hit in senior ball came at age 15 in 1938 as the teenager filled in for a missing member of the Springhill Fencebusters. With the bases loaded, two out, a full count, Condy belted a grand slam homer.

Thank you Lou DeRosa, Lionel Kearns and Bernie Monteleone ! Those two Kootenay area team photos below now have names to go with the faces. And, we've been able to pin down the approx. years as well. The first one is from the early 1950s the Fairview Athletic Club out of Nelson. And, the second is the FAC club from about 1954,
And, I should have known - Greg Nesteroff, the amazing newspaperman and historian of the Kootenays, would have published information on the Fairview club. There are two items from the Nelson Star of May 20, 2012 and August 29, 2012 on the Fairview Reunion.
In the process, we discovered a photo of the Fairview Athletic Club of 1956,

Again, thank you Lou DeRosa. He had sent these photos awhile back, but I had set them aside awaiting information on Julie Bilesky, who showed up twice in the photos. We wondered when he ever played with Castlegar (the cap was the giveaway). Seems not in baseball but perhaps in softball. We've managed to post all the below in the BC Photo Galleries, mainly in 1953.


And even more news on that (what we thought was a Nanaimo team) photo from the early 1900s. Our colleague in the UK, Andrew Taylor identified this as a military team, probably from 1917. We had a good idea Nanaimo player Phil Piper was in it.
Once posted, our Rich Necker quickly noted Piper as the player in the middle row, far right. To me, the player in the middle row, far left, seemed very familiar. I thought Vancouver ball. Rich was on it and ID'd Camille "Lefty" Delcourt. A check of military records by Rich and Andrew placed Delcourt in the Canadian Forces, but not in 1917. After further research by both it appears early summer 1919 is the more likely date. And, that's the year it is now posted.
Andrew adds that the team is probably the Reserve Artillery Brigade, based at Witley, champions of the camp in 1919.
---
14 October, 2022

Ah, not Nanaimo at all -- that 1920s, we thought, picture we uploaded a couple of days back.
At a nudge from our esteemed colleague from the UK, Andrew Taylor, it becomes clear than this is the photo from WW1.
It turns out to be the 1st Battery, Canadian Field Artillery. There is at least one player, Phil Piper, from Nanaimo in the photo, but it was take at " ... Camp Witley, Surrey, UK and it would have been taken approximately May, 1917. The 61st Battery played in the Brigade Championship final (and won I believe). It was an early season tournament and a second tournament was played in August, for which the winners qualified for the Canadian championship of the British Isles... The 61st battery didn't participate in this latter tournament having been sent to France in August."
---
12 October, 2022

As we run out the clock there continues to be work to be done. We are so pleased to present the updates on ball in the Maritimes from Colin Howell (who literally wrote the book on the subject !)
In this edition, Colin has game reports for 1950 and 1951, along with updated rosters for 1947, 1948, 1949, 1950 and 1951.
Statistics too ! There is still some summary information to get posted but the raw stats are available for 1947, 1948, 1949, 1950 and 1951 so far and there is more to come.

We had some photos sitting around awaiting more details before posting, but at this point we'll just fit them in where we can and hope someday more info will be forthcoming.
From the 1920s we have a team photo of a squad from Nanaimo. We've been unable to pin down the year and player IDs have proven illusive. For now it's posted in 1920.

In 1946, we have a photo of the famous Bentley clan with the Delisle Masons Royals. Check out the photo see if your guesses match ours.

From the 1969 season it's a photo of the North Battleford Beavers. There are a couple of players who seem easy to ID, but lots of help need here.

And, we've updated the photo of the 1972 Binscarth Orioles, not a lot better, but a tad easier to see the faces.

Rich has been amazing in tracking down correct spellings of many names that we've had two or three versions of the spelling. The newspapers of the day were not particularly keen on getting the names correct.
Among the changes, Ketcher for Ketchur, Leskiw for Leskew, McGeachy for McGeachie, Merx-Merks, Sdao instead of Sadeo, Van Walleghem for a variety of spellings, Borgfjord for Borgford, Esplen for Esplin, Lanman for Lanmon and Lannan, Silovich for Silavich and Silovitch, Culos for Coulos, Sallaway for Salloway, Schindeler for Schendeler, Southern for Sutherin, Dubasov for Debasov and Dibasov (and first name to Bryan from Brian), Hollender instead of Hollander, and Zerebecki rather than Zerembecki.

A few individual photos added along the way thanks to Rich, including three from the 1968 Steinbach Millers, Ryan and Wally Rampel and Bob Smith.
Also we discovered a missing link to the Steinbach team photo.

Thanks Brian. Brian Morrison, of Diamonds in the Dusk, has sent along an image of the 1913 Winnipeg Maroons to compare with an old one we had post previously. A check of the names shows a pretty large turnover as the season wore on.

And a couple from our Lou DeRosa from the Kootenay area of BC - no years, no IDs, but we;ll post them here and hope somebody can provide some clues. They are of a Trail/Fairview team. Recognize anyone?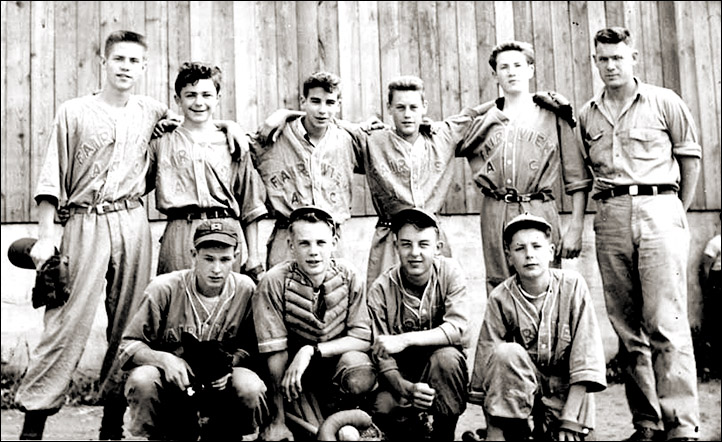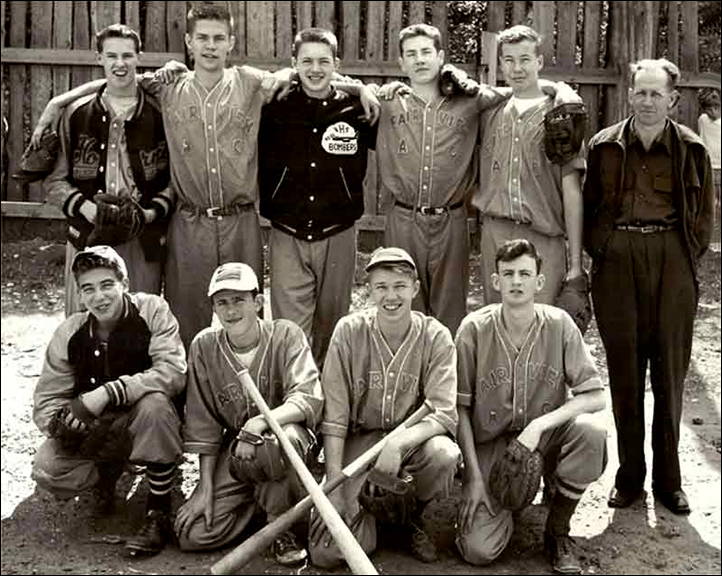 ---
23 September, 2022

We're tidying up some sections as we head toward a wrapup on Western Canada (and other) Baseball.
It's back to the 30's & 40's with game report updates from Manitoba for 1934, 1935, 1936, 1937, 1938, 1939, 1940 and 1941.
A similar pattern for the Alberta game reports - 1936, 1937, 1938, 1939, 1940 and 1941.
And, an entry in the 1939 Saskatchewan page for the Junior championship won by Melville and a note on pitcher Bud Curry, reported to have compiled a 24-1 record that season before joining the RCAF in WWII.
And, of course, all those roster pages have also been updated.

Along the way, additions of a few photos - the 1937 Manitoba Snapshot page has photos of three Winnipeg Norwood players.
1937 Alberta adds Red McCarthy of North Edmonton Belmonts. The newspaper story said the 16-year-old hurler was to get a pro tryout.

In 1938 Manitoba, Andy Lambert of St. Boniface, who tossed a no-hitter, and a better photo of Albert Lamoureux of Transcona. In his no-no, the lone base runner on Lambert reached on an error and was quickly picked off. He fanned 14.
In 1939 Alberta, there's the photo of Ken McAuley of Edmonton Maple Leaf Juniors and we've added Eddie "Lefty' Belter from the photo we had in 1938.
---
16 September, 2022

Our Rich Necker just can't stop ! Here he's added in some game reports, rosters and stats for the Victoria, BC, Senior League of 1930. And, noting some missing game reports from Manitoba, he's added material for 1931, 1932, 1934 and 1935.
Then he took up the challenge to expand some yearly home pages, especially to provide some historical notes to put the year in context - 1904, 1905, 1906, 1932, 1937, 1938, 1940, 1941, 1962, 1967, 1974
And, he's discovered photos of a pair of 1951 standouts on the prairies, a pair of California players who suited up for the Medicine Hat Mohawks that summer - Willie Reed and Bud Watkins.


From the east coast, Colin Howell updates the Maritime game reports with snippets from the 1930s.The names include Babe Ruth, Copie Leblanc (right), Peaches Ruven, Del Bissonette, Burlin White, Guido Panciera, and John A. MacDonald.

Thank you Heidi ! Great quality on a team photo, from 1938-39 no less. Heidi Jacobs of the University of Windsor sends along a picture of the Golden Prairie, Saskatchewan, team which included her grandfather, Paul Martin and her great uncle Victor Schwean. As an added bonus, the grain elevators in the background.
Martin, Schwean and some of his teammates are now including in the 1938 Saskatchewan Photo Gallery.
Now in sort of chronological order.

The 1929 home page notes the busy summer of barnstorming teams from the United States, including the famous Gilkerson's Union/Chicago Colored Giants.

Some 1934 BC Snapshot additions, Frankie Plouf, Vancouver Athletics shortstop and Home Gas hurler Don Weaver along with a photo of managers Johnny Nestman (Arrow Transfer) and Coley Hall (Vancouver Athletic Club) discussing the ground rules with the umpires before a 1934 game.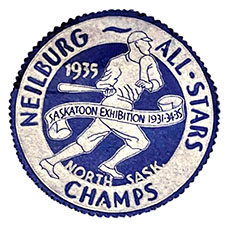 On the 1935 home page, you'll note the addition of the Neilburg Monarchs crest. They won the Saskatoon Exhibition Tournament that year, their third title. They went on to cop victories in 1936, 1937 and 1939 - six championships in nine years !

Albert Lamoureux Transcona, Manitoba, pitcher is an addition to the 1937 Manitoba Gallery.

The poster and story on the first Indian Head Tournament in 1939. It was suspended during the war years, not to be revived until 1947.

The 1939 home page features the crest of the powerful Saskatoon Lions who in one doubleheader managed to squeeze by Bruno 17-5 and 24-0.

From the 1940 Central Alberta League, three new photos for the Gallery, Phil Horn, Bob Fritz and Ken McAuley. We also tracked down a story on the playoff final where the Edmonton Dodgers claimed the title after finishing last in the regular schedule. The rosters too are included.

Courtesy of Max Weder, and his tour to Indian Head and spots in Saskatchewan last month, a 1944 team photo of the Sceptre team (including well known names from the era such as Dean and Bert Olmstead, Earl Mahaffy, Fergie Shields and Bill Gatenby).


In the 1940s, the Alberta Big Four League was quite the circuit with high level action. A pair of catchers were opposing managers, Eddie Morris of the Edmonton Eskimos and Laurel Harney of the Edmonton Chevrolet Cubs. A photo is posted on the 1948 Alberta Snapshots. Both were veterans of the diamond, Morris in the United States, Harney in BC, Alberta and Saskatchewan. In 1939 he helped the Saskatoon Lions to the provincial championship (the team also included Max Bentley).
Another photo of Bob Solinger popped up and it's posted in the 1949 Alberta Gallery.

Oh those Bentleys of Delisle. Hockey or baseball, it would be a surprise if less than three were on a team. In 1949, there were five on the Delisle diamond squad - Roy, Doug, Reg, Bev and Max.

On the 1949 home page we added the crest from the jackets of the Sceptre ball club which, with Delisle, dominated the tournament circuit that summer.

In Ontario in 1949, a familiar name was in the sports headlines. Joe Spring Jr., son of renown Toronto pitcher Joe Spring Sr., was both a softball and baseball star. His dad's photo (along with Hank Sinclair) now adorns the 1928

Ontario Gallery.
The big story in Toronto was softball as the local club, Tip Top Tailors, won the World Championship helped by an imported star pitcher Charlie Justice (left) who helped Toronto defeat legendary hurler Herb Dudley (right) in a series played in Arkansas.
In search for the '28 photo we managed to put together the Intercounty rosters for that season.

The Rosetown Tournament has been added to the 1949 events and includes a photo of the announced crowd of 10,000 !

For 1952, Frank Parker, of the Brantford Red Sox, joins the growing list of photos in the Ontario Gallery.
---
27 August, 2022


So sorry to hear the news.
Mr. Baseball in Manitoba, Gladwyn Scott, passed away yesterday at the age of 90.
We last chatted in the spring when he updated me on the news around the Manitoba Baseball Hall of Fame. Gladwyn was a six time Hall of Famer !! He's been inducted into the Canadian Baseball Hall of Fame, the Manitoba Baseball HOF, the Manitoba Sports HOF, the Manitoba Hockey HOF, Manitoba High School Athletic Association HOF and the Brandon University Sports Wall of Fame.
The Canadian Baseball Hall of Fame made a statement today recognizing his many achievements.
" ... We are deeply saddened by the news of Gladwyn's passing. He was a tireless and highly respected coach and executive in Manitoba and at the national level for several decades," said Jeremy Diamond, the chair of the Canadian Baseball Hall of Fame's board of directors.

"Few have given more to the sport of baseball in our country than Gladwyn. We would like to extend our condolences to his family and hope they can take some comfort in knowing that we will ensure that his legacy lives in our museum."

Scott dedicated more than 60 years to baseball as a player, coach, executive and volunteer. Though he didn't play organized baseball until he was 16, he eventually pitched on his hometown Hamiota, Man., squad alongside his brother Glennis, with his father, Jim, serving as the team's catcher.

At age 20, he began coaching and proceeded to serve in numerous administrative capacities locally, provincially and nationally, including managing three Hamiota teams to provincial championships.

He was also a coach on Canada's first national team, the country's 1967 Pan Am Games entry.

From 1983 to 1987, he was president of the Manitoba Baseball Association and a vice-president with Baseball Canada from 1986 to 1989. The highly respected executive also acted as the general manager of Canada's youth national team that won bronze at the World Junior Baseball Championships in Windsor, Ont., in 1987. In that same year, he led the charge to bring the Toronto Blue Jays to Winnipeg Stadium for an exhibition contest against the National Baseball Institute.

Known as Manitoba's Mr. Baseball, he also scouted part-time for the Blue Jays from 1987 to 1993 and for the Atlanta Braves from 1994 to 2001.

He was also a founder of the Manitoba Baseball Hall of Fame and served as their newsletter editor for more than a decade. For his contributions to baseball in his province, he was inducted into the Manitoba Sports Hall of Fame and the Manitoba Baseball Hall of Fame."
---
26 August, 2022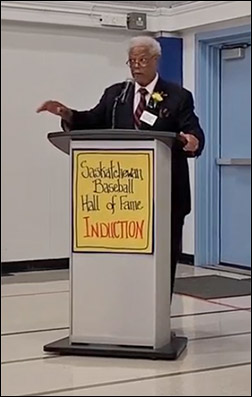 Last Saturday, at the Saskatchewan Baseball Hall of Fame dinner Nat Bates, up from California, represented the Indian Head Rockets for the team's induction into the Hall of Fame. In an address to the gathering, he expressed admiration to Canadians for their welcome of more than 70 years ago.
" ... I just want to express my appreciation for each and everyone of the Canadians ... the hospitality, the generosity and the respect for all the black players was unparalleled compared to the United States ... want to thank all of you, your ancestors, from the bottom of my heart for the wonderful welcome and appreciation that you gave all of us as baseball players coming to Canada."

Thank you Colin ! Colin Howell has another installment on his history of baseball in the Maritimes. This one covers the early part of the 1930s with more to come.

Good memories of old friend Jack Altman.
Jack (a pitching star in college and on the prairies) really helped expand the coverage of our site and was one of the main contributors and supporters of our little enterprise, He passed away two years ago. Nearly ten years ago, Jack and Bev made the trek up to BC to visit and talk baseball and families.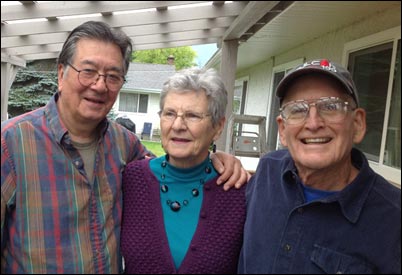 Last month, I purchased a couple of old National Baseball Congress annuals from a book seller in Oregon. As I began to leaf through them I noticed certain players had their names underlined (usually in red pen),
I realized these were books from Jack's collection. He studiously went through the annuals marking the names of players with which he had some association. I then realized the book seller was from his home town and Jack had often volunteered at that store.
This wonderful coincidence took me further to write Jack's best friend from boyhood days until the day he died, Greg Seastrom. Greg fondly recalled those books, "I remember those National Baseball Congress Guides quite well. On numerous occasions Jack and I sat and went through them together. It's a nice thought that you and I both held the same book in hand."
From those books, some additions to the site. There is a team photo of the 1949 Kitchener Legionnaires, the National Baseball Congress Canadian champions (who defeated London Majors, winners the previous two years). Toronto Maple Leafs hockey star Howie Meeker was among the Legionnaires.
The book also had a photo of the London Majors, so we added that to the page with an existing photo of the team.
The third team photo from 1949 is of the Fort Wayne, Indiana, Electrics, the National Baseball Congress American champions. If you look closely the team includes a couple of players later to play in Canada, outfielders Lester Lockett and Gabby Horman (who suited up for my hometown team, Lloydminster in the late 1950s). In 1948, London had defeated Fort Wayne for the North American title.
We also discovered a photo which included Bobby Schnurr, the playing manager of the Kitchener Legionnaires. He's shown receiving the trophy for winning the Canadian title in the Ontario Snapshots.

From the second book, the 1948 edition, we found a 1947 team photo of Toronto Riverdale Grads, the National Baseball Congress champions of Toronto & District.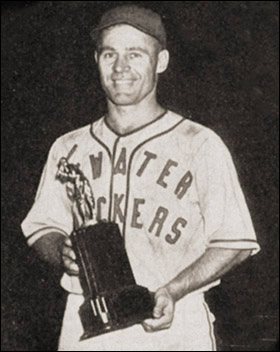 That book, covering the 1947 season, also had photos of Pete Beiden (right) who played on prairie diamonds and helped steer dozens of his Fresno State players to Canada. Beiden accepted a trophy for his team's fourth place finish in the National Baseball Congress tournament.
The Hall of Fame Coach never had a losing season in his 21 years heading the Fresno State Bulldogs program. He compiled a 600-268 college record.
A couple of Ontario photos also turned up in the NBC publication. One featured a pair of Toronto stars, Jack Spring Jr. and Bobby Prentice (later well known as a scout for the Toronto Blue Jays) who received pro tryouts . Both have been added to the 1947 Ontario Photo Gallery.
The other image showed the managers, Hank Sinclair and Jack Ramsden, of a pair of teams in the competition for the Toronto & District National Baseball Congress tournament at Toronto's Maple Leaf Stadium.

William Archibald "Hank" Sinclair was an all-round athlete, suiting up for the Toronto Argonauts from 1924 to 1929, and local baseball teams in in the city from 1926 into the mid 1930s, coaching (and playing old timers games) into the late 1940s. In 1928 he led the Viaduct League both in average and home runs.
He was past president of the Oldtimers Baseball Association and the Metropolitan Toronto Amateur Baseball Association.

In the search of Toronto material, we came across a photo of Toronto Oslers star Joe Breen. It's now posted in the 1925 Ontario Photo Gallery. Breen was another football/baseball star, winning induction into the Canadian Football Hall of Fame.


One more piece of Toronto and Canadian history and it isn't even baseball, but softball. A world championship against one of the best pitchers to ever play the game. Herb Dudley, a divinity student, who didn't pitch on Sundays, was the ace for the Clearwater, Florida, Bombers, the opponents for Toronto's Tip Top Tailors in the final of the 1949 tournament at Little Rock, Arkansas.
In his three previous seasons, Dudley had racked up won-lost records of 25-0 in 1946, 27-1 with 13 no-hitters in 1947 and 25-1 in 1948. Coming into the final, the right hander had set a record with 55 strikeouts in a 21 inning 1-0 victory and then, 10 minutes later, fanned another 12 in a nine-inning triumph. Against Toronto, he would pitch all 18 innings of the final contest, racking up another 22 strikeouts. The full story here.

Two more Alberta photos from the research of Rich Necker. Veteran starting pitcher Jack Carpenter, in 1951 with the Edmonton Oilers and Bob Solinger (likely better known as the Toronto Maple Leaf hockey player), 1952, with Edmonton Army & Navy.



In search for other things, I happened upon photos of a couple of former Western Canada players who suited up in Quebec in the Provincial League. This was in 1958 with Drummonville. Norm Angelini (left) had played the previous year in Kindersley, Saskatchewan, while John Noce's career in Canada went back to 1951 with the Medicine Hat Mohawks.
Angelini advanced to the major leagues for parts of two seasons with Kansas City. Noce had a celebrated career in coaching in the United States, Canada and Italy.

And, this action photo of former Edmonton pitching star Dale Zeigler turned up in another newspaper search.

From Moose Jaw, so good to hear from Corey Coates and a lovely tribute to our site : " ... . I recall even the first time I saw it (probably in its pretty early days) thinking (I was there @ the dawn of the internet): _this_ is what we hoped might come out of the internet ... may the site, like baseball, or Walter Johnson or Satchel Paige, be timeless, my friend."

Looking for some help for Gord McNabb who is searching for information on his dad who played with Long Lake and Liberty, in Saskatchewan, back in the 1940s. Roland McNabb was an outfielder. His cousins, Morris and Earl also played around the same time.
Morris McNabb, a catcher, played into the early 1960s with the Regina Red Sox.
---
21 August, 2022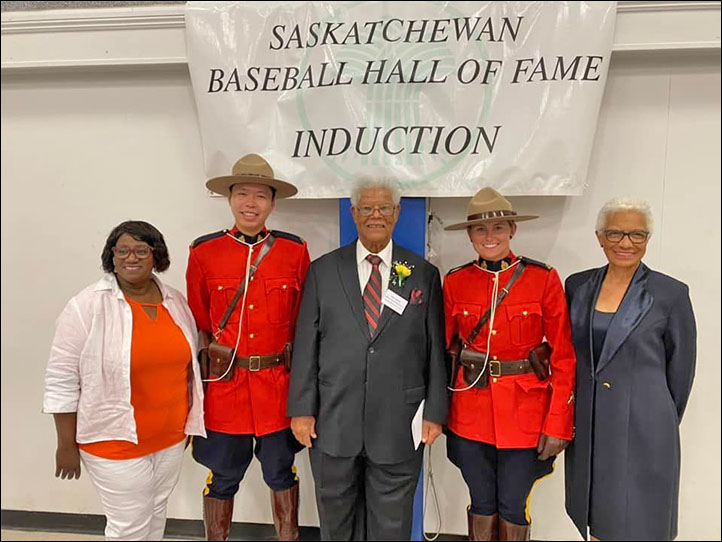 A big night for Indian Head, Saskatchewan, and especially former player Nat Bates, pitching star of the 1952 Indian Head Rockets.
Saturday at Battleford, the Indian Head Rockets were inducted into the Saskatchewan Baseball Hall of Fame at the annual dinner.
Bates, who will be 91 in September, had come up from Richmond, California, to represent the team at the occasion. Bates and his long-time friend and teammate, Willie Reed, are thought to be the only surviving players from the '52 team.
The city councillor and former mayor of Richmond, is again running for mayor of the community.

As part of the festivities, CBC Television earlier traveled down to Richmond to interview Bates and his buddy and former teammate Willie Reed for a special item on the induction.
(CBC also has an item on-line on the Indian Head Rockets.)
They reflected upon their experiences as black players from the United States coming to play in Canada.
Both, along with Pumpsie Green, a future major leaguer, had been high school and college stars in their hometown and first came to the Canadian prairies in 1951 to play on an integrated team in Medicine Hat, Alberta. All three joined the Indian Head Rockets in 1952.
Hats off to Robyn Jensen, head of the Indian Head Museum and Max Weder, collector and baseball historian, for major roles in the events in Indian Head and Battleford.
---
19 August, 2022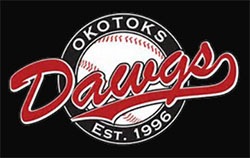 The Okotoks Dawgs concluded a record-setting season last night, winning their 6th Western Canada Baseball League title.
They defeated Moose Jaw Miller Express 4-1 in the deciding game of their best-of-three final series.
The 2022 league wrap-up is here.

The home page gets a little update. Not sure how the player photos got dumped awhile back, but they're back along with a couple of additions as we work toward a wrap on Western Canada Baseball.

And we just stumbled upon a team photo of the Drummondville, Quebec, Royals of 1969 in searching for photos of John Noce. In the process we discovered names to go with the faces.
---
10 August, 2022


With thanks to granddaughter Wendy Tredger, Emil William Borgens has his name spelled correctly, has an individual photo in the 1923 Alberta Photo Gallery and is in the team picture of the 1923-1924 Riverside team of Calgary.
In addition, Wendy is also trying to track down names of others in the team photo and more information on her grandfather's career.


Robyn Jensen, president of the Indian Head Museum and major force behind a tribute to the Indian Head Rockets of the 1950s, send a note about a visit from Paul Chartrand, the former Manitoba baseball star.
He was kind enough to send along kudos for our little operation here. Coincidently, Rich Necker sent along a photo of Chartrand from the early 1970s.
The right-hander (and catcher) also played in Alberta with a stint with the Calgary Giants in the mid 1970s.
The photo, when he played with Ste. Agathe Bisons of the Manitoba East Senior League, is posted in the 1971 Manitoba Gallery.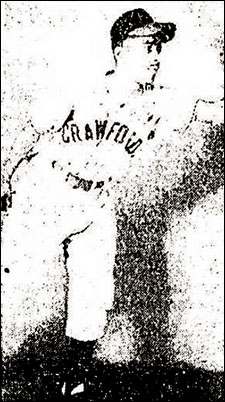 Rich also located a photo of Harold Johnson Sr. of the 1953 Harlem Yankees who were touring in Saskatchewan. The Yankees, at one point, turned into the Medicine Hat Phillies (one of three teams to call Medicine Hat home that season). Johnson also suited up with the Saskatoon Gems and the Moose Jaw Maples that summer.
The photo at the left, carried in the Medicine Hat paper in 1953 suggested the elder Johnson (a second baseman, with the nickname "Dynamite") had played with the famed Pittsburgh Crawfords at some point.
A Florida newspaper in 1953 reported Johnson as a key member of the revived Crawfords. He was said to have played with the Chicago American Giants, Indianapolis Clowns and in Quebec with St. George De Beauce. in 1954 he was in the lineup for the Rosetown Phillies (right).
When he played in Saskatoon with the Gems, he was reported to be 20 years old.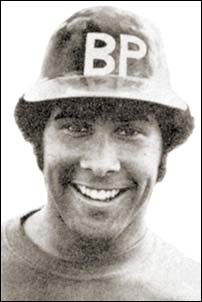 His son, Harold Johnson Jr., born in Canada, went on to become a television staple as he and partner Joanne McLeod graced television screens in Canada with their fitness program called Body Break. It was on-air for more than 30 years.
Harold Jr. grew up in Toronto and played ball in the InterCounty League in 1976. He had won a baseball scholarship to the University of Colorado.
In 1977 he led the Alberta Major League in home runs and RBI while played for the Red Deer Border Players. The slugging third baseman moved on to play with the Edmonton Tigers, Lacombe Dodgers and in Calgary. He also suited up with the Canadian national team.
---

The last batch of news bits has been moved over to the Archives, News Page #26.