Update : 06 August, 2020

More from the Ralph Mabee scrapbooks, thanks to daughter Kim Mabee.

Programs of the Saskatoon Gems, which included some lineups, have enabled us to post some additional information on the roster pages - uniform numbers and positions for some of the teams - for 1951, 1952, 1953, 1954, 1955, 1956 and 1957



The Western Canada Photo Galleries have been enhanced by the addition of photos of Jack Hannah, Reg Bentley, Don Hinchberger, Chris Makras, John Dean, Acie Griggs, Sergio Martinez (left), Reg Pendleton, Sylvester Snead, Del St. John, Roland Garcia, Ernie Koroluk, Cliff Pemberton, Bob Singleton (right), Charlie Neal, Jackie McLeod, Ed Garay, Joe Kretschmar, Eddie Tanner, Ron Perranoski and Denny Evenson 1951, 1952, 1953, 1954, 1955, 1956, 1957
The Saskatchewan Photo Gallery of 1952 adds Metro Prystai.
---
02 August, 2020

To continue the 1963 updates, we now have some additional game reports for the BC Interior both for the Okanagan Mainline League and the Spokane International Twilight League of which Trail Smoke Eaters were a member.
The 1963 updates also include the rosters, and the Photo Gallery for Skip Ferguson of Trail and Jim Terbasket of Penticton.

An unexpected find in newspaper research - a 1963 photo of Hall of Famer Satchel Paige during one of his many stops on the Canadian prairies, this one in Brandon, Manitoba, in a game against the Cloverleafs. Paige, believed to be more than 60 years old at the time is shown with 16-year-old Brandon outfielder Greg Borotsik
---
01 August, 2020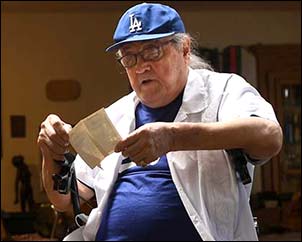 Two stars of the old Western Canada Baseball League get the star treatment in the sport pages of the Los Angeles Times.
Conrad Munatones (left) and Ernie Rodriguez, (below) who came out of Southern California to light up the diamonds of the prairies in the 1950s and 1960s were highlighted in a story leading up to the kickoff of the new baseball season in California.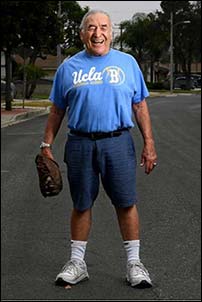 The pair were familiar from their playing days as teenagers in East Los Angeles to university ball at UCLA to prairie ball in Saskatchewan and Alberta.
Rodriguez, playing for Moose Jaw Mallards, won the batting title in 1957 with a .402 mark.
Munatones, with the Edmonton Eskimos, finished at .306. Both played in 1956 and 1957 and Munatones returned in 1960.
Both represented Canada at the Global World Series in 1957 when the Canadian squad lost an 11-inning heart breaker to Japan, 4-2, in the final of the event at Briggs Stadium in Detroit.
Check it out in the Los Angeles Times.

The last batch of news bits has been moved over to the Archives, News Page #24.
---