Update : 26 March, 2019

Now, thanks to Rick Necker, we take a look at some baseball in the British Columbia Interior in the 1960s - mainly in the Kaslo, Slocan Valley, Arrow Lakes region.
There's coverage for 1962, 1963, 1964, 1965, and 1969. Of course, along with the game reports there are rosters for those seasons (1962, 1963, 1964, 1965, 1969).

Oops, neglected to post one update from the 1920s material of yesterday. it's the beginning of a Photo Gallery for Ontario for 1920. A team from Port Arthur (now Thunder Bay) made a foray into Manitoba and from there we picked up a team photo of the Port Arthur Pascoes and an individual picture for the Photo Gallery.
And, we've now completed photo additions to the Manitoba photo galleries of 1915 and 1925 along with updates to the 1915 roster page.



Blair Kubicek, whose dad also suited up in Western Canada, helps us out with a photo for our 1952 BC Snapshot page, from which we've managed to extract individual photos of his dad, Al Kubicek and famous BC sportsman Doug Peden.
And, Blair sent along material which allowed us to add some Courtenay tournament news to the 1952 Tournament page.
---
24 March, 2019

Hopefully our Rich Necker is now basking in Spring sunshine on the prairies after spending considerable time in the archives digging out information on 1920 Manitoba baseball.

Winnipeg continued to provide outstanding senior baseball with such stalwarts as Snake Siddle and Jack Hind (right) (who the papers identified as Hinds through most of the season). The papers also carried headlines about Earl Gilles, the batting champion, whose name appears to have been Earl Gillis, not Gilles. (Hope I've managed to make all the corrections throughout the site.)
We have posted game reports for the Winnipeg Charity Baseball League and the Western Manitoba League (mainly concentrating on Brandon) for season 1920 along with expanded Photo Galleries for 1920 and 1921. Of course, the roster page has been updated (with a surprising number of first names).
The updates on the 1921 Snapshot page & the Brandon team photo are mainly the addition of first names and the odd spelling change.

Rich has also found some additional material for the BC Interior for 1921, as displayed on the game report page.
---
09 March, 2019


In the summer of 1943, the Edmonton Dodgers were overjoyed to get hockey superstar Max Bentley into their baseball lineup. Bentley had interrupted his ice career to join the Canadian Infantry Corps during World War II and was stationed at Currie Barracks on the outskirts of Calgary.
Well, the plan resulted in its good and bad moments. Bentley, at shortstop, and hitting clean-up, did his thing - two for three, with a putout and two assists. But, the usually sure-handed infielder made FIVE errors in a 2-1 loss to the Edmonton Yanks. It was believed to be the worst-ever defensive performance by the two-sport star. It was the only game Bentley would play that summer in the Edmonton City League.



We wrap up our Alberta tangent with a few more additions, including new photos in the 1943, 1944 and 1958 galleries.
The battery for the 1943 Edmonton Arrows featured brothers Morris Hawkey, the pitcher, (left) and catcher Wayne Hawkey (right). Arrows lost out to the Edmonton Yanks in the playoff final. The Yanks indeed were Americans, representatives of the U.S. Military stationed at Edmonton.

The real bonus was finding final statistics for three seasons, the 1914 Calgary Amateur League, 1941 Central Alberta League and 1943 Edmonton City League. Surprisingly, we found a great number of first names! Yes, we did spend considerable time trying to figure out just who was "Deicq" who played first base for all of one game in 1941 (and went 0 for 3). An obvious typo, it took a few hours to track down hockey star Stan Devicq who also played softball and baseball.

Of course, with the final stats for those seasons, it was not much of a stretch to put together the 1914 Calgary Athletics roster and the 1941 and 1943 rosters for the Edmonton leagues. The 1958 roster page has been updated with the lineups for Northern Alberta clubs.
---
03 March, 2019

This little advertisement in the Edmonton Journal in 1933 reminds that drug stores and department stores (Woolworths, Simpsons in Canada) used to have lunch counters and ... the prices used to be pretty reasonable.
Here's Liggett's 15-cent breakfast - with toast, coffee and marmalade!

Just call this one ... the Alberta tangent.
it began as an attempt to compact the Southern & Northern Alberta segments into one and morphed into an exercise in re-organizing and making a ton of additions to images relating to baseball in the province of Alberta.
The end result is new or revised photos to more than two dozen Photo Galleries and a dozen Alberta Snapshot pages between 1919 and 1973.

Included in the additions are such players as :
Frisco Edwards, Errol Winterbotham, Gerry Goldman, Porky Dallas & others, 1919, Leroy Goldsworthy, Chuck Henderson, Roy Forman, Norman Dodge & others, 1926, George Green (with hair blowing in the wind) & Henry Loyer, 1932, Duke Baer (right) & Cliff Bogestie, 1933, Herman Loblick and another of Duke Baer, 1934, Tommy Brant & Buck Eaton, 1937, Eric Dolighan & John Ducey, 1938, Neil Colville & Cliff Kilburn, 1939, Billy Lupul & Ralph Morgan, 1940, Laurel Harney & Ken McAuley, 1941, Morris Hawkey & Doug Stevenson, 1942, Wayne Hawkey & Jim

Kelly, 1943, Bob Sawyer, 1944, Alex Kampouris, 1945, John Makos, 1952, Wally Dombrosky & Max Yeske, 1953, Joe Weremy, 1959, Rollie Miles, Ed Tanner, Al Smith, Dave Kostenuk & others, 1960 ,Ken Anderson, Ron Babiuk, Dale Barrow, Ed Williams. Ed Horowko & others, 1961, Roger Bourbonnais, Art Hooks, Dave Kostenuk, John Doucette, Hal Forss & others, 1962, Mel Watchorn, 1963, Merv Currie & Gord Labossiere, 1964, Bill Chahley & Ron Moffat, 1965, Dale Turner & Wally Waddle, 1966, Don Darling, Rich Dawson (left), Ron Gregory & others, 1968, Bob Norton & Alf Sedran & others, 1969, Doug McFadyen, 1970, Bob Baird, Ron Johnson & Gary Malmberg, 1972, and Orv Franchuk, 1973.
There are also new and revised Alberta Snapshot pages. The 1932 addition has the presentation of a most popular player award to George Green while the 1933 page has a re-do of the three existing images. Opening day was a big deal back in the day and the 1934 page shows part of the coverage from the Edmonton Journal. The 1960 page has additions showing Lefty Mack, Ron Tookey and Tom Satriano. The 1961 and 1962 pages reflect baseball action in the Edmonton area. Gord Labossiere is featured on the 1966 page, a revised Willie Walasko photo in 1967, Wally Waddle action picture & a photo of the Calgary Odeons pitching staff are on the 1968 Snapshots, manager Bob Norton and his lefty-righty combo are on the 1969 page, Stu Heron and Hy Lewis are among the new pics on the 1970 Alberta Snapshots, and there's Ron Johnson, Bill Chahley and Stu Heron on the 1971 page. Heron is also on the 1972 page along with Hy Lewis, Bill Phillips and John Elick while Elick and Marty Maxwell are featured on the 1973 page.
In other Alberta bits ... a couple of team photos (pretty hard on the eyes but, at least, place holders for when we get some good copies), Edmonton South Siders 1931, and Edmonton Arrows, 1938, posted the rosters for the 1941 Central Alberta League, added details on the big Ponoka Tournament of 1960, posted the full rosters for the Big Seven League in 1960, along with other Alberta rosters and those for the Ponoka Tournament, posted details on two no-hitters in the Big Seven League (Edmonton) in 1960, and both pitching and hitting stats for the Big Seven in 1960, hitting and pitching stats for the Big Seven in 1961, we've filled in some game reports in 1968, and added the rosters for the Calgary Tournament, 1971,


In non-Alberta additions ... BC Interior game reports, 1921, Haley Jackson, 1926, Laurel Harney (right) (could the name have been a play on the famous comedy duo of Laurel and Hardy ?), 1939, Doug Dodd,1952, Rollie Miles, 1955 & 1956, Ed Tanner, 1957, Tim Cullen & Virgil Howe, 1963, Richie Johnson, 1964, .

Just as I was about to post this update came an email with a lovely surprise - a team photo of the 1919 Vulcan, Alberta, nine AND some names to go with it. Thanks go out to Lori Winterbotham Pedersen whose grandfather Errol George Winterbotham was a member of the team. From the photo we've managed to extract some individual pictures for the 1919 Photo Gallery.
---
21 February, 2019

The famous Asahi of Vancouver are celebrated on television with the release of a Heritage Minute a program to salute important steps in the country's history. Kaye Kaminishi, the last survivor of the last Asahi team, the 1941 club, is a key part of the production. The "Minute" features the voice of the 97-year-old infielder and ends with the camera on Kaminishi, in uniform.
---
18 February, 2019

Major thanks to the Arrow Lakes Historical Society and Archivist Kyle Kusch for baseball photos from Nakusp and area. We've been sitting on them for awhile trying to pin down specific dates but, without success. So, we are going ahead to post them in the most likely areas.
The photos date back to the early 1900s with two pictures of a team from a touch north of Nakusp. Baseball had gained an early foothold in the area, brought by prospectors and miners from the United States.
The earliest photo in this batch is thought to be the Comaplix baseball team of around 1905-1915. Comaplix was a mining town about 70 km north of Nakusp (since flooded to make way for the dams on the Columbia River). Another team photo from the same era is the Comaplix baseball team of around 1906-1911. Surprisingly, both even have some names attached.
The Leland Hotel in Nakusp is designated as the oldest operating hotel in British Columbia. The Leland has been in continuous service since it opened its doors in 1892 and offers a spectacular view of the lake and mountains. It has been a major sponsor of sports teams over the decades, including this Leland Hotel baseball team from the 1920s (thought to be likely 1920 or 1921).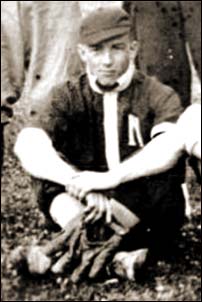 Joe Parent, the father of the founder of the Arrow Lakes Historical Society, was a major community builder in the early years, who became the first mayor of the incorporated village in the 1960s. This photo is of Joe the baseball player in 1920.
John McCormack of this 1921 edition of the Burton, BC baseball nine was well known throughout the area for his prowess on the diamond and the match-ups between Nakusp and Burton (just 35 km apart).
Sandon (about 60 km from Nakusp) is now a ghost town but once was a thriving city of more than 5,000 during the mining boom of the late 1800s and early 1900s. The photo of the Sandon team from the late 1920s or early 1930s carries the note that three of the players had come from Landonville, Alberta (a dot on the map a bit NW of my old home town of Lloydminster).
This 1930s snapshot features three key members of the Burton baseball club, - Robert Johnson, Lawrence Johnson, and John McCormack, with Jarrett Johnson in front.
The team photo of the 1938 Burton BC nine features Randolph "Bo" Harding who went on to an sterling career in politics serving eight terms in the BC Legislature, then two terms as a federal MP before taking on the reins as mayor of Silverton. From 1938 we also have the rosters for the Arrow Lakes-Slocan loop.
As best we can determine, the five snapshots of the Nakusp team are believed to be from 1948 edition of the team. The photographs were taken as Nakusp played Burton at the Burton Community Park. In one we see Nakusp player Fred Johnson getting ready for the game and in another brothers Fred Desrochers and Ed Desrochers sitting on the Nakusp team bench. There's one of Kaz Hoshizaki of Nakusp and catcher Mitz/Mits Arikado along with team president Tony Steenhof.
The one snapshot of 1950 gives a glimpse of the Nakusp Recreation Grounds and the addition to the 1951 photo of the Nakusp champions, is a photo of their trophy - the Big Bend Trophy awarded annually to the Arrow Lakes champions.

Of course, Rich Necker has dug up some material to go along with the Nakusp focus. We have game reports for the 1962 and 1963 Kaslo-Slocan-Arrow Lakes Baseball League, better known as KSAL. Rosters for the 1963 season have also been added.

Rich had also been digging through newspaper files from 1910 and come up with material on a semi-pro club in Victoria and a top notch amateur circuit which was the training ground for a pair of future major leagues, Bobby Steele and Rex Dawson. Among other things, we've posted the 1910 rosters for the semi-pros and the amateurs, game reports along with some 1910 snapshots featuring four of the stalwarts of Victoria's semi-professional team catcher/infielder Bob Murrah, first baseman McDiarmid, pitcher "Rube" Steenson and the Victoria playing manager Leonard Wattelet. The team photos of Beacon Hill and Victoria's Semi-Pro squad are barely legible, but better than nothing at all. And, to round out the 1910 find, statistics, at least for the Beacon Hill gang.

Among the discoveries along the way was an additional Vancouver league in 1935, one termed the Vancouver City Senior "B" League. It had a version of the Asahis along with seven other teams. The rosters have been posted.

It doesn't seem like spring (with record low temperatures and a ton of snow here in south-central BC) but it's Spring Cleaning none the less.
We've undertaken a re-organization of some segments to consolidate the material. For example, we used to have separate segments for northern and southern Alberta and the same for Saskatchewan. That's changed, except for the 1960s & 1970s when we still have separate game reports for the Northern Saskatchewan League and the Southern League. Otherwise, it's a single yearly page for photos, snapshots and game reports.


In the process, we've cleaned out dozens of duplicate graphic files and a few orphaned pages. One incorrect spelling caught our eye and we've taken pains to change all the references throughout the site to match the correct spelling of Kostenuk - Dave Kostenuk, star hurler and batsman of the 1950s and 1960s in Saskatchewan and Alberta. We stumbled across a team photo when Kostenuk was in pro ball and it showed his signature ! A check with the pro ball register confirmed Kostenuk.
Later, the new material helped to sort out other spellings such as Max Yeske, not the Yeshe or Yesky we had listed in our players list.

Along with the internal changes, the Alberta section gets many additions, especially in the first few years of the 1960s.
With a focus on Edmonton's Big Seven League, we've added photos (1960, 1961, 1962) and snapshots (1960, 1961, 1962) and setup pages for some game reports (1961, 1962). The 1961 report also has some game stories from the Peace River area of Northern Alberta. Rosters for the Big Seven for 1961 and 1962 are included.

The snapshots include one showing Edmonton football great Rollie Miles in the lineup of the Edmonton City Police baseball Athletics.
Miles had come up to Canada in the 1950s to play baseball but wound up with a tryout for the Eskimos and became a Canadian football Hall of Famer. As the photo will attest, Miles also helped out as an umpire on occasion.
Earlier Alberta snapshot pages for 1952 1953 are also available (look for young Norm Ullman as a junior baseball star before he launched into an all-star and Hall of Fame career in the National Hockey League).
Among the team photo additions is one of the 1962 Edmonton champion, St. Josaphat's Saints. There's a correction in here too, what we thought was the 1964 Peace River team, turns out to have been the 1961 squad.
The 1961 Tournament page now includes a range of tourneys from Northern Alberta.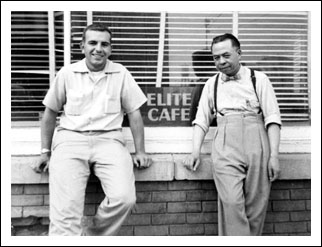 The 1955 Western Canada League snapshot pages get an additional photo one of ol' friend Bob Bayless, then with North Battleford, sliding home to score against Edmonton.
Bayless was among the California kids to come play in my hometown in the 1950s. That's Bob with my dad, in front of the family's Elite Cafe in Lloydminster (restaurant was on the Alberta side of the meridian, our house on the Saskatchewan side).

What's in a name? Rich Necker tries to unravel one from the early 1900s.
Seem to recall in one of your fall updates that you were puzzled as to the moniker Straith Two Jacks, a 1919 Victoria team. Just noticed in the Victoria Times that the Two Jacks was a pool hall/billiard parlor (obviously the sponsor of the team) in Victoria. The Straith part of the team name is a bit more of a mystery except that I notice there were two members of the 1919 team with that surname, one of which could have doubled as the field manager, thus evoking the team name as carried within the newspapers. 

Our good wishes to colleague Brian Morrison (Diamonds in the Dusk) recovering from open heart surgery. With a lot of time on his hands, look for many more of those incredible finds on his web site. I continue to be amazed at the photos and details he can amass on individual players. Get well soon !
---
07 February, 2019

Baseball free agents ... in 1938 ?
It was the year Commissioner Kenesaw Mountain Landis took on Branch Rickey of the St. Louis Cardinals and set free 74 players from six teams as he declared the team had broken the rules on agreements with minor league clubs. David Odom, one of the free agents came up to Vancouver, but had limited success with the Arrows of the Vancouver City League but eventually advanced to the majors during the war years with Boston.
The story of the 1938 decision, plus photos of Odom and Ross Edy grace the 1938 BC Snapshot page.
The 1938 and 1939 BC Photo Galleries have nearly 30 photos (from Billy Adshead to Fred Yehle) , most of them replacing poor quality versions.


Our thanks to Chris Borwick for providing names for a 1955 photo of Kaslo and Nakusp players. We had earlier identified the Nakusp players (Otto Yanagisawa, Buster Patterson and Jackie James) and Arnold "Sonny" Norberg as one of the Kaslo guys, but the player on the left proved to be difficult. It turns out to be Josh (Jack) "Lefty" Turner (left) the team's main moundsmen. The youngsters in front are Jack's sons Paddy and Jimmy. Thanks again to Dale James for the original photo.

Our major update this time around is a re-do of all of our STATS pages, from 1907 to 1979. The reports have been standardized and re-formatted.

On the 1950 Alberta Snapshot page we've added a couple of photos, one of Jim Ryan and Don Stewart celebrating the Big Four championship and another of junior players Ivan Messmer and Don Kirk. Messmer went on to a successful business and political career (Penticton Mayor, Member of the BC Legislature) while Kirk became a physician after a successful turn as a lefty hurler. The 1950 Photo Gallery has a new photo of future major leaguer Bob Lillis, the Edmonton shortstop.


Among the other bits and pieces is a photo of another future major leaguer Tim Cullen (right), the batting champ of the 1963 Western Canada League. Cullen also led in home runs and had a share of the lead in runs batted in.
Finishing one-two in ERA in the league were a pair of hurlers from the Edmonton Oilers, right-hander Walt Peterson with a 1.40 mark and lefty Tom Pederson, at 1.90.
Nelson Briles of Calgary compiled the most wins, 11, and was third in ERA at 2.46.
The 1912 photo of the team from Enderby, BC, now has some names attached.
There's an improved photo of the 1950 team from Nakusp, BC.
The 1932 BC Photo Gallery now includes a picture of Jimmy Morris who made an astounding debut with Trail tossing a three-hitter with 18 strikeouts in his first game, then topping that with a no-hitter and 17 whiffs in his second start. The 1932 Interior reports include some game stories from Kootenay ball. And, the 1959 Snapshot page has Clark Inglis in his role as bat boy !.
---
29 January, 2019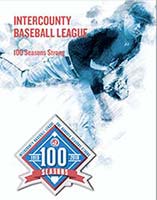 If only every league would do this - a league history.
Congrats to the Intercounty Baseball League of Ontario for its publication on the 100th Anniversary of the league.
The book is now available on the IBL website. Team by team, the book goes through the colourful history of the country's best-known semi-pro circuit.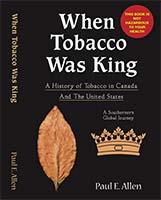 With books in mind, this one is not about baseball but comes from former Intercounty player Paul Allen.
He's authored a fascinating history of tobacco in Canada. When Tobacco Was King, is available through Amazon.
The caution in the red circle at the top right of the cover states "This book is not hazardous to your health." !

An attempt to chase down the correct spelling of the name of a former Vancouver player -- Pete Mauro -- led to stories of incredible patriotism in two World Wars as athletes volunteered for battle action in Europe.
Pte. Pete Mauro. a notable baseball and fastball figure in Vancouver suffered serious head and arm injuries in fighting in Italy in December, 1944.
He returned in April, 1945 didn't return as a player but took on a new career as an umpire. After surviving the war, he died in a car accident in 1953.

Don Stewart a star in Vancouver ball in the 1930s was killed in March, 1941 in a bombing raid over Glasgow. And, former Victoria, BC, star Leonard Wattelet was a casualty in the First World War.

And, there's the story of the National Biscuit Company team of 1914.
A wonderful record is that held by the team of the National Biscuit Company of 1914, champions of the Commercial Baseball League. Every member of the team has donned the khaki. Pte. Leo Solloway is the last to leave the city. He is a member of the 68th Battery and will leave with the next draft for overseas. The members of the club were : Catcher, Joe Painter; pitcher, John McWhinney; first base, late Lieut. H.H. Owen; second base, Jimmy Ralston; shortstop, "Stew" Lindsay; third base, Yeo Solloway; left field, "Hap" Solloway; centre field, "Slim" Stewart; right field, Mark Grimmett. The latter, Lieut. Marcus Grimmett, left here as a private, won a lieutenacy on the field, and has gained the military cross. He also had the amazing experience of reading his own epitaph on a grave in Flanders, his name being attached in some way to another soldier who fell in action.

Lieut. Owen, who was a member of the 6th D.C.O.R. has paid the supreme sacrifice. He served with the original 7th Battalion in France, and gallantly sacrificed his own life to save his men when surrounded by a superior force during a scouting expedition into "No Man's Land." Corp. Ralston and Ptes. McWhinny and Solloway have been wounded, the former having returned to Vancouver, invalidated home after being shot through the neck at Ypres. Pte. "Hap" Solloway is convalescing in England, having being wounded in the head and neck by shrapnel. (Vancouver Daily World, March 31, 1917)

BALLTOSSERS COME BACK

"Rap" Solloway, C. Delcourt and Eddie Jardine, former Commercial league ball players, were among those to return from the war front yesterday. It is likely that they will be seen with Commercial league teams before long, the first two probably with Arnold & Quigley. (Vancouver Sun, June 28, 1919)

Another unexpected turn resulted in the addition of some game reports and rosters from the 1935 Vancouver Senior "B" League. In the process of trying to find all the players of the famous Vancouver Asahis we discovered a second Asahi team, the "B" level team, playing in 1935. This research also led the a few additional pics in the BC Photo Gallery and some new items on the Snapshot page.
That Asahi quest also uncovered a Vancouver Senior "B" League in 1925 and we've added the team rosters along with a photo of the league champion St. Augustine Stags.
The other team photo posted in this batch is one of the 1921 Adams Billiards team of the Vancouver City League.

This one -- statistics for the Manitoba Senior League of 1977 - was a specific target and I was happy to find the report, now posted, with all the hitters listed. Bob Williamson, of the Riverside Canucks, was the batting champ.


Most of the rest of our latest efforts have been tracking down images and we've been pretty successful.
About half are better quality photos than ones previously posted. Among the new ones is a pic of hockey and baseball star Newsy Lalonde which we've added to the 1915 BC Photo Gallery.
Lalonde, best known as the original "Flying Frenchman" of the Montreal Canadians, was also a star player in lacrosse and quite the baseball player in Victoria.

Sid Whyte, Syd Whyte, Sid White or Syd White? We decided to go with Syd Whyte which appeared to be the most prominent spelling over the years (and we found another photo, this one from 1919).



Among the individual photos posted are those of Earl "Bird legs" Lewis.(left) a star over a decade in Vancouver ball and (right) Marcelo Alfiero "Mushy" Anselmo, who broke into senior ball in Vancouver before becoming a key member of teams in Trail, BC, in the 1940s and 1950s.

Among the pictures added are a larger and better quality shot on the 1922 BC Snapshot page of Clare Johns and Tommy Jardine. On the 1922 BC Gallery, there's a update of the George Tanaka photo.
The 1925 BC Gallery has the addition of Russell "Rap" Solloway, not to be confused with brothers Harley "Hap" Solloway or Leo "Lap" Solloway.

Let me carry on in chronological order. The 1935 BC Gallery adds Dave Gray, Earl Lewis, Ray O'Dell, Ivor Saundry, Don Stewart, Don Weaver and Hal Weinker.
The 1935 BC Snapshot page includes a photo of Frank Hall and a interesting newspaper ad for the Terminal League noting "Baseball's newest device", an electronic scoreboard. Not sure what that might have been in 1935. But - worth every penny - with admission at 10-cents.
Don Stewart, the playing manager of the 1937 United Distillers, is now showing on the 1937 BC Gallery.
The 1937 BC Snapshot page has a better image of infielder Tommy Kennedy, who also shows up on the 1938 Snapshot page along with Charlie Miron, in his last season on the diamond after a distinguished 18-year career.
The 1941 BC Snapshots now includes a photo of four key members of Angelus of Vancouver's Burrard League Manager Jimmy Condon, Ralph Stong, Billy Adshead and Coley Hall.
Our 1943 BC Photo Gallery there are 21 photos added, all replacing poorer quality images. And, in an Alberta addition, the 1947 Gallery has an update on the Walt Gully photo.

What a treat to chat with Lee Murphy the former slugging king of the Western Canada League. Some sad topics, the passing of old friend Jim Lester, but the now Montana based Murphy has such a keen memory of his baseball days on the prairies, suiting up for Regina, Saskatoon and Lethbridge. Thank you Lee.

A couple of former BC players, Lou DeRosa and Art Bregolisse have connected to dig out this photo of the Vernon Carlings. We believe it's a team from the late 1950s or early 1960s. If you can help with any names please drop us a line. Here's the team from 1960 for comparison. Clark Inglis helps out with his take :
Back row L to R: Rick Shamanski, Ken Kulak, Al Monk, Art Bregolisse, ? , Vern Blaney, John Paul, Jim Moro, Jim McLeod. Front row L to R: Vern Dye, Ike Jackson, Jim Tooley, ? Wilf Christie.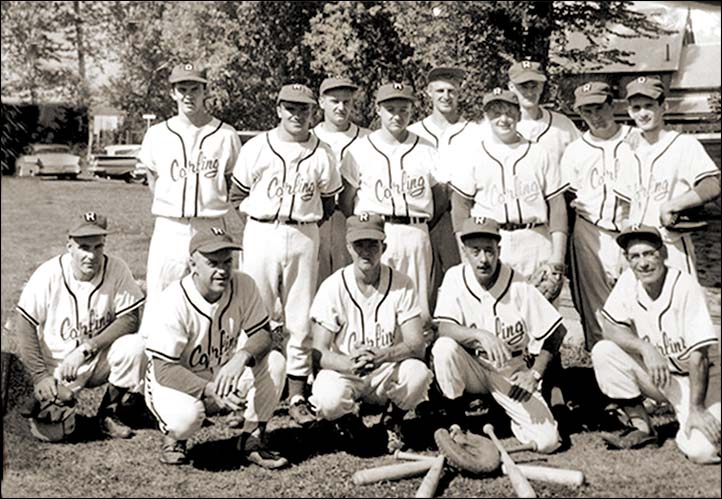 ---
17 January, 2019

As Rich Necker gets us prepared to add in more material from the early 1900s in Victoria ball, we post two new pages to accommodate BC baseball in 1910, a Photo Gallery and a Snapshot page. Victoria tried out a semi-professional team that summer.

Our effort to tackle a backlog now results in the posting of eight new team photos, most of which have been awaiting confirmation of names to identify the players. Basically, we got tired of waiting as progress has been slow in trying to identify players from up to a hundred years ago.
We figured we might as well post the photos and hope it might spark some responses.. We couldn't even pinpoint specific years for a few so they're (the Beaverlodge & Sexsmith teams) just in the 1960s for now with nary a name to add.
We've managed to ID a few in the 1918 Hillhurst Hustlers photo but the rest of that Calgary area squad have proven very difficult.
The 1906 Armstrong, BC, photo, the one of the 1912 Enderby, BC, team and the 1920 Seattle Asahis (who were prime competition for the Vancouver Asahis) are nearly bereft of names although we're hopeful of tracking down the Seattle IDs.
The photo of the Brandon Cloverleafs (from the Manitoba Hall of Fame) is noted as the 1954-1960 team and, again, we're hopeful of getting most of the names at some point.
We do have names for the 1951 photo of the team from Panama. It's here as several of the players also performed on diamonds here in Western Canada.
We didn't have specific years for the photos of distinguished Manitoba pitchers Grant Everard and Rick McFadyen and for now have placed them in the 1975 Manitoba Snapshots.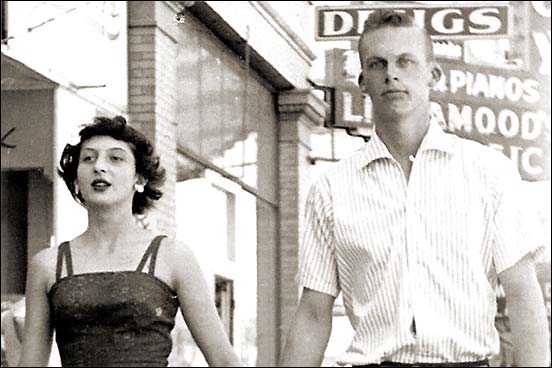 And, one we'll just put right here.
It's our old friend Charlie Beene whose baseball career in Canada goes back to 1951 when he arrived from Sequoias College in Visalia, California to suit up for the Saskatoon 55s in the Northern Saskatchewan League.
Back in 2015, in October, the Beene's - Charlie & LeAnne - marked their 60th wedding anniversary ! The picture is of the couple in 1955, the wedding year.
Photo credit to the Billings Gazette.

The 1934 and 1935 BC Photo Galleries have some additions with images of Billy Adshead, Frank Townsend, Harry White, Hal Haugland, Billy Richardson and Pat Thomas. A couple are new, some just better photos. And, from Minnesota, we've posted the 1939 team picture of the Waseca squad of the Southern Minny League.



OK. We're going along with Sam Sprague, who figured, correctly, that the "official" publications had made a mistake on his grandfather's photo. Grampa was Sammy Beer, a superb moundsman of the early 1900s in the Western Canada League.
One of the team photos (the one at the bottom of the page) of the 1914 Saskatoon Quakers had the wrong player identified as Sammy Beer. We had stuck with that previously as both the official baseball publications of the day, the Reach and Spalding Guides, had singled out the player, middle row, far left, as Beer. Well, comparing previous photos of Beer and even ones in the other team pictures on the page it's clear somebody screwed up! Anyway, this (above left) is Sammy Beer. Thank you Sam Sprague for prompting the change.
---
15 January, 2019

Now, with a third source for this one specific game, we can now make a couple of changes. This is the game in Chemainus, BC, noted below - a 1911 thriller featuring future major league pitchers Bob Steele and Rex Dawson.
A report carried in the Victoria Daily Times makes it more likely that Steele fanned just 12 and not 16 as one paper reported and another suggested (the paper which reported 16 strikeouts also noted that the catcher had just 13 putouts, which now fits the 12 K result). And the Daily Times provided some details on the scoring in the game.
The updated game report is on the Vancouver Island page.
On the 1913 Snapshot page, there's the addition of the newspaper feature following the no-hitters thrown by Steele and Russell Northrup during their season in Moose Jaw.

Rich Necker has pulled out a couple more games from that 1911 season in Victoria and we've added the rosters for the Victoria Senior Amateur League.

There are a more bits and pieces. We've added a photo of the 1963 Angusville Cardinals, finalists in provincial playoffs for the Manitoba Intermediate Baseball championship. The Angusville rosters for 1963 and 1965 have also been added.
---
14 January, 2019

Trust Brian Morrison (Diamonds in the Dusk) to have dug out this interesting tidbit from Victoria, BC back in 1911. In an amateur league game at Chemainus on Vancouver Island, two future major leaguers faced off in an epic pitcher's duel.


Southpaw Bob Steele (left) fired a one-hitter as Beacon Hills shutout Chemainus 2-0. Steele faced just 27 batters as the lone base-runner was picked off at first. He fanned 16. The loser, Rex Dawson (right) allowed from two to six hits (depending on the source) and also racked up 16 strikeouts. Catcher Ed Steele knocked in the winning run with a two-bagger.
Steele went on to a four-year career in the majors with St. Louis, Pittsburgh and the New York Giants and pitched into the 1930s in semi-pro ball. Dawson made just one major league appearance, that for one inning with the Washington Senators. After being suspended in 1919 for jumping his pro club for a more lucrative position with a semi-pro outfit, Steele tried unsuccessfully to make a come back in pro ball when reinstated ten years later.
Each had an outstanding minor league season at the highest-level. Steele had a 20-16 summer (in 316 innings* as a 21-year-old) for St. Paul of the American Association (following 17-9 and 18-13 campaigns in the lower levels) while Dawson had a 20-win season in 291 innings with Indianapolis of the A.A.
* The league leader in wins was Mutt Williams of the Minneapolis Millers who posted 29 wins and 16 losses in 440 2/3s innings !
In his stint with Moose Jaw, in 1913, Steele was part of an amazing one-two punch with teammate Russell Northrup. Within the space of four days, each fired a no-hitter.

In a 1914 exhibition tilt pitching for Victoria of the Northwestern League, Steele bested one of the greatest figures in Negro league ball, the legendary Rube Foster (right). The touring Chicago American Giants (with future Hall of Famers Foster, Pop Lloyd, Peter Hill and Smokey Joe Williams) shaded the Victoria Bees 2-1, as Steele went the distance yielding just six hits, all singles, two by shortstop Lloyd. He fanned six a walked one. Foster went eight frames giving up seven hits with five walks and three strikeouts.

Out of this little clipping comes the start of a 1911 Game Report page for Vancouver Island and the 1911 BC Snapshot page. We've also added Steele and Dawson to our Major Leaguers section.
---
12 January, 2019


We keep discovering little bits of interesting information. This one going back to 1903 when future major league star Harold Homer "Hal" Chase set the groundwork for an outstanding major league career with a stop in Victoria, British Columbia. A lefty, Chase turned out to be quite the catcher along with his usual home at first base.
His play, especially his defensive prowess, put him in line for a berth in the Hall of Fame. But, Hal Chase turned out to be one of the most corrupt players in the history of the game.
Back in the summer of 1903, an unnamed writer for Victoria's Daily Colonist was prophetic in offering his view of the diamond future of Hal Chase :
Away hence in the dim futurity, say about in 1954, when Chase shall have earned the repose which comes to septuagenarians, he will often close his eyes and lapse into a day-dream of the glory galore which came to him in the days when he was a sun among lesser orbs on the field of play. To the grand-children (for who does not wish that he will leave a numerous progeny to hand down his fame to future ages) who will cluster around his knees and hang on his shoulder, he will recite his marvelous feats on the diamond and arouse their speechless wonderment. (Daily Colonist, Victoria, July 12, 1903)
But, Chase destroyed his hopes for a berth in the Hall of Fame betting and throwing games. Check out the book : Hal Chase: The Defiant Life and Turbulent Times of Baseball's Biggest Crook  By Martin Donell Kohout
A photo of Chase begins our 1903 Photo Gallery, and another of Chase launches our 1903 Snapshot Page.
Chase has also been added to our Major Leaguer pages.


Vic Sipko, a key to baseball in Biggar, Saskatchewan in the 1950s and 1960s, passed away in December. We were so pleased a few years back when Vic helped us out here in digging out a photo of the 1965 Biggar Nationals of the Northern Saskatchewan League.
Bill Hoult, who sent along the sad news, also had a spelling correction - Hoult not Houldt. Changes made. Thank you Bill !

The James Bay Athletic Association, based in Victoria, BC, is reputed to be the oldest sports organization west of Montreal. It was formed in 1886 and continues today as a Rugby club with divisions for men, women and youth. Back in the day it was also a hotbed of baseball activity. It is among the team noted in our coverage of 1909 baseball in British Columbia. We offer some game reports from Vancouver, Victoria and the Island and a bit in the Interior as well. A new team photo is of the 1909 James Bay Athletic Association.

Our catch-up on material from our Rich Necker includes a framework for coverage of Manitoba baseball in 1907, 1908, 1909, 1910 and 1911. There are some game reports along with the list of leagues and teams. New photos inaugurate the 1907 Manitoba Photo Gallery.

Of course, along with the game reports the roster pages have been updated and we've begun to punch in the latest into the player lists. It'll likely take a few weeks to see those updates posted.
---
04 January, 2019



Don Archer (left) and Bob Bridges (right) two of the pics on the 1971 BC Photo Gallery now posted and with all the identified members of that 1971 Team BC team.

We've also added snapshots to the BC 1976 and 1977 pages (those photos from the Richmond Review seem to always feature plays at first or third base).

And, we've gone back to 1904 to fill in some game reports from Victoria. Rosters too.

Good to hear from former Granum and Ontario Intercounty star catcher Tedd Bogal, if only to remind us it had become 2019 !
---
03a January, 2019

With the new photos from Don Archer we've been able to ID that disputed player in the 1971 Team BC picture - catcher Norm Caig. Still a few more IDs needed for that photo.

From the 1973 Team BC photo we've extracted individual pics for the BC Photo Gallery.

And, from the 1971 team pic we've begun extracting pictures for the 1971 BC Photo Gallery.

And, some new snapshots of BC ball. One, in the 1964 page, has a caption you'll like, and there are some additions to the 1973 BC Snaps, including pitchers Bob Mabee and Mike Finlayson. We'll have to figure out who is #27 on the Fraser Arms that season. Not sure I pointed out the photo on the 1974 Snaps of Don Archer.
---
03 January, 2019

Wow. Thank you Don Archer ! The former Vancouver and Okanagan outfielder and long-time scout for the Los Angeles Angels, has sent along two team photos - the 1973 Fraser Arms nine, the BC provincial senior champions, and 1973 Team BC which went on to win the Canadian Senior title.. Names too !
I'm now working on trying to extract individual pics for the Photo Gallery.

Our Rich Necker has got us going on a variety of game reports, from the 1920 Victoria Amateur League, the three major loops in Vancouver in 1920, 1921 & 1922 Vancouver Island ball, 1922 leagues in Vancouver & the Lower Mainland, 1924 Kootenay baseball, onto 1964 Victoria ball. 1964 Vancouver Industrial League & Pacific International loop and 1965 Industrial League and Pacific International League.

Photos too, including three-sport star John Haar, who excelled in baseball, soccer, and football at the University of British Columbia.
Haar signed a pro contract with the New York Yankees and spent four seasons in the Yanks minor league system. He went on to a Hall of Fame coaching career.
Hard to ignore Sandy McLellan of the 1965 Boilermakers of the Vancouver Industrial League. On the 4th of July he celebrated by setting a new league record with 19 strikeouts in pitching a no-hit, no-run game. Two days later, he was the team's savior in the final inning of a one-run game taking over with the bases loaded and nobody out. He proceeded to strike out three straight batters.
On the 15th of August, in a playoff encounter, McLellan and Dave Kirk of the Longshoremen were stars of a most unusual encounter - a double no-hitter. Both pitchers hurled no-hitters as the teams battled to a scoreless, eight-inning draw.



The photo from Brian Morrison (Diamonds in the Dusk) of shortstop Peter "Hap" Morse (left) of the Edmonton Eskimos, the 1910 batting champion of the Western Canada League, prompted the realization we had confused this "Hap" Morse with second baseman Harry "Hap" Morse (right) of the 1914 Regina and Medicine Hat clubs of the Western Canada League.
Harry is an interesting case, being named as the 1914 batting champion although simple math (hits divided by at bats) showed he wasn't even close to the leaders. Yep, a mistake in math and he got to be recognized as the batting champion. Anyway, Peter advanced to the majors in 1911 for a partial season, Harry continued a minor league career into the 1930s. Also thanks to Brian for a photo of Charlie Stis, playing manager of the 1913 Regina Red Sox

A quick review of the updates :
1906 Game reports, Regina
1913 Charlie Stis photo (thank you Brian Morrison)
1919 Vancouver Island rosters
1920 Game reports of the Victoria Amateur League. Rosters.
1920 Game reports, Vancouver City League, Vancouver Commercial League, Dewdney League & provincial playoffs.
1921 Game reports for Vancouver Island ball including the Victoria Amateur League, Comox District League, Up-Island League & Nanaimo City League. Rosters, too.
One game, a 23-6 result brought the following analysis from the Nanaimo Daily News, "There were hits, runs and errors in profusion."
1922 Game reports on Vancouver Island playoffs. Rosters (including most of the first names of the Victoria club).
1922 I might be repeating myself here, but note the marvelous roundup of results for Vancouver and the Lower Mainland, including the Vancouver Senior Amateur League, Terminal League, Twilight League, Dewdney League, Westminster League, Howe Sound League & Upper Fraser Valley League plus provincial playoffs !
1924 Game reports & rosters , Kootenay International League
1949 Additional photo of Delisle Gems, winners of the first annual Saskatoon Optimist Tournament. They were the Commodores in league play and Gems in tournaments. Thanks to Max Weder for the photo.
1953 Photo Gallery, Horace Latham
1953 Snapshots, Latham & Percy Trimont, Regina Caps
1964 A few games, rosters, for the Victoria Senior Amateur League
1964 Game reports Vancouver Industrial League & Pacific International loop
1965 BC Photo Gallery, John Haar, Don Cowan, Howie Hughes
1965 Game reports Industrial League and Pacific International League.
1969 A few games, rosters, Vancouver Industrial League
1979 Partial rosters for a couple of the Vancouver teams
---
24 December, 2018

What an honour for the Vancouver Asahi. From Tokyo, Yobun Shima, who has done remarkable work identifying members of the team, reports that Canada Post is to feature the Asahi on a stamp in the New Year.
" ... the poignant story of Vancouver's Asahi baseball team – athletes whose on-field victories did not shield them from off-the-field racism or from internment during wartime."
All these years later, we still turn up players who had not been recognized as members of the team.

The best to all for the Christmas season and the New Year ahead. Wishes for good health, good friends.

Thanks to Brian Morrison, Diamonds in the Dusk, for two more difficult to find photos - Charles Elsey (Moose Jaw and Regina in 1910) and Hap Morse. Brian has been such a good friend of our little site.

Extending our thanks too to Don Archer, former BC player & current Angels scout, for helping identify various players and go digging through the attic for some photos of 1970s BC ball. On the way after the holidays.

Bill Postlewaite reports back that the family name -- once Postlethwaite -- just seems to have disappeared over the years.
" ... my father and uncle were born as Postlethwaite, and decided to shorten their name to Postlewaite in the 40's or 50's, so either way is likely acceptable. I have never known the longer version, and wasn't aware of the change until they both had passed."
Bill has been very helpful sorting out some Saskatchewan names and teams from the 1930s.

Congrats to the Cumberland Museum & Archives ! Dawn Copeman, administrator, brings word of some special projects to be unveiled in the spring.
"... We are putting up some information panels in the old Japanese settlement area within Coal Creek Historic Park and originally there was going to be a panel on recreation but there is so much on baseball it is going to be a stand alone panel placed near the old baseball diamond at No.1 Japanese Town. We have some great photos in our collection ... I know the Japanese community donated a baseball diamond to the "city" of Cumberland in 1914 ... The Royston Lumber team was the local powerhouse, with many players going on to play for the Asahi in Vancouver. We are fortunate to have a baseball jersey from the Royston Lumber Team in our collection and are in the process of creating a new exhibit about Royston Lumber, a very successful wholly owned Japanese Canadian business from 1917 onwards, employing over 100 men. The business and assets were appropriated and sold in 1942. The Buddhist shrine from the church in Royston is now on permanent display at the Glenbow museum in Calgary. The research for the panels is almost completed and once the content and design are approved by the village and members of the Coal Creek Historic society and some academics the will be installed on site with an opening ceremony taking place when the cherry blossoms are blooming. (Mid to late April 2019) 31 ornamental cherry trees were planted a few years ago to commemorate the 31 families that lived at that site who were removed and interned."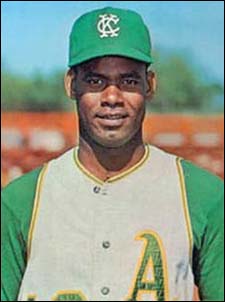 And, of course, our Rich Necker continues to amaze. I'm still playing catchup but happy to punch in the 1919 BC game reports, including teams from Vancouver and the Lower Mainland and Vancouver Island. It's the summer so many returned from serving in the military overseas during World War 1 and came home and just suited up and dove right back into baseball.
Rich also has information on BC ball in the late 1970s, including 1979 when Ossie Chavarria (right) a former major league with the Kansas City A's, is the playing manager in Vancouver with the Burnaby Astros.
The exercise has helped to clear up a few names, especially the Solloways of the 1919 Arnold & Quigley team of Vancouver. I had figured the references to Rap Solloway was a typo after Hap Solloway had been prominent for a few years. No. Turns out there were three - Leo "Lap", Harley "Hap" and Russell "Rap" Solloway.
Among the new and updated pages :
1915 Newspaper photo of the Vancouver Commercial League champion National Biscuit Company. The picture is a bit weird in that it was, quite obviously, altered as some of the heads just don't fit the bodies. These days we'd say it had been Photo-shopped.
1919 Game reports of the Vancouver City League, Vancouver Commercial League and Vancouver International League. In the Commercial loop, Ira Brethour of the Centrals fired a no-hitter, and lost, 1-0. Photo Gallery addition.
1919 Game reports of the Victoria City League and Up-Island League. In one game a team called the Straith-Two Jacks (and I am still trying to find information of what that was about) rapped 21 hits, got six walks and racked up 19 stolen bases. The losing pitcher went the distance and fanned 12. Along with the games, we also have the complete rosters for the Victoria City loop (with a surprising number of first names).
1919 BC Snapshots, Sid Elmer and Walter Gravlin of Victoria.
1920 Manitoba, leagues and teams identified, even some standings, game reports to come.
1950 Some additions to the Manitoba game reports.
1950 Add (McGill & MacNabb) to Alberta Snapshots
1951 Game reports for the Greater Winnipeg Senior League and the Central Manitoba League to go along with the reports for the Manitoba-Saskatchewan circuit already there. New Snapshot page. Rosters.
1960s-70s We've re-organized and added to the pages for BC so that there are pages (with at least the main league and teams) for each season along with photo galleries and snapshots. And, through the 50s, 60s, 70s re-organized all the Saskatchewan Snapshot pages & photo galleries to try and have just one yearly Saskatchewan snapshot or photo page rather than two or three or more.
1960 Few adds to the BC game reports & rosters.
1964 A few game reports for the Vancouver Industrial League and the teams for the Pacific International League.
1964 The beginning of game reports for the Victoria Senior Amateur League
1964 Two new pics for the BC Photo Gallery, and two nice pics for the BC Snapshots. And a couple of lines on the Kamloops Invitational Tournament. Roster updates, of course.
1965 Logged teams for the Industrial and Pacific International leagues
1965 Add (Bobby Lewis) to Saskatchewan Snapshots
1966 Logged teams for the Industrial and Pacific International leagues
1967 Logged teams for the Industrial and Mainland league
1967 New page for BC Interior reports
1968 Logged teams for the Vancouver's Metro & Industrial leagues
1969 New page for Vancouver game reports (perfect game as one of first notes)
1969 Added a game report in BC Interior
1970 Note of the Industrial League teams
1970 Snapshots revised on BC Snapshots
1971 Note of teams of Vancouver Industrial League
1971 First photo in a new BC gallery
1972 Start of Vancouver game report page (with a no-hitter as the first entry)
1973 Note of the Vancouver Metro League teams
1974 Note of the Vancouver Metro League teams
1974 New BC Snapshot page
1975 Outline of the leagues & teams, with roster of the BC provincial team
1975 New BC Snapshot page
1976 Note of the Pacific Metro League teams
1976 New BC Snapshot page
1977 Note of the Pacific Metro League teams
1977 New BC Snapshot page
1978 Game reports of the Pacific Metro League of Vancouver & area. Rosters too. A couple of good Snapshots.
1979 Game reports on the Pacific Metro League and the BC Playoffs. Reports for the Mid-Island League. Reports on the BC Interior.
Game reports on the Canadian Senior Championship. Game reports on the Calgary League & Northern Alberta baseball. Rosters.
---
11 December, 2018

Back in 2013, thanks to Bud Guenther (son of Albert Gunther) we made a huge step forward in sorting out Lanigan, Saskatchewan, baseball and the Gunther family in particular. The Gunthers had their own family team with seven boys and three girls. At the time we were at a full stop trying to differentiate between and among A. Gunther, A. Gunther and A. Gunther ! Turned out it was Art, Albert and August Gunther (better known as Lefty).
Now, thanks to Bill Postlewaite of Saskatoon, we have additional IDs for members of the 1928 and 1930 Lanigan teams. The latter team won the 1930 Saskatoon Exhibition Tournament, the big

baseball event of the summer in that era. Bill notes we had incorrectly identified Dick Overton (left) and he's provided additional names, including

Walter Toews and Wellington Mitchell. Bill's father and uncle -- Ted Postlewaite and Rollie Postlewaite -- played on the Lanigan team as did two uncles, Bruce Hill and Ed Hill (right).
In one note, Bill has noted the spelling "Postlethwaite" for the family name. I've listed that spelling on the one page while I await confirmation from Bill whether to make corrections throughout the site.
Thank you Bill !

And, finally confirmation of the spelling of Kubicek, Alf Kubicek, an all-star catcher and playing manager in Victoria in the 1940s and 1950s. Son Blair Kubicek checked in with a prompt from Lou DeRosa. We've looked over the years for a photo of Alf, with no success.
We're hoping Blair will be able to find some photographs as he searches through the scrapbooks. Blair, who played in Dauphin in the late 1960s, then in Victoria in the mid 1970s, also prompted us to search out a correct spelling for one of his teammates in Dauphin. Up to now we've had it as Gerry Verbuski (as shown in newspaper stories of the day). The evidence points to Verbiwski as the correct spelling.


My "To Do" list is overflowing. Among the items is a note to think about revising many, if note most of the Snapshot photographs -- finding better quality photos and presenting them in a larger form. Well, we've gone a bit nuts in working through some of the Snapshot pages and re-doing just about every photo. The 1958 and 1959 Western Canada Snapshot pages are pretty good examples of the changes. Still lots to do, but I think we've made a good start. The tiny photos were a product of the early days of the internet when folks were on dial-up systems, many at very slow download speeds.
Also, Photo Galleries have received the same treatment. That's import Claude Williams of the 1950 Regina Caps at the left in a revised photo. The big first sacker came to Canada with a number of touring clubs (including the Ligon All-Stars, California Tigers and Muskogee Cardinals) before setting down in Regina for a summer and winning the batting title in the Southern League with an impressive .413 mark.
At the same time, we decided there were too many Saskatchewan photo and snapshot pages. Thus, we've consolidated the yearly Southern Saskatchewan League material with the Northern Saskatchewan and General pages into one. Didn't realize the complexity of the job until it was well underway, so if you find the odd link not working or a missing page, please drop me a line.
Now to tackle a huge To-Do list of marvelous research materials from our Rich Necker !

Now here's a long, long-shot. Russell Latham is chasing photos of the Latham Hardware teams of Moose Jaw of the era of 1915 to the early 1920s. Russell's great grandfather operated the hardware store which sponsored the club.

More ID difficulties. Sam Sprague suggests we may have the wrong player identified as Sammy Beer in this 1914 team photo of the Saskatoon Quakers (check out the bottom photo). Beer was Mr. Sprague's grandfather.
Comparisons with other known photos of Beer seem to confirm Sam's contention. But, it's interesting to note that the two big baseball annuals of the day, the Reach and Spalding Guides both have the same photo of Beer (as in the 1914 team photo) and identified as Beer. We guess that the Reach Guide simply made an incorrect ID in its 1914 edition and Spalding, a year later, in highlighting Beer's performance (23-7 in 267 innings pitched) just copied the photo and ID. We'll get to this in our next update. (I'd guess Beer is the guy second from the left in the middle row).

Here's a list of some of the stuff that's changed over the last couple of weeks.
Barnstorming More "recycling" of player photos (see Greene Farmer, Clarence McMullin Robbie Robinson)
1928 Improved photo, names for the Lanigan team
1930 Names for Lanigan
1930 Addition of Walter Toews, Gunthers to Saskatchewan Photo Gallery
1937 Wilcox Cardinals (including Mets brothers) and Gunthers added to Photo Gallery
1937 Revised Wilcox team photo
1940 Wilcox players added to Photo Gallery
1940 New Saskatchewan Snapshot page, Wilcox players
1942 Nick Metz added to Photo Gallery
1944 Al Rittinger added to BC Gallery
1944 Nick Metz add to Photo Gallery
1946 ID of Joe Kanik in team photo.
1946 Bob, Don and Nick Metz
1946 Revised Wilcox team photo
1948 Metz - Don, Bob, Nick - added to Gallery
1949 Ken Terry
1949 Adds to the Saskatchewan Photo Gallery, Richard Werthern, Jack McPherson)
1949 Bob, Don and Nick Metz
1950 California Mohawks, Jake Abbott, Wally Kincaid, Don Wilson, Jack Welton
1950 Revised Snapshot page with additions of Art Cartmill, George Anderson, Bert Olmstead, Brick Swegle
1950 Revised Saskatchewan Snapshot page with additions of Coney Williams, Don Kielman, Grant Warwick with Claude Williams and Joe Searcie, Harold Allan
1950 Photo Gallery additions, Harold Allan, Walter Powell, Coney Williams, Ken Charlton, Art Frolick
1950 Addition of photo of Joe Kanik & Casey Jones
1951 Don & Nick Metz, Father Athol Murray to Photo Gallery
1951 Ken Hughes, Ted Zack to Western Canada Photo Gallery
1951 Photo Gallery improvements to all Dauphin players
1951 Revised team photo of Dauphin
1952 Tournament page updates, esp. Lethbridge Tournament
1953 Revised, pic of Beiden, Clevenger, Bennett added
1954 Snapshots revised, enlarged, Roy Williams add
1955 Eddie Barrack, Lefty Arnold, Bob Linck add to Photo Gallery
1955 Revised Snapshot page, with addition of Smoky the mascot photo
1955 Revised Snapshot photos
1955 Revised, with addition of Jim Harney bunt, Joe Pedrazzini & Cal Bauer, Kirby Pain & Smoky, Ralph Mabee and pennant winning trophy, pic of league executives, and pic of Len Karlson, Gary Jackson & Len Farrell
1955 Photo Gallery addition of Richard "Dixie" Walker
1956 Revised, addition of Cyril Ing homer picture
1956 Bob Lasko photo update
1956 Revised, addition of Curtis Tate, Tuck Halsey, Tom Shollin photos
1957 Western Canada Snapshots re-done, with several new additions (4 pages)
1958 Addition of Tom Satriano homer pic to Snapshot page
1958 Western Canada Snapshots pages (5), all re-done with additions of arrival of Don Biasotti, Bruce Gardner, Pat Gillick, Tom Satriano homer, Roland Jones & Bob Mistele, pic of John Aldridge, Art Schirmer, Butch Dollar.
1959 Western Canada Gallery, Len Gabrielson, Miles McWilliams (page 2), Ralph Vold (on page 3)
1959 Saskatchewan gallery, Harvey Flaman
1959 Western Canada Snapshots, all re-done with additions of James Withers, Werhas slide, Joe Fischer, Larry Exel, Wayne Tucker out at home, Art Ersepke at first, Roy Taylor & Stan Charnofsky
1963 Addition of Harold Barnes, Bill Powell to Saskatchewan Photo Gallery.
1965 Angusville, Manitoba, Cardinals
1971 Continue to chase ID of Team Canada catcher
---
21 November, 2018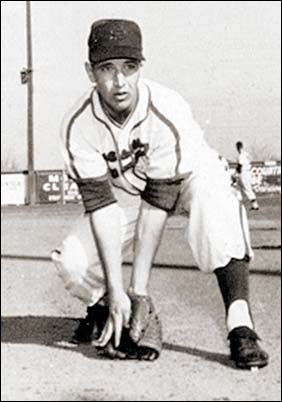 The thought occurred yesterday when I learned of the death of Chuck McGuigan.
I wondered how Jim Lester was doing at the care facility near his home in Peoria, Illinois. I hadn't had a phone call from Jim in many weeks. I was too afraid to search for news.
I did today. As feared - James Allen Lester passed away a month ago, October 21, 2018, at the Heritage Health in Chillicothe. He was 83.

For several years he had suffered through painful back problems which had left him bedridden for the most part. His beloved golf game no longer an option.
I met Jim in 2000 in Lethbridge as he was a main organizer of the reunion of Granum and Lethbridge players of the 1950s and 1960s. He became a major contributor and great friend to our little project with photos and information on the Southern Alberta Leagues.
Lester was among the dozens and dozens of stars from Fresno State University to grace the fields of Western Canada and was an All-Star third sacker for teams in Granum and Lethbridge. He'll be missed by many both in the United States and Canada as he kept up contact with many of his old colleagues going back to the 1950s.
---
20 November, 2018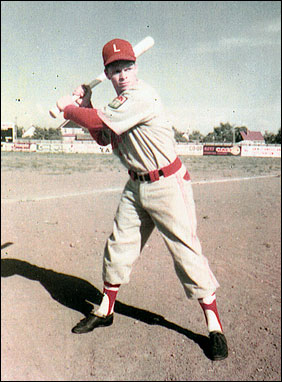 Charles Bernard "Chuck" McGuigan, from the University of San Francisco, was one of my first hometown baseball idols.
He had arrived in our little prairie community in 1954 to suit up with our new entry in semi-pro ball on the prairies, the Lloydminster Meridians.
Not only was he to be an infielder with the local team, he could get me autographs of the famous basketball stars of the University of San Francisco, Bill Russell and KC Jones (McGuigan was on the USF baseball team). And, he would begin his stay in our town, residing in our house, just a half block away from the arena and the dressing room of the ball club. Chuck McGuigan had just turned 20 when he first suited up with the Meridians.
His early promise was well recognized in the Bay area.
New Star Uncovered

Baseball scouts should keep an eye on Chuck McGuigan, 16 year old shortstop for Pomona Tile.

It's too early to determine whether he could make a go of it in professional baseball, but McGuigan has the old hustle. That attribute is a big selling point when a youngster gets ready to sign a contract.

Chuck is 16 years of age, about five feet eight, and scales 140 pounds. He knows how to bunt and run bases, demonstrates good speed and fielding ability, and (most important) LIKES to play ball.

Last Saturday in the Pomona New Pisa Juniors game at Big Rec, McGuigan started the winning rally by beating out a bunt. When Don Becker was given the old heave-ho, manager Grove Mohr sent Chuck in to catch. He has had almost no experience, but McGuigan looked good at that position.

The scouts also will be glad to hear that he isn't the type of youngster to get swell headed.
(Carl Reich, The San Francisco Examiner, January 22, 1952)
McGuigan returned to Lloydminster for the 1955 season, then played semi-pro ball in the San Francisco area for several seasons and began a long coaching career while he established his family accounting firm -- McGuigan & McGuigan -- in Burlingame, his home town. He was a Certified Public Accountant, for over 50 years.
I am downhearted to learn he died April 30, 2017 at the age of 82.

Most of the additions and updates this time are photos (many of them the result of new papers added to one of our on-line services, Newspapers.com). Access to the Edmonton and Calgary papers especially (also Montreal and Ottawa papers were included) has been a boon for us. The updated pages, In chronological order, below.

These are among the new(er) images now posted :







Left to right - Lee Murphy, Barry Arnett, Eddie "Lefty" Belter, Curly Williams, Wayne Dye, Jerry Reimer.


This is one guy on the 1971 Team British Columbia we have had some difficulty in identifying. And, we've had a little trouble chasing down the history of this team. Seems BC (Victoria) was scheduled to host the Western Canadian Championship but lack of funding forced organizers to move the games to Saskatchewan. Only five teams participated and BC wasn't among them. Anyway, hoping we can sort this out before long.
We believe he (left) was a catcher, who might have played ball at Yakima College in Washington. If you can help with a name, please drop us a line.
Thanks to Clark Inglis, Don Archer and Lou DeRosa for the names we have so far.
* And already an update on the update - Don Archer helps us with a couple more names, including Mr. Mystery above - turns out it is catcher Norm Caig !

These are the latest additions/changes :
1939 - Alberta Game Reports - Details on Lefty Belter's no-hitter
1939 - Alberta Photo Gallery - Eddie "Lefty" Belter
1940 - some additional names for the photo of the 1940-41 Vernon baseball nine.
1944 - Alberta Photo Gallery - John Carpenter
1947 - BC Photo Gallery 1 - Bob Burtwell (finally uncovered a photo of the basketball star who played a little baseball, although the photo was published in the 1050s, posted in the '47 gallery)
1947 - Alberta Photo Gallery - Jack McGill
1948 - Alberta Photo Gallery - Dave Brockie, Jack Stover
1948 - Alberta Snapshots - Ernie Choukalos
1948 - BC Photo Gallery - Barry Robertshaw
1949 - Alberta Photo Gallery - Ken Samis, Cliff Johnson, Ernie Choukalos
1949 - Alberta Snapshots - Ernie Choukalos, Walt Gully, Mike Johnson, Barry Robertshaw, Les Edwards, Doug Stewart
1951 - Alberta Photo Gallery - Barry Robertshaw
1953 - WCBL Snapshots 1 - Ivory Long of the Ligon All-Stars with a no-hitter at Lacombe, with catcher Percy Howard (Ivory as first named confirmed) and presentation to Indian Head Rockets
1955 - Home page - Don Stewart, Lloydminster playing manager
1955 - WCBL Photo Gallery 1 - Dale Bloom (Edmonton)
1955 - WCBL Snapshots 1- Meridians' "Murderers Row" (including Curly Williams), Bob Bayless, Chuck McGuigan, Dick Barry, Bill Duft, Ralph Mabee, Naotaka Makino, Cal Bauer, Don Stewart injured
1955 - WCBL Snapshots 2 - whole page re-done, Chuck McGuigan, Tom Feldstein, Don Stewart, Scotty McNeill, Bob Bayless, Dick Barry, Bill Duft, Kirby Wyllie, Jim Valentine slide, Stan Kulka homer, the Lloydminster Meridians pitching staff (including Barney Brown), colour photo of Chuck McGuigan
1955 - WCBL Snapshots 3 - owners/operators of the WCBL teams
1956 - WCBL Photo Gallery 2 - Lee Murphy
1956 - WCBL Snapshots 1 - additions and improvements (including the photo of Cyril Ing's homer for Edmonton and the picture of Lloydminster's Stan Karpinski and Slim Thorpe).
1956 - WCBL Snapshots 2 - Roger Gray, Mark Cameron, Lloydminster Quartet, Gary Ball, Curtis Tate, Dale Zeigler, John Doucette, Tom Shollin, Tuck Halsey, Pony Leaguers to Global Series, Lloydminster Little League, Stan Karpinski
1957 - WCBL Snapshots 1 - the Western Canada snapshot page has a half-dozen changes (including photos featuring Ron Fairly, Tom Haller, Ed Tanner, Ed Stefureak, Bill Vanderlaan and the WCBL All-Stars)
1957 - WCBL Snapshots 3 - Ken Guffey, Curtis Tate
1957 - WCBL Photo Gallery 3 - Jerry White
1957 - BC Photo Gallery - Jerry Reimer
1958 - WCBL Snapshots 1 - a revised photo of Curly Williams
1958 - WCBL Snapshots 3 - Roger Tomlinson, Jon Tatro, John Kellner and Jerry Zubak.
1958 - WCBL Snapshots 4 - Jerry Zubak, John Aldridge, Bruce Gardner, Roland Jones and Bob Mistele
1959 - BC Snapshots - Clark Inglis begins baseball career as batboy
1960 - WCBL Photo Gallery 1 - additions of Barry Arnett (Lloydminster) & Doug McChesney (played for Calgary & Lethbridge)
1960 - names for the photo of the 1960 Vernon Luckies (thanks again to Clark Inglis for the Vernon photos).
1960 - WCBL Photo Gallery 2 - addition of Dave Turnbull (also Calgary and Lethbridge) & Kelly Searcy
1961 - WCBL Photo Gallery 1 - George Banda, John Carbray
1961 - WCBL Photo Gallery 2 - Curly Williams, Jim McDonald
1961 - WCBL Snapshots 1 - Casey Jones, Ed Beard, Ray Barboza, Bob Milano, Herb Goodwin, Al Dyck, Bill Fennessey
1961 - Rosters - Peace River Stampeders, Donnelly Cubs, Dawson Creek
1961 - Tournaments - Ponoka Tournament and Peace River Tournament
1962 - Alberta Photo Gallery - Jim Ryan, Bill Fennessey
1968 - Snapshots - Lloyd Haddon of Beaverlodge, six homers in ten at bats in tournament play
1968 - Alberta Photo Gallery - Lloyd Haddon
1969 - BC Snapshots - Wayne Dye
1969 - BC Photo Gallery - Wayne Dye, Clark Inglis, Jerry Reimer
1969 - BC Interior Game Reports - beginning of the '69 page with Wayne Dye pitching gem
1970 - Tournaments - Kamloops Tournament
1970 - BC Snapshots - Clark Inglis, Joe Watson
1970 - BC Photo Gallery - Clark Inglis, Joe Watson
1971 - Alberta Snapshots - Al Herback, John Elick
1971 - Tournaments - Lacombe Tournament
1971 - Team British Columbia - names added, still some unknown IDs
1973 - BC Snapshots - photo of Clark Inglis of Vernon
1973 - Alberta Photo Gallery - Clint Fystro
---
13 November, 2018

The way he's churning out the reports, I'm not sure our Rich Necker is getting any sleep ! The latest batch of game reports cover BC mainland ball in 1922. There are game reports for the Vancouver Senior Amateur League, the Terminal League, the Twilight League, the Dewdney League, the Westminster League, the Howe Sound League, the Upper Fraser Valley League, plus all the provincial playoffs. Of course, complete with new and updated rosters.

On the 1922 home page we've added a little advertisement just to show how inflation has taken hold over the years. The ad is for a baseball uniform. Cost - $7.50

Thanks to Lou DeRosa of Trail (who tracked down former colleague Clark Inglis) we have team photos of the Vernon Canadians of 1952 and the Vernon Luckies of 1962. Lou and Clark also have some names for the photo of the 1966 Luckys/Luckies.
A neat newspaper photo of Clark trying to score from second is our first snapshot on the 1970 BC Snapshot page.
A few names still missing. More photos still to come.

Another new snapshot page is for BC in 1979 with a pic of Gordie Dumont of Nanaimo sliding into third.

The 1951 Tournament page now includes the amateur Brandon tournament and the 1975 home page has a photo of the cover of the 1975 Trail Tournament program.


National Hockey League centre Al Hill of the Philadelphia Flyers relaxed in the off-season donning his baseball gear to help out the hometown team, Nanaimo.
This summer of 1979 it was the Nanaimo Discosport A's of the Mid-Island Senior Baseball League. Hill, a left-hander, played some first base and also took a turn on the mound. He's the initial entry on our new 1979 BC Photo Gallery.

One new photo added to the 1979 BC Snapshot page, featuring Gordie Dumont of Nanaimo.
---
09 November, 2018


Lynn Berridge (right, in a 1968 photo) had quite the offensive outburst in a 1979 Calgary Baseball League contest belting a pair of grand slam homers as the Odeons clobbered the Broncos 16 to 3.
Berridge went 5 for 5 and drove in eleven runs. The outfielder had a long career in Calgary, from the mid 1960s to at least 1979. This August 1st game is among the reports in the 1979 Alberta game reports now posted thanks to the dogged research by our Rich Necker.

The 1979 rosters include the Calgary League and Northern Alberta teams, including Barrhead, Red Deer and Edmonton.
One of those players is (left) Keith Van de Keere. We are delighted to have

discovered a better photo of the lefty hurler, buried in Lou DeRosa's memorabilia ! Another is (right) Gary Picone, another Trail alumnus, who, like Van de Keere suited up with the Barrhead Blue Jays in 1979.

Our BC coverage continues to expand with 1979 game reports for the Prince George/Quesnel area and out on the Island with reports on the Mid Island League and Nanaimo. Rosters also updated, along with the Tournament page which has additions from tourneys in both BC and Alberta.


Happy to have stumbled across a team photo of the 1951 Central Manitoba champions, the Neepawa Farmers.
Clint McKerlie (right) , who had a brief trail in the ManDak League the previous season, was a pitcher for the champs. His brother Almer McKerlie was a long-time catching star for the Carman entry in the ManDak League.

We also travel back to 1919 and 1920 for additions to West Kootenay baseball. The 1920 roster page has additions for the West Kootenay teams.
---
30a October, 2018

With thanks to former Team Canada hurler Keith Van de Keere we have names (a few with question marks) for the 1980 team photo. Now if we could just confirm the probables ...


William M. "Monty" Holland, up from the University of Louisville, Kentucky, had an extremely short Canadian career - just three games - but he made his mark.
In the 1978 season, pitching for the Hamiota Red Sox in the Manitoba Senior League, the 6'5", 230 pound right-hander racked up 21 strikeouts in an eight inning game. He had a chance for a league record (23 in a nine inning contest) but darkness forced the game to be shortened.
After losing his first start when a ninth inning error led to an opposition rally, Holland fired a four-hitter, then a three-hitter and that was it. Drafted by the Cleveland Indians in the 19th round of the 1980 draft, Holland had just a 10-inning career in pro ball.
---
30 October, 2018

Now that's a comeback.
In 1978 in the finals of Manitoba's South West League (sometimes called the South Central League) the Waskada Orioles nipped the Deloraine Royals 32-3 in the opening game of a best-of-three final.
Royals bounced back to win the second contest 13-3 and won the title with a 10-6 victory in the deciding game.

Thinking of numbers, Gerry Falk of Binscarth threw 231 pitches in 16 innings on July 2nd at the Birtle Tournament going the distance in both a semi-final and the final as the Orioles took top money. In the final he faced the Riverside Canucks which boasted a TEAM batting average of .356.
These are among the stories our Rich Necker has discovered in his dive into the archives of 1978 Manitoba baseball. Just one more superb effort by our Chief Correspondent !
Along the way you'll find game reports for the 1978 Manitoba Senior Baseball League, and a new paragraphs on the Eastern Manitoba League and the South West League. The 1978 Manitoba photo gallery and the snapshot page sport many additional pictures and, as usual, the roster page and the tournament page have been updated with the latest finds. There's even a short summary of the final batting statistics for the South West circuit.
The game report page also shows a map of the league communities to provide a little more context. The map was first posted for the 1979 game reports of the Manitoba Senior League and the Red-Boine League.

Our finds have not been restricted to the 1970s. We go back to 1923 for a team photo of the Nakusp, BC, baseball nine and have extracted a couple of individual pictures for the photo gallery.
Among the updates is a 1952 photo of Manitoba pitcher and manager George Leduchowski, who continued to play into the late 1970s and early 1980s. There's a half-dozen new entries, including Shanty Clifford and Jimmy Wilkes, for the 1953 Ontario photo page.

The game reports for 1959 in BC are coming up soon, but in the meantime Rich has provided more than a dozen new individual pics for the photo gallery, including Tony DeRosa (left), and such luminaries as Vern Dye and Curly Jellison (also see note on Jellison below). The snapshot page also features a group of new images (including Ron Miciuk and Jim Tooley).
The 1976 Manitoba gallery adds several Binscarth Orioles, including Garth Neville and Lyle Robinson.

A familiar face turns up in the 1977 Manitoba photo gallery, former hockey star Bill Derlago (right) a summer diamond star with Binscarth Orioles.
And we have some new snapshots for 1979 Alberta (featuring Calgary's one-armed pitcher Pat Jarvis) and 1979 Manitoba, including Todd Jensen and Marty Mason.

Team photos ? There's a dozen additions from the quirky 1958 Nelson Outlaws photo (showing the advertising on the backs of the uniforms) to a re-do of the 1953 Brantford Red Sox of the Ontario Intercounty League.
Unfortunately, a lot of the team photos do not have names to go with the faces. But, perhaps the posting of the photos will prompt some memories and we'll luck into some IDs.
We've added the ... 1926 Winnipeg Arenas ... Rimbey, Alberta, team of the 1930s ... from Ontario, the Brantford Universals of 1934 ... the 1947 Virden, Manitoba, Oilers ... 1947 Halifax, Nova Scotia, All-Stars ... 1948 Halifax All-Stars ... 1957 Chatfield, Manitoba ... 1973 Glenboro, Manitoba, Canucks ... 1974 Glenboro Canucks.

A little catch-up (thanks to ol' friend Rodney McLean). In Toronto, October 18th, the Canadian Sports Hall of Fame held its induction ceremony with former Toronto Maple Leafs star Dave Keon, quarterback Damon Allen, Olympic great Alex Despatie, Paralympian Jeff Adams, and cross-country skier Chandra Crawford among the chosen.
What got our attention was the selection of Mary Baker, catcher Mary Baker, the Regina woman who helped inspire the Geena Davis character in the movie A League Of Their Own the film on the women's baseball league of the war years.
Mary "Bonnie" Baker worked at the Army & Navy store in Regina and played ball for the store's Bombers baseball team. She was enticed to join the All-American Girls Professional League in 1943 and went on to be a three-time all-star catcher (appearing on the cover of Life Magazine in 1945). She was the catcher for the South Bend Blue Sox in Indiana and the Kalamazoo Lassies in Michigan.
Baker has has a spot in the Saskatchewan Sports Hall of Fame, the Saskatchewan Baseball Hall of Fame and is part of a special exhibit on the Girls Professional League in the Baseball Hall of Fame at Cooperstown, New York.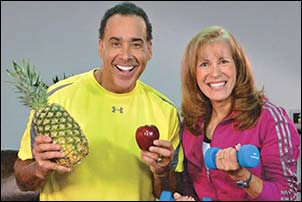 Oh my. Rich will be jealous too. Lou DeRosa reports in ... from Fenway! Yep, Lou took in World Series action watching the Red Sox top the Dodgers.
Thanks to Lou and Keith Van de Keere for adding some names to the 1980 photo of Team Canada. If you can help out with some IDs please get in touch.
Keith adds an interesting tid-bit - Harold Johnson the Team Canada infielder of 1980 is well known to Canadian television viewers, as Hal Johnson, for his Body Break videos (with partner Joanne McLeod). They've been on the air for 30 years.
---
22 October, 2018


Isn't this classy?

From the 1929 Saskatoon Exhibition Tournament it's the medallion awarded to players on Bruno's championship team.

This one was for Bruno's catcher (and pitcher) Mike Hofbauer.
Hofbauer was knocked unconscious when beaned by a pitch in the opening game but quickly recovered and remained in the game.
This marvelous find comes from Joe Sanders, of whom I now chase more information on how this came about.

Always fascinating what turns up in various searches. In trying to locate photos of Gary Picone, a pitching & catching star of the 1970s and 1980s, we turned up a photo of the 1969 Babe Ruth team from Trail, BC, playing at a regional Babe Ruth Tournament in Casper, Wyoming.
Yep, that's our Rich Necker as the team manager (at the back right).
The Casper paper gave great coverage to the tournament, with three "snapshot" photos on the sports page.

Another half-dozen individual photos have been added to the 1979 Manitoba Photo Gallery - there's Randy Clayton, Garry Davidson, Don Hurton, Tony Kalechyn (revised), Keith Kontzie, Ken Vertz and Cam Walker. And, an addition to the 1978 Manitoba Snapshots.

The 1979 Alberta Photo Gallery has a couple of new pics - Gary Picone, Dale Tilleman and Keith Van De Keere. The latter is from a 1980 team photo of Team Canada provided by Adam Morissette Baseball Canada. Adam had a photo to me in minutes after making a request out of the blue. Wow.
We are still hunting for sources to help ID the players in the 1980 Team Canada photo.

We stumbled upon another new team photo, the 1960 club from Osoyoos. Turned out that the player we were trying to locate -- Bud Englesby -- wasn't present when the photo was taken. In the process, we've consolidated the Inglesby/Englesby listings under Englesby -- Bud Englesby. Bud, who passed away in 2012, had settled down in the Slocan Valley not far from my home base. Wife Karen explained that it was always just "Bud" as he was not too fond of his given name Philo Harrison Englesby ! Turns out Bud also played in Williams Lake and Quesnel (softball) and in later years in Merritt.


We've untangled the Jellisons of the Okanagan. We have had two listed -- Curly Jellison a player and then manager and a Jerry Jellison, mainly a pitcher. But, on a couple of occasions we tied them together, as in Jerry "Curly" Jellison. Not so.
Curly turns out to be John G. (Curly) Jellison (right) who began playing in 1932 in Penticton, spent the war years in uniform fighting in Europe and returned to play in the Okanagan until the late 1940s when a workplace accident ended his playing days. He continued to be involved as a manager and league president into the 1960s. His eldest son, Jerry began playing for Vernon (where Curly was reassigned) in 1954 and was in the lineup through 1958.


Found an interesting photo of Vancouver product Bob Lasko at Spring Training, 1962 with the Yankees in Fort Lauderdale, Florida. There is Lasko with Bob Turley and Ralph Terry looking on.

Nearly forty years ago Terry Jones, then of the Edmonton Journal, penned a pair of columns on the famous Lacombe Tournament . An interesting read all these years later. Jones, by the way, is still writing for ... the Edmonton Journal !

The new poster boy of our mantra "do not make assumptions" is a player from the 1979 Binscarth Orioles of the Manitoba Senior Baseball League. Last name Kilimnik, which turned up as Kiliwnik in several newspaper reports. So K-i-l-i-m-n-i-k or K-i-l-i-w-n-i-k ? My initial thought was a typo, somebody had just typed a "w" instead of an "m". Upside down "m" ! Could there be any doubt this is the same player ?
Turns out, yes. The first one, a pitcher, turned out to be Gerry Kilimnik. The other, a catcher, Terry Kiliwnik. It's not known if they were from branches of the same family. A few years later, Binscarth had Gerry Kilimnik and Jim Kilimnik plus Terry Kiliwnik and Tim Kiliwnik. No idea of the pronunciations.

---
15 October, 2018


Mark Smith, one of Manitoba's all-time stars, led the Manitoba Senior League in just about every hitting category in 1979.
The talented outfielder won the Triple Crown, running away with the batting championship with a .513 average, hit 8 home runs and had 28 runs batted in. He also tied for the lead in doubles and triples, and was tops in hits.
Smith, who started his senior baseball career as a lefty hurler with Riverside at age 15, played one season of professional ball in the Detroit Tigers organization. Over his 23 year career, Smith was an all-star in 17 seasons and twice was the league's Most Valuable Player.
The 1979 season also saw the accession of a new league to challenge the domination of the Manitoba Senior League as the best in the province. The Red-Boine League all-stars defeated the MSBL stars to represent Manitoba in a national competition.


Rich & I have dug into the archives to try and paint a picture of Manitoba senior ball in 1979 - game reports, photos, snapshots, rosters, final statistics and tournaments. The photo gallery includes more than 75 individual pics, including import catcher/pitcher John Picone (left) and the game reports include what we

could find on the Red-Boine League.
One of the key members of the Teulon Cardinals, the Red-Boine League champions, was 48-year-old George Leduchowski (right), who won four of five pitching decisions. We also managed to fins a photo of the 1979 Teulon team. (We need a better quality version, but this will do for now.)

The Manitoba Photo Galleries of 1974, 1977 and 1978 also sport some additions.

A few other bits & pieces have been added to the site, including game reports from the 1920 Alberta playoffs, 1919 Alberta baseball ,and some BC snapshots of Leo Solloway and Jimmy Ralston, also 1919. Pretty poor quality, but, as we say, at least placeholders for the time being while we chase better ones.


And from the 1964, Fresno State University yearbook (left), a handsome devil by the name of Richard Necker ! Yep, that's our Rich.

Thanks to Terri Lefebvre Prince of the Yorkton Archives for trying to chase down a photo of the 1920 Yorkton baseball team. We were hoping for a good quality version of the one now posted. No luck so far, but Terri got our attention in noting her research into the Ligon All-Stars, a barnstorming team which traveled far and wide across Western Canada in the late 1940s and early 1950s. We hope to get a copy of an article she's writing on a Ligon's trip to Shaunavon, Saskatchewan in 1948. Terri still has the scorecard of the game
---
21 September, 2018

They're updated ! The Western Canada roster pages, 1900 to 1979. With these additions we're up to more than 55-thousand individual players listed for teams in Western Canada.

As usual, Rich Necker has been busy and productive. Among the information he's managed to dig out are game reports from 1920 in Alberta - including the Edmonton City League, Central Alberta League, Calgary City Amateur League, Lethbridge City League, plus a couple of dozen notable exhibition games. We're still awaiting the resumption of service of a University of Calgary newspaper web site to add details to some Calgary games, but we'll just update those when the service is back on-line.

The Lewis brothers - Dodger, Earl, Frank and Stiffy Lewis - were among the notable players.
Lincoln "Dodger" Lewis (left), just 18 years of age, was both a pitching and catching star for the Calgary club.

Also from 1920, we've added a few game reports from West Kootenay ball, Northern Saskatchewan, and a pair of tournaments.
Of course, the 1920 roster page sees a pretty big expansion and we've added a separate Alberta Photo Gallery.

1918 baseball in Calgary (along with an inter provincial series) gets covered with game reports for the Alberta page. No surprise that the Lewis boys (Lincoln would be just 16 this season) and Lester "Slim" Haynes would be among the stars.

Holy cow. Rich notes 1922 in Vancouver as the year of the no-no. We've tracked at least seven no-hit, no-run games in the Lower Mainland that season.

Other additions include game reports for 1916 Victoria, BC, 1919 Okanagan Valley, 1920 Victoria Amateur League and rosters for the Victoria Amateur League, 1949

We're pleased to have uncovered photos of two teams from Lacombe, Alberta. We're guessing a bit on the years, but believe we have the 1920 and 1921 teams. The 1921 team is thought to have won the provincial championship.

A 1920 independent team from Yorkton, Saskatchewan, had quite the season (going 43-8, with four ties, in 55 games). The team photo is hardly acceptable, but will, at least, perform a role as place-holder for when we manage to dig out a better version of the picture. Game reports for Yorkton have been added to the 1920 Saskatchewan page. One of the key players for Yorkton was lefty hurler George "Lefty" Kaye who had suited up in Winnipeg earlier and later would turn up in game reports in Vancouver.

The photo of the 1967 Peace River (Alberta) Stampeders has been on site for awhile, but without names. Thus, what a nice surprise to hear from former colleague (CKYL Radio in Peace River) Ken White who provided IDs for the 13 players in the photo. Mention of names John and Pete Czuy, for example, brought back good memories of my time up in the Peace country.

The photo of the Trail, BC, old-timers of the 1930s has been slotted in at 1939 after our research pointed to '39 as the most likely year for the photo. IDs still needed for several of the players.

In 1921 the famous Vancouver Asahis made a barnstorming trip to Japan. But, it's never been clear precisely who made the trip. Well, with help from Yobun Shima, in Tokyo, we've managed to complete the list. We continue to work with Yobun on a complete roster of Asahi players (1914 to 1941).





Some major photographic additions are for Minny ball, the Southern Minnesota League of the late 1940s and early 1950s.
(Far left - Al Kulig, Near left - Hugh Orphan / Near right - Ted Alexander, Far right - Ed Gittens)
Several dozen new or improved individual pictures grace the Minnesota Photo Galleries of 1949, 1952 and 1953. The 1949 Minnesota Snapshot page includes photos of Negro League veteran Ted Alexander along with teammates Sonny Dahl and John Michalowski. The new 1952 Snapshot page for Minnesota ball features a half-dozen photos. And, we add the team photo of the 1952 Winona Chiefs.

Happy to help out Curtis O'Reilly of minor league ball in Moose Jaw with names of Moose Jaw teams over the years. We managed to dig out dozens from Delphics, Strathconas, Mintos and the Gray Campbell Cats to the more recent Steelers, Regals, Canucks and Robin Hoods.

Ace Negro League researcher Gary Fink has helped to clarify the records of former Western Canadian players Pee Wee Jenkins and Barney Morris. Turns out we likely had two Pee Wee Jenkins in Canada one summer. Morris had been credited with a season in Winnipeg for which we could find no documentation.

Pleased to offer our Steve Wylie profile to be used by the Clarksville, Tennessee, Convention and Tourists Bureau as part of its campaign to promote the community. Wylie, who played several seasons in Canada after the fall of the Negro Leagues, was a native of Clarksville.

Interesting to note that the Western Major Baseball League (see below) is changing its name. Yep - it;s to be the Western Canada Baseball League. Back to its roots.
---
19 August, 2018

Medicine Hat Mavericks captured the 2018 Western Major League title downing Regina Red Sox 8-2 Thursday in the deciding game of the best-of-five final before a capacity crowd of 2,200 fans at Athletic Park. It was the third WMBL title for the Mavericks who also won in 2003 and 2014.
Medicine Hat posted the best regular season record (38-9) in winning the Western Division pennant. Regina finished third in the Eastern Division with a 26-21 mark. Red Sox advanced to the final defeating Swift Current, the defending champions, and Weyburn Beavers.


Corey Wheaton (left) of the Weyburn Beavers was named the leagues Most Valuable Player. The product of Scottsdale, Arizona, had an outstanding summer batting .372 in 45 games. The outfielder led the circuit with 30 stolen bases and produced 11 doubles, three home runs and 15 runs batted in. Wheaton came to Weyburn from the University of Mobile.
Kaleb Warden (right) Lethbridge Bulls infielder was selected as the Rookie of the Year. Warden, who attends the University of Arkansas at Monticello, had a highly impressive first season in the WMBL. He registered a .369 average with eight doubles and seven home runs along with 38 runs batted in.


Catcher Jaret Semeniuk, a native of Edmonton, Alberta, showed poise both with his glove and bat in being selected as the top Canadian Rookie. Semeniuk, a freshman with the Prairie Baseball Academy, played in 30 games with the Lethbridge Bulls compiling a .371 average with seven doubles.
Riley MacDonald (right), catcher of the Brooks Bombers, was honoured with an Outstanding Achievement Award after setting a single season home run record with 20 circuit clouts in just 138 at bats.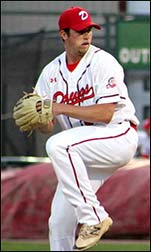 MacDonald topped the previous mark of 18 by Jesse Sawyer of Lethbridge in 2011. The slugger is a product of North Vancouver baseball and suited up for the Waldorf University Warriors this spring before lining up with Brooks.
Right-handed reliever Craig Smith (left) closer of the Okotoks Dawgs was an Honourable Mention after setting a Western Major Baseball League record for saves. Smith registered 15 saves in the Dawgs' 35 wins this summer.
Andrew Murphy of the Mavericks was named Coach of the Year.
The Okotoks Dawgs led the WMBL with seven first team all-star selections.
Colton Wright of Medicine Hat claimed the first team catching slot with an infield of Warden at first, Nolan Rattai, Medicine Hat, at second, Nate DeChaine, Okotoks, at the hot corner, and Carson Johnson of Medicine Hat at shortstop. Collin Ridout and William Hollis of Okotoks joined Wheaton in the all-star outfield. Three starting pitchers were selected - Cody Ebert,Okotoks, Ryan Johnson, Weyburn, and Owen Steele of Yorkton. Dustin Schorle of Okotoks won a slot in the bullpen and Smith, with his record-setting 15 saves, is the closer.
---
18 August, 2018

In the completion of the game reports for the BC Interior in 1958 Rich Necker has come up with some leagues I never knew existed. Along with reports from the key Okanagan Mainline League, we've now posted results from the North Okanagan League and another known as the Shuswap-Okanagan-Monashee League.
These new reports add to the previously posted game stories from the West Kootenay, East Kootenay, Arrow Lakes/Slocan, Central Interior League and the Prince George & District League.
All together there's the equivalent of about 60 letter sized pages of game reports. Of course, the roster page has been updated to reflect the new material.

Thanks to Rodney McLean for a link to the famous Saskatchewan baseball program at Marysburg, marking its 100th year.

We've managed to dig up a few more stats sheets - a near final report from the 1966 Manitoba Senior League, Eastern Division posted within the game reports.
Final batting stats for the 1951 Atwater Senior League in Montreal are posted on the 1951 stats page.

And, we've entered the final stats for the 1923 Victoria Senior Amateur League.
Haley Jackson of the pennant winning Victoria C.P.R. was the runaway winner of the Victoria Senior League batting title, leading in just about every important category. He finished with a .411 average and six home runs in 14 games.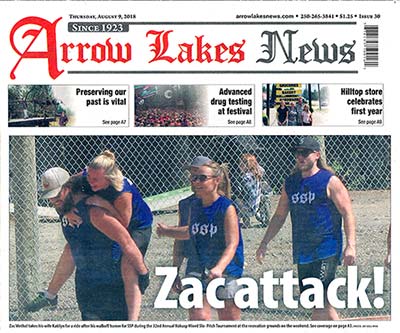 And ... now the reports on the 32nd Annual Nakusp Mixed Slo Pitch Tournament.
A former news reporter thrown back on the saddle to fill in for the Arrow Lakes News (got beaned too).
Because of the deadlines of the weekly paper, the tourney got full page coverage (and more) in two editions.
The Zac Attack story covered the events up to the final day.
The, this week, the paper again gave the event a lot of coverage with pretty well a full page (with ad) on the final day of the tournament.
With 20 teams and games from 7 ayem to midnight, it was quite the event to cover. Quite a blast, but a little too much for an old, retired guy !
---
15 August, 2018

These latest British Columbia game reports and rosters go back to 1923 and feature communities on Vancouver Island, from Campbell River down to Victoria.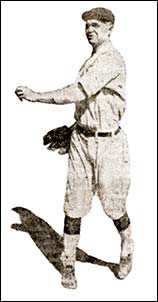 Pitcher George "Lefty" Kaye (right) is among the stars, here at the beginning of his career in Nanaimo before establishing himself over on the Mainland with teams in Vancouver.
As usual there's a name challenge - Nanaimo with a Gartner and a Gardiner, which in a few newspaper items comes out as Gardner.
Vancouver Island has a surprising number of leagues for the early 20s - Victoria Senior League, Victoria Commercial League, Nanaimo City League, Comox & District League and Mid-Island League. We also include the provincial playoffs for senior ball supremacy (with a Mainland team, the Vancouver Young Liberals walking off with the trophy).

Also from our Rich Necker, a couple of photos from 1909 BC ball when Victoria hosted a semi-pro team, the Kolts. We've posted the larger newspaper photos in the Snapshot section and extracted head shots for the Photo Gallery.


A couple of additions to our Quebec material - the beginning of a 1951 Photo Gallery and a photo (albeit of lesser quality) of the Mount Royal Cardinals celebrating their Atwater League championship in Montreal in 1951. Unfortunately no names available.
Right - John Harmony of the St. Ann's Saints, one of the top hurlers in Montreal's Atwater Senior League in the 1951 season.
We also have a line on some final batting statistics for the circuit.


Happened upon a newspaper photo of former Western Canada player Dave Skeels (1910, 1913) who had a cup of coffee in the majors with Detroit Tigers at age 18 after going right to the show from Regina and Moose Jaw of the Western Canada League.
There's an Interesting story on the American Native athlete in the Tribal Tribune, a monthly publication of the Colville Confederated Tribes of northern Washington. (I'd guess they may have used Brian Morrison's in-depth piece on Skeels at Diamonds in the Dusk as a source for the story.)
The Colville Confederation has a connection with my home region as most of the Sinixt who used to live in the region now reside on the Colville Indian Reservation in Washington.
The Sinixt are trying to regain status with the Canadian government after having been declared extinct by the federal body in 1956.
---
01 August, 2018

Baby steps, yes, but progress in an area which has been awfully difficult to cover from afar - Quebec, more specifically, Montreal.
It's been a headache trying to find material on the Montreal City League, but we have now come up with a start on the Atwater Senior League of Montreal which began in 1927 and ran through the 1954 season. If the 1948 coverage is a fair indication, the Montreal Gazette has done some wonderful reporting on local senior baseball.
Our start includes the full team rosters for 1948 (and there was a player named Walkoff, at least that's what showed up in the box-score), photo galleries for 1947 and 1948 and a team photo of the 1948 champion Montreal Postmen.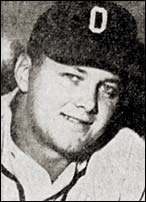 One of the young recruits for the 1947 Mount Royal entry was 22-year-old Doug Harvey. a third baseman/right fielder who you would get to know as one of the best defencemen in National Hockey League history.
Harvey was selected as the NHL's top defenceman seven times. He was an NHL All-Star 11 consecutive seasons and hoisted the cup on six Stanley Cup winners. He was a unanimous selection to the Hockey Hall of Fame.
Harvey played baseball in the Montreal Atwater Senior League (1947) and professionally with Ottawa in the Border League (1947-1950).
There is pretty good evidence he could have had a solid baseball career. In his two full seasons in the Class "C" Border League Harvey had outstanding offensive number. He hit .340 with 22 doubles, 16 triples and four home runs in 1948, then the following season did even better hitting the ball at a .351 clip with 27 doubles, 10 triples and 14 home runs.

Among the stars of the Atwater circuit was a player familiar to Vancouver fans, Kaz Suga of the legendary Asahi. After his internment during the war, Suga moved to Montreal and was a mainstay in local ball for another decade.
---